Continuing on with our coverage of the Los Angeles Audio Show... Part Four.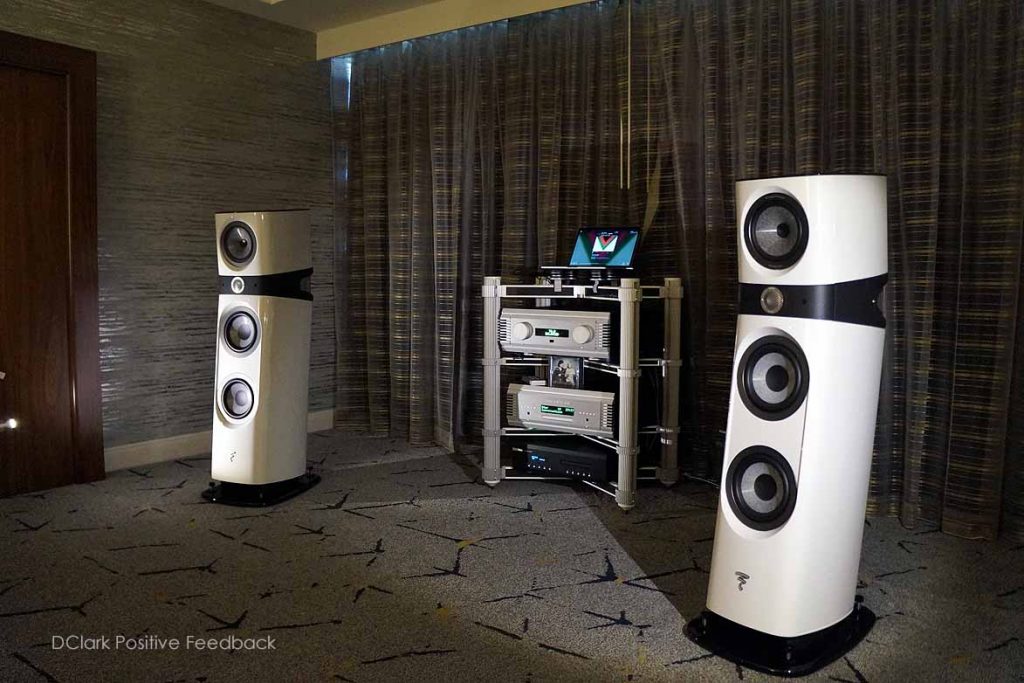 Musical Fidelity, Crystal Cable, Audio Plus Services.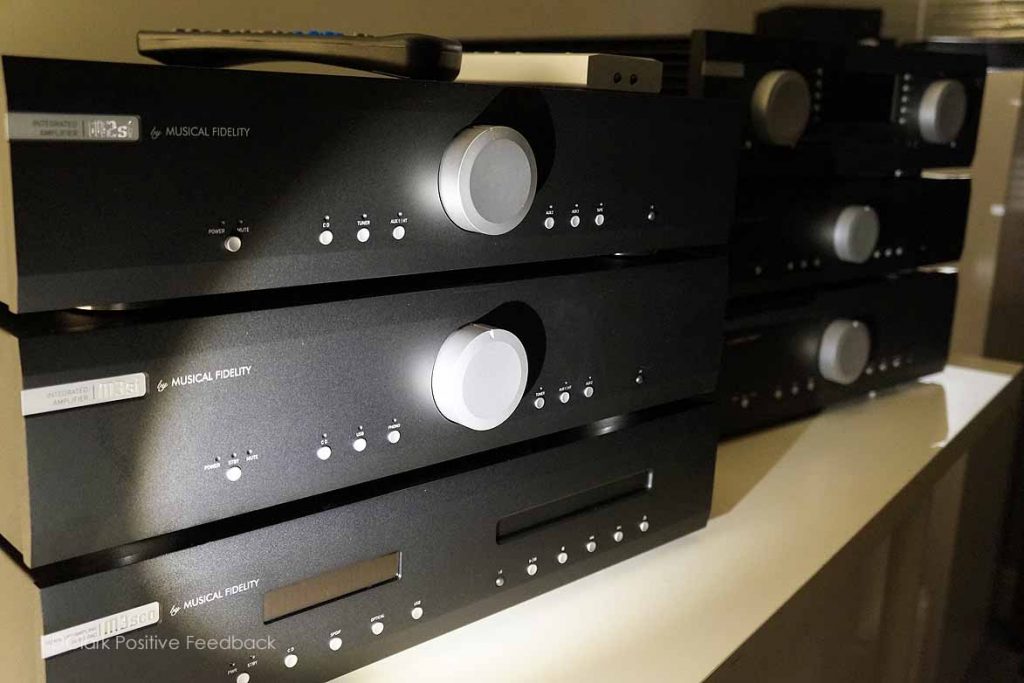 Musical Fidelity. A new look.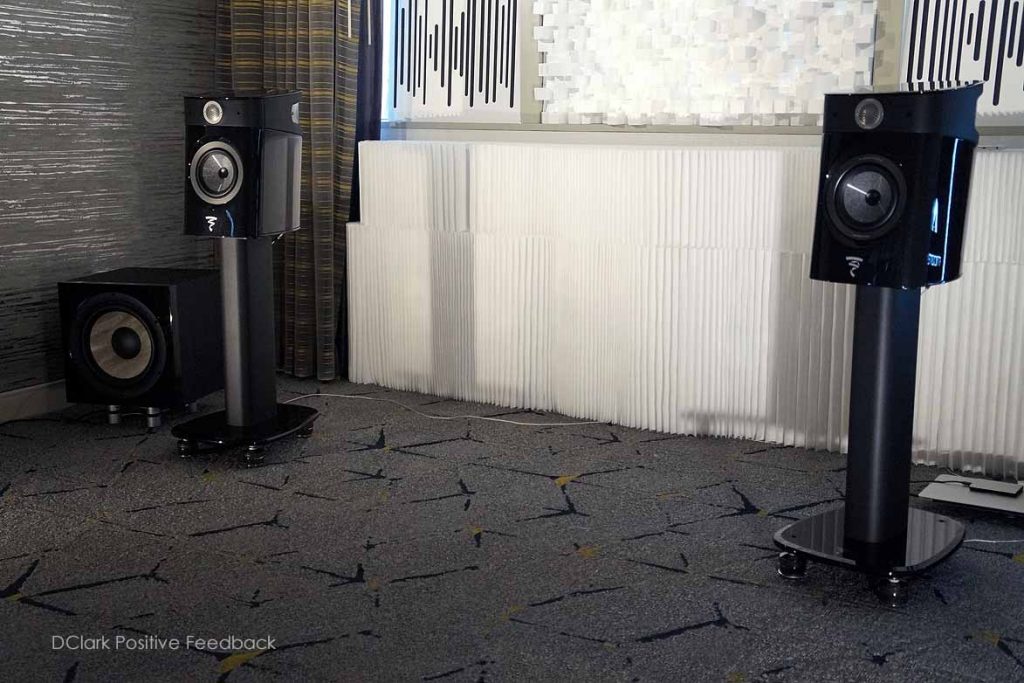 Micromega, Focal, Audio Plus Services.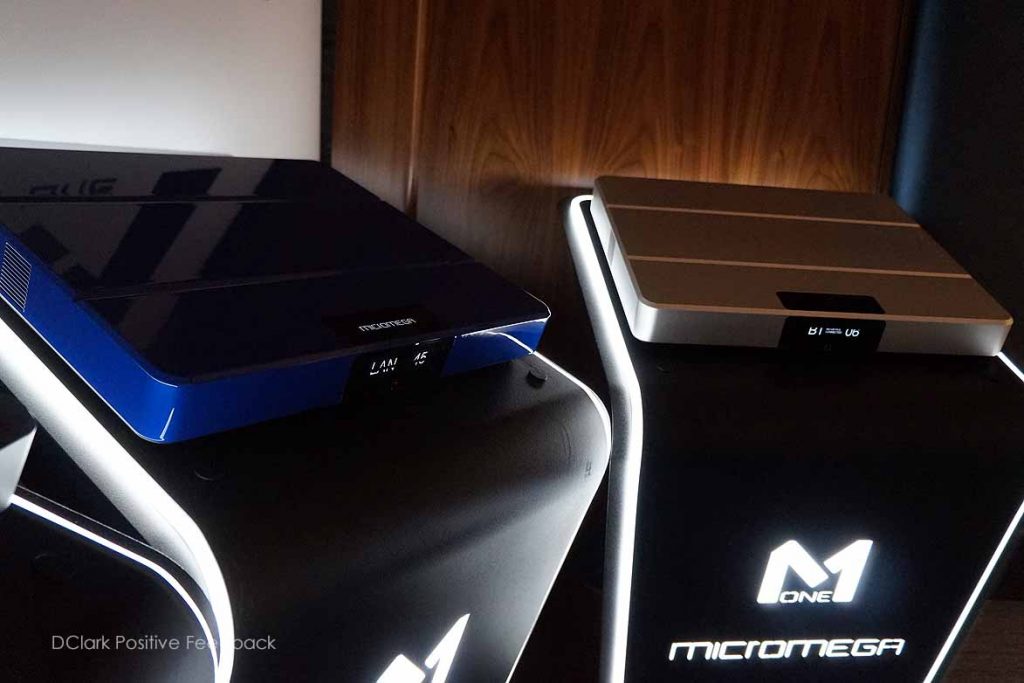 Micromega, Focal, Audio Plus Services. Way cool.
IsoAcoustics, SPL, XLO Cables, Audio Plus Services.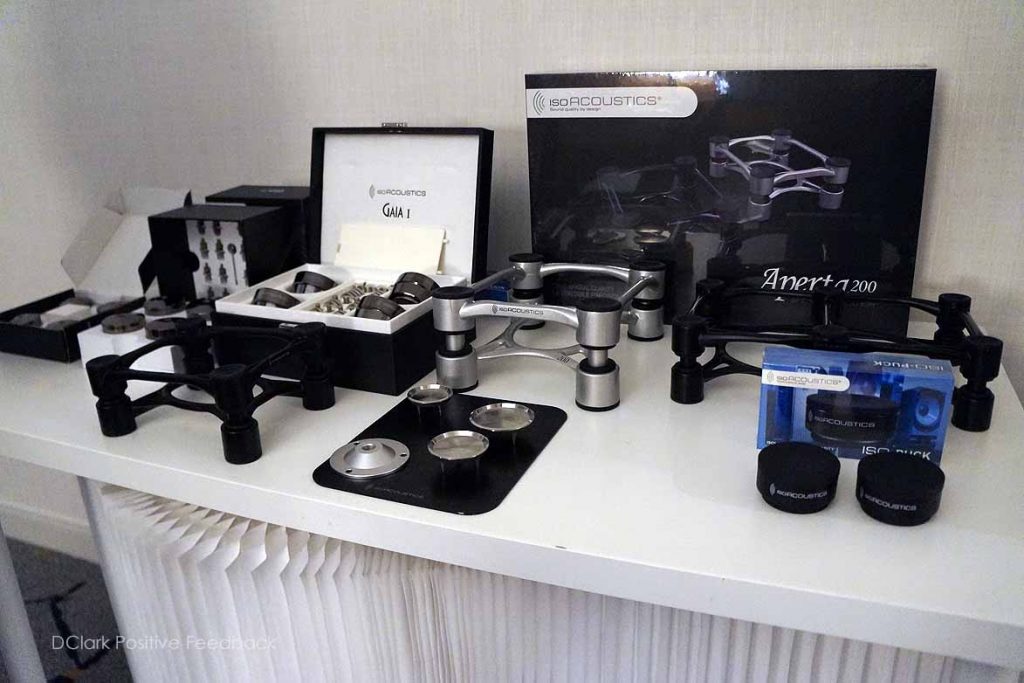 IsoAcoustics, SPL, XLO Cables, Audio Plus Services.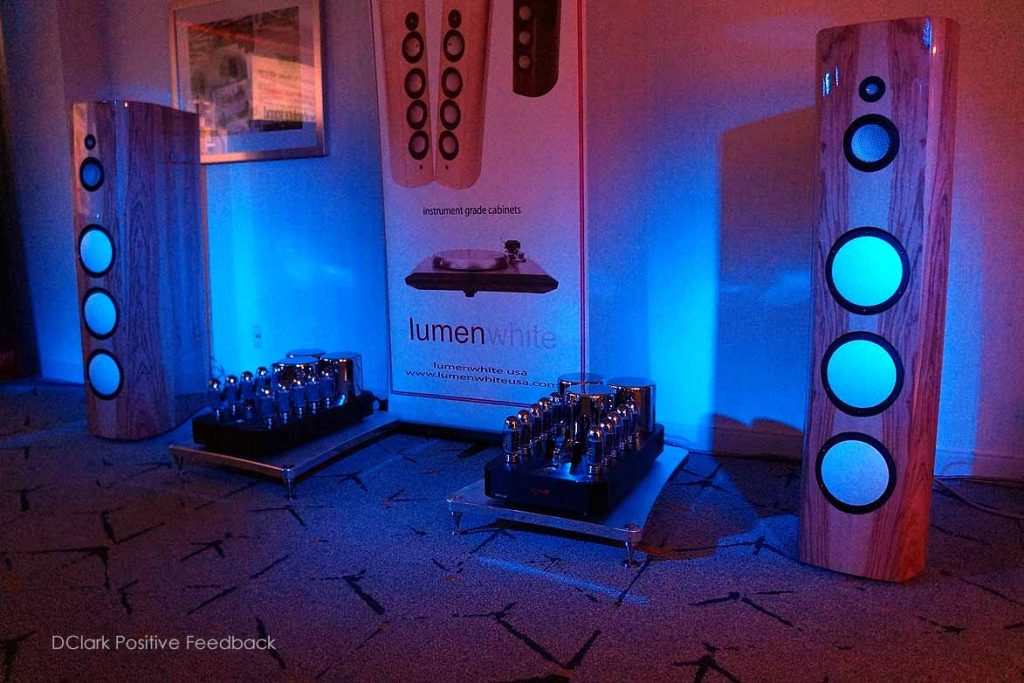 Ayon Audio Scorpio Gen 4, Spirit III Gen 4,  Triton III Gen 4, Titan SET Gen 4 mono amplifier, Orthos XS Gen 4 mono anplifier, Spheris III preamplifier, CD-35 SACD player DAC/Streamer/DSD, Ayon S-10 network streamer. That is a complete list of the Ayon equipment in the room, not all of it is pictured. Lumenwhite White Light 25 Anniversary loudspeakers, Gen 4. We always love what they do here sound-wise... no, make that music-wise! And good people too. Wanted to get in another longer listen, but time got away from us!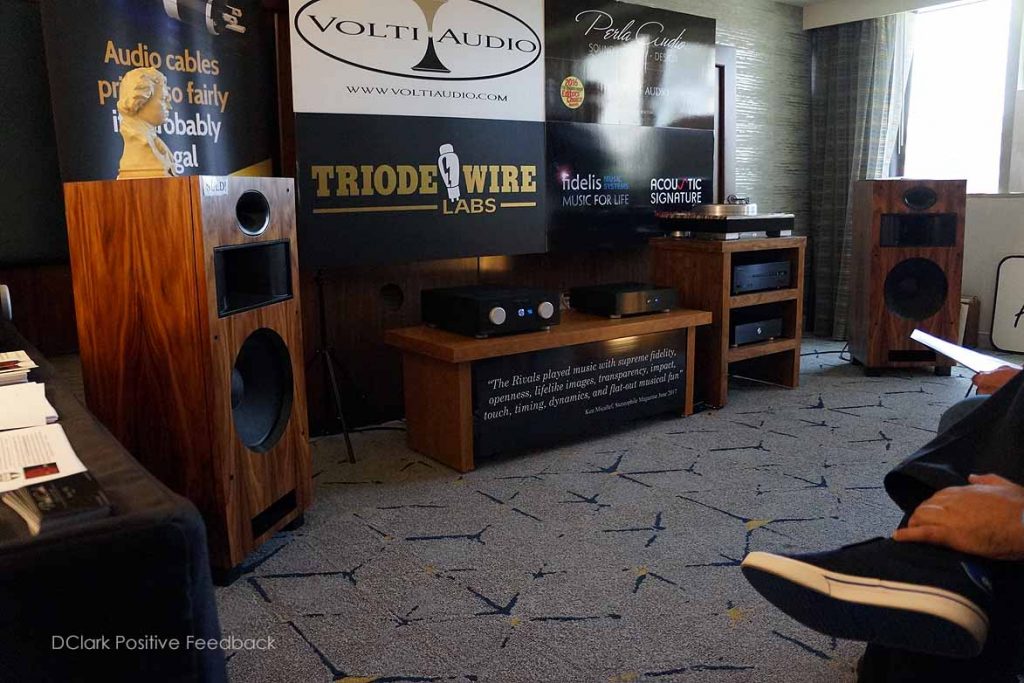 Fidelis Acoustic Signature Triple X turntable with TA-2000 tonearm and Dynavector 20X2 HOMC cartridge. Perla Audio Signature 50 integrated amplifier, Motif phonostage, and Composer DAC. Triode Wire Labs power cables, speaker cables, and interconnects. Volti Audio Rival loudspeakers. Nice sound here.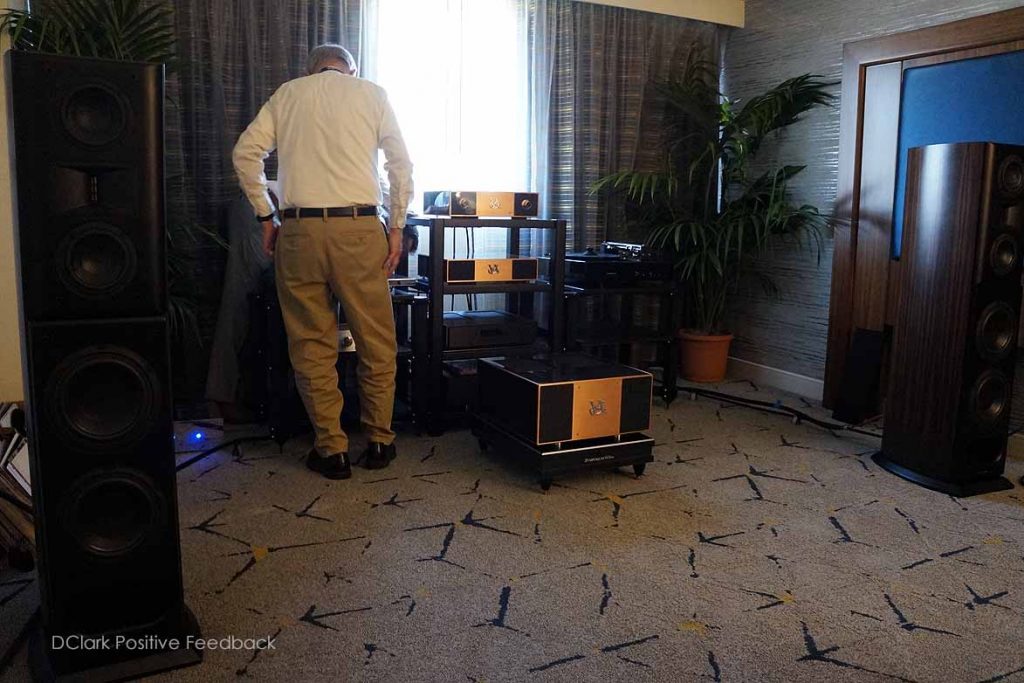 Voss Audio.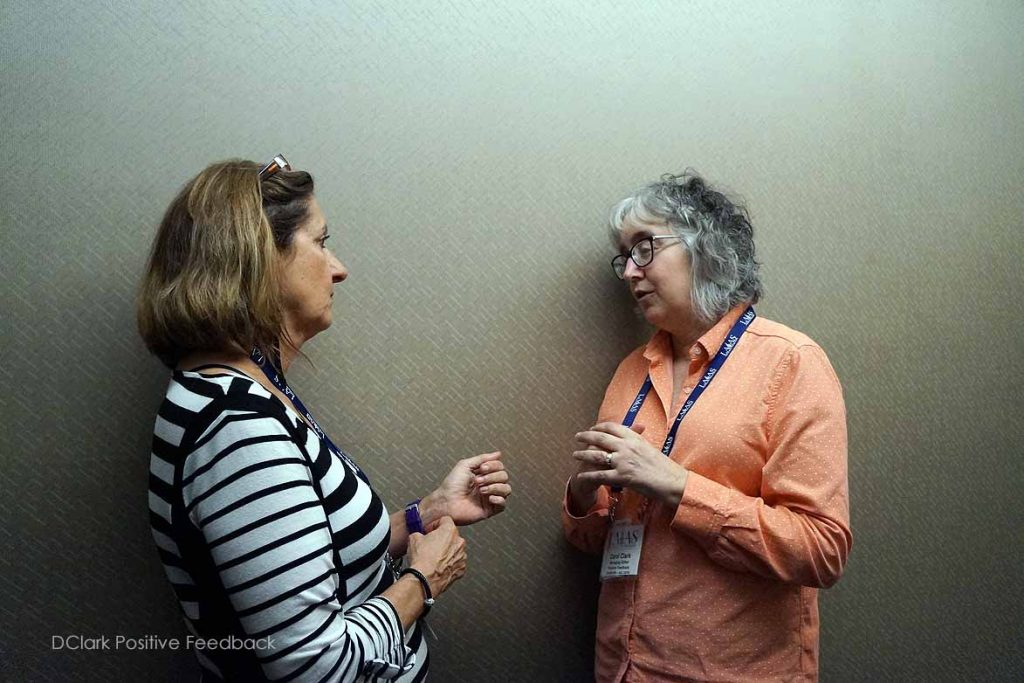 Here I am, in such deep conversation with Marjorie Baumert, that I don't even notice Dave taking this picture. One of my favorite parts of the show is connecting with friends who live so far away.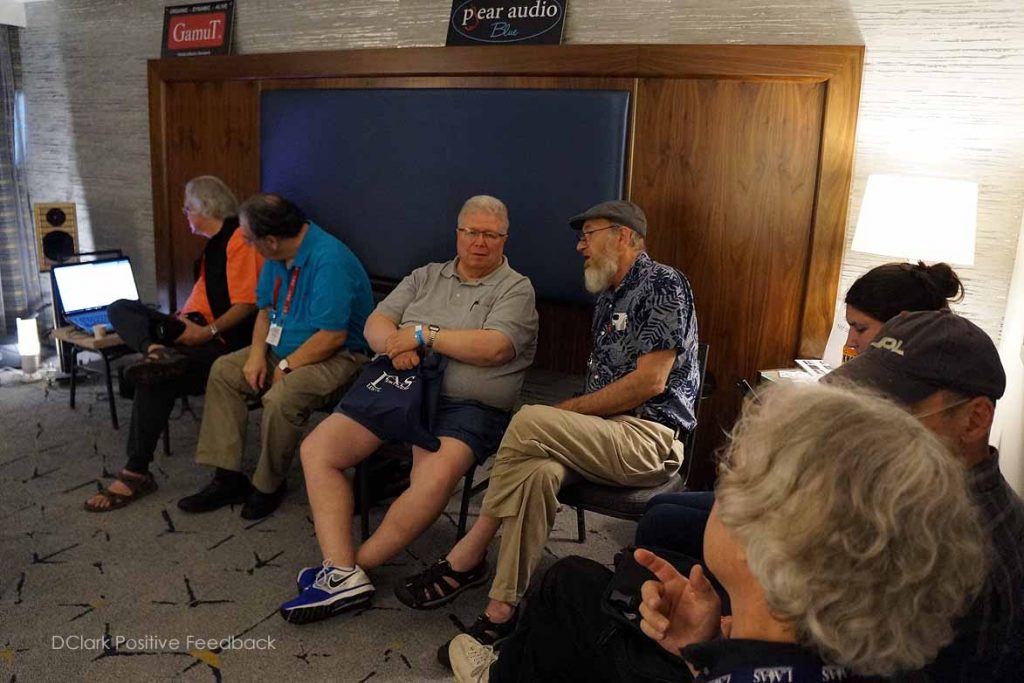 Back in the Positive Feedback hospitality suite. The DSD tunes were flowing, much to the delight of all present.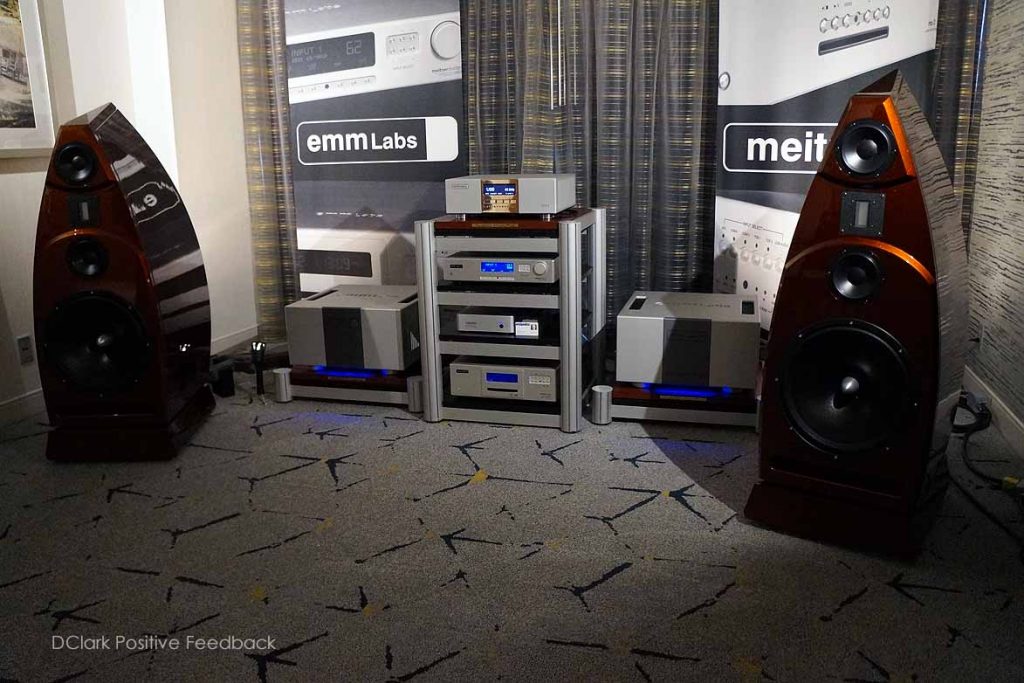 EMM Labs/Meitner Audio, Verastarr Industries, Antipodes Audio, Audio Vault.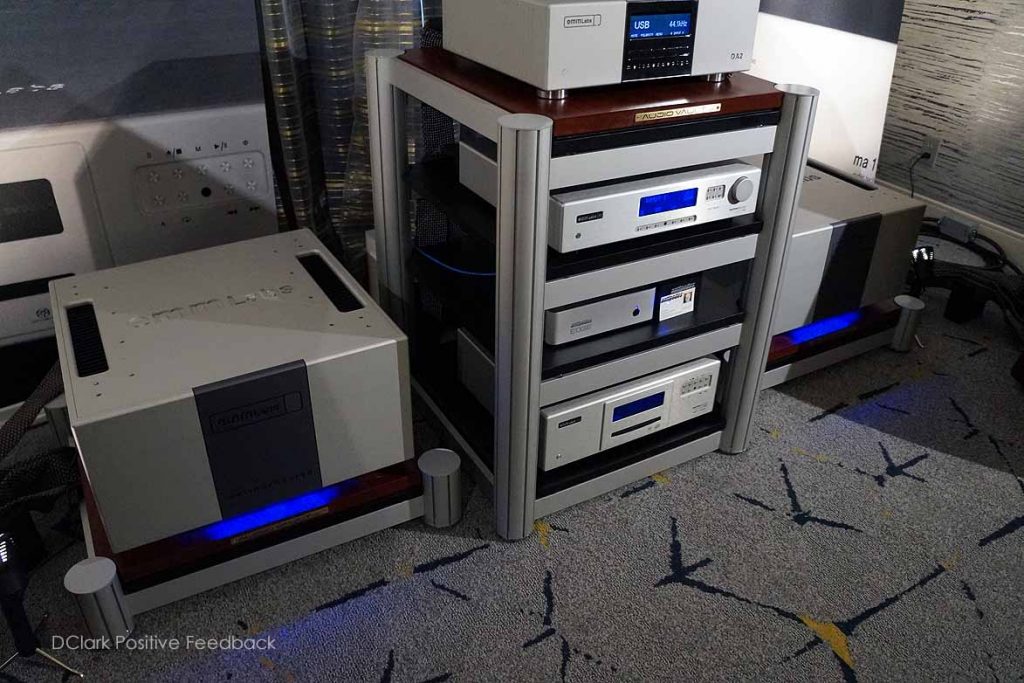 EMM Labs/Meitner Audio, Verastarr Industries, Antipodes Audio, Audio Vault. The Antipodes units are coming our way...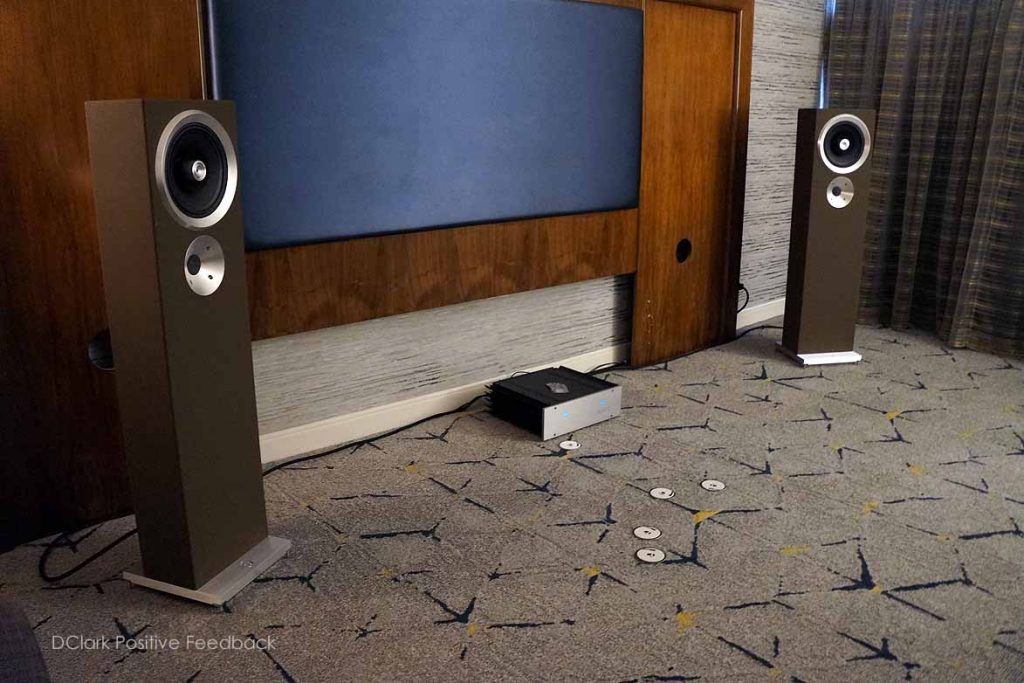 Zu Audio's minimalist approach. Zu loudspeakers always sound great!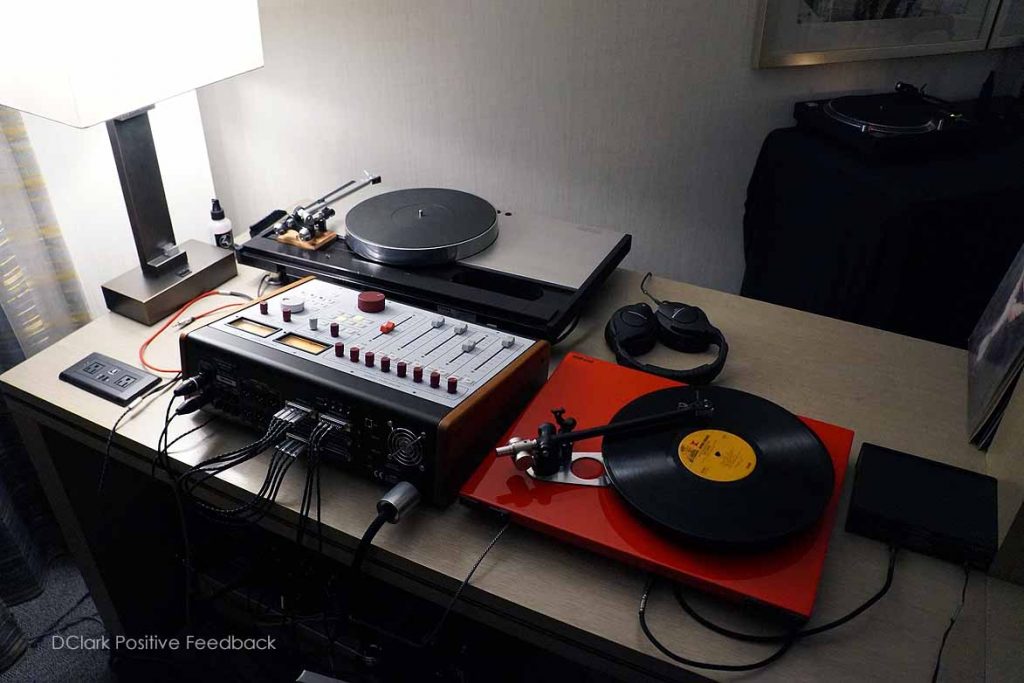 In the Zu room.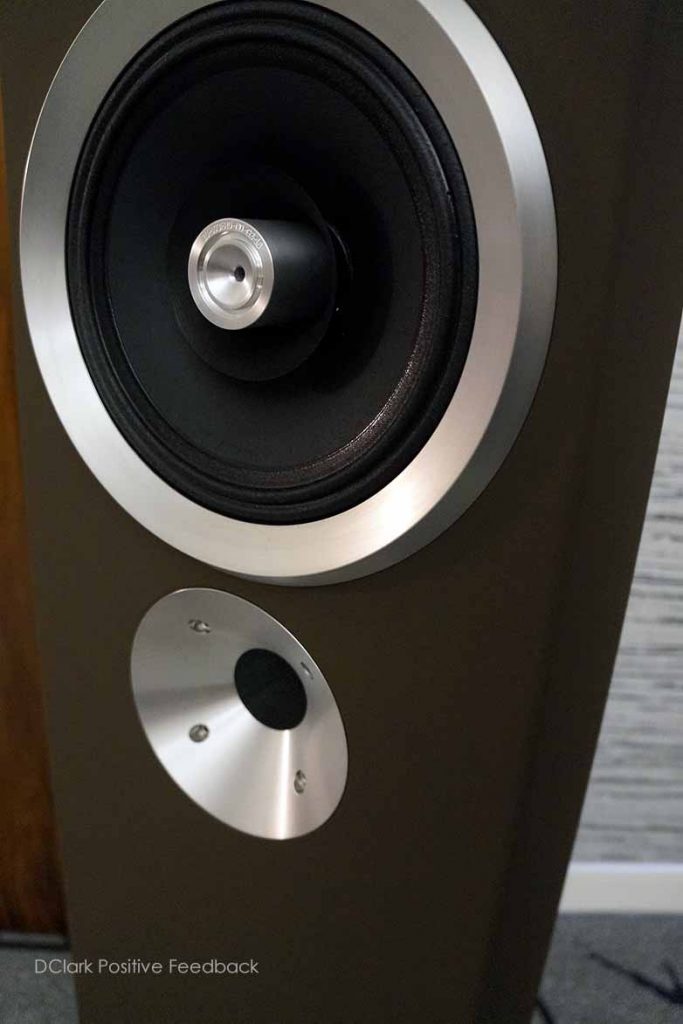 Closeup of the new Zu loudspeaker. Sean and company are such good people.
Emerald Physics had two systems on display, and I neglected to ask which of the two we photographed. This rack features The Emerald Physics EP-200.2SE hybrid dual mono amplifier, and a PS Audio Direct Stream Junior.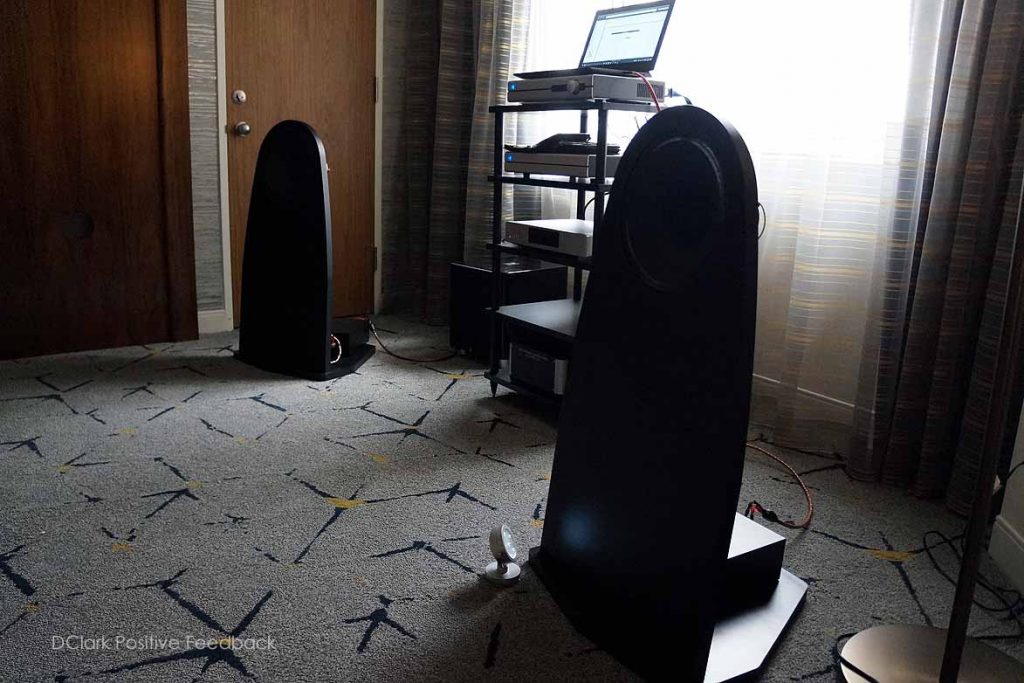 Also Emerald Physics, EP-2.8 loudspeakers.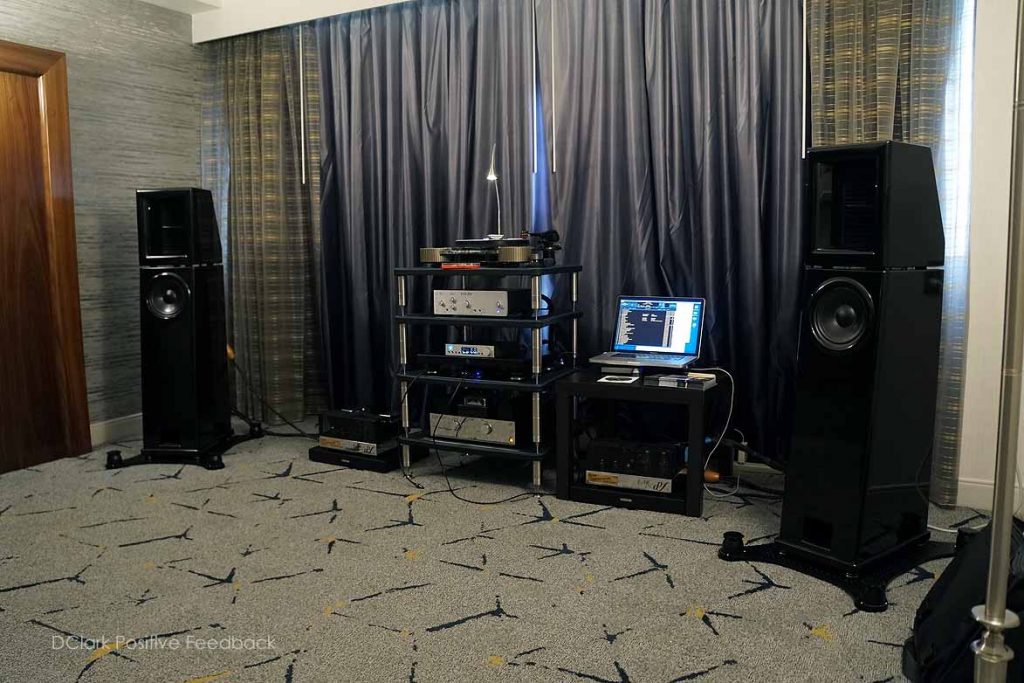 E.A.R. USA featured the brand new Dragonfire Acoustics loudspeakers. They sounded pretty great.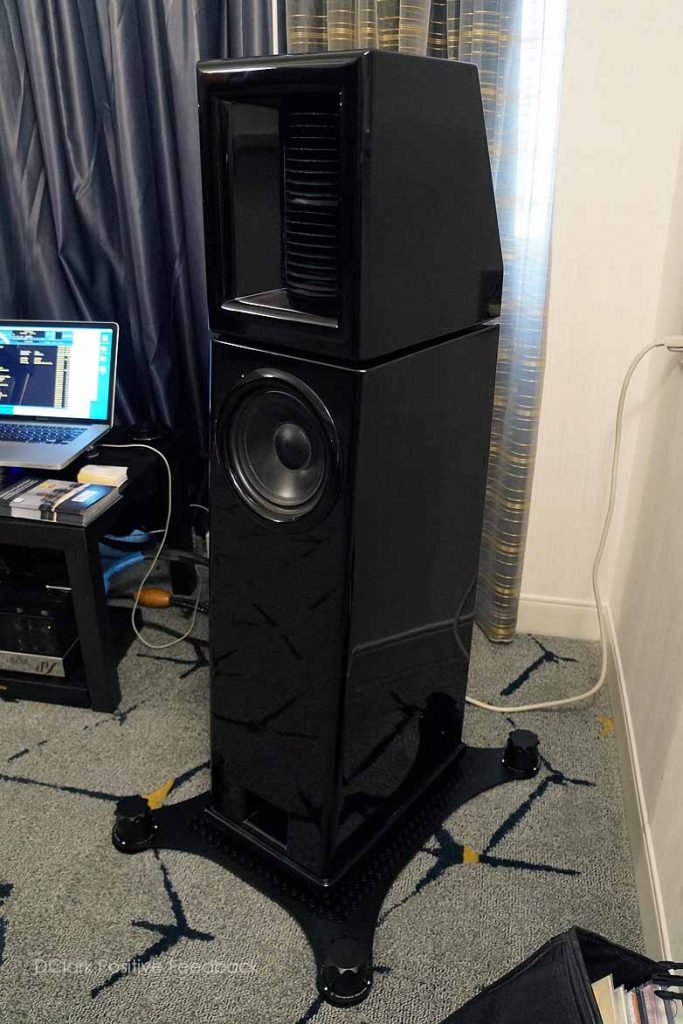 The Dragonfire Acoustics DRC-1 loudspeakers.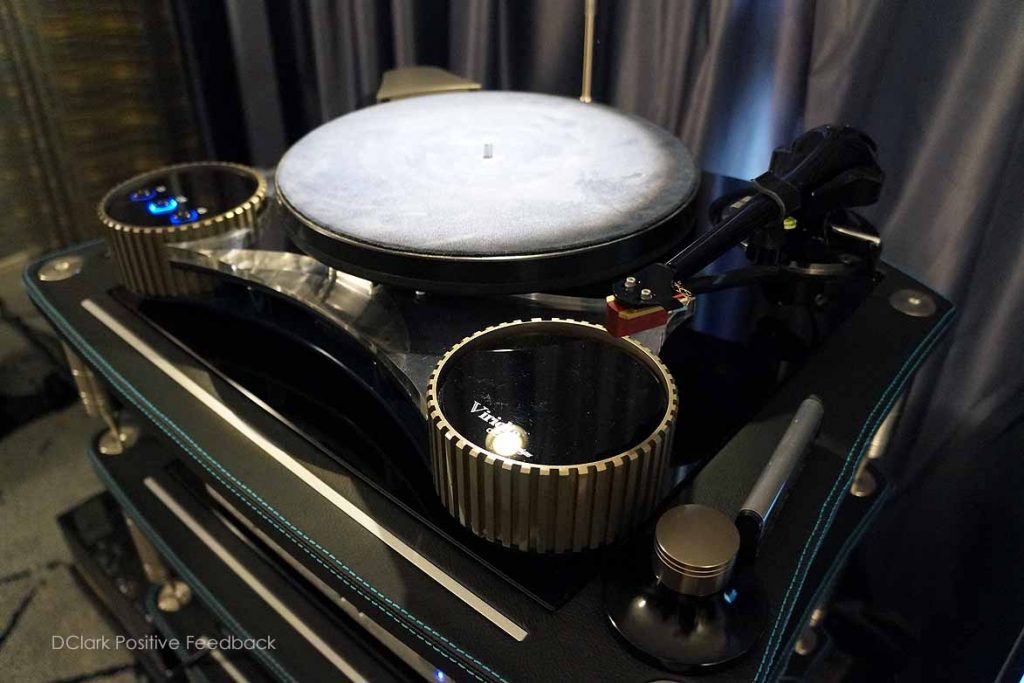 In the E.A.R room, Helius Viridia turntable.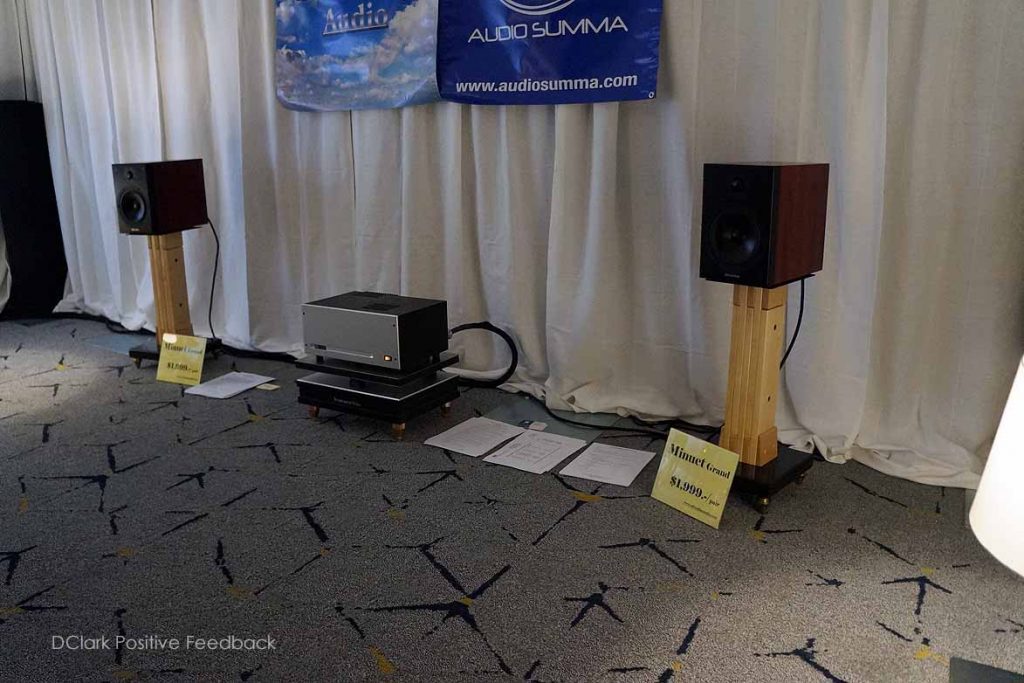 The Audio SUMMA room featured Silverline Audio Minuet Grand monitors, Brown Electronic Labs (BEL) amplifier, interconnects, and speaker cables. Symposium Acoustics Ultra Platform amplifier stand. Furutech Cables. Sound Application powerline conditioner. Loved what these little speakers were doing. Here for review.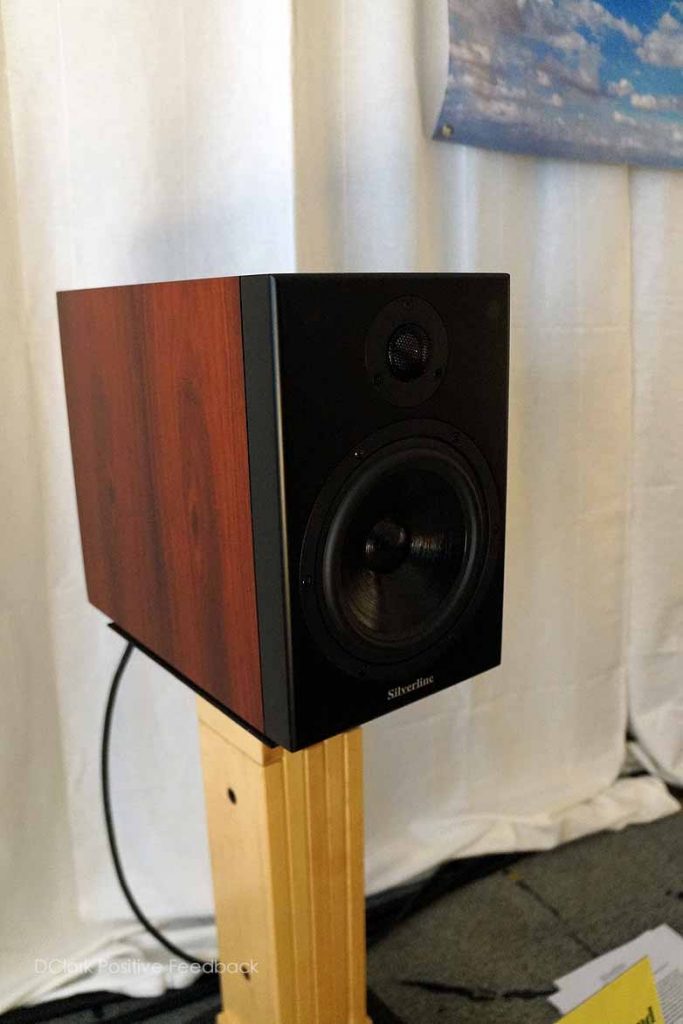 Silverline Audio Minuet Grand Monitors. Way nice for $2k.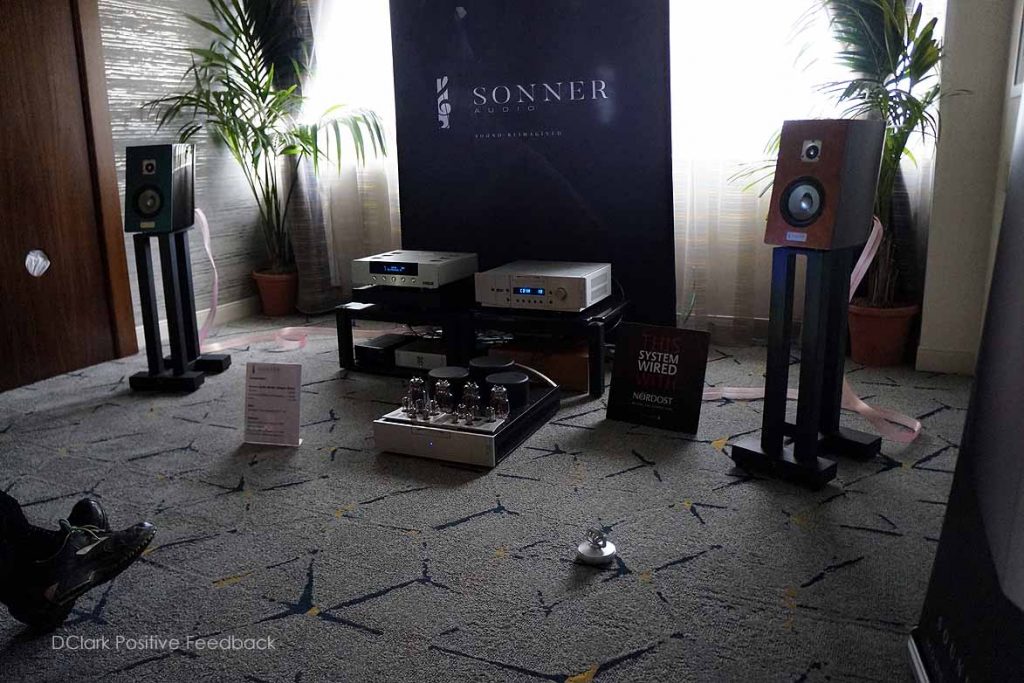 Sonner Audio-Allegro Unum Speakers, Balanced Audio Technology, Pass Labs, Abbington Music Research (AMR).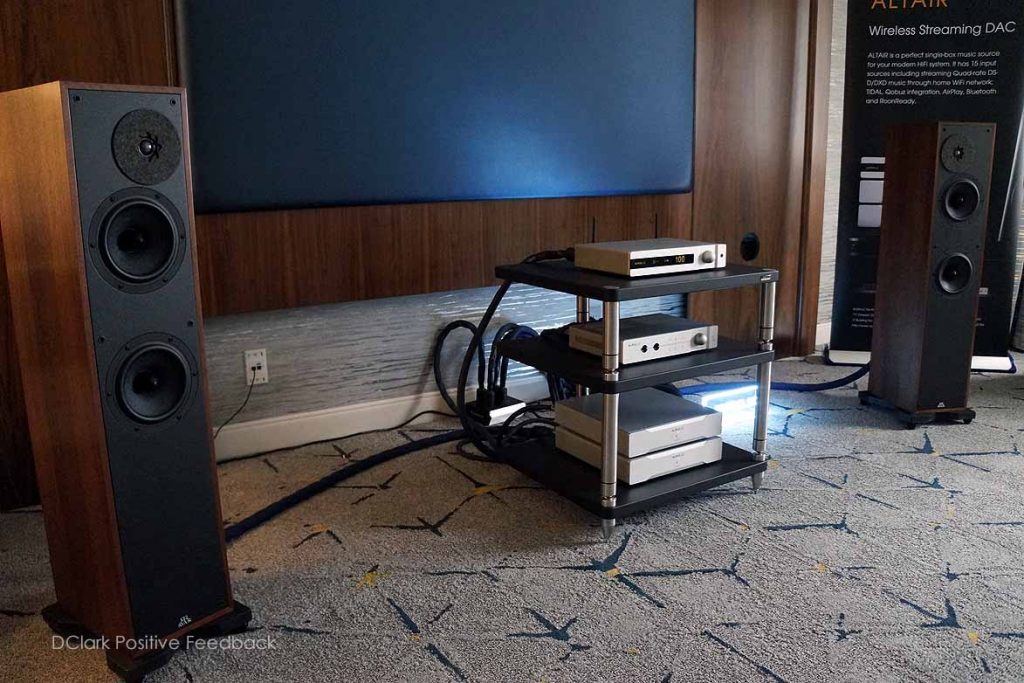 Auralic North America and Ryan Speakers. Really nice sound here.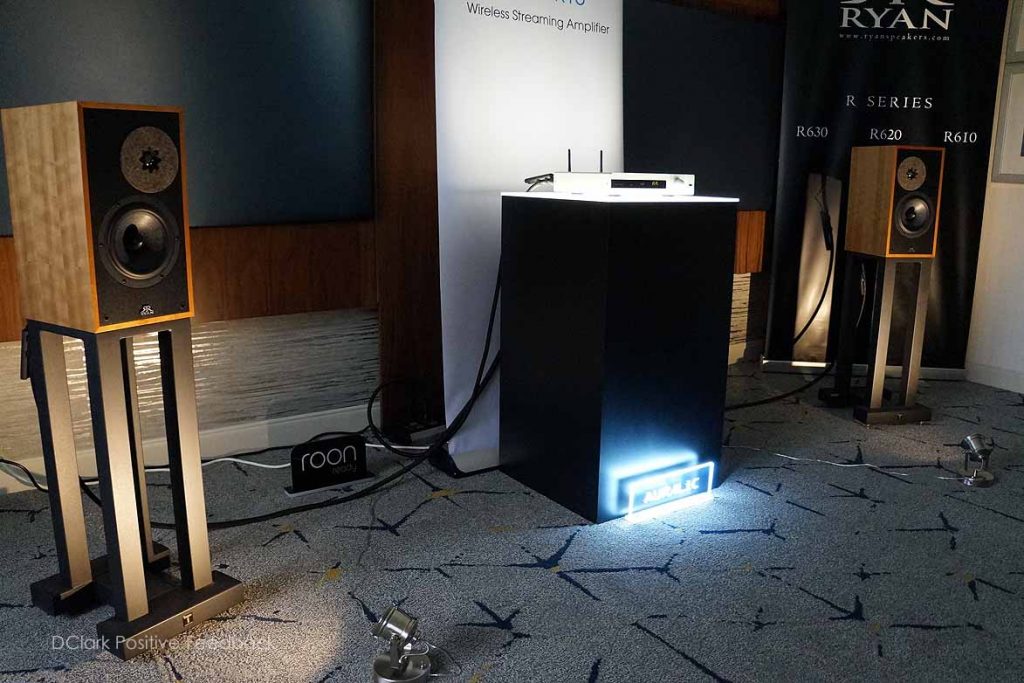 The Auralic Polaris 'all-in-one' integrated with Ryan loudspeakers. Stellar sound.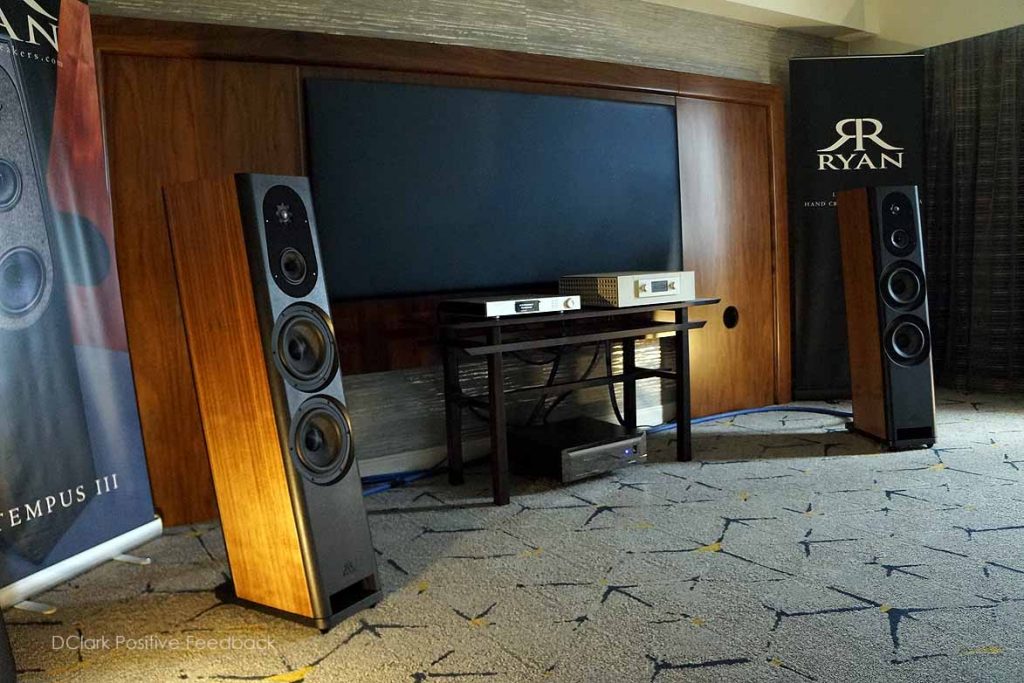 Ryan Speakers S840, Aurender A10 music server, Constellation Audio Inspiration integrated amplifier, Audioquest Niagra 5000 power conditioner, Cardas cabling. Wow... theis system rocked with the new speakers.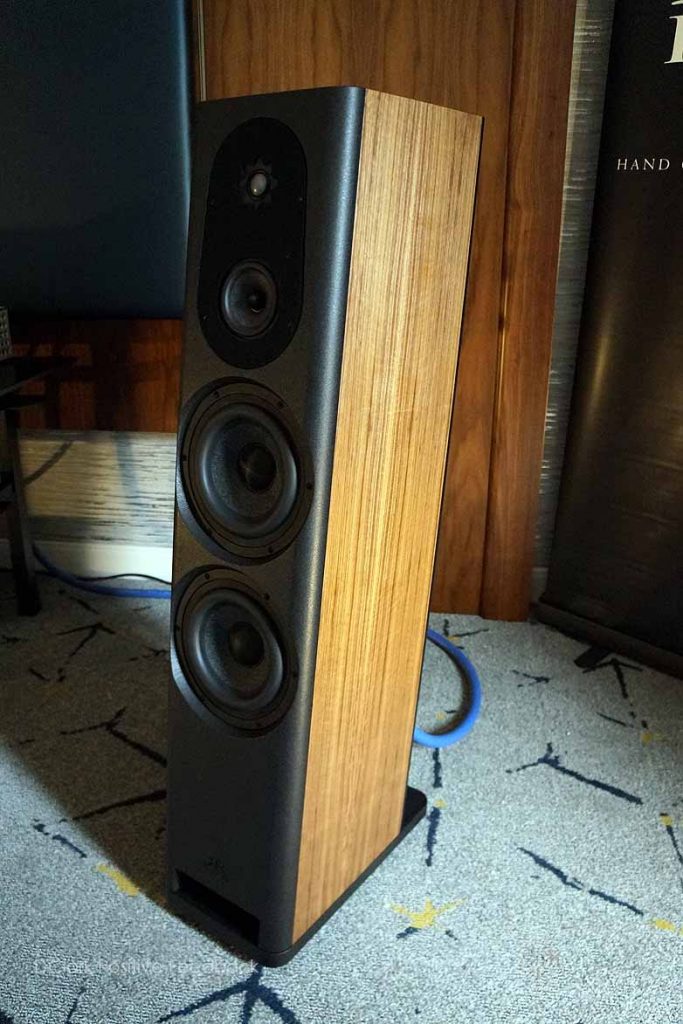 The Ryan Speakers S840. $8k a pair! Fun talking to the Ryan guys about Riverside where Dave grew up and we lived for a few years after our wedding.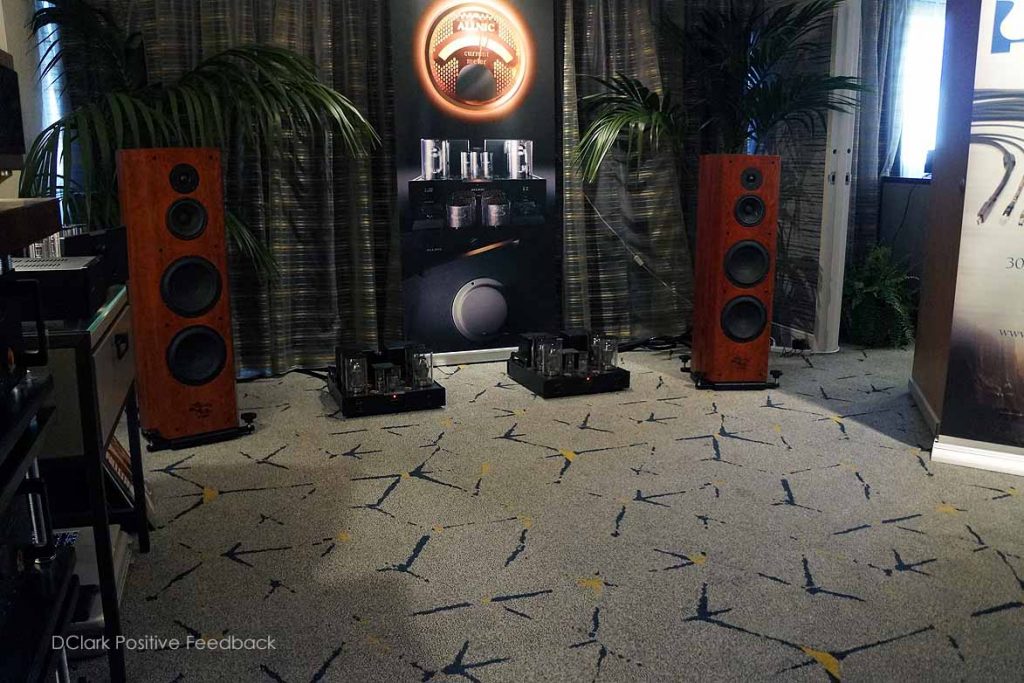 PBN Audio, Liberty Audio, Porterhouse Audio, Purist Audio.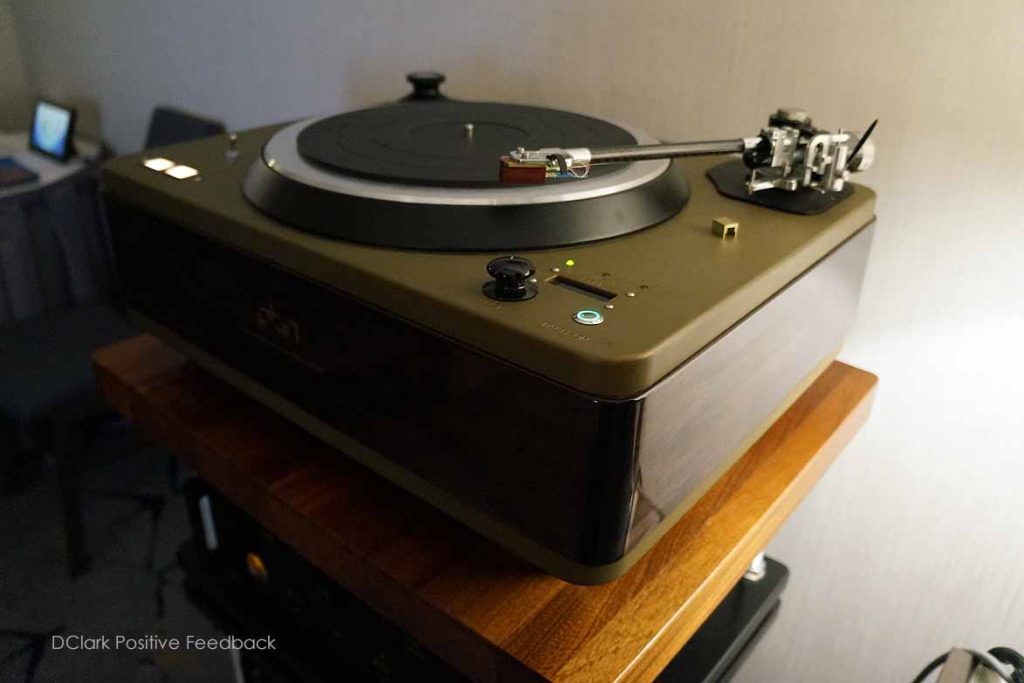 PBN Audio turntable.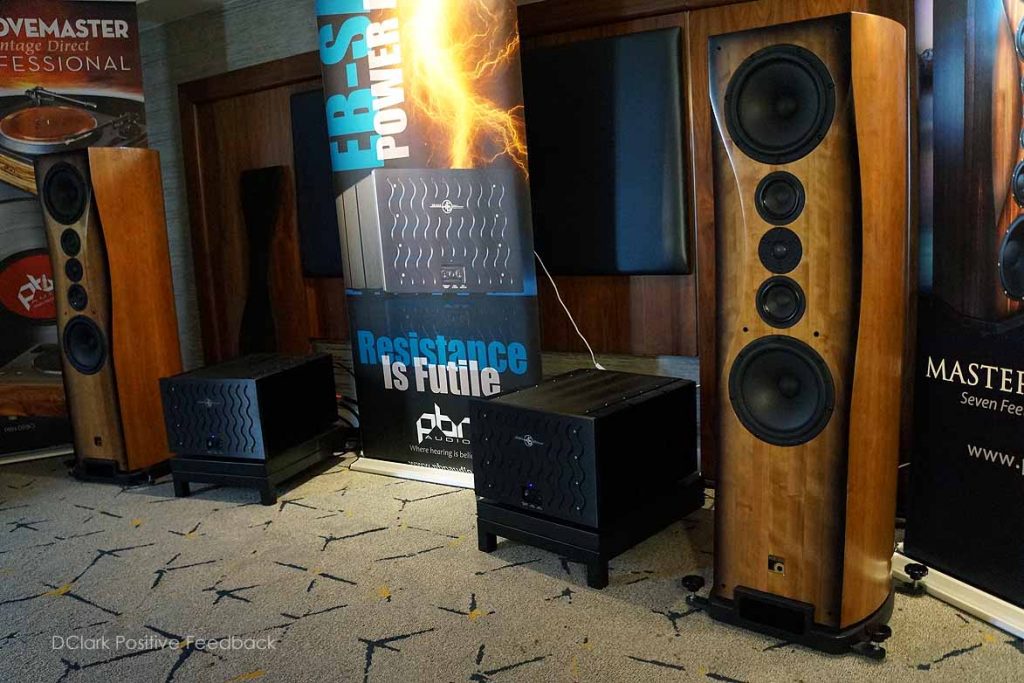 PBN Audio Sammy Innerchoic loudspeakers.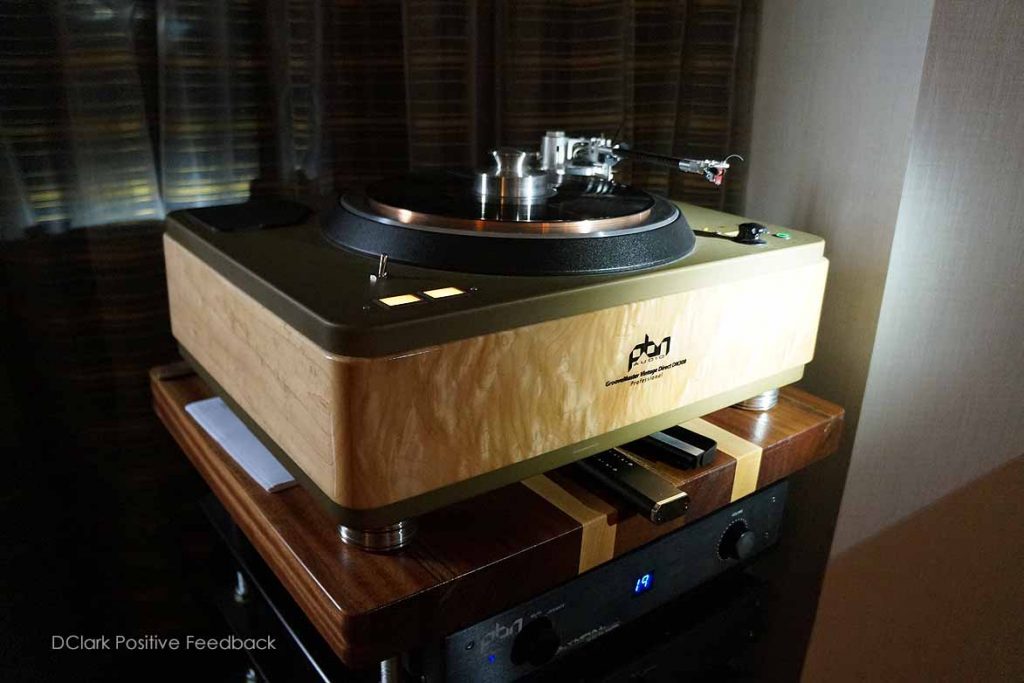 PBN Audio GrooveMasther DN308 Professional.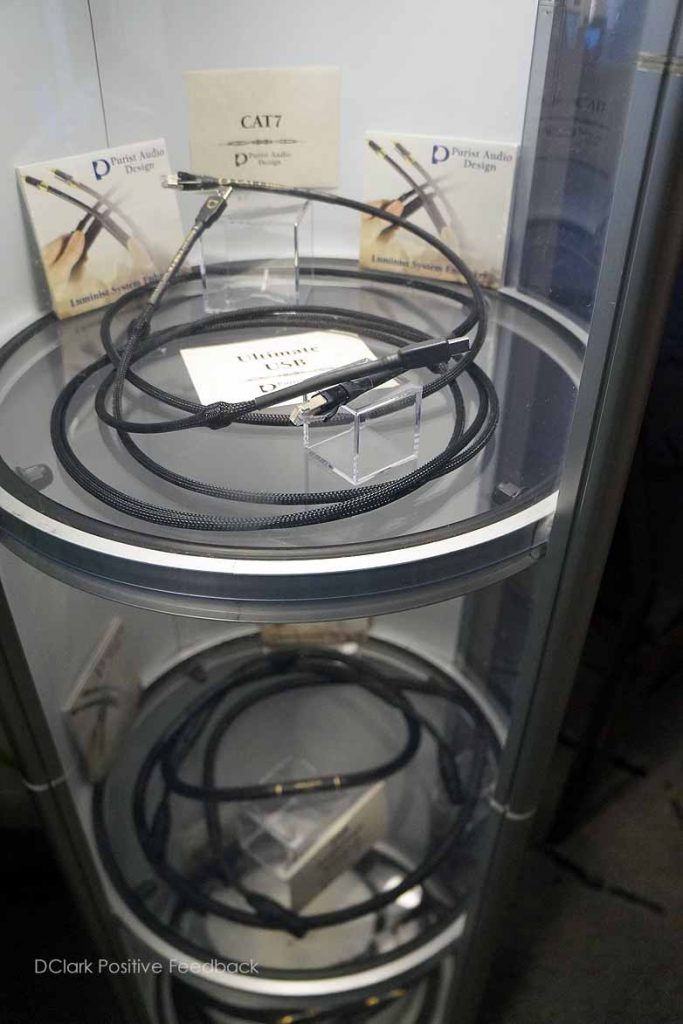 Purist Audio cables. Spent more time talking to the Aud's then listening... great people making great products. One of our references for sure.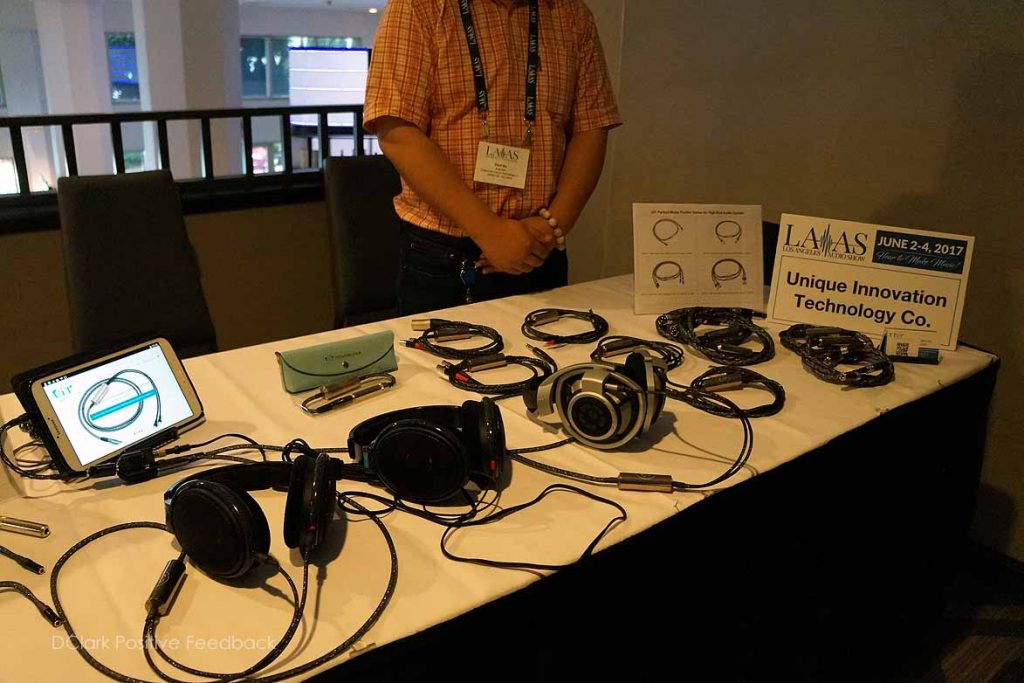 Unique Innovation Technology.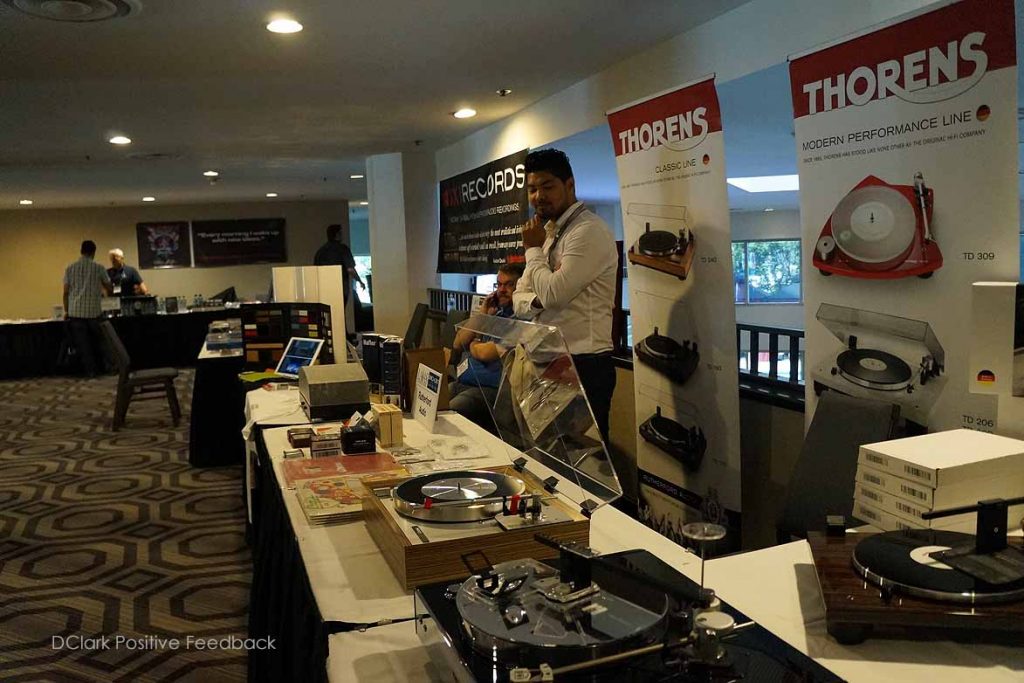 Thorens.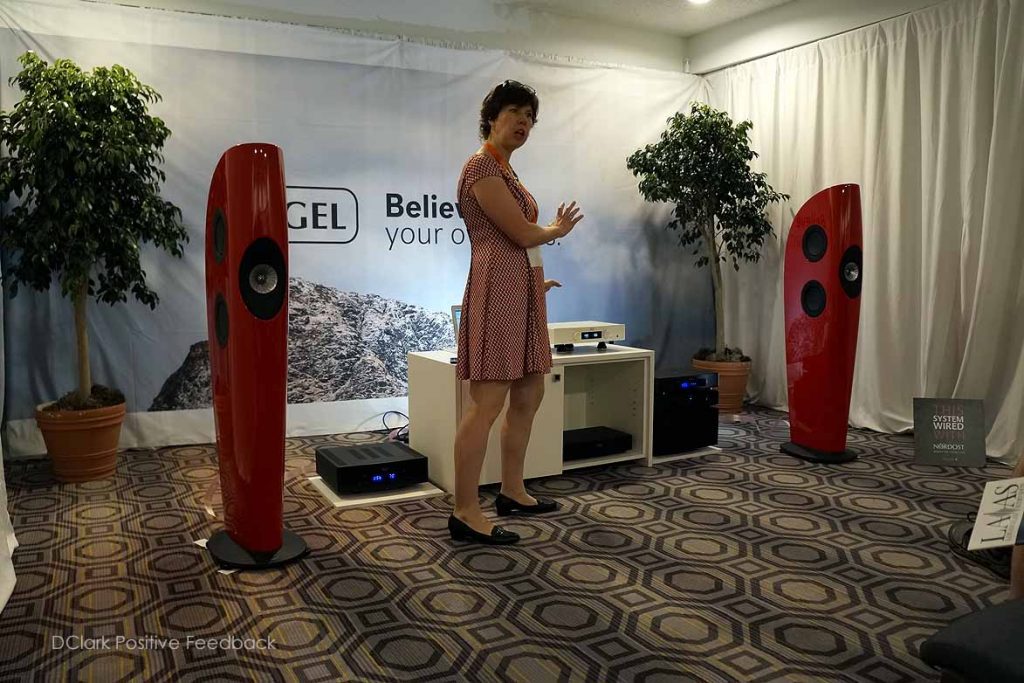 Hegel Music Systems.
Focal loudspeakers.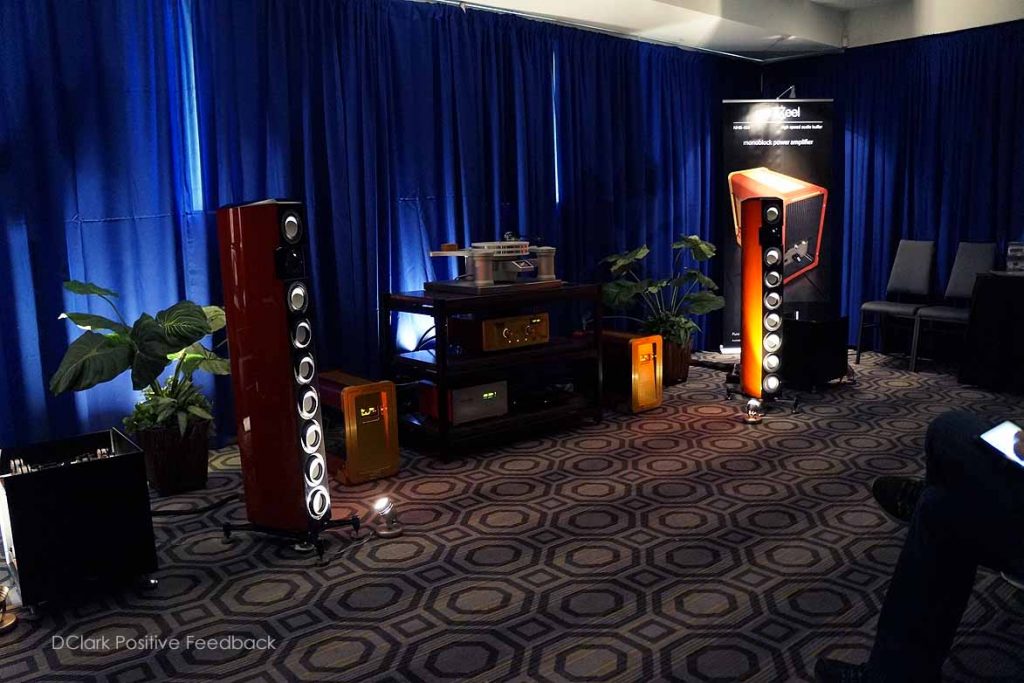 Evolution Acoustics, darTZeel, Wave Kinetics, Durand Tonearms.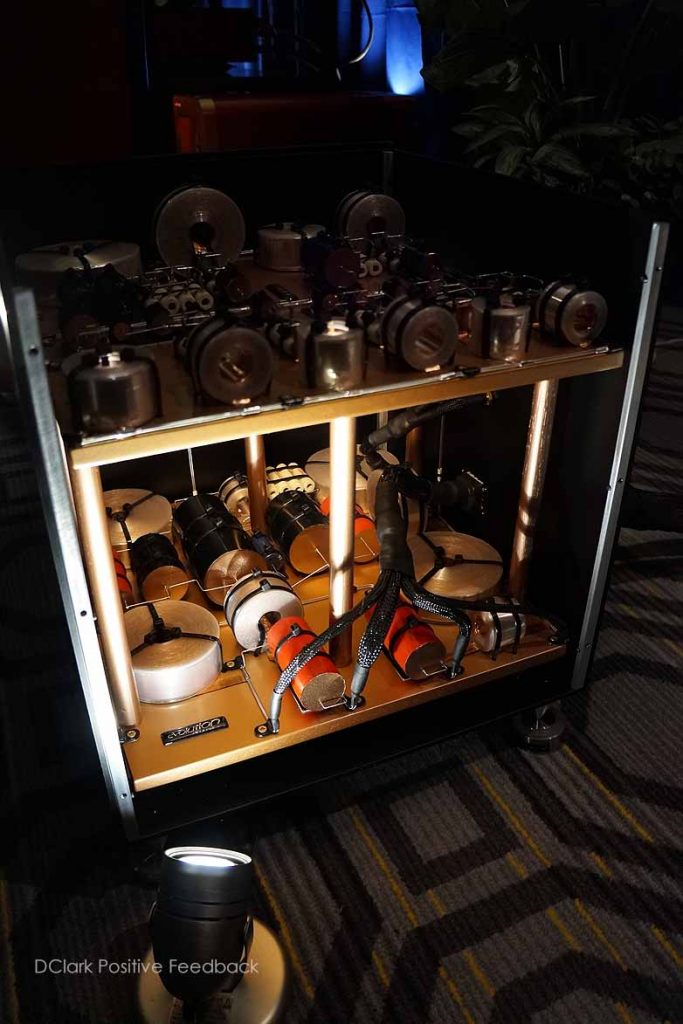 Evolution Acoustics crossover.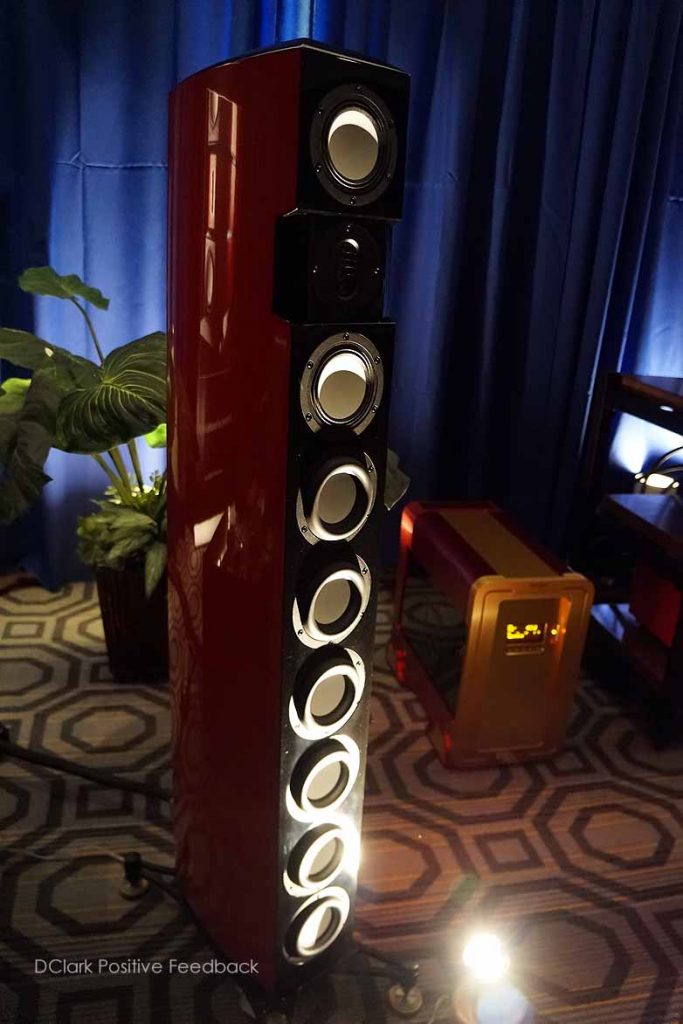 Brand new Evolution Acoustics loudspeakers, price to be determined, and they played the music really well. Stellar sound here.