Every October for the past 13 years I have looked forward to RMAF (Rocky Mountain Audio Fest). It is my favorite audio show because I can just walk around, see the sights, and reconnect with old friends I only get to see a few times a year. For a while I was glad, because I'd been to every single RMAF. But then, I missed the 10th anniversary, and the year after that. I'm glad to be "back on the horse," so to speak.
Let's get the "bad" out of the way up front. The bad parts of RMAF are the same every year for this sea level dweller. I don't do well in high altitudes, but at least it doesn't make me sick anymore like it did when I was a kid. I always feel a bit in a daze when I first arrive, and usually I'm not really acclimated by the end of the weekend. Also, it's dry in Denver. Dry, dry, dry. I have every intention of drinking a lot of water, but I'm never completely successful. I buy bottles of water, they sit in the room. I order water with my meals, but usually opt for coffee or an adult beverage instead. This year we had one of those special "water bottle humidifiers"…but of course we forgot to pack it. By Monday, after a weekend of not enough water in a high altitude coupled with probably too much alcohol, I was miserable.
So, guess what? Those are the only bad things about RMAF. Were there some chaotic things this year? Of course. Were they catastrophic? To this "outside looking in" individual, not at all. From the moment we arrived we were treated with nothing but kindness and respect from the hotel staff. Our favorite waiter, Michael, was still there with a smile. We learned most of the holdups with construction on the hotel came from the contractor, which makes perfect sense. I've never done a huge remodel on our house, just upgrades to the kitchen and bathroom, but I've been told things never go according to schedule. In fact, at last year's RMAF I suspected the work on the hotel would not be completed by this year. It seems as though everyone pulled together to overcome these difficulties. Not just the hotel staff, but also the exhibitors and of course, Marjorie Baumert and her staff as well.
It rained on Thursday, the day we arrived, and the tent for CanJam flooded. The flood wreaked havoc with the electricity. By Friday at noon, it was all taken care of. All of the exhibits were in the tower, as the other side of the hotel where the Atrium used to be was closed. This caused some electricity issues for some of the rooms. Imagine the load! The parking lot filled up quickly. Some people were bumped to another hotel (sleeping rooms), but a shuttle ran between the Marriott and the that hotel all day. Basically, some things went wrong, but for the most part the problems were handled efficiently. At least, that's how it appeared to me, and I didn't hear much in the way of complaining from any of the exhibitors.
On to the good! Creature comforts first. The upgraded rooms were very nice. Ours had the kitchenette, and though there were not pots, pans, or place settings, it was nice to have that large entry area. There was a large desk, which served well for room service breakfast. The bathroom was larger than what I remember from the past.
When the hotel is completed, the restaurant will be in the same area where the bar was before. In the interim, it is near the tower elevators. Old timers will remember that was originally where it was during the first few RMAFs. We recognized several of the waiters, including the aforementioned Michael. It's always amazing to me that he remembers everyone, but he genuinely does. In the morning there was the usual buffet, and in the evening it was half lounge, half restaurant. I enjoyed a fantastic Old Fashioned one night. The bartender told me she made her own brown sugar simple syrup, which made the drink interesting and different.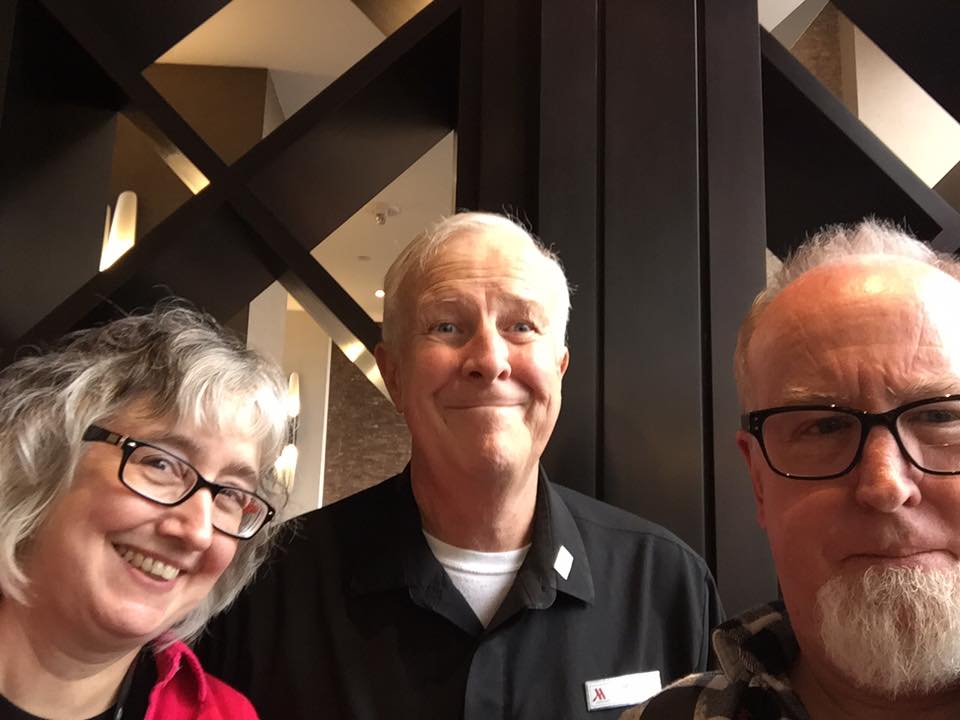 Down to the nitty gritty, the rooms. Sure, there were issues with the upgraded air conditioning vents. They took up valuable space, and sounded like a jet engine when turned on. A non-removable credenza and large flat screen TV made some of the smaller rooms a bit difficult. I will say this though; I heard some stunning sound in some of those rooms, DeVore Fidelity for example. Exhibitors had to be creative, and put all their skill to the test. They rose to the challenge, thereby demonstrating that they know their products, and are capable of getting the sweetest sound possible, even under trying circumstances. My hat's off to them!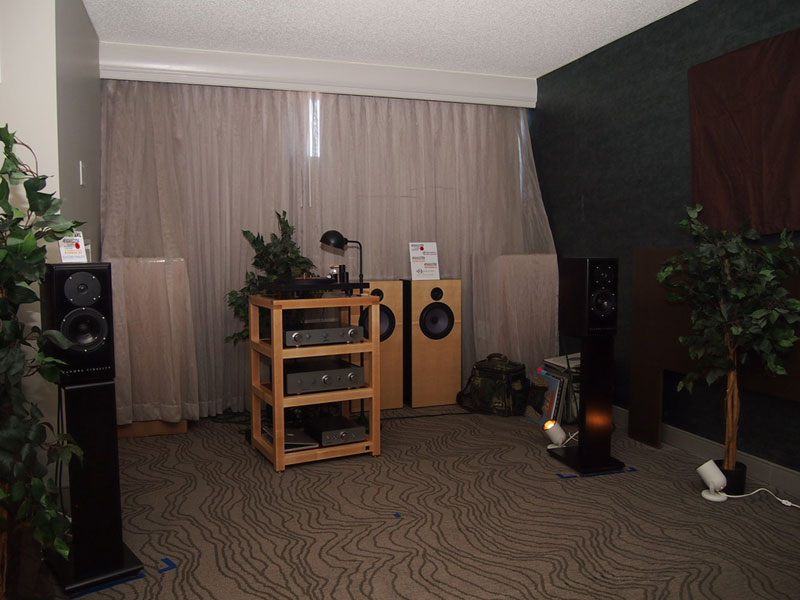 Having all exhibit rooms in the same tower made it easier for us. We were able to go in every room to take pictures on Friday. Elevator to the top floor, then stairs down. Each floor had rooms, so this was completely manageable. Nearly every show I've been to, with the exception of CES at Alexis Park where everything was on one level, includes the shenanigans of waiting for elevators, so that's a given. This seemed no better or worse than other shows.
I'll admit, I didn't attend any of the seminars (I usually don't), so I'm not sure what the pods were like. There was an exhibit room in a pod though, Classic Album Sundays with Joseph Audio loudspeakers. This room sounded awesome, not to mention the fact that the presentation was fascinating.
Can Jam in a tent was not a problem at all. I spent quite a bit of time on Sunday listening and experienced no problems. It was easy to navigate, and either blissfully cool, or toasty warm depending on what it was like outside.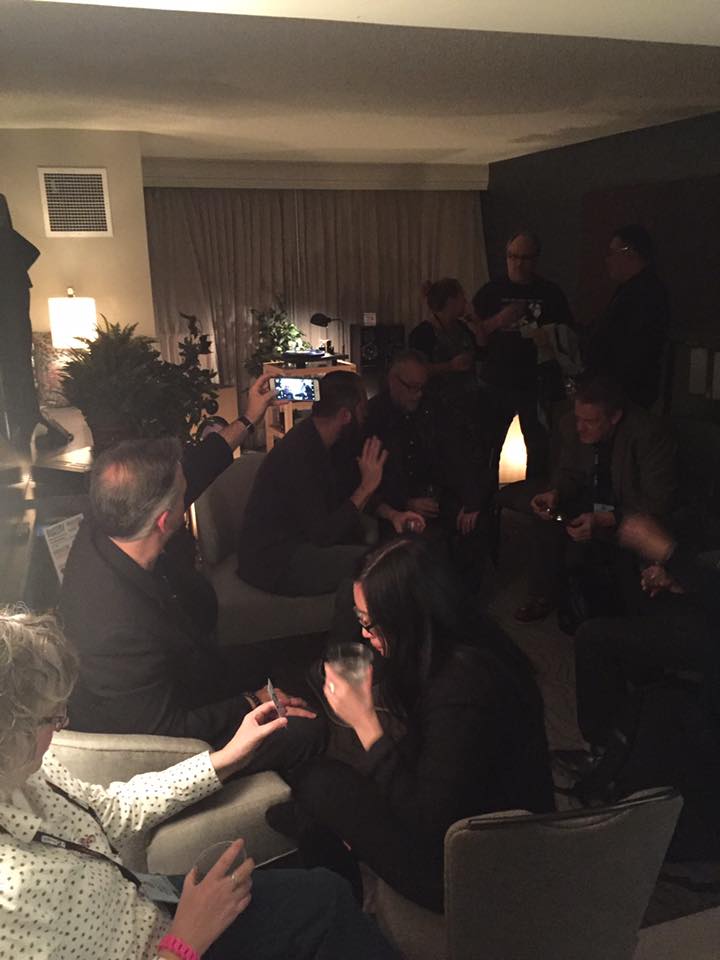 Michael Lavorgna, Jana Dagdagan, Scot Hull, Rafe Arnott, Jonathan Halpern, John Devore, John Darko, and others...
And dinners with friends. Always good times.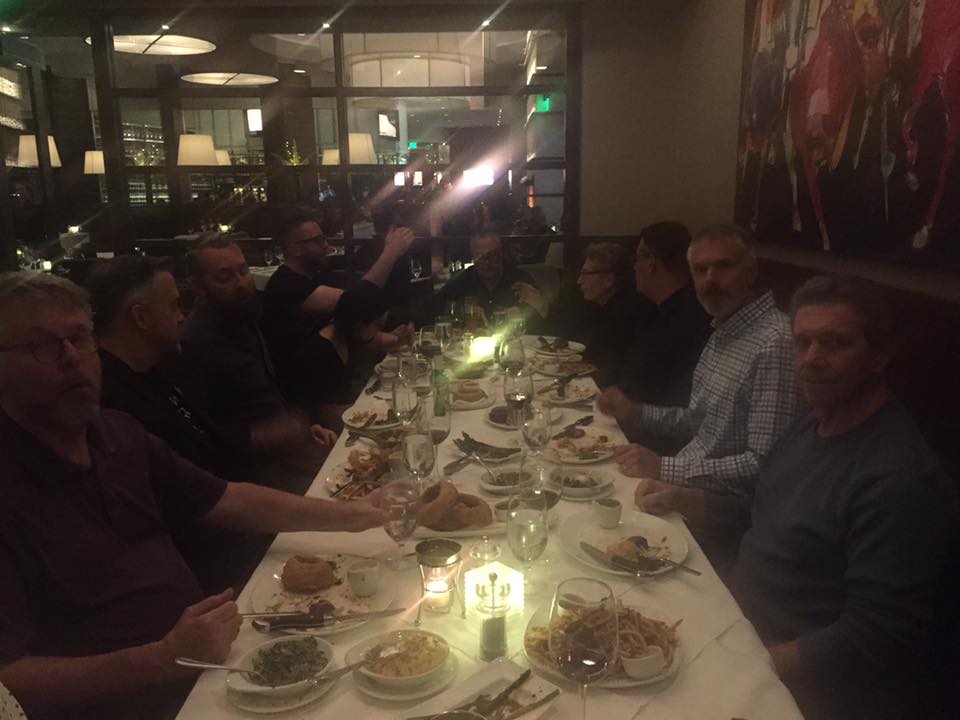 Finally, what makes RMAF so special is the even keel management and grace of Marjorie Baumert. Even under the best of conditions there will be issues to deal with. Marjorie always appears unflappable. She might not feel that way on the inside, but on the outside she always has things under control. Without her at the helm, this might have been a completely different experience, but I can honestly say, she made it work. Her staff is equally accommodating and fun to work with. They work hard, but always with a smile on their faces. A reflection of their leader.
In closing, RMAF 2016 was just as good, if not better, than all other RMAF shows. I'm looking forward to big things next year!