I know, Carol when are you going to give the perfect song idea a rest? Well, unlike a 'favorite' song, I think there can be many versions of a 'perfect' song. In fact, this edition of my perfect song series revisits a song from the first article. The difference here is the venue, and the equipment involved.
The Rocky Mountain Audio Fest, for anyone not familiar with it, is held every October in Denver. The 2015 show was the twelfth installment, and my first time back in two years. I really looked forward to seeing all the rooms, and reconnecting with people I hadn't seen in a while.
The first day Dave and I made our way around the larger rooms on the first floor. We stopped in to see our friends in the Daedalus/ModWright/WyWires room. It always sounds good, so we decided to take a break from our walking to sit down and have a listen. Lou Hinkley, from Daedalus, asked me what I'd like to hear. I said The Cure. I didn't specify which track, but magically he selected "Play for Today."
In my first Perfect Song article (read it HERE) I mentioned this song, I was talking about a rare live recording found on a cassette tape called Concert, The Cure Live. At RMAF Lou played it from the album Paris, also a live recording, but one that is readily available. I have been a Cure fan for a very long time, and it's nearly impossible for me to select a favorite when it comes to their songs. However, I've recently discovered that if pressed, "Play for Today" just might be it.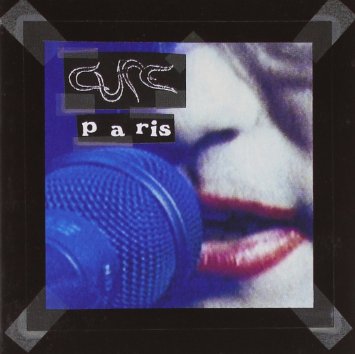 The Cure, Paris
Okay, so back to RMAF day one, and me sitting in the Daedalus/ModWright/WyWires room listening to my perfect song. On that day the system they had running included the Daedalus Poseidon loudspeakers and BOW subwoofers, a preproduction SET 9 watt stereo amplifier from ModWright called the Ambrose, and the system was wired with WyWires Diamond series.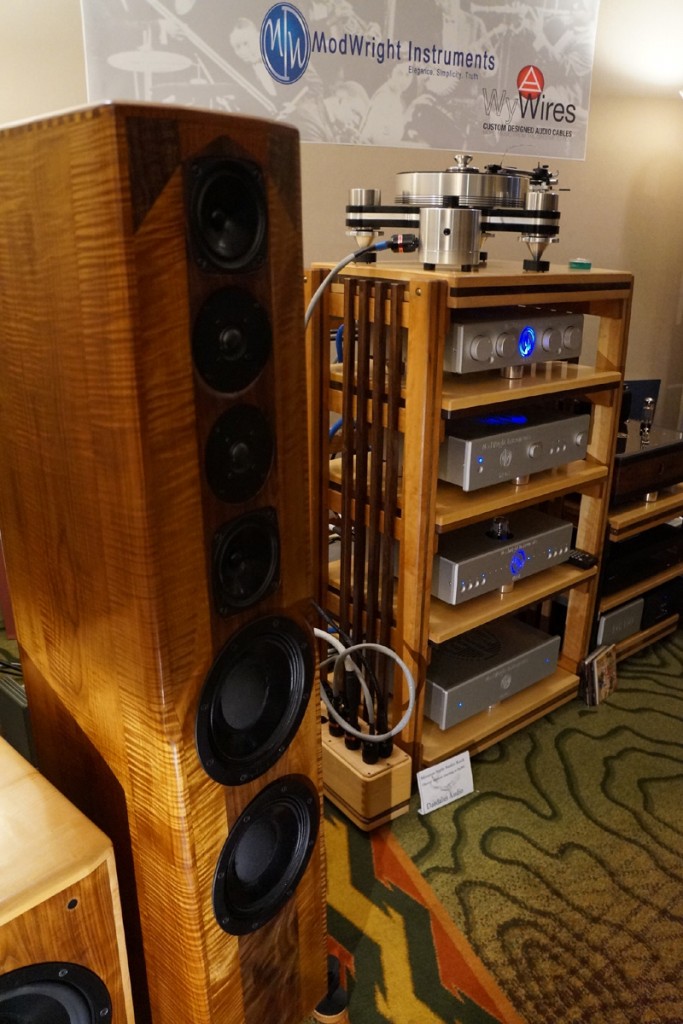 Daedalus Poseidon loudspeakers, ModWright gear, and WyWires
Sometimes shows are not the best venues for listening to music, for various reasons. Many times I'm self-conscious about my choice of music as I know it's not to everyone's liking. Then there's the room, this was a conference room, not the ideal setting for intimate listening. And finally, there are other people there! Usually, after I've requested a song, I sit politely and pretend to enjoy it. Not this time. Almost immediately I began to get lost in the song, feeling those chills that signify this is one of my perfect songs. By midway through I was oblivious to anything around me, except the music. Wow.
Afterwards, when I came out of my trance, Lou asked me to recommend some more songs by the Cure; clearly he had enjoyed it too. We spent some time in the room, talking to Dan Wright (ModWright) and Alex Sventitsky (WyWires). We promised to come back, and went off in search of the next room.
Carol Clark and Alex Sventitsky
At some point we encountered another ModWright room, and their stunning new amplifiers, the 845DS monoblocks. We sat and listened, but not with the Cure, and while I appreciated their artistry, I wasn't blown away.
At some point during day two we encountered Dan Wright, and he mentioned that the 845DS monobocks had been switched down to the first floor room. Intrigued, we made our way back over to that room. Lou kindly agreed to cue up "Play for Today" again.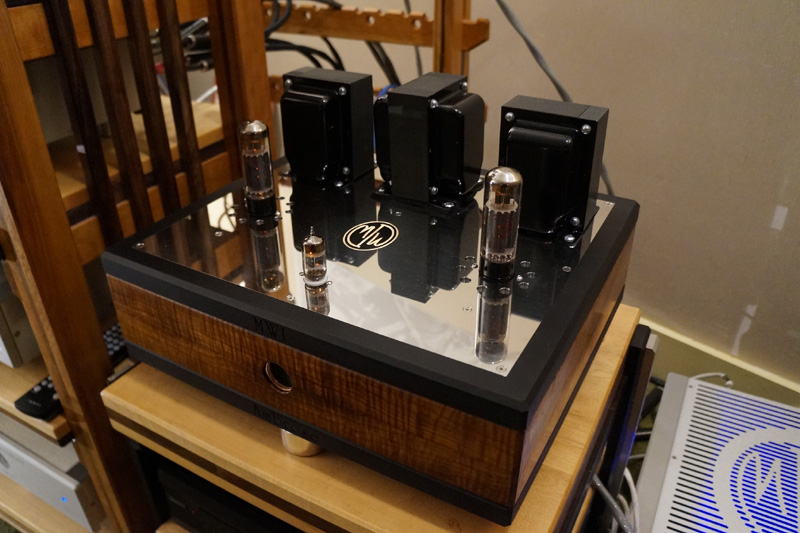 The ModWright 845DS monoblocks
The first time I listened to the song in this room it was crazy good, but this time it was even better. The music came out and surrounded me, and the shivers were even stronger. These amplifiers with these speakers are a winning combination. If I had my way, I would have taken up that sweet spot seat and sat there for the rest of the day, listening to every song on the Paris recording. Everything in that system just melded together in the best way possible.
For reference, Dave and I were fortunate enough to see The Cure live at the Whisky-A-Go-Go in 1981 when they were on their first tour of the West Coast. Of course they performed "Play for Today," and in the smoky recesses of my mind I remember it being spectacular. Listening to it on headphones via the cassette tape on that old recording was pretty close to the real thing, but hearing it in all its glory on this amazing set-up sent it over the edge. One of the highlights of RMAF 2015, at least for me.
So again, I ask you, what are your perfect songs?