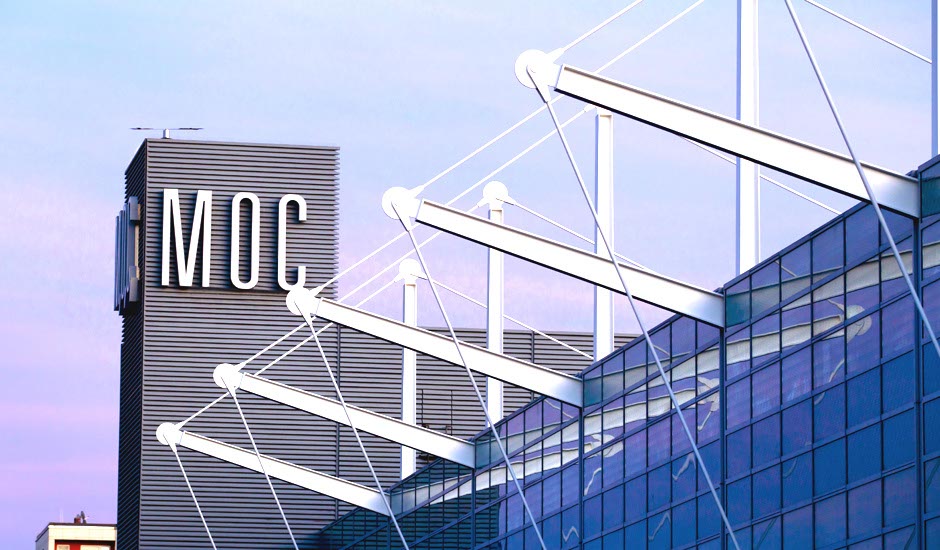 Bavarian Spring
My flight landed at Flughafen München in Munich, the Bavarian capital and third most populous city in Germany, exactly on time, mid-morning Wednesday, May 17th. After stretching, collecting my bag, changing some currency from US dollars to Euro's, and using a vending machine to buy a Day Travel Pass for Munich's extensive public transportation system, I made my way out of the airport and found myself in a large, open courtyard between the airport and the train platform.
Keep in mind, my day had started at 4:00 am EDT the previous day, Tuesday; at this point, 11:00 am CEST (or Central European Summer Time) Wednesday, with the 6-hour time shift, and having been unable to sleep comfortably on the flight, I had been up for some 25 hours.
But, here I was in the Bavarian spring! The fresh air and bright sunlight this unexpected and inviting open space offered was a welcomed release, and just what I needed to help recharge after nearly nine hours, and some 4,500 miles, cooped up in Economy Class on a Boeing 777. In fact, Bavaria was to offer clear skies and a near perfect climate for this New York born traveler; it was to remain in the high-60's to mid-70's – that would be 18-23⁰ Celsius – for nearly my entire stay. With only a light rainstorm Friday afternoon, which played out in its entirety while I was inside, I could walk or travel by the city's train system freely and easily throughout this picturesque, clean, and remarkably friendly city.
After my brief but indispensable and invigorating stop in that unanticipated oasis, I finished crossing the courtyard and descended the escalator to the S-Bahn station to catch an S8 train to the Hilton München City, on Rosenheimer Strasse. Before leaving for this trip, I had downloaded the Munich train system App to my smartphone. The system is quite extensive, built on a network of underground (U-Bahn) and suburban (S-Bahn) trains. And quite honestly, arriving at that platform, I was amazed to see how clean and free of debris it was.
Over my entire six days there, apart from Saturday evening, May 20th, I didn't see so much as a candy wrapper or cigarette butt on one of the train cars or on the floor of any of the stations themselves. The cars were clean, comfortable, and bright, without even scuff marks, mars, dents, or any type of defacing or graffiti.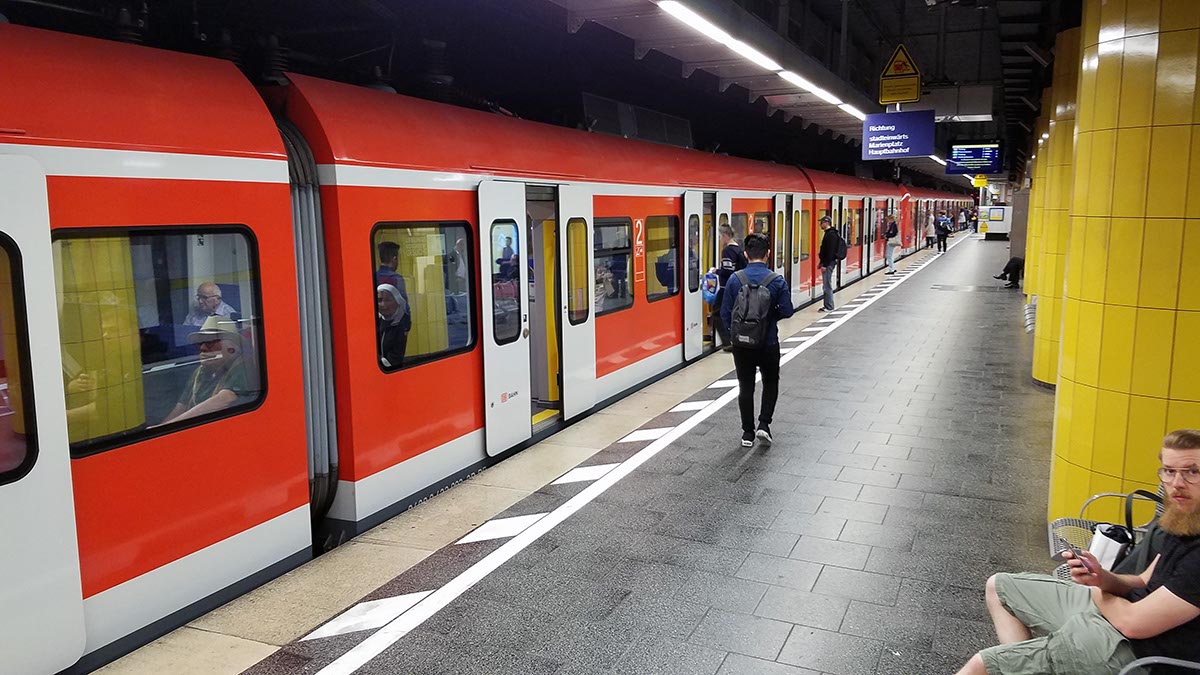 And it was only due to the extraordinary events of that Saturday evening, when Bayern Munich, Munich's professional football team, which plays in the Bundesliga, the top tier of the German football league system, and is the most successful club in German football history, having won a record 27 national titles and 18 national cups, defeated Freiburg 4-1, to clinch the National Football league championship. Hours after that game concluded at Allianz Arena, known for its exterior of inflated ETFE plastic panels that made it the first stadium in the world with a full color changing exterior, thousands of fans streamed into the center of Munich, at Marienplatz, to celebrate this national victory and see the presentation of the trophy.
As you may imagine, that many excited and celebrating fans created some trash. But, within an hour or so of when the fans started to disperse, the streets and train stations were nearly spotless again, so quickly had the street sweeping machines, like big Zamboni's for trash, and the huge force of police and clean up personnel had sprung into action.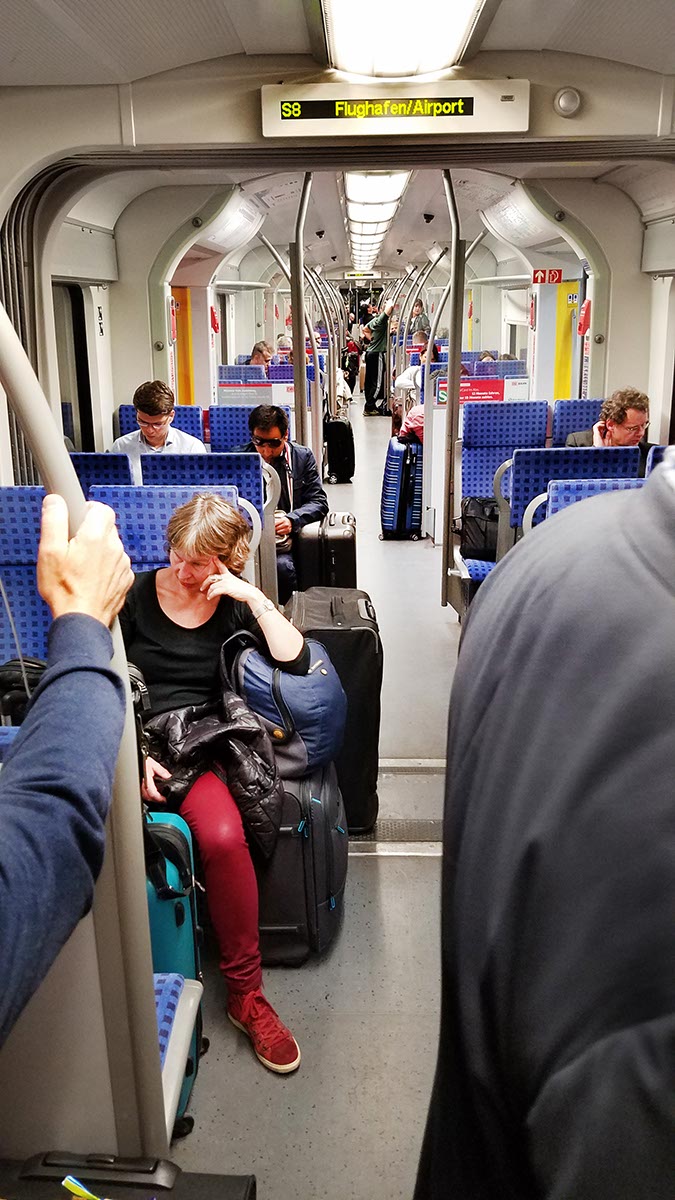 It is an amazing city, and I was soon able to verify what my world-traveling sister had said, nearly everyone there speaks some English, certainly enough for this typical American – who only speaks English—to get by without any issue.
High End Munich
It may be hard to believe, but what is now known as the HIGH END Society, along with its associated German show, is now 35 years old! The idea was born in Düsseldorf in 1981, by about a dozen folks, including the late Dieter Burmester. Initially named the "HIGH END Interessengemeinschaft für hochwertige Musikwiedergabe" (which loosely translates as "Community of Interest for High-Quality Music Playback or Reproduction," when it was founded in 1982, the first show was held in December that same year at the Sheraton airport hotel in Frankfurt. It wasn't until 1990 that the name was changed to "High End Society."
"The HIGH END" is the oldest show in Europe, now 35 years old, and this year, 2017, marked the 14th time that the event was held at the MOC (the Munich Order Center) in Munich.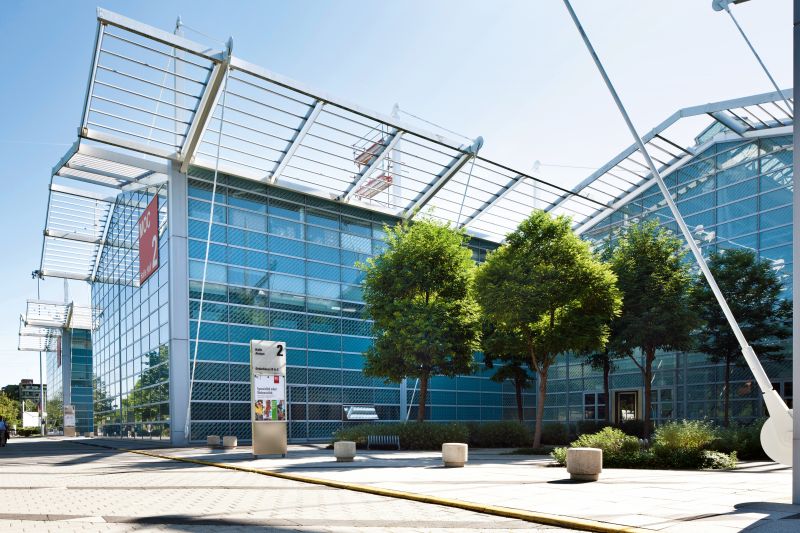 Built in the early 1990's on behalf of Messe München International and designed by architect Helmut Jahn, the center hosts some 120 events annually. Just a 30-some-minute ride on the U6 train heading north from the Hilton, and coincidentally, just one stop south of Allianz Stadium, the MOC is an enormous campus of four glass and steel halls. Hall's One and Two are single story buildings, Hall three has two stories, and Hall Four has three floors. Halls 3 and 4 each offer a 30' tall atrium, and the entire complex has some 1500 underground parking spaces, and offers over 325,000 square feet of exhibit space!
Integral to the design are the many, many individual, fully adjustable "cabins." Each space has relatively thin, slightly flexible, movable panels for each side wall that can be quickly moved to expand or contract to the desired sized space, while the front and rear walls are mostly glass. This is clearly a case of what may be good and convenient for one event, say the textile trade fair "Munich Fabric Start," the shoe making "Moda made in Italy," or other conferences and company events, may prove nightmarish for an audio demo room.
Think about it; you have a glass wall front and back, highly reflective and necessitating some form of treatment. Then there are the flimsy side walls, which both allow your neighbors demo to impose on yours, as well as limiting any solid bass enforcement. You have to hand it to the exhibitors who somehow manage to pull off even decent, let alone good, sound in a room at this venue.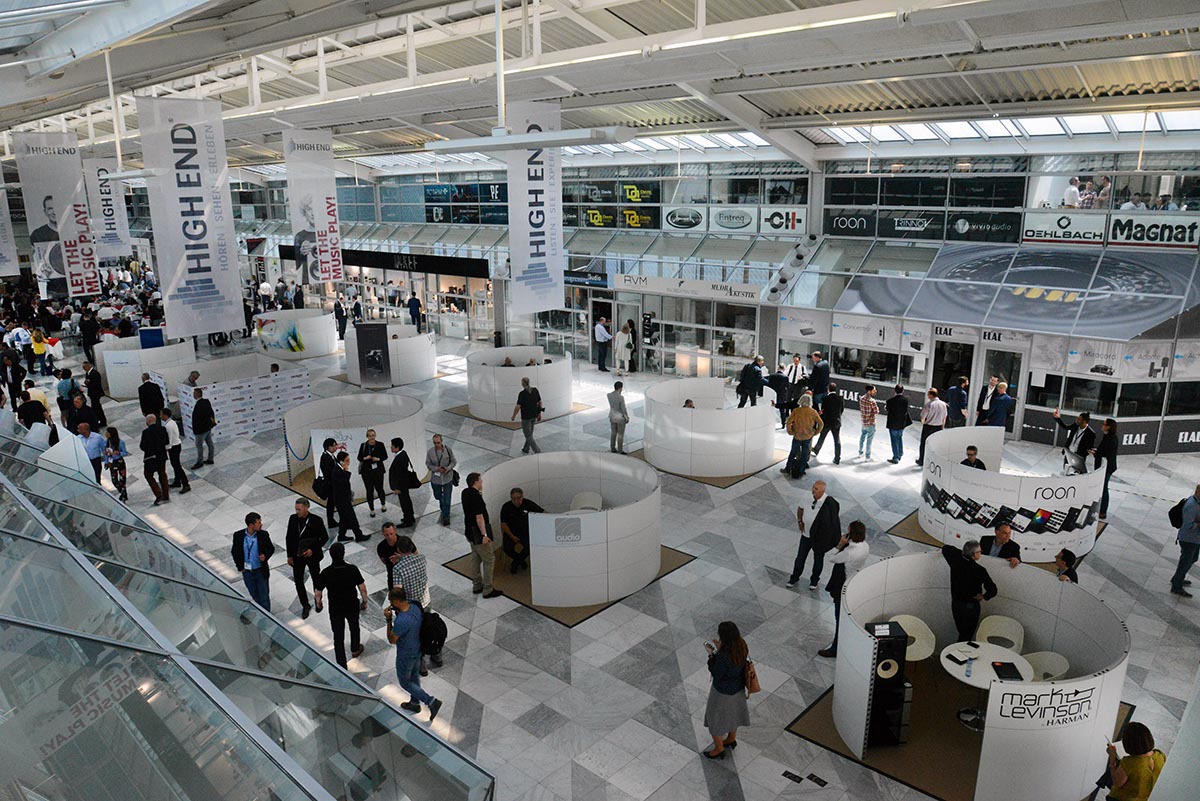 This year saw 2016's record breaking performance shattered yet again, with a 4% increase in exhibitors (538), 5% for accredited journalists (541), a 16% increase in trade visitors (8,002), and an 8% increase in overall visitors (13,410). The total attendance was up 10%, with 21,412 people in attendance, and that DOES NOT include the 2978 exhibitors!
But enough history; let me share just a little of the excitement with you now… just keep in mind I was one journalist, speaking only English, covering an event that utilized every square inch of the over 325,000 square foot facility. You'll have to forgive me the missed equipment models or uncollected pricing.
Singular
Over the past eight plus years, Constellation Audio has made a name for themselves with their successful creation of benchmark-setting solid-state electronics. This show saw the introduction of the first product of their new Dominion Series components, the Leo. Leo is a SmartMusicSystem, which Constellation Audio defines as a product combining the convenience and intelligence of today's electronics with the reference performance of the Constellation Audio product line. CEO Dr. Murali Murugasu sees Leo as the next step in the evolution and growth of Constellation Audio.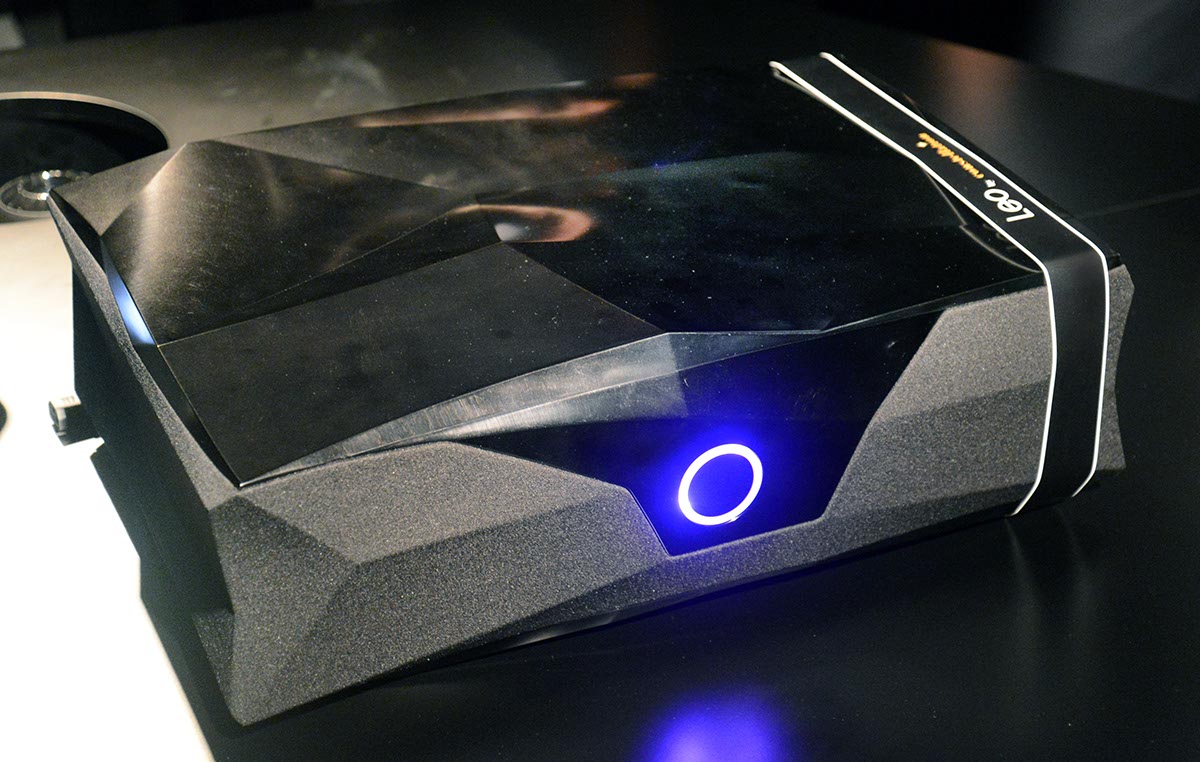 In one single, moderate-sized chassis, Leo houses a Roon-ready and MQA digital playback system, analogue and digital inputs (including a MM/MC phono preamp), and 560 Watts of amplification, driving a pair of three-way loudspeakers—all of which can be controlled from your phone or tablet device. Available in black or silver finish, Leo accomplishes all this in a unique aesthetic package, should sell for right about $5,000, and begin shipping in Q4 of 2017. What a statement lifestyle product!
Another seemingly unique product I've seen only in coverage of previous High End Munich shows are the wall mounted, somewhat retro looking Stereomaster's, by Lyravox of Hamburg. Looking somewhat like a boombox on steroids that mounts directly to your wall, I can't decide if they are cool looking retro one-room systems, or the ghastliest thing you could ever bolt to your living room or den wall.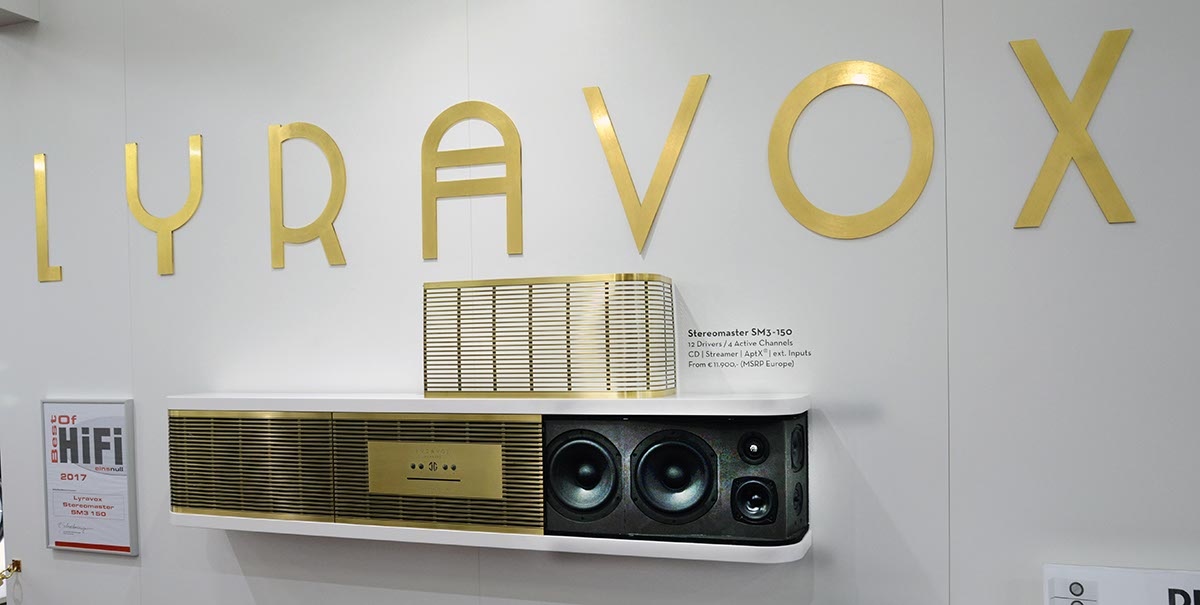 Regardless, the newest Stereomaster, the SM3-150 displayed in a white cabinet, is the most compact Stereomaster model yet, measuring only 58 ¼" x 11 ¾" x 7 ½" (W x H x D). Yet it is packed with 12 drivers, including four long-stroke 7'' woofers in closed baffle configuration, four aluminum 3.5'' midrange drivers, and four of the legendary Scan Speak® ring radiators. The wall mounted SM3 is a quad-amplified digital/active design with six internal audio channels and DSP-based crossover/equalization and includes a native CD drive, and is Tidal and QoBuz streaming ready. Its four side speakers are said to create a panoramic stereo image, offering a natural, sonically diffuse field, and provide a 180° stereo sweet spot. I don't know about all that, but, for a boombox on 'rhoids, it does sound pretty good. And you can have it all starting at just €11,900!
Sonus Faber was showing the unique looking SF16, and I'm sorry to say that I didn't get to hear it as it seemed to be only a static display. With 1 analog RCA input, 1 Digital S/pdif coaxial input, 1 Digital Toslink optical input, and offering Play-Fi Wireless standards (802.11a/b/g/n protocols), it offers full compatibility with all high-resolution music up to 24bit/192k, and supports Deezer, KKbox, Rhapsody, Songza, Tidal, Spotify®, Amazon music, IHearthradio, Pandora, Sirius XM, and internet radio formats.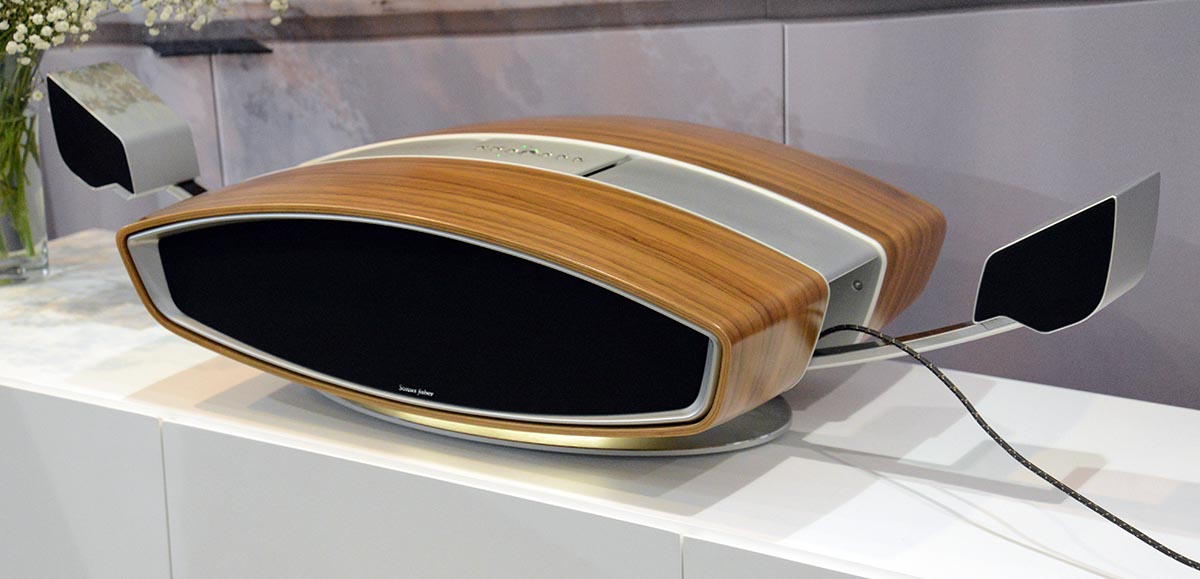 Using two 5" long throw subwoofers, four ceramic 2" midranges, and four 5/8'' silk dome tweeters, and powered by 1400 watts at 4 Ω, all I can say is that it would look right at home in George and Judy Jetson's home.
And in the too-much-is-never-enough category, Munich's Ascendo Immersive Audio (AIA) is the clear winner with the SMSG50, using the largest single driver I've ever seen. This 50" custom built bass driver, with a 13 ½" voice coil, uses fully-active DSP and 2,500 watts of power to try to control that monstrous driver.  While they claim it effortlessly reproduces frequencies well below 10Hz, will reputedly play 20Hz at 140 dB, and that it matches unparalleled output power with the lowest distortion, with a price tag of €56,000, I was anything but impressed.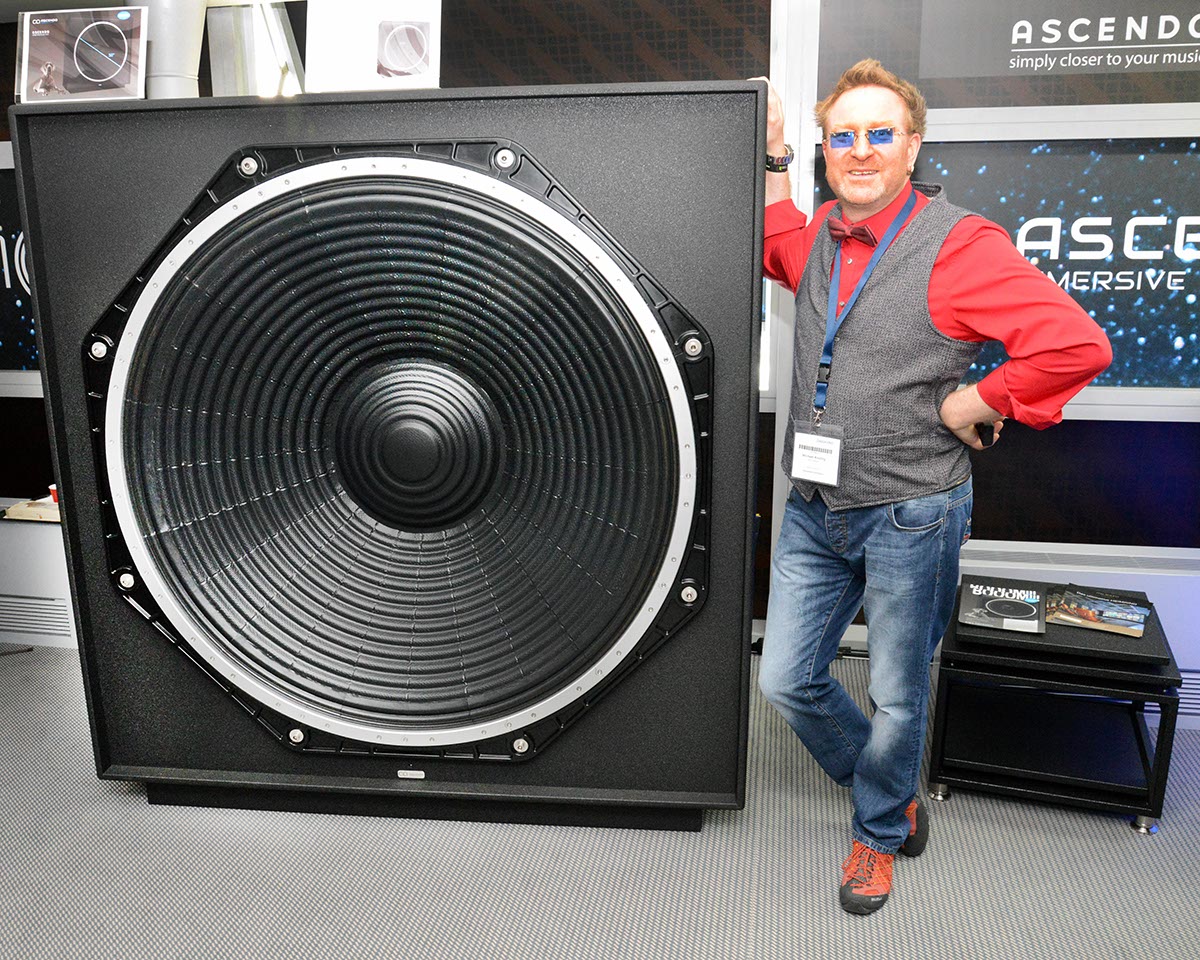 Moving from the absurd to the truly amazing, I got a chance to sit in a Porsche Cayenne, fully tricked out with paragon AG's latest innovation. In a joint development project with Audionet, they have created what seems to be a unique, elegantly efficient, and truly remarkable sounding, in-car 3-D sonic experience.
Where most high performance automotive audio systems employ central amplification, generating considerable amounts of heat, and employ speakers connected with foot upon foot of analog wiring, this system uses decentralized and networked digital amplification and signal processing modules integrated directly into the speaker!
By integrating these modules into the speakers, paragon AG's research and development staff, working in close cooperation with high-end audio specialist Audionet, claim that they have developed levels of speaker compensation and equalization never before achieved, yielding previously unrealized and significant improvements in the quality of in-car sonic reproduction. A further benefit for the auto makers who are adopting this technology is the reduced system weight. The reduction of complexity to a single system platform enables significant savings in terms of both weight and cost.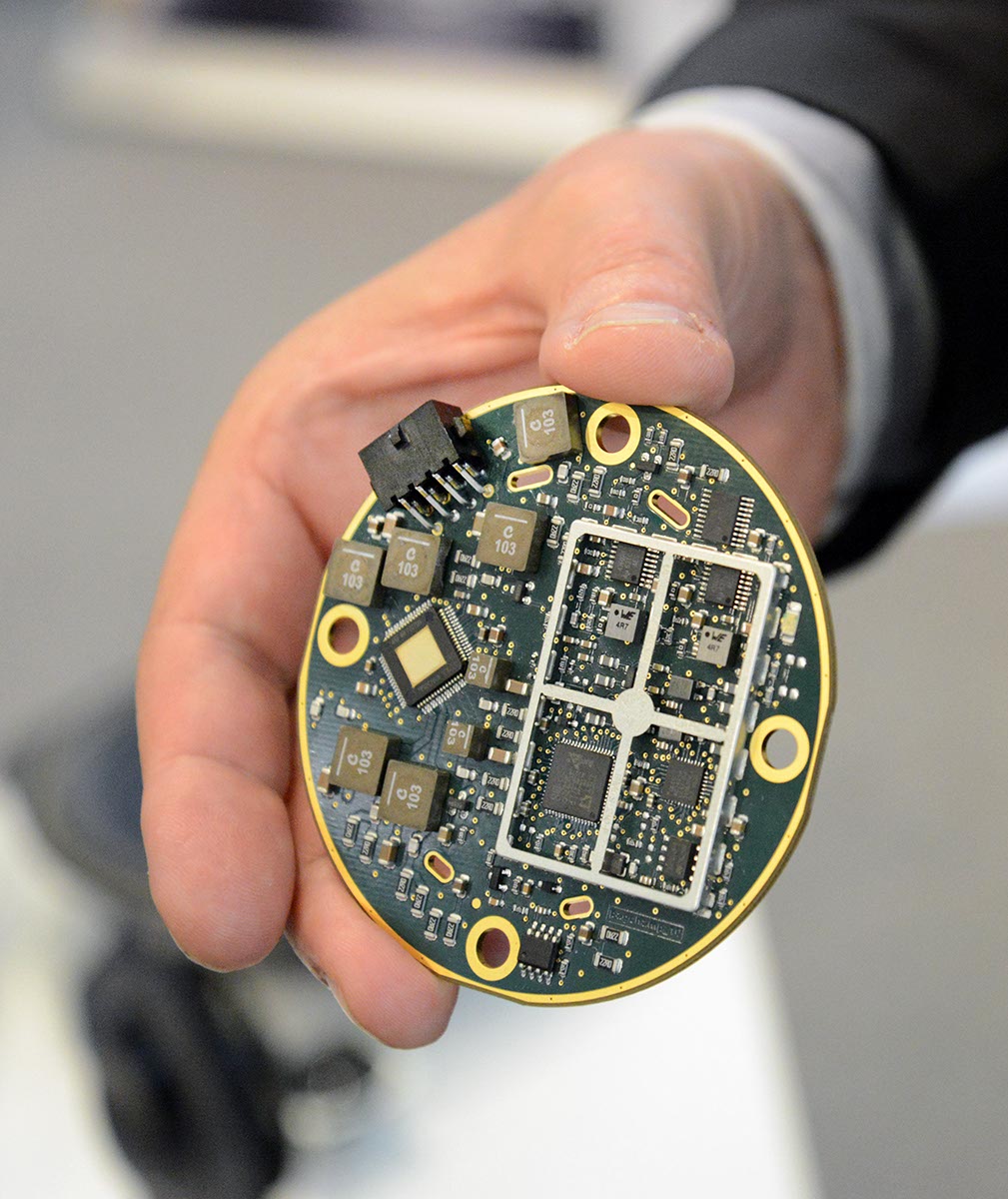 Further, enhanced audio features, such as in-car communication or engine sound synthesis can be added simply by configure the corresponding software module. This concept allows virtually all models of vehicles to be equipped with the same modules, allowing any degree of configuration, right up to the maximum possible high-end systems.
Remember that Cayenne I was talking about? Each seat has a host of speakers optimally and inconspicuously placed for that seats listener, including speakers in the headliner, the head rests, and the door panels. The way it was set up for my demo, with four people sitting inside, two up front and two in the back, we EACH had the same spatial sonic experience, with imaging and staging the same for each passenger, rather than just having the sound optimized for the driver, or even the front seat. Every seat in the car was "the best seat in the room." Pretty cool stuff.
Good
I was drawn into the Marten/Engstrom room, as I had not yet heard the Coltrane Tenor 2 speakers and was very curious to give them a listen. Using a refurbished Thorens TD124, a Thomas Schick 12" tonearm, and a ZYX cartridge, a Nagra IV-S Reel-to Reel, or an Aurender Media Player, with MSB Select DAC II, all electronics were from Engstrom, featuring the rather interesting looking Eric Tube Amplifiers. All cabling, interconnects, phono cable, USB, and loudspeaker cables, were the Jorma Design Reference and Statement series. Speakers were the previously cited Marten Coltrane Tenor 2, which I believe were about €100,000.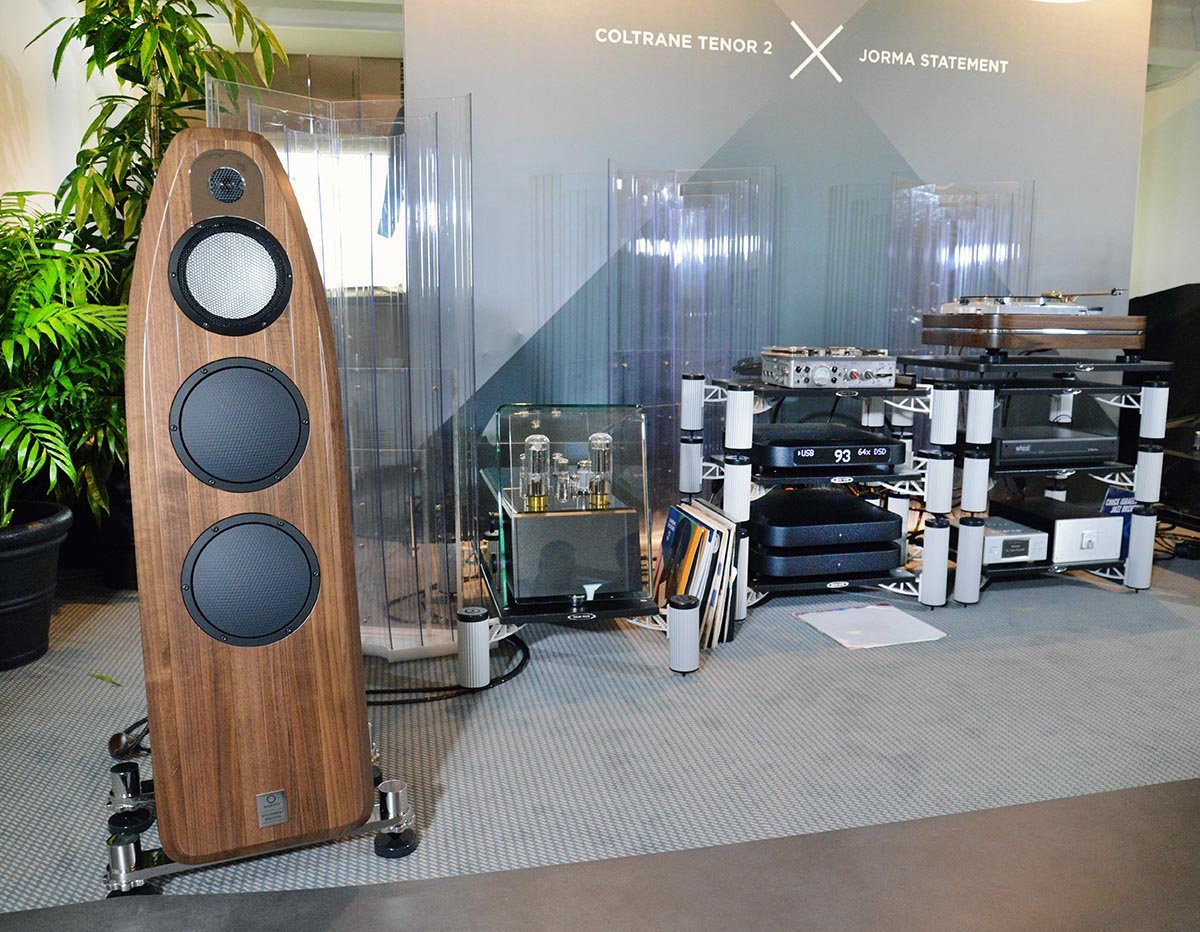 As you would expect from the Marten brand, tone color and texture were delightful. Overall, the system offered remarkable detail and resolution, had dramatic impact and speed, and spoke with a very cohesive voice, if the balance was just tilted a bit the cooler side of natural.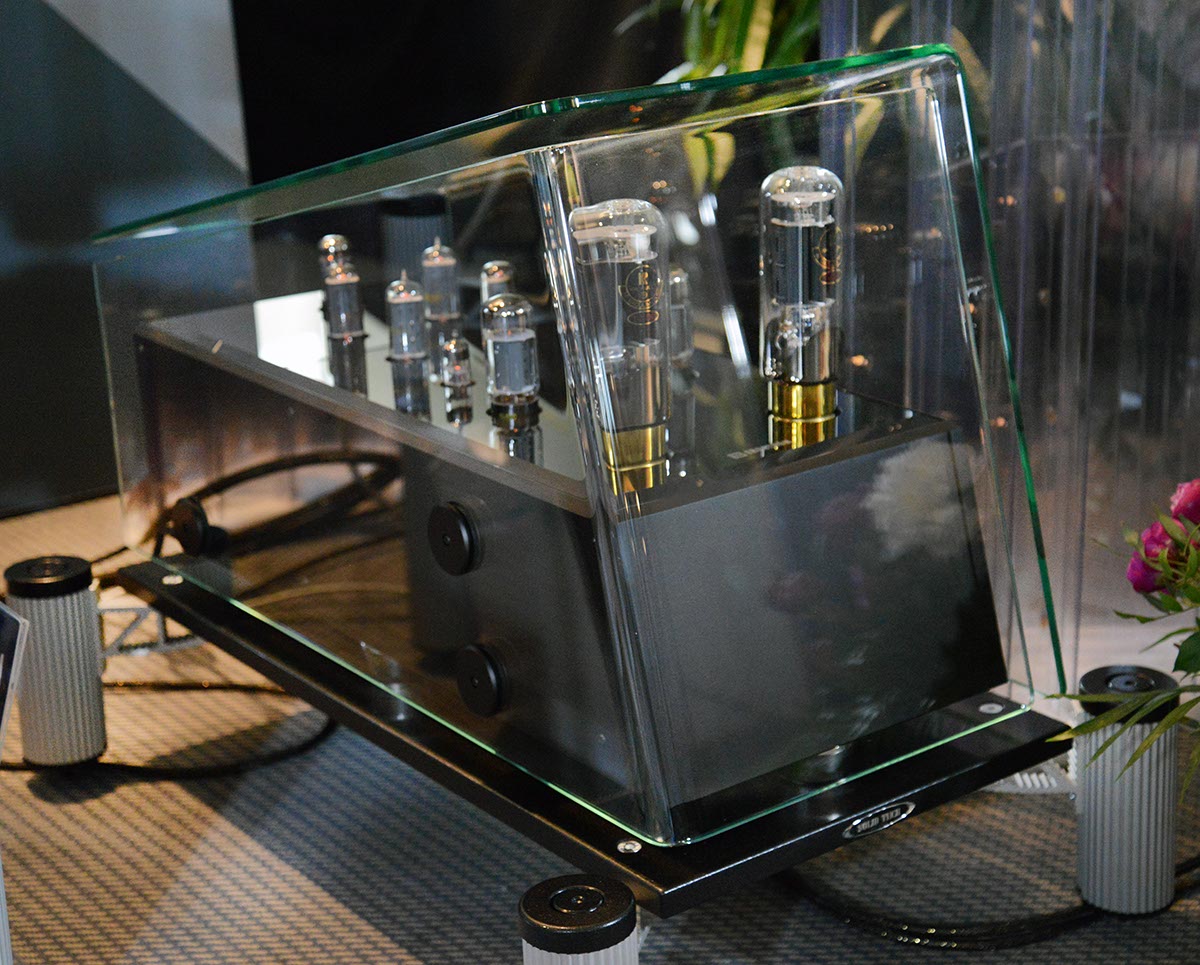 Though I was initially drawn into the Cessaro room by the amazing visual it presented, the sound was every bit as remarkable. A TW Acoustic's Black Knight 'table fed an all Cessaro electronics chain, which in turn drove their enormous Gamma 2 horn loudspeakers. The Gamma 2 is a spherical horn system, using their 18" field-coil woofers.
Talk about dynamics! This system was a knock out with its immediacy and resolution. Timbre was unflinchingly accurate and natural, with none of the typical horn characterizations or colorizations. Piano and horns never sounded more realistic. And while imaging and soundstaging were more than acceptable, that dimensional aspect of this system was the weakest link in the overall presentation.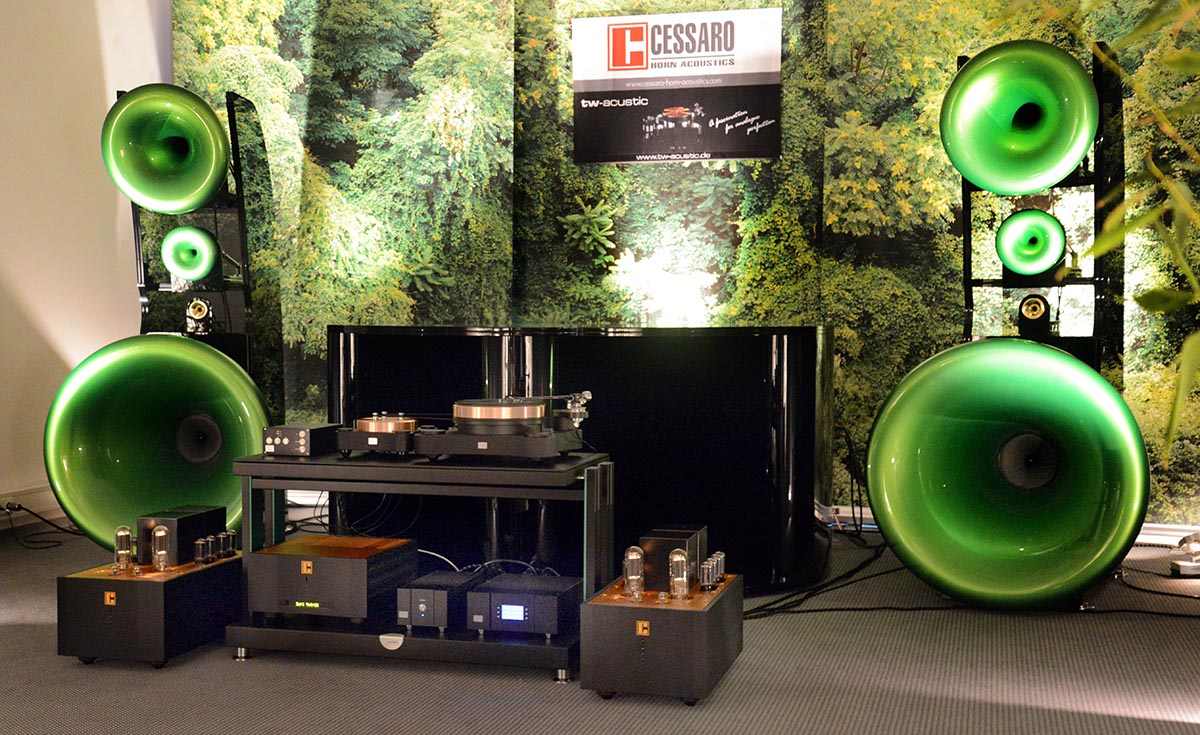 I spotted Jim Thompson in the Egglestonwork's room, which they were sharing with TriangleArt, and Skogrand cables. The system sounded, and looked, wonderful.
Sourced by the TriangleArt Master Reference turntable ($39,900), and using all TriangleArt Reference electronics, including the Tube Phono Stage ($12,995), the Tube Line Stage ($17,995), and the Tube Mono Block Amplifier's ($17,995/ea.), and using all Skogrand (SC, SCI, and SCAC) Beethoven cables, Egglestonworks was celebrating the 20th anniversary of their stalwart Andra loudspeaker by showing a special model, the Viginit (…twenty, in Latin) edition ($39,900).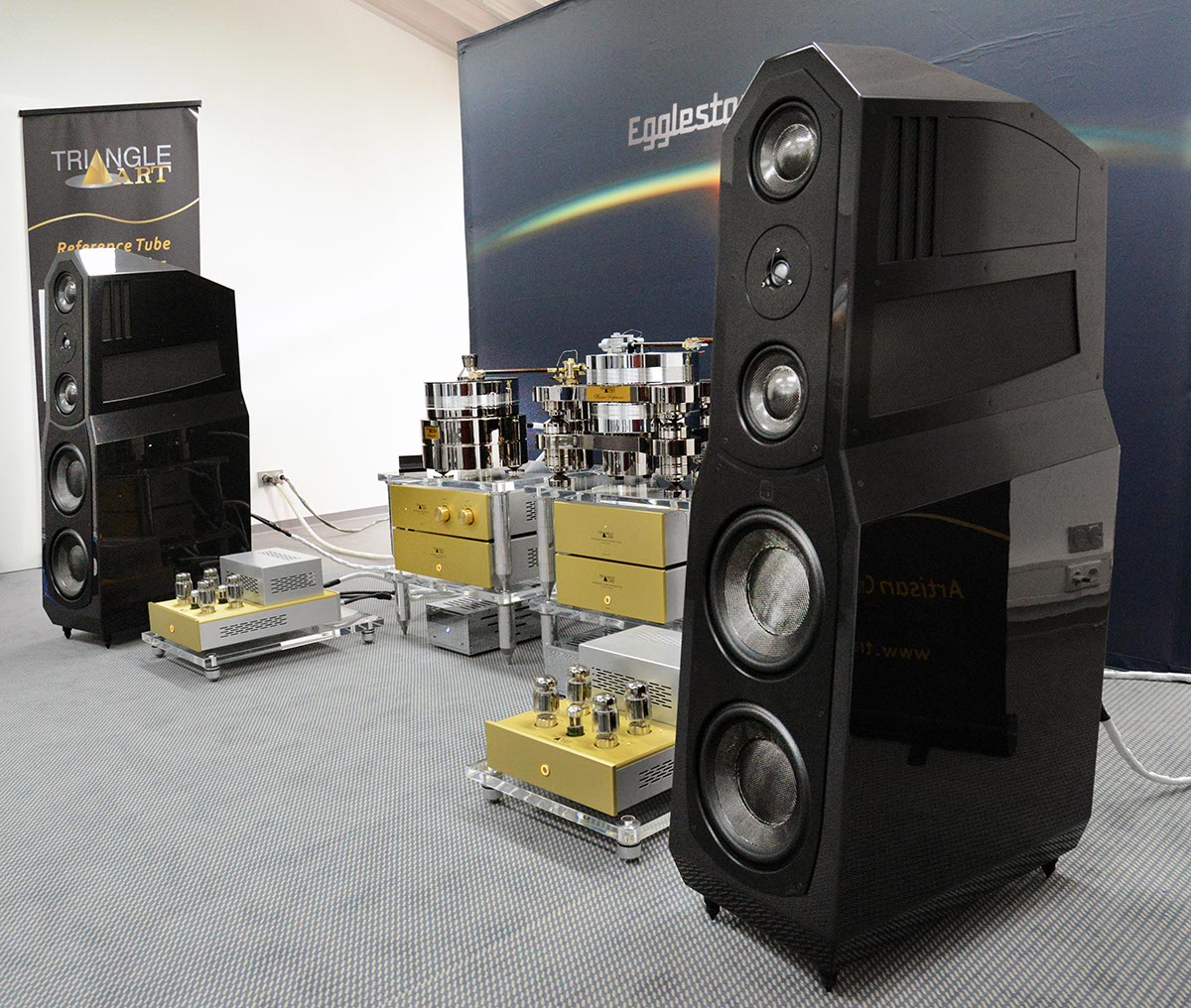 In essence, the Viginti version is an enhanced Andra, employing a 1" beryllium dome tweeter, a pair of 6" carbon-fibre midrange drivers, and a pair of 10" carbon fibre woofers. Using different sized internal midrange compartments and a deeper (i.e., larger) cabinet, allowing more volume for its two 10" carbon-fibre woofers to plumb lower and hit harder than the standard Andra, which is now in its third generation.
What I heard, driven by the TriangleArts 160-watt tubed mono amps, was a very accomplished loudspeaker. Deep, detailed, and powerful low end, sparkle and air up top, with fleshed out, resolute mids. Overall, a very nice and natural sounding system.
To wrap up this section, I want to talk about a product I'd not even heard of, let alone heard, prior to this event. The system was sourced by a Mac Mini with a linear power supply, and used an Ideon 3R re-clocker, also with Linear power supply. Electronics were all from Octave, featuring the HP700 preamp, and a pair of MRE 220 power amps. Speakers were the Finkteam WM-4, and all equipment racks, as well as the speaker cables and silver single ended interconnects, were from Phonosophie.
With a strikingly singular look, the WM-4's 15" woofer uses a triple-roll fabric type which, along with the paper cone, give it the appearance of a pro woofer. However, the surround is said to be co-optimized to the stiffness of the rest of the suspension (the surround and spider) in an attempt to achieve linearity without high hysteresis.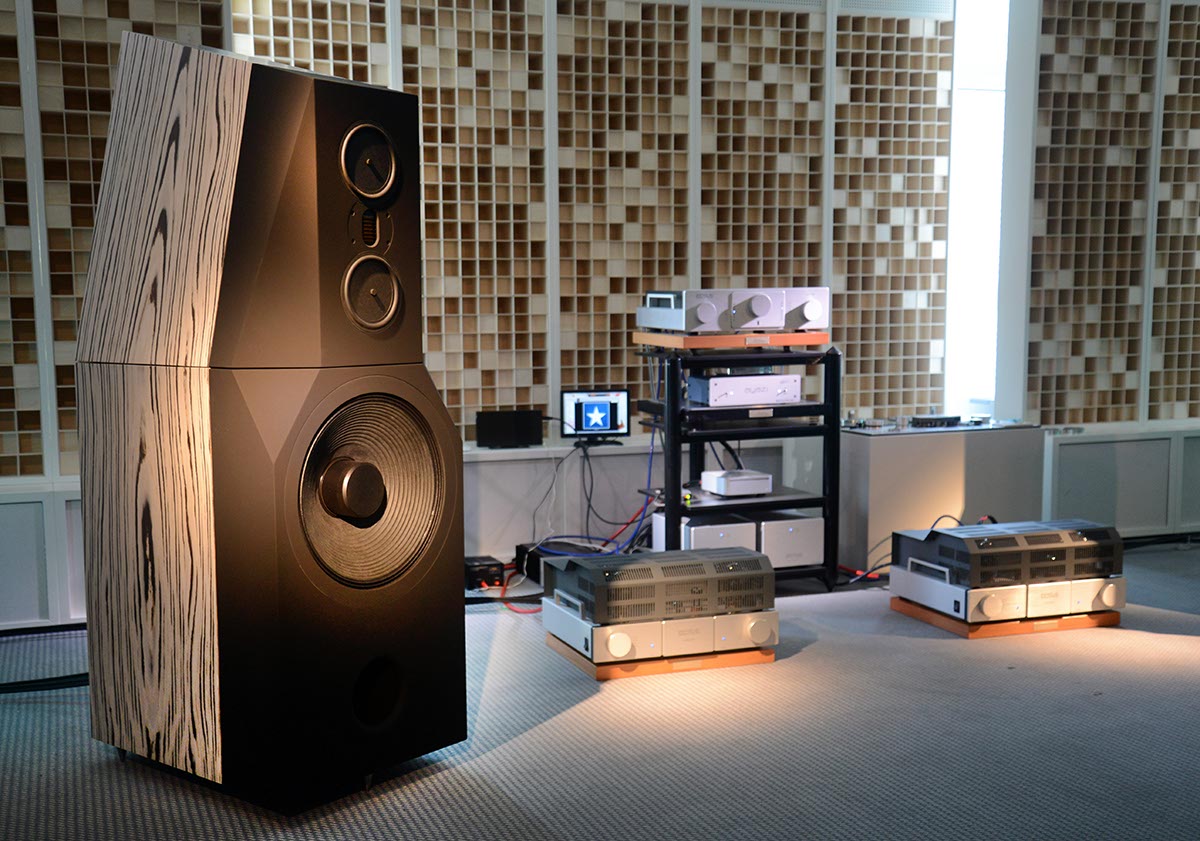 The flat membrane, wide dispersion mid-range driver diaphragm is planar, and is said to not suffer the diffraction effects that result when grazing radiation (sound travelling close to the baffle surface) encounters the cavity formed by a conventional cone diaphragm.
Finally, the tweeter is an Air Motion Transformer (AMT) operating according to the principles developed by its inventor Oskar Heil. Developed and manufactured in-house by Mundorf, the AMT has a strong, 25μm-thick pleated Kapton diaphragm with 50μm aluminum strips, and was selected for its low distortion, dynamic abilities, and a beautifully clean sound. I was very surprised at just how good this system sounded; clean transients, impactful bass, sparkling detailed mids, and an open, airy, very transparent treble. It was really an amazingly good system.
Better
Laurence Dickie's latest creation, the new flagship of the Vivid Audio lineup, the Giya G1 Spirit ($93,000), was on display in a rather loud yellow color. This system was sourced by either the TechDAS Air Force One Premium, with a Swedish Analog Technologies tone arm, and using the TechDAS TDC01 Ti cartridge, feeding the CH Precision P1 phonostage with X1 external power supply, a CH Precision D1 SACD/CD transport with X1 external power supply, or the Melco server, feeding a CH Precision C1 UPnP renderer and D/A converter, also with the X1 external power supply.  Electronics included the CH Precision L1 line preamplifier with X1 external power supply, and four CH Precision A1 mono power amps for bi-amping. All equipment was resting on a full complement of Artesania Audio Exoteryc racks and amp stands, and cabling was all CH Precision, including their Reference Link series Balanced XLR interconnects and speaker cables.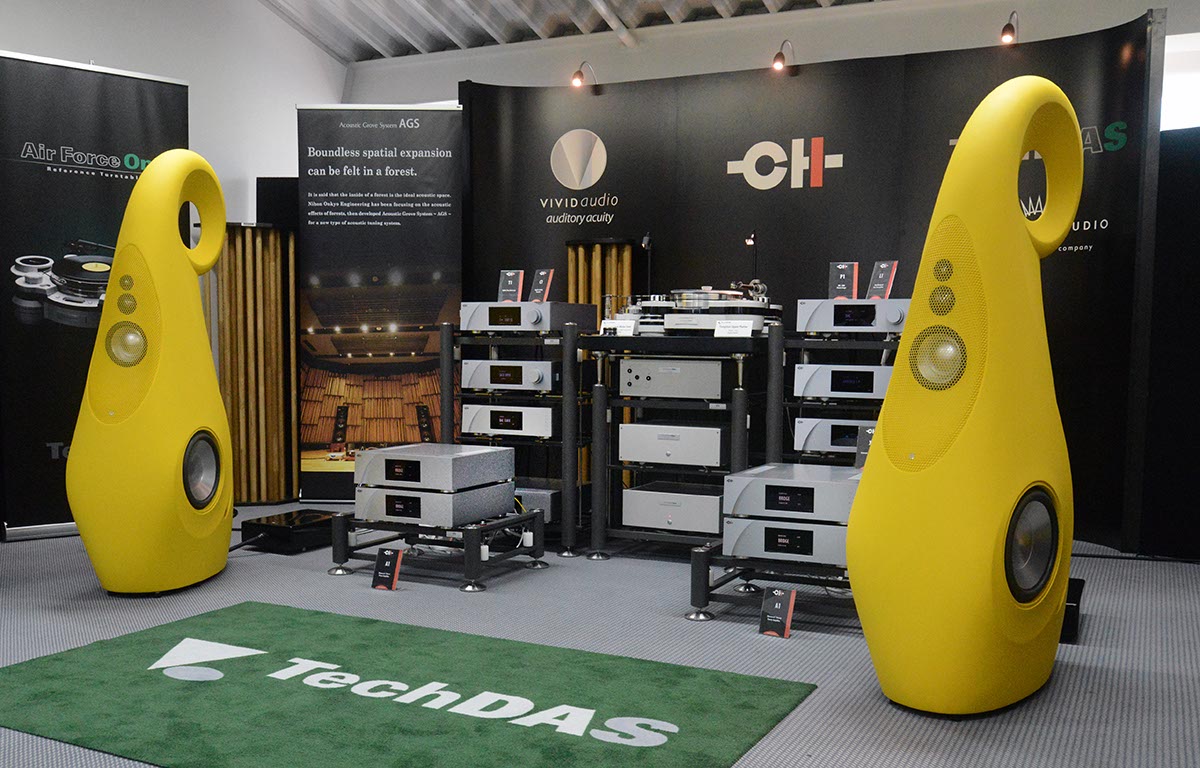 The Giya G1 Spirit has a very idiosyncratic and distinctive enclosure. The flowing enclosure with its distinctive curling top make more sense if you understand that Laurence Dickie was also the designer who gave us the Bowers & Wilkins Nautilus in the early 1990's. The Giya G1 Spirit is a four-way, five-driver system, using a 26mm metal-dome tweeter, a 50mm metal-dome upper-midrange driver, a 125mm carbon/alloy lower midrange, and a pair of 225mm alloy woofers.
While I found the system to sound a bit on the dry, analytical side (in my experience, not an uncommon take on a full CH Precision system), with slightly constrained dynamics, bass pitch definition, midrange detail and resolution, and staging and imaging were exceptional.
I've long been a fan of the resultant sound achieved by the blending of three brands, Raidho Acoustics speakers, Aavik Acoustics electronics, and Ansuz Acoustics cables—all products of the same design group in Denmark led by Michael Borresen and Lars Kristensen.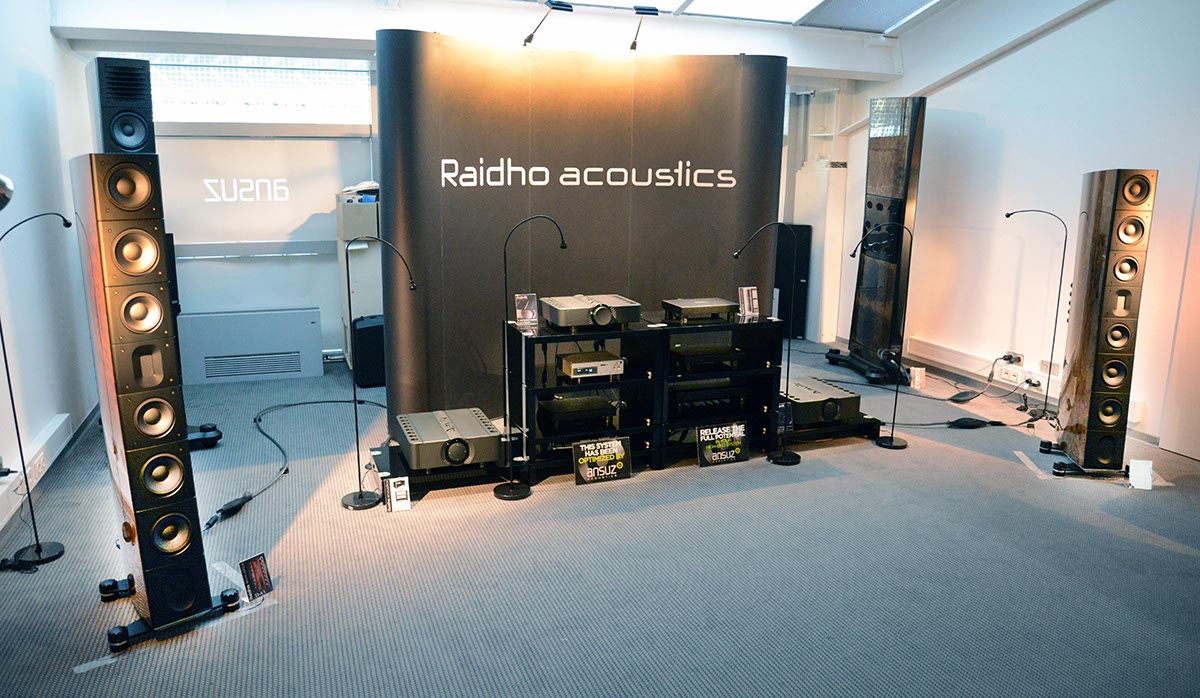 When I was in the room, the larger Raidho D-5.1 speakers were static, and the D-4.1's (~$130,000 dependent on finish) were in play. Using a Nagra transport, the Aavik C-300 preamp ($36,000), and a pair of Aavik M-300 mono's ($96,000/pr.), all cabling was from Ansuz top-tier D-TC series (Digitalz, Signalz, Speakz, and power).
The sound here was large, full, and resolute. Bass was fast, defined, and hard hitting, mids bloomed into full size and scale, treble was airy and extended. This system rendered an engaging sense of liveliness and body, like few others I heard at this show.
Another room that floored me with it resolution and dynamic scaling was the Zellation/YS Sound room. YS Sound is a Japanese high-end, hand crafted line, introducing their YSS-182JP preamplifier, and their YSS-772JP mono power amplifiers, which they stated deliver 1500 watts at 8 ohms. Utilizing various sources I could not collect, the speakers were from Manuel Podszus's Munich based Zellation, the model on display was the Stage ($80,000), a two-and-a-half way, three driver system. All cabling was from Schnerzinger.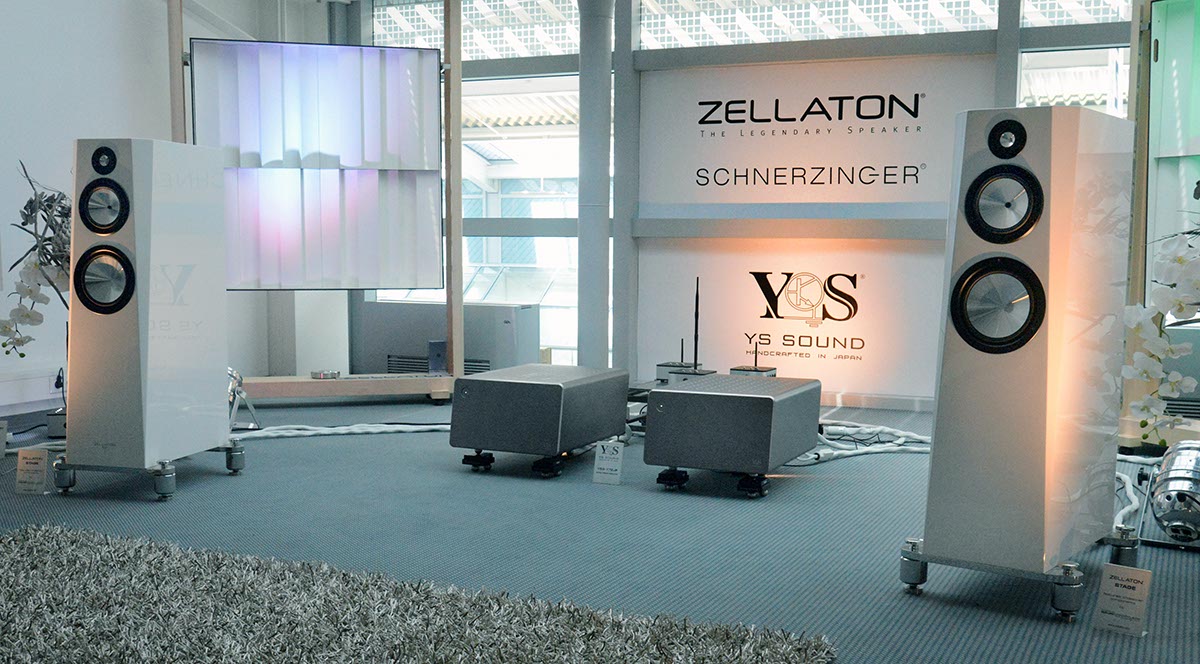 The Zellation's use distinctive looking aluminum foil/rigid foam diaphragm drivers, mounted in a gorgeous enclosure that is subdivided internally into individual chambers for each driver, all routed to a semi-open baffle on the back. The resultant sound in this room was exceptional. As I mentioned, resolution and dynamics were remarkable, as was this systems ability to convey tone and texture. I was taken by how honestly this room rendered body, color, and texture. And the system's ability to provide both impact and finesse in the lowest registers was extraordinary.
Finally, the most captivating, natural sounding system I'd heard to this point in my Bavarian adventure came at the voice created by the Soulutions/Rockport Technologies pairing. Cyril Hammer and his Soulution team were introducing their new 3 series of products, joining their remarkable 5, and stunning 7 series of components.
This new lineup includes the 330 integrated amplifier, 325 preamplifier, and the 311 stereo amp with switch-mode power supply, all of which were on static display through most of the show. And while the 330 integrated amp was auditioned occasionally throughout the show, I was never able to manage to be there when it was in play.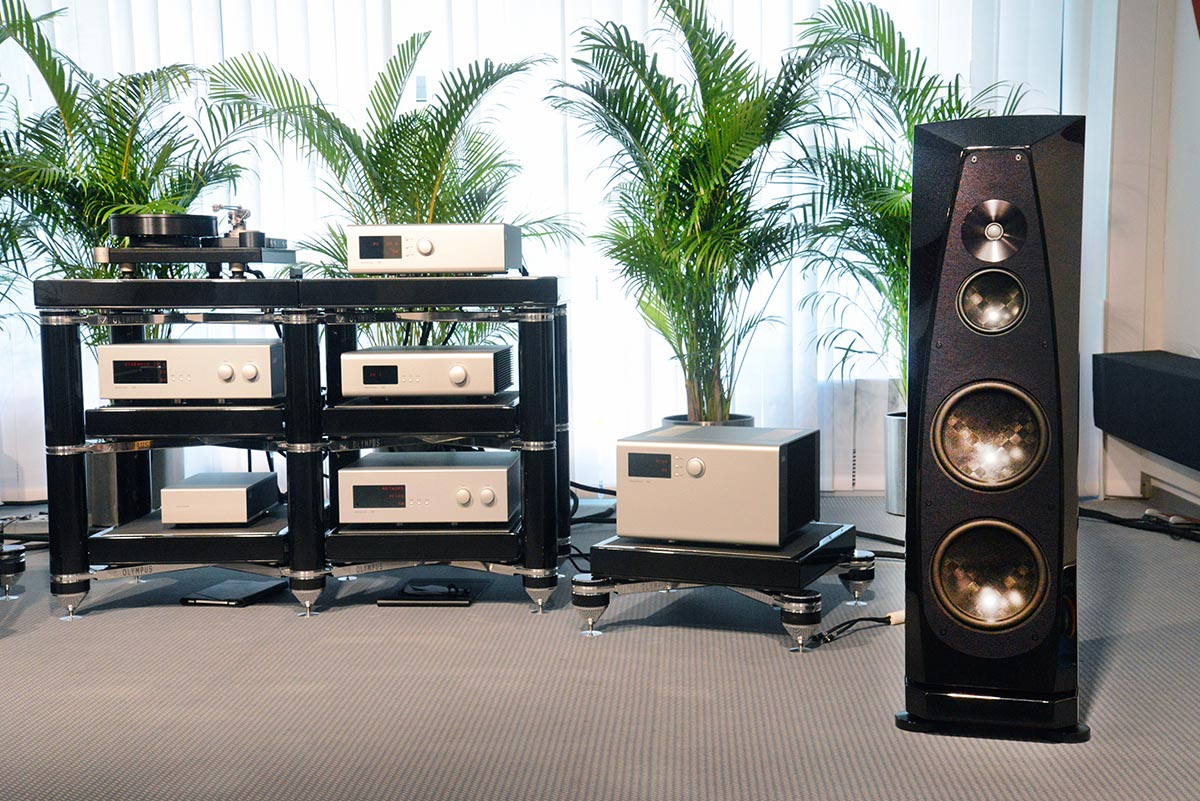 The system that captured my attention was comprised of either a de Baer turntable or a digital source (sorry…) feeding the Soulution 760 DAC, the 550 phonostage, a 725 linestage preamplifier, and a pair of Soulution 511 stereo amps used as monoblocks. Wired throughout with Vovox cables, everything rested on Joe Lavrencik's new Critical Mass Systems Olympus stands.
This was the first opportunity I have had to hear Andy Payor's Rockport Technologies Cygnus ($60,000), a three-way, four-driver triumph, that uses a 1" beryllium tweeter, a 6" midrange, and two 10" woofers in a composite aluminum enclosure.
The sound in this room was utterly natural, eerily enveloping dimensionality, with blistering transients, crushing dynamics, vivid tone color, and complex and distinctive texture. I made several visits to this room, and it was always full.
Best
However, as good as all the previous systems were, there were three that stole my heart and took me to places emotionally like no others at this show.
The first was the undeniably moving synergy created in the Kronos/CH Precision/Gobel room. Featuring the game-changing Kronos Pro turntable ($38,000), fitted with a Kronos Black Beauty tonearm ($8500), the optional Kronos SCPS 1 power supply ($13,500), and featuring the world premiere of the Kronos Reference Phono Preamp ($40,000 to $45,000, depending on options), all mounted in the distinctive Kronos Stand ($7000), which is a floor length version of the four-pillar support system employed by all the Kronos 'tables.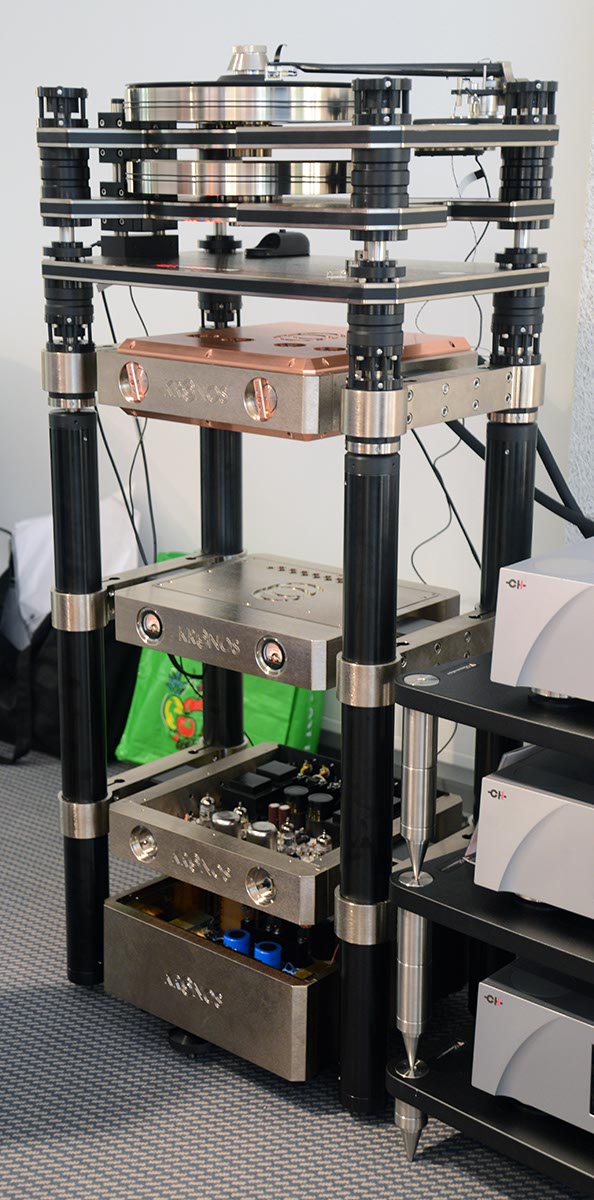 While the room had a MELCO N1ZS Music Server (€8,000), and a CH Precision D1 SACD & CD Drive with synchro option (€34,500), and a CH Precision C1 D/A Converter with ethernet and synchro option (€33,000), using the CH Precision T1 10MHz Clock Generator (€22,500), with a CH Precision X1 External Power Supply with two regulation boards (€18,500), I had no opportunity to listen to this digital front end whatsoever.
Electronics in the room were also from CH Precision, including the L1 Preamp (€30,500), and a pair of M1 stereo amplifiers (€91,000/pr.). Loudspeakers were the remarkable looking Göbel High End Epoque Reference loudspeakers (€175,000/pr.), and a pair of the Göbel High End Epoque Baforce Petite active subwoofers (€72,500), using the Göbel High End Epoque Baforce Controller, and active and fully analog subwoofer controller (€9500). This costly system was wired with a complete loom of Göbel Lacorde Statement series cables (€287,000).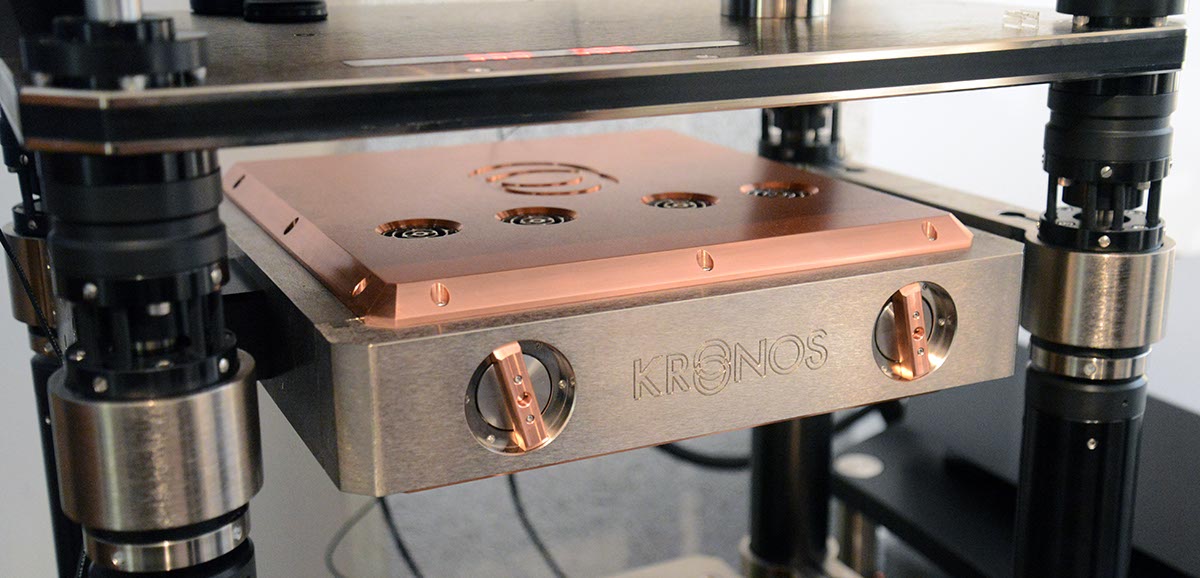 These speakers use one of the more unique looking enclosures and driver array's I've run into in recent years. Rather than a midrange and tweeter array, the Göbel's employ what they call a Carbon Excellence bending wave driver, one facing forward, another mounted on the rear, that covers an enormous bandwidth, from 170Hz to 31kHz, while claiming a constant dispersion of nearly 180 degrees.
Each enclosure employs four 7-inch aluminum woofers, and eight identically sized passive drivers. The active woofers employ Glasfiber voice coils, extremely lossless spiders and gaskets, extensive ventilation, as well as the extremely rigid aluminum membranes. Further, the method and choice of alignment in the very particular array on the front and the rear-side of the enclosure has been made in attempt to activate the room modes completely uniformly. The result, they claim, gives them the surface area equivalate to four 12 inch woofers, but with much more coherency and speed.
My first listen in the room on Thursday left me a bit unsure. It seemed to me that the analytical nature and slight dynamic restriction that I have identified as an intrinsic characteristic sound of the CH Precision gear was holding back the possibilities of this otherwise gorgeous sounding system.
In a conversation with Louis Desjardin over a shared meal Thursday evening, he confided in me that somehow he had forgotten to pack the 12au7 signal tubes he had intended for use in the Reference Phono Stage. Those very forgotten tubes were in fact, already in transit to him, and were scheduled to arrive the following day, Friday. The tubes he had on hand and had been forced to use were, according to him, just about at the end of their life cycle, and simply no longer had the current capability to really drive the phonostage properly.
I made it a point to go back to this room late in the afternoon on Friday, and coincidentally arrived just after he had swapped out the preferred 12au7's for the spent ones. To say that the difference was clear would be as huge an understatement as saying that it gets cold at the north pole in December. With this seemingly simply change, the system had really bloomed and come to life.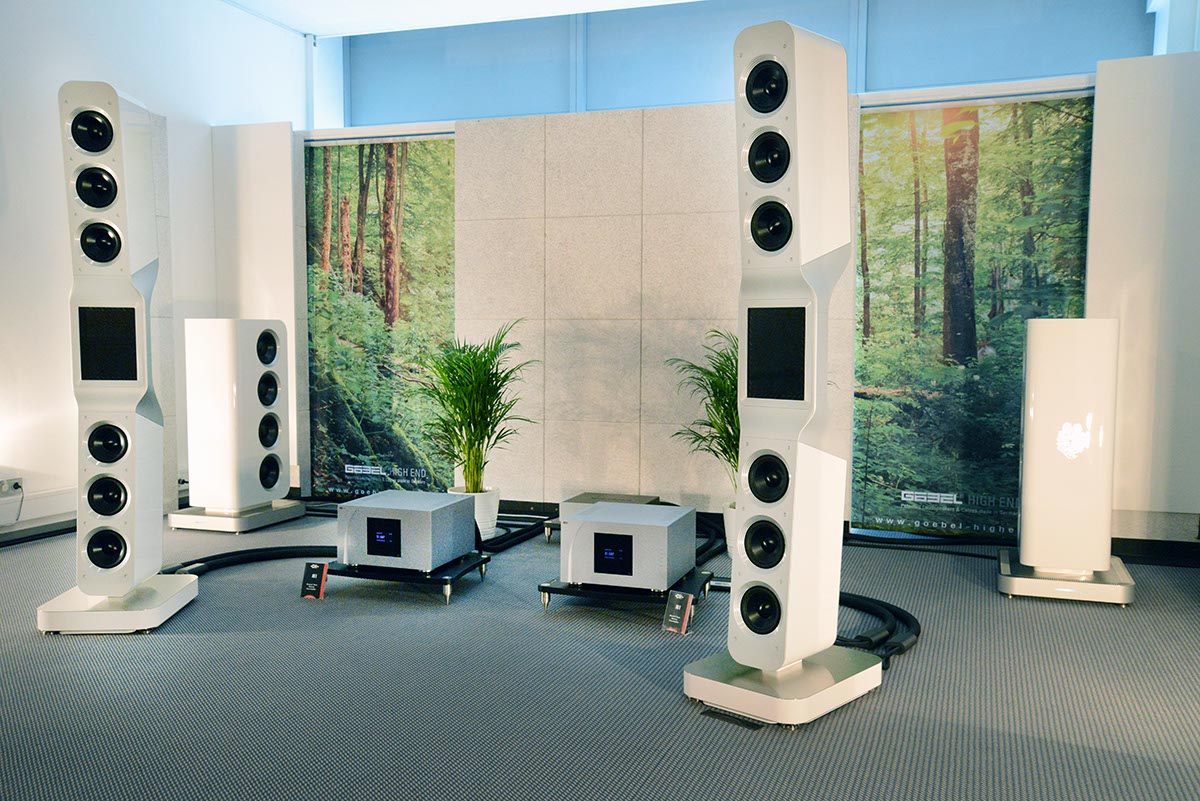 Playing Ikuyo Kamiya's reading of Beethoven's Piano Sonata No.23 in F Minor, Op57, "Appassionata," was devastatingly moving. This system seemed to almost have it all! The piano's energy, texture, and color were so vivid and real, I almost felt I could reach out and touch that Bösendorfer Imperial. Tone was so real, and the subtle fingering of Kamiya had NEVER been so clearly articulated and nuanced.
While the tube change seemed to compensate somewhat for the slight dryness and analytical nature of the CH Precision gear, even with the benefit of the Baforce Petite active subs, macrodynamics were just a bit reduced in scale. I'm leaning to the belief that this is also a slight weakness in the Göbel speaker system, as well. That said, it was still one of the most emotionally engaging demonstrations I've ever heard at a show, period.
It was exciting to see the Von Schweikert Audio and VAC team make their first appearance at Munich, teaming up with Bulgarian electronics manufacturer APL HiFi, and Denmark's ZenSati cables! While this system was very similar to the personal benchmark setting system I'd heard just three weeks earlier at AXPONA in Chicago—see HERE, the major differences were the room (size, shape, and treatment), the digital front end, and the cabling.
The analog front end was the same, consisting of the Kronos Pro Turntable ($38,000) with the optional SCPS-1 Power Supply ($13,500), Andre Theriault's designed-for-Kronos Black Beauty Tonearm ($8500), a ZYX Audio Ultimate 4D Cartridge ($4400), and the VAC Statement Phono Stage ($80,000). The digital front end here in Munich was made up of the APL Hi-Fi DNP-MR Music Server ($10,000), an APL Hi-Fi DTR-MR Digital Audio CD/SACD Transport ($20,000), an APL Hi-Fi DSD-MR Digital Audio Converter ($40,000), and the APL Hi-Fi PSD-10 Special Carbon Reference Power Splitter ($13,000).
Electronics included the very same VAC Statement Line Stage ($75,000), and the VAC Statement 450 iQ Monoblock Power Amplifiers ($120,000/pr.) used in Chicago, and the speakers were the flagship Von Schweikert Audio ULTRA 11 ($295,000/pr.). And, a pair of Von Schweikert Audio Shockwave V12 Subwoofers ($11,500/ea.) were in use for active room correction. Cabling was also different, employing a full loom of the Silenzio line, interconnects, speaker cables, and power cords, from ZenSati cables, ($708,400). And again, just as in Chicago, the entire system was supported with a full Artesania Audio equipment isolation system, including the Exoteryc 4-shelf Rack ($7000), Exoteryc 3+3 tandem Rack ($10,000), Exoteryc Turntable Platform ($3400), and a pair of the Aire Monoblock Platforms, ($3700/ea.)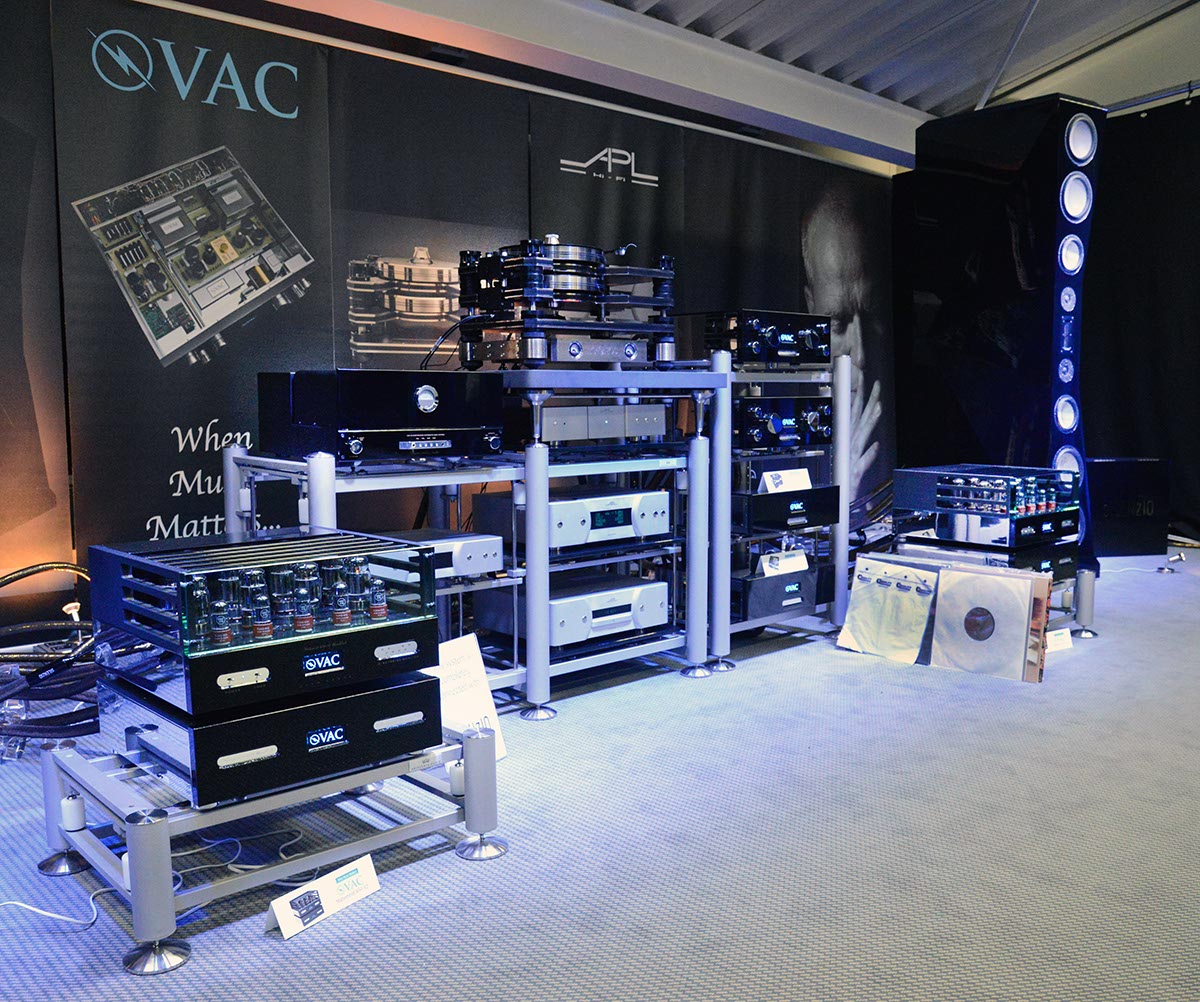 When the time came for my audition, I found myself somewhat disappointed. While there was no questioning the magic this system created in the slightly smaller and lower-ceilinged room here on the third floor of Hall 4 at the MOC, (see the other glowing coverage on this room all over the audiophile press), the scope of the illusion was, to my ear, notably less convincing than it had been at AXPONA. In Chicago, this system permitted me to completely forget that I was listening to a recreation, a reconstructed sonic event. The result there was complete; a total and imperceptible deception. I was as completely unaware that the time and space of the musical event being decoded by the system were auditory illusions generated by a complex reconstruction engine as I've ever experienced.
Here, there seemed to be some holes in the inclusive fabric of that illusion, detracting from the overall result somewhat. Deep bass was slightly lighter overall, not as well defined in pitch, nor conveyed with as much weight. The resultant impact was affected, leaving you feeling you were hearing a speaker trying to reproduce bass rather than merely experiencing a performance. Further, spatial cues seemed to be slightly diminished in both specificity of articulation, and in their location, size, and shape. Finally, the midrange liquidity that was so utterly convincing in Chicago had also abated somewhat, occasionally emerging as an almost artificial sounding, cupped-hands kind of coloration on human voices, strings, and pianos.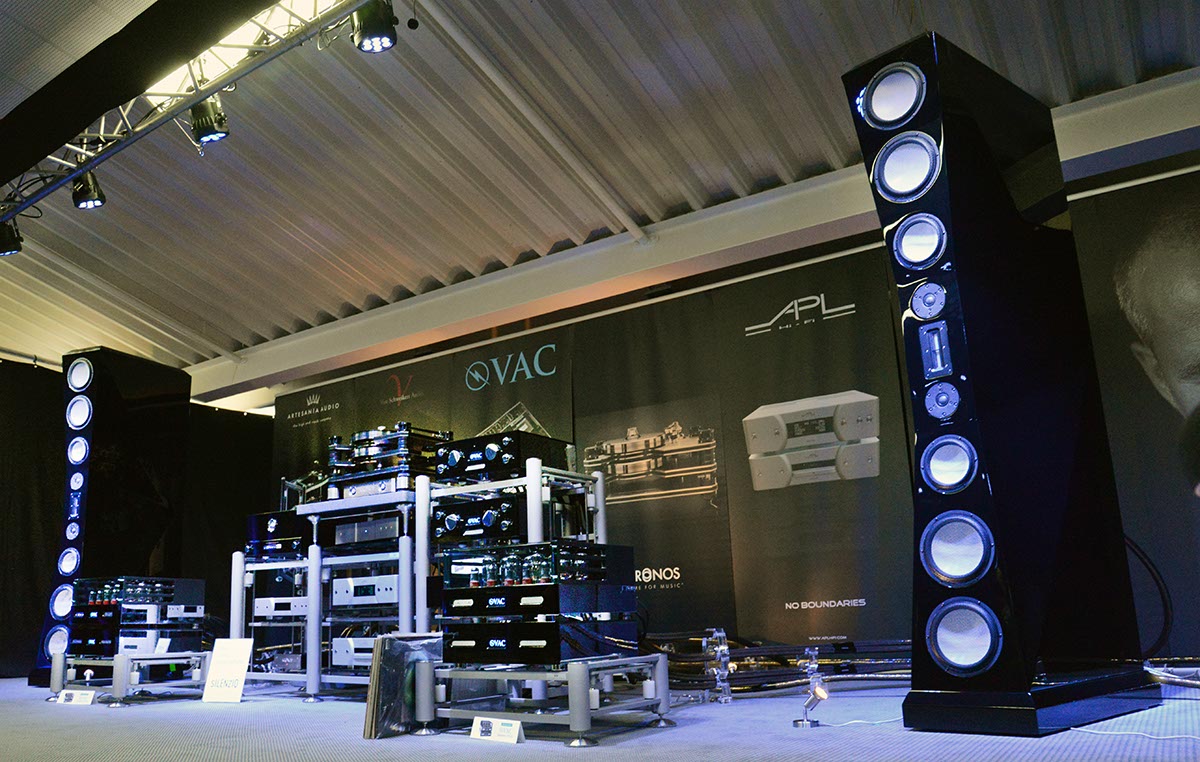 At one point, it became apparent that my face had been betraying my slight disappointments concerning how this system sounded here, versus at AXPONA. As I was listening to a very familiar Roger Waters piece I'd asked to hear from Amused to Death, I noticed VSA Vice President, Leif Swanson, sitting just behind me clearly noting my unguarded physical responses to what I was hearing.
It did little to make me feel better that he was laughing as we discussed the differences I was hearing, even as he explained that he totally agreed with my assessment. As a matter of fact, after some lengthy discussion, both he and Damon Von Schweikert admitted to me that they felt there were only getting something on the order of 80% of the sound they had gotten at AXPONA.
Speaking further with the genius behind VAC, Kevin Hayes, I learned he had uncovered some very interesting noises while they were setting up. While he wasn't sure if it all seemed to be generated—or carried—by the stressed and highly taxed AC system in the MOC, he did indicate that it had definitely affected the delicate noise floor of both the Statement phonostage and linestage.
Keep in mind that even the slightly diminished level of performance I noted, however you measured or compared it, was STILL enough for this room to garner either best-sound-of-show honors, or to allow it to be cited as being in the top handful of rooms (for those who felt they couldn't commit to one best), from any number of journalists covering this colossal event. It did, after all, make it on my short list of the BEST presentations at High End Munich, right?
That brings us to one of the most exciting production product launch events I've ever attended, and is in fact, the reason I was invited to cover this year's Munich event. Audionet was unveiling the production models of their new flagship Ultimate Scientist series, a new linestage, the Stern ($45,000), and pair of mono amplifiers, the Heisenberg's ($105,000/pr.), both envisioned by legendary industrial designer Hartmut Esslinger. The casework is so striking that the Stern was chosen for display in the Design Collection of the Smithsonian's National Gallery.
A little background on Audionet may be in order, given that even I didn't know much about them until fairly recently. In fact, it was PF's own Editor-in-Chief, Dr. David Robinson, who first alerted me to them with his January 2015 piece—HERE—on the Pre G2 linestage and MAX mono amplifiers. Yet after hearing them on many occasions over the past several years, including driving the YG Acoustic's Sonja XV four-tower statement speakers to amazing levels of performance, Audionet's flagship electronics, prior to the release of the Stern and Heisenberg's, have become my current reference electronics.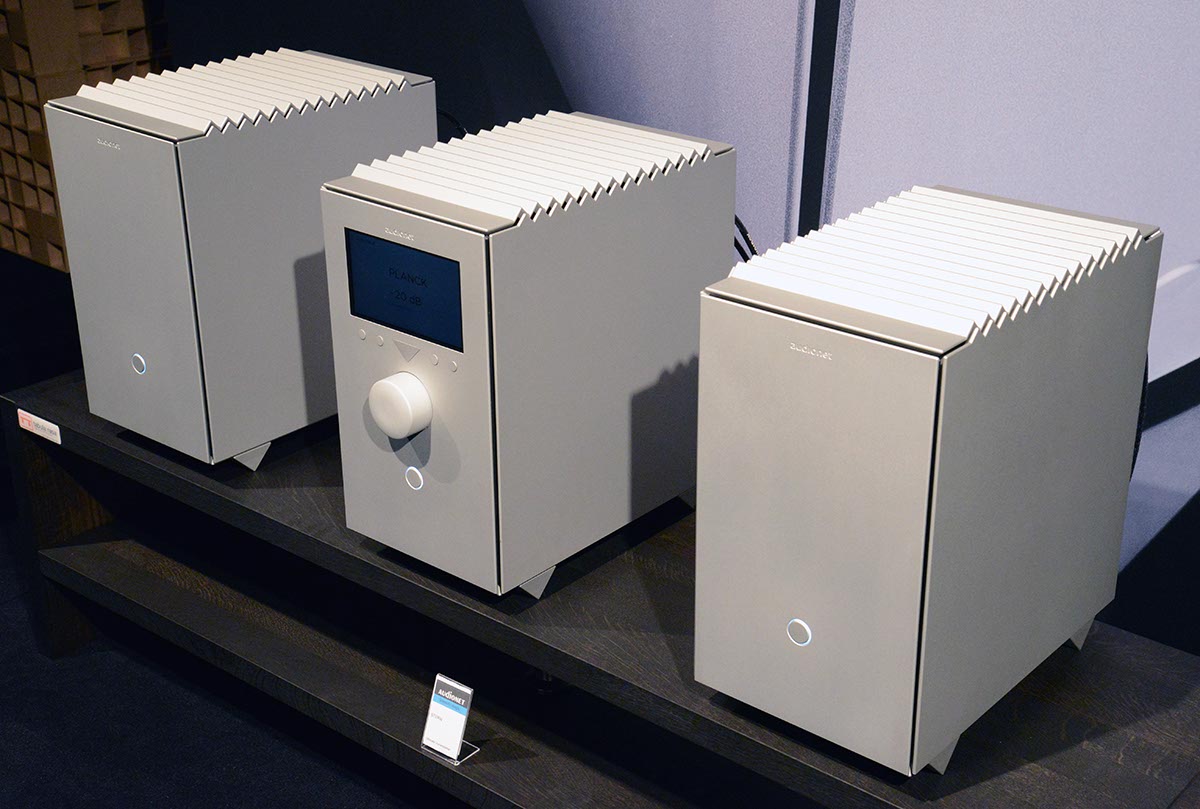 Even my short stay in Munich was long enough to inform me that while Audionet may still be a fairly unfamiliar name on the US market, they occupy a place in the German and European fine audio market comparable in status to companies such as Constellation or Pass Labs enjoy in the United States. I was duly impressed by their pervasive presence throughout the Munich High End event and the MOC, with wall-sized banners, elevator door, floor, and stair applications, wall hangings, and signage, seemingly everywhere.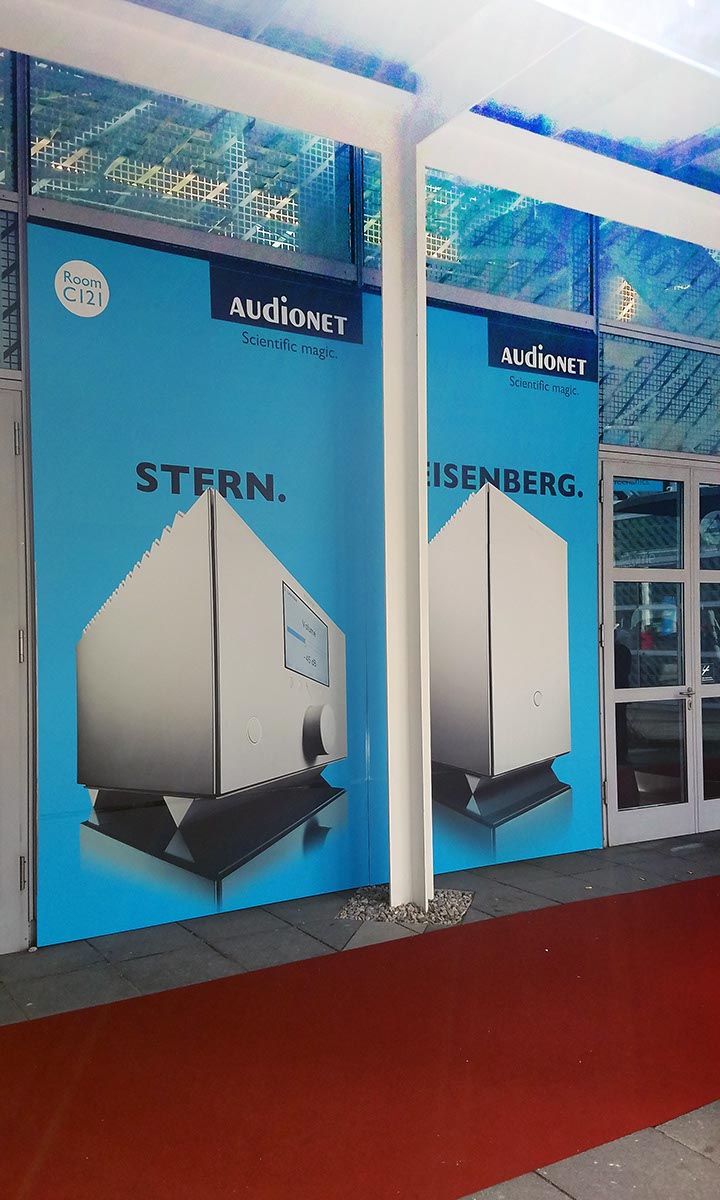 As utterly transforming as my time with the Pre G2 linestage and MAX mono amplifiers, given their unparalleled level of performance at their price (they were submitted to me for review for another journal and are now my reference electronics), and as prepared as I was for the new Stern and Heisenberg's to outperform them, the level of accomplishment that these new flagship products achieved left no question that they bring an entirely new level of precision, resolution, transparency, and bloom to the table. And, under show conditions, no less!
The Audionet demo room was set up on the second floor of Hall 3 and was sourced by Redbook CD only—using the Audionet Planck CD Player ($18,800) with the Ampere Power supply ($11,300). Speakers were the Gauder Akustik Berlina RC 8 Diamond (€68,000) and all cabling was SILTECH based pure silver cable.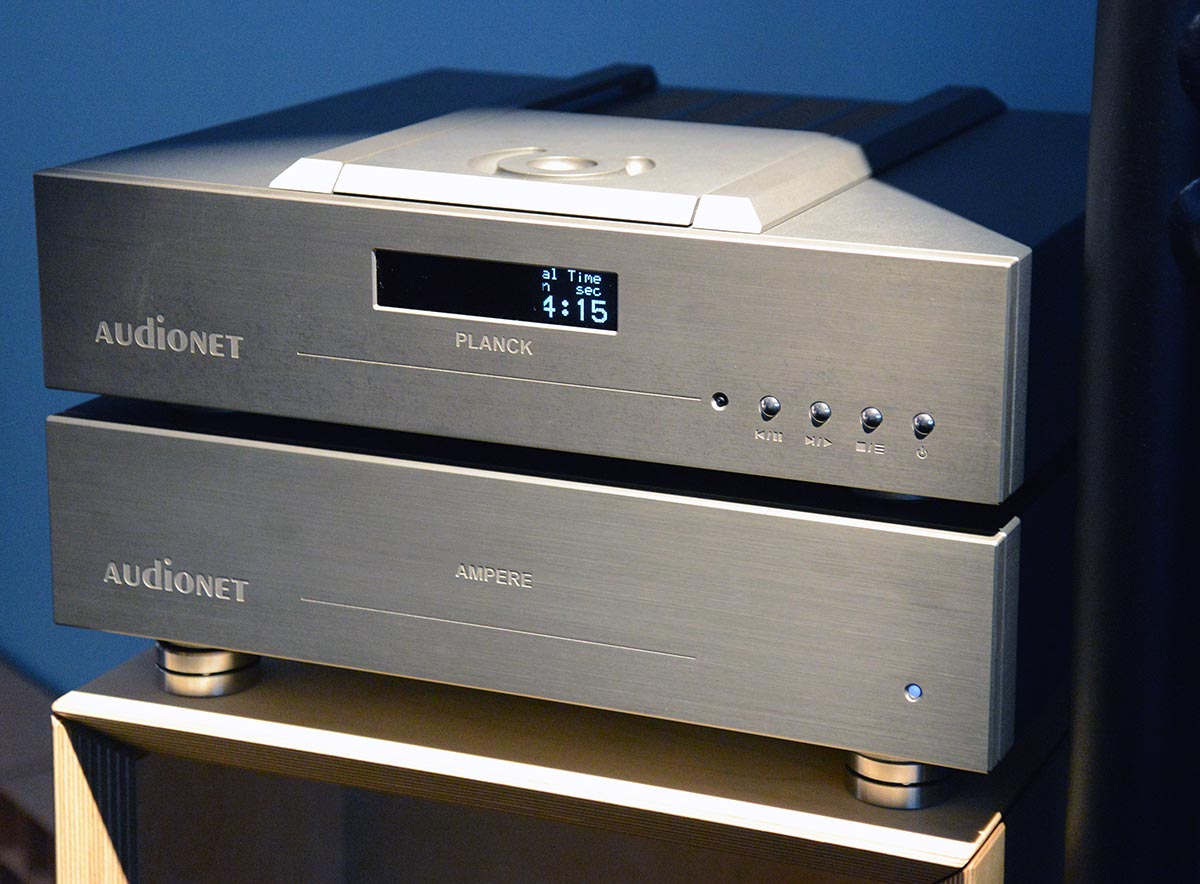 Listening to known tracks from Jennifer Warnes and Elvis, as well as other choice sections played during both my extended visits to this room, I was struck by their overwhelming transparency and effortlessness. Vocals were disarmingly natural and full bodied, fully resolved, texturally replete, with thoroughly credible bloom and body.
The spatial recreation of the both the soundstage and instrumental images was among the most holographic and realistically three-dimensional I've ever experienced, with remarkably solid focus, undeniably accurately sized voices, and unshakeable placement. Voices and instruments took up both an exact physical location, as well as a solid and correct size and shape, and then never budged!
Tone color and texture were fabulously rich, vibrant, and complex. Dynamic contrasts seemed almost as effortless as they do when recreated by horn loudspeakers, indicating the degree of speed and control these products bring to bear on a dynamic speaker.
This demo was much more than merely an engaging experience, it was an immersive, completely musical event. The degree of achievement demonstrated by this system, in terms of tonal texture and density, resolution, and transparency, represents one of the most complete sonic depictions I've ever heard rendered under show conditions. I can only imagine what they would offer driving a world-class speaker like the YG Acoustics Sonja XV, Magico Q7 Mk II, or the Von Schweikert Audio ULTRA 11.
The great thing is that I won't have to imagine for long… Audionet, in conjunction with GTT Audio, their North American importer, will be hosting a private launch event in New Jersey this September, at which time I will get some private and serious listening time in front of the Audionet Ultimate Scientist series electronics driving the superb YG Acoustics Sonja XV. Color me one of the luckiest journalists on the beat today!
Renegade: HiFiDeluxe
Much as the late Richard Beers' T.H.E. Show was described when it first started running coincident with the annual Consumer Electronics Show in Las Vegas in the late 1990s, HiFi Deluxe, held at the Marriott Hotel on Berliner Straße, just about a 7-minute drive, or some 3 miles, southwest of the MOC, is considered a to be a renegade show.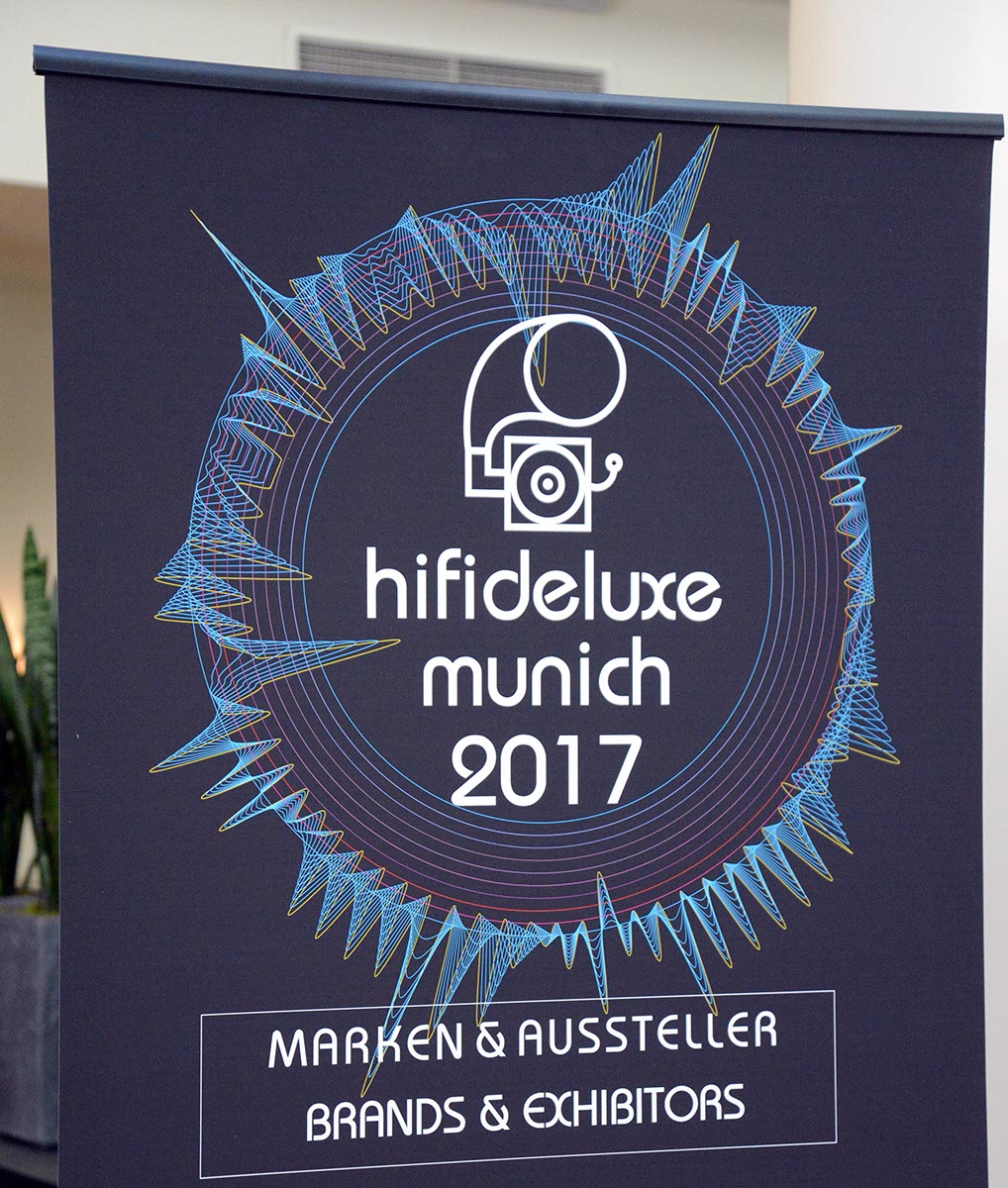 Depending upon whom you ask, it is either the show for the serious listener (the rooms seem much more audio friendly then the cabins at the MOC), or just a less costly, more off-the-beaten-path destination for vendors who can't otherwise obtain a room at the MOC (there is a LONG waiting list), capitalizing on Munich High End's monstrously large crowds.
Regardless of your take, I heard one of the most intriguing and musical systems during my entire stay in Munich at HiFiDeluxe, and I am really happy that I took the time to visit the Marriott München, even as briefly as I did on Friday morning.
The electronics and cabling were all from Omega Audio concepts, starting with The Stream CD Player, using a separate power supply (€29,600). Amplification was provided by pair of the DNA Integrated Mono amps (€11.000 ea.), one per channel, each having its own power supply. That's right, mono integrated amps. They are Class AB transistor based devices with separate power supplies for each half-wave of the power cycle, one for the positive and another for the negative, each employing its own digital controller.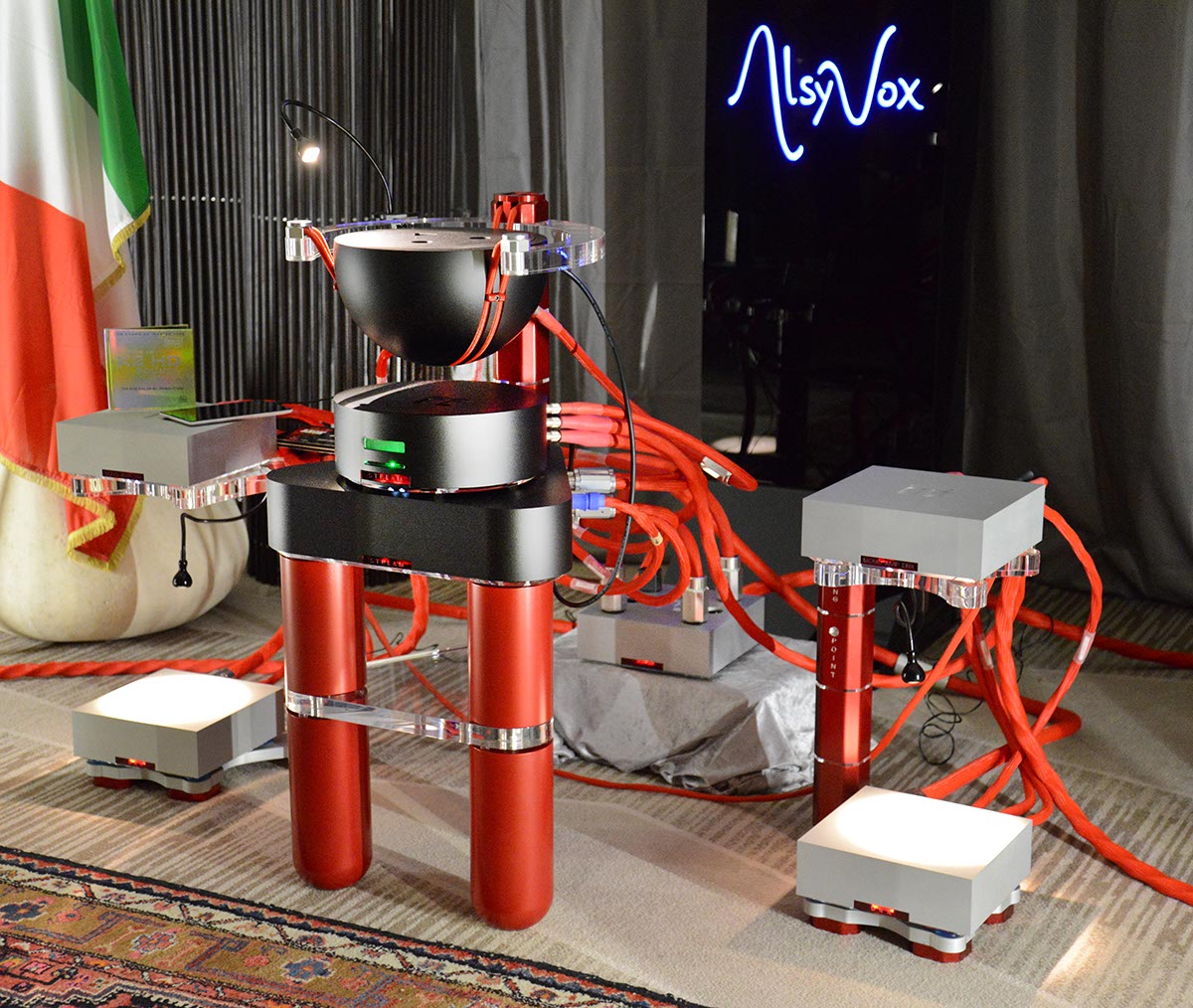 If you think the full-range ribbon loudspeakers in the photo look familiar, that is because the company formerly known as Leonardo has restructured, updated their technology a tad, and is now called AlsyVox Audio Design. The products are still designed in Italy and built in Spain, and the model on hand was the Botticelli (€87,000/pr.)
The entire system was wired with Omega Audio concepts flagship level Element cables, which they say are all patented silver solid core wiring. Pricing varied, but as an example, the 2M power cord retails for €4400.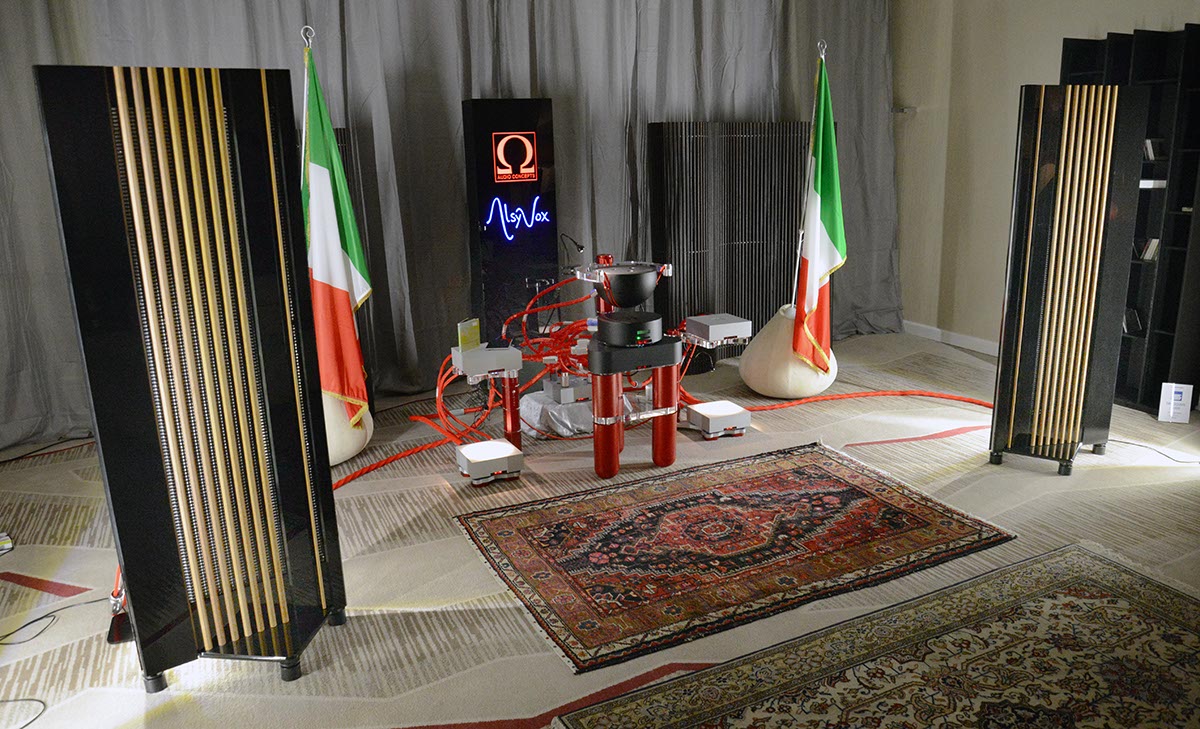 First, dimensionality was exquisite; layering, space, and image location and size was world class. Piano was superbly represented, from microdynamic shadings though timbral accuracy, it was simply real sounding. Most surprising was the macrodynamic prowess, with credible weight from double bass and lower piano registers that was vibrant. The impact from an explosive "P" sound sung in a lyric was captured with just the right amount of power and resolution, both exploding into the room and articulated accurately. While the overall balance was slightly on the lightish side, and I do mean only so very slightly, the overall natural and relaxed presentation was mesmerizing. It will be my goal to get a set of these speakers into my music room for a full evaluation.
Auf Wiedersehen
I admit to being disappointed that my trip had to come to an end. The people of Munich are welcoming, gracious, and only too happy to help you find ways to enjoy their city. The rich and storied Bavarian history and quaint charm really affected me. I was fortunate enough to spend one day just walking the historic Marienplatz area, seeing ancient buildings like St. Michaels church, the Neues Rathaus (now the town hall), and the Bayerische Staatsoper Opera House, and yet another visiting some of the castles built by King Ludwig II, including Neuschwanstein Castle. Near the top of a rugged hill above the village of Hohenschwangau near Füssen in southwest Bavaria, this is the real castle that Walt Disney imagineered his Cinderella castle from.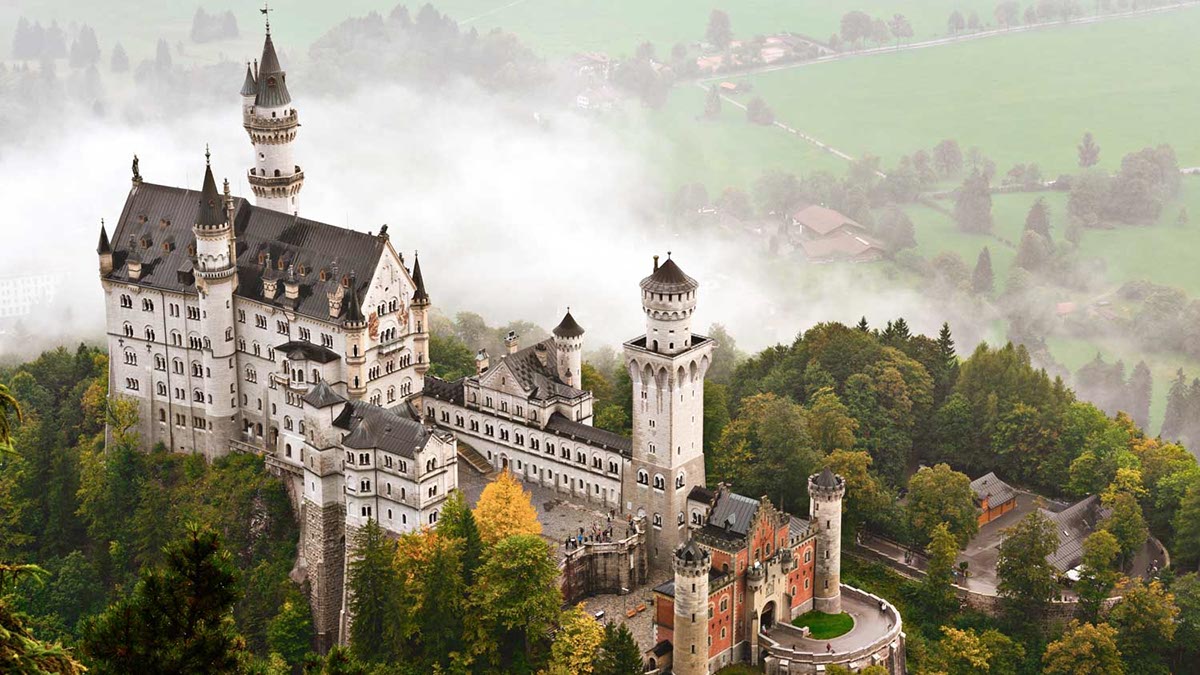 And for the audiophile, as large, vibrant, and diverse a show as it is, even with all the significant sonic challenges it presents, after having experienced the Munich High End phenomena for myself, I can tell you that it gets my vote as the "Greatest Audio Show on Earth." If it is feasible for you to attend, you owe it to yourself to make the trip. I can't recommend it highly enough. Till next time…