In July, I visited all star music guru Quincy Jones at his mind-boggling hacienda near UCLA with its round ballroom's piano ready main gathering area looking out over Los Angeles. Description fails to capture the elegance and grandeur of Quincy's palace. Three Oscars sit here and there like Olympic paper weights. Q's two dozen-plus Grammy Awards adorn an enticing curved hallway that connects disparate areas of the home's complex levels, cloisters, cul de sacs, and endless enchantment.
Clearly a dream home—a 30,000-square-foot compound that he designed and built after years of effort to acquire adjoining land to complete the estate—the majestic interior sports a screening room, a recording studio, a pool and tennis court, offices, guest suites, ocean views, and a swerving gated driveway plunging down from a private dead-end street. You have to be there to truly savor its "beyond the beyond" intimacy and stature.
Longtime amigo, Jose Rizo, head honcho at KJAZ-FM (housed at Long Beach State University) and his adorable wife, Leticia, joined me, and a small group of music industry insiders. The event was a promotional evening for Cuban pianist Francisco Rodriguez, a young man with genuine flair and considerable chops. Gourmet sushi platters beguiled the small gang of listeners. A vibe, established to perfection, took us through to midnight... few of us truly ready to hit the highway home.
Quincy was instrumental in recruiting tenor saxophonist/composer extraordinaire Benny Golson to Dizzy Gillespie's big band in the '50s. Golson's co-authored autobiography Whisper Not was published in June by Temple University Press. Q's paw prints and artistic influence track across that text like a path headed straight to and back from an exotic oasis. That Quincy Jones is feted this year at Monterey is not only welcome, but a tribute deferred until, like wine at its peak, imbibing its essence seems both timely and almost overdue. The enduring jazz living legends we have still among our vigilance—perfectly embodies in the lives and ongoing energy of Maestros Golson and Jones—deserve admiration and a degree of amazement for their never declining artistic height and their undaunted longevity against odds that contemporary witnesses have little or no chance to fully reckon.
Vibraphonist Bobby Hutcherson passed away recently, but in 2013 his appearance (despite the handicap of oxygen tubes) was vintage Hutch... in a word, sublime. I suspect, perhaps ad hoc, one or two participants at this year's event will doff a cap to Bobby's uniquely glorious career as the premier exponent of his instrument. The relatively small group of musicians who've made the vibraphone sound a cornerstone of jazz artistry are headed by Bobby's melodic grace and harmonic brilliance. That cohort—Lionel Hampton, Milt Jackson, Terry Gibbs, Cal Tjader, augmented by Warren Woolf and and Stefon Harris—makes an indelible dent in the jazz heritage out of proportion to its small cadre.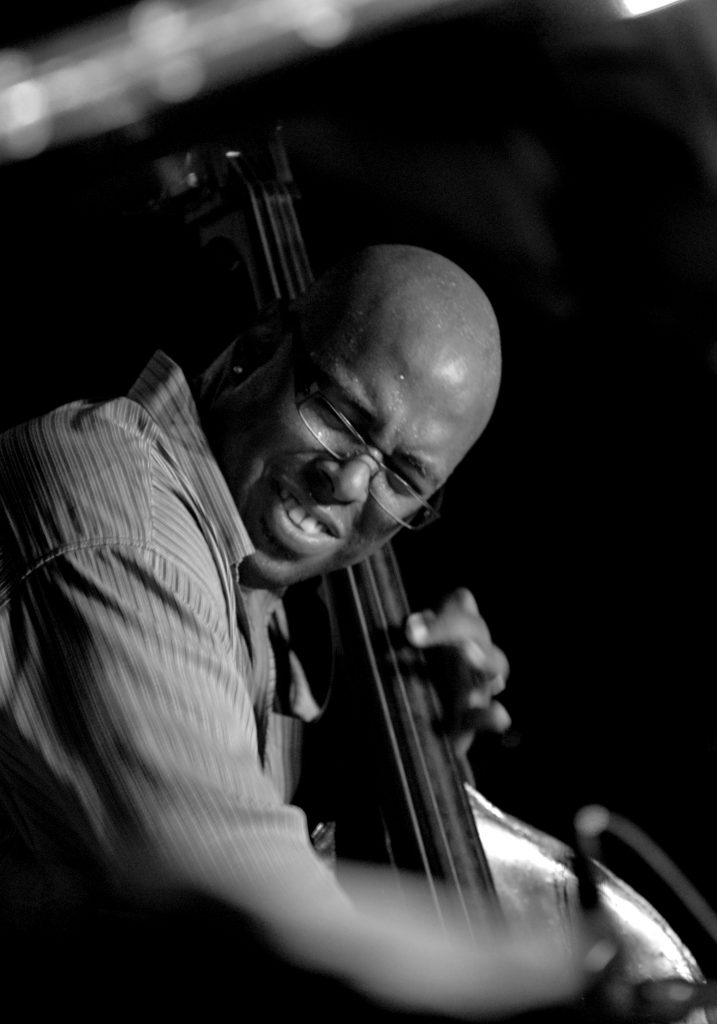 Christian McBride (Image by Michael Oletta)
Bassist Christian McBride will be on hand this year to deploy his profound command and vast lyric feeling. Now already a youthful veteran, Christian arrived on the scene at a level beyond his years. A decade or so ago, Christian came to Soka University in Orange County with a demonic trio: Geoffrey Keezer, piano, and Terreon Gully, drums.
Set up in the small, acoustically gorgeous art museum on campus, they destroyed an amazed audience… many of whom admitted afterward they were not prepared for the range of voicings and dynamics, for the group's extra-sensory subtlety and delicate power. I'll attest to the undeniable truth that, if ever in my long years of listening to and recording jazz, a trio demonstrated a virtually unrivaled level of uncanny telepathic spontaneity, this trio on that day set a standard seldom approached before or after. One thinks of Ahmad Jamal's trio at its best, with Israel Crosby and Vernell Fournier; Bill Evans' too brief time with Scott LaFaro and Paul Motian; Hank Jones with Bob Magnusson and Jim Plank... those and a small group of other trios found a way to enter the foyer of ensemble lyric genius.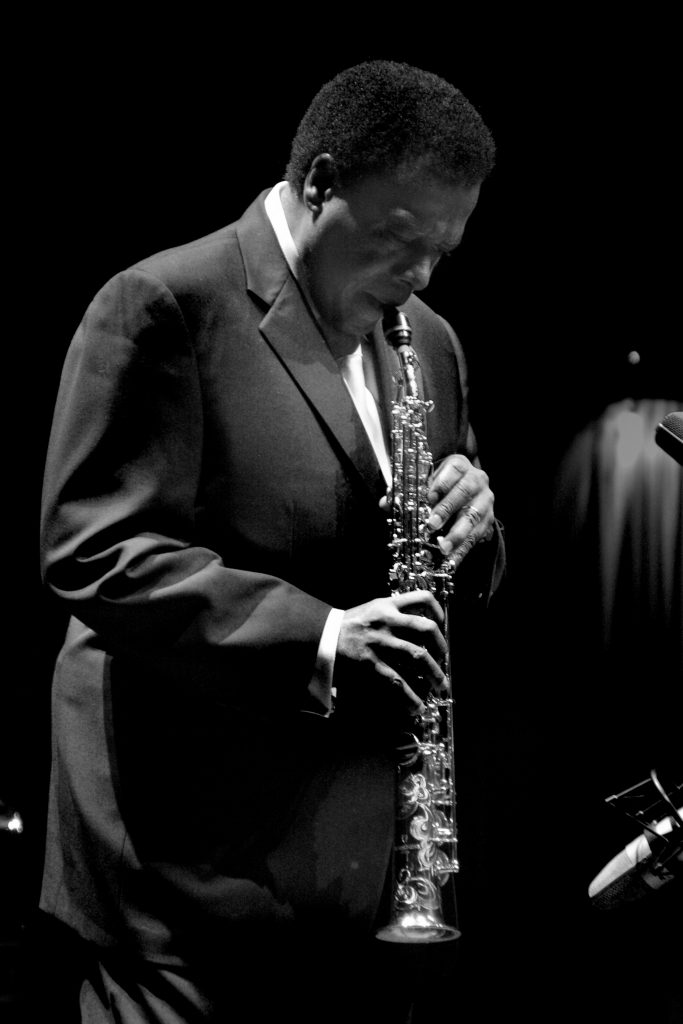 Wayne Shorter (Image by Michael Oletta)
Let me note that much-lionized composer/saxophonist Wayne Shorter will make his always stunning addition to an exceptionally strong Monterey line-up. At the other end of jazz longevity, pianist ephebe Alexander will regale his increasingly growing legion of fans. My old pal (tho' himself a relative youngster) tenor sax terror Donny McCaslin, who has brought charm and unearthly beauty to Maria Schneider's multi-Grammy winning orchestra, will provide sure-footed verve to a superior festival.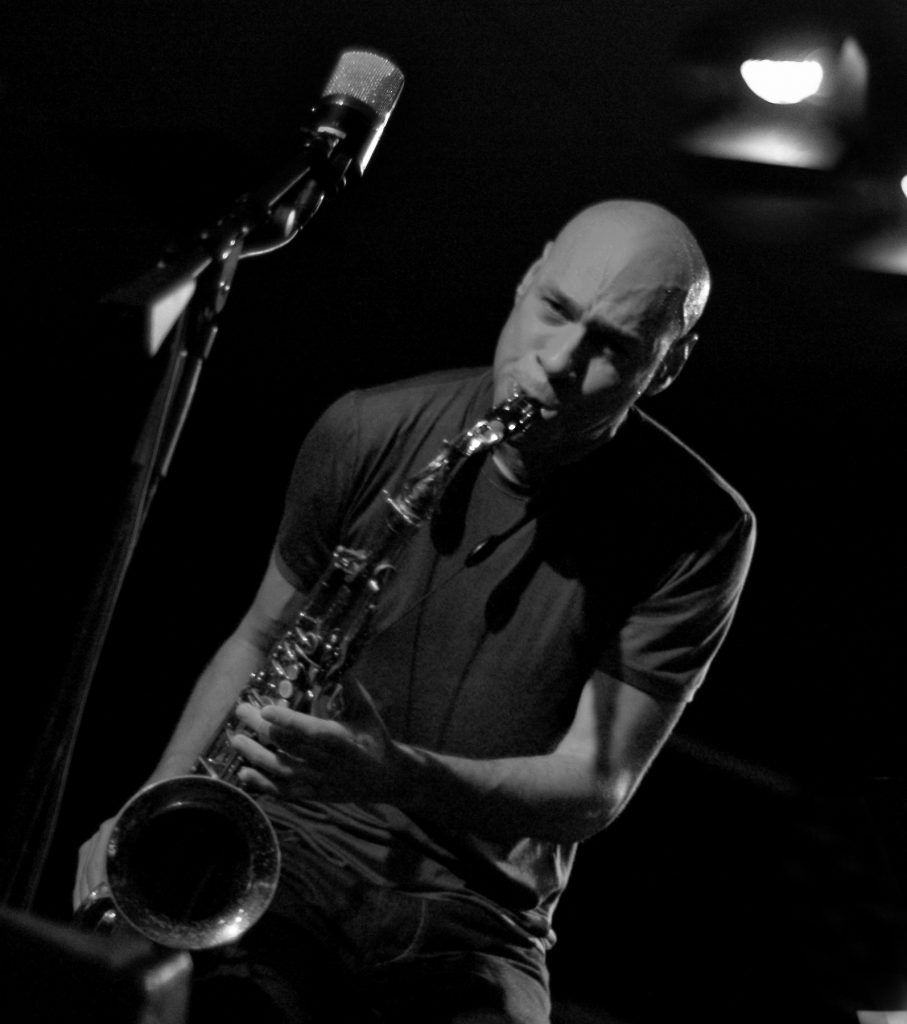 Josh Redman (Image by Michael Oletta)
Josh Redman, whose iconoclastic father, tenor sax legend Dewey Redman, never received plaudits earned by his talented son on the same instrument, will exert the full of his family heritage. Not to be missed, tenor titan Kamsai Washington will open many ears not previously within the reach of his unrivaled power and musical ferocity. Believe this: no one on hand this September 16 - 18 on the Monterey Fairgrounds will want to miss this remarkable man's gorgeous jaw-dropping fury. One never knows what one misses. Not making that mistake here will prove how important it is to get facts straight before it's too late to amend.