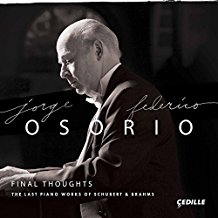 Jorge Federico Osorio, Final Thoughts. Last Piano Works of Schubert and Brahms. Çedille CDR 90000171.
I grew up on the music of the late nineteenth century—Brahms was the center of my initial musical universe, the symphonies in particular. As is often the case if you 'grow up' on a particular style and composer  (unless you are a musician), you don't so much hear him. You don't know enough to do that. He simply occupies you and as such, if he stays around too long, is too much with you and you move on. Because he has become too familiar but not enough known. 
I have been away from Brahms for a long time and have felt no urge to return. Modern and baroque music now occupy the space he (and many of his contemporaries) once held in my head and heart. Though revealingly, I do enjoy both Norrington's and Gardiner's 'period orchestra' recordings of the symphonies, which Richard Tarushkin tells us correctly are a product of modernist taste...
I returned to Brahms (and Schubert) with this farewell album of solo piano music performed by Mexican pianist Jorge Federico Osorio, sent me presumably on a whim by the promotional agent for Çedille. I can hear better than I once did but that's not all that's going on here. Osorio, to my shame whom I know nothing of, brings out the greatness of this composer, greatness I probably never really knew of. Would I have heard this greatness from Brahms sooner, say in my fifties, had I heard Osario play him? Who knows? All I can say is that in his hands Brahms has more poetry and power than I've ever heard from him. 
This is a truly wonderful album, musically and sonically. And that's just the Brahms. It opens and closes with Schubert's D. 959 and D.960 sonatas played with comparable eloquence; but I was prepared for this. It's the Brahms that has knocked me out. This CD will likely disappear before it's discovered. I hope not. Do not miss it.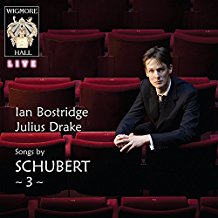 Ian Bostridge, Julius Drake. Songs by Schubert -3-  Wigmore Hall Live WHLive 0088.
English tenor Ian Bostridge is a fine tenor, one of the best (and most acclaimed) we have. His musical home is the exact center of the tenor range, which enables him to wring emotion from Schubert that some tenors more comfortable above or below him can miss, or at least shortchange. Coming to him from baritone Matthias Goerne (I know not a tenor so not an entirely apt comparison but he's the most recent singer of Schubert in my head), for example, we are immediately aware of a more nimble and poignant Schubert. And the seemingly ubiquitous  pianist Julius Drake is his natural partner. Goerne gives us a weightier, broodier Schubert, who can seem almost monumental. Goerne's Schubert is darker, Bostridge's more eloquent. It is obviously a tribute to the composer that his music can reach us as powerfully in either tonality. 
Bostridge has been singing Schubert (he has also taught him at Oxford and written a book about him) all of his professional life. But in this 2014 'live' recital at Wigmore Hall, his voice sounds richer and more mature than I remember it.
This is as beautiful as I've ever heard Schubert. If you're a Schubert fan, or even if you're not, yet, do get this one.  I see I'm already two behind.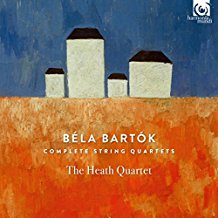 Béla Bartók, Complete String Quartets. The Heath Quartet 2 CD's. Harmonia Mundi 907661.62.
Bartók's string quartets represent the essence of Central European modernism, an aesthetic marked principally by variations of fury and sinuous, tightly strung passion. The Heath Quartet's commendable 2015 effort to make something of the quartets of Michael Tippett (Wigmore Hall LiveWHLive0080/2) doesn't really prepare us for the muscular clarity of their Bartók. This music's Hungarian folk roots are buried deeper than usual here beneath its vigorous and direct confrontation with the fundamentals of human experience. Oliver Heath and his people get this. They get the emotional bravery of this music. I've written before that the composer may have drawn on the folk music of his culture but transforms it into something entirely different. He draws on its raw emotional power but it is transmogrified in his hands. The Heath musicians express the completeness of the metamorphosis. Their Bartók is uncompromised. Not at all raw but unrefined. True.
Perhaps the most compelling evidence of their truthfulness is that the occasional beautiful passages in the quartets, as few as they are, are truly beautiful, which is not always the case with performances that fall in love with the idea that Bartók must be uniformly stern, intense, vigorous, and passionate. Interesting things happen when the tension is relieved. It's rewarding to hear new voices address classic modernist music from time to time. These folks are very good.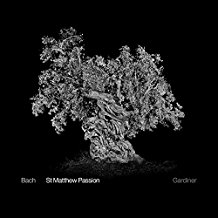 Bach, St. Matthew Passion. John Eliot Gardiner. Monterverdi Choir, English Baroque Soloists, Trinity Boys Choir. 2 CD's. Soli Deo Gloria SDG 725.
You don't have to be a fan of C.S. Lewis to appreciate what he brought to Christianity: a recognition that The Faith does not require dreary reverence if it is really true. It is doubt and the fear it brings that induce reverence. Lewis's is the approach John Eliot Gardiner and his people  always bring to the cantatas and passions of Bach. So I bring no news when I report that his new St. Matthew Passion is full of life, beauty, and harmonious energy.
Lilt and glow from the sopranos, lilt in the tempos, brightness and congeniality from the tenor voice of James Gilchrist. Smoothness in the commanding bass voice of Stephan Loges. We have the sense that though this is the darkest stage of the story, the news will ultimately be good. Where the Gardiner style and approach pay off especially is in Part II where the narrative darkens and we head determinately toward the cross. The music modulates into dark lyricism, but lyricism nonetheless. While the Gospel of Matthew proceeds on through to the Resurrection, Bach, who was composing his passion for Good Friday, brings it to a close with Christ's death. Those involved in the late steps of the tale are much conflicted and Gardiner's slightly muted style lets the conflicts dramatize themselves gracefully and poignantly. The ending of the work feels like truly human drama as it would take place in the presence of the divine. For Bach, the story ends in peace. The world has been redeemed, and his music is as beautiful in this last stage as any I know. 
Gardiner's St Matthew is my favorite, mainly because it prioritizes beauty, giving the mythic tale it tells a kind of power that feels eternal. I don't mean to give Gardiner more credit than Bach here, just to say that Gardiner's approach seems to help the music achieve Bach's goals most compellingly. 
Leonard Bernstein, Complete Works for Solo Piano. Andrew Cooperstock, piano. 2 CDs. Bridge 9485A/B.
At the heart of all of the fuss about how good or major a composer Leonard Bernstein is lies a core of irresistibly wonderful music that is surrounded by a lot of pretentious stuff that seems to grow out of his sense of himself as a major figure, both composer and conductor. At the exact center is West Side Story, the greatest musical ever composed. Nearby is the smarter and, for some, comparably moving, Candide. Some of the musical glory of these works can be felt in several other works, which share their spirit and some of their melodic genius. Serenade for Violin should be better known, though thanks to Hillary Hahn it has increased its audience. And there is his music for solo piano. All of this marvelous music captures, perhaps has in some degree created, the spirit of modern urban romanticism, inspired by Brooklyn born Aaron Copland whose spirit went out West. Bernstein's spirit stayed East, and for that we are supremely grateful. (For the record, Bernstein was born in Lawrence, Massachusetts.)
Several of the pieces here contain some of the most eloquent moments, and I do mean moments, in his oeuvre. The 1:40 Anniversary for Susanna Kyle has remained with me for several weeks now. The Anniversaries that make up the first of the two discs in this set are all miniatures, few more than two minutes in duration: they take an inspired idea or phrase, render its very being, and then move on. Perhaps their evanescence is the key to their power. They strike me as the musical equivalent of short lyric poems. Almost always engaging, presided over by a brilliant musical intelligence that forms them brilliantly and then guides them along the brief course we expect, whereupon they disappear.
None of the music on the second CD, mainly longer works, is as immediately engaging as the Anniversaries but it provides an interesting ride. The Sonata is the most ambitious work here but it feels more ambitious than successful. It has lots of Bernstein's antic rhetoric but less of his melodic genius, which it seems to shy away from. Non Tropo Presto is a little more fun; also Music for the Dance—stark eloquence, Latin syncopation. Four Sabres recalls the lyricism of West Side Story. His arrangement for piano of Copland's  El Salon Mexico gives us a marriage of the two composers, reminding us where some of the music of West Side Story came from. It has the lean, exciting quality of the piano version of Stravinsky's Petrouchka. CD 2 ends with a collection of pieces called Bridal Suite: all good enough Bernstein: inspiration and whimsy.
Come for CD 1, stay round for CD2. 
Systems used for this audition: Resolution Audio Cantata CD player w/BlackJack power cord; Blue Circle O22i integrated amplifier with the new JM Reynaud Abscissa Jubilee loudspeakers; Blue Circle NSC preamplifier and NSL amplifier with Jean Marie Reynaud Offrande Supreme, V2 loudspeakers;  Crimson interconnects and speaker cable; Mapleshade Samson equipment rack.
Bob Neill, a former equipment reviewer for Enjoy the Music and Positive Feedback, is proprietor of Amherst Audio in Western Massachusetts which sells equipment from Audio Note (UK), Blue Circle (Canada), Crimson (UK), Jean Marie Reynaud (France), Resolution Audio (US), and Tocaro (Germany).