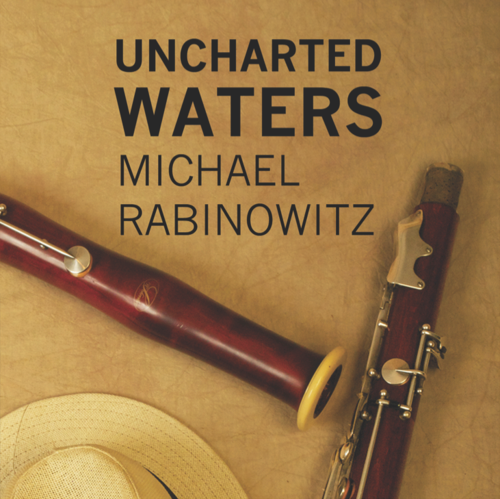 Michael Rabinowitz, Uncharted Waters. Cats Paw Records, CPD-9855, CD $20 at https://www.jazzbassoonist.com/shop
As a high-end audio importer and distributor, part of my job is to sit down and evaluate new products so that I can answer questions from dealers, retail customers, and the press. Yesterday I was doing exactly that, comparing a new entry-level digital source with its more expensive big brother. To my surprise, I preferred the less expensive player. At the time I was hearing a stupendous amount of detail within a particular recording, the kind of detail that's the natural result of the intersection of musician and instrument—measured breathing, the smacking of lips, the soft clicking from fingers on the valves, and the very distinct and pleasing sound of two reeds vibrating against each other and producing a unique tone.
I found that listening session to be extremely informative when it came to evaluating the hardware, but as the day progressed I thought more and more about the recording and just how natural it sounded. Part of the reason it was so novel and different to me, as I later found out, was that it featured the jazz bassoon as the lead instrument. Now I can thumb through my large-ish CD and LP collection and come up with plenty of bassoon recordings, but none of them will be jazz. "This might be a first," I thought.
I'll let you in on a little secret, if you don't already know—jazz bassoon sounds awesome.
Perhaps this is because I've always had a fondness for the timbres of double reed instruments, which might have something to do with how much of the sound is related to the actual physical materials of the instrument. The vibrations between the two reeds produces a sound that is papery and somewhat muted, quietly reminiscent of the distanced perspective of a muted trumpet with far less bite.  That extra layer of sound produces a character that is, to me, quite playful and charming. The bassoon family, with its lower frequency capabilities, seems to magnify that sheer likability by delivering a big sound that's more amenable to crawling around and seeing what's inside.
On a side note, I can still remember attending a seminar during one of Stereophile's earlier trade shows where Lewis Lipnick actually delivered the lowest note of the contrabassoon, the lowest note found in a traditional orchestra, that elusive low B flat. (Some very skilled players can hit the low A underneath it as well.) That might be my favorite single note of all time. It wavered and it floated along the floorboards and it makes me smile now just to think about it.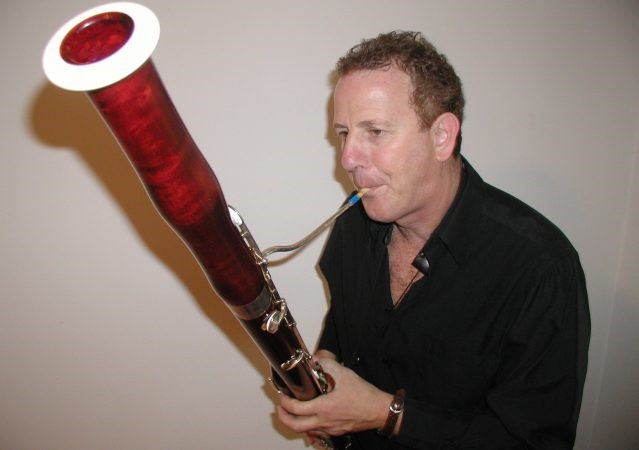 Photo courtesy of Gabrielle Rabinowitz
Michael Rabinowitz doesn't play the contrabassoon; he plays something called a grand jazz bassoon, which seems to imply that I should get out more often and discover a jazz bassoon catalog so immense that a unique instrument has been invented just to play it. (Wikipedia was no help at all with notating the differences.) While jazz bassoon is fairly uncommon, artists such as Illinois Jacquet, Chick Corea, and Yusef Lateef have occasionally included it in various ensembles over the years. After listening to Rabinowitz' new album, Uncharted Waters, I have to ask a serious question.
Why isn't jazz bassoon more common?
As I mentioned before, this instrument has so many sonic textures that it seems a natural conduit for jazz improvisation. Rabinowitz is certainly adept at showcasing the instrument's versatility—there are times when it sounds like a baritone sax, and others when it sounds like a clarinet. Those are both common jazz instruments, right? Beneath that versatility, however, is that distinctive raspy tone that makes you sit up and ask, "Wait, what instrument is this again?" That seems to be his exact mission on this album, since he states right in the liner notes that "this CD continues my mission to showcase the bassoon in a jazz setting featuring the instrument's expressive and improvisational abilities." Great minds, etc.
Rabinowitz deftly steers these nine tracks—some originals, some standards like "Caravan" and Wes Montgomery's "So Do It"—away from sheer novelty by surrounding himself with an exceptional band that includes guitarist Nat Harris, bassist Ruslan Khain, and drummer Vince Ector. "Caravan," for example, starts off purposely sluggish and tentative before it breaks into its traditional mad dash for the finish line. "Caravan" isn't meant to sound effortless, hence its notable appearance in the film Whiplash, but this quartet manages this race incredibly well without sounding over-familiar with the material.
In addition, each performer gets his chance in the spotlight without having to resort to gratuitous solos and improvisations. These musicians are so confident that they understand it's better to support the whole than brag. The stage perspective presented on Uncharted Waters is so close and intimate that you'll feel like you've become good friends with all four by the end. (If you think that implies that the sound quality of this "mere" Redbook CD is incredible, you're absolutely right.)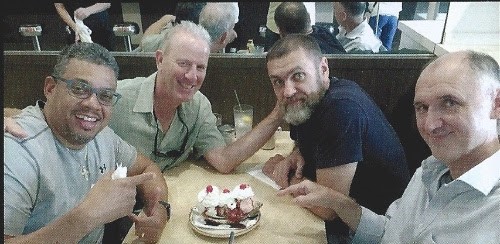 Photo courtesy of Fred Guarino
It's the final track, "Calypso Joe," that will convince you that you're in the company of jazz bassoon greatness. This original composition sounds like something you should know but don't, with its surprising Latin touches that slowly embrace you and whisper something soft in your ear, something that sounds a lot like "Have you heard a salsa bassoon before?" It's one thing to bend this instrument into sounding like something else, but quite another to let it waltz around the stage, naked and unafraid, confident that it belongs there in the first place.
That might be the single greatest accomplishment of Mr. Rabinowitz, that even after a single listen the presence of this grand and expressive musical instrument sounds perfectly normal, welcome and perhaps even obvious. Or you can simply play Uncharted Waters for your friends, unprompted, and let them try to figure out what's different and why it's so exceptional.