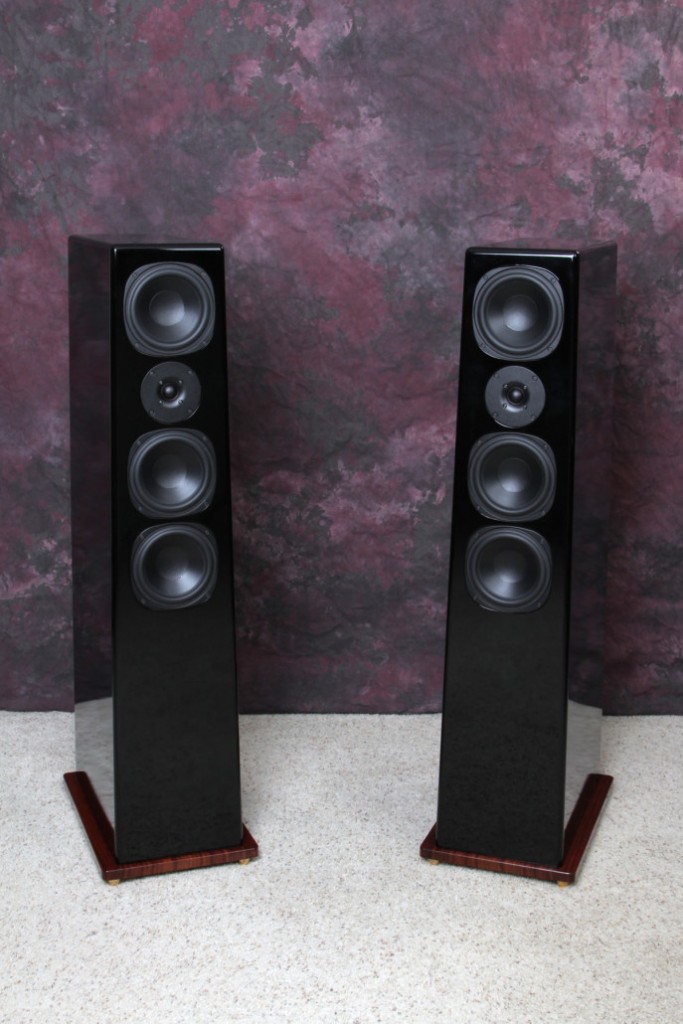 A few times a year there comes a revolutionary product from a vendor. Sometimes it's a well known vendor with the usual high-dollar offerings. With those, it's usually an automatic—"well, they have the money since their products are not cheap" so the logic is maybe they didn't skimp on R&D? But when the underdogs come out with a product so revolutionary and cheap, you immediately think, wow, I need to tell everyone about this one!
Let's rewind a little bit. Angel City Audio… based out of Rancho Cucamonga, California and hearled by Hugh Nguyen, is mostly recognized by being a distributor and dealer of fine audiophile wares. Tube Amplifiers, cables, etc. But a little-known fact is that Hugh also has a passion (and a knack) for designing loudspeakers. I can remember throughout several years of visiting various trade shows, there being (usually) a bookshelf style speaker (dubbed the "Trinity") set up in the listening room connected to various equipment that ACA offers but nothing that I really paid much attention to. I'll admit, I'm more smitten by the esoteric designs offering omnidirectional technology, or ribbons, planars, even plasma.
I sent a few questions over to Hugh, his responses:
PD: Give me a brief history of ACA and Speaker design:
HN: ACA was officially formed in 2009. However, I personally had worked part time as a dealer for a few audio brands since 2005. To date, we have designed and released 2 speaker models, the Trinity and the Seraphim.
PD: What are they named after?
HN: As you can guess from the designations of our 2 speakers, those are Angels' names. The reason for it was when we contemplated as to what name should we found our business with that I decided on ACA (Angel City Audio) since we live in the vicinity of Los Angeles aka City of Angels.
PD: Is speaker design considered secondary to your business and more of a passion to you?
HN: Yes, it is rather a passion to me personally than a business, really. As far as I am concerned, without passion, one can't really appreciate life beauties.
PD: How did you come up with the Seraphim?
HN: Well, after the successful launch of our Trinity monitor speakers, we realized we'd need to start working on a tower speaker to satisfy our customers' wish for such a speaker. With the experience gained from the Trinity, we decided to use a variant of our proven custom woofers used in the Trinity for the Seraphim. Then we decided on one of Seas Prestige tweeter for its smoothness and high detail.
fast forwarding…
Hugh and I hit it off a few years ago during a chat and me being a local, we've discussed many times about me reviewing a pair of his upcoming Seraphim loudspeakers. I finally had a chance to see and hear them at the 2015 Newport audio show, where he had a very nice VPI turntable spinning. I entered the room at a low period and took advantage of a vacant room (he was showing with Skogrand cables—another cool ass dude) and I plopped on Puscifer's "Conditions of my Parole" which at first glance appears to be some sort of parody album, when in fact it hides one of the greatest dynamic rock albums of it's kind released in 2011, and let me tell you… I got the chills all over again when that needle dropped in his room. And in cometh the crowd… was fun!
So now I had an epiphany... and emotion tied to an experience. A lot like a great bottle of wine / beer or a fun concert. And I knew that I had to hear these speakers in my system. Hugh and I started talking and lined up our schedules and in they came!
Let me tell you, they are much bigger and heavier in person. Made of solid 1"MDF, they come in at a little over 100lbs a piece. If you aren't The Rock, you will need a friend to help you get these situated. Hugh and I had them both situated after a few small breaks here and there. After sitting down for a few minutes to catch our breath, we started connecting them to my system..
The first thing I noticed was the crossover. Why? Because it's situated on the plinth of the speaker, which can dismount from the speaker from the bottom. The crossover was enormous! This isn't your DIY effort from Parts Express here, folks, this is a very unique crossover
Crossover Details:
Hard-wired using premium components: (air-core round-wire and copper foil inductors, polypropylene-film and copper-paper-beeswax capacitors, and non-inductive wire-wound resistors, silver-bearing solder)
Crossover Frequencies: 2kHz 4th order acoustical (midrange/tweeter), 400Hz 2nd order acoustical (woofers/midrange)
Frequency Response: 28Hz—21kHz +/- 2dB
Nominal Impedance: 4 Ohms (minimum 3 Ohms)
Sensitivity: Approx. 91dB/Watt
Dimensions: (W x H x D) 14" x 47.5" x 21.5"
Weight: Approx. 210 lbs/pair (unboxed)
Designer's Notes
With respect to the development of a 3-way:
"We developed a 3-way product to improve upon the performance of the ACA Trinity loudspeakers in a couple of areas. First, we were seeking improved low-frequency extension and dynamics; and, second, by removing the need for the midrange to carry both the middle frequencies and the bass, we were seeking lower midrange coloration. Although the tweeter in the Seraphim is a new type for ACA, the use of essentially the same midrange/woofer driver maintains a similarity in sound character between the two models."
Regarding the selection of crossover components:
"Beyond the basic topology and layout, all crossover components were selected by ear and with an aim towards improved transparency and resolution. After extensive listening tests and many component changes, the component types and brands we've selected gave us the performance we were after."
These particular speakers came in a rosewood finish—although I'm sure if you stuck enough interest in a different finish, ACA would be willing to accommodate. In fact he did share with me a photo of a new unique finish which I thought was breathtaking—a finish you would normally see on a $30-40K+ loudspeaker. But I digress. The finish on the rosewood is absolutely beautiful, and in the right light, can really steal the show no matter what equipment you have (minus my Triangle Art Signature turntable… I never seem to get enough jaw drops from that one)…
And the upcoming Cocobolo finish (look at that detail and thick cabinet!):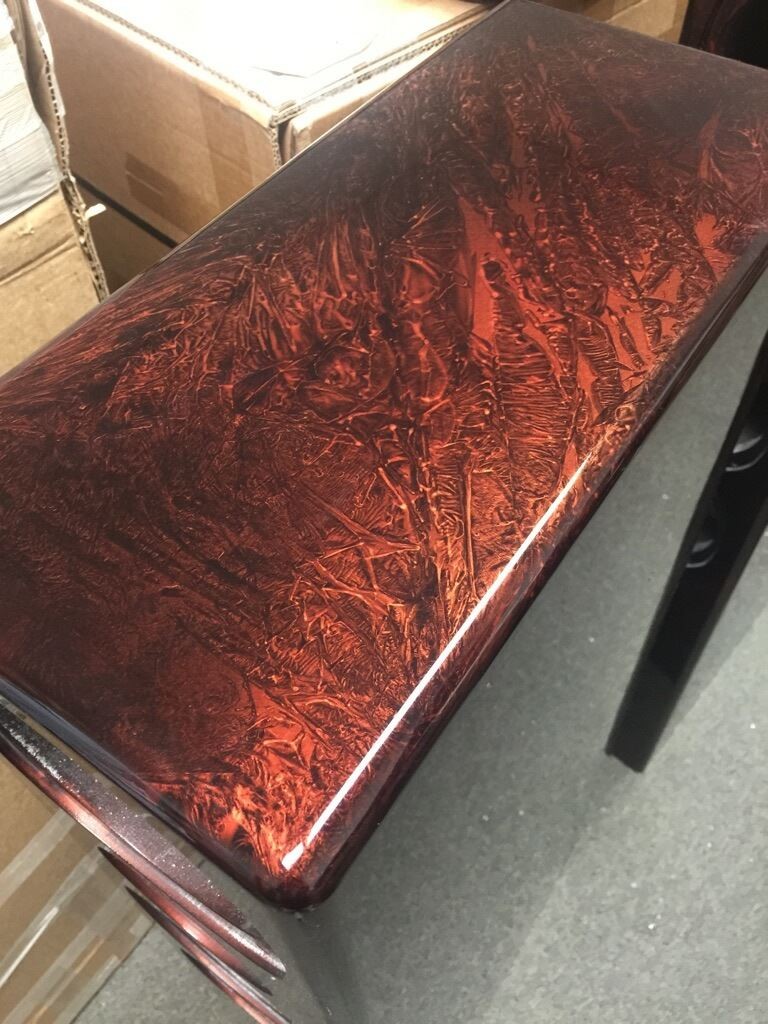 There are a total of 4 drivers on each speaker (configured in 3-way). The top driver is a custom 7" handling Midrange duties. The second is a tweeter by SEAS soft dome. The third and fourth 7" drivers act as woofers. The speakers are ported in the rear. Overall sensitivity is around 91dB/Watt - making them somewhat easy on your amplifier. I switched between three amplifiers.
First a Plinius SA-250mkIV (AKA ARC Welder) in A/B mode, then a Spectron Musician III (on loan), then Merrill Thor (on loan). They sounded absolutely sexy on all amplification. In the ACA room at Newport 2015 they were being powered by tube Melody gear. I was really close to having Hugh bring those over as well but my room isn't very large and I didn't want to get sweated out. The point is, these speakers are very versatile and will play nice with just about every amplifier on the market.
OK—so enough of how great they look. How do they sound?
In a few words… Tight. Accurate. Phenomenal. Intricate. Three Dimensional.
I sometimes find it difficult to articulate how well a speaker sounds through a review, but one of the most important things I look for is clarity, and cohesiveness between the drivers. When those two things are perfected, it presents a perfect soundstage and doesn't require a lot of effort in the setup phase. I've found that with the more esoteric designs, the drivers don't seem to work together as a team and it causes too much disruption while listening. With the Seraphims—I found myself getting more lost into the music and not into the gear.
What I believe ACA has done here has bridged the gap between aesthetic beauty, sound reproduction, AND at a very attractive introductory price—which I believe will most likely go up in the future, which is a personal belief of mine.
I strongly suggest you try a pair of these out! Do not let the price fool you. This is a way to get in on the ground floor and have sound that rivals 30K+ speakers. These come highly recommended from me as one of the best sounding box speakers—not to mention they are absolutely beautiful.
Seraphim Loudspeaker
US Retail: Satin Black $8000 , Piano Black $9000, Piano Rosewood $11,000 (As reviewed) Intro Price good for 2015 Only.
Angel City Audio
Some images of the Seraphim in my current system