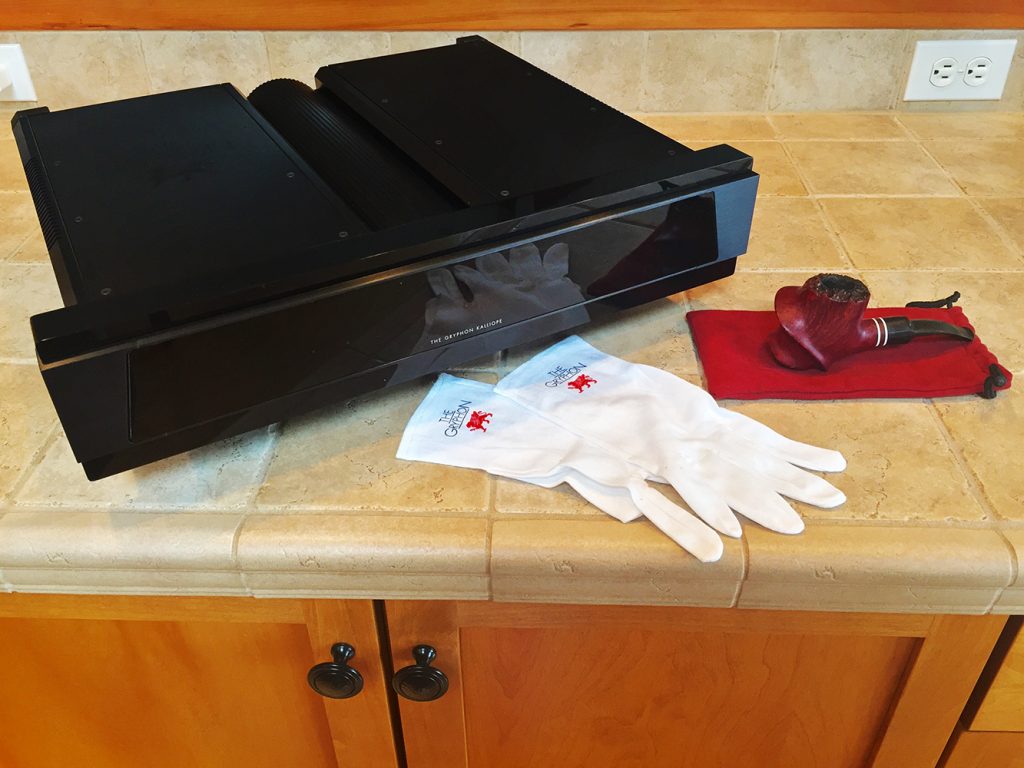 The Gryphon Audio Kalliope DSD DAC upon arrival here… (Photograph and image processing by Robinson)
The world of DSD DACs has certainly exploded over the past four years, going from a relative "we happy few" to over 400 models to choose from. The price points vary wildly…from $189 all the way out to multiple tens of thousands of bucks…but the fact is that there is something for everyone in the burgeoning world of computer-based fine audio playback. Support for DSD (Double DSD is something that just about everyone supports, and there are vendors that support out to Octo (8x) and even 10x DSD), DXD (PCM 352.8kHz/32-bit), and PCM (up to 384kHz) has become commonplace, and all of this has become expected by informed audiophiles.
Over the years, I have gotten to listen to a number of DSD DACs, both here and at audio shows. The ones that have impressed me have appeared in these pages on a pretty regular basis.
And now, here comes another:  The Gryphon Audio Kalliope 8x DSD DAC.
To quote from my 2016 Brutus Award commentary covering the Kalliope's win in Issue 88:  "I had gotten in touch with Flemming in late 2015 because I had seen a mention of him and Gryphon, and realized that it had been many years (Late '90s? Early 2000s?) since we had last spoken at some unremembered CES. After some discussion of what PF might do to try one of his products, he suggested that I try their Kalliope (Greek for "beautiful voice") DAC, which had just been upgraded to handle all the way out to Octo DSD (DSD512, or 512fs), twice the Quad DSD sampling rate. It would be a good way to see what Gryphon could produce these days."
It had been a while, all right. Flemming and I discussed the possibility of PF doing some reviewing of his reference designs, but since he does not have US distribution at this time, it made little sense for him to undertake the expense and time of sending larger components. Instead, we agreed that the Kalliope, their reference DSD DAC, would be a much easier way to go…and so we did.
The Kalliope arrived from Denmark in the early spring of 2016. Before we could put it into full operation, however, the review unit required a field upgrade to its USB system firmware, to fully unlock DSD operations all the way out to Octo DSD. This wasn't a simple flash of the software, however. Without going into gory details, the procedure would require removing the lid from the Kalliope, shorting two particular contact points on the PCB to clear out the USB settings, powering the unit back up, and then applying the new USB firmware patch via USB. This is not something that a typical user should do…in fact, Gryphon recommended it only for field technicians…but since I have quite a lot of experience in information technology and the gizzards of computers, I was given the go to carry out the upgrade. I did so, it went well, and the update unleashed the full Quad and Octo DSD capabilities of the Kalliope.
Product Description
The Kalliope is a very distinctive looking DAC; in fact, I've never seen anything quite like it.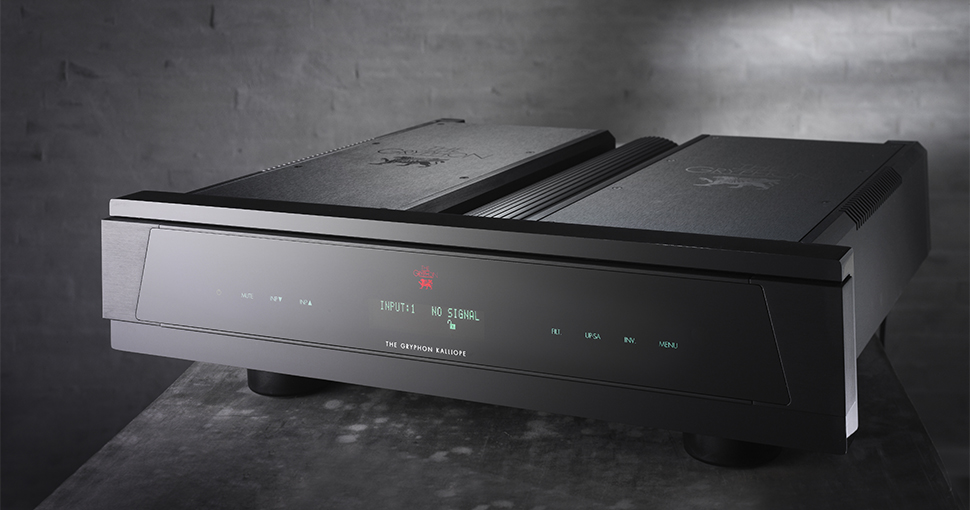 From the moment of its arrival, I knew that this was not your typical DSD DAC at all. The styling was unique, with a black-on-black look that lit up when powered up with a distinctive display. Hefting the 24 pound unit…serious gravitas for a DAC…revealed very solid construction, evidencing its true dual-mono construction.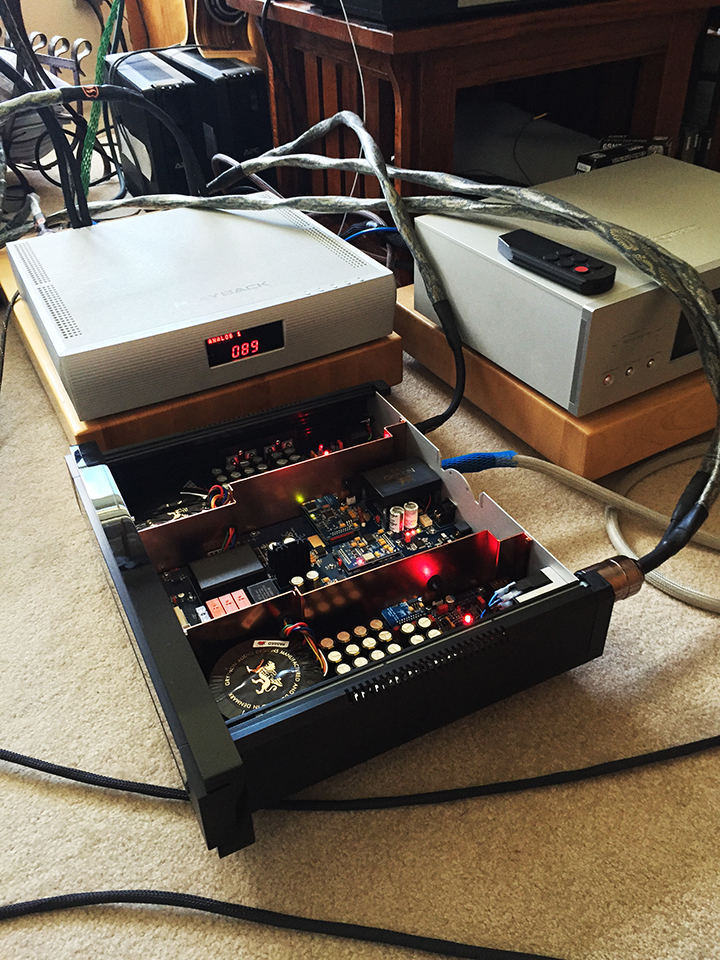 In the middle of updating the USB section firmware in the Kalliope (Photograph and image processing by Robinson)
Popping the lid for the USB firmware update gave me the opportunity to see the internal build makeup and get a sense of the quality of this design. It was immediately evident that the Kalliope is not some sort of inexpensive dual-mono-as-an-after-thought implementation; this is the real thing. As you see in the photograph above, the chassis is solid with copper dividers between the left and right mono sections, each with its own power supply for the analog output. The middle section houses the USB input and control.
I wondered which DAC chips Gryphon Audio was using, but strongly suspected that it was the ESS Sabre32 90xx series with a sophisticated USB interface, given the support for up to 8x DSD. (If you go to the Gryphon Audio Web site for the Kalliope at this time, you'll see text that indicates that the cap for DSD is at up to "6.1 MHz," but this is incorrect. With the current firmware revisions, the Kalliope is now handling up to 8x DSD.) I was right; the Kalliope has an ES9018 for each channel, configured for stereo-only operation. There are a number of companies who use chips from the ESS series, of course; the rub comes not in the mere use of that well-regarded chip, but in how a company employs the chip, and the level of commitment that it makes to getting the most out of it.
The technical profile of the Kalliope has some key details that are relevant to the sonic results that I report below. (Gear heads are welcome to drill down at the Gryphon Audio page for the Kalliope HERE.) For the rest, I would say that the really important elements of the Kalliope include the following:
True dual-mono construction This allows for maximum channel separation and power supply isolation.
Pure Class A operation (Yes, it does run warm. Not hot, but definitely warm.) Power without compromise.
DC-coupled, with no negative feedback Maximum transparency and detail, here.
Separate power "custom-built 65 VA toroidal transformers" for left and right analog sections For a DAC, this is heavy-duty…large transformers, for sure.
Gryphon claims "analogue output stages with discrete, ultra-low noise +/- 25VDC regulated voltage supplies for best THD and noise suppression" The Kalliope is very definitely a very low-noise design.
Dedicated ES9018 chips for each channel Plenty of processing power for even the highest resolution formats, like 4x and 8x DSD.
The consensus among digital engineers and designers whom I know is that there are really two really important elements in superior DSD DAC products:  The power supply, and the analog section. (For example, to see what LampizatOr's master DAC designer Lukas Fikus has to say on this subject, see his very cogent comments in his section "Our design highlights" HERE.) The only other big question is whether you're going with an off-the-shelf solution like the ESS 90xx series, or FPGA. There are advocates of both, and excellent cases of superior design work done in either direction. For example, Merging Technologies' NADAC and the Gryphon Audio Kalliope are in the former group, while Playback Designs Merlot is in the latter. (LampizatOr plays it close to the vest with its legendary Golden Gate Quad DSD DAC, and does not detail its DAC.)
Clearly, with the Kalliope Gryphon Audio has chosen to go with an all-out design that strongly supports its chipset with a great power supply, pure Class A/no negative feedback operation, an excellent true dual-mono configuration, an expensive analog section on each side, and a sophisticated USB system.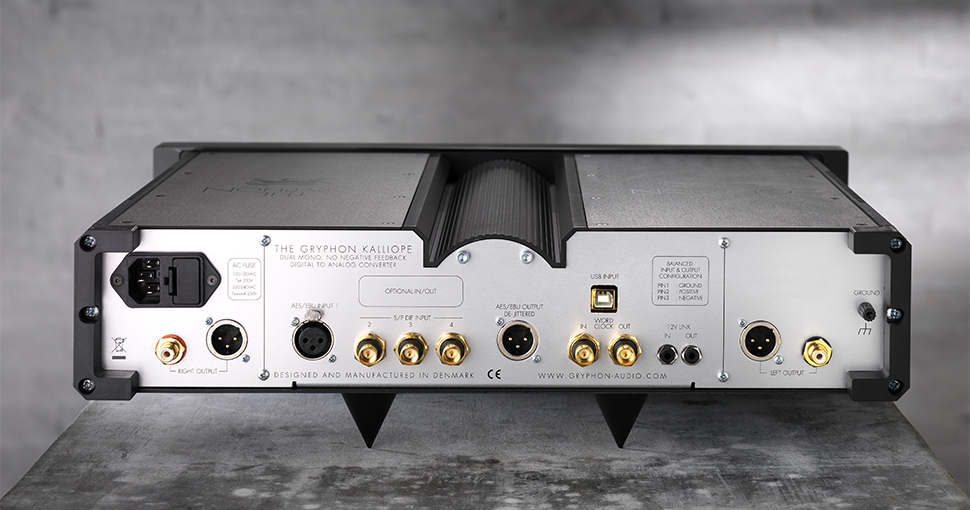 Gryphon Audio Kalliope, rear view
The input complement includes USB (for the highest resolution, out to 8x DSD), AES/EBU, and three S/PDIF (BNC here; adapters…not included…required for RCA connection). Gryphon Audio notes that BNC is "…the only way to ensure a true 75 Ohm impedance for optimal data transfer." In my experience, that is correct; the best performance that I've heard in such transmission is via BNC. There is a pair of BNC connectors for word clock in/out, and another pair of ports for 12V link control. On the output side, the Kalliope features both balanced and unbalanced out, plus an AES/EBU output that is dejittered for pass-through to other devices.
I was pleased to see that the Kalliope has phase inversion, something that not every DSD DAC has. There are filtering options available to the listener. For PCM, Gryphon Audio lists "fast or slow linear phase non-dispersive filtering" as options. On the DSD side, there are Infinite Impulse Response filters at "50, 60, and 70 Hz" listed (although this one has me a bit perplexed. I would have expected to see "50, 60, and 70 kHz" here…perhaps this is a typo or oversight?)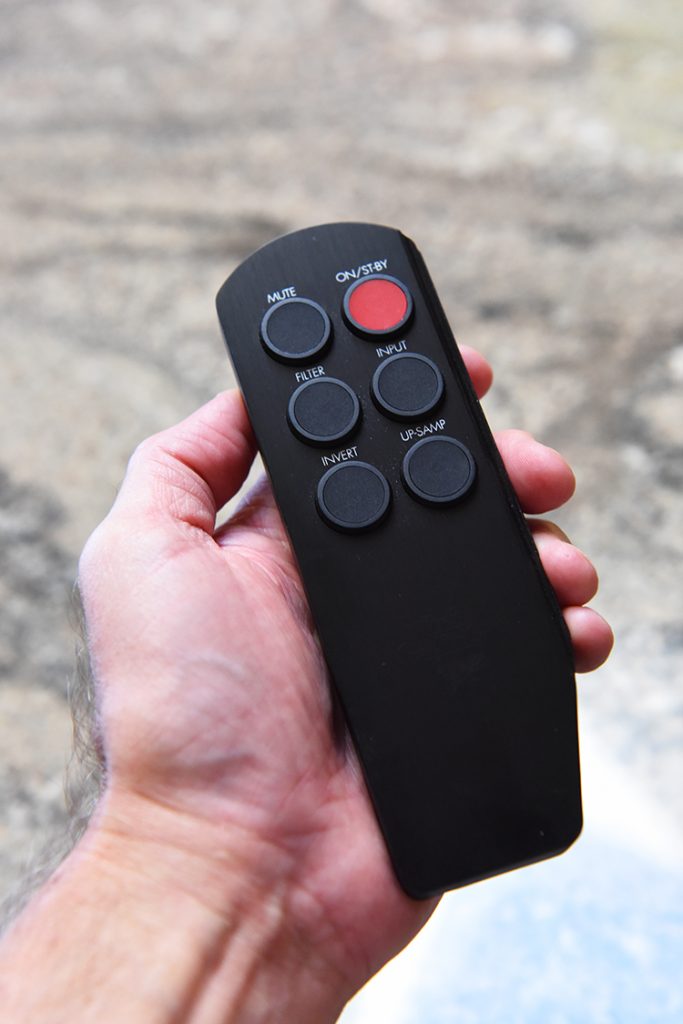 The Kalliope Remote Control:  Hefty, handsome, and helpful…all key functions are here, without over-complication of the user interface (photograph and image processing by Robinson).
The Kalliope's remote control is a study in quality and simplicity. It's solidly built of aluminum, has a non-skid pad underneath, with a most satisfying weight in the hand. (I do believe that you could use it as a self-defense weapon, at need. Nice, in the case of violence in the listening room!) While you can control all key functions via the front panel's buttons, most of us prefer to be in the listening position for such operations. The Kalliope remote allow you to do just that, with only those tasks available as you need. Some remotes are overdone, with so many buttons and functions onboard that you have to spend some time learning where to find the important items. Not the end of the world, certainly, but a bit of an impediment to effective action. There's no possibility of that with this remote however:  Six large, easy-to-read buttons handle all functions. You can power up/go to standby mode, mute, do filter selection, shift input, do phase inversion from the listening position, or toggle through upsampling options. I rate this as exceptional design work.
The Sound
Well, it always comes down to this, doesn't it?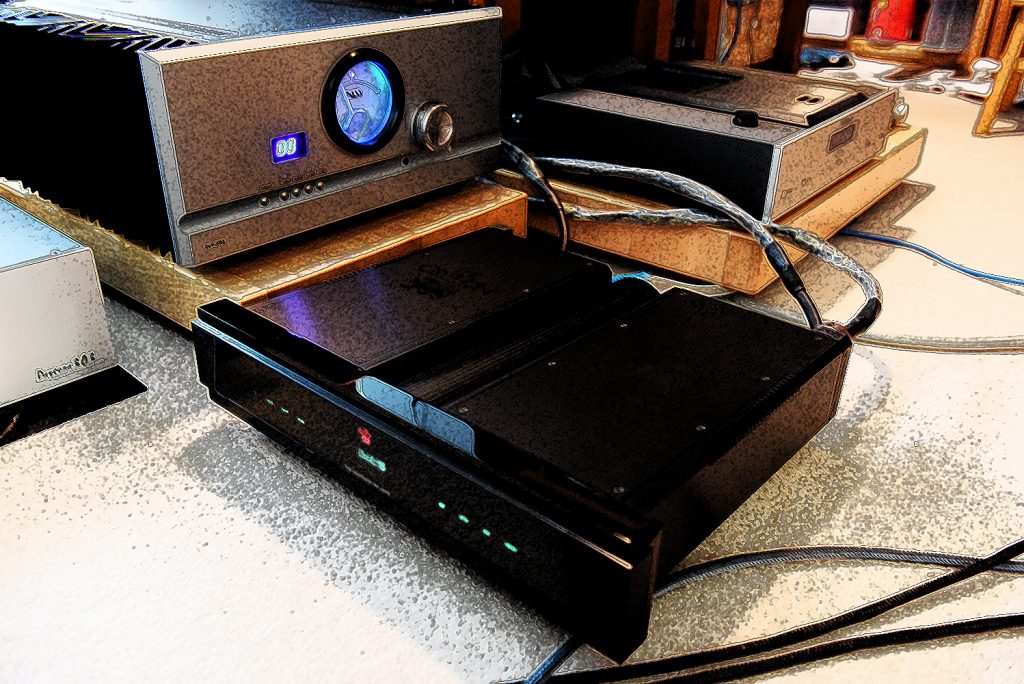 Kalliope in the reference desktop nearfield system, with Pass Labs INT-250, Audionet VIP G3 SACD player, Furutech Daytona 303 Line Conditioner, Skogrand Beethoven Reference unbalanced RCA cables and Beethoven power cable (photograph and image processing by Robinson)
I had the updated Kalliope in our reference desktop nearfield system for months. During that time, it was connected to our HP Pavilion 8T notebook running Windows 10, with 8 GB RAM and a 480 GB solid-state drive (SSD) acting as music server on our network. Hard disk storage for audio was hosted by our Dell Precision T7600 Workstation, 64 GB ECC RAM, 3 TB RAID 1 array, with four Seagate USB 3.0 external hard drives. Connectivity was gigabit Ethernet via our Dell 2808 managed switch with activated Quality of Service (QoS) to give preference to multimedia traffic. The playback software was Media Center 21.
In order to fit this into this room, the Kalliope was placed on the carpet on a set of four Stillpoints Mini-SS Isolation Feet. While the Kalliope has a pair of tiptoes plus discs as feet, the Stillpoints have shown that they provide excellent additional isolation. I wouldn't want to do an evaluation without such sonic isolation in place.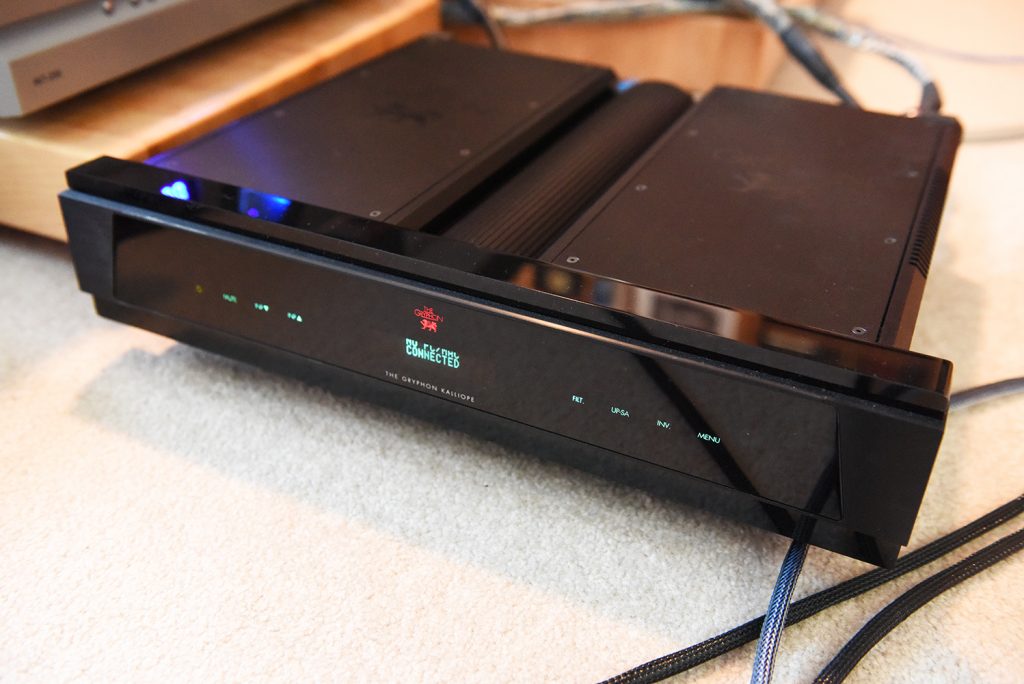 The Kalliope in situ:  The beautiful beast lies in readiness… (photograph and image processing by Robinson).
My listening used many of sources, almost all of which were Single, Double, and Quad DSD in format. These downloads ranged from recordings sourced from major DSD download sites like SuperHirez.com, NativeDSD.com, High Definition Tape Transfers, Channel Classics, Opus3 Records (DSDfile.com), and HDtracks.com (Single, Double, and Quad DSD, depending), to rips from SACDs at Single DSD, and needle drops to Double DSD via the Korg MR-2000S. I also had some flat-transfers that I did from 15 IPS RTR tape via Merging Technologies A/D, using tapes from Yarlung Records, Opus3 Records, and The Tape Project…those all done to Quad DSD. Some key recordings came to me directly from companies like Wave Kinetics Records, who were kind enough to send along the direct-to-Quad-DSD recordings of Ilya Itin performing Debussy's Preludes Books I and II…about as close to pure mic feed as is possible to imagine currently. I also listened to a few high-resolution PCM files, mainly in FLAC format…some Daft Punk, and a few others that I have from HDtracks.
But my nearly-exclusive focus was on DSD. Having listened to a number of DSD DACs, I wasn't sure what I would be hearing with the Kalliope. Some DSD DACs excel in dynamics, but lag somewhat when it comes to nuance and detail, especially with classical recordings. Others are silky and elegant, but don't do as well with highly dynamic recordings. Then there are those DACs that are somewhat warm in their presentation, but are somewhat short on transparency.
The categories of music were wide:  classical, jazz, blues, R&B, rock, progressive rock, alternative rock, folk, some country. I'll use a few examples from my reference recordings to illustrate my findings.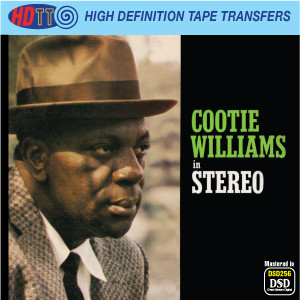 Right up front, any uncertainty I might have had was emphatically dispelled within a very short time with the Kalliope. Recordings like the phenomenal Quad DSD of Cootie Williams in Stereo, from High Definition Tape Transfers, simply planted me with dynamics, transparency, and detail. What a great job that Bob Witrak did with this transfer from master tape! This is big-band style jazz, recorded in stereo in 1958, with about as much slam and brass as any audiophile/music lover could wish for. We've used it for the last couple of years at the PF Hospitality Suite at THE Show, and it always brings down the house. The Kalliope handled the big-league dynamics with aplomb, and didn't congest at any point. The brass of Williams' band is rendered as brass, and not as glass. No glare, no congestion, no edginess, which lesser DACs can fall into.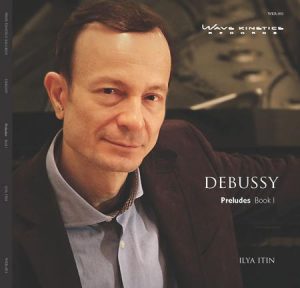 A truly wondrous pure Quad DSD recording is the phenomenal album from Wave Kinetics Records, Debussy Preludes Books I and II, performed by the Russian classic master and Steinway contract pianist, Ilya Itin, and available as a download from SuperHirez.com at this link. (See my review of this album HERE.) It was recorded by the Grammy-winning team of Thom Moore and Rob Friedrich from Five/Four Productions in New York City, with a split feed to pure Quad DSD and 30 IPS analog tape. What a monumental effort! This is the most dynamic and crystalline piano recording that I've ever heard, of the very best performance of these well-loved compositions that I've experienced. The Kalliope easily and clearly rendered Itin's artistry with a combination of crystalline transparency and mighty dynamics that was of first-rank quality. Silence and decay…the sense of spaciousness and air…was not slighted. This is what mic feeds sound like. What a nuanced result! The dual-mono design with serious power supply and an exceptional analog stage was elbowing its way into the small company of "the best," without question.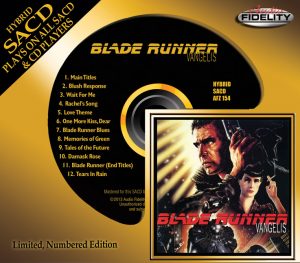 From the world of single DSD, our rip from the SACD of the soundtrack to Blade Runner from Audio Fidelity was a joyful ride, from melancholy quiet to really dynamic, with profound bass lines. (If you don't have the SACD, you can purchase it HERE.) For example, the track for the "End Credits" is classic Vangelis:  Soaring high, reaching very deep, and with an edge on the synthesizers that will go to glassy glare with PCM, but sounded spot on with the Kalliope. The overall effect is one of amazement…your listening room will fill up with powerful and laser-like music that sounds like you're in the soundtrack studio. Definitely a demo SACD, and the DSD rip captures the excellence. Through the Kalliope, this was audio ambrosia.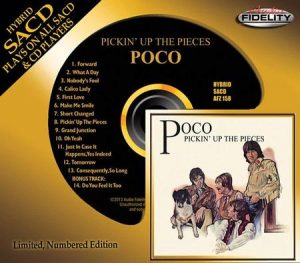 Another great rip from SACD that we have here is the DSD from Poco's killer recording, Pickin' Up The Pieces. Going all the way back to 1969, this was an album that I connected with back in 1970, on my way to live in Sao Paulo, Brasil. I recorded a whole series of LPs to RTR tape…a survival archive…courtesy of a good friend's brother's really nice turntable (Garrard? AR? Thorens? Don't remember…), taking the music onto my trusty Sony TC-630 tape recorder. So I have deep memories of this album.
And, you know, I still have the BASF tape that I used to record this.
So I was really pleased when Audio Fidelity released this title to SACD back in 2013. We did a rip of it a couple of years ago. The whole album is really strong in dynamics, detail, and its presentation of the glory of guitar strings in action. If you love guitars like I do, then this is a great recording for your collection. Two songs are particular fave-raves of mine:  "Calico Lady" and "Grand Junction." Both featured killer picking, and first-rate production values. The spirit of the American response to the British invasion of the middle '60s was all over this, a la The Byrds or Crosby, Stills, and Nash/CSN + Young, or Buffalo Springfield. My memories of these tracks were golden…but the SACD and the DSD rip of its tracks surpasses my memories in every way. The DSD was far more transparent, and way more punchy than anything I experienced back in the day. The Kalliope certainly showed itself to be up to the challenge of this recording.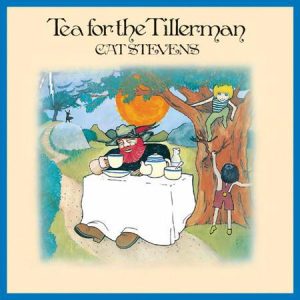 A very popular reference Double DSD recording is Cat Stevens' classic, Tea for the Tillerman. It really put Cat Stevens on the map, and is an ongoing bestseller. I was very pleased when Chad Kassem's SuperHirez.com site added it to their download collection, and obtained it immediately. (You can find it HERE.) The performance of Stevens needs no comment from me. This transfer from analog master tapes to Double DSD, however, is truly stellar. The dynamics of the original recording is revealed…in fact, you'll want to be careful to keep the volume down a bit when you first listen to it on your system, and bring it up to the level that you like. The rhythms of Stevens' playing are front and center, with the wonderful sound of those chords driving you either to blues or to toe-tappin'. His voice is unique, with the growl and bite coming through with real presence. Once again, the Kalliope did the job effortlessly.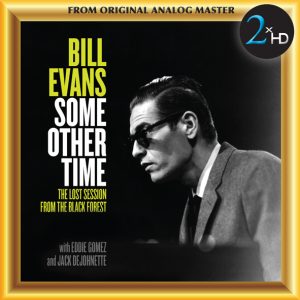 Another choice Double DSD album that arrived in the spring of 2016 was the extraordinary, previously unreleased recording of Bill Evans, Some Other Time:  The Lost Session from the Black Forest (available from NativeDSD.com HERE.) Now I don't know about you, but I'm a real fan of Bill Evans' recordings. I suppose that at some level, I could be more discriminating, but I'll admit that I can't remember any of his work that I didn't like. None, period. The spirit of improv was alive and powerful in him; magic and loss was abroad any time that Evans sat down at the keyboard. This recording was made in the summer of 1968, and was supposed to be released by the German label MPS, but that never happened. The tape went into the archives, and was not heard until its emergence in 2016, courtesy of MPS and 2xHD. Excellent!
This transfer from the analog master of a recording was done by René Laflemme, working with his partner André Perry over at 2xHD, whose work and company I am very high on. So much so that I gave 2xHD one of my Brutus Awards at the end of 2016. Speaking of "I can't remember any of his work that I didn't like," this would apply to André and René's collaboration. This killer recording goes on for 93 minutes(!), and highlights a fantastic collection of 21 songs. No duds; all wonderful, and all well-recorded.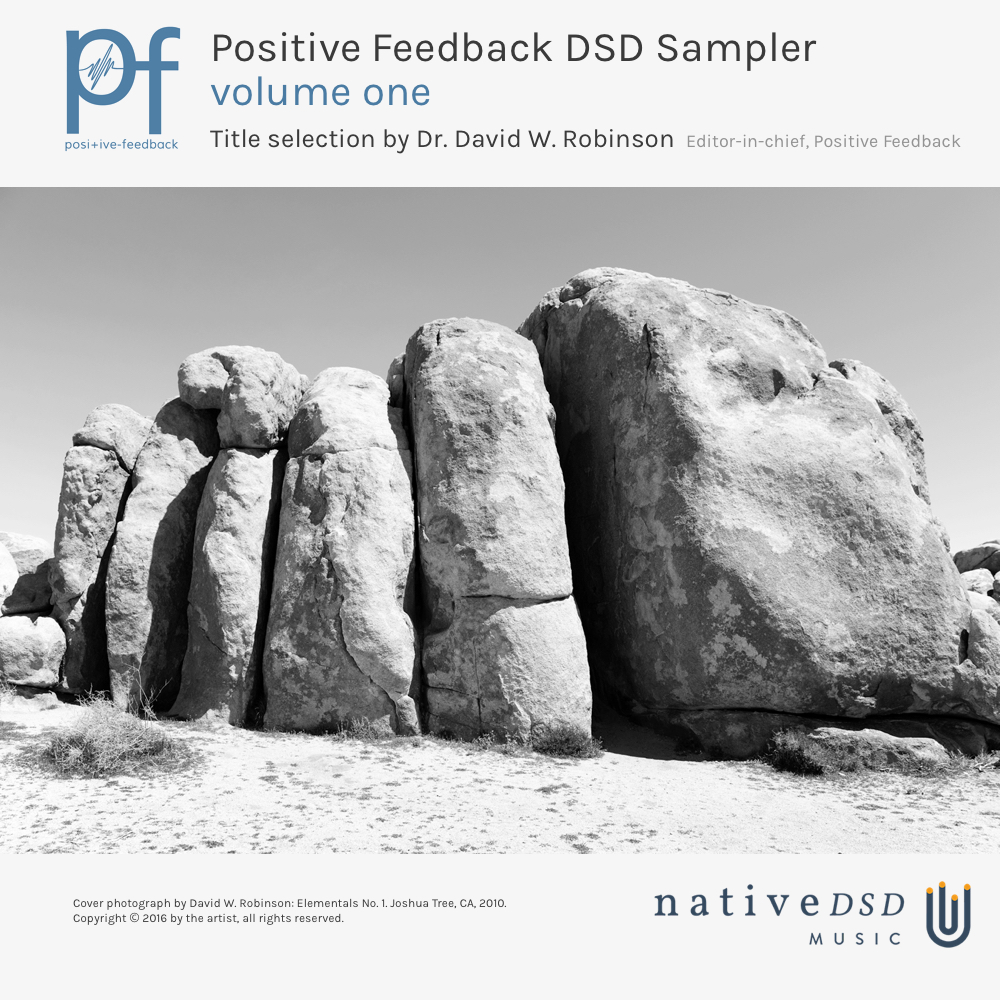 As a matter of fact, I liked this recording so well that I included one of the tracks, "Baubles, Bangles and Beads," in Volume 1 of our Positive Feedback DSD Sampler at NativeDSD.com, available for sale at that link. True confession:  I first fell in love with this song courtesy of Frank Sinatra and Carlos Jobim. Bill Evans' performance is the frosting on that particular cake. You can hear that one in DSD in the Sony double SACD of music from The Sopranos, The Sopranos:  Pepper & Eggs…if you can find it. Pretty tough to do these days.
Once again, the Gryphon Audio Kalliope acquitted itself nobly. The original recording is nicely nuanced, with a fine feel for the sensitivity and mood of Bill Evans and his ensemble. It's almost as if the Kalliope was loafing here…it simply rendered the music, being aurally invisible in the chain. Nice!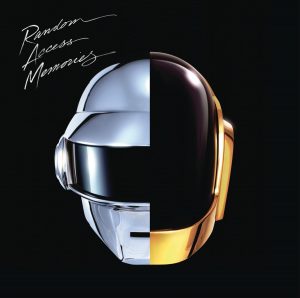 I should mention high-resolution PCM performance, in passing. I did run recordings like Daft Punk's Random Access Memories at 88.2kHz/24-bit .FLAC, sourced from HDTracks, through the Kalliope…which is about the highest resolution that we can get this recording in digital, unfortunately. I love this album; the music really has the hooks. The Kalliope made the .FLAC feed from Media Center 21 better than I expected, though there's only so far you can carry lesser formats. But I do tip my hat to Gryphon Audio here…PCM did appeal more with the Kalliope than with some other DACs. Glare and edge were noticeably reduced with the Kalliope.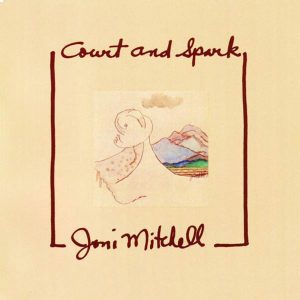 Ditto with other PCM sources like Joni Mitchell's Court and Spark, a brilliant album, at 192kHz/24-bit and also sourced from HDTracks, which still had a touch of PCM feel with the Kalliope even at this rate. PCM being PCM, you know? It sounded better with this DAC than with many others in my experience, though, keeping Mitchell's piano from going glassy, edgy, or flat. (It's certainly better than Red Book, for sure.)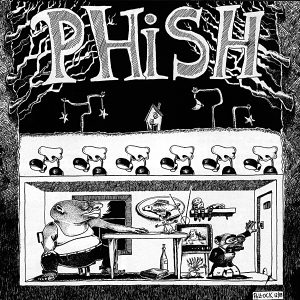 Phish's album, Junta is another special favorite of mine. Audiobud Mike Pappas introduced me to Phish back around 2001; I hadn't heard of them. Junta is a collection of some strange and disturbing music, with unpredictable progressions, great rhythms, and haunting lyrics, I grabbed the HDTracks release of this recording in 192kHz/24-bit as soon as I found it there. This album goes back quite a ways. It was the first Phish recording, recorded in 1988, and released in 1989. It's a terrific recording, with a lot of really creative flourishes, and excellent musicianship being well rendered by the engineering. As a matter of fact, I could imagine Frank Zappa playing along with this music…it has his sort of musical feel rolling.
Once again, the Kalliope handled the music adroitly. Allowing for the PCM format, the harmonic integration was very well presented, and the detail was commendable. This recording is really clean, a great job of recording. I especially liked the texture of guitar strings throughout. While I definitely prefer the 180 gram limited edition LP of Junta that came out in 2012…mastered at Grundman Studios from the original analog stereo mix tapes, a copy of which resides in my LP collection…Kalliope made the 192/24 more than tolerable…it actually made the recording reasonably pleasant. (Note that the 192/24 was also pulled by the Grundman folks, at the same time that they did the master for the LP.) And that is a real compliment from me, given my views on the drawbacks of PCM.
In Conclusion…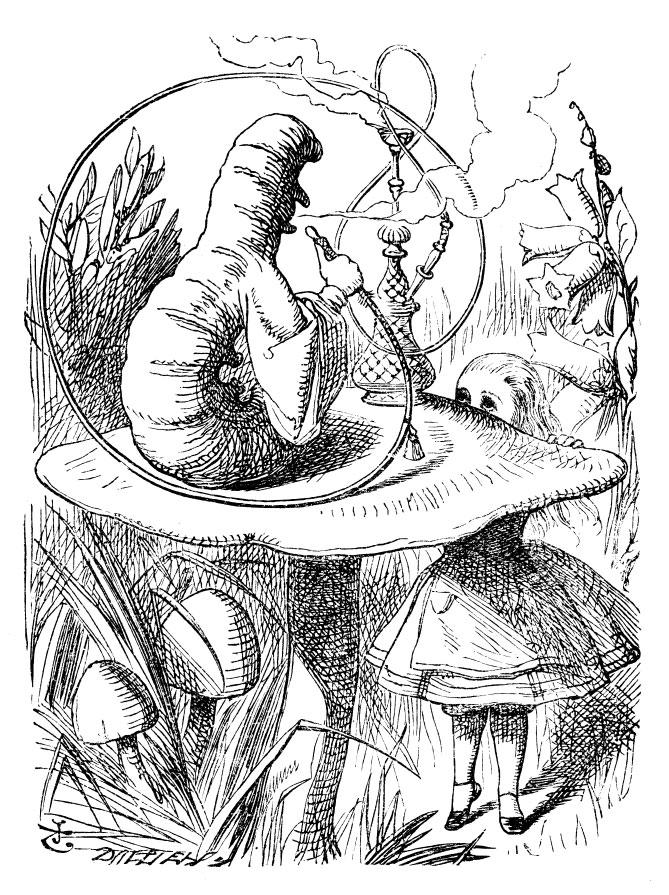 So…where does this all shake out?
As I noted in my opening, there are over 400 DSD DACs floating around now. Some are entry-level, offering decent performance at a given price point. That's a good thing; I want to encourage a new generation of music lovers to discover DSD, and to make the shift to the world of audiophile possibility. Others offer various strengths at higher price points, while not being quite as noteworthy on other spots of the audio palette. Finally, at the top level, there are those DSD DACs that excel in every way, going from strength to strength. They impress with their exceptional qualities, and the seamlessness of their audio presentation.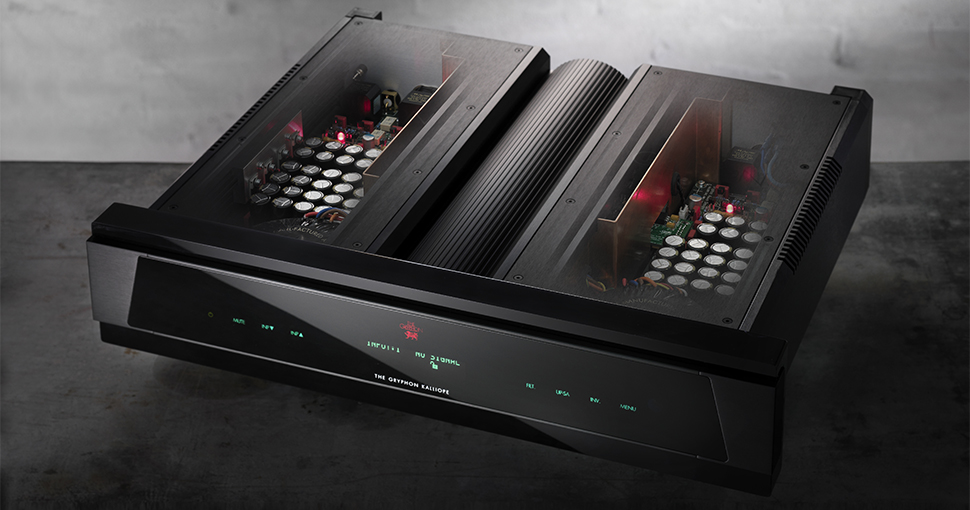 This is a pretty limited group, in my experience. My top o' the list for DSD DACs…based on personal extended listening and evaluation in my listening room/space…is rather short, because I really look for quality without compromise, regardless of price. Playback Designs, Merging Technologies, exaSound, LampizatOr, Mytek, Astell & Kern (for portable DSD with the AK-380), and Oppo modded by ModWright are all in that company, in one place or another. And we do have some new candidates for my top o' the heap group in 2017:  T+A and Nagra have sent new DSD DACs for evaluation. Additionally, Sound Galleries has delivered its very promising looking Music Server, with some remarkable capabilities. In fact, it may be a game-changing stand-between appliance in the world of DSD and (especially) PCM playback; both the T+A and Nagra DSD DACs will be used with the Sound Galleries unit.
But I have to say it:  There's simply no doubt that this august group has a significant new member:  Gryphon Audio. The Kalliope, with its up to 8x DSD capabilities, has a build quality and exceptional design that makes it a world-beater. The workmanship demonstrates Gryphon Audio can compete with anyone in the world when it comes to high-end sound reproduction. The Kalliope is transparent, dynamic, and precise without losing musical values. Soul…and control. All of this, and it's drop-dead gorgeous to look at, as well.
The price isn't trivial, of course; not everyone is going to be able to swim in these waters. And everyone has to decide their own budget and means, of course. Nevertheless, I consider the Kalliope to offer real value and exceptional quality at its price point (see below).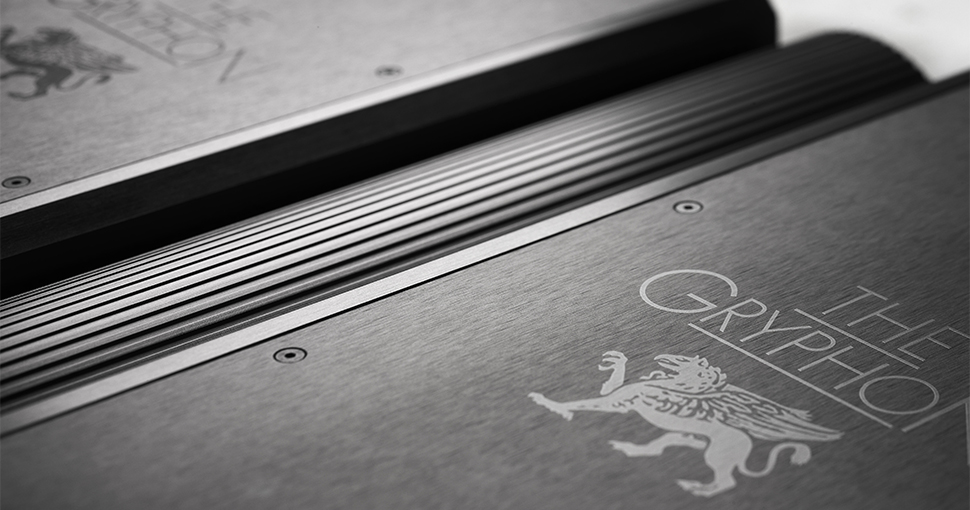 Flemming Rasmussen and company have really done themselves proud with the Kalliope. (I was so impressed, in fact, that I asked Flemming to send along a statement of design philosophy to accompany this review. You'll definitely want to read it.)
Given my months with it, I was compelled to give the Kalliope a Brutus Award at the end of 2016. I regard the Kalliope as an exemplar of how to do things at the highest level of the audio arts.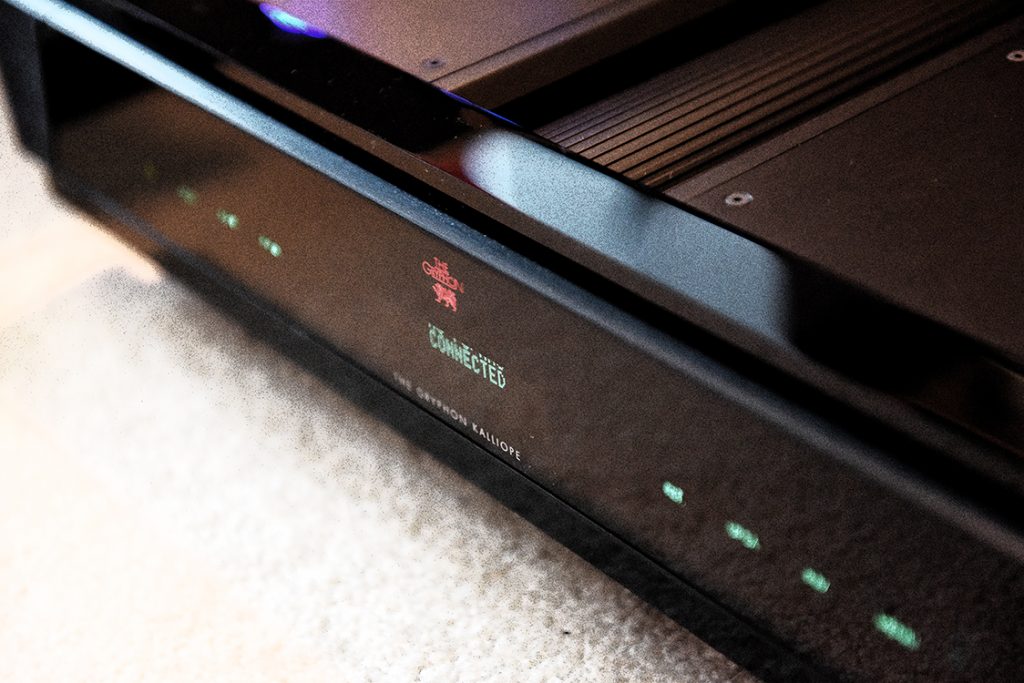 (Photograph and image processing by Robinson)
I therefore give the Kalliope a "Ye Olde Editor's highest recommendation," very enthusiastically.
If you would like to hear one of the best DSD DACs in the world, you should avail yourself of any opportunity to hear the Kalliope. It's a sonic knockout.
Price:  €19,800
Gryphon Audio
Distributor/dealer list:  www.gryphon-audio.dk/dealers-distributors
All equipment photographs courtesy of Gryphon Audio, unless otherwise noted; cover art is courtesy of the sales outlets/labels/artists.