In part two, I cover the balance of my Audio Oasis! Awards for AXPONA 2016. As I said in part one, these notes are presented in no particular order, and so there is no greater or lesser in the sequence. Read on…
ModWright/Ryan Loudspeakers/Aurender/PS Audio/Cardas/Shunyata/Massif Audio/GIK Acoustics/Audioquest room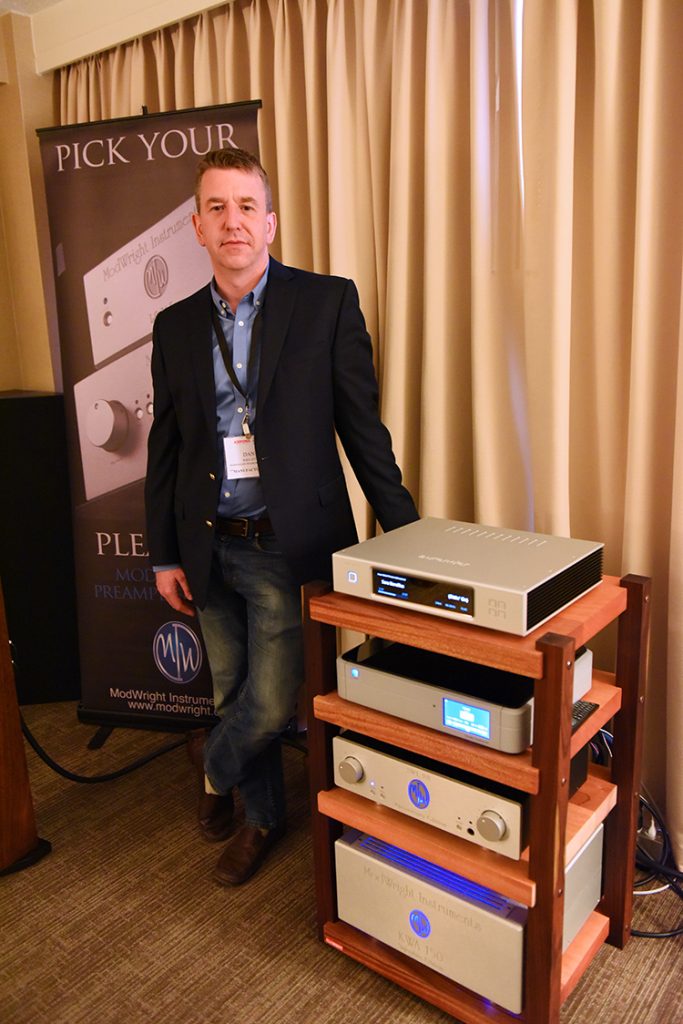 A portrait of Dan Wright of ModWright, with his ModWright stack, the PS Audio DirectStream DSD DAC, and the Aurender W-20 Music Server.
Dan Wright and company once again showed that he knows great sound from an aperture in the Earth. In a break with his long tradition of showing with speakers from Daedalus Audio (Lou Hinkley was busy with his great DiD isolation devices…now gaining real popularity…elsewhere in the show), Dan featured loudspeakers from Ryan in his room.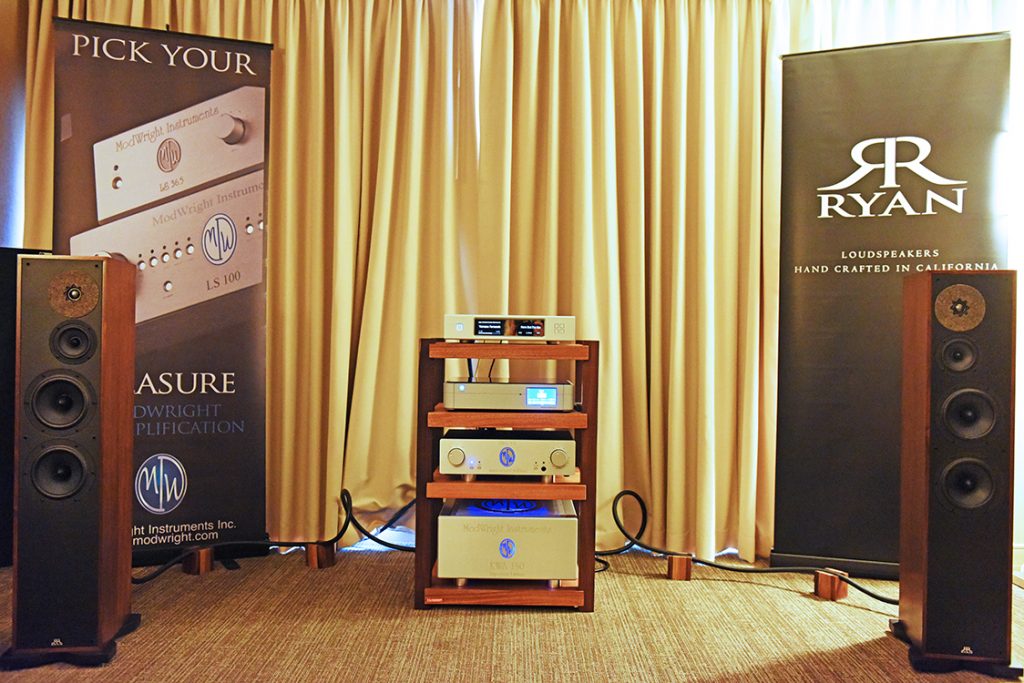 The equipment here included the ModWright SWL 90 Anniversary Edition Line Stage, the KWA 150 Signature Edition Amplifier, Ryan R630 loudspeakers, the superb Aurender W-20 Music Server, the PS Audio DirectStream DSD DAC, and accessories from Cardas Audio (Cardas Clear interconnects, speaker cable, and power cables), Audioquest (Diamond USB cable), the Shunyata Venom PS8/Venom Defender Power Conditioner system, Massif Audio Design equipment rack, and room treatments by GIK Acoustics.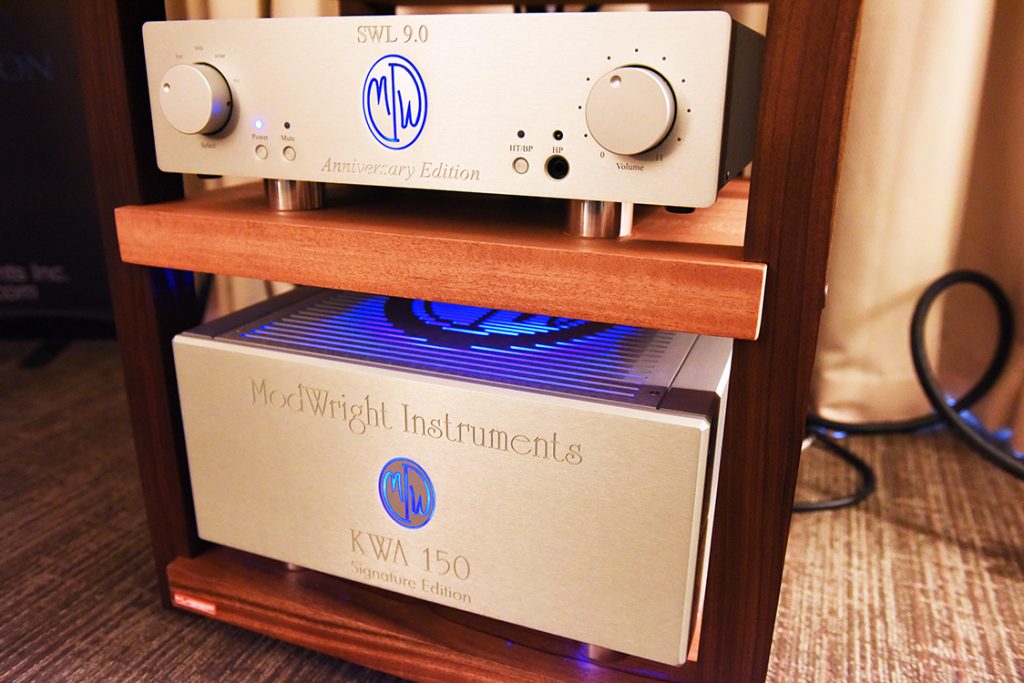 I had never heard this combination of components before, but they certainly pulled me into the room! The results were really excellent:  Music that was smooth, organic, well-balanced harmonically from top to bottom, and utterly relaxing to the soul. I sat there and could feel myself loosening up, which was a God-send at AXPONA. Whether you understand this or not, covering a high-end audio show is hard work if you do it right, and things can become tense and tiring very quickly. That's why I created the Audio Oasis! Award in the first place: To recognize rooms that had the audio magic and mojo to soothe my soul.
And I should note that this was the second Audio Oasis! Award space that had the Ryan R630 loudspeakers in them. You should, too.
And this room did it for me. It was hard to leave…which is always a sure sign that the Audio Oasis! Award is in the offing.
Given, with enthusiasm! Really well done, Dan and all!
GTT Audio/Kii Audio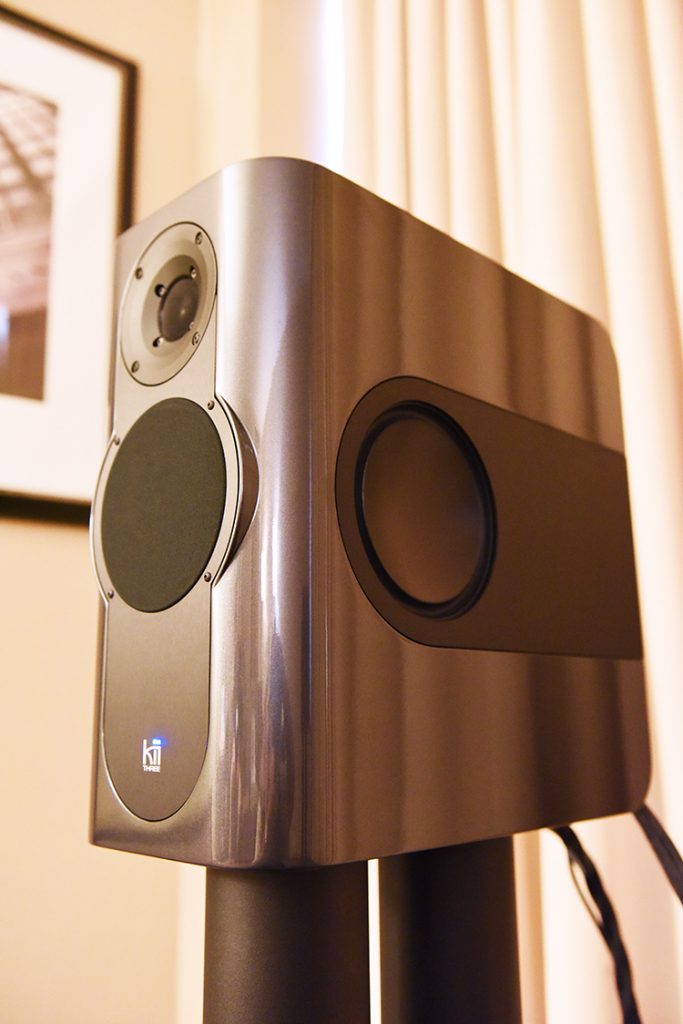 The beautiful and brilliant Kii Three all-in-one speaker…kapow!
I have to say it:  The GTT Audio/Kii Audio continued to ring the Audio Oasis! Award bell at AXPONA 2016! It had done so back at RMAF 2015, and did it once again. Some new firmware updates from Bruno Putzeys, the design genius behind this glorious form, and the improved sound was better than ever!
Talk about simple: The Kii Three is a speaker with built in DAC (AES/EBU) and amplifiers, with both analog (XLR) and digital (AES/EBU) inputs. All that you have to connect to a preamp (analog) or computer (USB to AES/EBU) to connect. Most of us would use analog, I reckon, and do the digital (DSD, in my case) upstream. But this does simply the setup, and take amps out of the equation, since the internal amps of the Kii Three are precisely matched to the innovative driver set that Bruno has designed. Very compact for those with smaller spaces!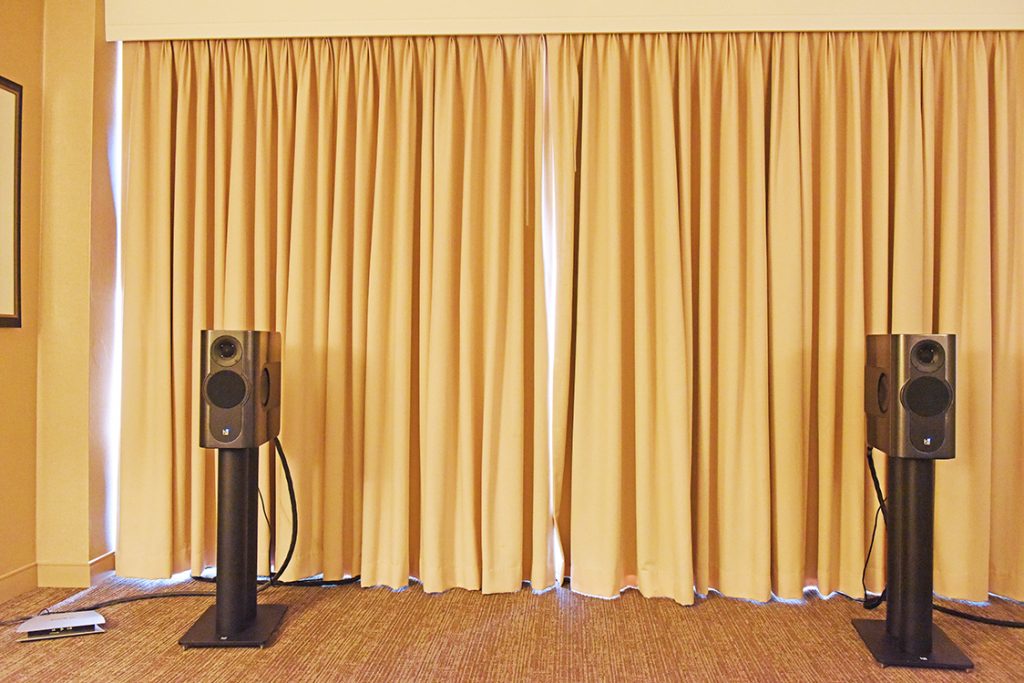 Talk about no clutter! The Kii Three in operation with an AURALiC Aries…no muss, no fuss.
And talk about knock-out dynamics! The Kii Threes really rock!
They reach down to 20Hz without subwoofers, and up to 25kHz, and do so in a way that is punchy, well integrated, and enveloping. In fact, you can't pick out the drivers while listening, nor did I feel like I was hearing coloration. The music just rolls at you. I stayed for a while, and let my pant legs flap in the audio breeze.
Kick-ass sound! A definite Audio Oasis! Award winner…but this time because the sound really cranked me up righteously!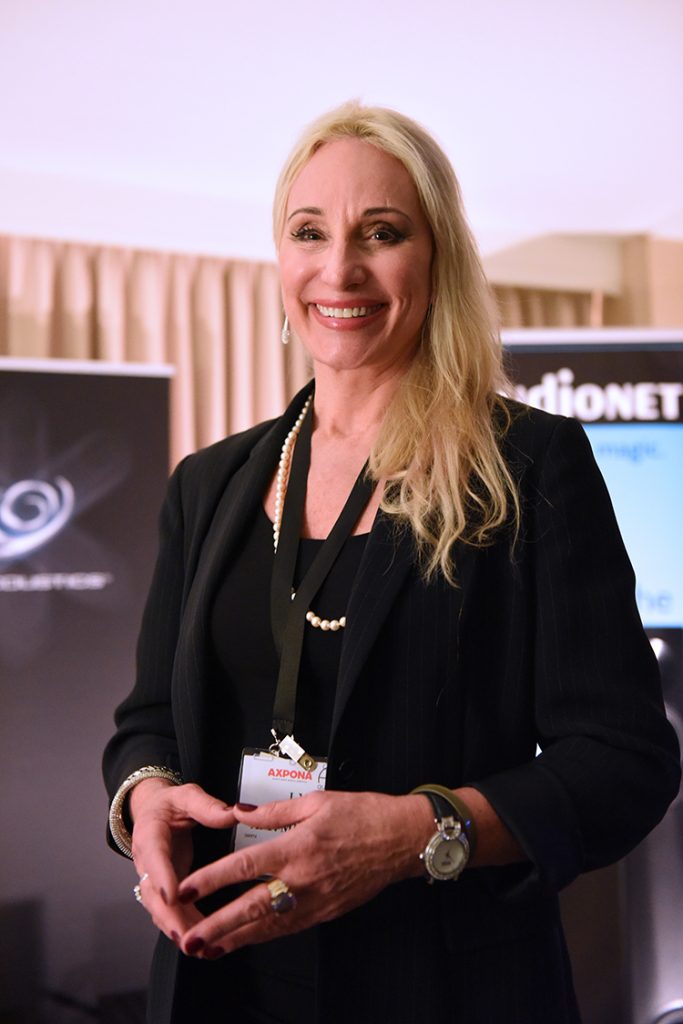 Lyn Stanley, during a moment visiting with us in the GTT Audio room...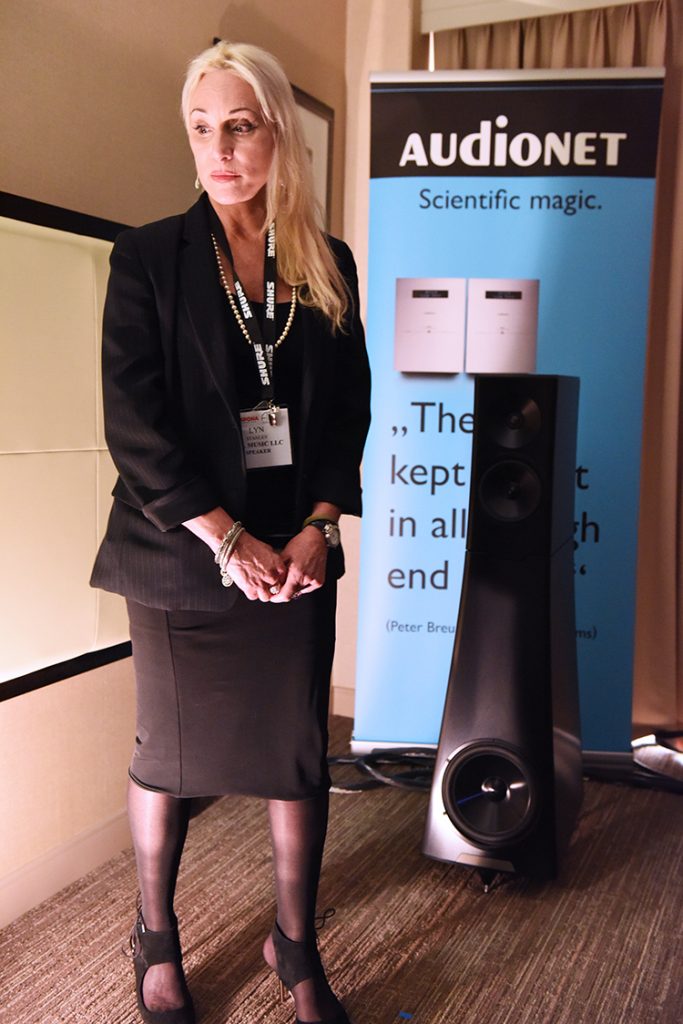 Bonus GTT Audio photographs:  Portraits of Lyn Stanley visiting and singing for us in the GTT Audio room. Outstanding!
LampizatOr/Vapor Audio/Verastarr/Musical Design room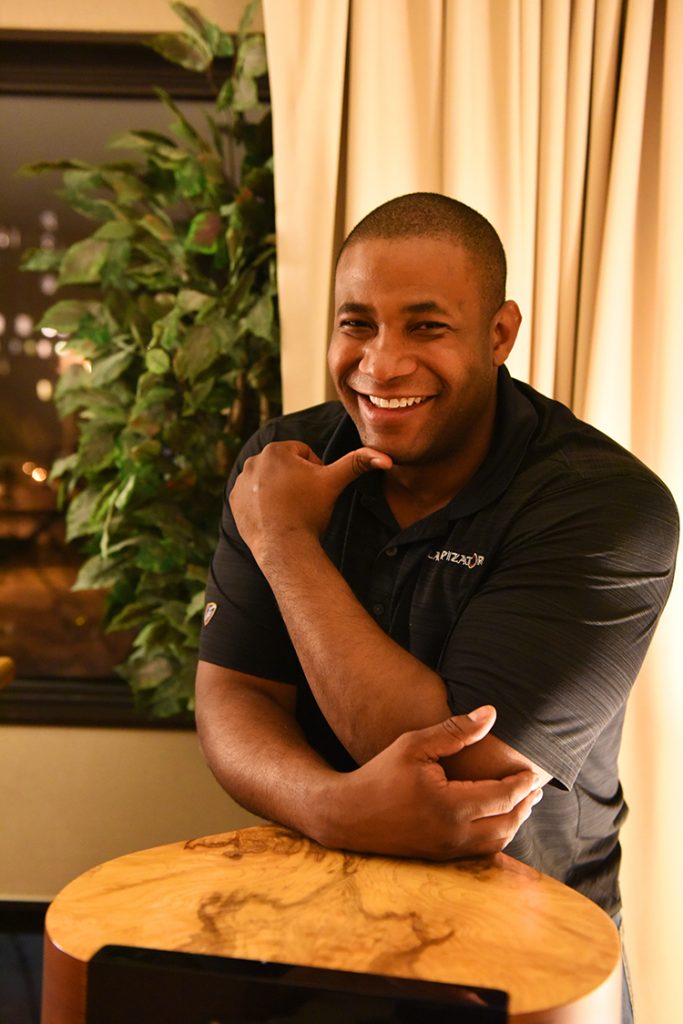 A portait of Fred Ainsley of LampizatOr North America
Talk about convenience! The LampizatOr room was right next door to my hotel room at AXPONA 2016. This made it easy to visit with Fred Ainsley and company in a space that I knew was going to be a great one. Fred is a man who knows whereof he speaks, hears, and distributes, and has become a good audio friend of mine. His partnership with Lukasz Fikus, the design genius of LampizatOr, has brought all of us a completely different world of digital design, with DSD DACs that sport exceptional, world-class sound and glorious tubes!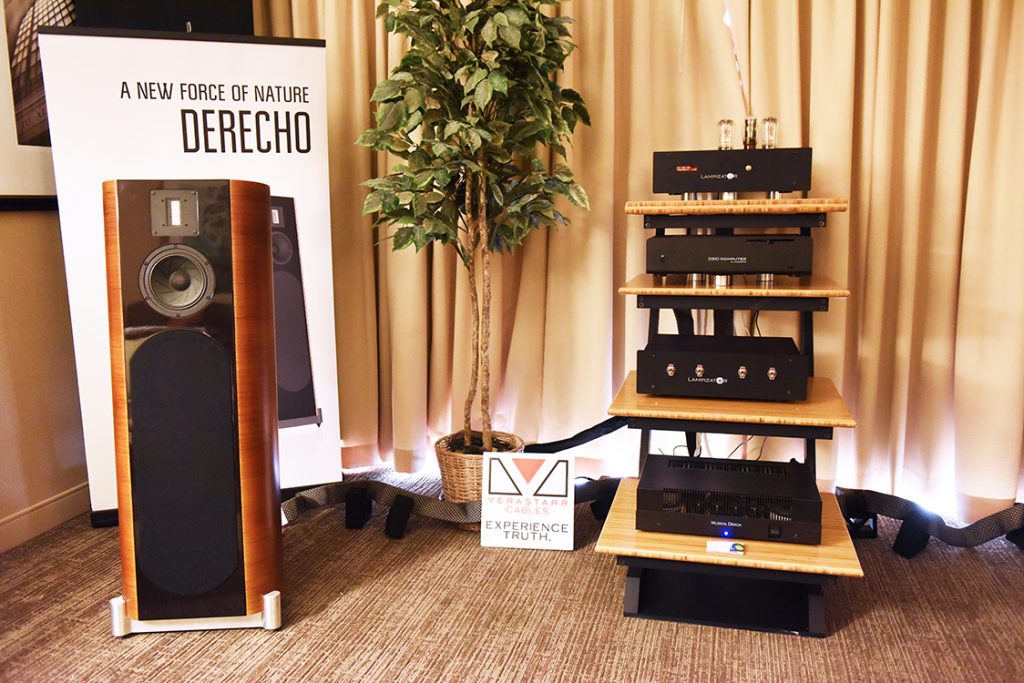 In the LampizatOr/ Vapor Audio/Verastarr/Musical Design room…fantastic sound!
The top of their heap is the unique Golden Gate Quad DSD DAC, available in either balanced or unbalanced configurations, with two different tube topologies. (We have the unbalanced Golden Gate here in the PF reference listening room with the MESH 45 tubes…killer sound! Killer looks!) I'm glad to say that Fred and associates had the Golden Gate going, in tandem with the following gear:
DSD Komputer Music Server
Silver Silk Power Conditioner
Vapor Audio Derecho Loudspeakers
Verastarr Statement Series Silver Foil Cables
Musical Design T-100 Hybrid Amplifer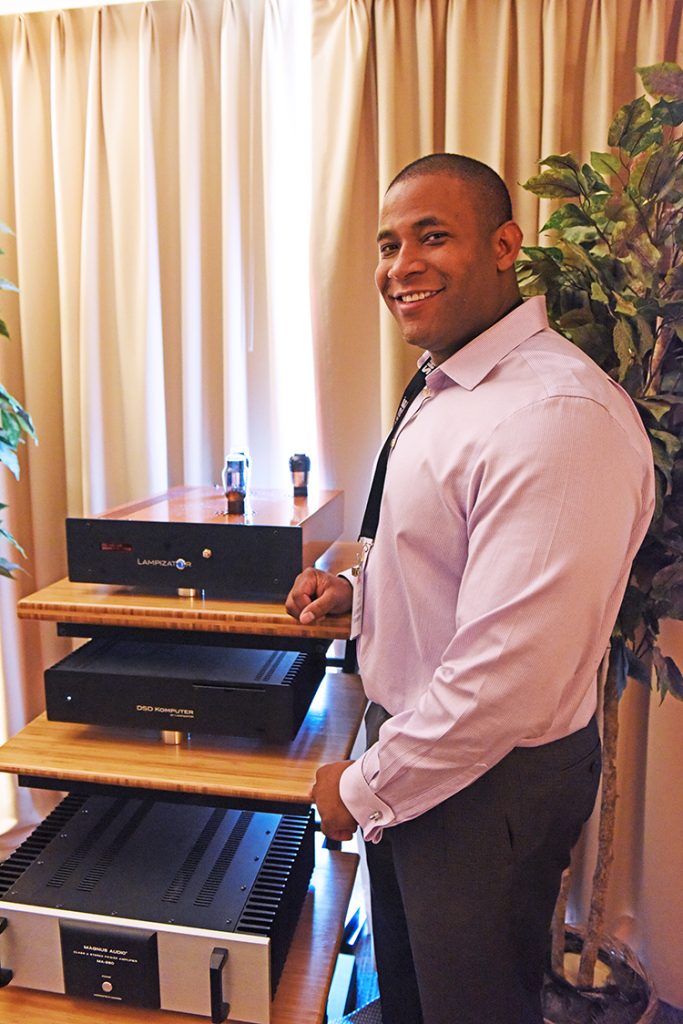 A portrait of Fred Ainsley, up close with the Golden Gate DSD DAC, unbalanced, with 45 tubes.
The sound in this room was relaxed, smooth, and endlessly easy-to-listen-to. I wasn't familiar with any of the components here, except for the Golden Gate, which I know quite well. Obviously, this combination worked and played very well together. I heard the excellent detail and elegant presentation that is the hallmark of the Golden Gate, amplified and given with real aplomb by the rest of the chain. The Vapor Audio Derechos impressed me, and seemed to like being driven by the Musical Design T-100 hybrid amp. Quite a lot.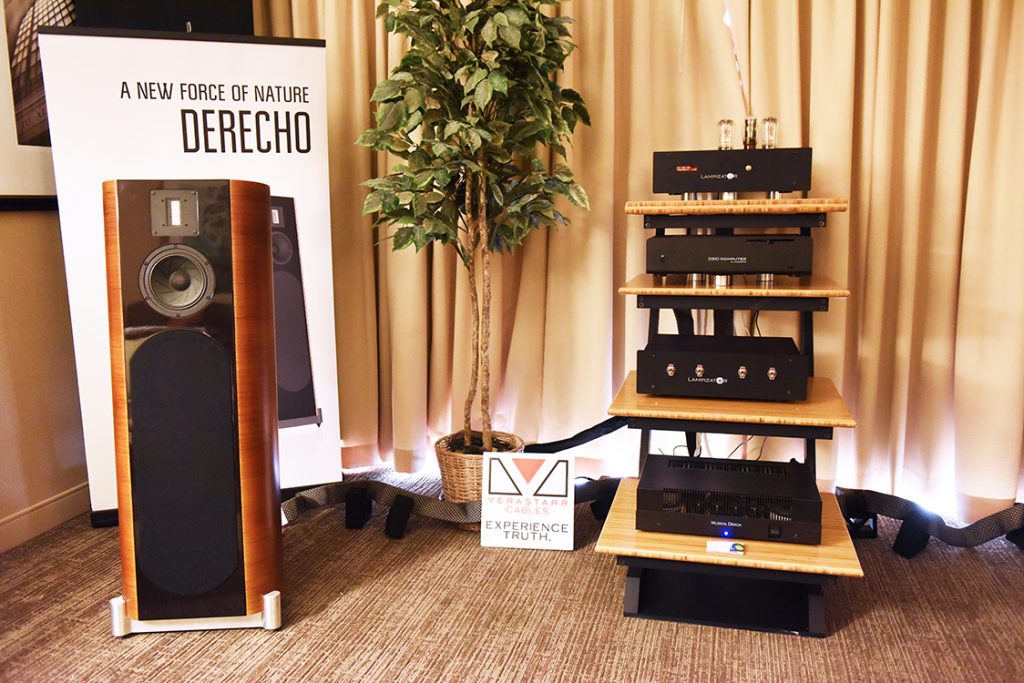 A winning audio chain…really lovely sound….
This room was an audio haven, make no mistake about it. It confirmed why I love LampizatOr the way that I do!
And an Audio Oasis! Award winner.
Blue Smoke/Von Schweikert/VAC/MSB/MasterBuilt/HRS/SMT room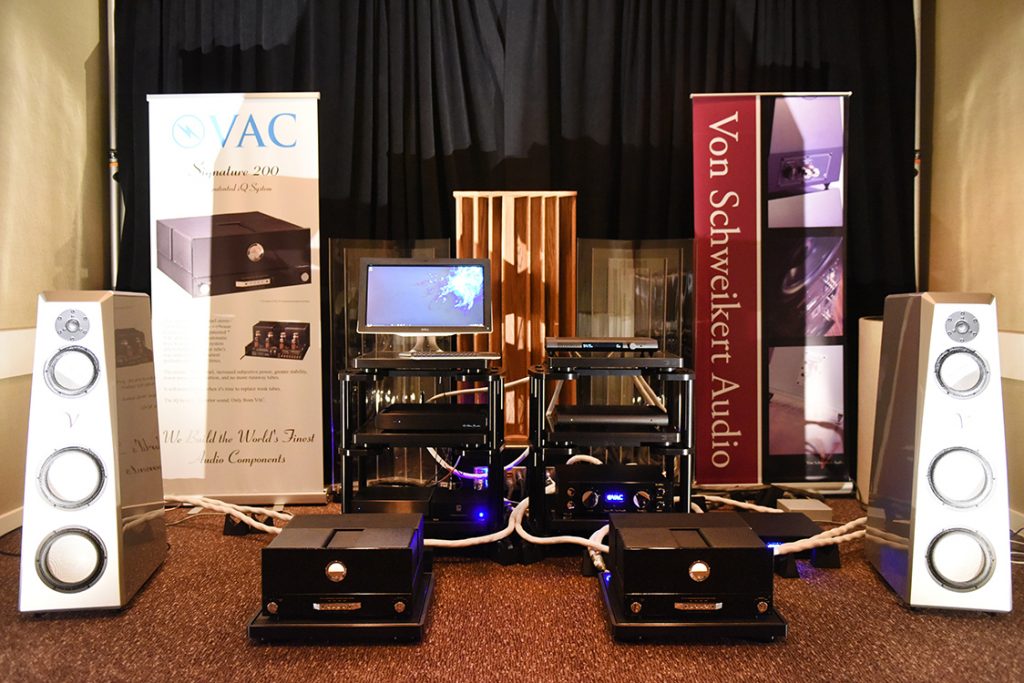 The Blue Smoke/Von Schweikert/VAC/and so on room was quite a different system. The team of Damon Von Schweikert, Leif Swanson, and Ron Lapport had put together an extremely impressive room with an all-digital feed. Featured were the Von Schweikert VR-55 Aktive speakers and 12XS Shockwave, the VAC Signature Line Stage Preamp, the VAC Signature IQ-200 monoblock amps, the MSB Diamond DAC-V, the Blue Smoke Black Box Ultimate Music Server, all cabled with MasterBuilt Audio Ultra Speaker Cables, Interconnects, AES/EBU, USB and Power Cords, plus the MasterBuilt Audio Signature and Reference Power Cords. Accessories included the Harmonic Resolution Systems SXR Equipment Rack and M3X Isolation Bases, and SMT Varitune V-4 adjustable Helmholtz Bass Absorber and V-Wing Diffusors.
This array of components was quite a feast to the eyes, but how would it sound? The VR-55 Aktive loudspeakers I knew, having liked them very much, and I've heard various of the VAC line over the years, also exceptional, but this particular combination was new to me.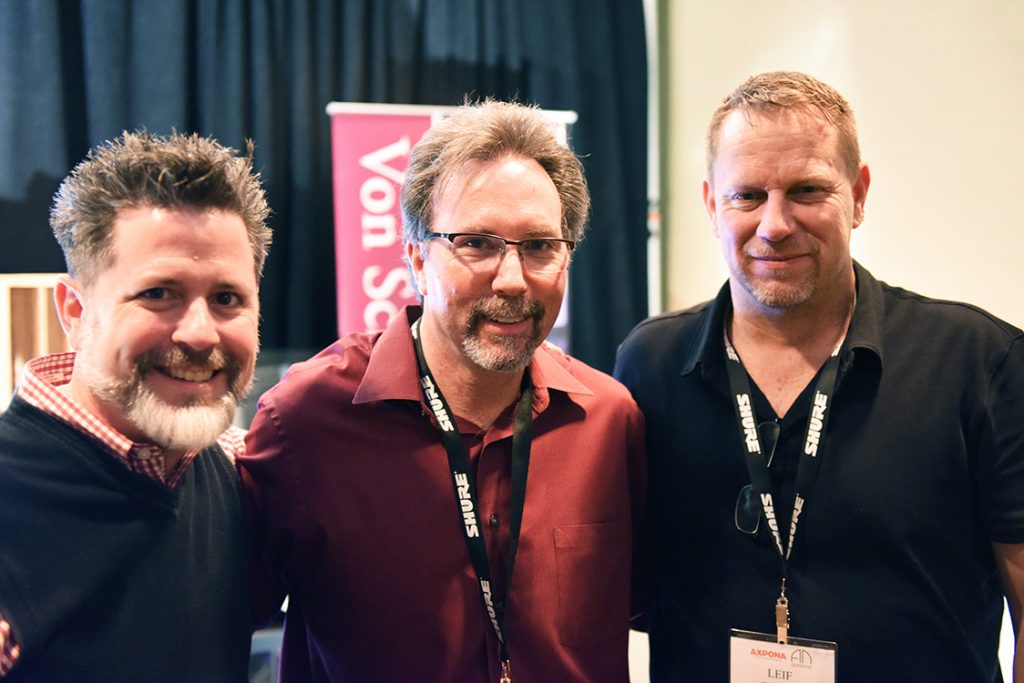 The team during a break in the action (left to right):  Damon Von Schweikert of Von Schweikert Audio, Ron Lapport of Blue Smoke Entertainment Systems in Chicago, and Leif Swanson of Von Schweikert Audio.
Turns out, I needn't have been concerned. I was treated to a series of sample songs that showed off the strengths of the system. First of all, the music was powerfully dynamic, showing a fine ability to go from whisper-quiet to HUGE in an instant. I don't remember hearing the VR-55 Aktives sounding quite this remarkable before…they were effortless, driven by the VAC electronics. It was also quite evident that this room featured a well-balanced harmonic structure, without excesses or woofiness in the bass and mid-bass. The VAC components were dead quiet, and didn't have any sense of the stereotypical tubey roll-off or tonal editorializing that I've heard in some other designs. Transparency was righteous, and the sense of detail was superb. Right-on sound in service of the music, for sure. Kevin Hayes obviously has the range of full-range with these Signature level designs…I'm bloody impressed. And boy do they mate with the VR-55 Aktives!
I was sorry that I didn't have more time to examine the integration of the MSB Diamond DAC-V. I've heard the MSB line elsewhere at shows, but didn't have the opportunity to explore the capabilities of this component. Perhaps sometime in the future….
Overall, this was a room that had my toe tapping and my head nodding throughout my time there…definite indications of an Audio Oasis! Award.
Done!
eXemplar audio/Stillpoints/Entreq/Shunyata Research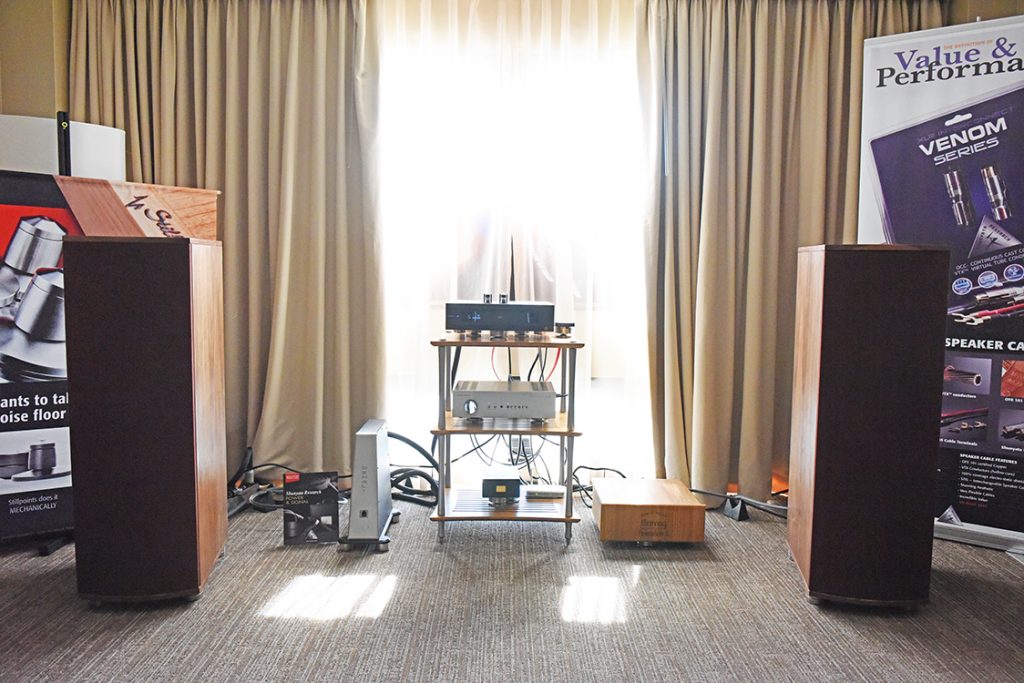 The glory of the light…
In a different sonic design direction entirely was the eXemplar audio/Stillpoints/Entreq/Bob Hodas/Shunyata room. Rather than approach the question of fine audio presentation of our recordings via high-horsepower and medium-efficiency speakers, this room showed what could be done with moderate (eXemplar audio eXception Integrated at 50 Watts per channel) power and higher-efficiency (eXemplar audio XL-III 95dB/Watt/meter single-driver crossoverless) speakers. These were tied to a meticulous approach to equipment stands and isolation (the Stillpoint rack and Ultra V and VI Isolation Feet), cabling (Shunyata Research Denali Power Conditioner, Alpha HC Power Cord, Dark Field Cable Risers, and Venom RCA interconnects and Speaker Cables, plus Entreq Apollo cables) electrical grounding (Entreq Poseidon signal ground conditioner), and sonic reflections (Stillpoint Aperture acoustic control system).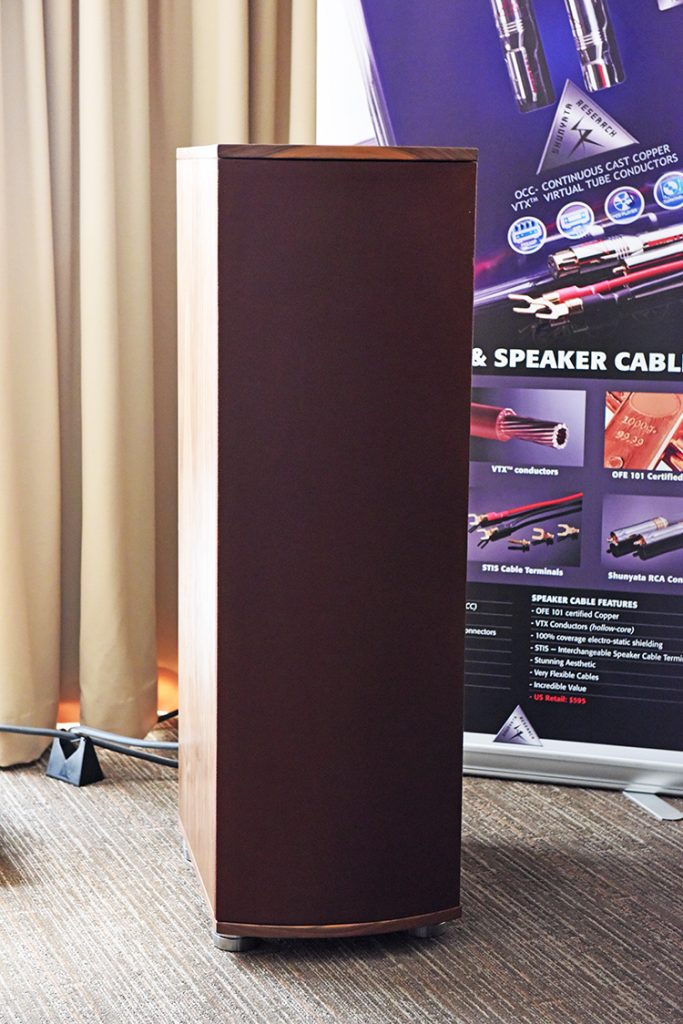 The eXemplar audio XL-III high-efficiency single-driver crossoverless loudspeaker. Quite tasty!
The source was provided by John Tucker's very fine tubed-modded Oppo BDP-105 player, which he designates the eXpo T105d. It operates as a multi-format player, DSD DAC, and Music Server. I've heard John's work with modded Oppo players for years now…he's really doing great work with his improvements in their performance.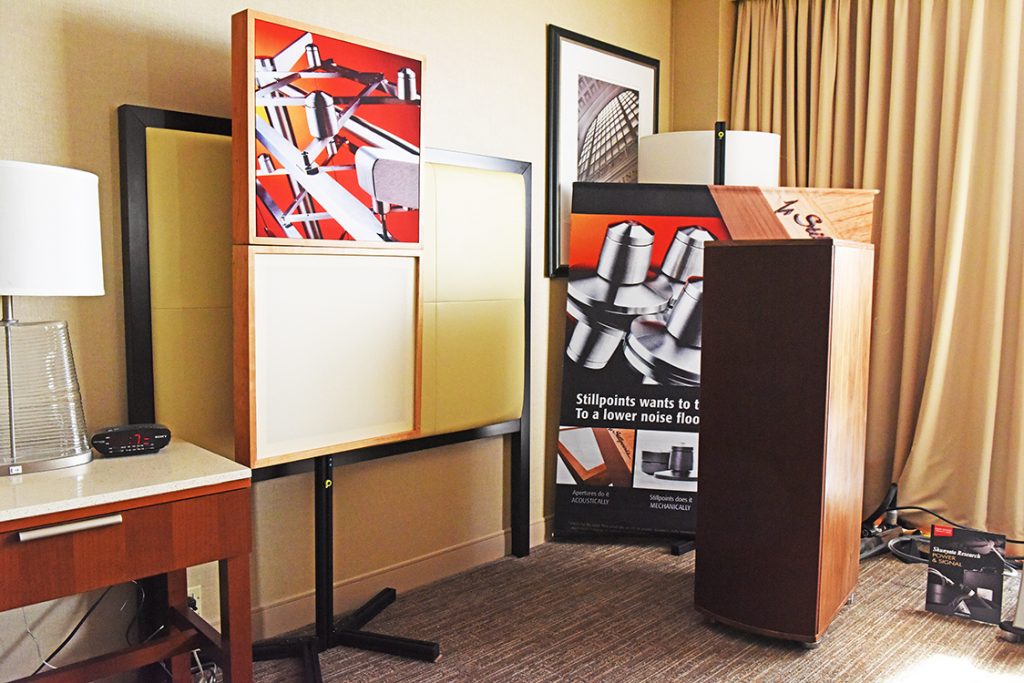 The eXemplar XL-III speaker and two Stillpoints Aperture acoustical panels on an Aperture stand:  A very effective combination.
The attention to detail in this room…getting every bit of quality out of each and every aspect and component…made the sound of the music in this room very highly engaging. Bruce Jacobs of Stillpoints did some demonstrations of the excellent effects that the Stillpoints designs had on the room sonics by the simple expedient of removing them from the system so that the audience could hear the improvements by comparative subtraction. Then he'd return them to their place, and the addition would confirm the improvement. It's a critical method for evaluating differences in audio systems, and was quite convincing here.
This system had a seductive combination of transparency, detail, and exceptional harmonic integration. Given the single-driver design of the XL-III, and the quality of the sonic isolation and controls, this isn't surprising at all, of course…but it was still very pleasant to experience. Dynamics were impressive, and bass response was better than I expected. Due to the Aperture Acoustic Panels the soundstage was wider and deeper than I would have believed…I really need to get the Apertures into our reference listening room in Portland! The Apertures are really impressive. Finally, I should note that the sound was free of the boogeyman of tube artifacts, and was quite crystalline…without grain.
There was a great deal to love in this room, and I did so with a smile.
An Audio Oasis! Award winner, without a doubt.
exaSound/Magnepan room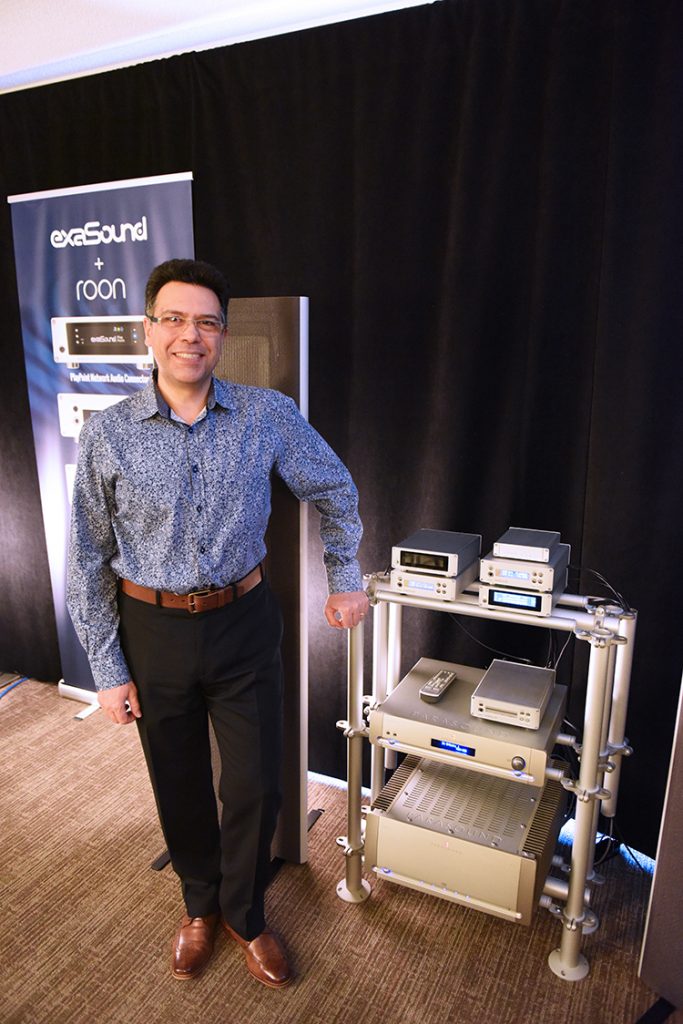 George Klissarov of exaSound…a portrait.
The exaSound/Magnepan room was not a surprise…rather, a comfortable good friend. George Klissarov has this setup tuned quite well, and knows how to get the best out of the Magnepan 1.7 speakers with the exaSound DSD DACs. He certainly did so again at AXPONA.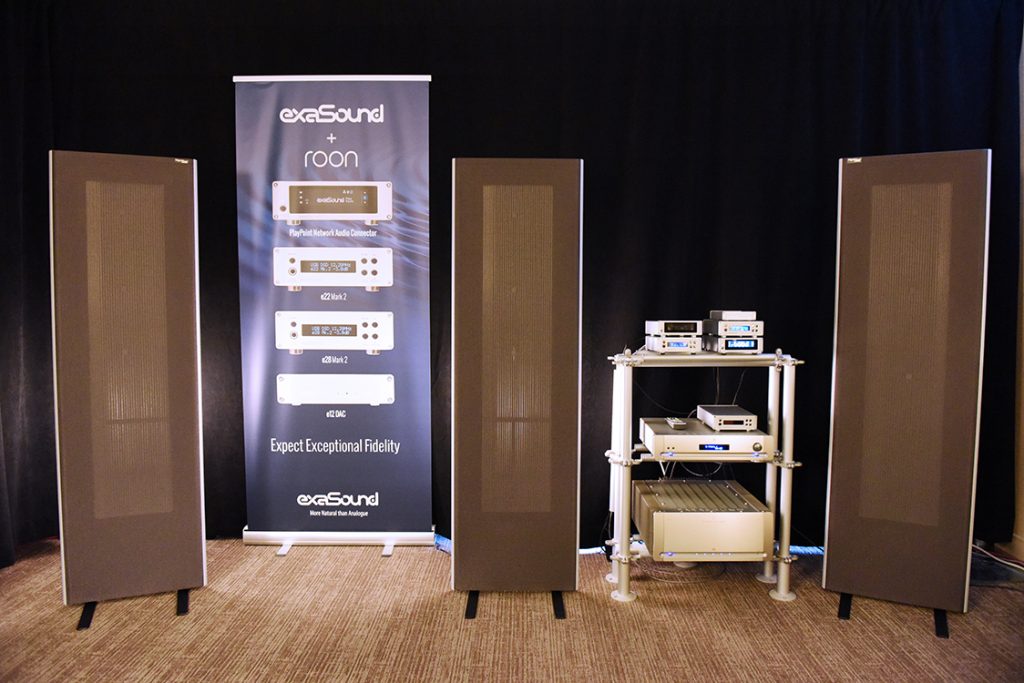 In the very fine exaSound room, with three of the five Magnepan 1.7 speakers in a front/center/right array.
Once again his e28 eight-channel DSD DAC was in action for DSD stereo and surround, but it wasn't alone. This year, George brought along the exaSound PlayPoint Network Audio Player, supporting exaSounds DSD DACs all the way out to Quad DSD, DXD, and all flavors of PCM, from stereo out to eight channels…Roon-ready…and all for a reasonable $1999! On the downstream electronics, George shifted ground this year and went with the Parasound Halo P 7 7.1 channel preamp, and the Parasound Halo A 51 five channel amplifier.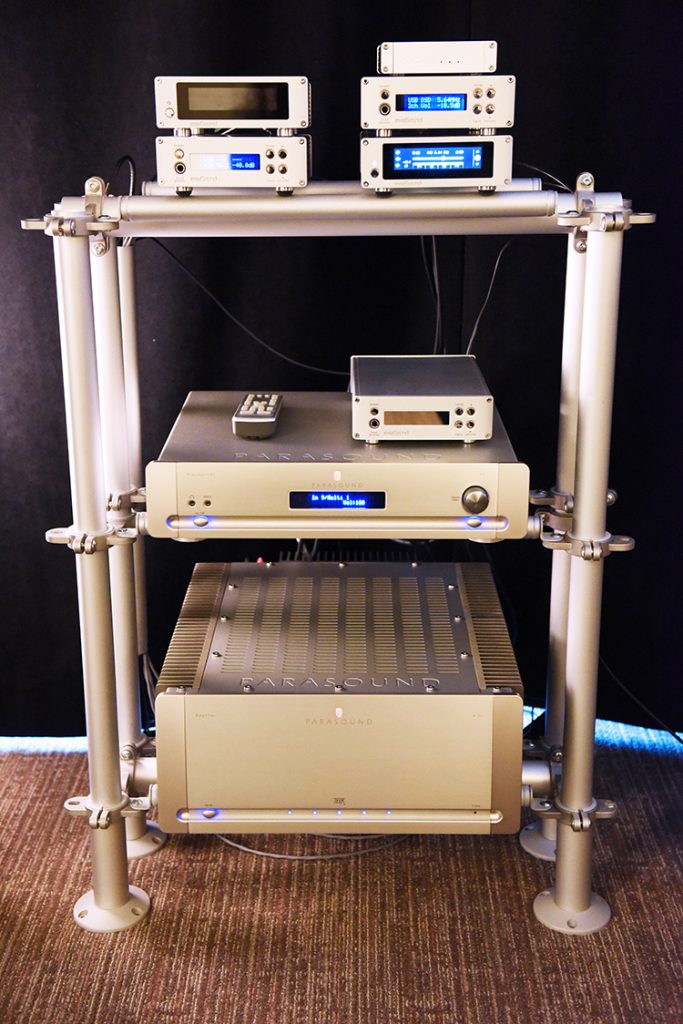 The exaSound/Parasound stack
The sound here was impeccable. George played a number of DSD recordings of a classical variety while I was in the room. As always, the degree of transparency, clarity, and detail were amazing, but I have to admit that I've never heard the Magnepan 1.7's sound quite this good.  Having five of them in a relatively small room made for challenging placement, but the results were smile inducing. The sense of envelopment during DSD surround demos was very fine, placement and all. I think that the Parasound Halo components were bringing out better results than I remember from George's room at RMAF 2015. For reasonably-priced components, the Parasound Halo preamp and surround amp are damned good stuff!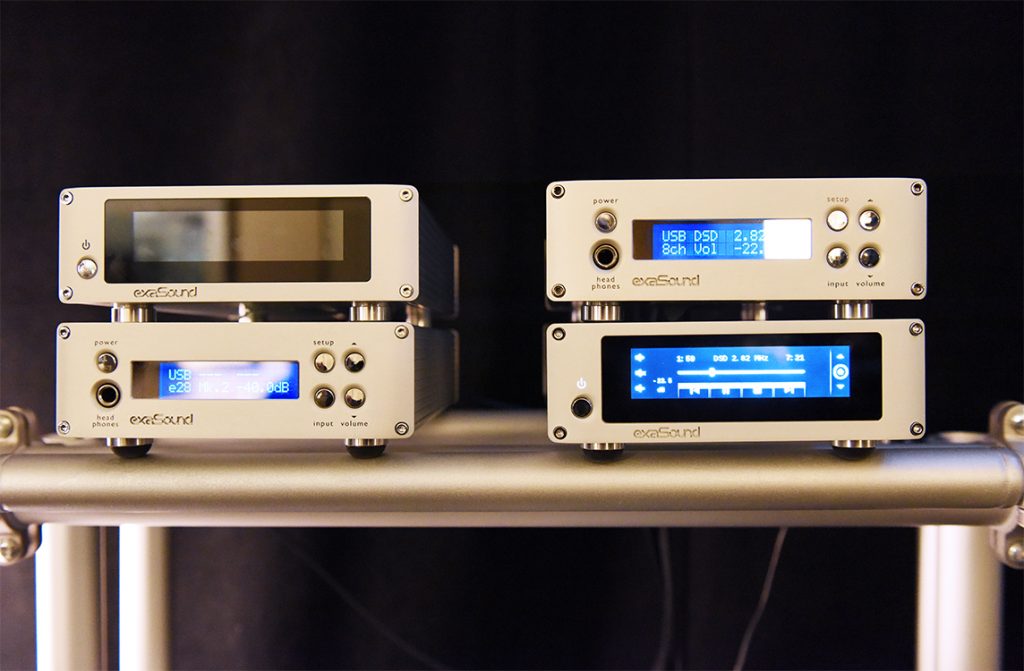 Close-up view of the exaSound stack
Once again the exaSound room confirmed my day-to-day experience with their DSD DACs:  Amazing products with exemplary, state-of-the-art drivers, and fabulous sound. George Klissarov and company are helping to lead the charge into DSD, computer-based audio, and network-based audio at a very high right of speed. If you haven't heard exaSound, do yourself a big favor at the next audio show. Check it out!
Definitely a winner of one of my Audio Oasis! Awards here at AXPONA 2016….
Synergistic Research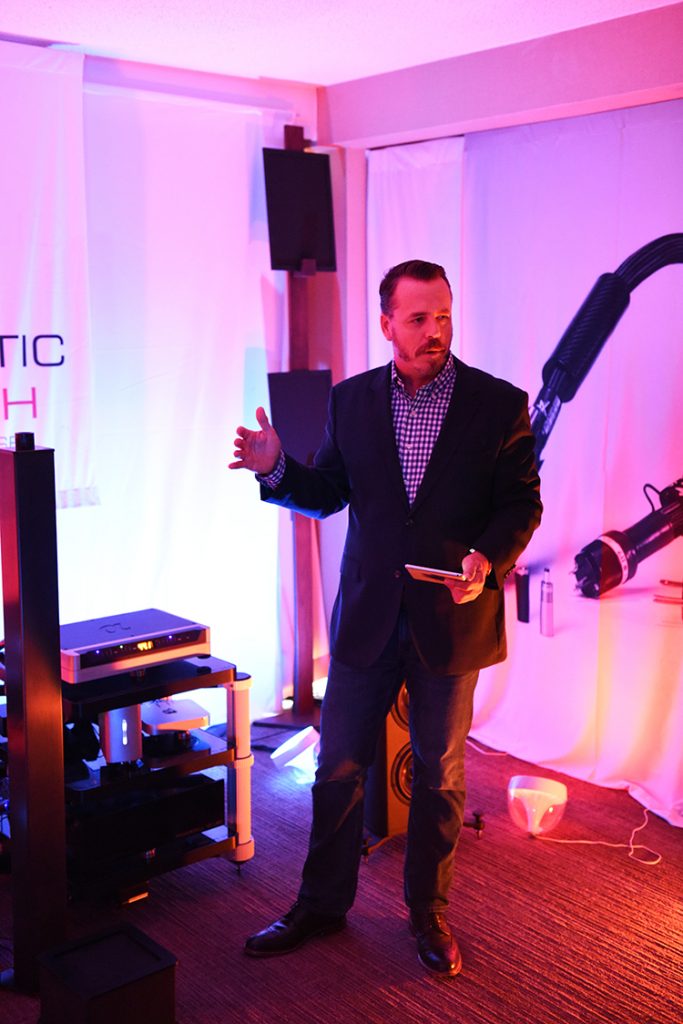 Ted Denney III, president of Synergistic Research, in his demo room at AXPONA 2016.
I have to confess it:  Since installing complete Synergistic Research sets here at PF Central, I've been completely sold on what Ted Denney III and company are doing. I've known Ted for a long time now…22 years, amazingly enough!...and have heard amazing and wonderful and even bizarre-incredible results over time at many shows…but it wasn't until we did the full Monty here last Fall that I got fully gob smacked and had to do a tell-all. (See HERE for the wondrous details.) I did two days' worth of swap-in-swap-out-swap-back-in demos in our two reference rooms, and came away quite convinced of the remarkable efficacy of Ted Denney's designs. (Which remain here, by the way…I rely on them daily for my work here, and don't want them to leave. They're on extended loan.) Ted had an Apple server feeding a Berkeley Reference DAC, hooked up to some really nice MacIntosh gear on his Tranquility Bases (I must admit that I haven't heard the Tranquilitys here yet). Firing down the line from the MacIntosh kit was a pair of the Magico S3 speakers. The Magicos were sounding very choice in this SR system.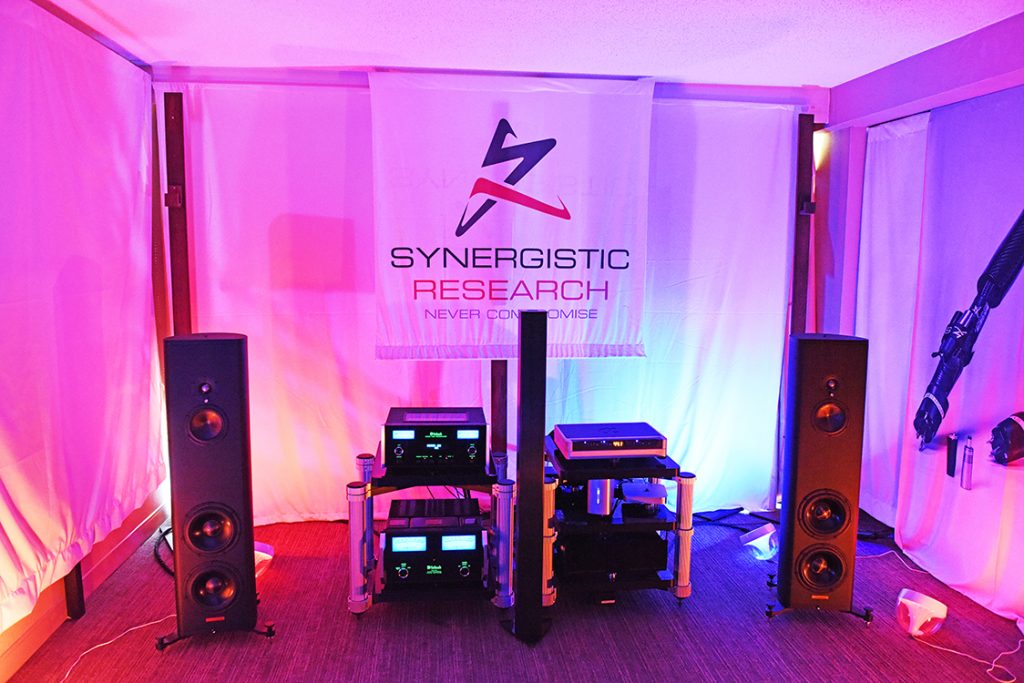 The view in the Synergistic Research room:  Coolness and great sound in spades!
So, once again, I have to admit that I went into a room at AXPONA 2016 knowing that the demo was going to be convincing, and knowing that everyone in the space was going to be knocked-out by what they heard. Ted and his assistants did their usual demonstration sequence:  They started out with all SR products in place…we listened for a while. Then the SR components were taken out, and we got to listen again for a bit. Finally, Ted and company brought the SR components back, one after the other, and we listened again. With-without-with is a very good method of assuring the audio differences that you're hearing, and Ted did the demonstration with the practiced ease of a gent who's done this many times.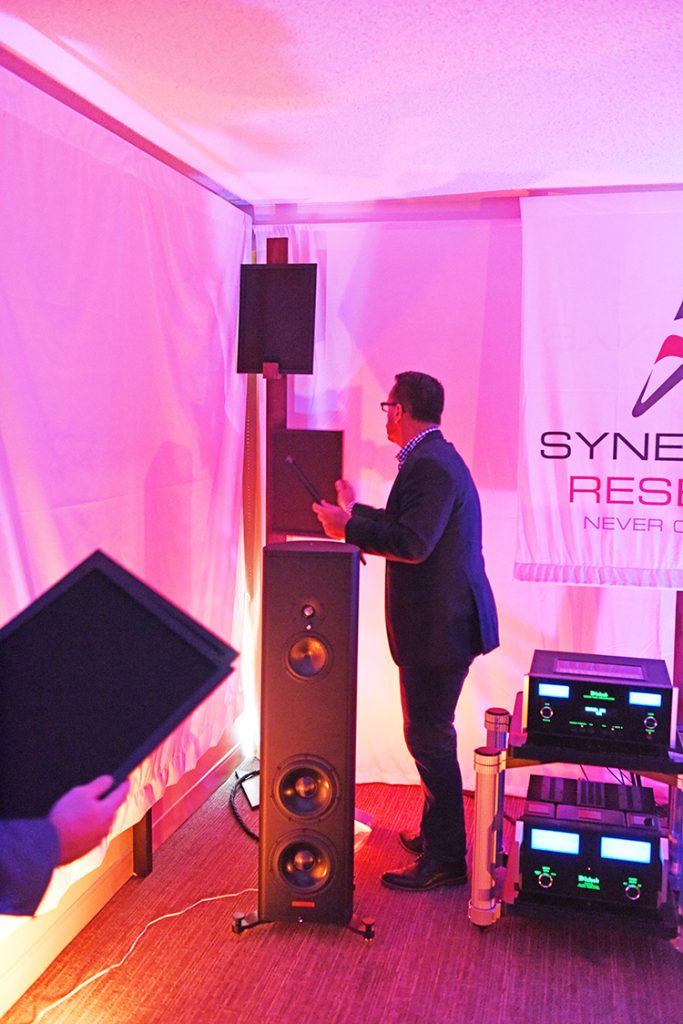 Ted Denney III removing his UEF Acoustic Panels to demonstrate its effect by subtraction. He would then replace them, confirming their positive effects on the sound.
These demos confirmed yet again what I've been saying about Synergistic Research products: They work; they're real. The audience seemed unanimous in thinking so while I was there…but hell! I already knew it from long personal experience! Without the SR designs in place, this room was rather ho-hum, great components or not. With the SR products in place, the space was transformed into a Dr. Who-like holodeck with flamboyant, wondrous sound…even at 44.1kHz Red Book rates! And that, chillens, is what Dr. David looks for when cruisin' the rooms at shows!
Take it to the bank:  If you haven't yet listening to a Synergistic Research demonstration of the amazing effects of their products, then you simply must do so at the next fine audio show that SR is displaying at. You really don't know how good your system and room are until you have SR in the place.
Synergistic Research is a definite winner of an Audio Oasis! Award at AXPONA 2016, with enthusiasm.
Kyomi Audio/Marten/Convergent Audio Technology/Merging Technologies/Graham/Luxman/van den Hul/STEALTH Audio/TechDAS
Holy hell! Here was another room that had my pants a-flappin' and my ears rejoicing!
This one ambushed me, too. I had been looking for my very good friend Dan Meinwald, and happened to encounter him while on the lower level, right after spending some time in the MBL room. He was sharing the Wells room with a cluster of well-known names, squiring along his beloved Marten speakers. When I went into the room, I was treated to some really serious audio lusciousness…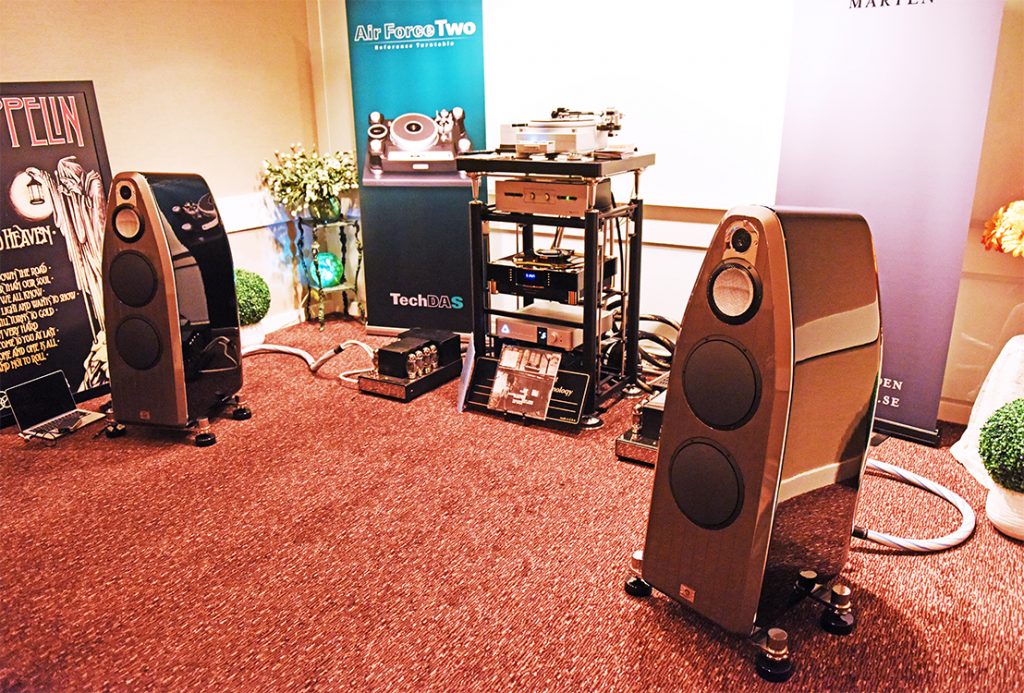 Into the mystic:  The Kyomi/Marten/CAT/TechDAS/et al. room
"When what to my wondering eyes did appear…" but a pair of Coltrane 3s, driven by a pretty damned sumptuous chain. While I was there, LPs were spinning on the TechDAS Air Force 3 turntable…my first hearing of this design. The tonearm was the Graham Phantom Elite, with a van den Hul Colibri Stradivarius MC in the driver's seat.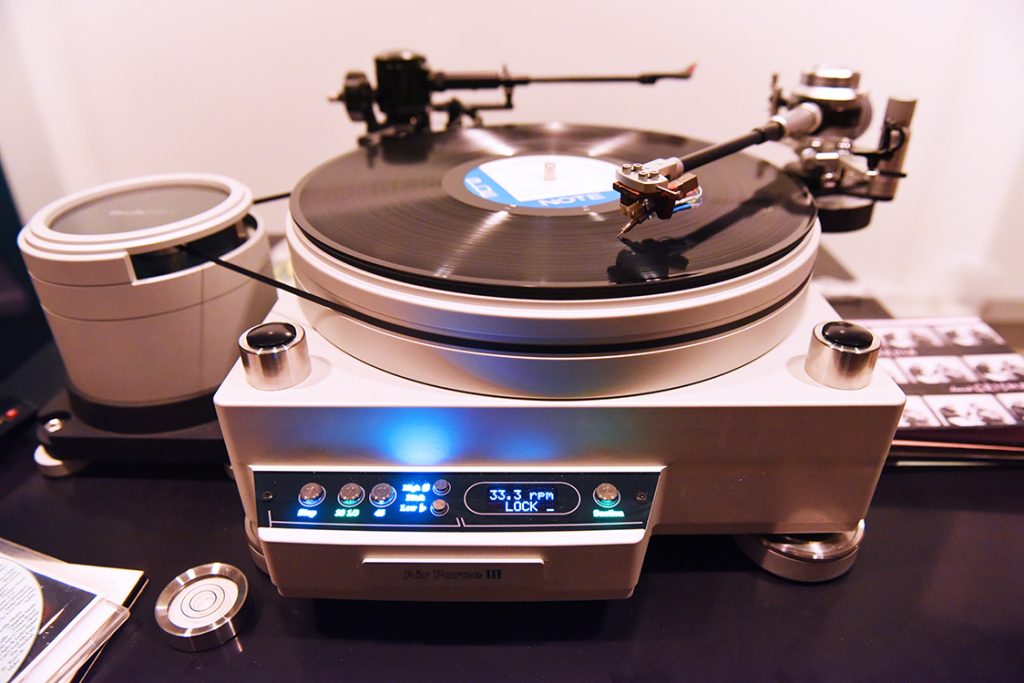 The TechDAS Air Force 3 with a pair of Graham Phantom Elite tonearms and the van den Hul Colibri Stradivarius MC in the groove.
The signal was piped out to a Convergent Audio Technology (CAT) SL-1 Legend preamp with built-in phono section, and thence to a pair of CAT JL 7 triode monoblock amplifiers. These breathed fire into the Marten Coltrane 3s. Cabling was by Stealth (Sakra V12 interconnects, Helios tonearm cable, Dream V14 speaker cables, Sextet V14 AES/EBU cable, i2S digital cable, and Dream V12 UNI power cable), with Artesania Audio supplying their EXOTERIC Rack and KRION Turntable Platform. Also featured were the brilliant Merging Technologies NADAC Quad DSD DAC, and the MBL 1621A CD Transport, both of which are very well known to me. But since LPs were on the menu while I was there, I was able to concentrate on the lesser-known analog side of the equation here. This was providential, since the analog side was mainly unfamiliar to me. I sat down to listen for a while.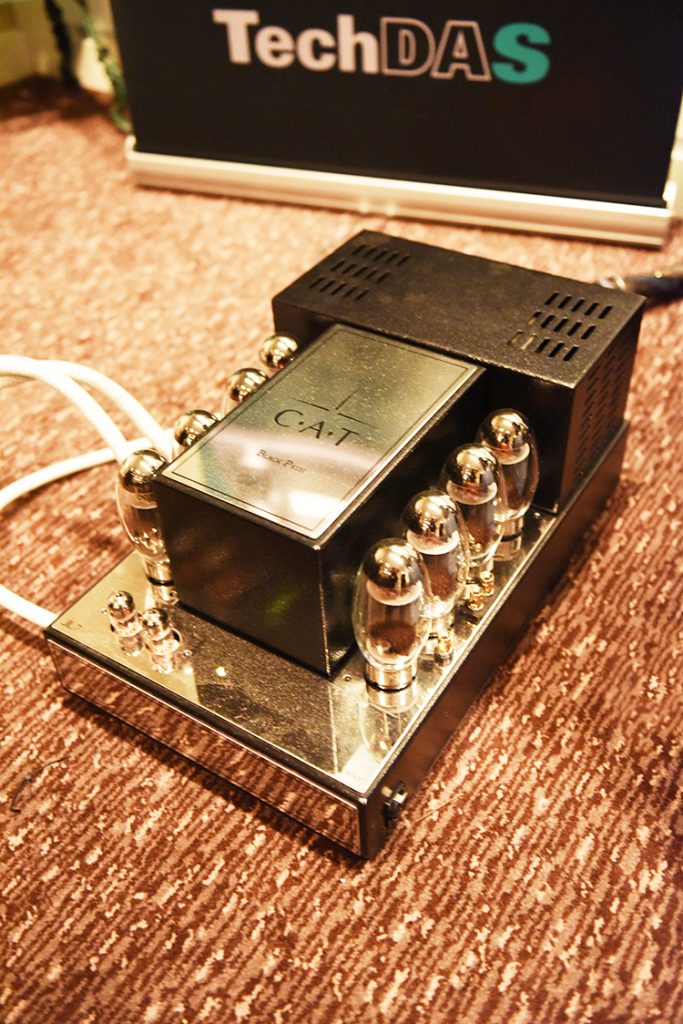 The highly seductive Convergent Audio Technology JL7 Triode Monoblock Amplifier. Golden!
The music was a combination of Jazz and Classical, mainly, which was a pleasant aural diet by this time of the day. And right up front, there was simply no gainsaying the rich, clear, and incredibly detailed performance of this combination of components. When the Jazz was subtle, the feel was quietly seductive, pulling me in with gentle fingers; when things got dynamic, either Classical or Jazzic, then the system took off like a rocket. Great soundstaging and imaging; excellent harmonics; seamless integration from top to bottom, and right back up. I didn't hear any downside at all here.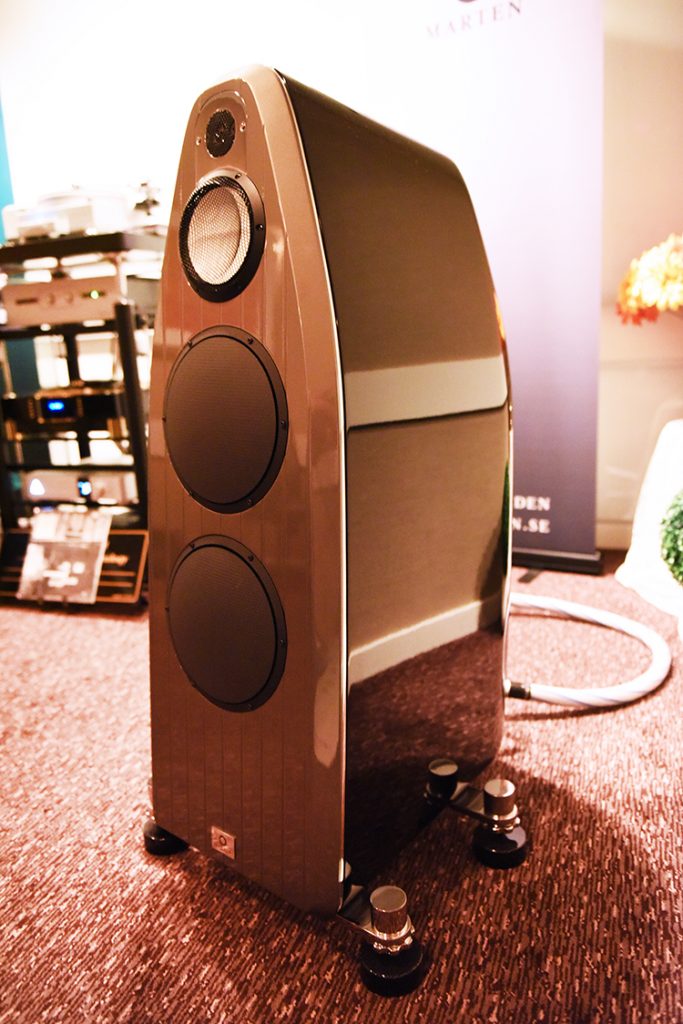 The brilliant Marten Coltrane 3 speaker…a musical tour de force!
The Coltrane 3's were memorable, with the CAT components being whisper quiet, and punching out 200 Watts per channel of gorgeous, in-your-bod triode coolosity. Swinging, stinging stuff! If you didn't connect with this room, then something's wrong with you, amigo…check and make sure that your heart is still beating. If not, time for that nearby defibrillator!
So color me avalanched by a synergy from components that I had never heard together. My man Dan Meinwald comes through again…I always find him in rooms that please and delight! Thanks, Dan...I owe you a bourbon....
And an Audio Oasis! Award for this place….
Bricasti Design/TIDAL Audio/Stillpoints/Oyaide
In the Bricasti Design room…a study in musical transparency and detail.
The mention for AXPONA 2016 is the Bricasti Design/TIDAL Audio/Stillpoints/Oyaide room. Once again, Brian Zolner had assembled a collection of components that really work for him, and work for me, as well. All was pretty much the same as the last time I heard his room…M1 DAC, M28 monoblock amps, TIDAL Audio Piano Diacera speakers, Stillpoints Ultra series isolation feet, and (I believe, but don't quote me on this) Oyaide cables…but new to me was his M12 Dual Mono Source Controller. Given what I heard this time around, the M12 sounds like an important achievement on Brian's part; I hope to hear it again at my next audio show.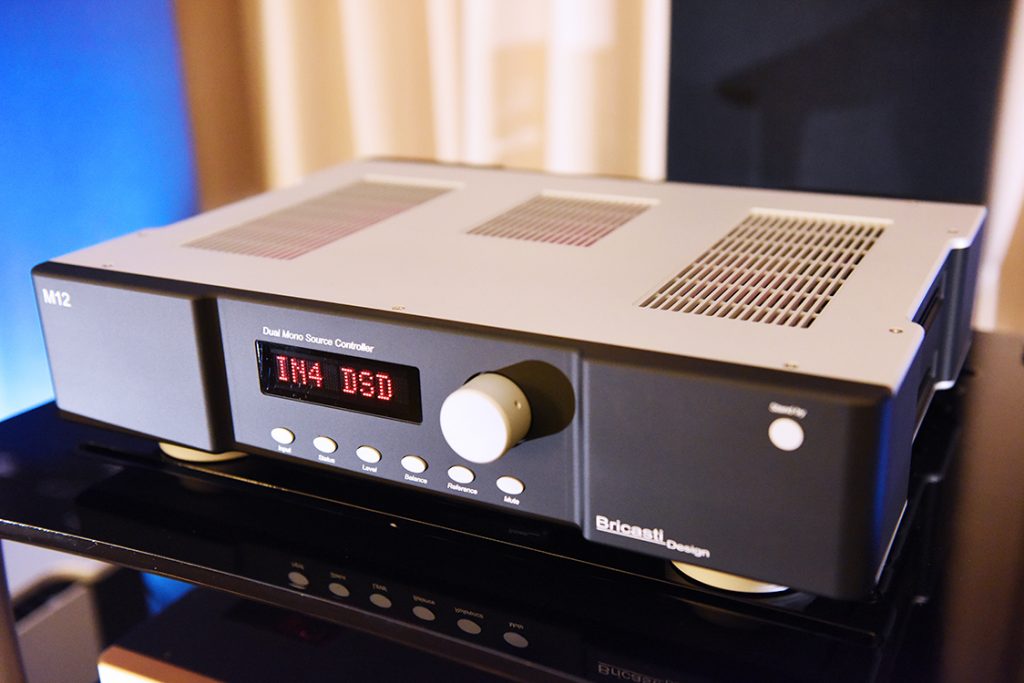 The Bricasti Design M12 Dual Mono Source Controller.
Once again, Brian shared with me a number of great classical recordings in pure DSD from Jared Sacks' Channel Classics label; once again his room lit up with musical glory! The Bricasti signature is one of exceptional transparency…crystalline, detailed, and incredibly textured…with Jared's recordings providing the sources that push things to the limit! I attribute this in part to the Stillpoints Ultra Series Isolation Feet; having extensive personal experience with Stillpoints, I know that the remarkable detail that I was hearing was due to Stillpoints. (Audio at this level really does require the highest level of sonic isolation and control, which Stillpoints provides in spades.)
I have become a huge fan of TIDAL Audio of Germany and their incredible line of speakers and electronics. I first heard them via Brian's Piano Diacera speakers about 2.5 years ago…they left an indelible impression, though I had never heard, or heard of them, before. Lovely and musical always, they put the great detail of the Channel Classic sources into an organic context, with a presentation that's always highly pleasing. I relaxed here for a while, enjoying the audio embrace.
Yep, no doubt about it:  Another Audio Oasis! Award for Bricasti, TIDAL Audio, Stillpoints, and Oyaide.
Enough for now…
…and farewell to AXPONA 2016. It was a very fine show, a great time for me, and a really worthwhile trip. A tip of the hat to all of my good audio friends that I saw there…what a fine time was had by all!
…but right around the bend is THE Show Newport Beach 2016!
THE Show Newport Beach 2016 is right around the corner, and I'm already getting set to go. Positive Feedback will once again be hosting our Hospitality Room in room 441 of the Irvine. Come up and visit us! We'll have our own system there, and will be playing nothing but DSD (Single, Double, and Quad) for four days. We'll also have Keith Knight, a master of 6- and 12-string guitar, playing live acoustic sets for us throughout the show…don't miss him! Our room will feature the best fresh coffee at THE Show, from Ristretto Roasters in Portland Oregon:  Organic, fair-trade, sun-grown, hand-roasted in small batches right here in Portland. No over-roasting! Plus some select single malts, bourbons, and wine.
Don't miss it!
[All photographs and processing by Robinson, unless