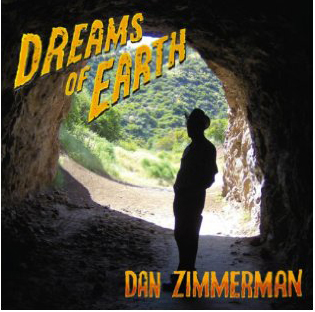 Those of you who have been reading Positive Feedback for a long while will likely recognize the name Dan Zimmerman. He is a very close friend and fellow sojourner with me, and we have many deep interests in common:  film, painting, photography, videos, poetry, philosophy, Christian life and thought, and spirituality...the list is a long one.
Dan has been an artist and cartoonist with PF since the very early 1990s, with many of his drawings gracing our pages regularly since then. He's a very gifted man, with notable abilities in drawing, cartooning, and painting. In fact, I own a couple of Dan's oil paintings, one of which was featured on the cover of one of our paper-and-ink issues back in the day. Both paintings hang in my reference listening room, where they have occasioned many comments over the years.
Likewise, Dan is a notable singer, songwriter, and guitarist, with a handful of albums to his credit.
Just recently Dan shared with me a YouTube link to a music video from one of his more recent albums, Dreams of Earth. The song in the video is "It All Happened So Fast," and is a reflection upon the mystery of life, and how quickly it passes.
Here's the link to Dan's YouTube music video:  https://youtu.be/cAcdZ8OqWXk.
This is great stuff...you might want to check Dan's recordings out. They are all thoughtful, and quite transformational.
By the way, Dan notes of this recording:
"It All Happened So Fast" featuring Anthony Jones, Adrian Valosin, Wayne Taussig, and my awesome son, Matthew Zimmerman; engineered by the inimitable Daniel C Smith at Familyre Studio. I heartily recommend Daniel for matchless recording.
Dreams of Earth is published by New Jerusalem Music. "It All Happened So Fast" video produced by Dan Zimmerman, copyright (c) 2014 Dan Zimmerman, Admin. New Jerusalem Music/ASCAP.