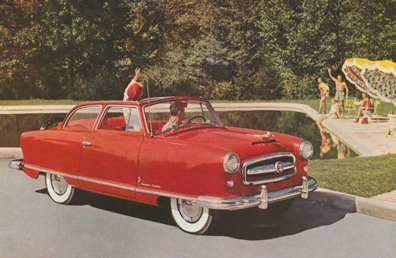 This is going to be a sort of two-part review… first about the Auralic Aries and then about what I did to take my current file-based audio system to a completely different and yet, stunningly musical level... along with the Aries.
Okay so to piggy back on the Antipodes review… yeah, I want it easier and simpler. I want things to work and play without a hiccup. I want to access my music (files) in a way that is both visually and ergonomically engaging. Does the Aries give me that? Does it trump my iMac set-up? Yes, yes, and more yeses.
The Aries has been out for quite a while, and has received glowing reviews elsewhere. So with that in mind I am not going to go into all the details about the unit… other than to say it is a 'streamer' or 'bridge' between where your music files are stored (via UPnP or DLNA to access your NAS or drive on earlier versions of DS—current versions allow one to access any NAS in way simpler protocol) and whatever DAC (USB, AES/EBU, or S/PDIF) you use to get digital into analog. It uses its own software to do so (the Lightening DS app via an iPad, which looks very nice and is easy enough to use) and does this preferably via WiFi as opposed to being tethered to something with a Cat cable (though you can if you want—but don't, as it sounds best via WiFi).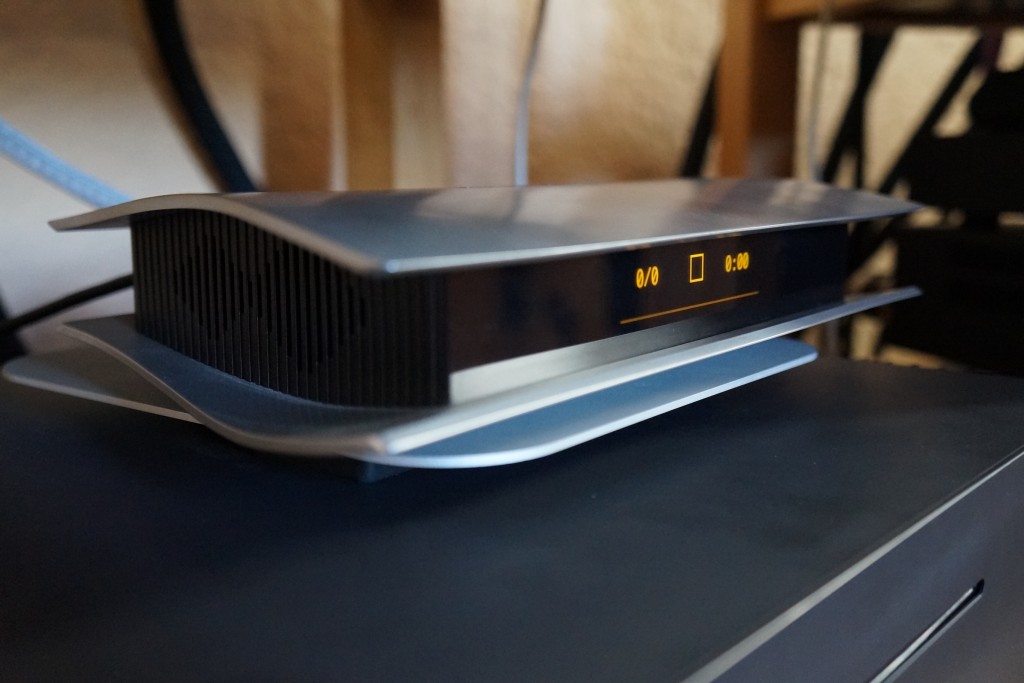 The Aries sitting on a platform from Black Ravioli
Basically the Aries is a computer getting its power from an outboard linear power supply. From the Auralic site… "ARIES is powered by AURALiC's proprietary Tesla hardware platform that includes a Quad-Core ARM Coretex-A9 processor running at 1GHz, 1GB DDR3 onboard memory, and 4GB internal storage. The Tesla platform has a calculation ability of 25,000 MIPS, more than enough to decode a vast spectrum of audio formats, including AAC, AIFF, ALAC, APE, DIFF, DSF, FLAC, MP3, OGG, WAV, WV, and WMA. AURALiC has chosen this platform for long term support consideration; the features planned include DSD upsampling, room acoustic treatment, and other acoustic DSP function."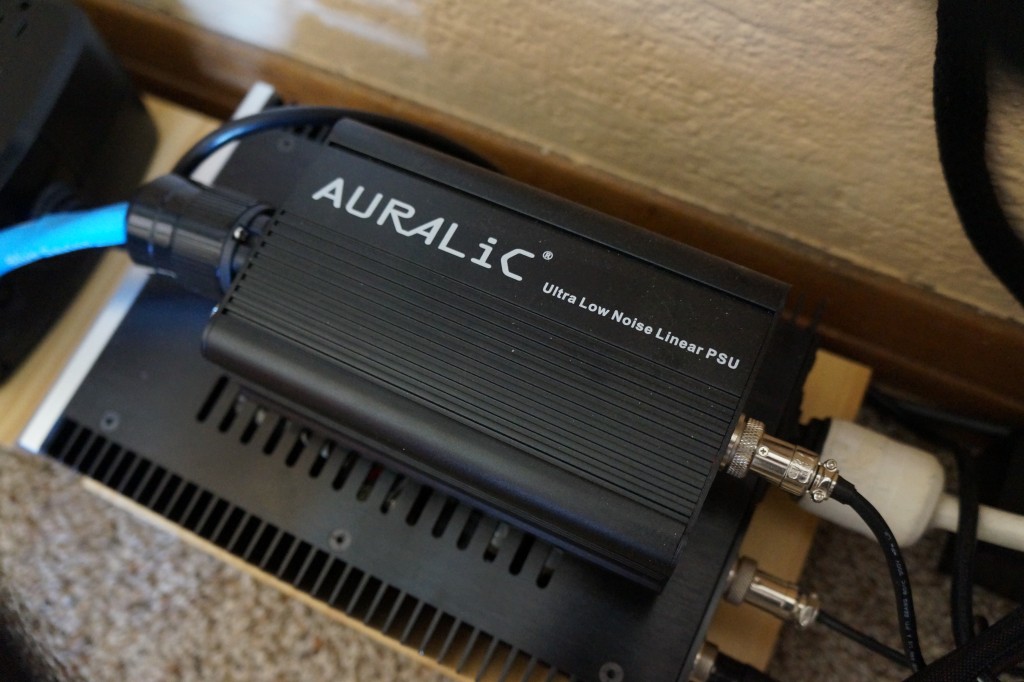 Way cool. It can also play back any file type, including DSD. All wirelessly. Fair warning: I would suggest that you skip anything other than 5G to make this work without any hiccups. Files can be big, so one should use all the bandwidth currently available. I purchased a Netgear 5G WiFi extended and had no issues.
I used the Aries via the USB out into my regular set-up with nary a hitch. The DS app allows you to choose the output as well as the source of your files. That is, you can switch back and forth between various outputs and storage locations if you have more than one DAC, drive, or NAS. Even USB is an option as a means of getting files out into the room. As I mentioned above, an earlier version of DS only allowed one to access a NAS or drive via UPnP or DLNA—meaning that it would not work with my Drobo FS which does not support either UPnP or DLNA. And while the Drobo FS has worked fine with the Mac via iTunes (as well as any other software—Pure Music, etc.) and works fine as a storage device, it is not the optimum for music playback. See, sadly the Drobo is slower and more prone to transfer issues than say that of a Synology or other like NAS/drives. So to make the review happen I was loaned a Synology NAS by Auralic and proceeded from there. After transferring over a few files and connecting the Synology to the network, the Aries saw it as a drive and we were up and running. Note to self… so this is not so much an apple to apple review (pun intended) but an orange to tangerine review in that my Mac gets its music from the Drobo but the Aries gets its music from the Synology. And so if one was to use the Aries, you would also use something like the Synology, and not the Drobo.
So how did the Aries perform with my music from the Synology? Quite well in all respects. It is clearly superior to the sonic presentation of my Mac playback system in every way imaginable. Of course using something like Pure Music with a tweaked out Mac makes the differences slimmer, but the difference is still there. Quieter, and hence more resolving—you get more music when there is less noise or whatever in the background. The Aries is simply quieter than any PC can ever be since there is less 'other stuff' going on as well as having a better power supply. No updates, services, programs, etc. to cut into resources; computing, memory, and power. Plus it has a better power supply too. All this appears to make a difference not only sonically, but musically. Which suggests that perhaps not all bits are dealt the same 'experience' within different streaming devices due to what is going on, or not going on.
The Aries presents the music with a very open and airy soundstage; expansive and engaging. Way nice. Details and nuances galore. Dynamics, slam, punch… all there. Pretty much the Vegas buffet of sonic wants and music needs. No etch, no glare… not that I was expecting any. Not that I hear any with the Mac, but the presentation with the Aries just had that sense of ease and effortlessness. The music flowed with more presence and naturalness. Bass is rock solid and tactilely there. The mids are organic and life-like. Sold.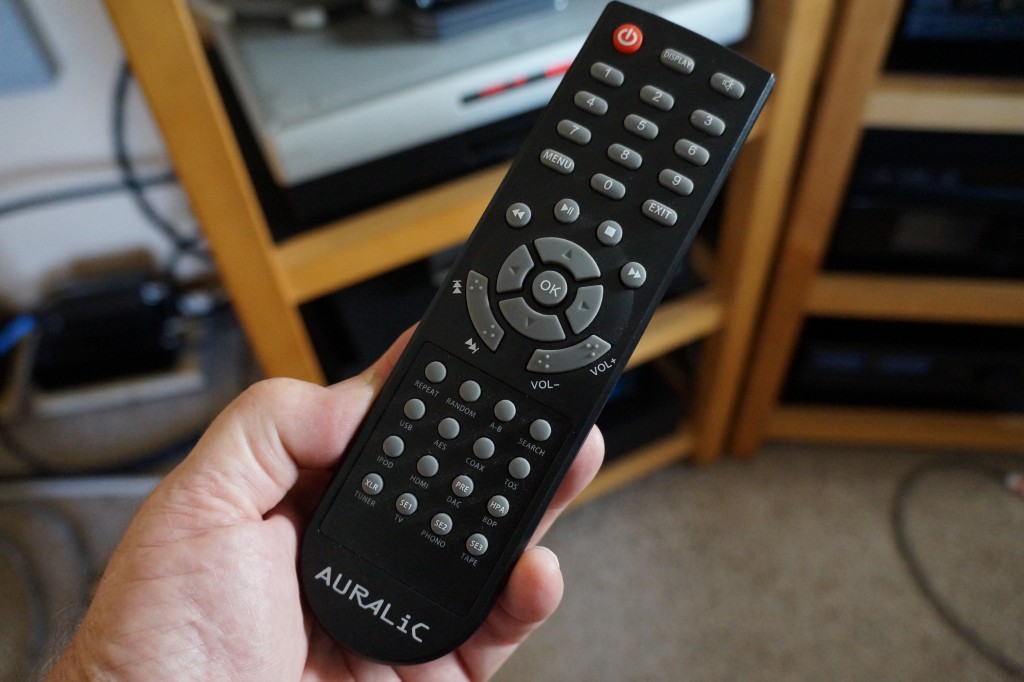 For those who need this… I am not a female vocal guy, nor into jazz or classical, Carol I tend to be outsiders with much of what is seen as audiophile approved or preferred musical genres… so we soldier on with what we like… which is why I tend to not list artists and album titles. The typical response is usually, "Never heard them."
Even so, the Aries played our music well and at a level that made us wanting more.
But… there are a few bugs here and there. Yeah, early on I needed to reboot the Aries a few times and on occasion after an update (the firmware for the Aries and DS are updated now and then to address ease of use or whatever). But all is good. Nothing major and always an easy fix.
Quibbles? Yeah, the rear of the unit is a tight fit for cables. If you have pudgy fingers, getting things out can be an exercise in creativity. The unit is light, meaning that some heavy cables will pull the unit around. It does run hot, but that is normal… not so much a quibble, just a heads up to give it some room to breathe. Oh, and remember to have all your music tagged correctly. The Aries and iTunes are not the same in how cover art images are saved, so yeah, that is something that can be an issue. Half of my album art is missing. Needs to see .jpg and .png and be named correctly.
Okay so the big question is: how did it stack up to the way more pricey Antipodes? Well, the Antipodes was clearly different sonically and musically. So much so, that the Aries was bettered by the Antipodes in terms of bass foundation, slam, soundfield expansiveness, air, and retrieval of all those subtle nuances that make the music more there. But then these differences or comparison are rather unfair. The Antipodes is like the Aries on steroids in that it has its own special ripping software (and ripper), internal drives configured for the demands of high-end audio, and on and on making it like 5 times the price of the Aries I have here.
The DS interface on the Aries is great, but is currently only for Apple mobile devices. Would be great to see something running on a Mac or Windows device. The Antipodes controlled on a mobile device was an issue, as noted in the Antipodes review, but once I downloaded something like iPeng it was smooth sailing—way, WAY nicer. So how to control either is even Steven. But for sure, DS Lightning is sweet.
(Images below of Lightning DS courtesy of Auralic.)
So anyhow, comparing the Antipodes to the Aries is not really apples to apples here. Like the Mac vs. Aries it is more oranges to tangerines. The Antipodes produced a 'heavier' sound… one with way more solidity, oomph, and space. Bass was scary good. Darker too. Dark can be good. Dark is cool. But then again these differences are not that disconcerting… that is the Aries is simply lighter and airier… more light in terms of being less dark. Less heavy and so perhaps more nimble. This is cool too. Gee could I get the best of both units? Well I made a few additions and now have the Aries on equal footing with the Antipodes. Yeah, I had to spend some money, but these changes or additions were needed anyhow… regardless if I stayed with the Mac or not. So yeah, you can make the Aries equal to that of the Antipodes and for many, any remaining differences become that of preference than one being better or worse. Part 2 is right around the corner… but to close, the Aries is a winner. At the price, nothing comes even close and you really need to spend whole lot more to get more... what it gives you is simply wonderful.
Aries
Retail: $1595
Auralic