The 2016 edition of AXPONA (also known as Audio Expo North America) was held at the Westin O'Hare hotel in Rosemont, IL just a short distance away from Chicago's O'Hare International Airport from April 15-17, 2016. AXPONA is the premiere audio show in the Midwest.
While one will see a number of high end and exotic audio products where price is no object (like many audio shows), AXPONA also features more moderately priced audio products reflecting its location.  That was once again the case this year. Here is my report from the 2016 edition of AXPONA.

Sonoma Series from Playback Designs
One of the show highlights, both from a news and sound quality perspective, was the debut of the new Sonoma Series of products from Playback Designs. Playback Designs released their initial line of Digital to Analog Converters (DACs) and Super Audio CD (SACD) players in 2008. They have remained among the best sounding products on the market to this day. 
The Sonoma Series is the second generation line of products from Playback Designs which will support Stereo DSD up to DSD 256 and PCM audio formats. The name comes from the proximity of company CEO and designer Andreas Koch's location in the San Francisco Bay Area (near the wine country) and the Sonoma Direct Stream Digital (DSD) Workstation that he played a leading role in designing for Sony in the early days of DSD and SACD. It includes the Merlot DAC ($6500), the Syrah Music Server ($6500), the OpBox ($1850) and the upcoming Pinot Analog to Digital Converter (ADC) for $6500.
To further connect the worlds of music and wine, Playback has partnered with Carhartt Vineyard on the Sonoma Series. Each Merlot, Syrah and Pinot will be shipped in a Playback Designs wine crate that includes the audio equipment and a bottle of Carhartt wine. A nice touch.
Listeners were treated to music in Single Rate DSD 64 ("Michelle" by The Gents on Channel Classics), Double Rate DSD 128 ("Needed Time" by Eric Bibb on Opus 3 DSD File) and Quad Rate DSD 256 ("Looking for a Home" by Keith Greeninger on Blue Coast) played on the new Merlot DAC. The sound on each track was detailed, rich and provided an excellent sense of depth. The Merlot, with support for both DSD (up to DSD 256) and PCM Stereo playback will put it on your list to audition if you are in the market for a new DAC.
Sonoma Recording Software (Top) and OpBox Card (Bottom)
Rather than release a new DAC + SACD product, Playback Designs instead offers the OpBox. This is a replacement board that fits inside the Oppo BDP-103 Universal Disc Player. It sends music from optical discs played on the Oppo 103 to the Merlot DAC, bypassing the converters inside the Oppo player. Interestingly, the OpBox allows the listener to record music coming from CDs, SACDs, DVDs and Blu Ray discs played on the Oppo 103 using the company's Sonoma Audio Recording software. The digital files can then be used with any DAC or digital player supporting DSD and PCM files
The upcoming Pinot ADC will be one of the first products for the home audio market designed to transfer your LP and Analog Tape collection to DSD 256. Pinot will also feature the Sonoma Recording software.  
Playback Designs connected a Studer-Revox PR99 Analog Tape Recorder/Player to their audio system along with the Pinot ADC and did an A/B test of the same music through the Studer and recorded and then played back through the DAC at DSD 256 in real time. There was a very, very slight difference between the two. I found it to be so subtle as to be basically identical. Very impressive. The Pinot ADC will be another product to watch when it is released this summer.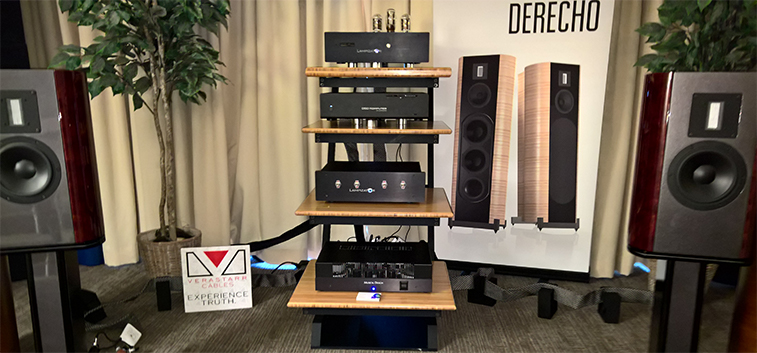 Lampizator Golden Gate DAC and DSD Komputer
Lampizator North America partnered with Vapor Audio Speakers for their sound room at AXPONA. The setup included the company's top-of-the-line Golden Gate DAC with DSD 256 ($18,000), the DSD Komputer Server ($5500) and the Silk AC Filter ($700 to $2300). 
The Golden Gate takes the company's Big 7 DAC to an even higher level. Like the Big 7, it uses DHT Tubes in a direct filtered approach to DSD. The Golden Gate also features an excellent PCM section. 
Lampizator used several tracks from Opus 3 DSD File to show off their system: "Needed Time" by Eric Bibb, "Vaquero" by Tiny Island and "House of the Rising Sun" by Cyndee Peters. The Opus 3 recordings are made with a tube-based console and the combination of these recordings and the Golden Gate provided some very warm, rich and deep musical moments. Nice.
While the Lampizator room had the high end edition of the product line, Lampizator DACs were also prominently featured as the sound source in 5 other rooms at AXPONA. Featuring DACs including the Amber DAC, Level 5 DAC and several more moderate and lower priced models in keeping with the affordable audio vibe at AXPONA. Using a Lampizator in a company's sound room appears to be a trend. I didn't get to all 6 rooms with the Lampizator. But the ones I did visit provided a fine source to show off the speakers and audio systems from those vendors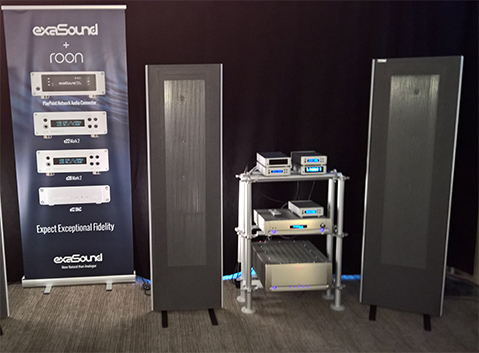 exaSound Multichannel Sound and Roon Demonstrations
George Klissarov was hosting the exaSound room during AXPONA with two systems. The first featured a 5 speaker surround sound demonstration of the exaSound e28 Eight Channel DAC with DSD 256fs ($3299). The system included matched Magnepan 1.7 speakers and in keeping with the affordable audio theme of AXPONA a multichannel amp and preamp from Parasound and Multichannel Music playback software from JRiver. Surround Sound Music featured a mix of 5.1 Channel and 4 Channel selections including "Welcome to the Machine" by Pink Floyd (5.1), "Summertime" by Janis Joplin (4.0) and "We Are The Robots" by Kraftwerk (5.1).  The music was nicely balanced and well presented. Definitely making the case for the e28 for Stereo and Multichannel music fans.
Also on display was the exaSound Play Point. Introduced last year, the Play Point is a versatile performer that adds an exaSound DAC to a listener's network. Initial features included bringing HQ Player Network Audio Adapter (NAA), Open Home and UPnP to the exaSound DACs. Before the show, exaSound and Roon announced that Play Point is now a Roon Ready certified end point for Stereo DSD 256 and PCM playback. (Multichannel playback with Roon is still under development).
Klissarov noted that the teams at exaSound and Roon were able to develop the software to bring the two products together in under 60 days. He was very impressed with the effort and is anxious to continue his firm's work with Roon. An interesting development in the exaSound product strategy.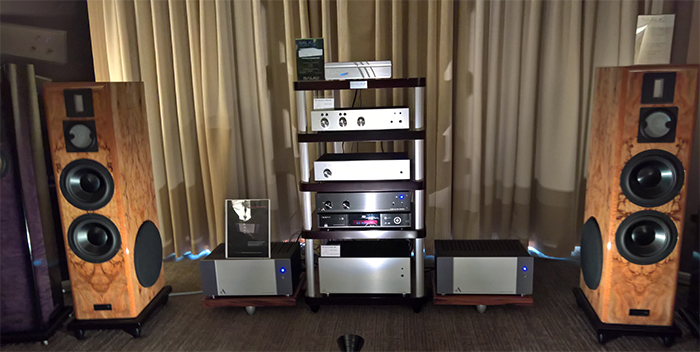 Audio by Van Alstine Room
Audio by Van Alstine (AVA) has been making affordable audio equipment for over 50 years. Frank Van Alstine highlighted the company's current products and its direct to the consumer sales model. He also unveiled an upcoming Stereo DAC which will feature both PCM playback (up to 192 kHz) and the company's first DAC with DSD playback (up to DSD 256fs).
The as yet unnamed DAC has Class A circuitry in a standard sized enclosure with a headphone jack, volume control and a series of white lights across the top that signify PCM, DSD 64, DSD 128 and DSD 256 depending on how many lights were lit. No flashy LCD screens and features here. And the projected price will be $1500—well within the very competitive under $2000 price point in the DAC marketplace.
During the show demo, AVA played several musical selections on the upcoming DAC including "Fields of Gold" by Eva Cassidy and "Cold Cold Heart" by Norah Jones at DSD 64fs plus the instrumental "Vaquero" by Tiny Island at DSD 128fs. While AVA cautioned that the DAC was still in development, it sounded very good to me even at this early stage. It's a product to keep your eye on.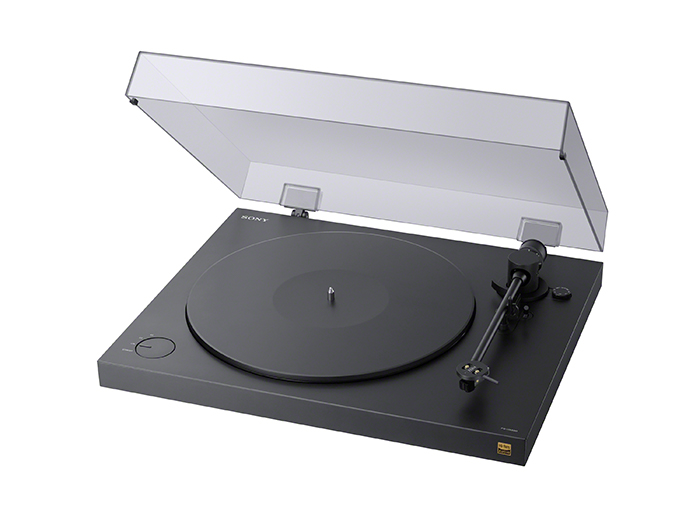 Sony PS-HX500 - USB Turntable and LP to Music Files Conversion System

Sony demonstrated an array of their audio products at various price points to show how they played together. Starting off the demo was the new PS-HX500 Turntable ($599) which not only plays LPs but also has software and a USB output to enable recording LPs to music files in your choice of DSD (up to DSD 128) and PCM.
Sony converted two tracks "Fever" by Elvis Presley and "California Dreaming" by Diana Krall from LPs to DSD 128 before the show. In their demo, these DSF files were played on a Sony HAP-Z1ES Digital Music Server ($1999) through a pair of Sony SS-AR1 speakers ($27,000/pair). The sonic results were very impressive. And Sony certainly made the case for converting your precious LPs to DSD to preserve them as well as supplement the listeners DSD music collection.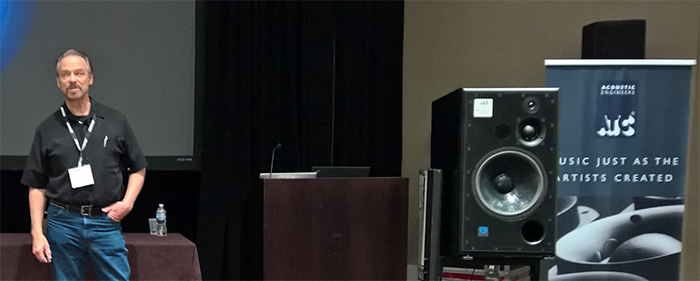 Michael Bishop, Five/Four Productions
Michael Bishop, Recording Engineer and Producer from Five/Four Productions and Former Chief Recording Engineer at Telarc hosted an informative and very musical seminar titled "Behind The Magic Curtain: The Making of a State of the Art Recording." The session provided a look at the recording process along with a number of examples of high resolution recordings made by Bishop and his colleagues at Five/Four. The music was played on a Stereo pair of ATC Studio Loudspeakers through the new Playback Designs Merlot DAC. 
Bishop shared how he depends on ATC speakers to tell him what's on the tape as he is recording. He also had praise for the Merlot DAC saying he had heard it for the first time the day before and "it met and exceeded my expectations." But there were also some critical moments as when Bishop showed a photo of one recording studio where he didn't use the studio monitors provided noting "They didn't tell me anything".
Telarc and later Five/Four used many state of the art recording technologies as they were introduced over the years and Bishop provided a timeline and history of these efforts. It included Analog Recording, Direct to Disc recording (1978), early PCM Digital Recorders including Soundstream (1979), 5.1 Surround Sound with DTS (1990), 24-bit 96kHz and 192 kHz PCM (1996), DSD at 64fs (1998), DSD at 128fs (2006) and DSD at 256fs (2013). Bishop said his philosophy is to use the best tools for the music and project at hand so he works in Analog, PCM and DSD but his strong preference is to work in DSD when possible.
Turning to musical selections, Bishop played a wide variety of Classical, Jazz and Blues selections. This included several tracks from the newly released album Spark by pianist Hiromi, bass player Anthony Jackson and drummer Simon Phillips. Tracks like "Indulgence" and "In A Trance" featured complex musical passages, explosive performances and stellar musicianship. As a bonus, the tracks were played as recorded in DSD Stereo rather than the released tracks in PCM. Other musical highlights included "Sinner Man" and "Deeper In The Well" from a recent album by Eric Bibb recorded one very hot afternoon with a Korg MR-2000 and a Yamaha mixing console (released on Stereo CD, played at AXPONA in the original DSD) and a selection from the National Brass Ensemble on Oberlin Music (available on Multichannel SACD and DSD Downloads from Native DSD). All in all, a very informative and musical session. Be sure to check the video of this session on the AXPONA You Tube channel for more.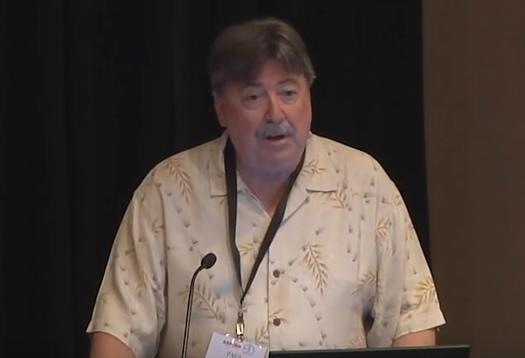 Paul Stubblebine, The Tape Project
Professional Quality Analog Tape Machines are becoming more and more a fixture at Audio Shows as manufacturers look for the best possible audio source to demonstrate their equipment. That was certainly the case at AXPONA with a number of rooms highlighting some really fine sounding Analog Tape systems.
To discuss this trend, Positive Feedback Senior Editor Miles Astor chaired an AXPONA Seminar along with experts Paul Stubblebine (The Tape Project), Chris Mara (Mara Machines), Dan Labrie (ATR Magnetics) and Chad Kassem (Acoustic Sounds). Miles led off with an overview that provided highlights of the increasing popularity of Analog Tape as a home audio option including a list of 23 web sites that now sell albums in this format with prices ranging from $150 to $895 per album.
Panel members noted that improvements in tape machine electronics have enabled vintage recorders to be upgraded to sonic performance levels not available in the past. The event also featured a long rumored announcement that Acoustic Sounds would be joining the list of web sites offering albums in Analog Tape form later this year. A welcome development for Analog Tape fans. To check out the complete seminar, be sure to watch the session on video on the AXPONA You Tube Channel.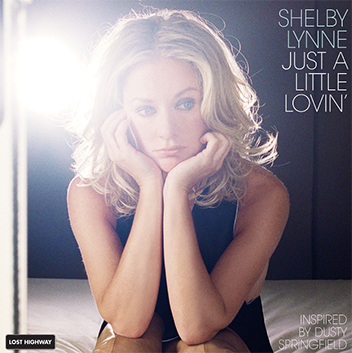 Just A Little Lovin' - A Tribute to Dusty Springfield by Shelby Lynne

Joseph Audio offered listeners a sneak preview of what the planned Acoustic Sounds series of Analog Tapes may offer. This room included an ATR-100 Tape Machine supplied by Chad Kassem with speakers and electronics from Joseph Audio. The demo featured a series of test tracks prepared from the Analogue Productions transfers of Analog Master Tapes used in the label's SACD and LP releases. Pricing of the final Analog Tapes is said to be $400 to $500 per tape—similar to the pricing from The Tape Project.
At the session I attended, we were treated to songs including "Baby It's Cold Outside" by Ray Charles and Betty Carter, "Just A Little Lovin'" by Shelby Lynne and "The Girl from Impanema" by Astrud Gilberto and Stan Getz from Analog Tape. Each track was smooth, detailed and a treat to hear. Music reproduction doesn't get better than this. If anyone had doubts about the new found interest in Analog Tapes with professional grade tape machines and high end audio components, this room answered those questions. The Joseph Audio system, the ATR-100 and the Acoustic Sounds test Analog Tapes definitely provided some of the best sound of the show at AXPONA 2016.
I spoke with Chad Kassem about his planned Analog Tape series. In addition to researching his catalog of Analogue Productions releases, the next step will be discussion with the record labels to see which albums can be licensed for release on Analog Tape. Analog Tape fans will be anxiously awaiting word of the first titles in this series scheduled for release later in 2016.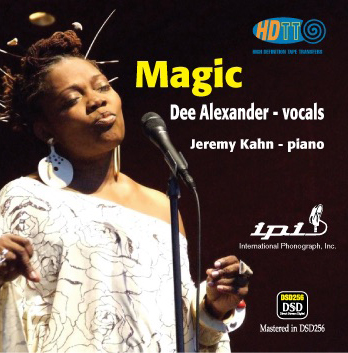 Magic by Dee Alexander - on Analog Tape and DSD 256 Download

Jonathan Horwich from Chicago-based International Phonograph Inc. (IPI) teamed up with Magico speakers to provide another fine example of Analog Reel Tape recordings. Horwich has been recording local Jazz artists in the Chicago area to Analog since the 1980's and his recordings have always been highly sought after for their detail and sound quality.
In a small room at AXPONA, Horwich served as host of demonstrations of his extensive catalog of Jazz recordings on Analog Tape. When I visited, he was featuring "Nice Work If You Can Get It" from the album Magic by Jazz Singer Dee Alexander accompanied by pianist Jeremy Kahn. An excellent demo of how good well recorded female vocals can sound. Be sure to check out the IPI web site if you'd like to pick up some of his Analog Master Tape copies. Or drop by Native DSD.Com and High Definition Tape Transfers to get Magic and more of the IPI Jazz recordings in DSD 256.  Fine listening.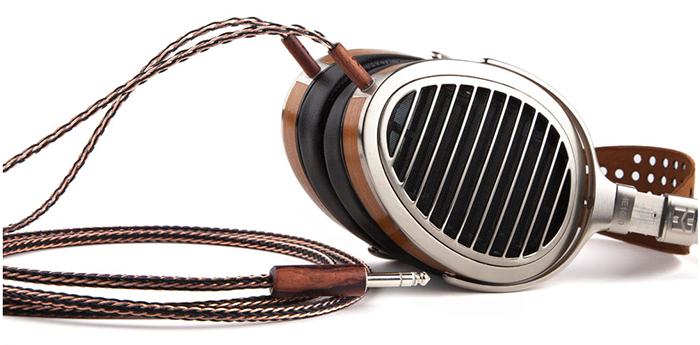 AXIOS Headphone Cable for HiFi Man HE-1000 Headphones
Ray Kimber's Kimber Kable has had a very successful partnership with Sony marketing an upgraded headphone cable for one of Sony's newer headphone models. This has led to the new AXIOS line of replacement cables for headphones from companies including Audeze, Enigma Acoustics, HiFi Man, McIntosh, MrSpeakers, Oppo, Pioneer, Sennheiser and Sony.
AXIOS headphone cables are braided and use a unique design that allows the left and right channel cable to separate from 16 wires to 8 wires without the need for a solder joint (as with traditional headphone cables). The resulting product is very well made and looks the part. 
At AXPONA, Kimber Kable was demonstrating the AXIOS replacement cable with a pair of HiFi Man HE-1000 headphones. From what I heard at that demo, these will be worth checking into if your headphone is on the supported list. Prices of the AXIOS cables range from $700 to $1,325 depending on length.
DanaCable Lazuli Cable for HiFi Man HE-560 Headphones
Another entry in the upgraded headphone cable field is DanaCable with their new Lazuli cables for Abyss, Audeze, Dharma, HiFi Man and Sennheiser headphones. This is a new addition to the company's successful line of interconnects, speaker cable and AC Power cable
Dana Robbins from DanaCable was demonstrating a new headphone amp he is developing with an interesting twist. He had two HiFi Man HE-560 headphones connected to the prototype headphone amp and a music source. One had the stock HE-560 cables while the other had a pair of the DanaCable Lazuli for HE-560 cables ($650) attached. You could do an A/B test on the spot by switching between the two while listening to the same track. I gave the test a try and was able to hear a clear improvement with the Lazuli equipped HE-560.
DanaCable was also demonstrating a Lazuli replacement cable usable for the HiFi Man HE-1000 and HiFi Man Edition X headphones ($650 - $850). I bought one of these Lazuli cables and have been testing it on my home office system with a pair of Edition X headphones. The Lazuli cable definitely improves the sound of the Edition X headphones and takes them to another level. If you have the Edition X headphones, you will want a pair of the Lazuli cables.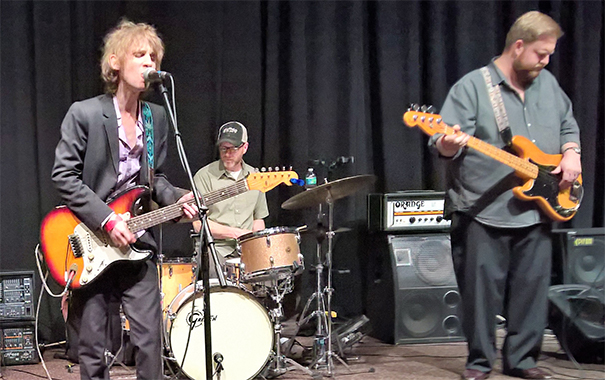 Noah Witherspoon and His Band
More and more we're seeing live performances with top musicians at audio shows. AXPONA offered several performances during the weekend event in the Hotel's Theater. Saturday evening was a highlight as Chad Kassem at Acoustic Sounds presented Chicago Blues Night, a tribute to the region's musical heritage with Noah Witherspoon and His Band plus headliner Lurrie Bell and His Chicago Blues Band.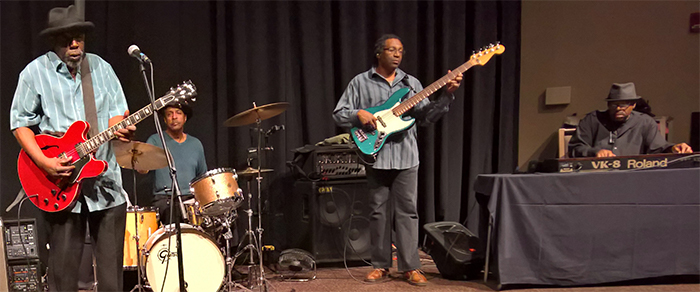 Lurrie Bell and His Chicago Blues Band
The Blues Night featured two one-hour sets that provided a fine taste of Blues Music. After Witherspoon & the Band played their set, host Chad Kassem returned to the stage to announce an intermission as the headline act did their set up. 
To illustrate the quality of the music at the show, a startled listener nearby asked me "He wasn't the headline act?" No, the show was just getting started. It was a fitting wrap to a fine edition of AXPONA put on by the team at JD Events.  
AXPONA (Audio Expo North America)
Michael Bishop - Behind the Magic Curtain: The Making of a State of the Art Recording
https://www.youtube.com/watch?v=J8tj3b7a8KU 
Tape: The Format of the Future
https://www.youtube.com/watch?v=StL9w56lVic
Miles Astor - Where to Find Analog Reel Tapes
https://www.audionirvana.org/forum/the-audio-vault/all-things-reel-to-reel/103-where-to-find-reel-to-reel-recordings
Sony Adds Car Digital Media Player, Turntable and Disc Player to DSD Lineup
https://positive-feedback.com/audio-discourse/sony-adds-car-player-turntable-and-disc-player-dsd-lineup-updated/