Dateline: Westin Hotel, Rosemont, Ill., April 21-23rd, 2017 AXPONA!
I get a serious kick out of listening to exotic, cost-no-object systems. In fact, I enjoy them so much, it's hard to tear myself away. Where reality and common sense meet, its clear I have little business in those rooms other than to experience some of the finest audio this planet has to offer.
But hey, experiencing the finest on the planet is exactly what an audio show is for, right? 
If someone offered to let me drive a Ferrari, I'd jump in, turn the key, and go like a bat outta hell until they chased me down and took it way. So why not the same for the Ferrari's of high-end audio?
Too much time listening to the Big Dogs, was only a symptom of the larger issue I had covering this show. That being the sheer size of AXPONA 2017. This year's exhibition presented audio-geeks with an amazing assortment of gear, spread like sonic-butter over 7 floors of the Westin Hotel. That is waaaay too much to bread to cover for one guy with a notebook and a little Nikon Coolpix camera. Mea culpa...I took too big of a bite of the show-wich, and therefore, offer my sincere apologies to exhibitors and readers alike for being a bit light on detail.
To Show Report or No Report...
That was the question...I had an excellent time at AXPONA '17, but had absolutely no clue what I was going to write about. It wasn't until I pulled my Civic onto I-294, smack in the middle of five lanes of Windy City drivers flying by at the speed of hi-end sound; that I found my muse. While experienced show-goers may only see the similarities in each show, I've found each to be very different. The experience is somewhat like my visits to the Grand Canyon. I've found something breathtakingly new to appreciate each time I've looked across its rim. I still remember my first wide-eyed look at the Canyon on a trip with my parents. We took crappy Polaroid pictures of everything. Some snapshots were grand, like the canyon itself. Others were simple remembrances, like the bedroom of our park cabin. I still cherish them all. And so it is with AXPONA. There is stunning grandeur, and there are simple remembrances. And with that in mind, I bring you a few crappy pictures, and my personal highlights of Audio Expo North America.
It was a grand spectacle indeed.
AXPONA 2017: Pictures at an Audio Exhibition (Apologies to Mussorgsky)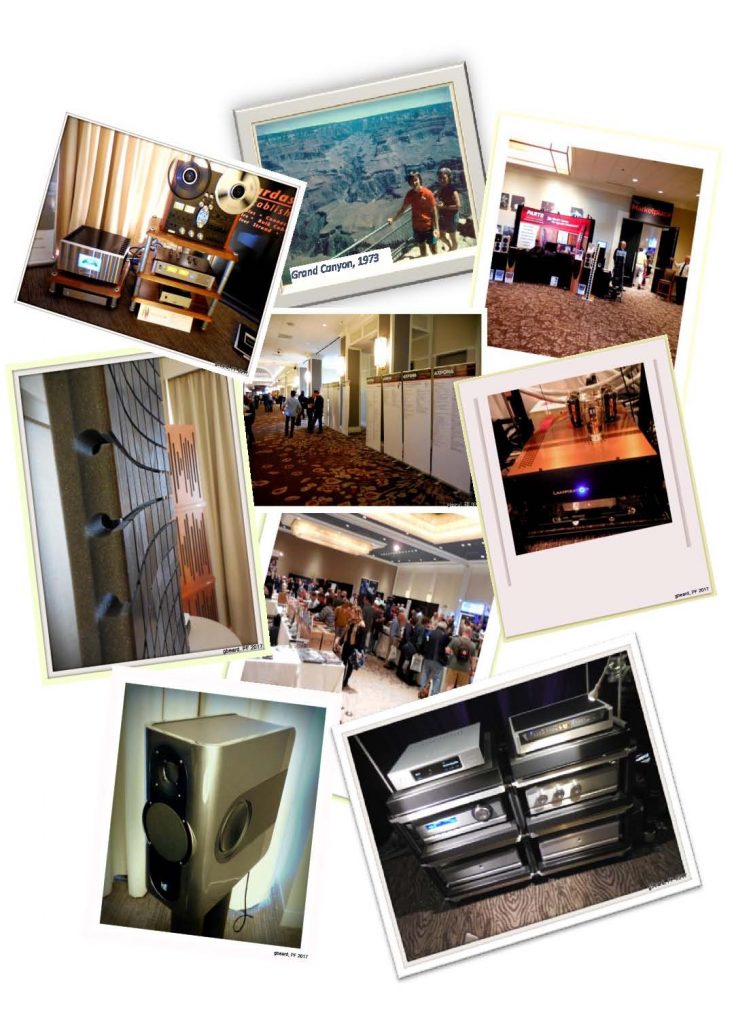 I began my show tour Friday on the 12th floor and worked my way down. There were so many rooms that is seemed an insurmountable task to visit every one. Attendance was high. Equipment was settling in, and being tweaked. Most rooms sounded that way too. One thing I noted early: Room treatments, reel to reel tape machines, and integrated amps seemed to be everywhere.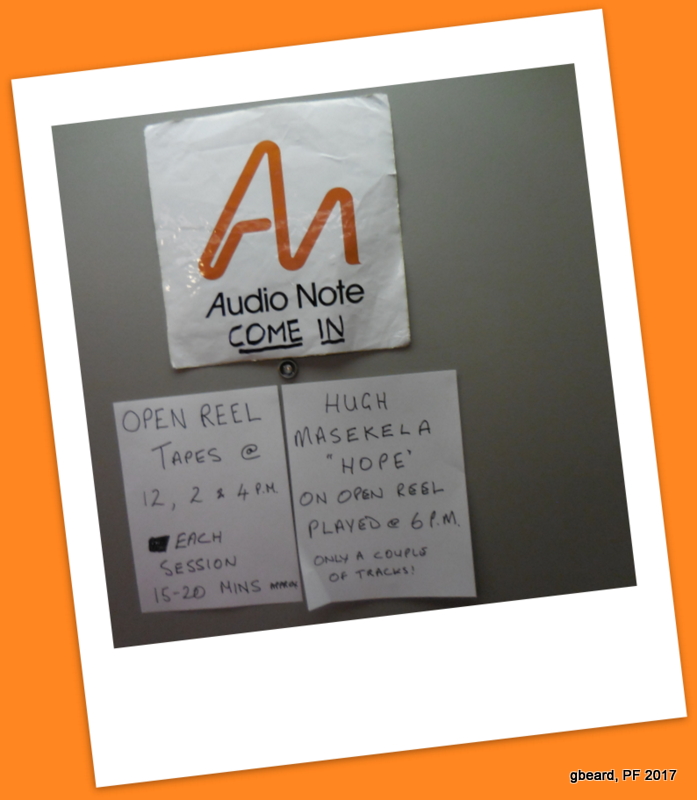 The Audio Note room was using a Nagra mini Reel to Reel tape player to entice show-goers.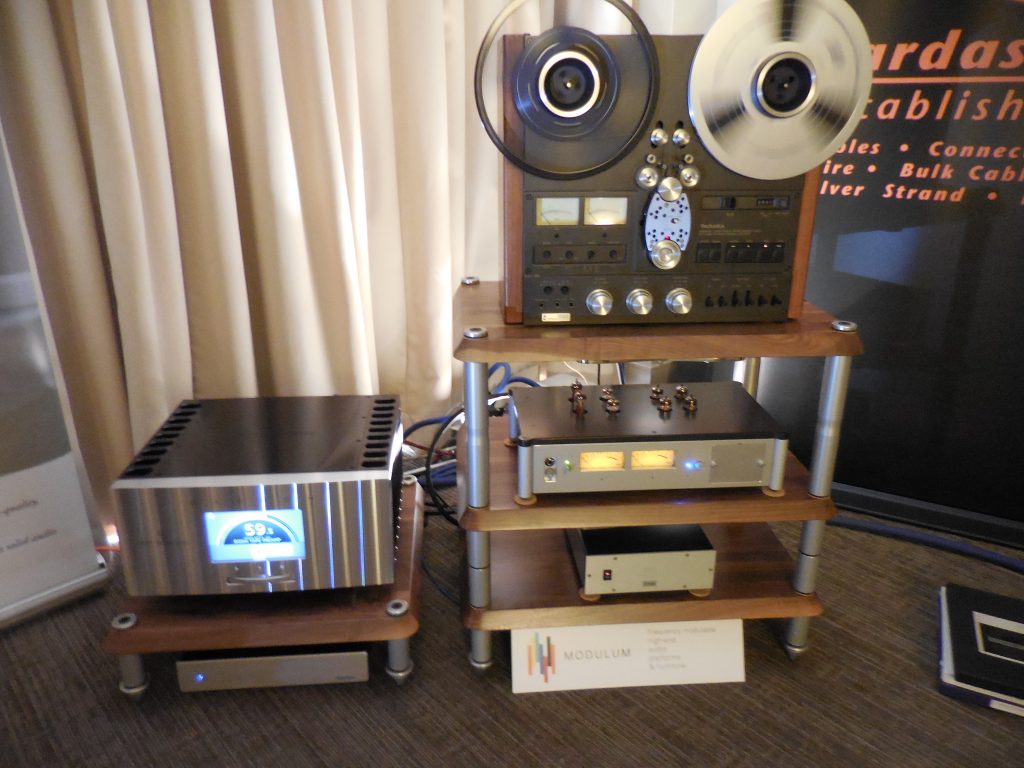 Joseph Audio playing a sampler of  Chad Kassem's  new Acoustic Sounds reel to reel tapes. The tape player is bypassing the internal output stage and feeding the signal directly to a Doshi tape preamplifier. Also shown is the Jeff Rowland Daemon Integrated amp, which is providing power to Mr. Joseph's Perspective speakers (to be seen further down the page)...
Let the Big Dogs Run...But watch out, they bite!
While I was unable to hear all of the "mega" systems, the ones I did listen to were really good. While my photo was not presentable, I enjoyed the 12th floor Quintessence Audio room with the beautiful Sonus Faber Lillium loudspeakers and mighty Pass Labs XS electronics. I seem to be drawn, not just to the Pass sound, but the delicate power of Sonus Faber too. I like. I want.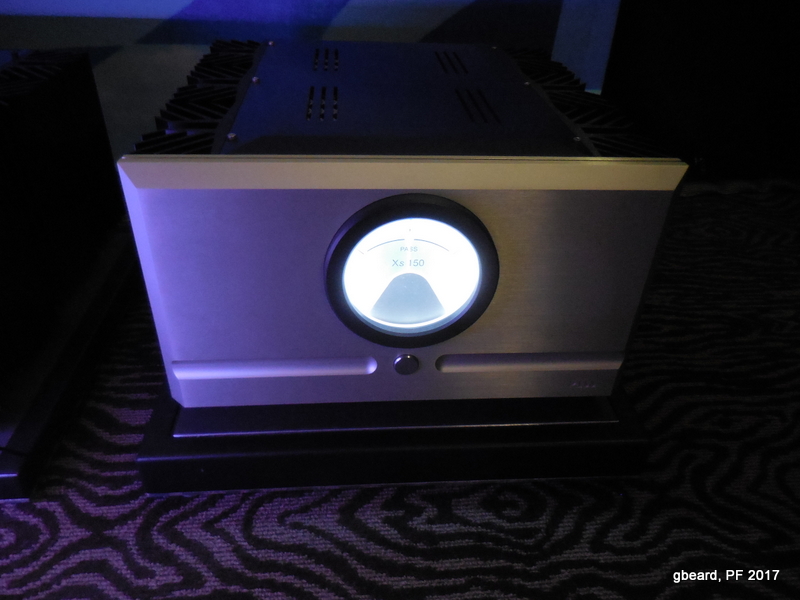 Pass Labs mighty XS150 monoblock amplifier.
Kyomi Audio Room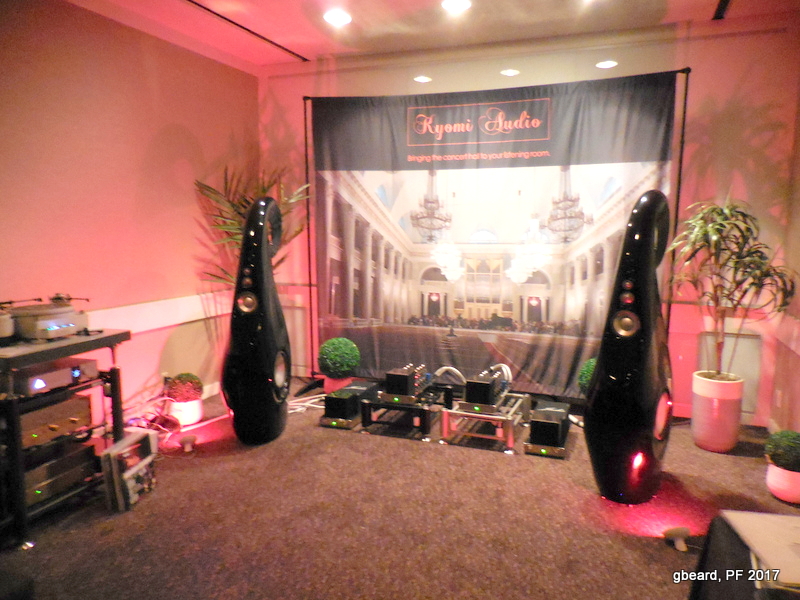 Kyomi Audio, On a Higher Note, and Bluebird Music teamed up to assemble this great sounding room featuring Vivid Giya G1 Mk II loudspeakers, Jadis tube electronics, Merging Technologies NADAC, TechDas Air Force TT with Graham arm and Koestu Jade cartridge, MBL CD transport, and Stealth Cables. This was a visually stunning room with wonderful soundstaging and tone.
I happened to be in attendance when Synergistic Research's Ted Denny came in and started placing HFT's (High Frequency Transducer), 5 at a time; first around walls in the room, then on the speakers themselves. I think everyone in attendance heard some level of improvement in the sound, but when Mr. Denny dropped in a SR Black Cube, there was a clear improvement. Quite interesting to say the least.
Scaena Loudspeakers/PS Audio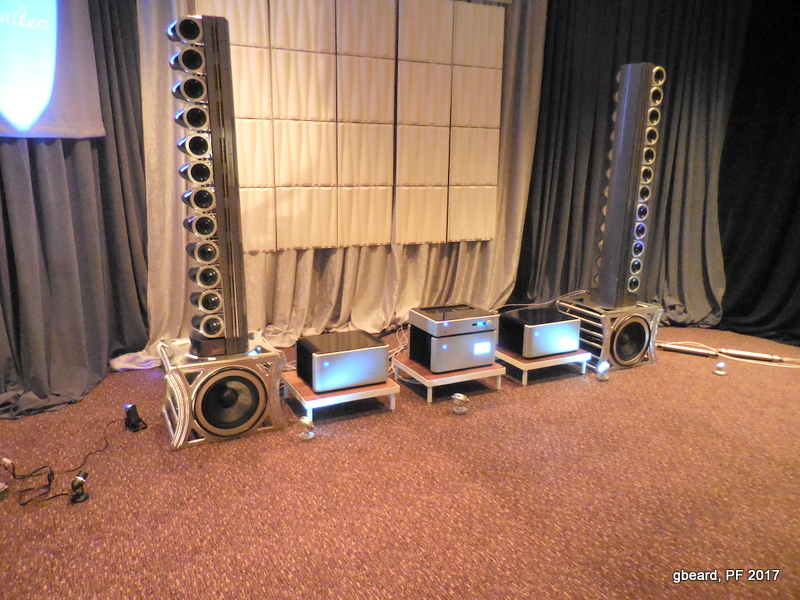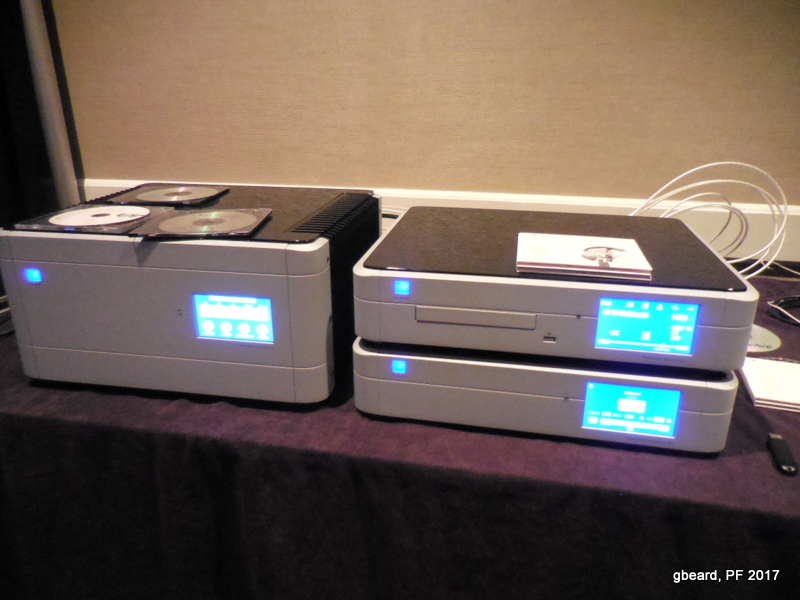 This year, Scaena was showing their big Line Array loudspeakers with a complete suite of PS Audio equipment and High Fidelity cables. The sound of this room was mesmerizing; big, transparent, and open. It may not be everybody's cup of joe, but I really liked this room...A lot.
Von Schweikert Audio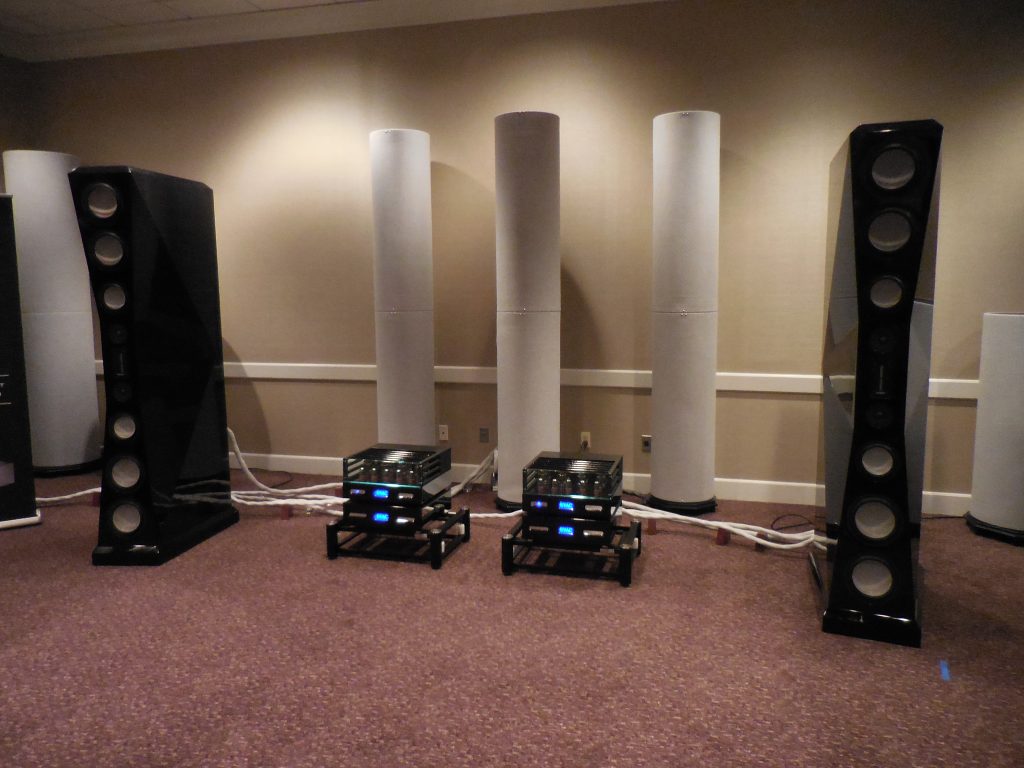 Damon Von Schweikert, and Leif Swanson of Von Schweikert Audio, and Kevin Hayes of  Valve Amplification Company, showed off an incredible system featuring VSA's massive new Ultra 11 loudspeakers; stacks of VAC's Statement tube electronics, Kronos Pro turntable, top of the line Golden Gate Lampizator DAC: and yep, a J-Corder RTR tape machine too. The entire system was cabled by Masterbuilt and room treatments were ASC. You can check out pricing and more specific information on this incredible system in Maurice Jeffries Positive Feedback show report HERE, and Greg Weaver's awesome PF experience article HERE. I didn't make it to the evening session, but I visited the room several times during the weekend. In fact, it was the first, and the last room I visited during the show.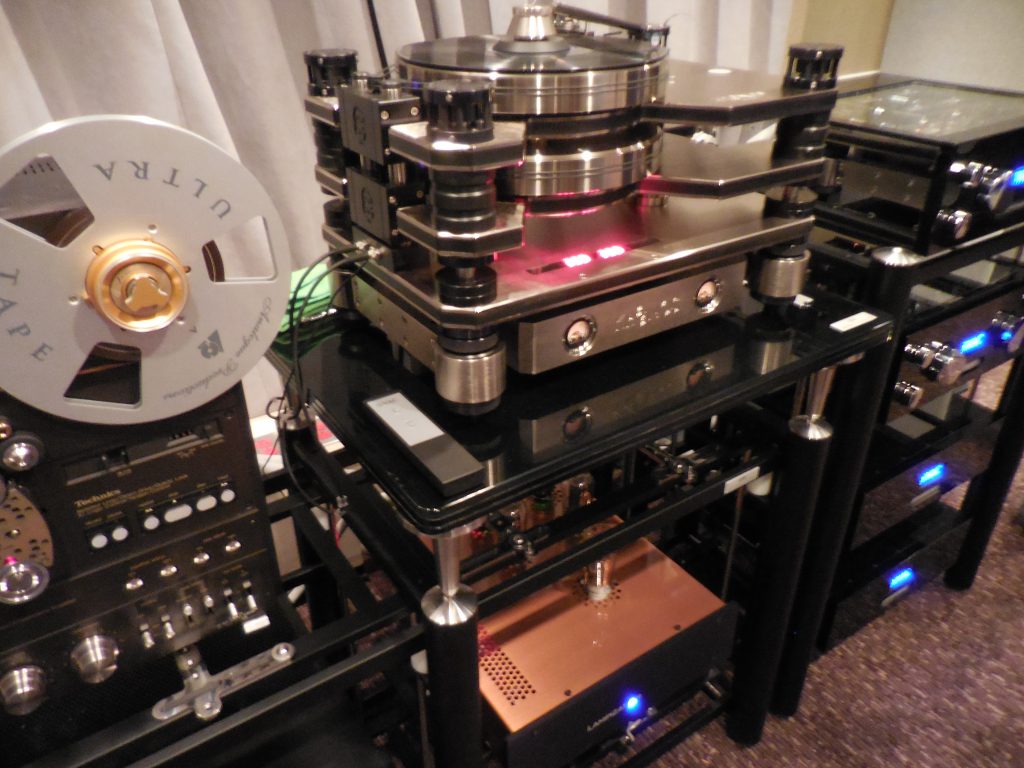 Sadly, like it or not, VSA/VAC's state of the art system is not ever going to be mine. But I can rejoice in having heard it. Wow, what a sound! I'm still flabbergasted. Pants-flapping power. Astonishing control. Amazing clarity. I've never heard a system like it in my life. Just freakin' wow!
If someone told me I could listen to it, I'd drop right in, turn it up to 11, and drive "Radar Love" like a bat outta hell until someone took the remote away...Damn, I need to win the lottery.
United Home Audio/Mbl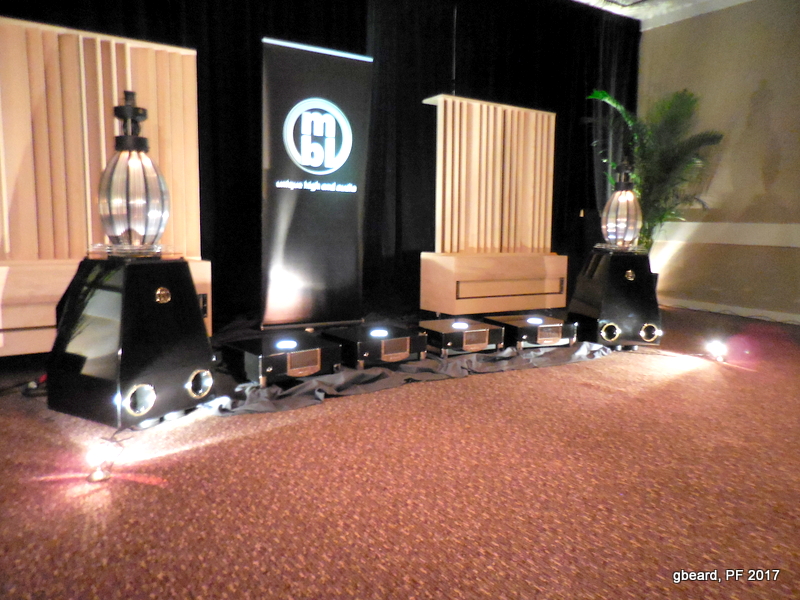 More wow factor: In the United Home Audio/Mbl room, four Mbl Corona Line N15 Mono Power Amplifiers ($17,800 each) were bi-amping the mbl Radialstrahler 101 E Mk II Loudspeakers ($70,500 pair). Sweet.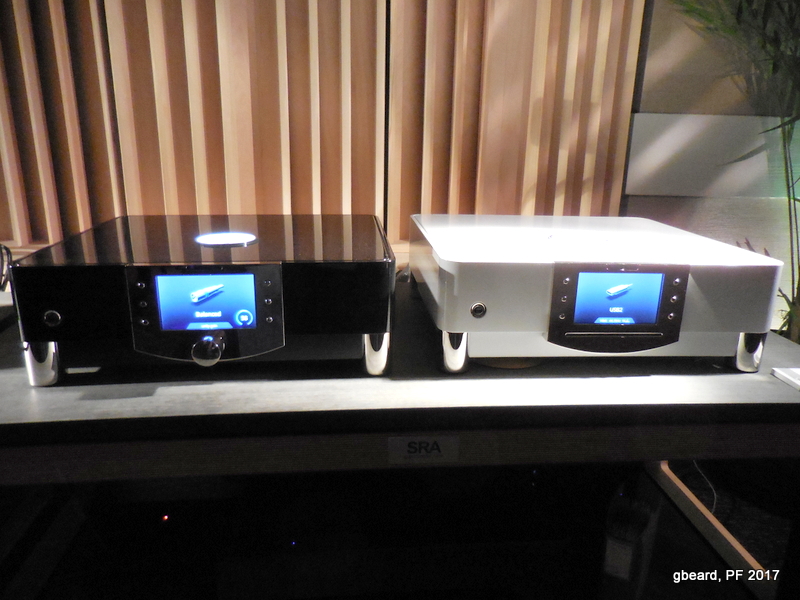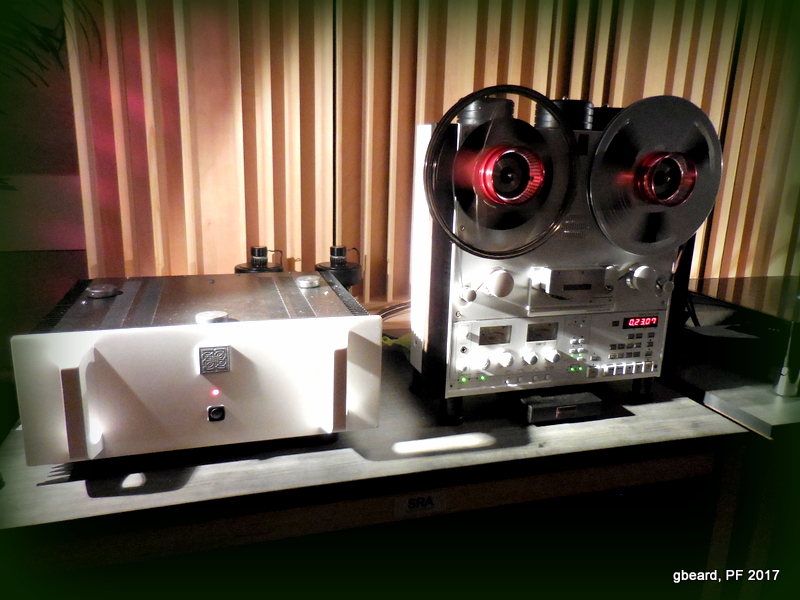 UHA and Mbl once again presented their popular After Hours listening experience. I spent a couple of hours Saturday night sitting in the 2nd row sweet-spot; firmly in the grip of the 101 E Mk II speakers; transported to another place and time by Greg Beron's incredible custom UHA reel to reel tape machine, and a huge case of fabulous master tapes. Rock on!
This system featured the public premier of the Mbl Corona Line N11 Preamp ($14,800 USD) and N15 Mono amplifiers. Digital playback was provided by the N31 DAC ($15,400 USD).
I listened to this system on Friday, Saturday night, and Sunday. As one would expect, it sounded better each time. With the lights dimmed low, the speakers disappeared, leaving nothing but players on a sweeping stage. Off-axis listening so good, no seating position got short changed. 
Saturday evening's After Hours defined what fine audio is all about for me. Sitting back with eyes closed, enjoying some of the world's finest audio equipment as it brings incredible musical moments to life. 
What a rare treat.
My thanks to UHA's Greg Beron, and mbl's Tara and Jeremy Bryan for their hospitality.
Oh yeah, I got the Tee shirt!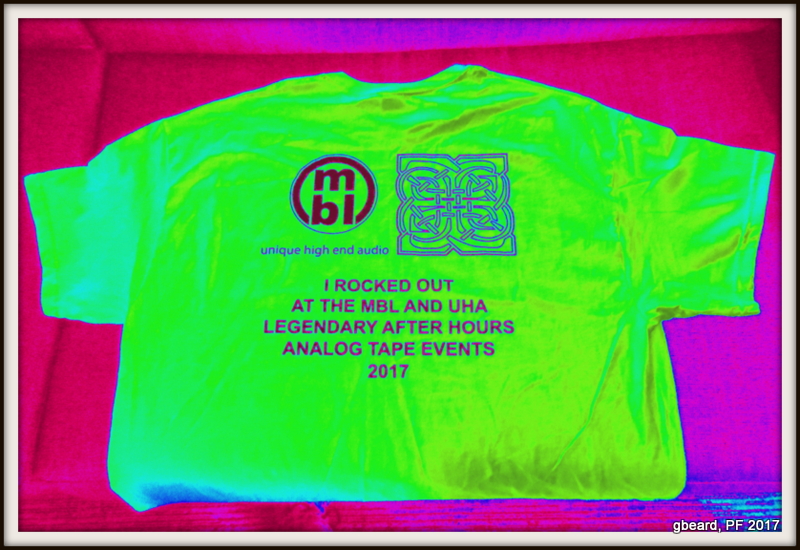 The Value Quotient: There is affordable gear at AXPONA too...
There was plenty of affordable gear at this year's show. In addition to the brands pictured below, there were a number that I did not get in my report. One in particular, Jolida/Black Ice Audio was showing prototypes of gear designed in association with industry veteran, Jim Fosgate. Pricing will be favorable. And for folks who are interested in joining the rest of us on this beautiful hi-end Audio journey, but can't find the coin for the biggest and baddest, here are some excellent alternatives.
Audioengine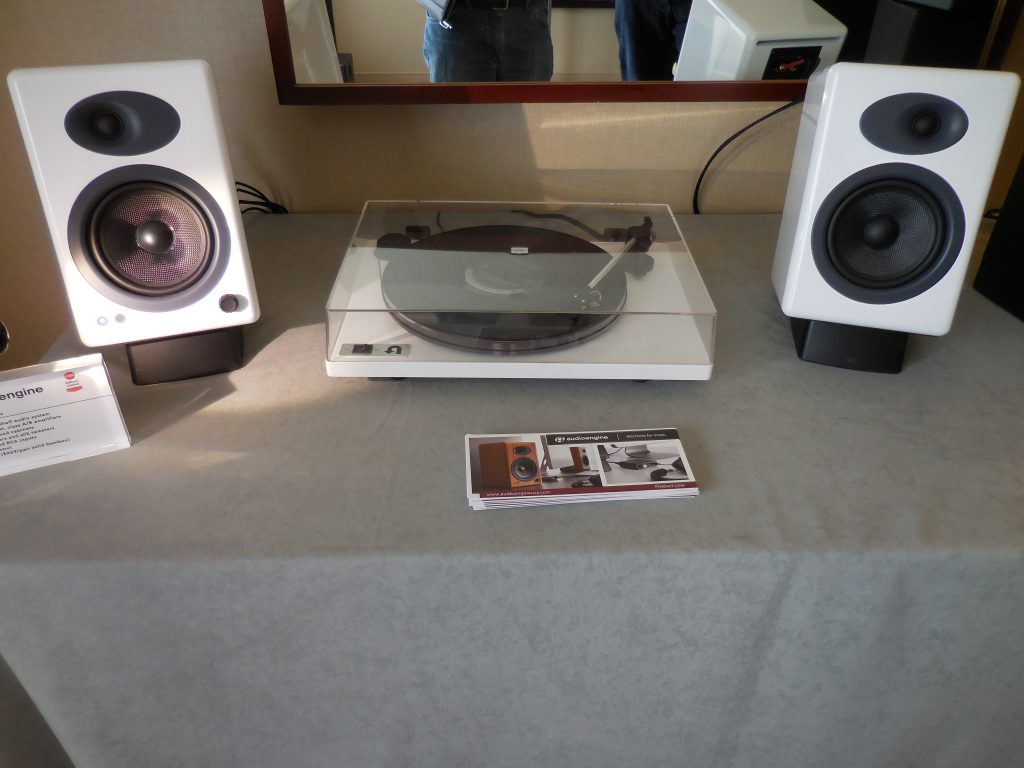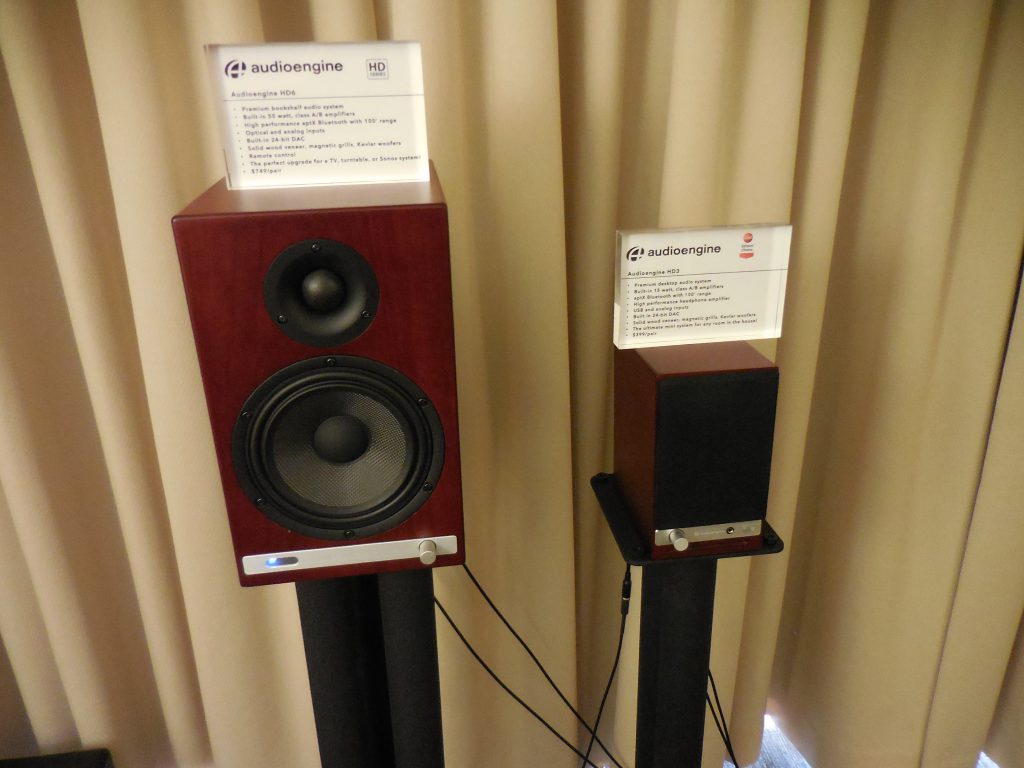 These folks make very nice, very good sounding affordable gear for audiophiles, and budding audiophiles. Audioengine is always coming up with something new to expand their line too. I love the AE HD6's, and now they've added the HD3's. Who knows what's next?
Odyssey Audio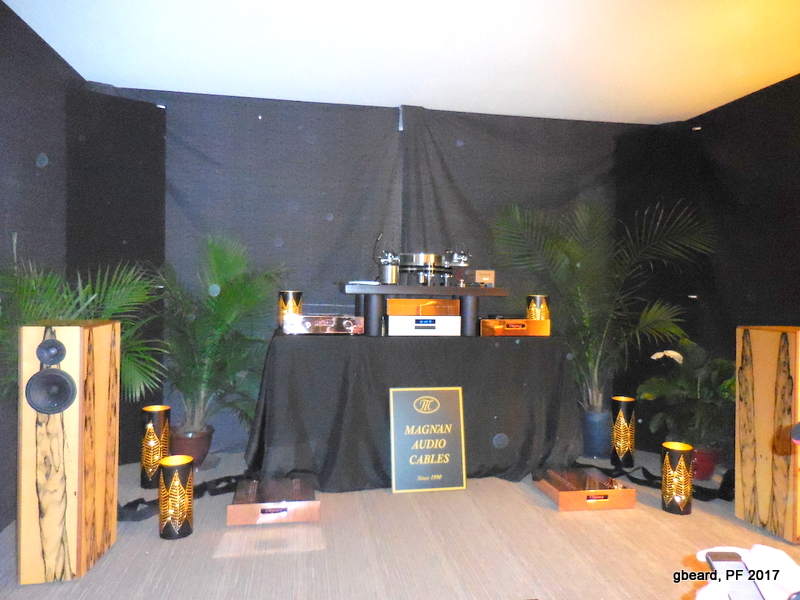 After four Axpona's, I finally got to listen to one of Klaus Bunge's legendary rooms.
And what fun it was too.
Obviously, I've heard all about Mr. Bunge and it's true, he likes to rock, and his gear is rock-solid. And like me, he's  an Indiana Hoosier (well, maybe he didn't start out that way in Germany, but we adopted him.)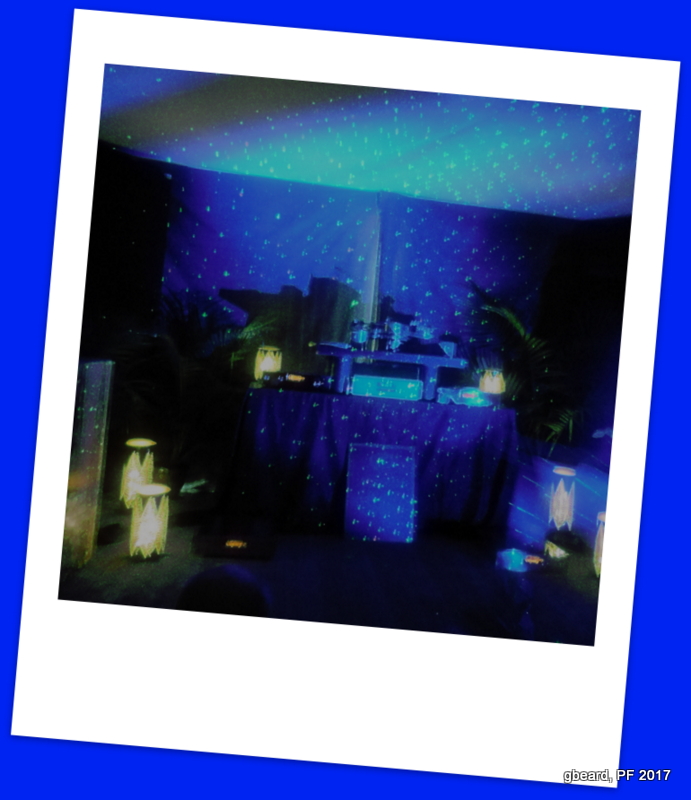 Pink Floyd with a light show and excellent sound in the Odyssey room. The floor show was free. The pictures are blurry, but fortunately, the sound was clear, present, powerful, and beautifully musical.
Real hi-fi, at sane prices. Nice.
Mark Audio/SOTA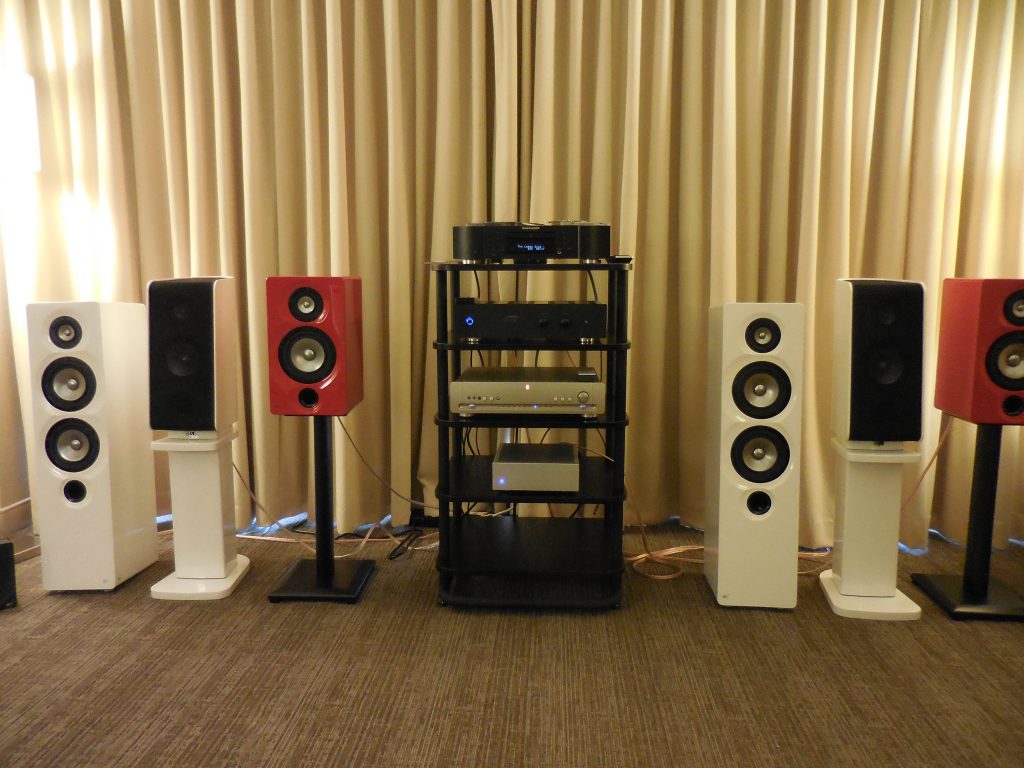 Mark Audio/SOTA speakers were new to me. I'll admit that I should have asked to hear more than Led Zeppelin's "The Lemon Song", that was playing when I came in, but it was fun, and highlighted the high level of detail in their new floor-standing speakers. These products deserve a listen.
Colleen Cardas Imports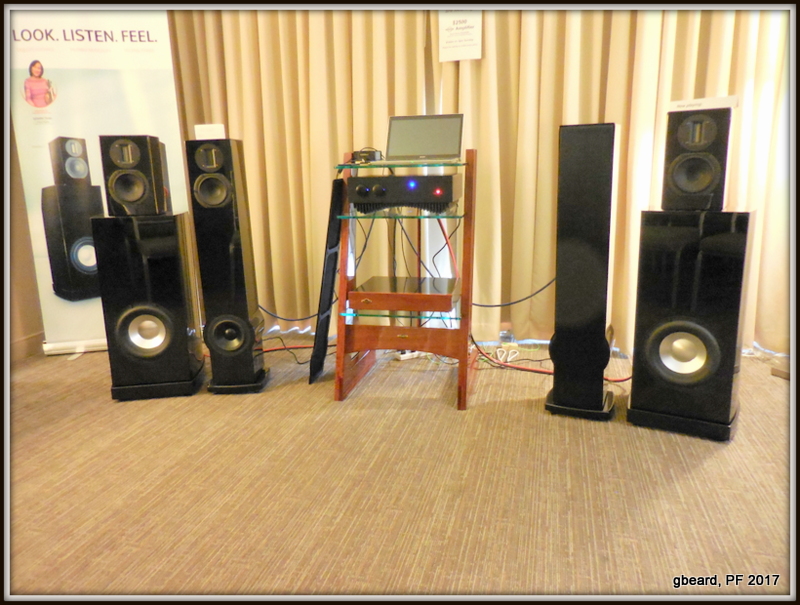 Colleen Cardas Imports', Marc Phillips, was showing Redgum electronics (Integrated amps from $2500 to $4500 USD. DACs from $750 to $1500 USD) and Axisvoicebox loudspeakers (starting at $2500 USD). I only heard the small monitor, but the sound was engaging, with a high level of resolution from the ribbon tweeter. Very good sound here for a reasonable price. 
Emotiva
Poor picture aside, Emotiva was showing their new Pro line Stealth 8, a two-way powered monitor ($899 USD each). Featuring an air motion transformer tweeter, and two 200 watt Class A/B amplifiers in each cabinet, the sound was powerful and detailed. The entire system; XMC-1 pre-pro, two Studio speakers and two subs, can be had for well under $6k. 
I admit that I did not know much about Emotiva prior to meeting a few of their young-guns during an early evening wade into a local watering hole. While we didn't solve any of the audio world's ill's, it was particularly nice for me to know that young people are serious about making great audio gear.
Cambridge Audio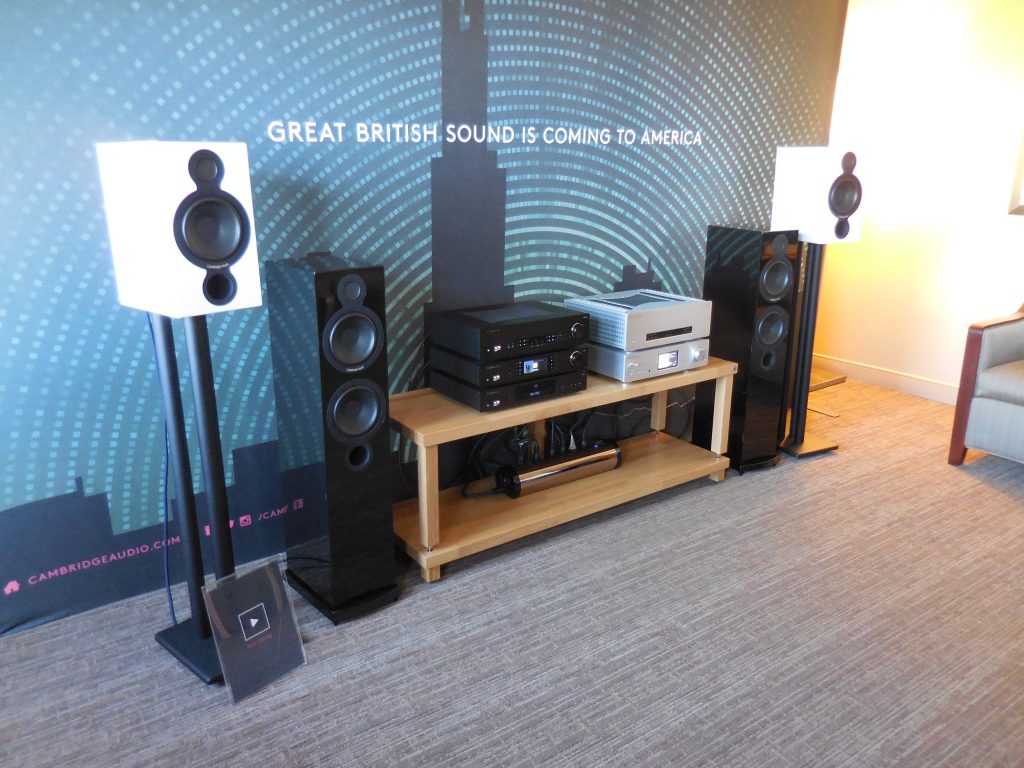 Cambridge Audio is solidly built, good sounding gear from across the Pond. Hard to go wrong with C.A.
Somehow I managed to miss taking a picture of what could be, the very definition of modern-cool audio: The KEF LS50 Active Wireless Speakers. These small monitors are the wireless, self-powered version of the ever-popular LS50. They were placed far apart on stands in one of the largest rooms in the lower level of the Westin, and still kicked ass. For $2199 USD, these speakers are an absolute freak of electro-mechanical nature. I want a pair.
Really. 
Danny Kaey? HERE
ELAC/Audio Alchemy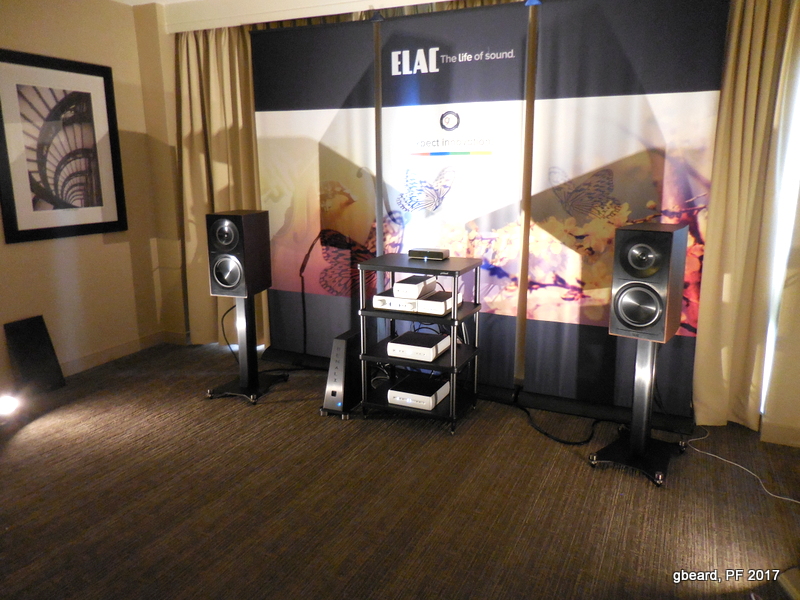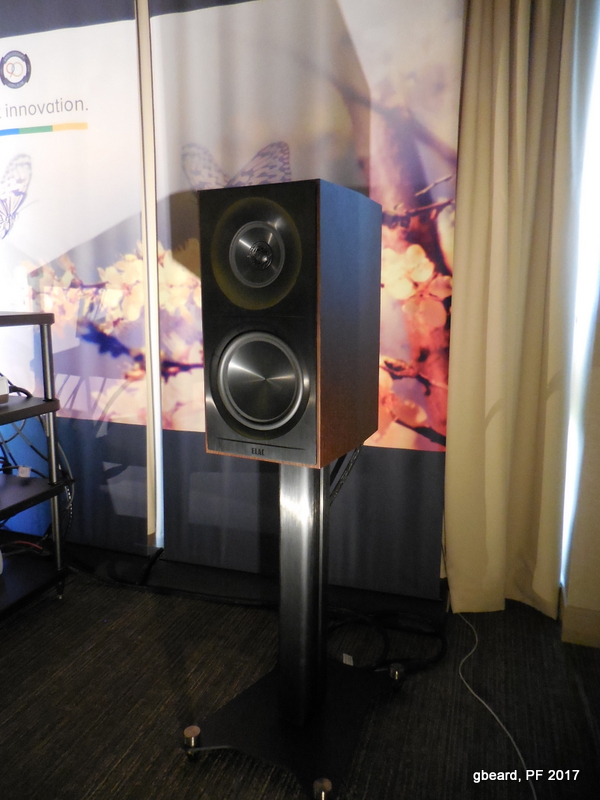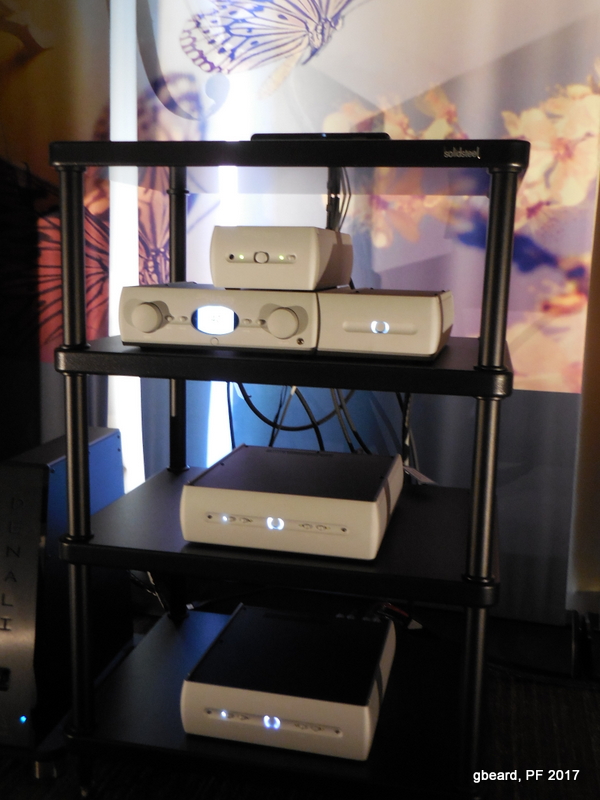 It was simply good fortune that I stumbled into the center seat in the ELAC/Audio Alchemy room. Designer's Andrew Jones and Peter Madnick were showing a room full of great, affordable, sound. Mr. Madnick's AA gear was a perfect foil for the smooth transparency of ELAC's new Adante AS-61 stand mounted monitor, the first in Mr. Jones new upscale line of loudspeakers. For $9K or so, this was a value hi-end system that made my heart flutter. One of my favorite systems at the show for sure. Who says you have to spend a fortune for great audio?
The Higher End
Superior Audio/Vandersteen/Conrad Johnson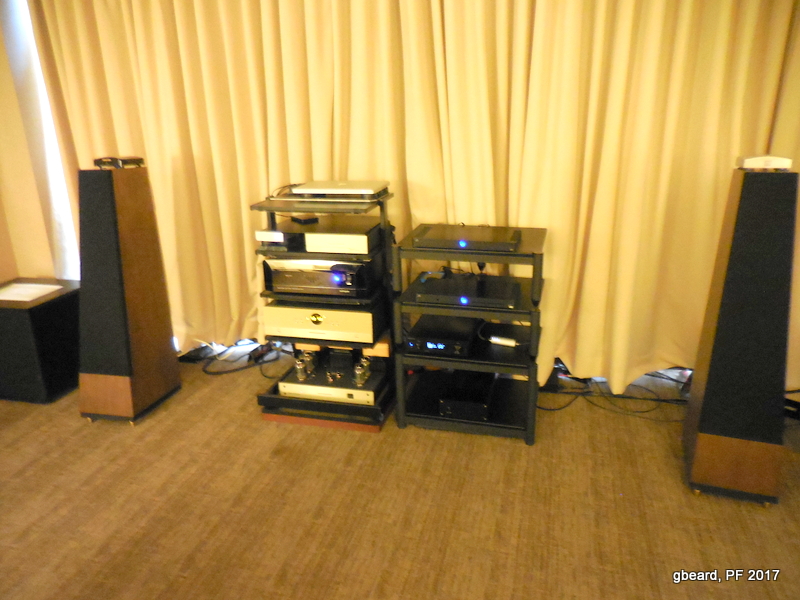 Is it a Trio if there are only two? (The pic is so blurry, it's hard to know, maybe there are three?)
Conrad Johnson electronics, Vandersteen Audio speakers, Auranas, Rune Audio, and Audioquest. I really enjoyed the Superior Audio room. The Vandersteen Trio's mated well with the Subwoofer's, and sounded very organic. Sorry about the crappy photo, but the sonic picture in my mind is great!
Music for Pleasure/Audio Excellent, Atoll/Atohm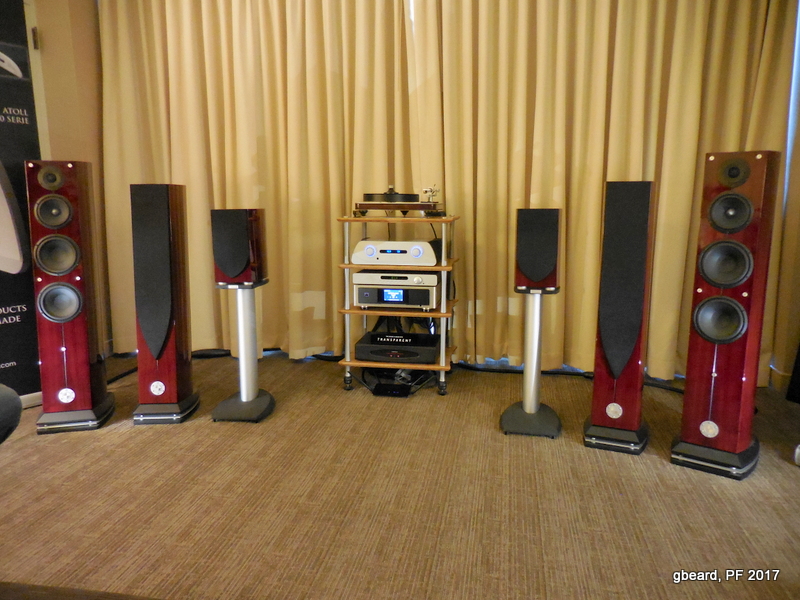 Easily the biggest surprise of the show for me was the French duo of Atoll electronics and Atohm Loudspeakers. My thanks to good audiobud, Greg Weaver, for the tip on this room. I was listening to the Atohm's flagship GT 3.0 HD floorstanding speaker ($12,499 USD). They looked beautiful and sounded great. Really. Really. Very nice gear all around, including some less expensive options. Speaker prices ranged from less than $2k on up. Atoll was showing a fleet of electronics including the U.S. premiere of the  new IN300 integrated amplifier ($4295 USD).
 I'm going to look into these brands further. They really rocked. 
Vinnie Rossi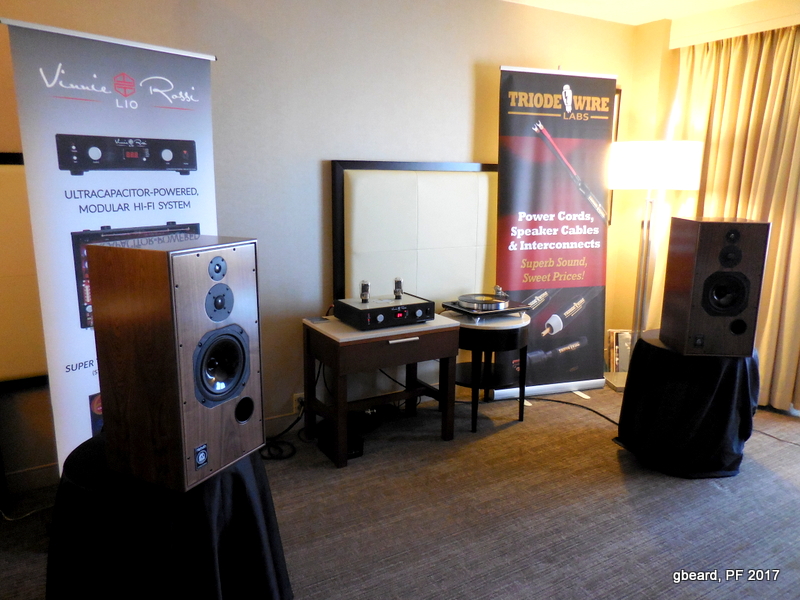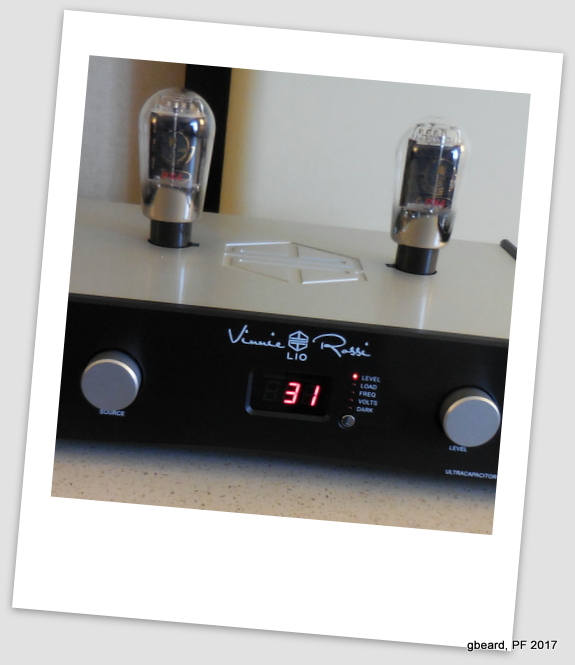 Vinnie Rossi has turned the audiophile community on its ear with his LIO modular electronics. The sound of the fully configured DHT LIO driving the Harbeth Super HL5 40th anniversary monitors via Triode Wire Labs cables was nearfield joy. Liquid, transparent, wonderful; and the LIO wasn't even running Vinnie's newest DAC! The analog source was an Acoustic Signature Wow XL. Without question, this was one of my favorite rooms at the show. I definitely could enjoy living with this system in my smallish listening room. Yes. Hell yes.
 Joseph Audio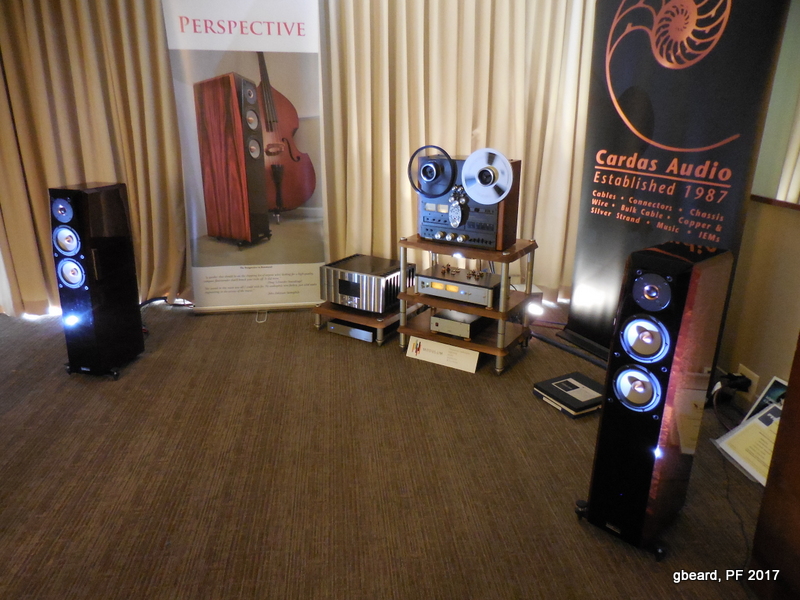 Okay, color me greenly embarrassed, but no, I had never heard Jeff Joseph's Perspective floorstanding speakers (around $13K) before. They had an arsenal of great gear and Cardas cabling driving them of course, but from my perspective, these are great speakers.
 Volti Audio/Border Patrol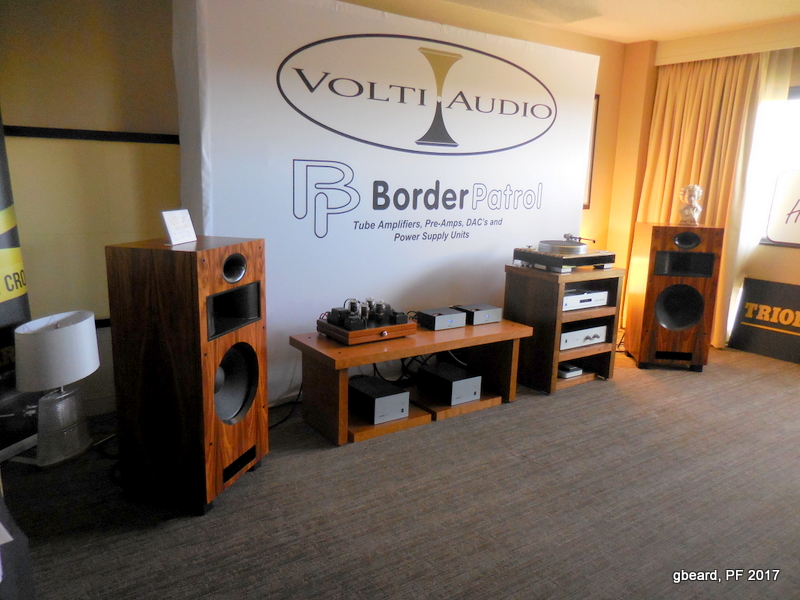 It has become customary for Volti, Border Patrol, and Triode Wire Labs to show together, and it has become clear they know how to put it all together. While this system is not cheap by any stretch, the new Volti Rival Compact horn speakers start at $7900 USD, and were magic in a beautiful wood box.  Border Patrol's gear isn't cheap either, but they were showing their fantastic $995 DAC along with their more extravagant preamp and amplifiers. Fidelis A/V supplied an Acoustic Signature Triple X for analog duties. As Volti's tag line "Have Fun" suggests, it was a really fun room, and sounded Big, luscious,  and dynamic. 
Constellation Audio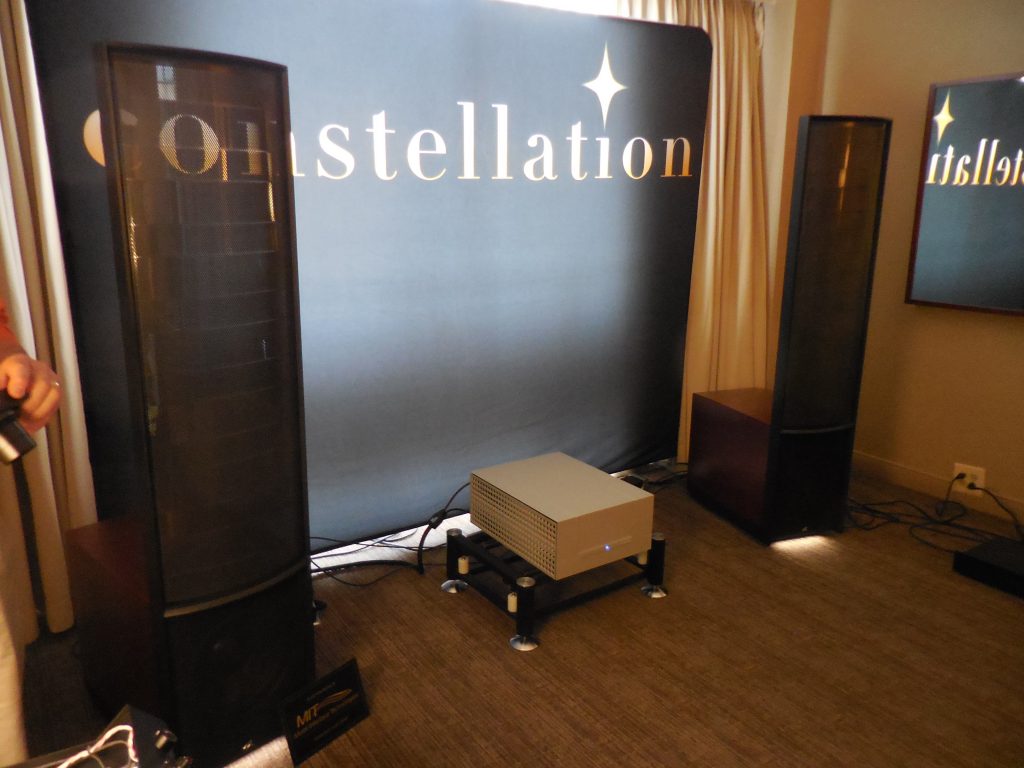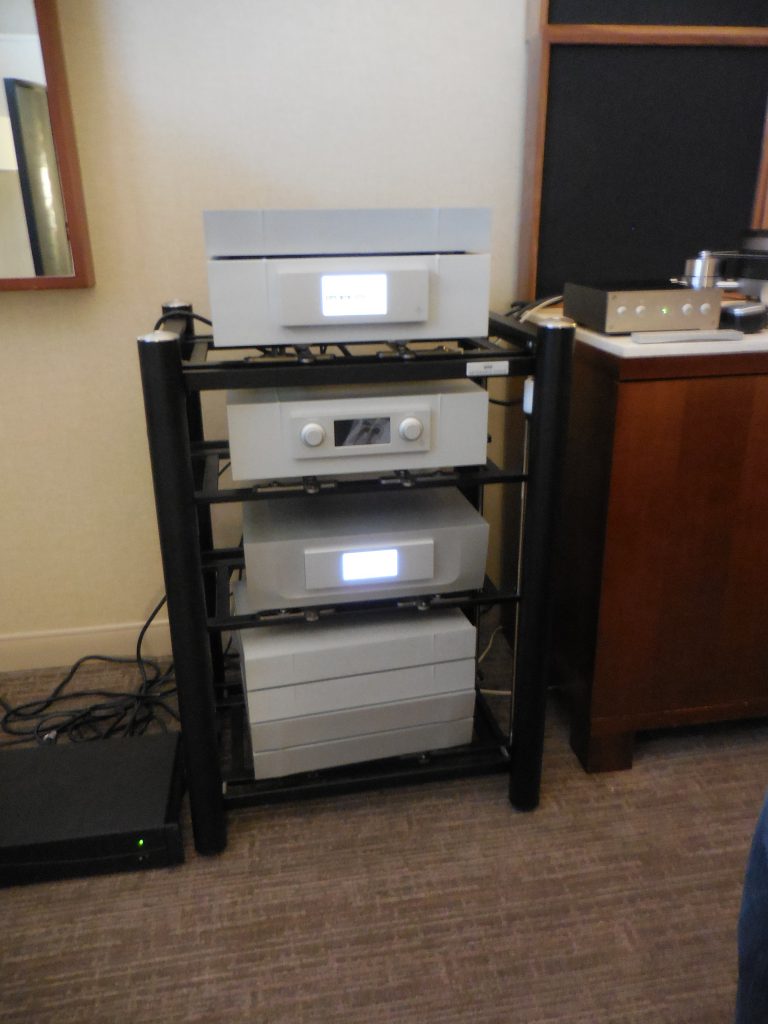 Constellation Audio unveiled for the first time, its new Revelation Series electronics. The music was quite enjoyable with these newest Constellations driving the terrific Martin-Logan ESL 15A Renaissance Loudspeakers ($25,000). The system included the Continuum Audio Labs Obsidian Turntable ($35,000) with Viper tonearm ($10,000), and Ortofon A-95 cartridge ($6500), and the Revelation Series Andromeda Phono Stage ($18,000) with DC Filter ($5000), Pictor Preamp ($18,000), and the 250 wpc Taurus Stereo power amp ($19,500). Cables were furnished by MIT. I've become quite a fan of both Constellation and Martin-Logan. Really impressive sound. I would love to give this gear a good long listen in my own room someday!
 Daedelus Audio/ModWright Instruments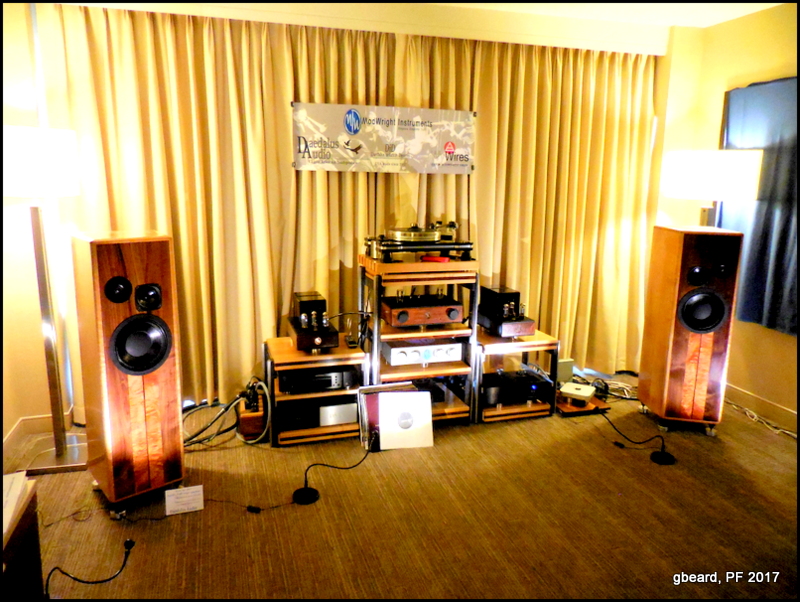 While I've never had the pleasure to review either, Daedalus and ModWright  have consistently been on my list of favorite Axpona rooms. This year they were showing two systems, but this one, in Room 530, really caught my attention. Lou Hinkley's new Apollo speakers and Dan Wright's latest foray into tube amps sounded great. Alex Sventitsky's WyWires provided the cabling. There is a wonderful, relaxed quality to the sound of the equipment these guys build. It's like a sonic craft beer of the highest order. Okay, maybe three craft beers...
Zesto Audio/Marten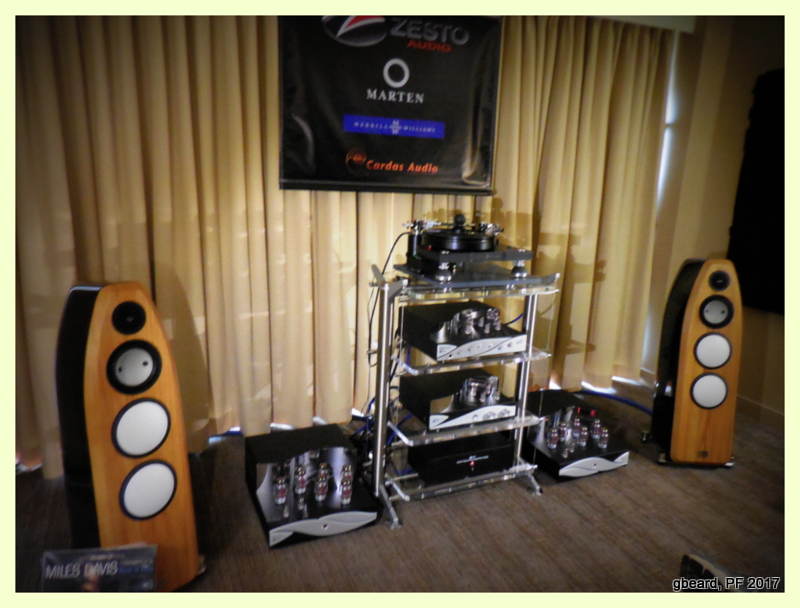 A Merrill Williams REAL 101.2 TT with Tri-Planar U2 arm and Benz Micro Gullwing SLR MC cartridge supplied the jams for a suite of beautiful Zesto tube gear. Loudspeakers were the $80k Marten Coltrane Tenor. All cable was Cardas. Very nice sound in this room! Drive it on down to Indiana and drop it on my doorstep!
Joseph Audio Video Solutions/VTL/Dynaudio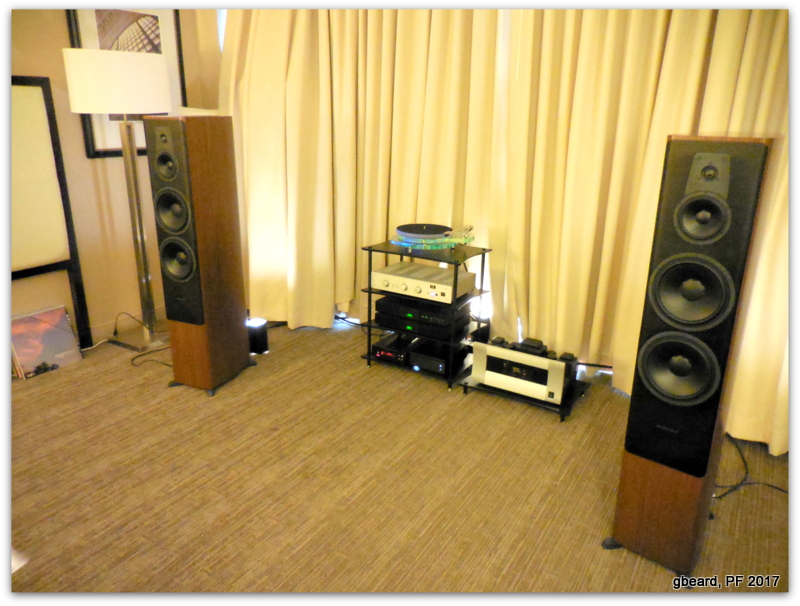 VTL TL 2.5i Preamp with phono stage, VTL ST-150 amp, Naim Core Music Server, Roksan Radius 7 turntable with Dynavector 20H cartridge, and Rega Apollo CD Player. Naim cables and Quadraspire rack...This sub $37K system featured the brand new Dynaudio Contour 60 loudspeakers. I've always admired the sound of VTL, and the Contour 60's speak to me. Really good sound in this room.
GTT Audio and Video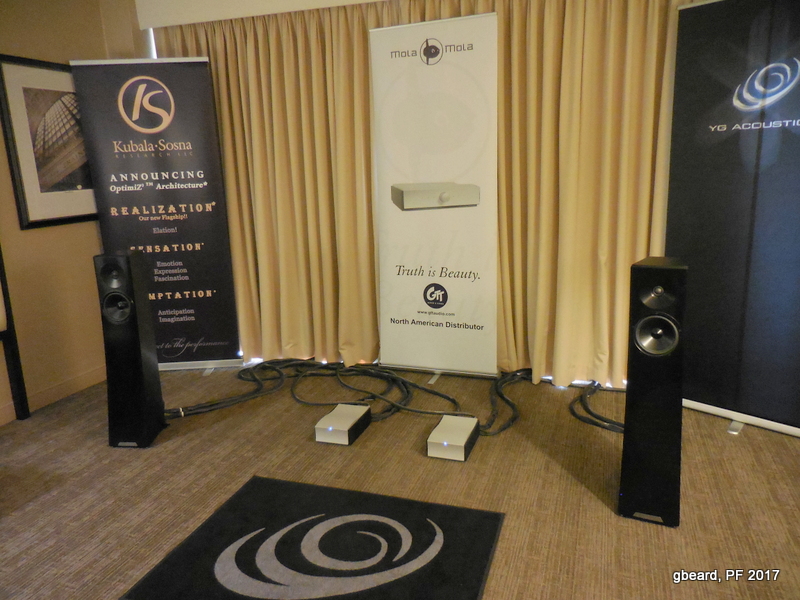 GTT always has a great sounding room, and this one did not disappoint. This was my first experience with Mola-Mola. Designed by digital guru Bruno Putzeys of Hypex fame, the Makua preamp and diminutive Kaluga mono amps drove the cover off the YG Acoustics Carmel 2 Loudspeakers. Kubala-Sosna Research furnished the cabling. 
Channel D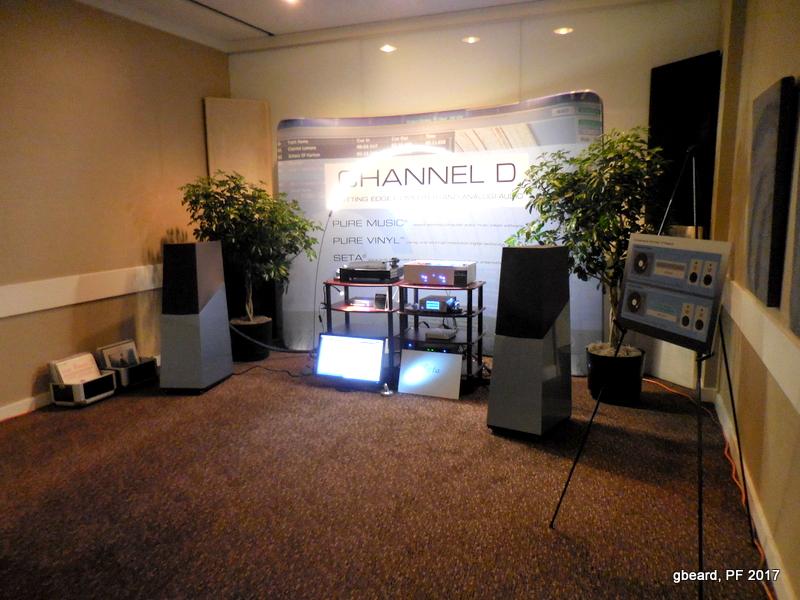 I had the great fortune to spend a few minutes with Rob Robinson and Richard Vandersteen, listening to Mr. Robinson's  Channel D Pure Music and Pure Vinyl analog to digital software ripping/playback system, serving up delicious analog sound through the Channel D Seta Phono Stage/Linx Hilo. Power to Mr. Vandersteen's Carbon 5 Loudspeakers was supplied by a Hegel H20 amplifier. The sound of this system was really wonderful. Long term listenable. This is a great audio system.
Hegel/KEF/Nordost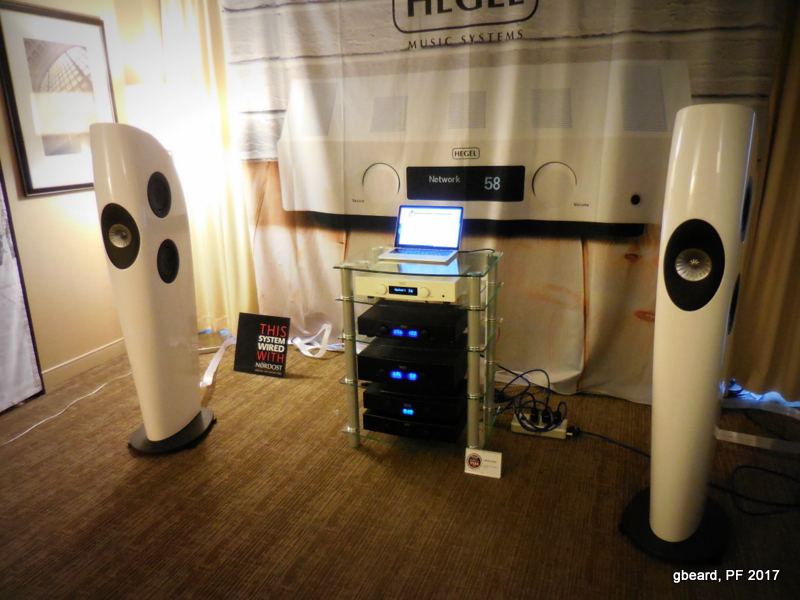 Hegel and KEF were showing the amazing KEF Blade 2 loudspeakers, being driven by the Hegel H360 Integrated DAC-amplifier and wired with Nordost cabling. The sound was terrific. I was slightly amazed that the Blade 2's could sound so good in a hotel room.  I've enjoyed every Hegel component I've heard, and I hope to be able to explore the H360 sometime soon. It was very impressive driving speakers costing a multiple of the H360's $5700 USD retail pricing. This was one of my favorite rooms at AXPONA.
(Relatively) New and (Always) Interesting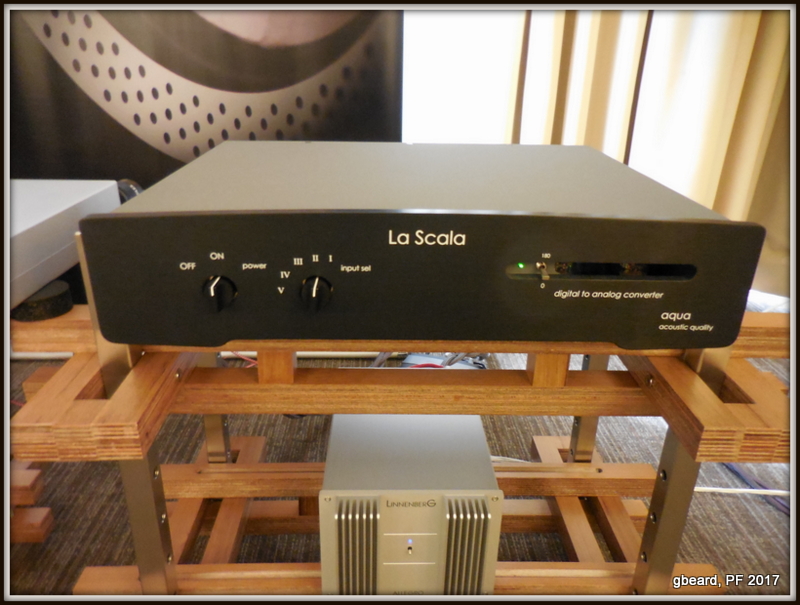 Linnenberg Elecktronik mono amp and Aqua La Scala Mk II Optologic DAC. I need to hear this gear!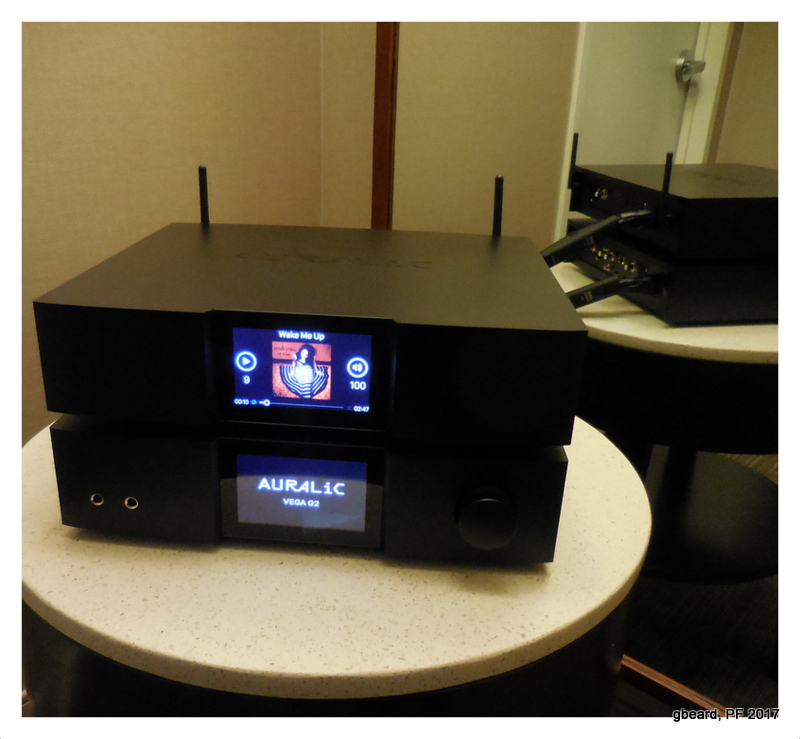 Auralic's upcoming Vega G2 and Aries G2 Streaming Player. Price and availability TBD. Can't wait to hear this combo!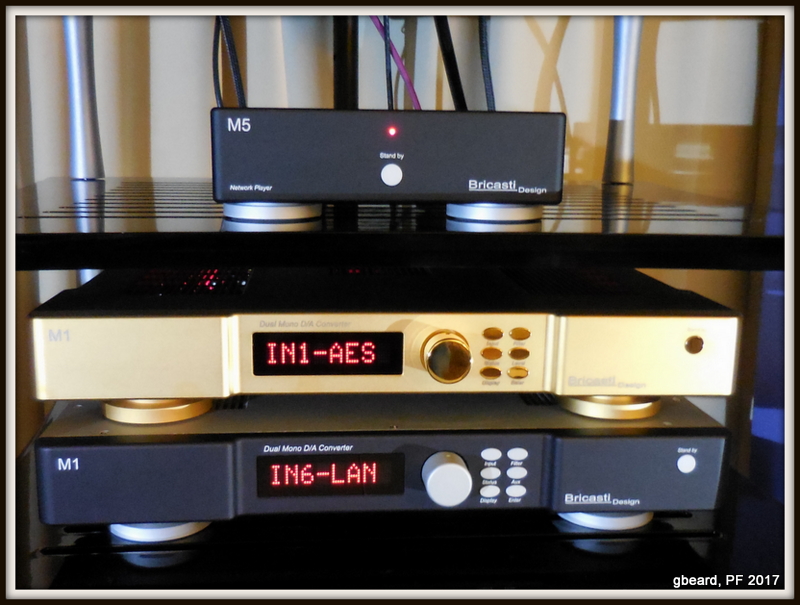 Bricasti Design's new M5 network player/Renderer ($2000 USD) with a pair of M1 DAC's.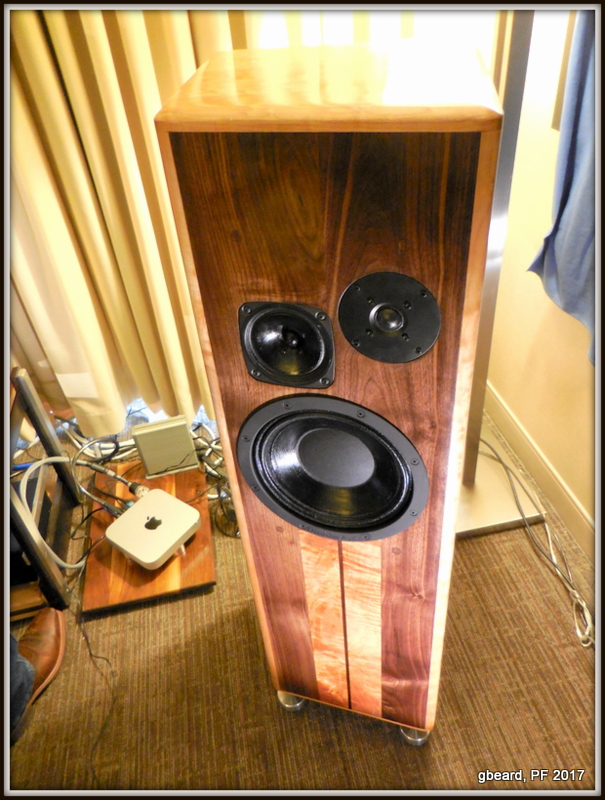 Daedelus Audio's sweet new Apollo Loudspeakers. 96dB efficiency. $14, 250 USD.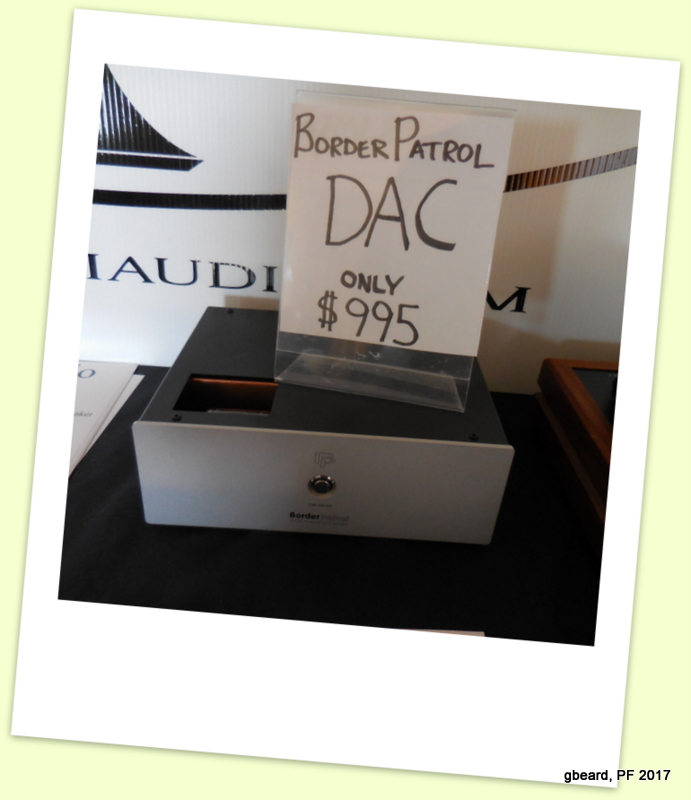 "Old school" R2R resistor ladder chip digital design. No digital filtering or over-sampling. Plays files up to 24-bit/96kHz. fantastic sound for a bargain price... The Border Patrol DAC. An SE version is available for $1350 USD.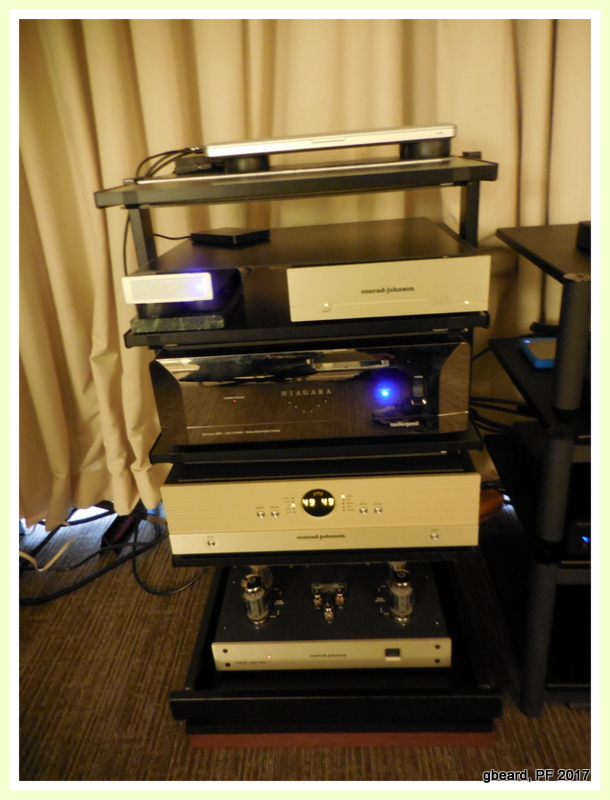 The new Conrad Johnson Classic 60 Two Amplifier on the lower shelf.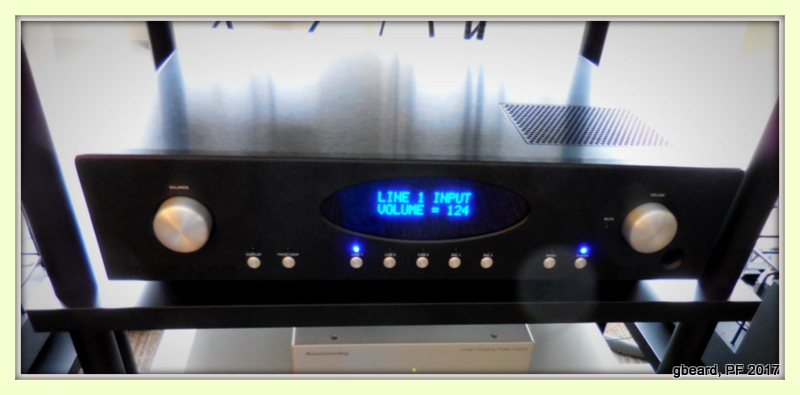 Rogue Audio's RP-7 Line/Phono Preamp $4995 USD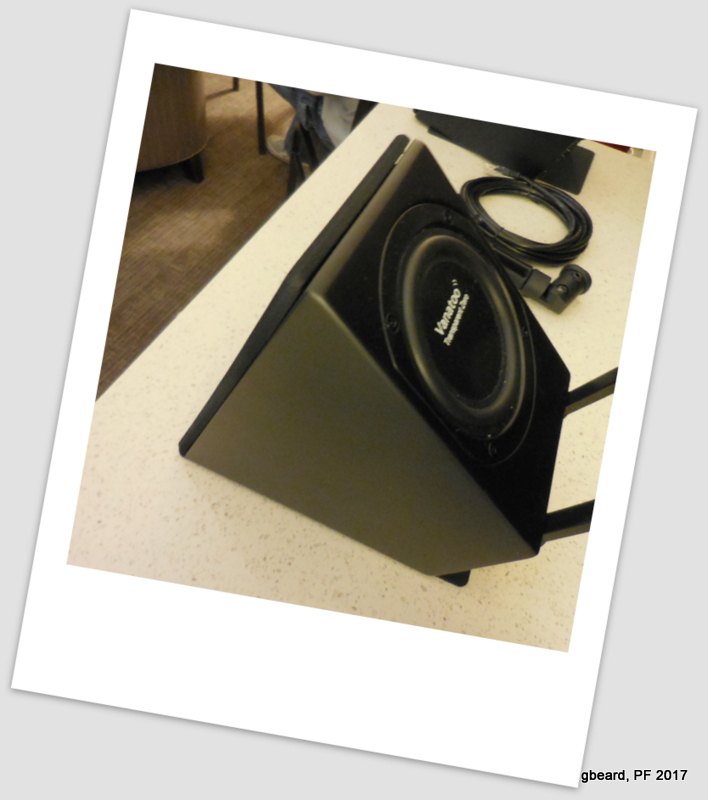 New Vanatoo Transparent Zero powered speaker $349 USD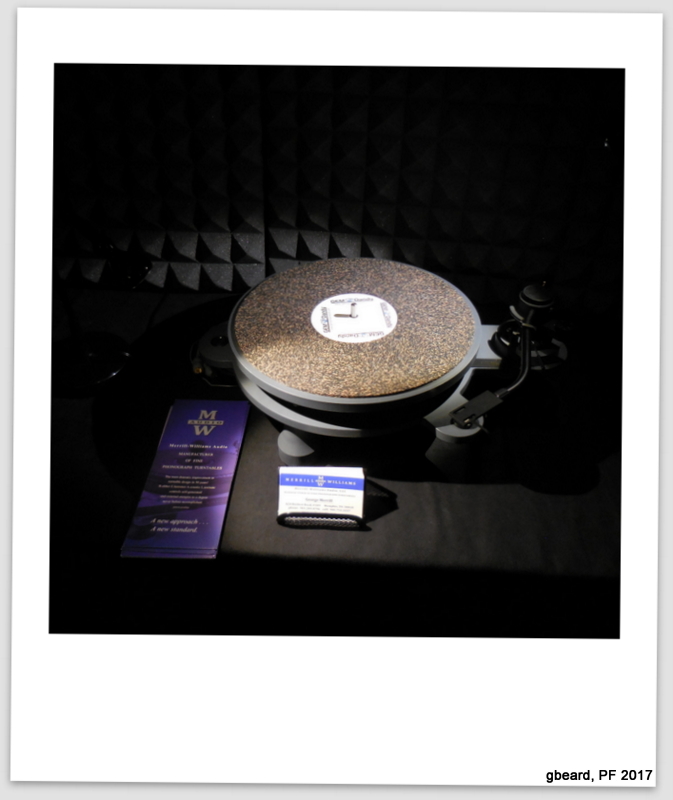 George Merrill's  GEM Dandy PolyTable $1595 and up depending on arm and options.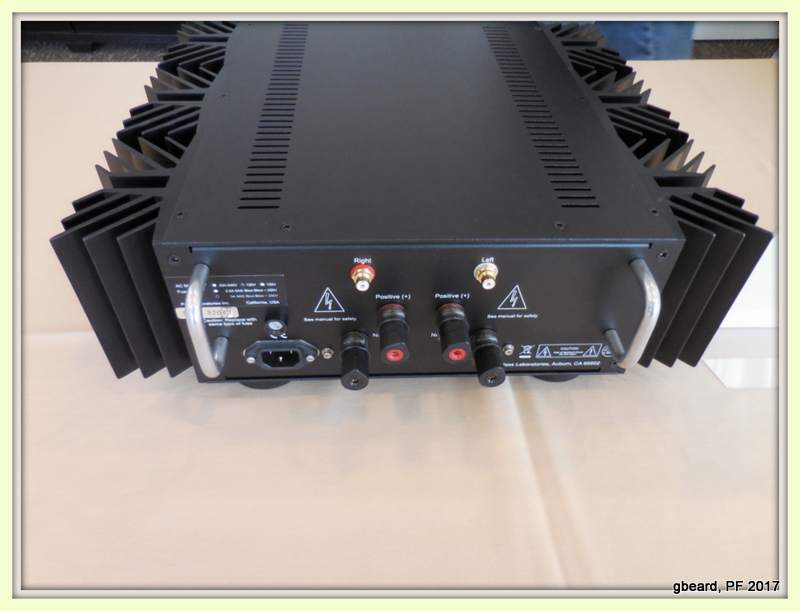 Now shipping! Pass Lab's new XA-25 Class A Amplifier. $4900 USD. Look for a review from yours truly some time in the next year. Finger's crossed!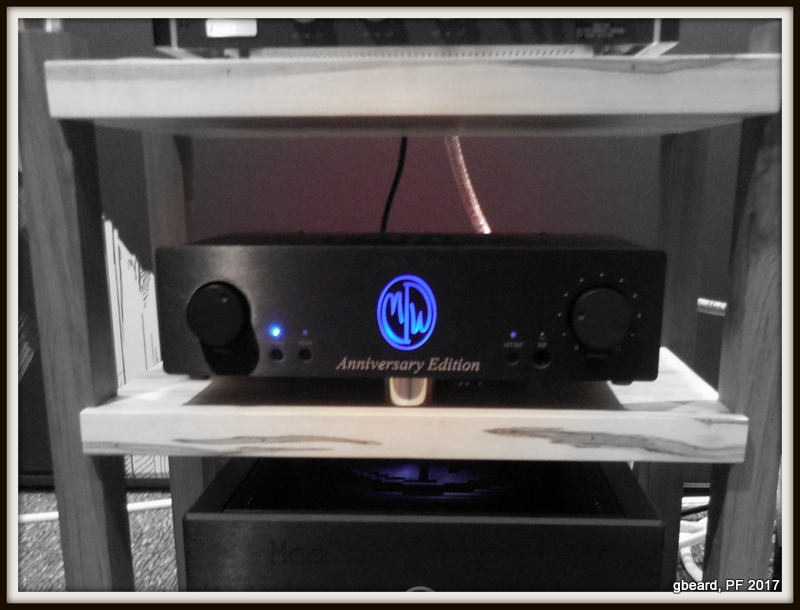 ModWright 9.0 Anniversary Edition Preamp. $2900 USD (add $350 for phonostage module)
A Camera Roll of Other Systems I Enjoyed
Fidelis Music Systems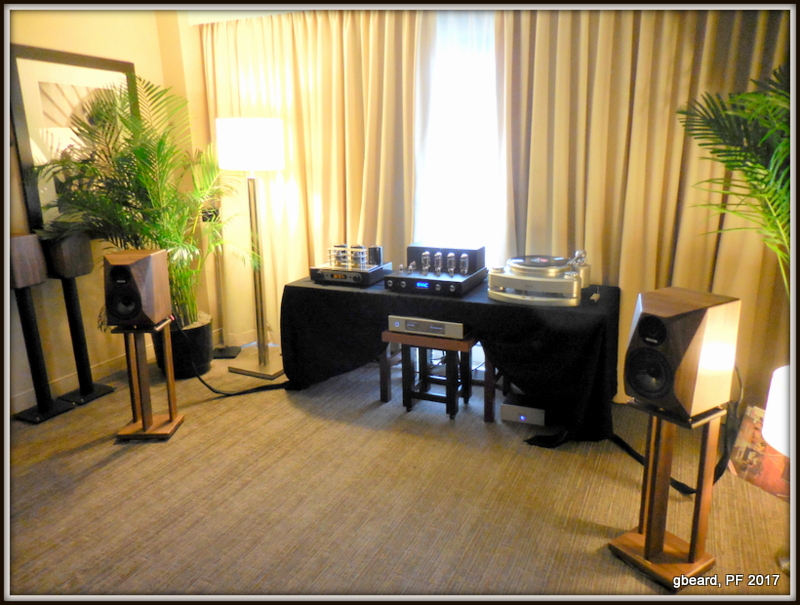 Diapason Reference loudspeakers and VAC Integrated. Very nice combination!
Esoteric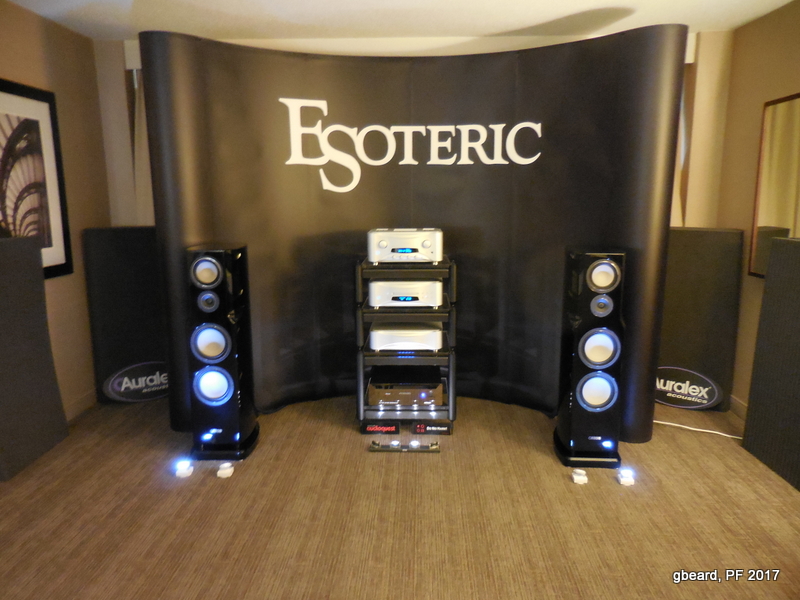 An Esoteric stack and Canton Loudspeakers on a Grand Prix rack.
Audio Note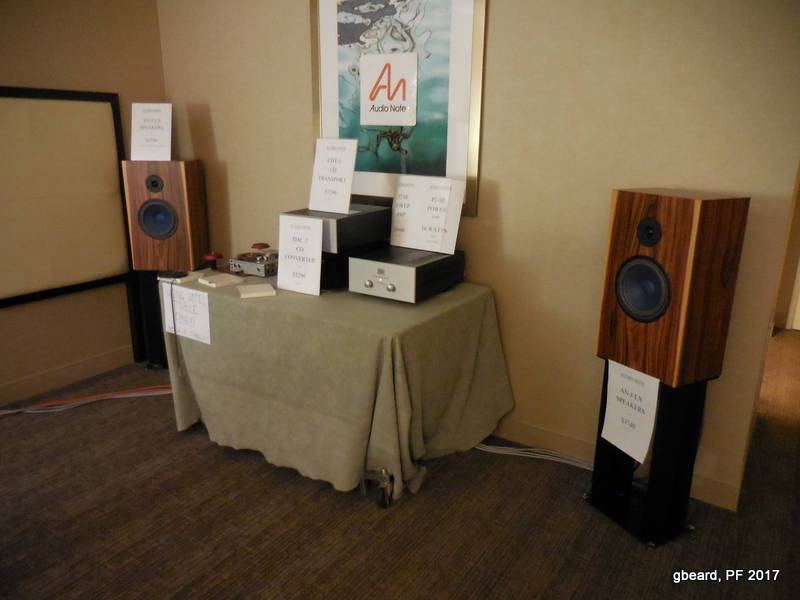 Classic Audio Note sound. Always enjoyable to this listener.
Playback Designs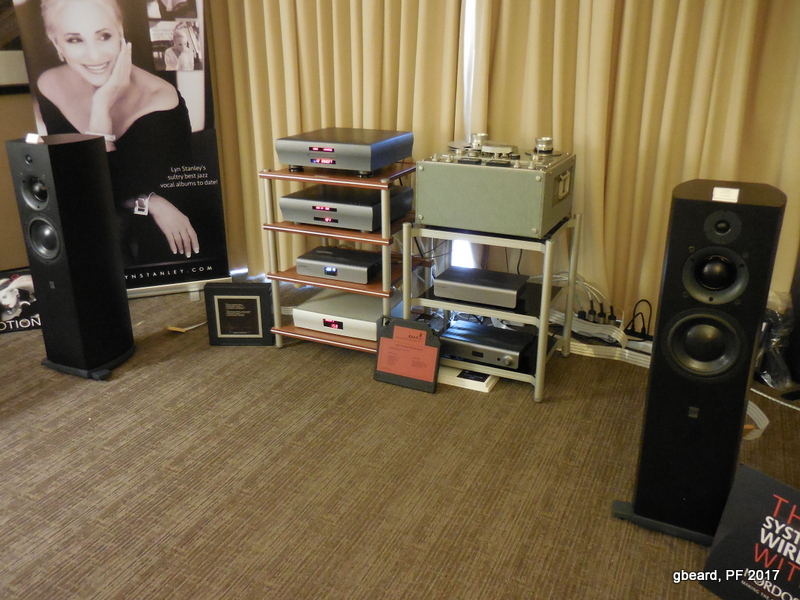 Lots of great gear in this room, including Playback Designs new Dream Series DAC and Transport. Great digital played through some fine sounding ATC SCM-40 loudspeakers.
Salk Loudspeakers/Wells Audio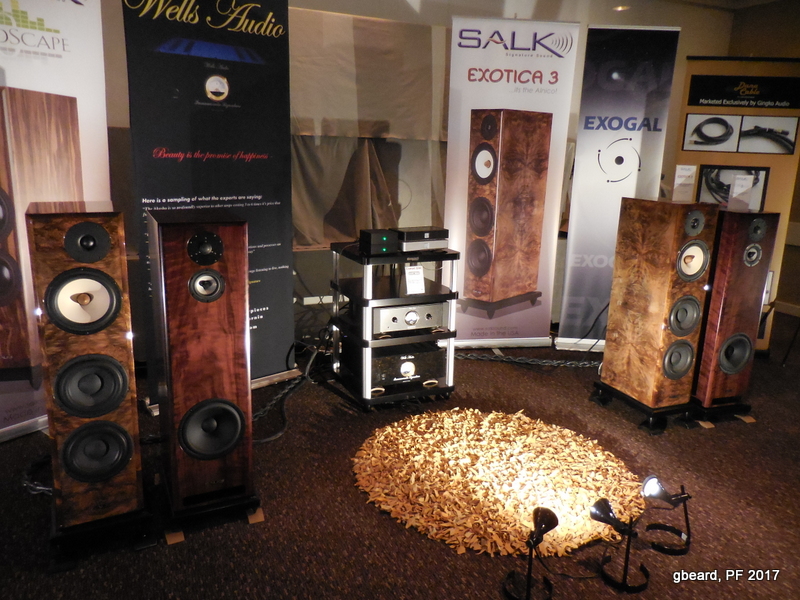 Wyred4Sound/Acoustic Zen Room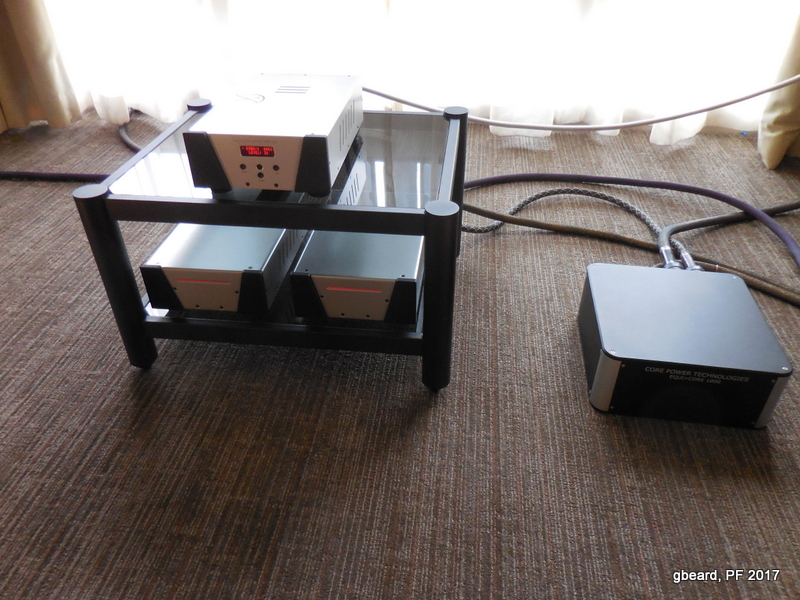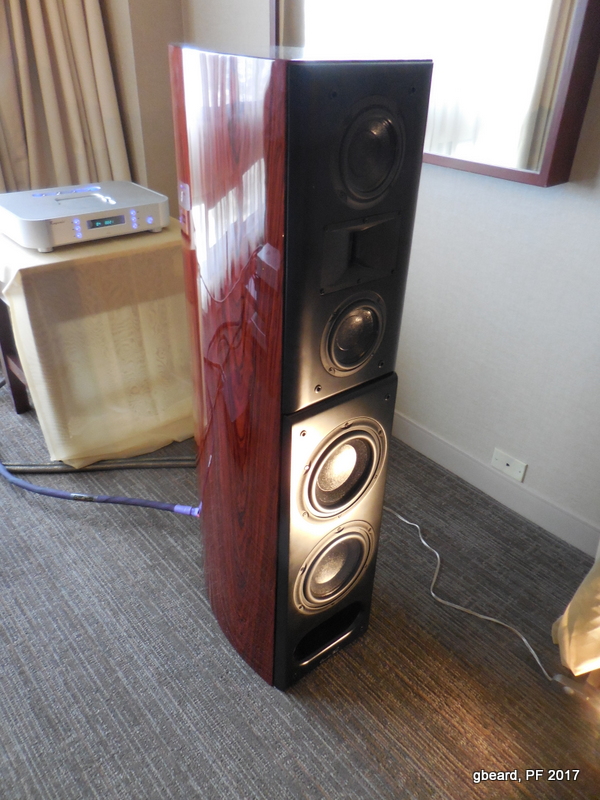 W4S Statement mono amps and 10th anniversary DAC 2VsSE driving Acoustic Zen Crescendo Mk II loudspeakers. Very musical.
D Digital Room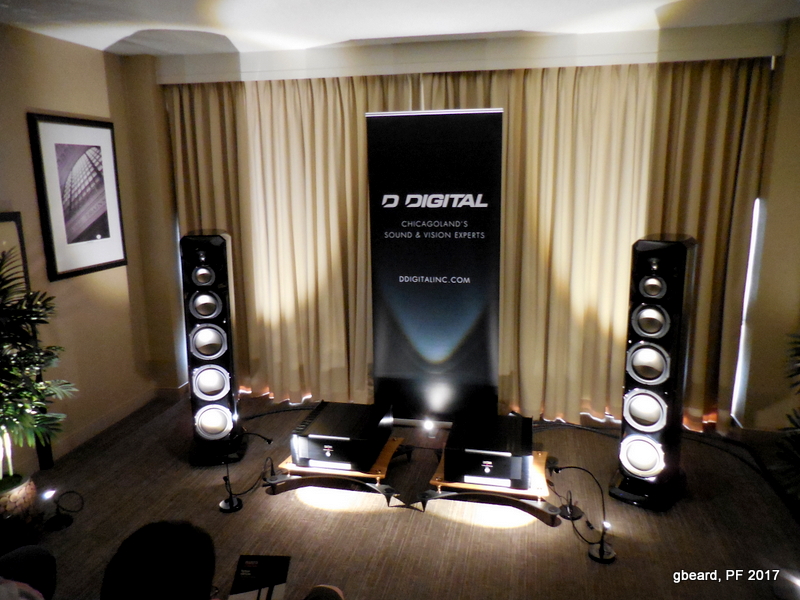 Mark Levinson electronics,  Wireworld cables, Quadraspire X Reference audio stand, and Revel Ultima2 Salon. Extremely detailed, hard-hitting sound in this room.
Synergistic Research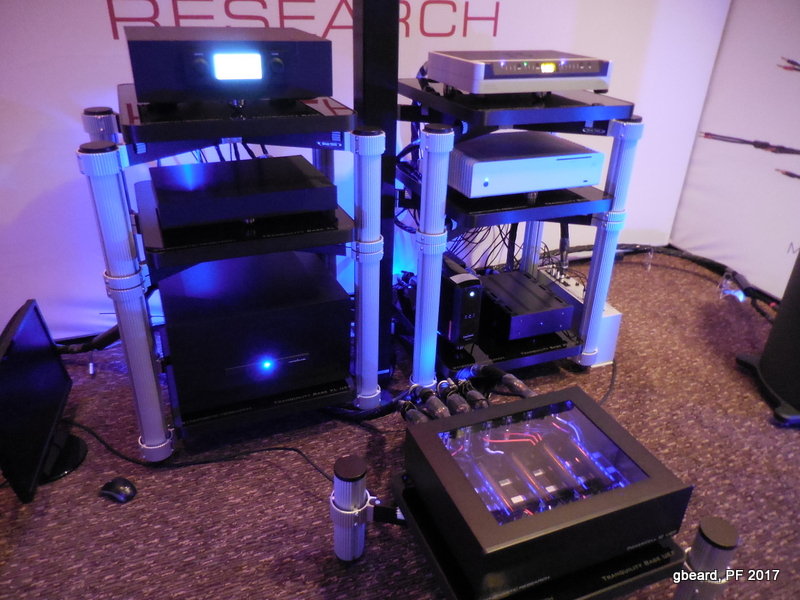 Synergistic Research's Power Cell in the foreground.                  
Spatial Loudspeakers/Linear Tube Audio/Lampizator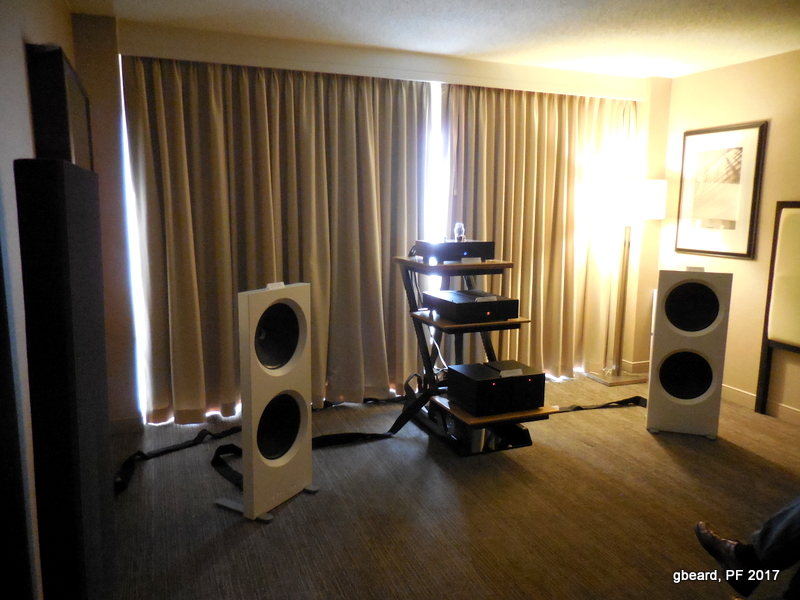 GIK Acoustics Alpha Series Panel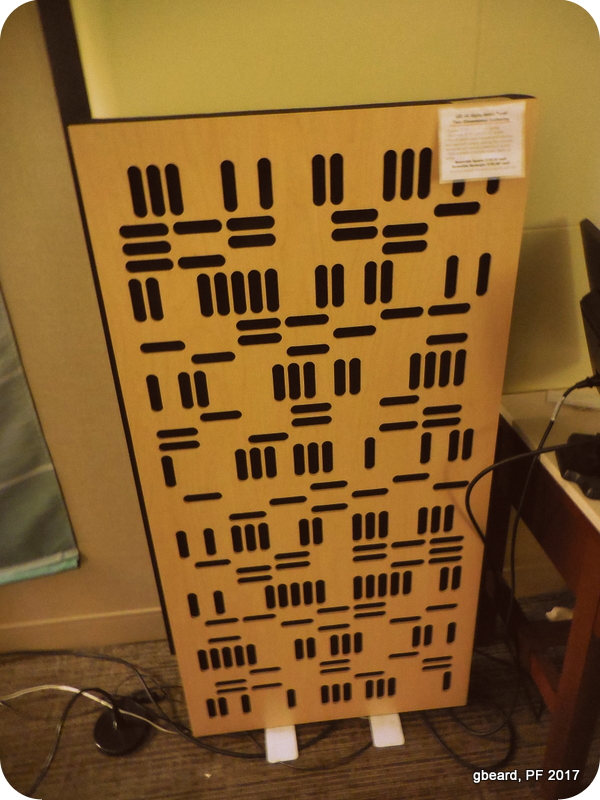 The Needle Doctor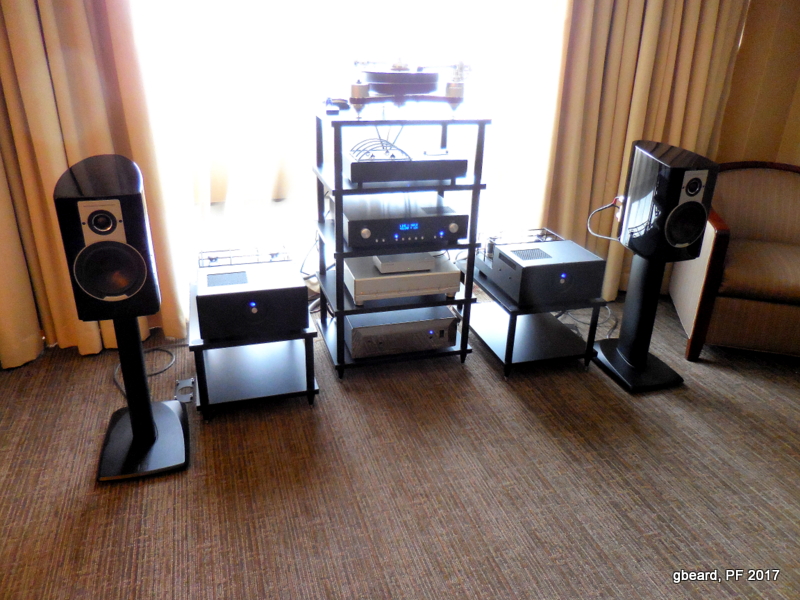 Rogue phono stage, new RP-7 preamp and excellent M-180 mono's driving Dali Epicon 2 stand mount loudspeakers. Rogue/Dali seem to really bring out the best in each other. 
Your Final Sound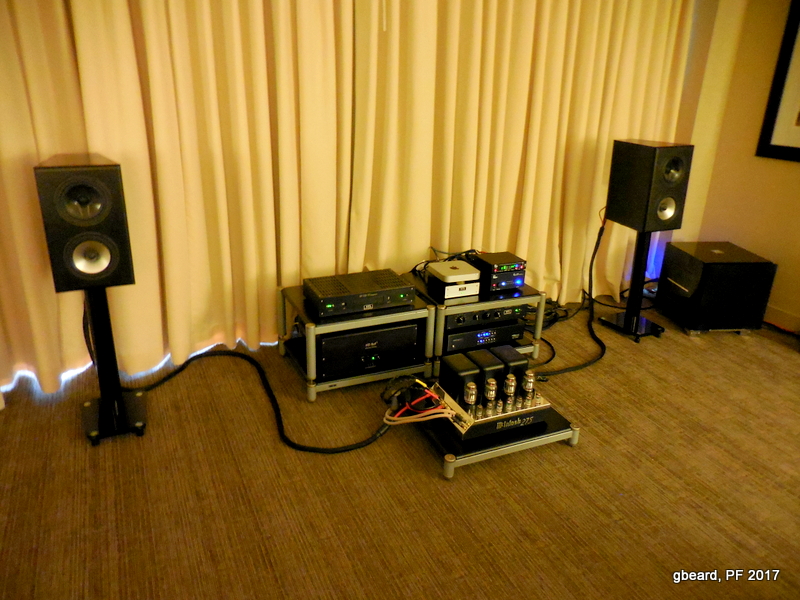 YFS, Mutec, and Von Schweikert Unifield Mk II loudspeakers. Good sound guys!
Rethm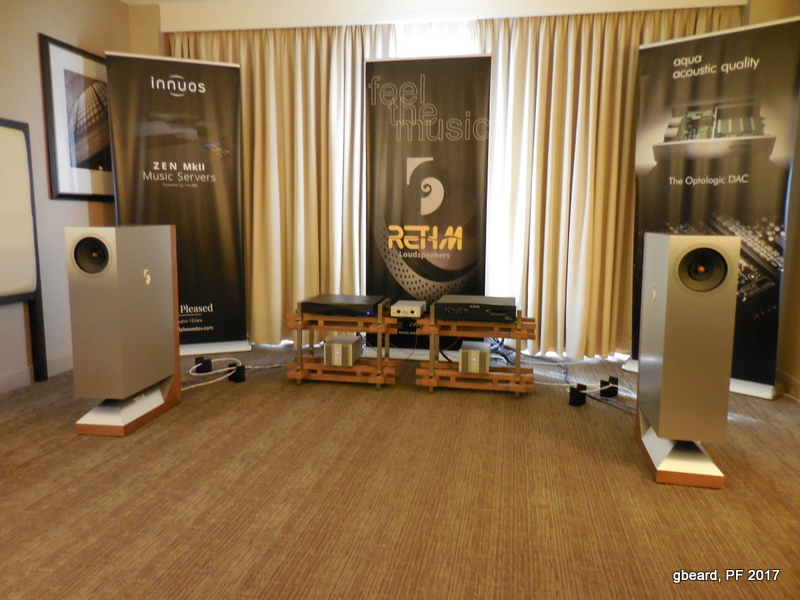 Rethm Bahaava, Loudspeakers, Linnenberg Elecktronik preamp and mono amps, Aqua La Scala Mk II Optologic DAC, Innunos Zen Mk II Server, Well Pleased Audio Vita. Really cool gear. I was unfamiliar. Interesting...
Bricasti Design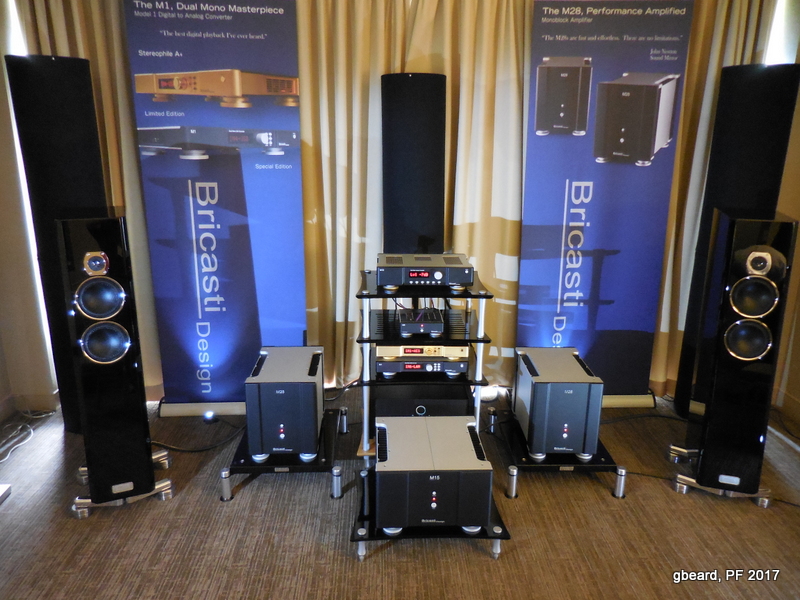 As is usually the case, Bricasti Design and Tidal loudspeakers were making pure and detailed music!
Merrill Audio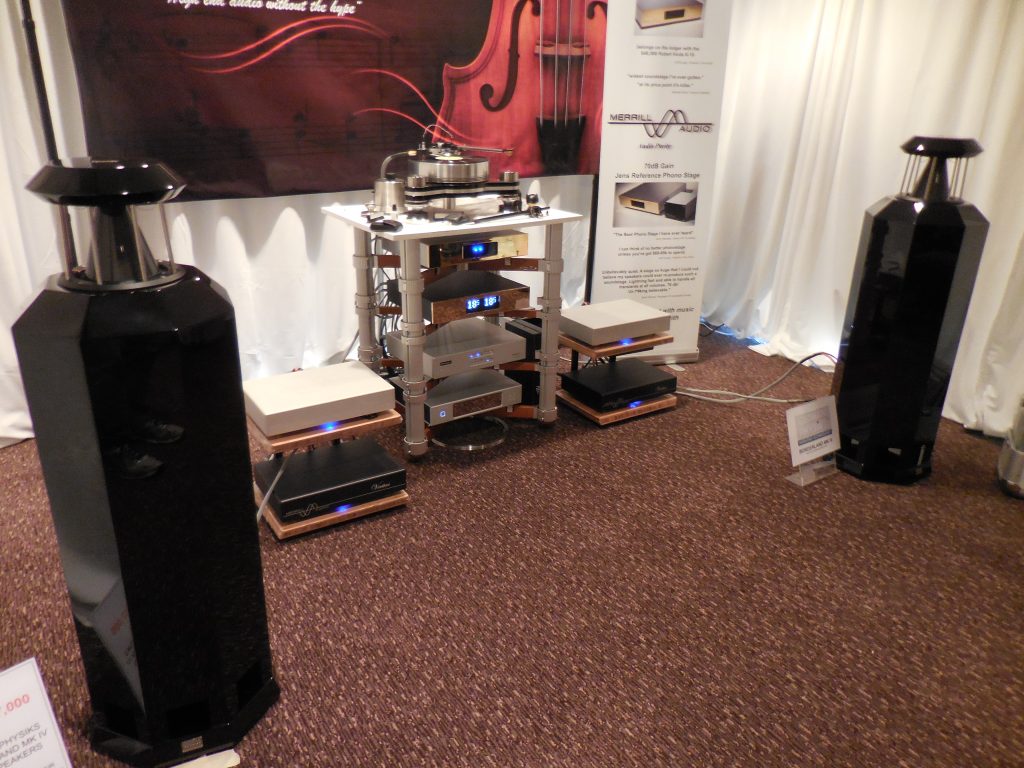 Merrill Audio: Always good sound. This year with German Physiks loudspeakers. Expansive!
High Water Sound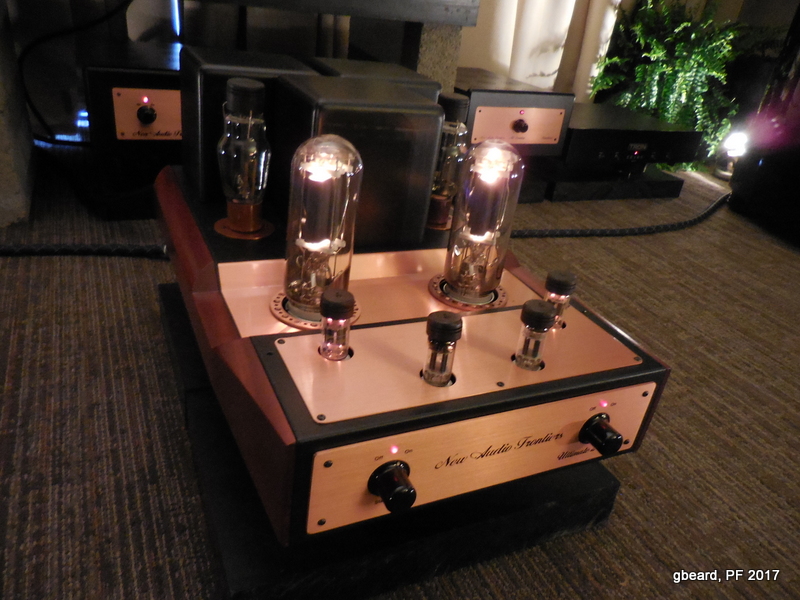 Jeff Catalano knows how to put together a good sounding room, and this system was better than just good. Horning Hybrid Aristotle Ellipse Loudspeakers, New Audio Frontiers electronics. TW-Acustic/Ortofon analog playback. Furutech cables and Vibex power products. I always love listening to vinyl in Jeff's rooms. Beautiful gear, great sound!
Tweak Studio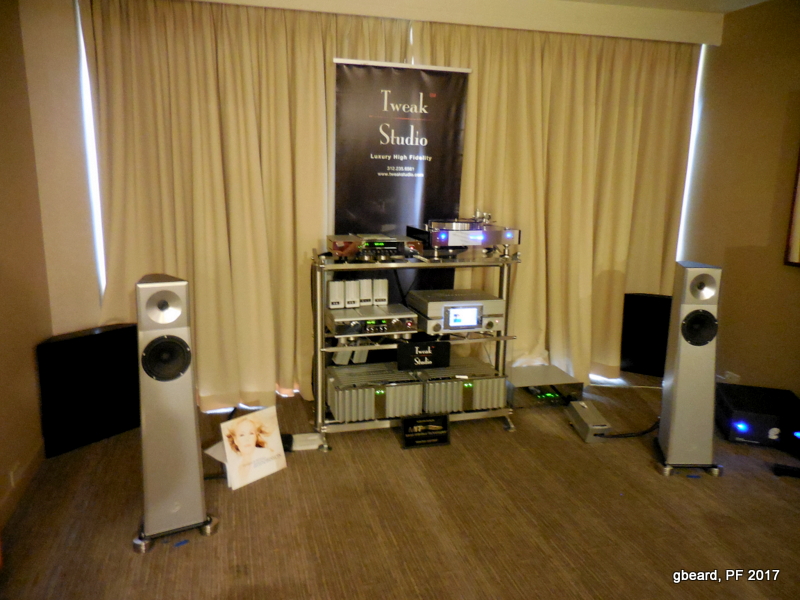 Burmester electronics/YG Acoustics/MIT cables/Stillpoints/Torus Power.
Holm Audio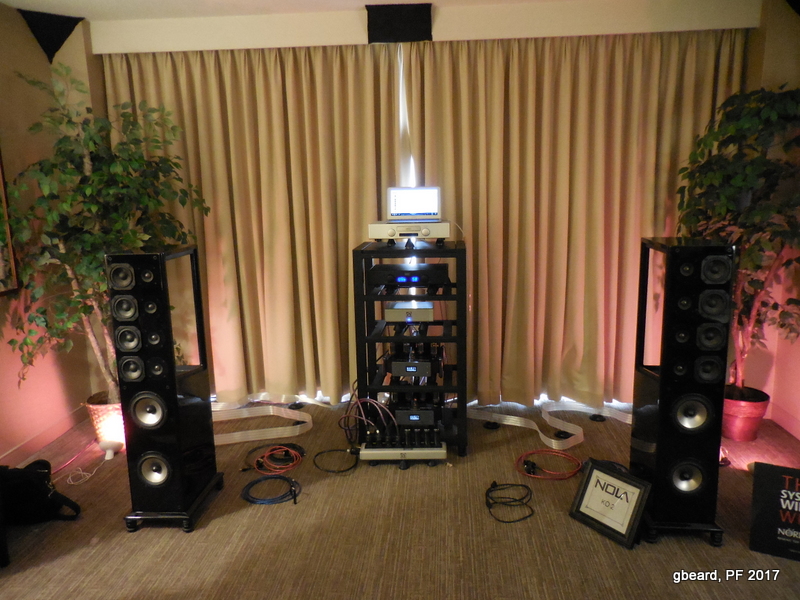 Excellent sound in the Holm/NOLA room!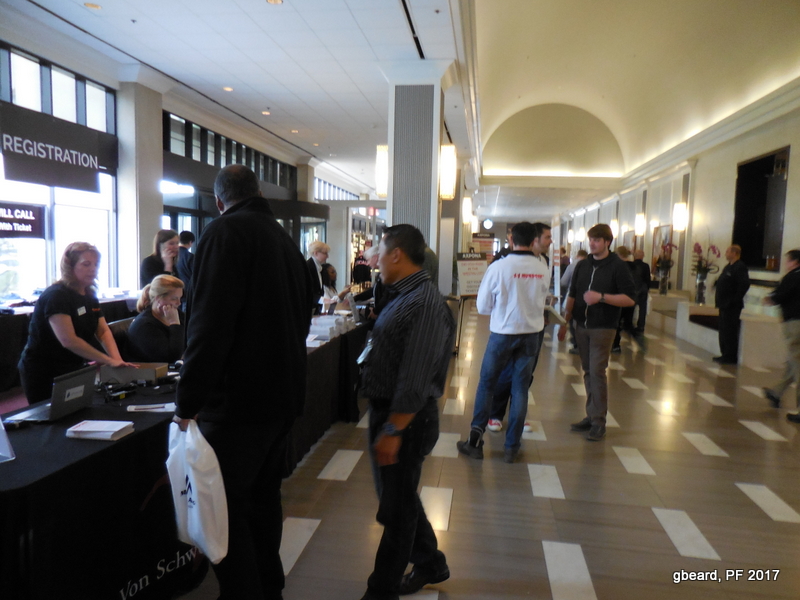 Once again, JD Events put on a terrific, well run, show. My thanks to all! The 2017 iteration of AXPONA seemed to be a smashing success at every level. Exhibitors were excited, most rooms sounded good, and many sounded very good. The Marketplace was buzzing, and there was an amazing array of audio and audio-related stuff to purchase. While I missed covering the headphone area, live concerts and seminars this year, I had a fantastic time trying to see everything else. Next year, the show will be at a new venue. It will be interesting to see how that affects the AXPONA vibe—it's fair I suppose, to expect an even better result. I hope to be there to find out. 
Until 2018, cheers to you all!