Never in my wildest imagination did I ever foresee myself facing a mountain of reel-to-reel tapes to review in 2015. Sure, some of the backlog is directly traceable to summer AC problems that halted my reviewing for over two months. At the same time, however, it's also an indication of just how many new companies have come on the music scene and are currently selling 15-ips/2-track reel-to-reel tapes. Therefore, it's time roll up the sleeves and get to work reducing that mile-high pile of tapes.
As mentioned in my most recent reel-to-reel tape piece (see here), twenty-one companies (and counting) are currently releasing 15-ips/2-track tapes. Horch House, manufacturer of the Oscar Peterson tapes reviewed here, has according to owner Volker Lange sold close to 2000 tapes over the last year. Who's snapping up the Horch House tapes? According to Volker, "China is their biggest customer closely followed by South Korea, US and Europe. At last check, Italy is currently King of the Reel-to-Reels with companies such as Fone, Open Reel Records, Hemolia Records and Analogy Records releasing music in the reel-to-reel format.
Today's reel-to-reel tape releases fall basically into one of either two camps: 1) New jazz or classical music recordings; or 2) Reissues of rock, jazz or classical music. In the case of new recordings, companies such as Yarlung Records, Open Reel Records, Analogy Records, UltraAnalogue Recordings, Dangerous Analog, International Phonograph, Inc., etc. are setting the standard for the newest generation of reel-to-reel tapes.
The lure of the latter approach is simple. There's a vast amount of music, be it rock, jazz, classical, etc., already on tape. On the other hand, obtaining the rights to these tapes is no walk in the park. Foremost among the obstacles faced is the almost prohibitive licensing fees demanded by the major record labels (and blocks in most cases procuring the rights to major rock albums). Run a quick balance sheet and it's quickly apparent that it's next to impossible for companies to even break even on these reissues.
The condition of these master tapes is also another major concern eg. the need for baking, redoing splices, etc. (let's not talk about irreparably damaged tapes or gone missing). Not to mention, it literally takes an act of Congress to get ahold of these irreplaceable master tapes. Leading record labels simply won't and don't send their ever-so-precious and irreplaceable—not to mention fragile—master tapes to just any Tom, Dick or Harry. Consequently many—but not all (The Tape Project being one notable exception)—reel-to-reel reissues are of jazz and classical titles or from labels (or artists) already controlling the rights to the recordings such as Opus 3, Groove Note, International Phonograph, Inc., etc.
Back to digging myself out from underneath this stack of reel-to-reel tapes! This article will cover a quartet of new tape releases including a brand new live classical Vivaldi recording from Open Reel Records, two magnificent Oscar Peterson reissues from the MPS label courtesy of Horch House and finally the absolutely stunning Garcia-Grisman (yes PF readers, that's Garcia as in Jerry Garcia of the Grateful Dead) from the Tape Project and the Acoustic Disc catalog. Be forewarned, however. Each recording is a winner and belongs in every tapeheads collection!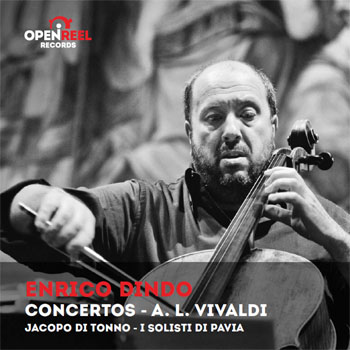 Vivaldi Concertos: Concerto in La maggiore per archi e B.C. RV 158; Converto per violoncello in Sol magg. RV 413; Concerto per due violoncelli in sol RV 531. Enrico Dindo, Jacopo Di Tonno and I Solisti di Pavia. Open Reel Records, Producer and Engineer: Marco Taio; Recorded March 12, 2008 in San Pietro in Ciel d'Oro, Pavia. One reel. 15-ips/2-track, IEC/CCIR EQ. www.openreelrecords.com
Here's something you don't see everyday. Or almost ever! A real live, dyed-in-the-wool, classical recording! In fact, save for a couple of Sheffield direct-to-disc recordings, there aren't any other live classical recordings in my record collection. Jazz. Absolutely. Rock. Positively. Classical. Next to zero. And for good reason. Live classical recordings simply don't happen then or now because mistakes are simply not allowed or tolerated and recordings must be note perfect. Not here with the Vivaldi pieces on Open Reel Records. You will get a wonderful recording here warts and all. Extraneous noises, pages turning, coughs and tons of brilliant music and sound! Why is this important? Because live recordings bring with them that unquantifiable, unmeasureable and very often missing in modern recordings, emotional connection to the music. Plus in this case the playing of prize winning cellists Enrico Dindo and Jacopo di Tonno and I Solisti di Pavia.
Only a long time music industry veteran like Marco Taio would be bold enough to record and release a live, classical recording. Open Reel Records has according to Marco a very simple mission: "providing all their fans of the beautiful music with sound sources of absolute reference, to enjoy our recordings as if they were present in person to the events. The choice of classical music and jazz is dictated not only by the importance of the works recorded, but also by the fact that these genres improve the sound characteristics of the media." This Italian company's catalog consists of in addition to classical music, an ever expanding collection of jazz, pop, rock and acoustic folk titles.
Marco admits to having in his many years in the recording profession, "two reference tools critical to my work and my passion: my perfect pitch ear and the recordings made with my Nagra-T." Marco strives to stay at the forefront of recording technology but as he explains, "the music at a concert or in a reference recording, is and remains analog. Otherwise it would explain the explosion and increased production of vinyl, that the tape technology is the direct child, although with lower performance."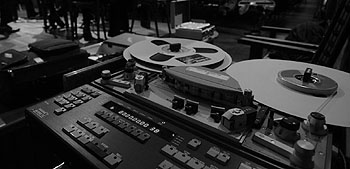 When it comes to capturing the music, Marco maintains a sizeable stable of microphones to select from including a Shoeps MTSC 6 Mk.4, Schoeps BLM 3, Shoeps CMC6 Mk. 21, MK Shoeps CMC6 2s, and Neumann KM 86 and 608 MBHO with large diaphragm three unique pattern (the famous vintage "lollipop" dual gold spluttered capsule assembly coupled to a modern FET body). Marco's current go to preamplifier is the two unit Millenia Media HV­3D micro connected to a Studer 169 and Telcom C4 that feeds his Nagra-T. All recording are put down on RMGI SM 900 tape with a reference flux level of 320 nWb and CCIR equalization.
Along with having a vast selection of microphones (about thirty), Marco aims, "to use a minimal recordings setup in amazing acoustic environments. The signal in this way will not be changed by artificial compression, limiter or reverb unit. We do not carry any intervention or equalization compression on our analog chain and this also applies to the tape archive. This means that if an archive tape is damaged or if the original quality does not satisfy us, we just do not publish it."
All Open Reel Records tapes are duped in in Milano, Italy. Here, a Studer A-812 serves as a source master connected to a Studer 169 mixer that feeds a bank of Studer A-807 machines. The Studer 169 mixer in the production room is the twin of the one Marco uses on stage to record the sessions. Marco has tested many duping configurations and found the aforementioned scheme, "ensures the optimal analog chain result."
There's perhaps no better composer to choose for Open Reel Record's initial release than Antonio Vivaldi—one of the greatest—not to mention prolific baroque composers. Renowned for his instrumental concertos, Vivaldi composed around 350 concertos for solo instrument and strings; of these, however, only 28 were cello concertos. Vivaldi's concertos are above all known for their rhythmnic structure, harmonic contrasts, melodies and themes. In addition, the emotional connection so part of his music is oh-so-well captured on this all analog recording.
The tape starts with a Vivaldi composition for strings, followed by strings and solo cello and last but not least, the piece de resistance, a work for strings and double cello. Choosing a favorite piece from among this trio of Vivaldi compositions is really challenging; if push came to shove, however, that prize would go to Concerto per due violoncelli in sol min RV531! Marco clearly saved the best for last with this miniaturized orchestral piece in ensemble form. Concerto per due violoncelli in sol min RV531 is both a sonic and musical blockbuster defined here by its crystalline clarity, tone and big sound. This piece starts out with the first movement in allegro moderato form, quickly turns to largo, very slow tempo with its wonderful interplay of strings and cello and finishes in allegro rapid tempo with the playing of Enrico Dindo and Jacopo di Tonno standing out. In passing, the tone of harpsichord along with it "tinkliness" is truly exceptional and no other medium remains as true to the sound of the instrument as does tape.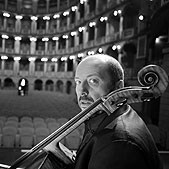 Finally, a short comment upon the packaging of the Open Reel Records tapes. What's always set The Tape Project tapes away from many of its competitors (aside from the sound) is the quality of their packaging. Most tapeheads would agree that stock white or blue tape boxes with photocopied programs no longer cut the mustard when paying $350 and more for tape. But not Open Reel Records (Not all that surprising for an Italian company). Their tapes come packed in a custom made, hard plastic container accompanied by a beautifully put together and laid out two-color booklet. Now we are talking pride of ownership!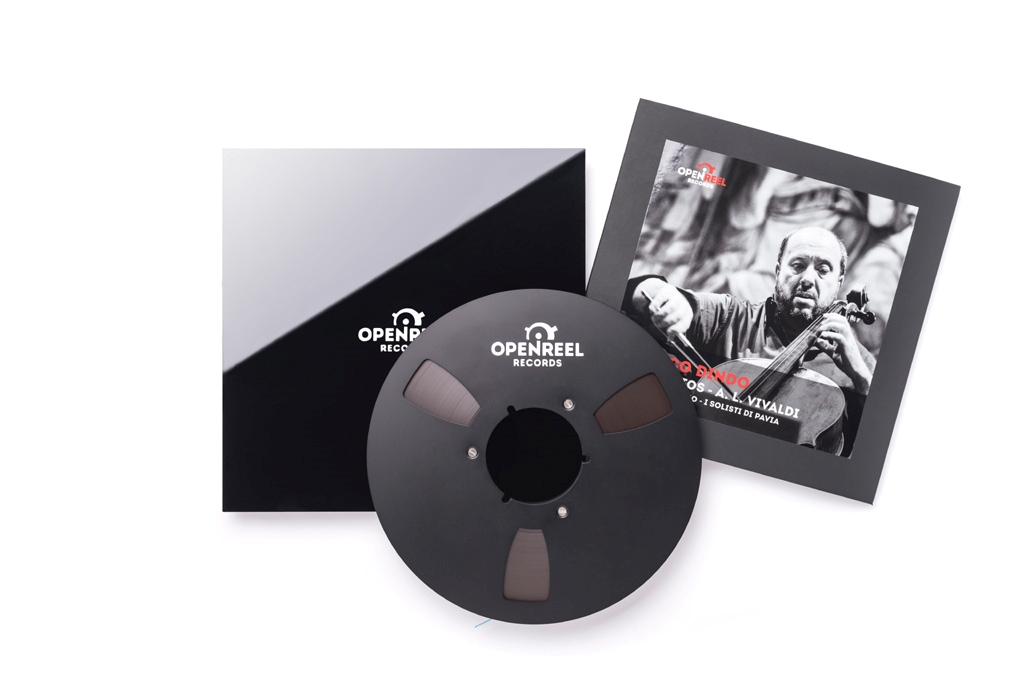 A wonderful debut album and am looking forward to hearing future musical offering from this new company!
Oscar Peterson: Girl Talk, Vol.2. Recorded Late '65, November '66, November '67; My Favorite Instrument, Vol. 4, Recorded April '68. Both taken from the six tape or LP series entitled Exclusively for My Friends. Producer and engineer: Hans Georg Brunner-Schwer; Horch House. Two reels. 15-ips/2-track, IEC/CCIR EQ. www.analogarts.net
Continuing in the European vein, the next pair of reel-to-reel tapes come all the way from Austria courtesy of Horch House. Horch House, another relatively new entrant in the reel-to-reel category, is a partnership between music lover Volker Lange and music producer Thilo Berg (founder of jazz and classical label Mons Records as well a music producer for Sony, BMG, Columbia and Universal). The other part of the team is sound engineer Christopher Stickel (among whose clients include Paul McCartney and Abbey Road) who is tasked with the careful restoration of these fragile master tapes. Volker makes it very clear that he eschews and totally avoids the use of mixing desks, sound processors, limiter or compressors in the tape restoration process. Instead, all sonic adjustments are made by tweaking the Studer machines, testing and then retweaking to get the best sound.
Each Horch House tape is a real time, 15-ips, 1:1 analog tape copy from the original master tapes. Depending upon original tape format, all tapes are copied using a Studer A80 (modified by renowned Studer expert Andreas Kuhn) or A807 to a bank of eight Studer A80s machines. RMGI SM-468 tape is used for all tape transfers.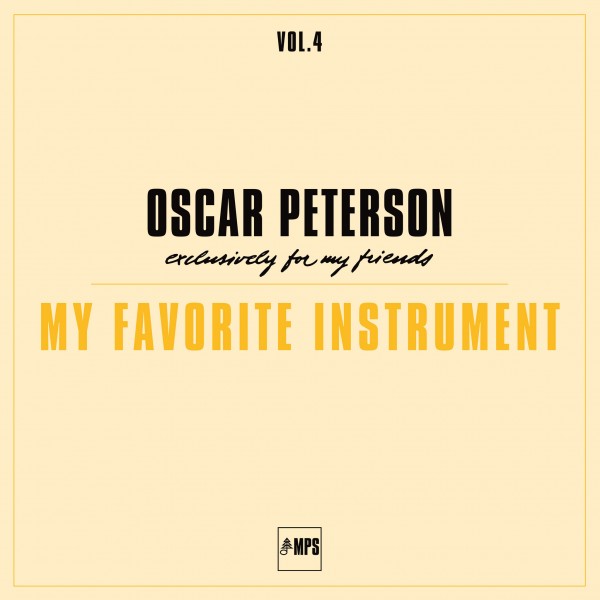 It would be hard to imagine any Gershwin fan being one bit disappointed with Oscar Peterson's rendition of "Someone To Watch Over Me" on My Favorite Instrument, Volume 4! Nor will there likely be any complaints by fans of standards such as "Body and Soul, Bye, Bye Blackbird, Little Girl Blue or Take The A Train!" Nicknamed the Maharaja of the keyboard by none other than the Duke, Peterson did over 200 recordings in his five decades of performing. It wasn't, however, until My Favorite Instrument Volume 4 from the Exclusively for My Friends series that Peterson fans finally had their long anticipated solo work. Interestingly, Volume 4 was also the only one out of the set of six recordings that wasn't recorded in front of a live audience. Featuring improvised melodies with both hands, Volume 4 is noted for its bluesy licks, riffs and repeats to build tension. My Favorite Instrument starts and finishes with a bang and takes the listener through all of the great Peterson's unique arrangements and interpretations, tempos and flourishes. Jazz critics rank this album among Peterson's best efforts and who am I to disagree!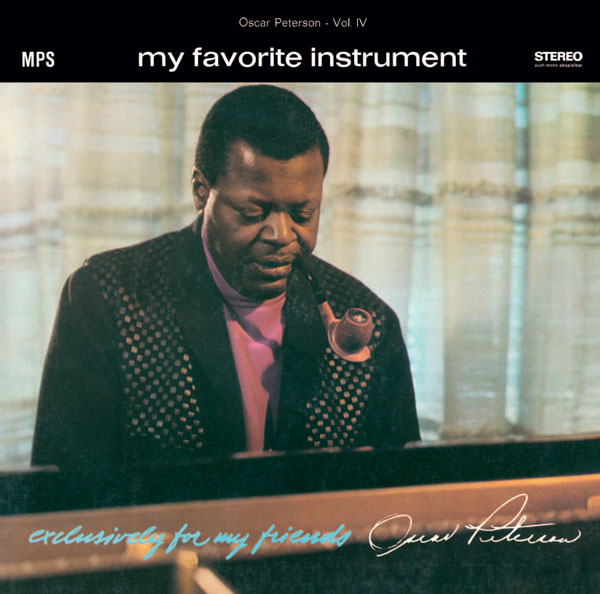 Moreso, this Hans Georg Brunner-Schwer recording (taken from the MPS catalog) really captures the feeling of a concert in your home. That said, this recording is not say the prototypical piano presentation like one gets from say Roy DuNann or Rudy van Gelder. Here the piano has more of what I associate with a "European" sound. The piano is closer miked, has a slightly darker overall signature along with slightly less reverberant space and ambience. Nonetheless, this is still a great, albeit different, sounding presentation of Peterson and piano. Not to mention, there's effects that wouldn't normally hear live at a club such as Peterson humming along to the music, pedals squeaking, thumping of the piano and other extraneous noises.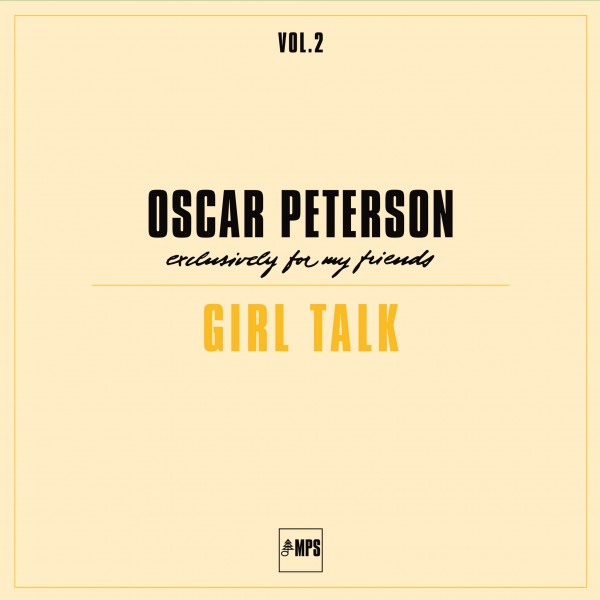 Along the way—thanks to the generosity of Greg Beron of United Home Audio (the manufacturer of those wonderful UHA reel-to-reel decks so often seen and heard at audio shows) and one of the biggest supporters of reel-to-reel tape and machines—I also had an opportunity to also hear Girl Talk, the second volume in the My Favorite Instrument series (out of a series of 6 recordings). Released on LP back in the late '60s, Girl Talk, Vol. 2 was compiled from several studio sessions from '65 to '67 and it shows with the sound quality varying from track-to-track. Peterson assembled an outstanding trio for this recording including the likes of Ray Brown and Sam Jones ("I'm in the Mood for Love") on bass and Bobby Durham and Louis Hayes on drums.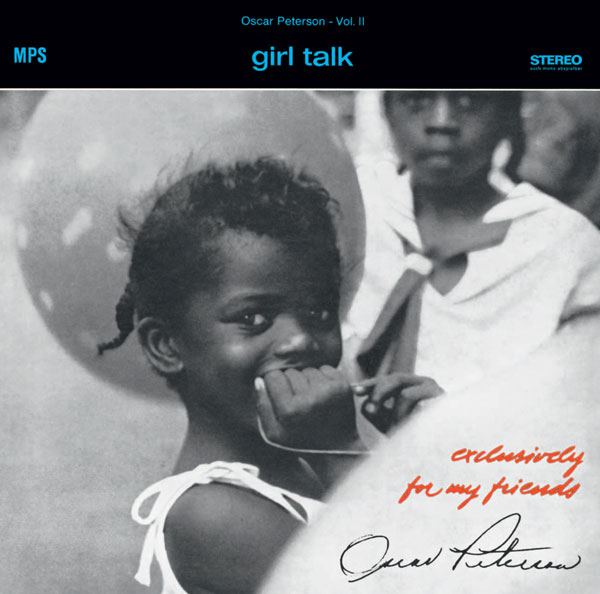 Girl Talk features more standards from the likes Lerner/Lane, Cole Porter, Mercer/Mancini and Thompson/Jacquet. Reel one contains several of my favorite tracks including a little more uptempo version "On a Clear Day" with the great Sam Jones on bass. What's not to love here with the audience in the studio and Oscar singing along to the music! Then there's that crowd favorite "I'm in the Mood for Love" with Oscar slowing down the pace of the album. Of course, this review wouldn't be complete without a mention of the bluesy themed title track "Girl Talk." Reel 2 of Girl Talk seems a little clearer and transparent than tape one and features that awesome medley of "I Concentrate on You, Moon River and Robbins Nest."
Finally, there's hope for those audiophiles without tape decks! These wonderful Peterson recordings are currently available as a six-LP vinyl box set. We're talking real winner here if the reissued albums are anything at all like the couple of original MPS albums in my jazz collection!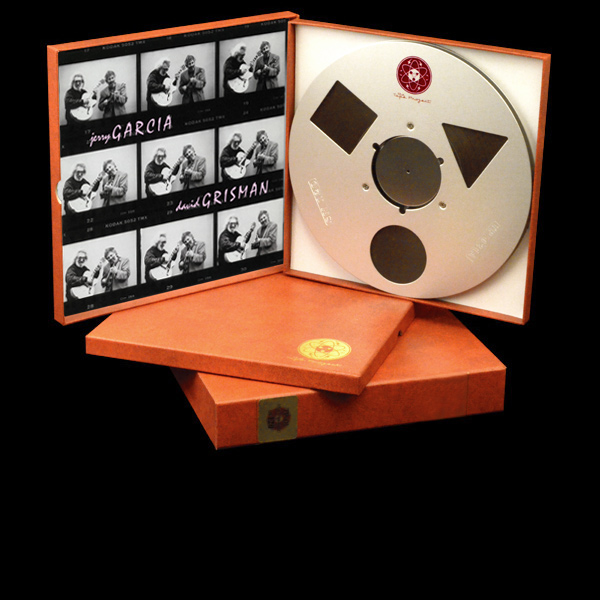 Garcia-Grisman, Producers: Jerry Garcia and Dave Grisman; Recording engineer: David Dennison. Two reels. The Tape Project TTP 027. 15-ips/2-track, IEC/CCIR EQ. www.tapeproject.com
First, the necessary background material. The Tape Project originally announced only eight of the ten Series 3 titles leaving subscribers guessing as to the final two releases. Then out of the blue, The Tape Project sprung Garcia-Grisman, arguably one of, if not the absolute best, reel-to-reel tape yet released—and a wonderful example of why tape is a high resolution medium—on their subscribers.
This simply titled, acoustic folk/acoustic/pop/blues/bluegrass recording was the first in a long line of albums appearing on Grisman's then fledgling Acoustic Disc label. According to www.jerrygarcia.com, Jerry Garcia and Dave Grisman first met, "in 1964 and played together in a number of different musical arrangements." Over the many years, Garcia, Grisman and band frequently played together and their intimate familiarity with each other's musical styles really stand out on this recording. Much of the material on Garcia-Grisman derives from an earlier nine song set that Garcia, Grisman and long time band mates Joe Craven and Jim Kerwin did at the Sweetwater Club in Mill Valley, California just shortly before this recoding. (Half of the material on this album came from that session.) Recorded in the spring of 1991, this bestselling and Grammy nominated album was only available until very recently on CD (hence the 30 minutes of music packed onto each reel).
Garcia-Grisman would be worth the price of admission if the only song on the tape was the sixteen-minute jam session entitled "Arabia!" ("Arabia" alone was performed 11 times by Garcia and Grisman between '91 and '94.) This Flamenco/Cuban folk song/North African fusion is noted for Garcia's, Grisman's, Craven's and Kerwin's long solos, interweaving and interplay. There's simply a spectacular array of percussion instruments including castanets, steel drums and so much more.
But couple "Arabia" with all the other great songs on this album and Garcia-Grisman is arguably the best tape release yet from the Tape Project trio. Garcia-Grisman consists of an eclectic, roller coaster, mix of musical styles and tastes beginning with the B.B King soul song "The Thrill is Gone." Another highlight is the very different arrangement of the Dead's anthem "Friend of the Devil" that all Deadheads will like. Then there's Irving Berlin's "Russian Lullaby" featuring the duet of Garcia and Grisman. Then there's an original composition by Grisman entitled "Dawg's Waltz" along with that bluegrass tune "Walking Boss" where Garcia and Grisman really pick it. There's simply an amazing sense of being in the room with the musicians on the intimate and close-miked recording replete with amazing tonality and low level detail. Grisman's mandolin solos just really stand out with their spooky sounding vibrancy (not quite captured on the LP) and tonality.
Lastly, this sensational recording is also available on vinyl! Last year Mobile Fidelity reissued Garcia-Grisman for the very first time on vinyl (don't feel bad if you missed it because so did I). While the Mobile Fidelity reissue isn't quite up to the very high standards set by The Tape Project tape (what LP is?), this two LP set is nevertheless a great transfer. Where the Mobile Fidelity LP differs the most from The Tape Project tape release lies in the ability to recreate the mandolin's vibrancy, the complete harmonic envelope of the instruments and most of all, the airiness of the original recording. Regardless, the LP reissue is a very faithful transfer from the tape and I can't see anyone purchasing this record being disappointed!
A must-have tape for all self-respecting tapeheads.
Stay tuned for the next installment of reel-to-reel tape releases featuring new companies such as Analogy Records, Dangerous Analog and MA Recordings.