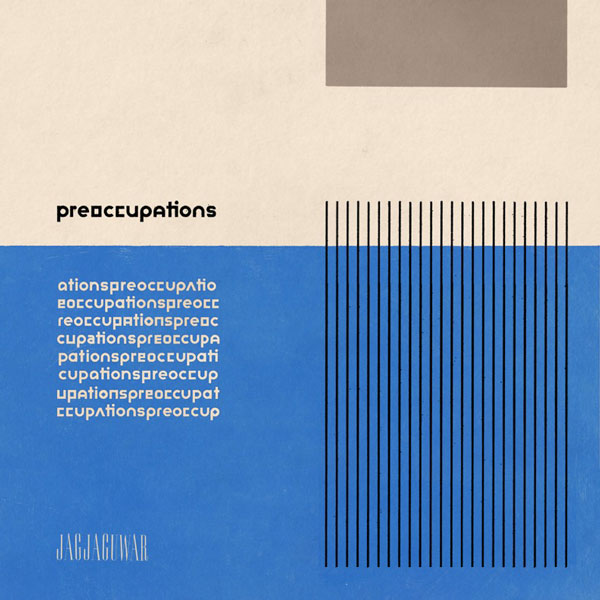 Preoccupations, Preoccupations
JAGJAGUWAR, Digital, vinyl, and CD
In hindsight, naming a band Viet Cong probably wasn't the best idea, but they did it anyway and controversy ensued. Claims of cultural appropriation and insensitivity sparked outrage from student communities, online communities, and the threat of protest and boycotts forced the hand of concert promoters to cancel shows. That augury forced Viet Cong to rethink and change their name to Preoccupations. The irony, or silver lining, is Preoccupations is a much more fitting name for them. It works more on a conceptual level with the focus of their music being dread and anxiety. These are indeed things that would preoccupy a mind. One has to wonder why a band whose music is more introspective and less confrontational would pick a name associated with a barbarous insurgence that terrorized the Vietnamese during the Vietnam War. Then one has to remember that Joy Division whose music was also introspective and less confrontational named their band after Nazi Brothels. Controversy and band names are nothing new, but renaming them by way of collective cogency just might be. Recently, Dead Girlfriends facing similar outrage, changed their name to Default Genders and if trends tell us anything you can bet there will be more to come. 
The comparisons to Joy Division don't end with controversial band names. Their scope and subject matter from each respective band's music is comparable as well. Preoccupations follows similar innovations and the post-punk ethos Joy Division paved and built their legacy and legendary sound. Foundations continue with notable influences from Bauhaus and more recently, Interpol are also present. It's a sound Preoccupations forged on their self-titled debut Viet Cong and continues on their bleak claustrophobic self-titled follow-up Preoccupations.
On the album Viet Cong, production, like many modern indie rock records, sounds compressed and cacophonous. Vocals are recessed and disappear into the mix. Bass and drums are present and intense, but sometimes sound like they're in entirely different rooms. On Preoccupations, the production doesn't suffer from these criticisms and ultimately sounds much more polished. Instruments occupy their own space and sound larger and uninhibited. Bass guitarist and lead singer Matt Flegel's voice in particular sounds calm and soothing and (at least to this listener) resembling Neil Diamond, with similar unique and recognizable deliverance. This calming voice is at odds with lyrics like "With a sense of urgency and unease/ second guessing just about everything" on the song "Anxiety". 
The contrast of unease and unrest with hard driving rhythmic pressures and soaring keyboards are prevalent on the stirring "Degraded." Flegel sings  "Subdued ideas split in two/ So solemn and melancholy/ Another thing that you can do/ Unwillingly for somebody" as if it were an anthem.
There have been many post-punk albums of late, but none have excited me the way Preoccupations has. Like looking at a Rothko painting, it's hard to point to its exact appeal, but it just might be its simplicity. Preoccupations never seem to overreach and always play to their strengths. Like the dichotomy of their music, there's nothing simple about sounding simple.