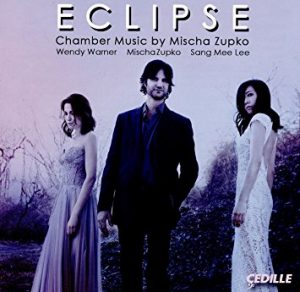 Eclipse: Chamber Music of Mischa Zupko. Wendy Warner, cello. Sang Me Lee, violin. Mischa Zupko, piano. Cedille CDR 90000168.
Calling someone a "Chicago composer" as Cedille Records often does is probably not doing him a favor. It suggests limitations, local heroes. The fact is, in the case of Mischa Zupko (and cellist Wendy Warner who also plays on this recording) we have before us at least two musical figures (with no insult intended to violinist Sang Me Lee) who are world class.
Zupko's chamber music leaves me uncharacteristically speechless, at least the first time through. Works for violin and piano, cello and piano, solo violin, and solo cello—simply take me over, as all true music does. The last 'new' composer to have this effect on me was Lera Auerbach. Perhaps the most revealing thing I can say is that this music appears to have no specific roots, doesn't seem to derive from any other composer. It simply asserts itself with force and eloquence.
Zupko says that his "harmonic language tends to be between neo-romantic  and something that incorporates dissonance quite freely," and that he has an interest in "modernizing old forms." He plays piano on this album.
On second hearing, no longer caught by surprise, he sounds like a precocious cousin of some of our contemporary Americans, like neo-romantic Jennifer Higdon. But there is a compelling edge to his music that sets it apart from the likes of Higdon. There is a European 'resistance'  present here. Perhaps that's what brings Auerbach to mind. Zupko's music often feels as if it's composed in the interrogative voice: it is asking questions rather than making arguments.
I intend to keep this album near the top of my listening pile.
Divine Theatre. Sacred Motets of Giaches De Wert. Stile Antico. Harmonia Mundi HM 807620 (SACD)
Between the chordal riches of the late renaissance and the complex counterpoint of the baroque, something happens to a cappella choral music that bewitches many of us. It begins to move, as early as the mid-sixteenth century. Composers begin to hear where music is going but are reluctant to give up altogether the sound they grew up on and know so well. So we get the blessed musical anomaly of Flemish composer Giaches De Wert (1535-1596). Brought to us by the now well-established, mature sound of Stile Antico, whom the music world no longer asks to tip their caps to their elders, the Tallis Scholars. They now strike us in their Englishness as comparable to John Eliot Gardiner's Monteverdi Choir on a smaller scale. Their often noted energetic singing style lends itself perfectly to this music. How much more music as fine as this have we hidden between the renaissance and baroque with the term transitional?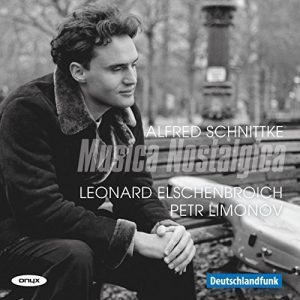 Alfred Schnittke, Musica Nostalgica. Sonata No. 1; Suite in the Old Style, Madrical. Shards. Leonard Elschenbroich, cello. Petr Limonov, piano. Onyx 4180.
Most of the music on this album is available elsewhere but Schnittke (1934-1998) has become one of those composers whom we want to hear from as many points of view as possible. Cellist Elschenbroich is new to me but will be around my house for a long time: his grasp of Schnittke is haunting, his delivery, especially of the two outer Largo movements of the Sonata No. 1 (1978-79), is almost other worldly. Pianist Petr Limonov, also new to me, has the same gift, so that between them the two musicians leave no wisp of this powerful music unattended.
Suite in the Old Style (1972), which some of you may know in its version for violin, is always a bit of a shock when we come to it from Schnittke's modernist music. Disarmingly simple, straightforward, and lyrical. Even its two faster sections have a direct and unaffected quality. I tend to trust any modernist who can draw such effective unmodernist figures as these. Nostalgia is not the same as sentimentality.
Madrigal: In Memorium Oleg Kagan (1991) is the composer at his high modernist and complex best. Musica Nostagica (1992) returns us to the world of the Suite. Shards (2008) is a work composed by the cellist as a tribute to Schnittke, drawing on the composer's music and responding to it.
I would not be without this album and neither should you be.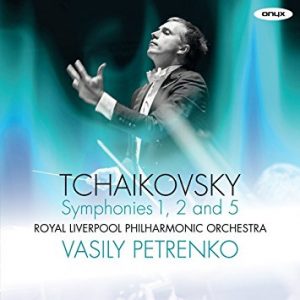 Tchaikovsky, Symphonies 3, 4, and 6. Royal Liverpool Philharmonic Orchestra, Vasily Petrenko. Onyx 4162 (2 cds).
This album is the completion of Petrenko's cycle of Tchaikovsky's six symphonies. I reviewed its predecessor on Onyx 4150 a few months ago, finding Petrenko's interpretation of Symphonies Nos. 1, 2, and 5 "lighter, faster, and livelier... with a greater sense of delicacy and touch" than we are accustomed to hearing from them and praised the performances for these qualities.
These performances of Symphonies Nos, 3, 4, and 6 are recognizably Petrenko. The romance, drama, and sweep of traditional Tchaikovsky recordings are less conspicuous here, the composer's (and conductor's) love of orchestral detail and subtlety on full display. Also a love of dance and melody. Petrenko appreciates the yin in Tchaikovsky (as he does in Shostakovich) and persuades us to follow him. This approach alters the effect of the famous and always anticipated entry from the light and frolicsome Scherzo into the crashing Finale of Symphony No. 4 (1877)—of which there are two more! Petrenko reduces the weight of the sonic storm by playing it at a headlong pace.  We are in and out of the heroic storm before we know it. We barely notice the impact of the bass drum at the conclusion and are immediately swept away with a continuation of the dance. Petrenko presumably wants the Finale to follow smoothly from what precedes it and to take us seamlessly into the music that follows and his approach definitely achieves this. Whether or not he subverts some of the Finale's accustomed power by sailing through it is a fair question.
Symphony No. 3 (1875) lends itself wonderfully to the Petrenko approach, as Nos. 1 and 2 from the earlier album do for the same reason. (I suppose this is a version of the often expressed opinion that some conductors are better suited to Beethoven's even numbered symphonies!). Symphony No. 3's emotional quality is more homogeneous and plays well in the hands of an interpreter less interested in contrast and drama. I find myself totally carried along by Petrenko's Tchaikovsky 3, with no reservations.
Petrenko does as well with Symphony No. 6 (1893) as anyone, which is to say, what can one do with so much melodrama without being plowed under by it? To be irresponsibly condescending, there is a time in ones life, the earlier the better, when Tchaikovsky's Sixth is exactly what we want: our most fervent emotions are indulged, with all reservations, doubts, and more complex feelings shunted aside. Perhaps when we're very old—Tchaikovsky wrote this work in the last year of his life—this need returns. Petrenko gives it to us neat, which is the generous thing to do. The composer considered it his masterpiece and it is undoubtedly his most beloved symphony.  We all have to enter the world of classical music somewhere. This work has been the door for many, including me. What can we still take pleasure in here? For me, it's the bassoons. Tchaikovsky's bassoons and clarinets almost never fail to affect us, even when nearly drowned in brasses and waves of strings. 
System used for this audition is made up of a Resolution Audio Cantata CD player w/BlackJack power cord; Blue Circle NSC preamplifier and NSL amplifier; and Jean Marie Reynaud Offrande Supreme, V2 loudspeakers; Crimson interconnects and speaker cable. Mapleshade Samson equipment rack.
Bob Neill, a former equipment reviewer for Enjoy the Music and Positive Feedback, is proprietor of Amherst Audio in Western Massachusetts which sells equipment from Audio Note (UK), Blue Circle (Canada), Crimson (UK), Jean Marie Reynaud (France), Resolution Audio (US), and Tocaro (Germany).