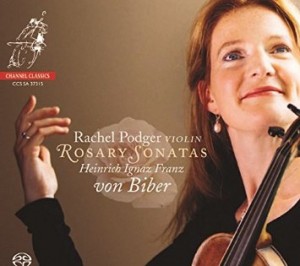 Rosary Sonatas. Heinrich Ignaz Franz von Biber. Rachel Podger, violin. David Miller, theorbo and arch lute; Marcin Swiatkiewicz, harpsichord, organ; Jonathan Manson, viola da gamba, cello. Channel Classics SACD. CCSSA 37315.
Biber's (1644-1704) searching, expressly mystical meditations on the Christian story from the annunciation through the nativity to the crucifixion and resurrection and on to the coronation of the blessed virgin are not exactly music we would expect to hear the ebullient, sensual musician Rachel Podger to play. But those of us who consider Ms. Podger among the violin elite will follow her anywhere. And have no fear, our faith once again is justified.
Podger's Bieber is predictably more expressive and sensual than most others;' but it is absolutely Bieber, perhaps more so. Eloquently lyric utterance mounted on late renaissance/early baroque formal scaffolding. This is music of the generation of Buxtehude and Purcell, and it is reassuring to hear Podger both acceding to the period's stylistic demands and somehow going beyond them. As I've written here before, Podger hears composer perfectly and then gives them her singular quotient of additional emotional energy. That said, there is an ease to her playing here that strikes us as the perfect response to this composer and his subject matter. Ease mixed with rapture!
All but one of the sonatas feature some form of accompaniment, by harpsichord, organ, cello, viola da gamba, theorbo, arch lute. The final sonata is for violin solo and seems more radiant coming after the accompanied pieces. It takes the soul and lifts it into the stratosphere: even our anticipation that Bieber and Podger will attempt this at the end cannot temper the effect.
The meditative quality and deliberate pace of the music makes it possible to bring out the baroque violin's especial qualities, provided the violinist is capable! I expect the opportunity to do this is part of what drew Podger to the work.
As this past week went by, I found myself returning to this CD, one sonata at a time, which turned out to be the best way to listen. Each sonata has a chance to make its own exquisite case. There is considerable variety within the oeuvre. No. 14 is heartbreakingly poignant. No. 15 reminds us where some Appalachian folk music came from. And there are moments here and there that recall Elizabethan lute songs.
A wonderful performance and recording (Jared Sacks!) of wonderful music.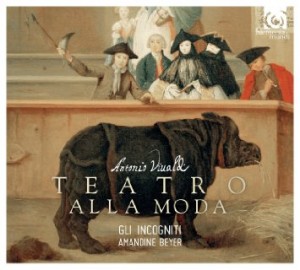 Antonio Vivaldi, Teatro All Moda. [violin concertos RV 725, 282, 391, 228, 314A, 323, 322, 313...] Gli Incogniti, Amandine Beyer, violin and director. Harmonia Mundi HMC 902221.
This is a concept album, conceived to make a case for yet another disc of Vivaldi violin concertos, which for Vivaldi is a case that seldom need be made. Recordings of his concertos succeed or fail entirely on their musical merits, of which this one has plenty. Ms. Beyer plays bold, brilliant, and theatrical (there's the album's concept) Vivaldi, choosing concertos full of experimentation, spontaneity, juxtaposition, contrast, and virtuosity. The opinion of the day (c. 1720) , we are told, found this music in particular too informal—too theatrical! The music is surely a challenge to perform successfully but it comes off wonderfully well.
Including Ms. Beyer, there are just nine musicians comprising Gli Incogniti, a relatively small force, but one that sounds plenty fulsome and predictably clear, present, and exciting.
These are not Vivaldi concertos often heard, which may be all the case this release needs.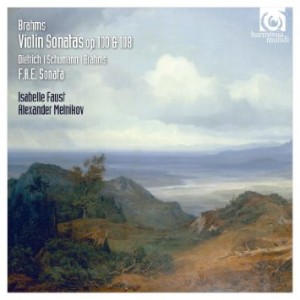 Brahms. Violin Sonatas Nos. 1 and 2. Schumann, Three Romances. F-A-E Sonata. Isabelle Faust, violin. Alexander Melnikov, piano. Harmonia Mundi HMC 902219.
Brahms used to be played warm and full. That's the way we heard him when I was growing up in the 1950's and 1960's. In the last 10-15 years, playing him lean(er) and clearer has become popular. Playing him this 'new' way, which is allegedly how he was played in his own time, the late nineteenth century, pretty much began with Roger Norrington's Classical Players recording the symphonies on late nineteenth century instruments (or reproductions). To my ears, if not to many others who grew up on Walter and Karajan (as I did), it sounded fine. Brahms was more exciting and interesting this different way—too qualities I value highly. John Eliot Gardiner's English Baroque Soloists did the same thing again a decade later, sounding comparably good if a little less fleet.
Playing Brahms' orchestral music lean and clear is one thing, playing his chamber music that way asks somewhat more of us: Isabelle Faust's 1704 Stradivarius and Alexander Melkniikov's 1875 Bosendorfer have their own considerable appeal, but those used to a modern violin and Steinway will have to recalibrate their ears and expectations a bit.
These two musicians have recorded a great deal of music over the past decade for Harmonia Mundi, alone and together. They are both absolutely first rate musicians and both are clearly committed to this enterprise. On the popular Sonata No. 2 Opus 100, they give us a notably dynamic performance made more so by the immediacy and clarity of their instruments. Period instruments need not sound cold and thin, they are simply not enriched, thickened, atmospheric. Faust's Strad is wonderfully smooth without being 'wet'; the Bosendorfer is firm, solid, resonant—and never wooly. Both instruments insist on their presence, command our attention. As with Norrington's and Gardiner's orchestras, they are exciting and pure Brahms. The longer you listen to them the more you are likely to rediscover a Brahms you thought you knew. And your music system will sound more transparent!
Included here, in addition to three familiar Romances by Schumann is a sonata composed by Brahms, Schumann, and a Schumann student, Albert Dietrich, each composer contributing one movement, Schumann two. Hearing Brahms and Schumann head to head is a fascinating experience: great programming.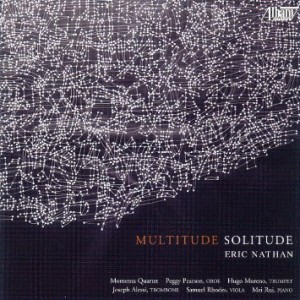 Multitude Solitude. Eric Nathan. [chamber music]. Momenta Quartet. Peggy Pearson, oboe. Hugo Mareno, trumpet. Joyce Alessi, trompbone. Samuel Rhodes, viola. Mel Rui, piano. Albany Records Troy 1586.
How do we discover and then sort through the many contemporary American composers who ask for our attention and appreciation? One way is to pay attention to those recording labels who make it their purpose to find the best of them—New World and Albany are two of those I seek out most often. Fanfare Magazine, despite some minor shortcomings, remains an extremely useful place to find new music, thanks to their policy of tracking down and reviewing a great number of releases we might not otherwise hear of.
So here I am with a selection of chamber music by young American modernist Eric Nathan, asking the question we always ask of new music: Does it have it? Is it striking? interesting? captivating? challenging? Does it make us want to listen, again? Is it of consequence?
The album is clearly an attempt to introduce a composer: to give us a varied sample of what he can do. As a principal result, we get some intriguing, some not quite, snippets: a seven plus minute string quartet, a twelve minute oboe quartet, an eleven minute whimsy for solo trombone, three two-minute solo piano pieces, three two-three minute toyings for solo trumpet, a six minute Homage to Gesualdo for string quintet, and finally the title piece, a fifteen minute string quartet.
This is a hard way to introduce a composer to a classical music audience whose attention span is considerably longer that of most (?) of today's youth. We're out of these works almost as soon as we're into them. There are, as I say, some intriguing moments here and there but there is no time to settle in, look for consequences and ramifications. It may seem unfair to object to what a thing is rather than evaluate it on its own terms. On their own terms, the oboe quartet is attractive, the Homage to Gesualdo strikingly haunting. But again, neither is given sufficient time and space to satisfy us. What is the value of an intriguing extended moment? I think that is a fair question to ask.
The title work, the string quartet Multitude Solitude is more patient with us. It has some of the qualities of the Homage but moves beyond it to provide a sense of who Eric Nathan may be. The hints of whimsy of the shorter works are here but we sense a context for them. They lead to musical consequences. This work has some genuine emotional weight, traveling from introspective speculation to urgent concern and then on to something like meditative drama, if there is such a thing. This work is striking, interesting, captivating. It is a work that invites repeated listenings—four so far!
Equipment used for this audition: Resolution Audio Cantata CD player; Audio Note OTO Signature integrated tube amplifier, Audio Note K/SPx SE loudspeakers; Crimson interconnects and speaker cable; and Volex power cables.
Bob Neill, a former equipment reviewer for Enjoy the Music and Positive Feedback, is proprietor of Amherst Audio in Western Massachusetts which sells equipment from Audio Note (UK), Blue Circle (Canada), Crimson (UK), Jean Marie Reynaud (France), Resolution Audio (US), and Tocaro (Germany).