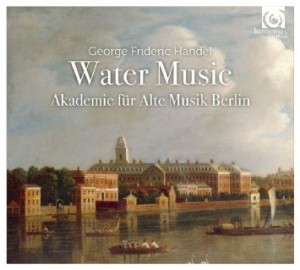 George Frederick Handel, Water Music. Academie fur Alte Musik Berlin. Harmonia Mundi HMC 902216.
Handel was German, but he was also a Londoner for 47 years and lived and studied for four years in Italy. We can hear all of this in his music, an extremely satisfying blend of three distinct baroque musical cultures. He is more uninhibitedly melodious than Bach (and Telemann) and richer in texture than Corelli and Vivaldi—though he has qualities of all of these composers, Corelli especially. We even hear hints of his adopted English ancestor Purcell.
And so with all of these influences at work in his music, how he is played 'tunes' him significantly. There really is no definitive way to perform him, just preferences. The Academie fur Alte Musik Berlin is a fairly characteristic German period orchestra: brisk in pace, crisp and transparent in texture and delivery, straightforward overall—with a reluctance to indulge. Most of us know the composer's deservedly popular and good natured Water Music from Pinnock's and Hogwood's British ensembles, who gave the music brio and flair in place of the over-sweet interpretations that preceded and may even have brought them into being. Nicholas McGegan's San Francisco based Philharmonia Baroque Orchestra added elegance to the English flair in their remarkably fresh version. All of these performances are now over two generations in the past, starting out their lives on vinyl.
The Academie take the music back to the composer's roots in Germany, substituting energy and backbone for flair and elegance, which will please Handelians who favor those aspects of his music. Their Water Music sounds substantial. It is still absolutely Handel but we can hear the Brandenbergs nearby. The Academie is made up entirely of German musicians from what I can tell from the album notes; they play without a conductor. Their Mozart is exciting; their Handel is reassuring. I am confident George Frederick would recognize it.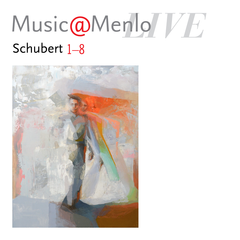 Music@Menlo 'Live' 2015. Schubert. 8 CD's. Musicatmenlo (Available HERE)
It's that time of year when suddenly all of us who choose are transported to a place where a skillful and imaginative group of professional musicians present us with the equivalent of a week and a half of thoughtfully focused chamber music. It is one of the most intensive and intense musical experiences available on record or off.  Music festivals of this kind are generally spread over the course of a summer and we have to go to Rockport, Massachusetts and the like to hear them. Nothing against that fine program but for pure musical experience it can't compare with what Music@Menlo recordings create for us every year when the equinox is in sight. This year's focus is Schubert and the musicians include the Esher String Quartet, the Dover Quartet, Jeffrey Kahane, Gilbert Kalish, and Wu Han, pianists; Arnaud Sussman and Philip Setzer, violins; Paul Neubauer, viola; and Laurence Lessor and David Finckel, cellists—just to mention those I know. Among the others are names we are likely to know in a few years. The records "present virtually all of the composer's greatest chamber music and his celebrated lieder, alongside works by Haydn, Mozart, Beethoven, Mendelssohn, Brahms, and more."
I don't plan to write about all eight discs here, just to say enough to provide a clear and sufficient impression of what the package delivers
The highlight of CD 1 is Schubert's D. 667 Trout Quintet. Live performances sometimes inexplicably bring new perspectives on well known classics. While the double bass always seems key to the Trout's' appeal, in this performance it's as much the ensemble work of bass, cello, and viola that generates a special degree of articulate and sonorous weight and warmth, especially in the fourth movement—if your system has first rate bass clarity as well as reach. As we expect, the violin and piano lead the way but it's the trio of lower strings that raise this performance into a new range of emotional power. It's always a surprise when a group of musicians who do not usually play with one another produce brilliance. I have never enjoyed this famous work as much. If you prefer to sample this year's series rather than buy it all at once, start here.
CD 2 opens with the Mozart K.406 Quintet to demonstrate that while most of us feel we can't imagine Schubert without Beethoven, it is also clear we can't imagine him without Mozart. This particular quintet presented in the context of a Schubert series (performed by Danbi Um and Philip Setzer, violins, Paul Neubauer and Sunni Chang, violas, and David Finckel cello) dramatizes the connection. The third movement minuet, in which elegance and structure breathe eighteenth century classicism at its highest point, marks the difference between the composers. But this movement also suggests how one aesthetic perfectly achieved can inspire its offspring. To move directly as we do on this recording to Schubert's D. 956 Quintet lets us feel the lively formality of Mozart give way to the drama and nineteenth century melancholy of Schubert. Arnaud Sussman and Benjamin Beilman violins, Paul Neubauer, viola, and Keith Robinson and Laurence Lesser cellos bring out the formal sweep of the work which keeps the drama within as much structure as it will bear. But whatever it may remember of Mozart, this work is of the nineteenth century and will not be contained. Placing it directly after the Mozart quintet helps us hear more often than we usually do how distinctive Schubert is. Later in the series we get this same kind of music lesson with Beethoven. CD2 contains two great performances and offers one of the best aural music history lessons I know of.
CD 3 includes Schubert's D. 489 Wanderer lied for baritone and piano and D. 760 Wanderer Fantasy for piano, programmed between late Haydn (Opus 103) and Beethoven (Op. 131) string quartets—all composed within a single generation (1805-1826). Interestingly, the Beethoven comes last in the program, which has the effect of tying the Schubert works closer to the classical idiom than to whatever we decide to call late Beethoven! Baritone Nikolay Borchev has a gorgeous voice—rich, clear, unaffected. He is the highlight of the recording and returns to give us a full CD of Schubert lieder on CD 7. Pianist Juho Pohjonen accompanies Borchev and then gives us the 21-minute Wanderer Fantasy D. 760. The musicianship on the two Schubert works is a wonderful demonstration of the quality of the corps of performers Music@Menlo sets before us. The Opus 131 of Beethoven sounds post-Schubertian, which is presumably why it was placed here in the program, reminding us that music history is a far more complex affair than what we sometimes make it out to be. That the Dover Quartet play both the Haydn and the Beethoven probably helps to reinforce the connections with Haydn as well.
We are used to thinking of the first quarter of the nineteenth century as a period of transition and these four works played together dramatize that that is precisely what it was. That modernism is what Beethoven's late quartets are a transition to has long been suggested. But what we hear on this recording is classicism and early romanticism wrestling with each other as three composers work to define their individual voices. This is a truly exciting recording if you care about music history from inside out.
Before we are through with Music@Menlo 2015, Mendelssohn and Brahms come into the mix but mostly there's a lot more Schubert. The set concludes with a performance of contemporary American John Harbison's extraordinary November 19, 1824 piano quartet on Schubert's death by Gloria Chien, Dambi Um, Paul Neubauer, and Laurence Lesser.
Audio engineering by Da-Hong Seetoo is, as always with this seeming genius, state of the art. The annual Music@Menlo series are treasures which deserve more notice than they get. The 2015 set is one of their very best.
                                  *                    *                    *                    *                    *                    *
Equipment used for this audition: Resolution Audio Cantata CD player w/BlackJack power cord; Blue Circle O22i solid state integrated amplifier, JM Reynaud Offrande Supreme, V2 loudspeakers; Crimson interconnects and speaker cable; Volex power cables, Mapleshade Samson equipment rack.
Bob Neill, a former equipment reviewer for Enjoy the Music and Positive Feedback, is proprietor of Amherst Audio in Western Massachusetts which sells equipment from Audio Note (UK), Blue Circle (Canada), Crimson (UK), Jean Marie Reynaud (France), Resolution Audio (US), and Tocaro (Germany).