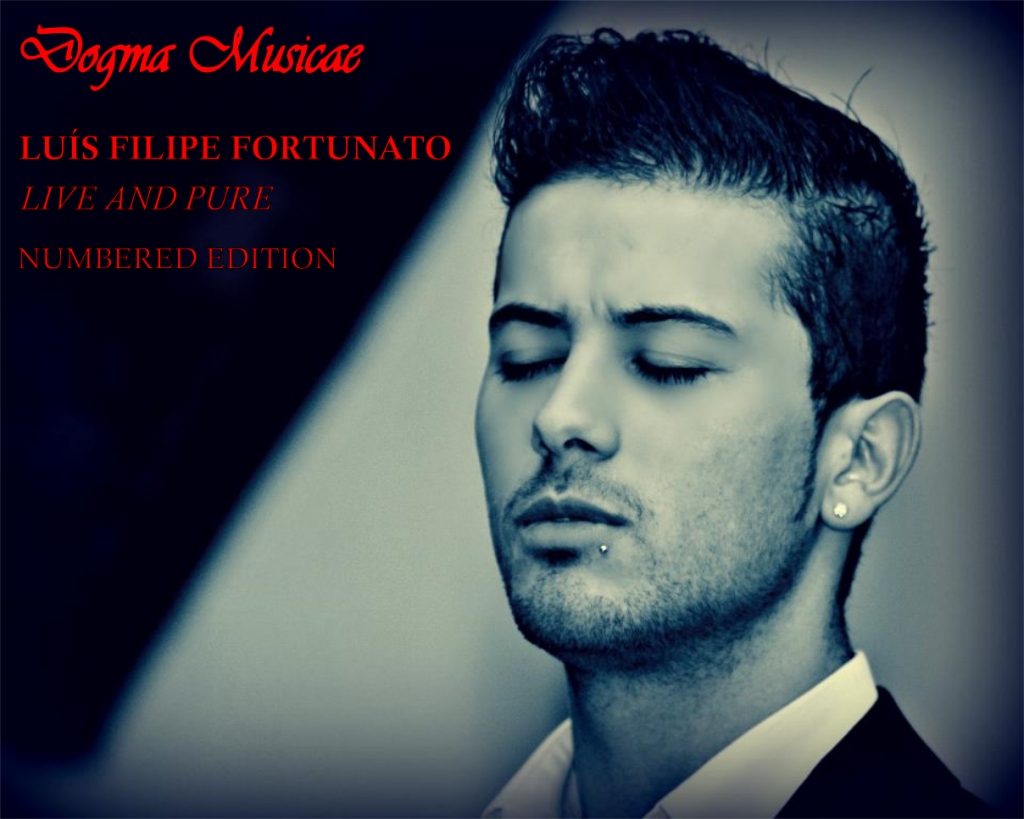 Luis Filipe Fortunato's Live and Pure
A year or two ago I had to adopt a somewhat self-serving policy as a reviewer—physical formats only, please. I did this for a few reasons. First of all, too many publicists simply wanted to send me a link to some MP3 download of their clients—one in particular wanted me to open an account on her website and login daily to see if there was anything I wanted to review, and if I didn't check in for a few days I would receive a bunch of pesky, annoying emails. No thanks. I review partially based on sound quality, so MP3 downloads are worthless to me.
Plus—and this is the self-serving part—my ability to review anything other than CDs and LPs is highly dependent on my ever-changing system. My reference system is decidedly old-school—I don't always have an outboard DAC or a network streamer or even a spare USB cable. 99% of the time I don't need one. But every once in awhile…
Enter Freddy Rodrigues. Freddy's a recording engineer for the Dogma Musicae label in Portugal, and we've been friends on Facebook for quite a while. Dogma's motto is "Hi-Res Music for the Gifted Listener," which should have been the tip-off that we were talking about digital downloads. But Freddy confused me by asking me if he could "send" me an album. "Why of course," I said, and a couple of weeks later I received a package from Portugal. The package wasn't big and flat, like a vinyl LP. It wasn't small and flat, like a CD. It was almost the size and dimensions of a cassette tape, but not quite. "Uh oh," I thought. "I hope Freddy didn't go to all this trouble to send me some strange new format I can't play."
As it turned out, it was good old-fashioned USB thumb drive/music stick/whatever the kids are calling it these days. But this was unlike any USB drive I'd ever seen. It came in a beautiful wood box, the same kind of box that usually contains a pricey Japanese phono cartridge. The thumb drive itself was also covered in the same beautiful wood. After viewing all the content in the file through my laptop and feeling really impressed at the sheer audacity of the packaging, I made a concerted effort to hear this recording at its best by assembling a system around it. I'm glad I did.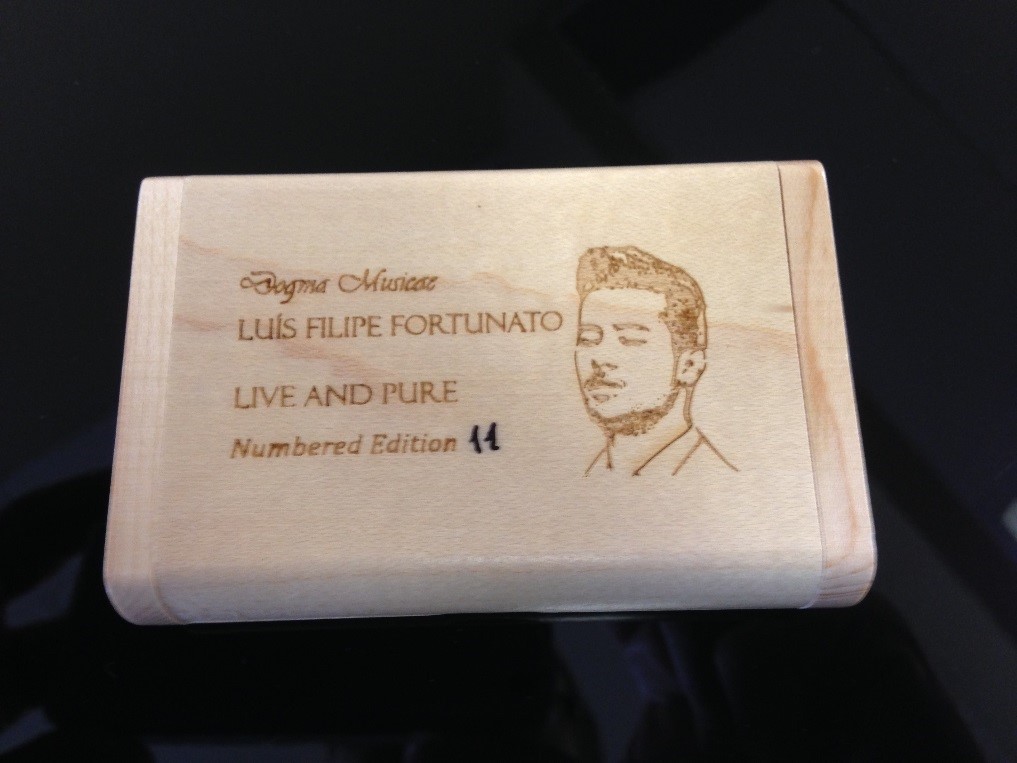 Here's what you get in this tiny little wooden box. First you get Luis Filipe Fortunato's Live and Pure in both FLAC and 96kHz.m3u. You also get a couple of bonus tracks from Monica Baptista. You get album covers, photos and artwork. You get the lyrics of all these songs in both Portuguese and English. Most of all, you get plenty of music that's both beautiful and beautifully recorded. In the words of the good folks at Dogma Musicae, you get the first Fado album that is truly "genuine."
If you've never heard of Fado, it's a type of Portuguese music that's been around for close to 200 years. Fado is defined by its somewhat melancholy themes—if you had the blues in Lisbon, it would probably sound a lot like this music. Often these melancholy themes focus on maritime life—Portugal, of course, is historically a land of sailors and the women that are left behind. So Fado, in a nutshell, is music about longing, about missing someone you love very much.
Fado also demands a purity. It must be simple, with minimal accompaniment, and sung with conviction. Luis Filipe Fortunato is a fadista, one who sing Fado. He has a clear, impressive and emotional voice—one can easily imagine that he's been singing these songs since he was a small boy. In this live recording, you hear that essential connection that he makes with the small but enthusiastic audience—they know these songs just as thoroughly as he does, but they still hang on every word, every syllable. It's a deeply meaningful experience for everyone in the room, and that feeling is tangible in this recording.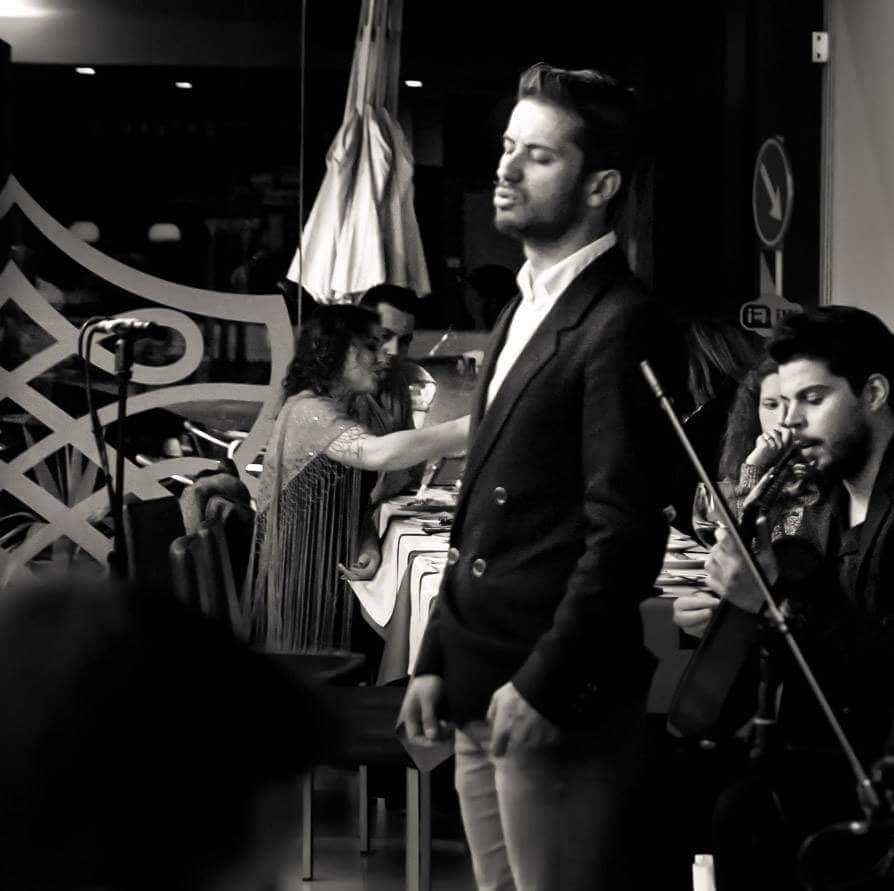 In fact, the performance runs a little deeper than that. Fado is traditionally performed at Fado restaurants. That's how deeply embedded this music is within Portuguese culture. That's why this recording is so live sounding—you have to capture the interactions with the audience. The applause at the end of each song should sound more like a spontaneous outpouring of love, not a courtesy. That's why Live and Pure is so immediate and so involving. The phrase "You are there" takes on a whole new meaning.
Freddy and the people at Dogma understand Fado, obviously, and how to best represent this art form. This recording is done without compression, equalization, or "other destructive processing," as it says in the extensive liner notes. As a result, Live and Pure is exactly that, unadorned and with an almost visceral presence. When Monica Baptiste hits the stage for the final two songs, for instance, you can physically feel the emotional differences in her vocal tone—Luis may be longing for his love, but Monica is, in turn, more than a little miffed that her love hasn't shown up yet, and she wants some answers.  Any semblance of distance is erased in these performances, and you are being confronted by another human being who is physically close to you and demanding your full attention. This is not a tenth row perspective; you are in the front row. You can almost feel the spittle hitting your forehead.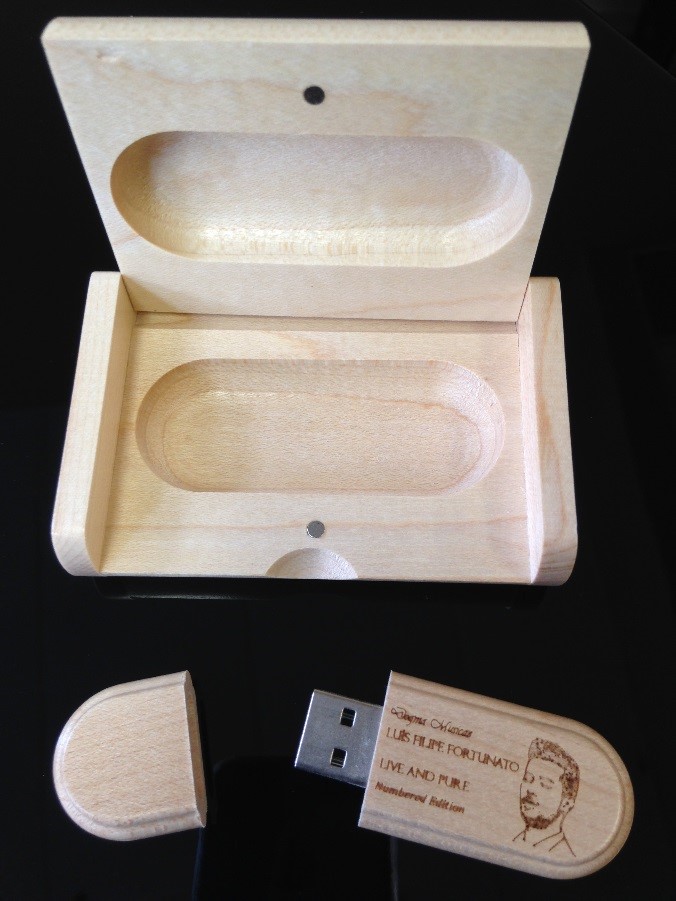 All of this has been quite illuminating for me. Not only was I exposed to a beautiful new musical genre, but an interesting and modern new take on collecting music. I'm one of those music lovers who still needs a collection that exists on shelves in my home, not on a hard drive or up in the cloud. At the same time, I'm starting to really enjoy the sound quality I'm hearing while streaming through Tidal, or while using a high-quality DAC in my reference system.
This little wooden box, however, is something to treasure, something to pull out and show your friends. Then you can plug in the memory stick and instantly be transported to a live, thrilling performance. I love that Dogma Musicae gets that about people like me. We want the best of both worlds.
Dogma Musicae LFF-1 (Available through Dogma Musicae website. Cost 28.50 euros.)