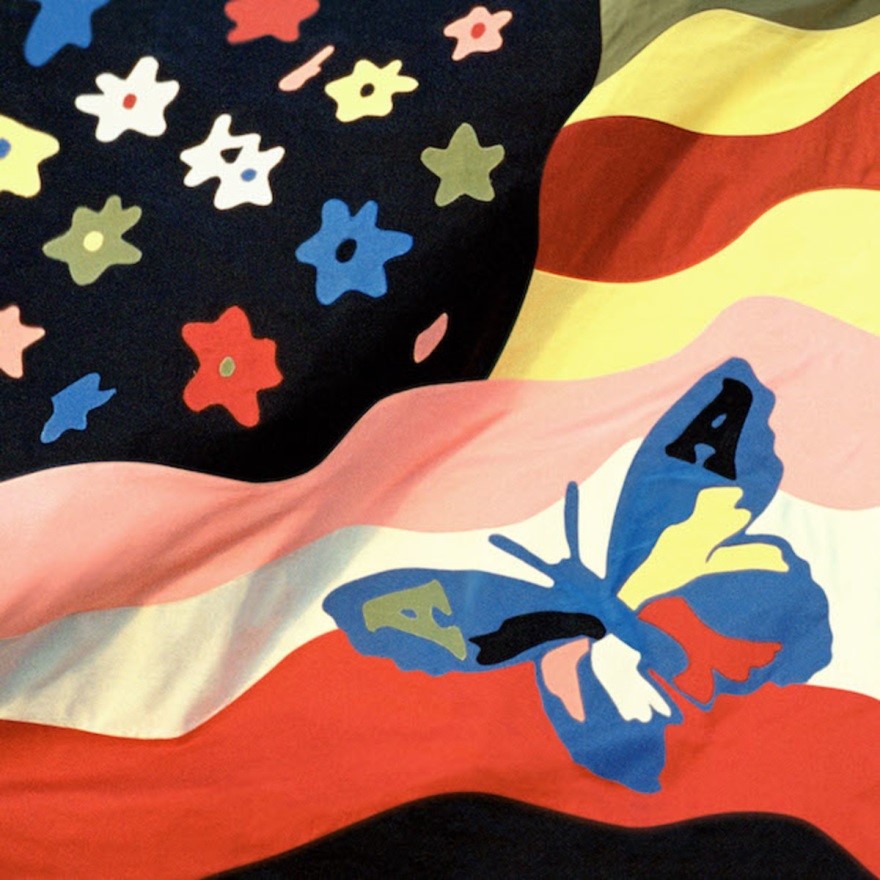 The Avalanches, Wildflower
Astralwerks 2547900289
$19.99 for the two LP set
"Is that serious music?"
I remember my first wife asking me that question back in 1989 when I brought home Pixies' Doolittle and gave it an inaugural spin. I'd gotten all the way to the eighth song on the album, "Mr. Grieves," to the part where Black Francis starts singing "Hope everything is all right" in an exaggerated and maniacal vibrato. That's when she walked in. I tried to explain it all to this person, a 23-year-old Virginia girl whose favorite group was Chicago, not the cool Terry Katz-driven first-five-albums Chicago but the sappy sugary ballad-singing Peter Cetera Band that came after Katz passed away.
Of course it's serious music, I explained. It's great music. I had no idea at the time that Doolittle would eventually become my favorite album of all time, but I had an idea on that first listen that it was pretty special and that my musical tastes were about to undergo a serious seismic half-twist into the abyss, just like they did when I heard X's Under the Big Black Sun on Rodney Bingenheimer's radio show back in 1982 and I subsequently stopped listening to dinosaur rock and got rid of half of my record collection. "Whatever," she said as she rolled her eyes and left the room.
I'm getting those same vibes from The Avalanches' new album Wildflower. People walk into the room while I'm playing it and ask, "What are you listening to? What is this? I don't get it…is this serious music?" But this time I think oh no, this is not serious at all. This is what unbridled joy sounds like. It's sunshine and rainbows and it's an unfathomable mess, the stuff of legends. Sit down and indulge yourself.
How do I describe this LP? It starts with "Because I'm Me," which sounds like a lost Jackson 5 hit sung by a four year old whose parents are putting his performance on YouTube where it probably will go viral. Then it switches into a solid hip-hop jam and you might think oh, I know what kind of album this is going to be. I know who The Avalanches are. But you don't. The mix weaves in and out of consciousness. One minute it sounds like you're listening to a tiny transistor radio. Then you're hearing street sounds, voices, children playing down the block.
Follow the winding path and you're suddenly faced with "Frankie Sinatra" which sounds like a bastardized version of "Hava Nagila" sung by a 70-year-old butcher somewhere on location in the Bronx. You know, just like that but with an awesome backbeat. Take a brief detour into a lovely arrangement of "My Favorite Things" before skidding into "Subway" which sounds like a great '70s disco tune that once again is sabotaged by an itchy finger on the volume and tuning knobs.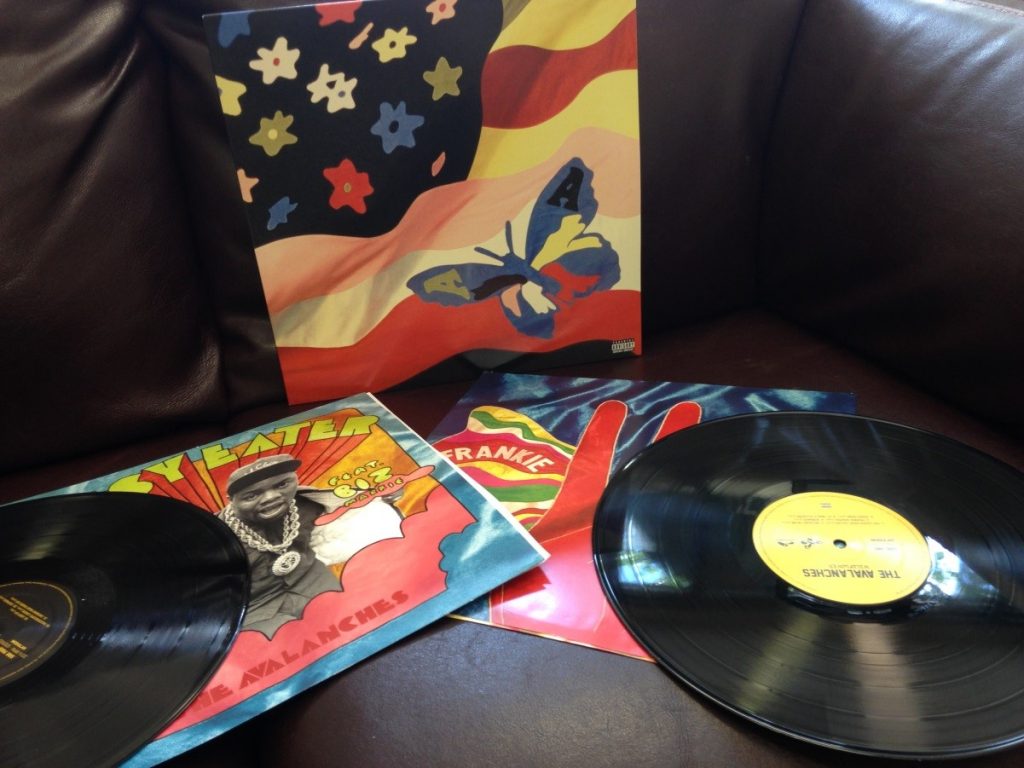 Wildflower goes on like this for well over an hour. At its center is a very pleasant and colorful '70s pop album, a mixture of solid Motown R&B, disco and a modest scoop of '60s psychedelia, all against a background that suggests a 1975 "Revolution #9." It might all sound like a happy mess, like the carousel interlude in "For the Benefit of Mr. Kite" (which makes a very brief appearance here somewhere). But you'd be wrong. It took 16 years to make Wildflowers. It's sort of the Mad Max: Fury Road of psychedelic hip-hop albums.
The Aussie reference is intentional. The Avalanches are indeed from Australia. Their first album, Since I Left You, was released back in 2000 to critical acclaim. Ever since then this Melbourne group, which now consists of Robbie Chater, Tony DiBlasi and James Dela Cruz, has been collecting the sounds and recordings that would ultimately turn into Wildflower. In 2005 they started to organize all the tracks in the studio but the music kept changing direction as more was added. The group states that they intended to make an album that consisted only of world music, but then Wildflower evolved into this creation, a funky, psychedelic road trip with an AM transistor radio that isn't quite working right.
What makes the method in this madness so unique is plunderphonics. I haven't heard this term until now. Plunderphonics involves collecting sounds and recordings and arranging them so they turn into original music on their own. This differs from sampling in that these initial sounds are kept as pure and unadulterated as possible—the change comes naturally from within. It sounds like an arduous task to create this type of music, which begins to explain why it took so long for Wildflowers to arrive in its current form.
This album wouldn't work as well if it just contained random noises arranged into some sort of forced rhythm. If anything, Wildflower is rich with beautiful music sampled from diverse sources as Randy Newman, Percy Faith, Bobby Goldsboro, Tommy James, Wings, the Bee Gees, Chandra Oppenheim and more. Then, the Avalanches themselves add synthesizer, vocal and percussion tracks, and enlist the help of friends such as Biz Markie and Camp Lo to add a more urban polish to the end result. (By the way, the album doesn't get any funnier than when Biz sings "The Noisy Eater," a tribute to breakfast cereals with obnoxious Jerry Lewis samples in the background.)
Fortunately, we won't have to wait another 16 years for the next installment. The group created so many tracks throughout the project, and not everything worked in the context of the songs that made the cut. Chater has said in interviews that his intention was to make Wildflowers sound like an acid trip where the tripper keeps traveling between an urban environment, reality, and a surreal and imaginary world where sounds fade in and out. It might be difficult to use plunderphonics to fit music into such a narrow mold; I bet those "outtakes" have an intriguingly different feel. It reminds me of Sufjan Stevens' Illinois and how those recording sessions were so productive that he released another album, The Avalanche, just to handle the overflow of creativity. Chater has promised the follow-up within the year.
After all is said and done, Wildflower is a lot like Doolittle—which wasn't really that serious either. It's a realignment of sensibilities. It's like watching Jim Jarmusch's Stranger Than Paradise back in 1984 after a lifelong diet of Spielberg movies and realizing hey, there's more to life than this! I should explore! You might scratch your head for an hour, and you might have whiplash from all the rapid downshifts, but in the end your horizons will be a little broader and you'll have smiled at least a dozen times. Seriously, it's more than worth it.