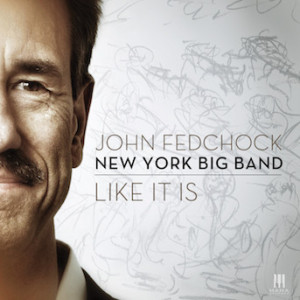 This kick-ass New York jazz orchestra's fifth album, scheduled for release on Friday, August 7, is leader John Fedchock's eighth publication. Already a powerhouse big band leader and arranger, trombonist Fedchock gained chops and jazz sea-legs working for legendary jazz orchestra guru, Woody Herman. He was Herman's musical director—a ferociously exacting task which earned him praise from the no-BS Herman, who also leaned heavily on Fedchock's arranging skill.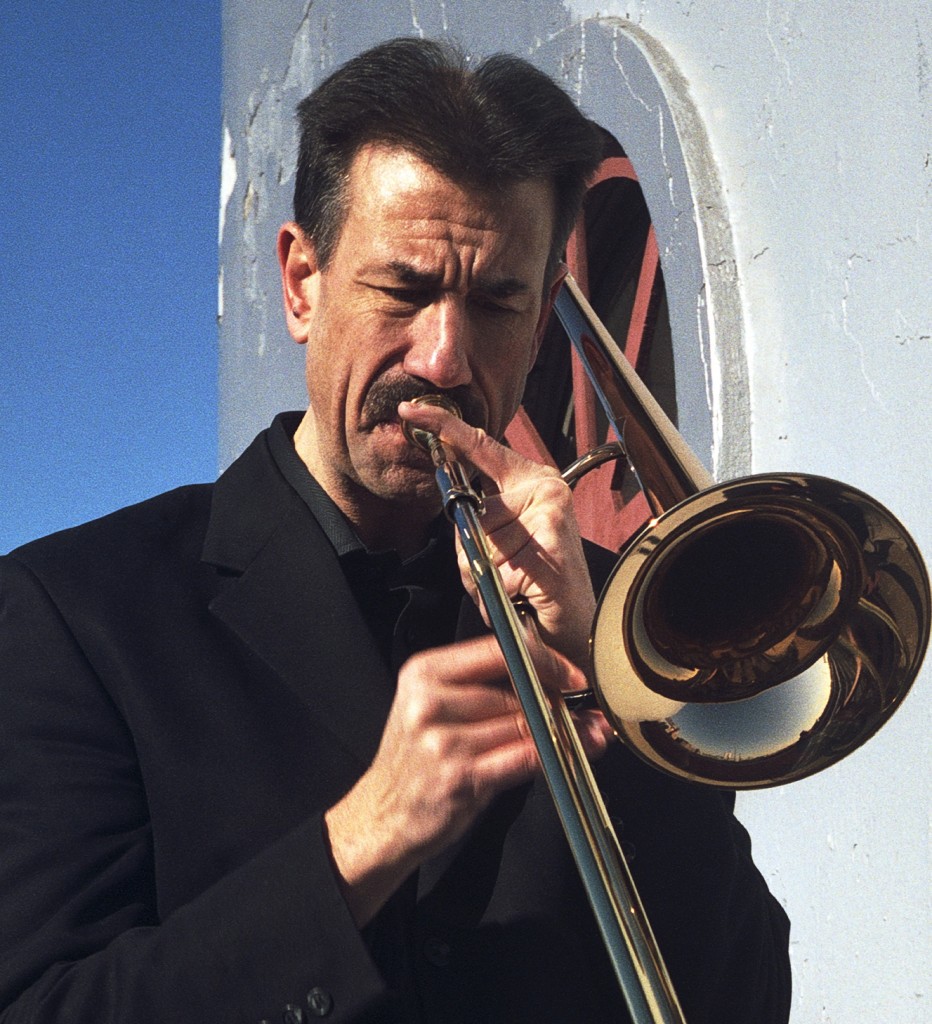 The point here is that, while this band (in a crowded marketplace) may've have slipped the notice of serious jazz listeners not located in or near New York, John Fedchock is one of those looming giants on the musical horizon now moving to the front of attention. His 16-piece big band is an absolute MUST for anyone who can hear it—as, for example, at the Blue Note in NYC on Monday, August 10th. The current jazz scene badly needs the raw jubilance, sophisticated power and flat out artistic brilliance of this explosive aggregation.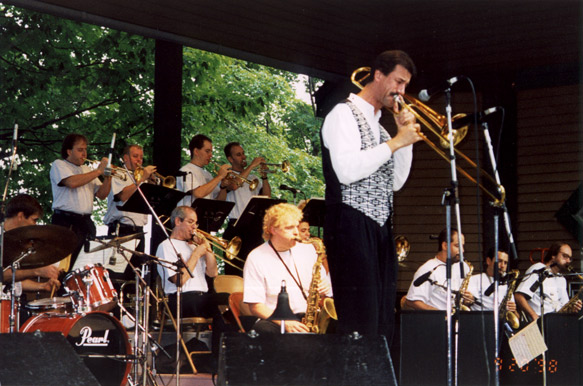 One of the deeply compelling items of allure on Like It Is resides with its subtle pacing and seamless movement from one song to another. The album has been constructed with a masterful compositional touch and a fluid intercalation that creates a "jazz suite." It moves from the Dietz/Schwartz classic "You and the Night and the Music" to the leader's "Like It Is," a swarthy romp, then to the lush seduction of "Never Let Me Go," a pleading ballad tugging gently at your heart by Fedchock's trombone sleigh ride that recalls a feeling somewhere between Kai Winding's arch aporias and J.J. Johnson's romance. The following six compositions (three written by Fedchock) continue the sub-rosa swagger of loosely stitched songs unfolding a larger design. The least obvious virtue of Fedchock's enormous lyric authority is his confident narrative structure. How many arrangers and band leaders find time (make room in crowded work regimes) to think beyond the task of individual songs to be written, scores laid out for band mates, gigs booked and pay days met? There was an urgent reason Woody Herman trusted Frank Tiberi, Alan Broadbent and John Fedchock over long years on the road with more than three herds. Those guys all got things done right on time, with bravura and a touch of lyric genius.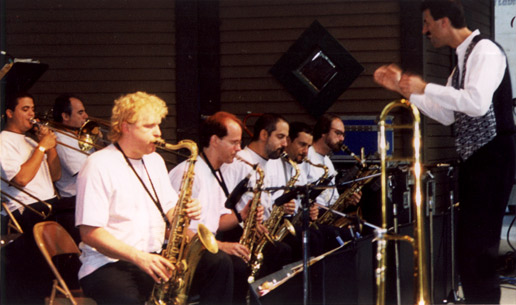 In a world in which too many albums sound like Charlie Brown wailing at his dying Christmas tree, the Fedchock orchestral signature takes you by the paw and puts you front-and-center where the action dances with your own heartbeat. This is a rare band and unexpected publication: An unself-conscious, masterful representation of artistic craft, a big band leader's profound vision that gives his first-rate musical partners—tenors, Rich Perry and Walt Weiskopf; trumpets, Scott Wendholt and Barry Ries; baritones, Gary Smulyan and Scott Robinson; plus Allen Farnham on piano—space to demonstrate immense command.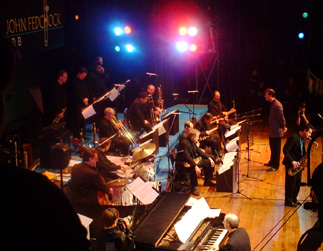 Like It Is stands, already, at the musical forefront resisting an increasingly demented world's staggering penchant to concoct blues beyond Jimmy Rushing's adorable bitter meanings. Blowing the blues away was never before more necessary and more difficult. Which of us is not plagued by a "world too much with us," as William Wordsworth scribbled (in a gentler, still threatened moment) seeking monuments of personal solace. Here's my nomination for ALBUM OF THE YEAR in the category of "magisterial jazz orchestra" . . . if such a rubric can be found. Whichever category holds a door open to John Fedchock and his roaring, bubbling, supremely joyous jazz juggernaut gains my assent.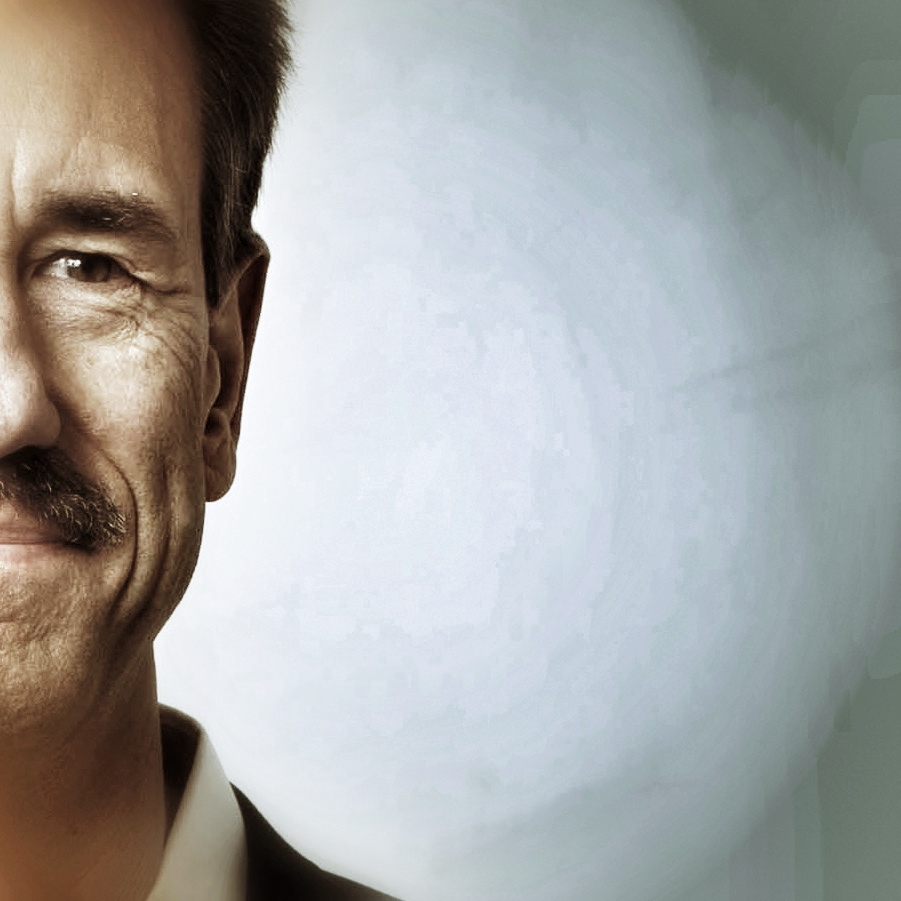 Get this disc. Follow these cats down the street. They're your best friends you've never yet met. They'll not go away soon—announcing here, on this strong session, recorded at the estimable Avatar Studio, that they're here for good.
I've booked my arrival in wormy lower Apple territories for this band's next session (@ Gianni Valenti's BIRDLAND, if possible) . . . any place any time I can be there. How lucky we are that musicians like these inhabit our besieged planet while we stagger toward survival.
Without privilege or invitation, I lift a mug to John and his pals: THANKS for giving us undiminished animal energy, such spiritual purpose.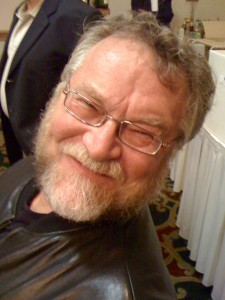 (All photographs courtesy of Summit Records (album cover) and John Fedchock Official Website, except portrait of Jim Merod by David W. Robinson, Copyright (c) 2015, all rights reserved.)