Johnny Hartman - Once In Every Life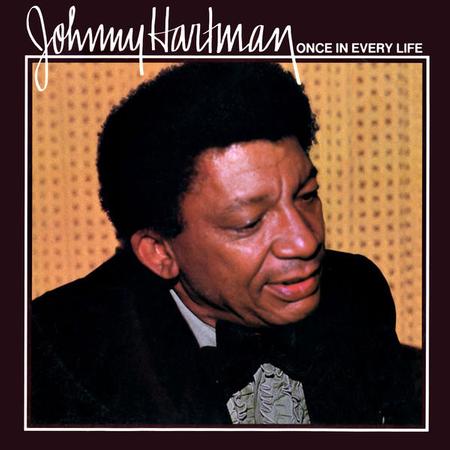 Reissued by Analogue Productions APJ 105 originally released in 1981 by Bee Hive Records BH 7012
A very difficult record to review! So much to say and so little room to say it.
In 1995 Clint Eastwood directed and starred in The Bridges Of Madison County. In September 1995, and with a follow-up release  Remembering Madison County in 1996 (Malpaso/Warner Bros 9 46259-2), the soundtrack (Malpaso/Warner Bros 9 45949-2) was released to an excellent reception and reviews.  It was pointedly aimed the "older set" of music lovers, and it soon became a favorite to woo your partner. Yes, the older set is still "wooable," although my friend Mark claims it's music for the "over 70 crowd." (He should talk; he's only in his 60's). Typical of compilation soundtracks, little information was given other than to credit the original recording label and artist. I latched onto the CDs because they featured Johnny Hartman vocals on both discs. I love Johnny Hartman, who has a long history of recording vocals with some of the greatest jazz artists in recorded history.
So it's almost 18 years later that I'm talking with Chad Kassem of Acoustic Sounds and Analogue Productions fame about what he should consider re-issuing next. My first choice was Tony Bennett at Carnegie Hall, 1962 on Columbia; an amazing live concert recording. To my glee he has it in the works. My next choice is Johnny Hartman:  Once in Every Life on Bee Hive Records. Chad's instant reply is an emphatic "Yes!" But he couldn't pry the rights to do the record from those that own them. We both think this is a great and important record to re-issue. And we are not alone with that thought. If you listen to both soundtrack albums noted above, you'll realize that Clint Eastwood, a huge fan of jazz recordings, used this entire album as his only source for all the Hartman vocals. Trust me, this is a rarity in compilation soundtracks.
Why he did this is easy to understand. As far as I'm concerned, this album, the last Hartman released before he died, is a work of pure genius. The production values, the artists involved, the choice of songs, and most of all that incredible voice and style of Hartman all combine to make this album an obvious choice for reissue. The respect the musicians have for each other is clearly heard in the wonderful balance between the performers.
Analogue Productions rose to the challenge and reissued this gem in ever better balance, clarity, and focus of instruments. Hartman's voice is pure velvet smoothness. His mellow baritone at times is amazing in his breath control. Instruments come out of darkness, and yet blend and support Hartman to perfection. Artists featured on this album are Billy Taylor on piano and Al Gata on guitar. Not to be ignored are the liner notes on this album:  they are superb in detail and information. While some of the songs were written many decades before this album, Hartman brings them right up to the present. Then again, the emotions described in these songs are timeless. Pay particular attention to "It Was Almost Like A Song," "Will You Still Be Mine," and "I See Your Face Before Me." Note that after his death, twelve more albums of Hartman performing were made available, thus underscoring his importance.
This entire album is not to be missed. It is a valuable example of how to produce a recording that literally takes the listener on a journey through the ups and downs of love and romance. Analogue Productions has done it yet again. This recording is ageless, and is a top recommendation from me!
[Cover image courtesy of Analogue Productions. David Nemzer is currently a member of the Audiophile Society, has written for The Audiophile Voice, and is a reader of Positive Feedback.]