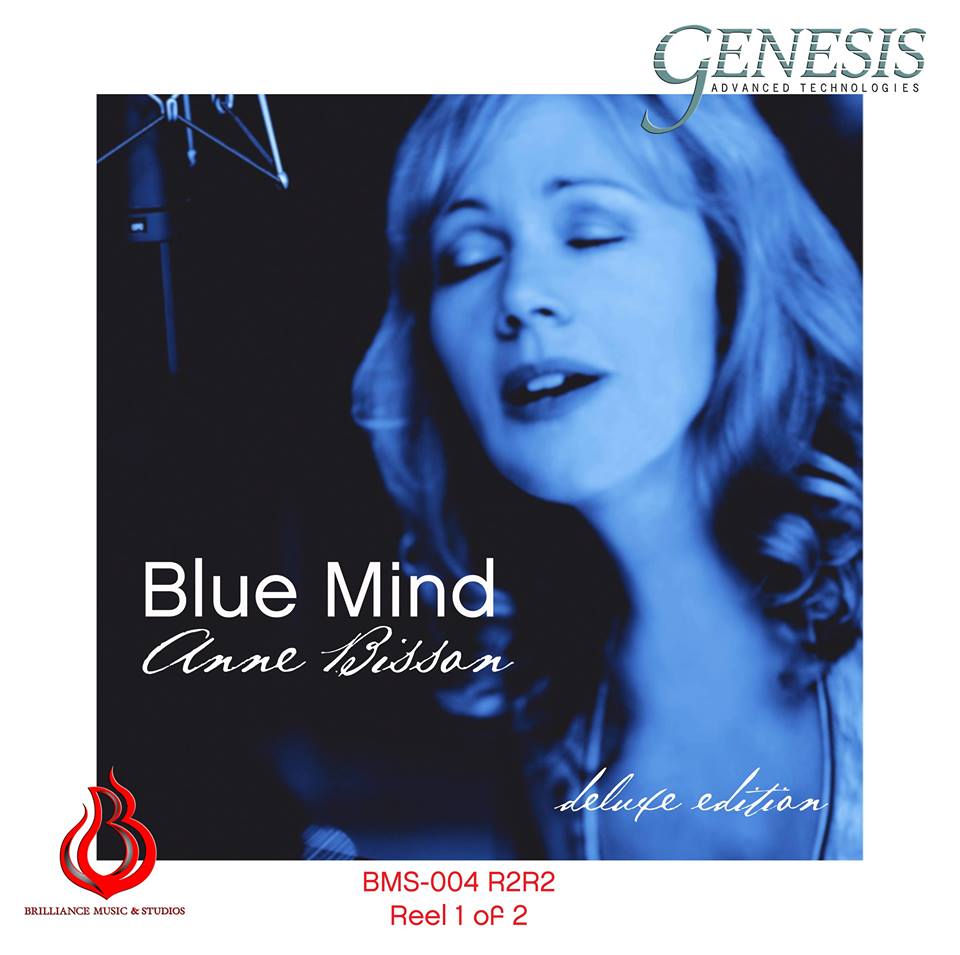 Anne Bisson: Blue Mind, Co-sponsored by Wuti Larnroongroj, Brilliance Music and Studios and Gary Koh, Genesis Advanced Technologies. 15-ips, 2-track, reel-to-reel tape. Originally produced and recorded by: Guy St. Orge. Recorded July 21-22, 2008, Reference Studio, St-Calixte, Quebec. Remastered by Bernie Grundman. http://www.annebisson.com/en/. Price: $600.
It's rare that performers get to revisit and remaster their older recordings. Blue Mind, Anne Bissons' first commercial effort, was originally released either on vinyl or as a deluxe CD version containing two extra songs "Secret Survivor" and "New Start" eight years ago. Yes, the newest 15-ips reel-to-reel tape version contains the two songs found on the Deluxe CD version but any similarities between the two mediums ends there. The newest version of Blue Mind magically remastered by Bernie Grundman and transferred with loving care by tape guru Ki Choi to 15-ips reel-to-reel tape is a complete and absolutely for the better, reworking of Anne's original release.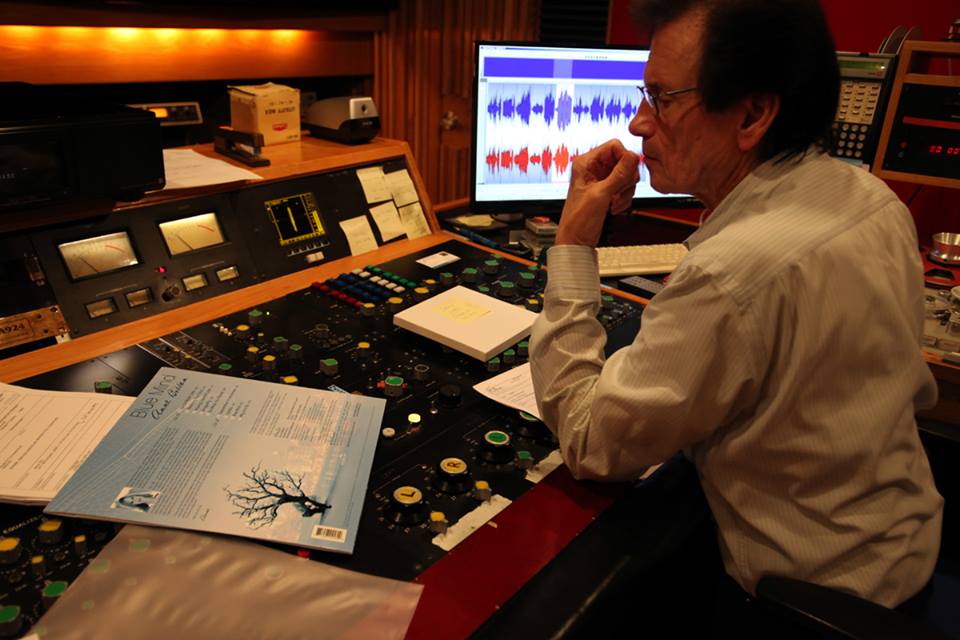 Make no mistake either. The reel-to-reel edition of Blue Mind is no tweaking of the recording according to co-sponsor Gary Koh but, "a full fledged remastering of the title." In fact, Gary sat in the shotgun chair during Bernie's actual remastering in order to better understand what went on in the studio. The end result, unfortunately, didn't turn out exactly as anticipated. All it did according to Gary was, "give me a headache and a huge appreciation of what he [Bernie] is able to achieve. I couldn't hear the differences made with each click or twist made (and I thought that I had pretty good listening acuity) but the sum total of all his clicks and twists made each track sound far better than the original. I would say that the new mix is more engaging and musical and organic, and Anne kept sounding more like Anne. That even though Bernie had never heard Anne sing "live" without a microphone as I had many times." In the end, Gary feels, "there is no way the LP, high-rez digital file or CD will sound like this tape, but we are in discussion to make a 4-sided 45 rpm version of Blue Mind."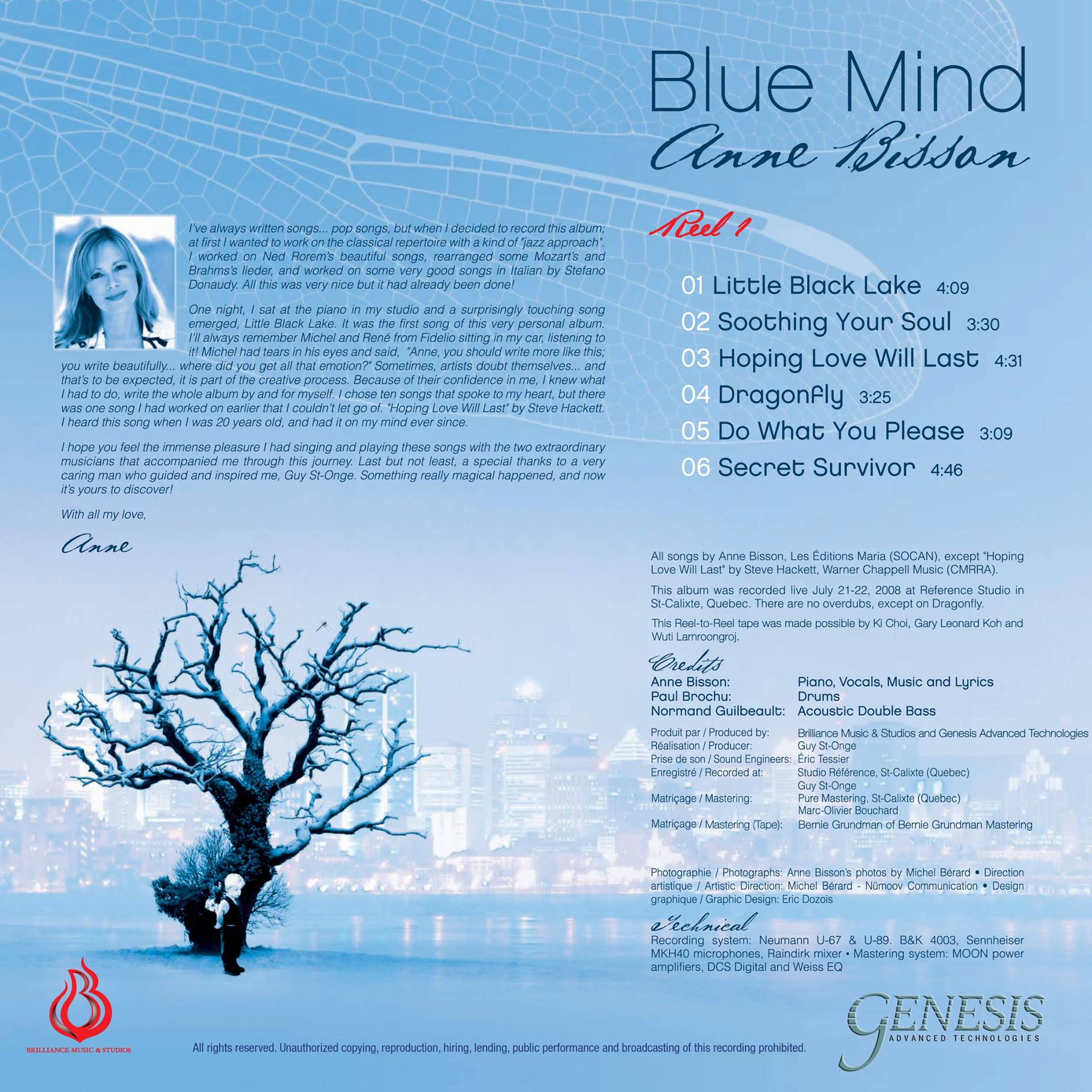 Blue Mind is a jazz centric recording featuring ten original compositions by Anne plus the Steve Hackett piece "Hoping Love Will Last," that as she shared, "was one song that I had worked on earlier that I couldn't let go of." Even on her initial offering, Anne's strong and powerful midrange voice combined with a lot of resonance is very apparent. She demonstrates on Blue Mind, a great range as a lyric singer and her high notes are very easy to hear and not pitchy. When she lets the melody take over, her voice takes on the beautiful flight of a soprano as on "Soothing Your Soul" and "Hoping Love Will Last" on reel one/A-side.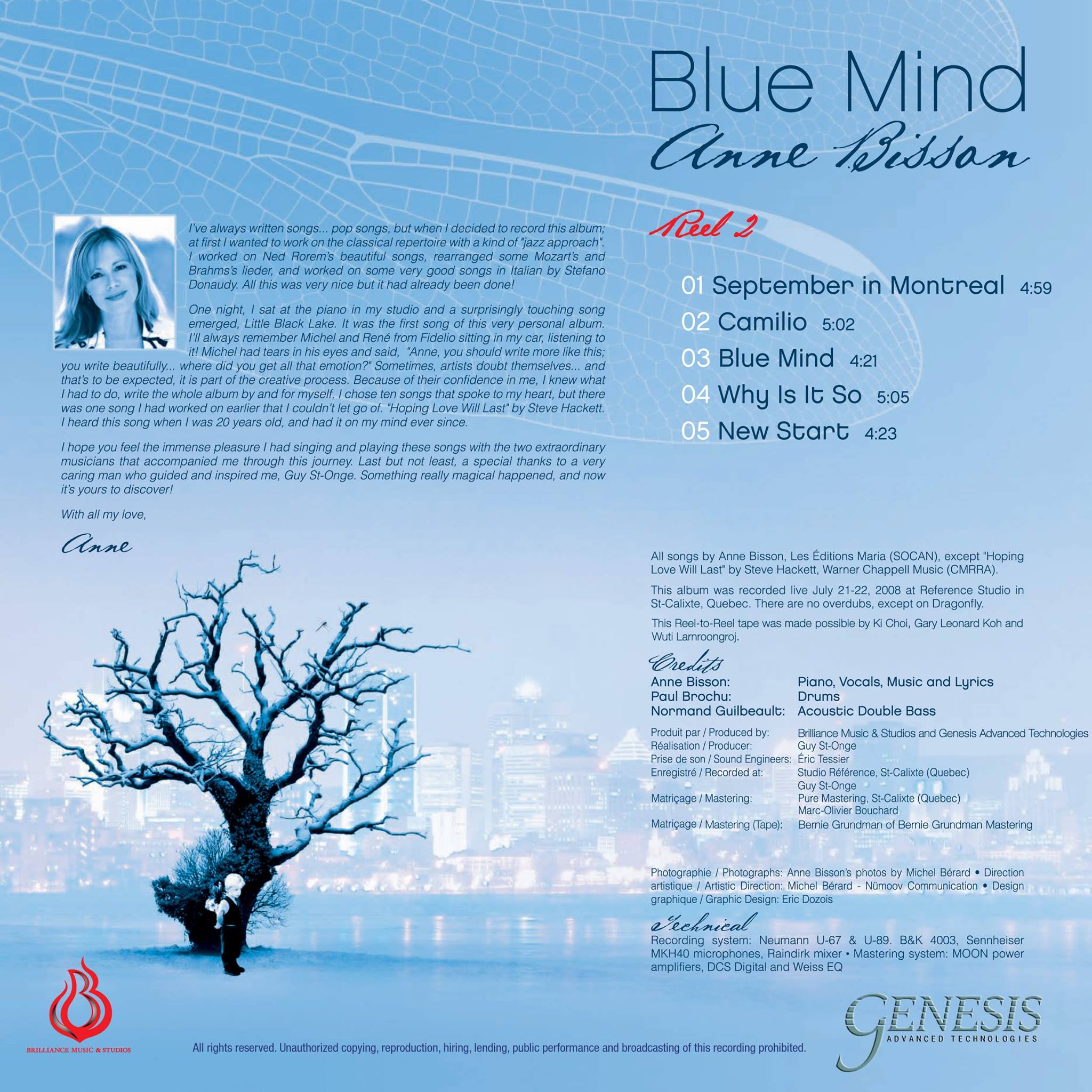 Still, I find myself being drawn more to the second reel/B-side of Blue Mind, in particular "September in Montreal, Camilio" and the title track of the album "Blue Mind" that shows that Anne's strength is in her singing and elongating and following the notes. As interesting as it is having her speak the song, it's still not quite as fulfilling as hearing her singing the song. More to the point, Anne's phrasing becomes even more eloquent when she sings the songs than speaking the lyrics. But what is most apparent, however, is that Anne is at her best when having fun or singing about love.
Comparing the LP to the reel-to-reel tape, however, is like comparing apples and oranges since the two releases originate from totally different mixes. The Fidelio LP was originally mastered by Kevin Gray of RTI/Acoustech from the original recording's files while the reel-to-reel version was produced two at a time by Ki Choi from Bernie Grundman reworked 30-ips AES master tape. Interestingly, both the tape and LP were played back with a variety of gear including three amplifiers (Kondo Kagura, Audia Flight Strumento No 4 and conrad-johnson ARTs), three cartridges (Lyra Atlas, Charisma Reference 2 and Ortofon A95), my newly modded tape playback system using Furutech's hot new, top of the line male and female RCAs and IEC inlet and last but not least, Furutech's new NCF Nano AC receptacles. Each component or change in the playback system brought out a little different aspect of the recording. Bernie's handiwork and craftsmanship is unmistakable, perhaps nowhere more apparent than on "September in Montreal" where even instruments are not in the same place on the stage.
That said, the sound of the tape is, using any and all criteria known to audiophiles, head and shoulders above the original LP. Transparency. Dynamic freedom. Frequency extension at both ends of the spectrum. A far cleaner mid- and upper-bass region revealing far more of the drums than on the LP. Yes, the tape is sourced from digital files but there's little evidence of that typical "digital signature" here especially in the upper octaves. The biggest tip offs that this was a digital recording was a slight loss of resolution and smoothing out of detail. But unlike many other digital recordings, Blue Mind demonstrates good three-dimensionality and a freedom from harshness. Furthermore, I'm not one who subscribes to the dogma to keep digital recordings in the digital domain and analog recordings in the analog domain. Anyone who says that totally ignores the reality of what goes on in the studio and playback.
Everything about this first reel-to-reel tape release from Wuti and Gary is first rate beginning with Bernie's remastering to Ki's meticulous transfer to even the tape packaging! Blue Mind is definitely a must-have tape for all Anne Bisson fans and audiophiles alike! Furthermore, I hope that it's just the beginning of more tape releases from this team!
Technical Highlights:  Ki Choi on the Tape Transfer for Blue Mind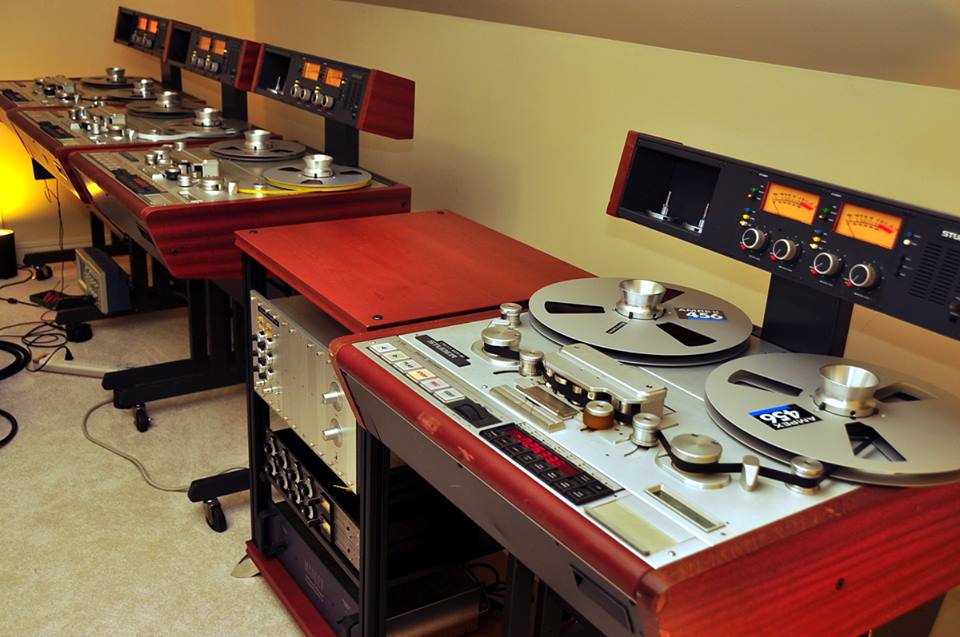 Ki Choi may not exactly be a household name in audio circles but he is nothing short of a God and sometimes miracle worker for those in the tape world. His first commercial tape transfer was Todd Garinkle's of MA Recordings' wonderful sounding Ito Ema's Goldberg Variations. Ki set the bar very high with the Blue Mind project and left no stone unturned in order to produce the very best, no holds barred, sounding tape transfer, the world had ever experienced. That's hardly any surprise for anyone who knows Ki and the results speak for themselves as his first tape transfer was simply amazing sounding.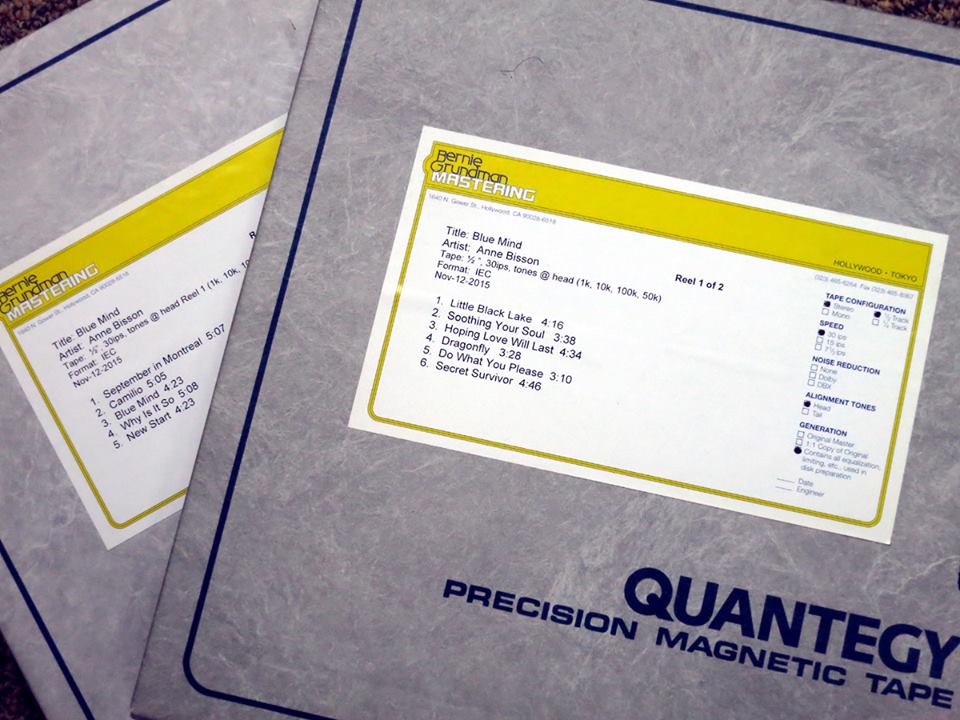 Work on the Blue Mind project began with the ½-inch, 30-ips AES equalized working masters sent on 12-inch diameter reels produced by Bernie Grundman. Ki shared that, "12-inch reels are the maximum allowable size here since Bernie uses a Studer A80 in his studio. On the other hand, Todd's Ito Ema tapes were also  ½-inch tapes, 30-ips AES equalization but in this case were supplied on 14-inch diameter reels necessitating Ki to pull out his trusty Studer A820 out to handle the larger reels."
Just to give you an example of the meticulousness of Ki's work. He began the transfer process using a repro-only Studer A820 that had: 1) Been stripped of all audio electronics; 2) Both Erase and Record heads were removed; and 3) The Repro head was relocated to the position formerly occupied by the record head for the best "real estate" in the head lock.  He then calibrated the machine using the ½-inch MRL, 30-ips full length AES (31L220 250 nWb/m) tape for both azimuth and frequency response @1K (reference flux for level matching) - 10K/16K (Azimuth/Phase), 32 Hz, 63, 125, 250, 500, 1K, 2K, 4K, 8K, 10K, 12.5K, 16K, 20K.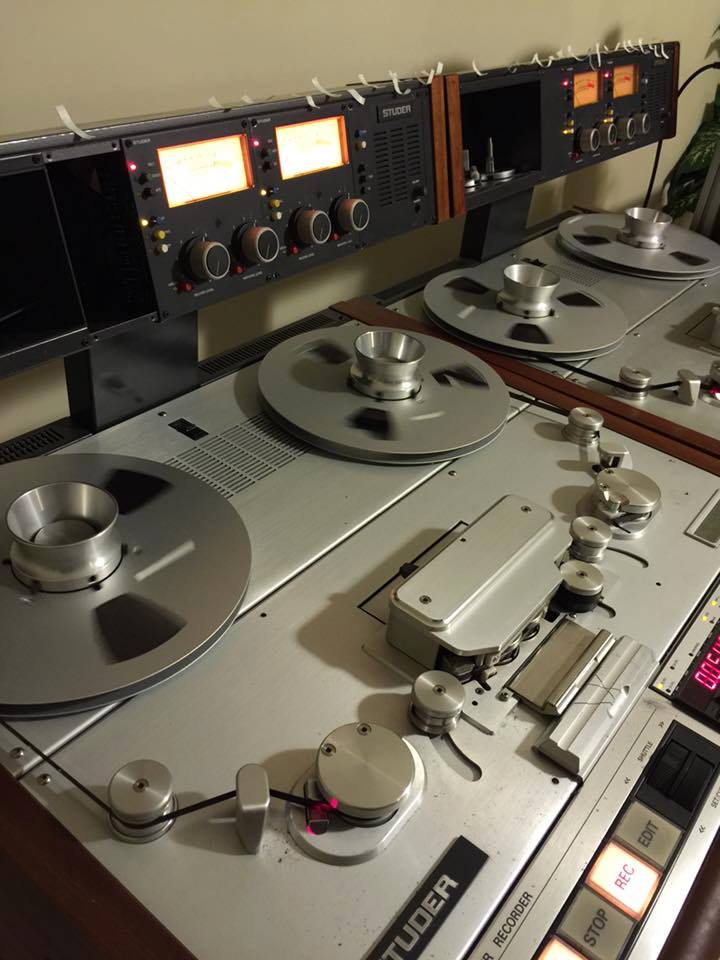 One of Ki's major goals when creating the tape copies was, "that the final result be as close to the master tapes as humanly possible." According to Ki, "one way to achieve this goal is to set the normal operating level for the entire dubbing setup at +4dBm.  "As a result, Ki shares, "when the MRL 31L220 is played on the A820 repro-only machine with proper azimuth/phase and frequency responses, the 1Khz test tone played registers 0 VU on tape head preamp on both channels." In addition, Ki pointed out, that the signal hits 0VU on target recorder in repro mode while bypassing any internal active gain/attenuation circuits within the VU meter assemblies. Thus, when the master tape is played on A820 repro-only machine and also recorded on target A820, nothing is added (other than the minute added tape hiss from added generation) nor subtracted. It is recorded just as the master was made."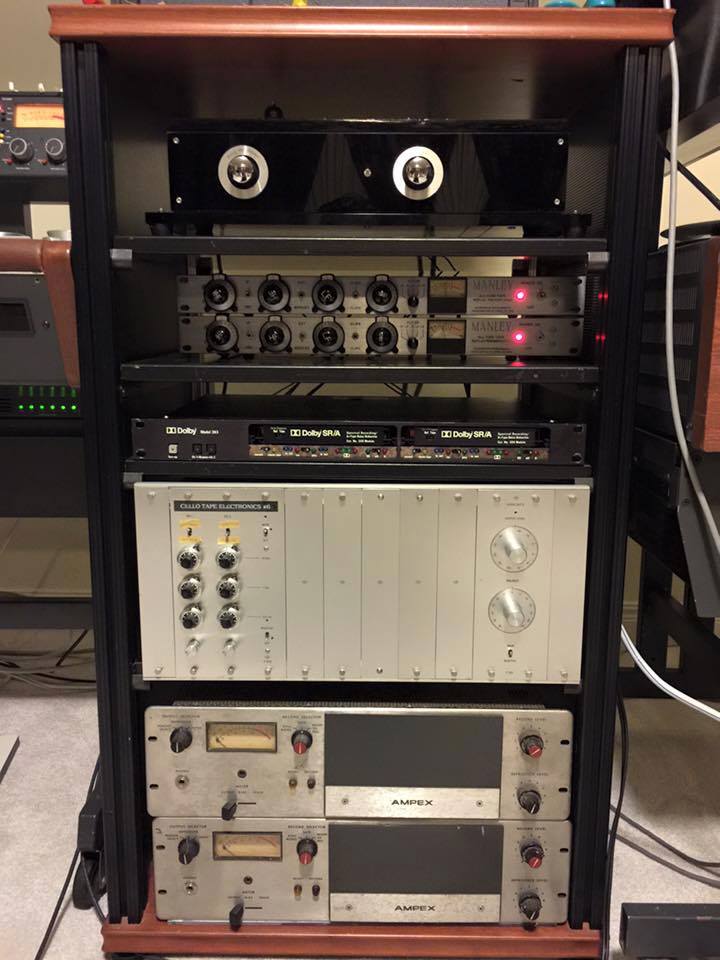 Ki also has an arsenal of tape head preamps at his disposal to choose from for his tape remastering projects including an early Doshi Audio Tape head preamp, a rebuilt Ampex MR-70 preamp, a Cello Audio Suite with P603 tape head module and a Manley Tube Tape Head preamp.  For both Todd's and Anne's tapes, Ki worked with the Manley because of its flexibility. "If the master tape was in NAB or IEC EQ 15 ips," Ki explained, "all the preamps would have worked well, and I would go with how the originals were recorded to decide if I needed to add the tube magic or not to the target copies. However, on 30-ips AES EQ, I went with Manley because of its HF and VHF adjustments along with four steps in bass EQ (up to ± 4dB in 2dB increments) plus variable LF adjustments in order to get the target tapes as close to the originals as possible."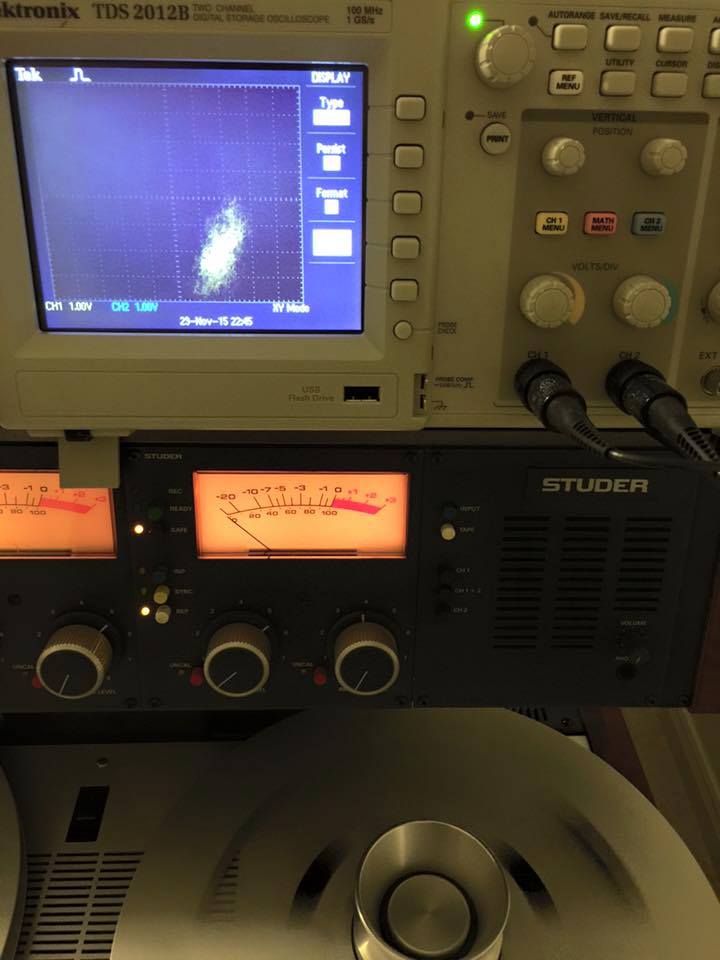 Then Ki's next step was to recalibrate the repro-only machine to the master tape's test tones for azimuth/phase and frequency responses.  (Even the marvelous Tape Project IEC calibration tape for their collection is slightly different than MRL IEC calibration tape). Therefore, Ki customized the machine for each master tape but the target recorder is set up for standard MRL 15 ips IEC calibration. "And that's the tapes you have." 
Looking down the road to future reel-to-reel tape projects, Ki shared that he is currently, "in discussions about the possibility of doing similar mastering to the originals and create his own ½-inch, 30-ips AES working masters.