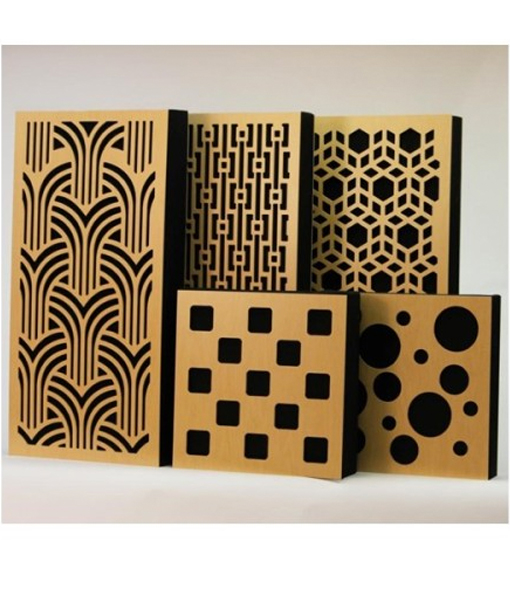 As Joe Walsh would say, I'm an ordinary, average guy. While I've got some very nice gear, the room itself has been neglected. I'm sure it has modal ringing, uneven frequency response, and sucky suck-outs. This chamber of audio horrors is stuffed with a mishmash of unmatched furniture, as well as several bottles of excellent bourbon; so thusly christened, The Tune Saloon. I'm sure the bourbon helps smooth in-room response, because after a few fingers with branch, I generally respond more smoothly. Heh.
Certainly my  room is acoustically compromised, but I thought it sounded pretty darn good. I could always discern differences between the many components that find their way here for review. Not once did I feel that treating the room was first on the audiophile's remedial action list. Instead, I viewed treatments as a luxury to be added once final equipment selections were made. So essentially never, right?
Facing Reality
The Tune Saloon is a quiet 12' x 16' sitting area off the master bedroom. One side is lined with windows and an exterior glass door; opposite is a funky 7' 6" wall separating the main area from a 5' x 12' walk-in closet. The entire area shares a vaulted ceiling approximately 10' high in the middle. To make matters worse, the listening area is partly open to an 11' x 14' bedroom with a flat 8' ceiling. My Von Schweikert VR-35 loudspeakers require a solid rear boundary for bass reinforcement, so they are set on the long wall; which is directly opposite from the 6 foot wide passage connecting to the bedroom. While there are no stones in my passway, there is a small dresser with a TV, and a room divider to help define spaces. With my speakers in this position, the listening chair ends up within a hair's breadth of the back wall, and yet, confusingly, my head has 11 more feet open behind it.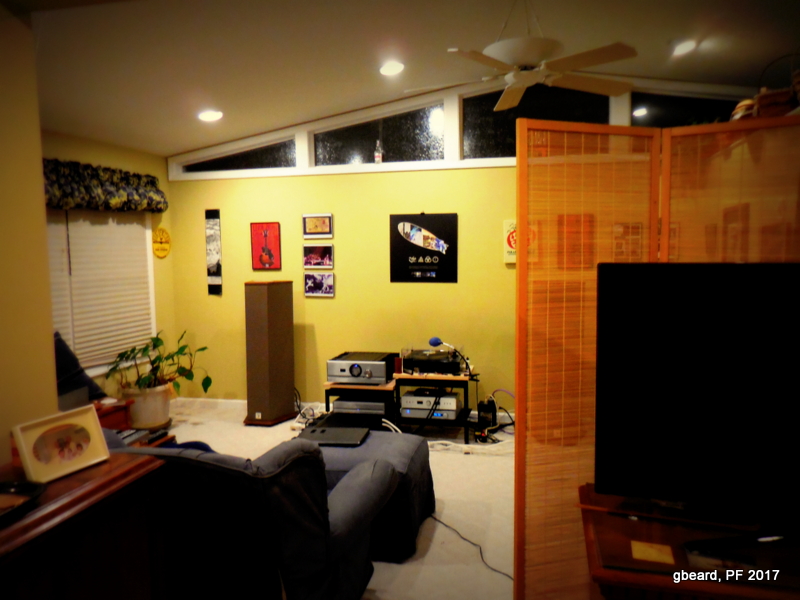 No wonder I drink.
Enter GIK Acoustics
I first learned of GIK Acoustics from their manufacturer's forum on Audio Circle. They have an extensive product line for home, studio, and commercial applications. For those who want to try their hand at building acoustic treatments themselves, GIK's website features design and engineering information, as well as DIY materials for sale. By filling out an online questionnaire (HERE), GIK willingly gives free acoustic advice and help with room designs.
I had considered doing some acoustical treatments for some time, but needed a hard push of the experiential-kind to get myself to do it. Said shove came in the form of another audiophile's newly completed dedicated listening space.
My audio-bud Jim is somewhat of a hi-fi purist. He only plays vinyl, and is an ardent adherent to double-blind testing. His purpose-built room is everything mine is not. Golden Ratio sized, no windows, one sealed door; every minuscule detail deliberated. All equipment is external to the listening room, with only Magnaplanar loudspeakers and comfy chair in residence. It is an audio Fortress of Solitude. With the door closed, I could feel the isolation, and yet I could clap and hear echo like a pack of butterflies in a tin can. This is a special room, but empty, it needed help.
I suggested contacting GIK, which Jim did, and they designed a complete room system. Bass traps, wall and ceiling panels at points of first reflection, and rear-wall absorption. The difference was flabbergasting. What was previously bright, and uncontrolled, was now a vast sonic canvas with tight bass, soaring treble, amazing width and run-through-the-wall depth. It is exquisitely impressive.
I wasn't just stunned by the transformation, I was energized. While the cost in marital currency to fully treat the Tune Saloon makes it a pipe dream, I vowed to do something. The answer was to adopt the thought progression of good, better, best. I already have "good", so if I can't have the best, why not simply have better?
How many pretty, insulated boxes without divorce?
In January 2017, GIK Acoustics introduced The Impression Series; a new line of broadband frequency absorber/bass traps featuring rigid semi-reflective, front panels with an architecturally impressive appearance. Available in 5 intricately designed patterns, and three colors—natural wood, white and black acrylic. The standard panels are offered in 3 sizes, each filled with your choice of 2", 4", or 6" thick mineral wool insulation and wrapped in one of GIK's 9 fabric colors.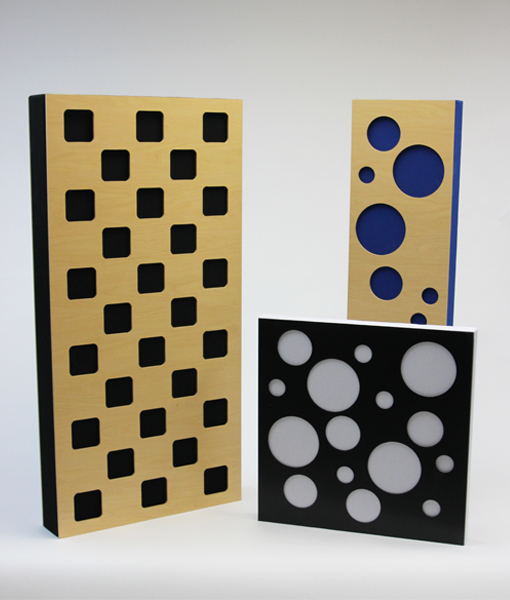 From the moment I first saw the Impressions, I knew they were perfect for my room.  I was determined to find out how much improvement could be made with a nominal expenditure, all while keeping spousal acceptance factor high. Where cost, and visual approval by a non-audio human are stony rivals, the Impression panels appeared to satisfy both parts equally well. Supposing this could be an important topic for other audiophiles, I contacted GIK President, Glenn Kuras, to pitch the idea:
What's the minimum amount of Acoustic goodness to really make a room sound better?
 I sent Mr. Kuras pictures of my room, and asked for his unvarnished recommendations. His reply, while diplomatic, was sobering. It would take lots of treatment to make my room sound its best, but some well-placed panels would make a difference.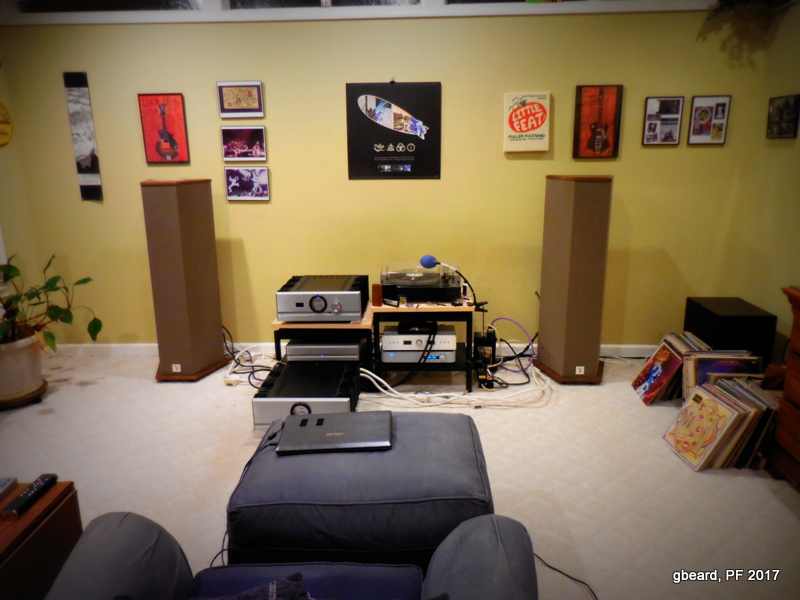 A couple of weeks later, I was notified that four GIK Impression Series panels with the Geometric pattern and white fabric were trundling my way. Two 24"x 48", 4" thick panels for side walls, and two 12" x 48", 6" thick panels for corner bass traps. 2 foot wide corner traps might have been a better choice, but the smaller size was in deference to my phobia of covering up a portion of a window. The funny part is, the sidewall panel covers it anyway—smack dab in the middle--hanging on wires from the window frame.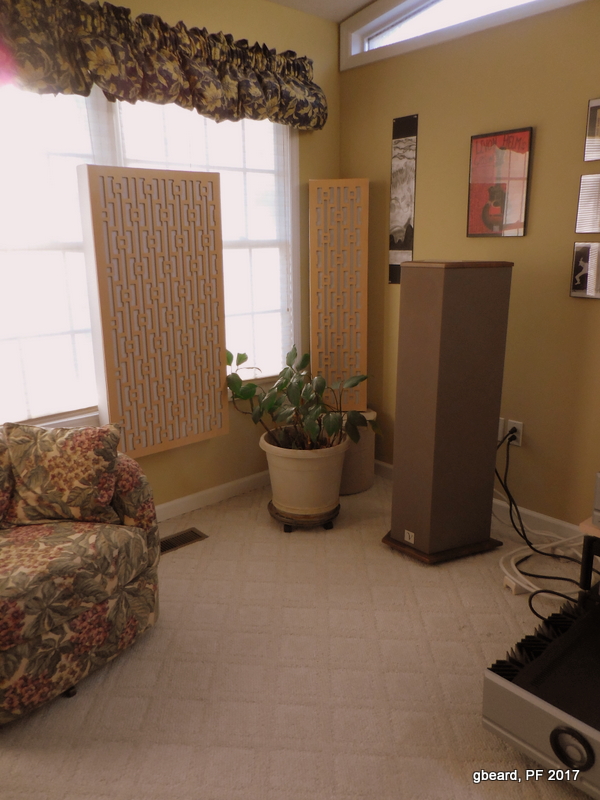 The good wife has yet to bill me.
GIK, My Impressions
I must mention how great GIK's customer support is—every person I had contact with was terrific. Room Control Freaks are very nice people. Delivery time for product is relatively short. Mine was quoted as 4-7 days, and I had them in four. Sweet.  The panels are fundamentally a simple box filled with insulation, and covered in acoustically transparent fabric. The panels are well made and look very good. The Impression's front plate is a skillfully cut, sophisticated pattern, which aids in leveling frequency response aberrations.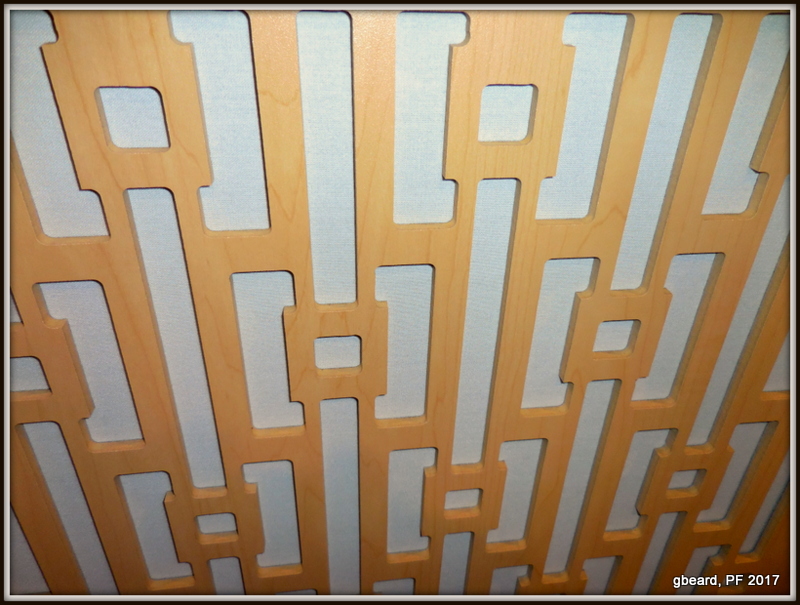 From the GIK Website:
"The Impression Series is ideal for creating an even balance of low end absorption without losing high frequency presence. The Impression Series features beautifully decorative, semi-reflective rigid plates attached to absorptive acoustic panels and bass traps. The rigid plate not only gives the panel a stylish appearance but also helps reflect/scatter high frequency content in your room giving the proper balance needed.
Half the battle when treating small rooms is to obtain a smooth bass response without over-dampening the high-end. A room filled with full range absorptive panels will absorb too much of the high frequency content, resulting in a dull and muddy room response. Finding an even balance of low end absorption while maintaining the high-end will yield maximized results…"
"…The Impression Series panels are ideal to create balance and remove reverberance, and the stylish patterns and size options deliver a beautiful visual statement to enhance any room. The rigid plates are similar to those used on our Alpha Series and work like a range limiter as they reflect high frequency content to retain life inside the room. In addition, the plates provide a scattering effect from the cutout pattern."
Listening vs. Measurements...Un-plotted Territory
It was Glenn Kuras' suggestion that my ears would be the best judge of how beneficial the Impression panels were. However, I knew I would regret it if I did not at least address the idea of measurements.
I downloaded the excellent RTA shareware Room EQ Wizard (HERE), and took a few measurements with the low-tech equipment I had on hand. Due to noob-ness, my laptop's cheap-ass soundcard, an odd-couple of microphones without calibration files, and a Radio Shack SPL meter; the results were…well, interestingly mixed. I am learning, but I was never satisfied the measurements were meaningful, so I won't share them here. I will say I was shocked at how many room modes I (might) have. And I will also state that there was an undeniable smoothing of frequencies below 200kHz—which in some bizarre way, seemed to coincide with the installation of the Impression panels. 
The Installation
"Simple is as Simple Does…", so says Forrest Gump.
I would hope PF readers would not be shocked to learn that installing acoustic panels is really pretty simple. Using the mirror trick to see the tweeter from my listening chair to locate the point of first reflection, then placing the sidewall panels in the center of that spot. I determined by listening that placing the panel center at the tweeter height was good too. The bass traps were hung by wires through picture hooks attached to the corners. It took longer to decide where to place the treatments, than it did to mount them. Pictures are the best way to tell the story.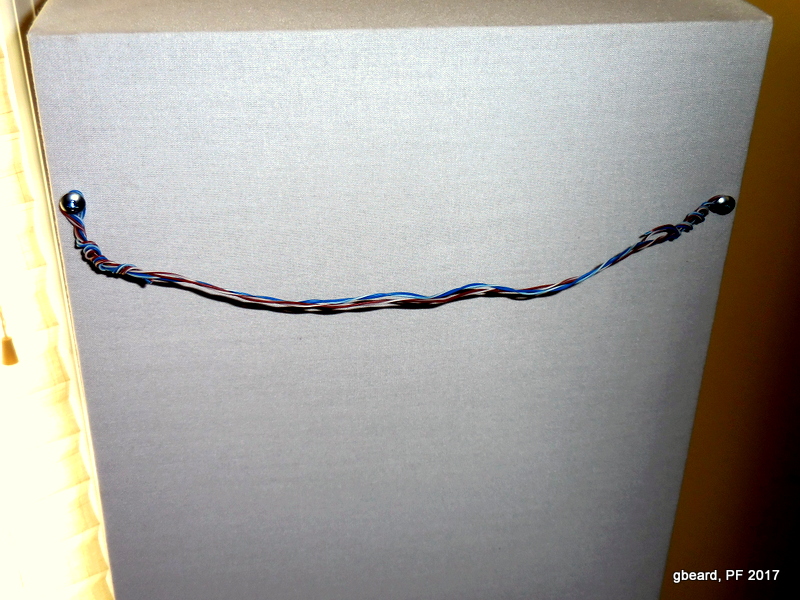 The GIK website has complete (and much better) information on how to hang the corner panels (HERE). I invented my own…I'm such a rebel. I'd recommend using GIK's methods.
You treat me well...Partially
My whole goal for this article was to prove that minimal acoustic treatment could result in significantly better sound. That would be a noteworthy finding, yes? It should be obvious that my subjective "test" is nowhere near original thought. Audiophiles have long crusaded the cause of acoustical treatment. In fact, if you put your ear to a GIK panel and listen carefully, you'll hear a broguish invocation from man caves and studios around the globe, "Treat your room! Treat it!"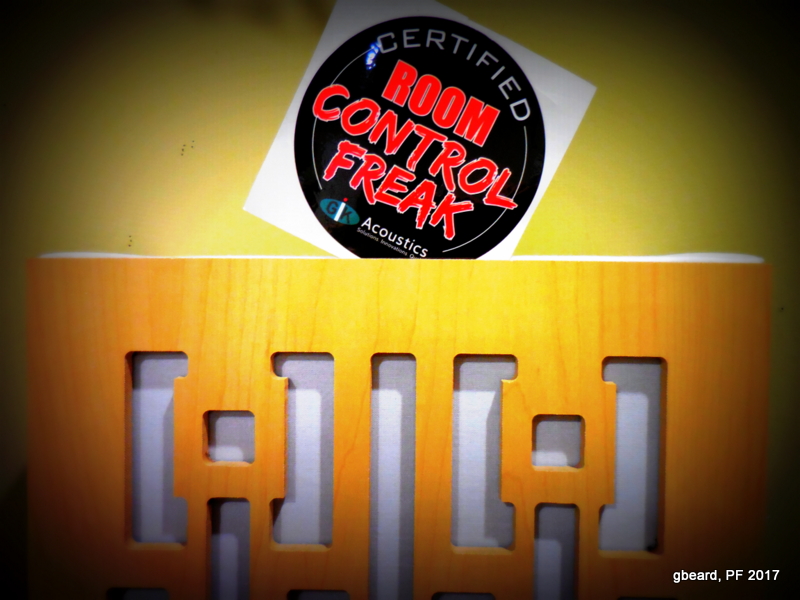 (In case you are a literalist, that was a joke. No panel actually told me to treat my room. I thought it was funny and couldn't bring myself to edit it out. Think of it as a little scatter diffusion to keep my article lively!)
My first Impressions are Amazing
Within the first 30 seconds of temporarily placing the Impressions, I could hear a difference, and not just any old, slack-jawed run-of-the-mill positive difference either. This was a significantly better positive difference. Seriously.
The panels have provided a lowering of room self-noise—it may not measure as much, but to these ears it's obviously quieter. I also noted what can only be described as an expansion of space—more width than depth, but both improved—at least a little. Certainly bass tightened, but the reduction in bass ringing also allows more clarity across the frequency spectrum. It is now much easier to understand lyrics, and perceive the spicy little twinkles of musical vibrancy. Imaging is better, as is dynamic contrast. The longer I listen, the more I notice an improvement in effortlessness—like the room simply breathes a little easier. And in another win, my wife thinks they look great!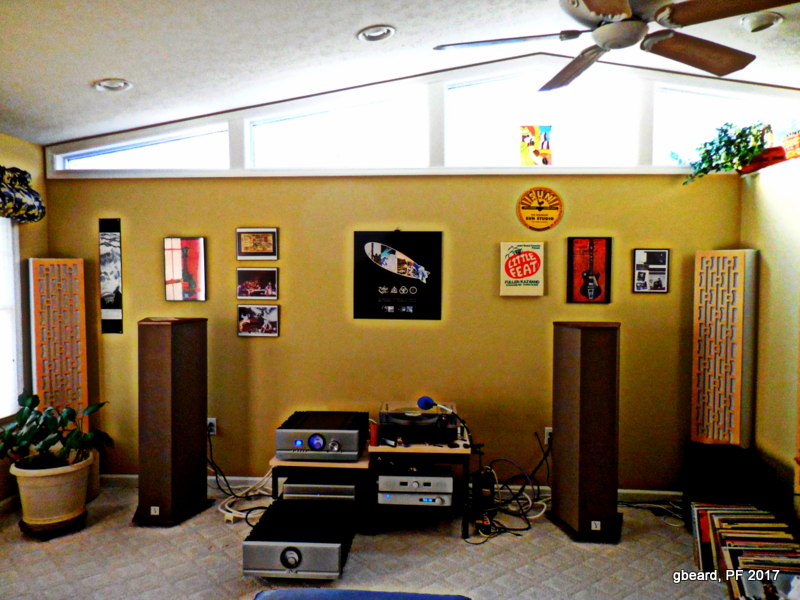 As bad as I want to tell you the sound of my room is now perfect. I can't. It isn't. It is, however, legions better than it was. There is a downside to this much better, better. It always seems there is a moment when the "Oh wow that sounds good!" wears off and you realize that you've got more work to do. Well, dear readers, that moment has arrived for me. Treating some of the Tune Saloon's acoustical warts, now shows clearly there is more to be done.
Glenn Kuras was blunt and correct. My room could use much more than 4 pieces. But I did find it isn't necessary to spend mega-bucks to improve the sound quality of an everyday audio room. My ears hear an unmistakable, and palpable improvement. I would hope this qualifies as good news for the acoustically untreated masses.
Can I live with what I now have and be happy? Blissfully, and without question, yes. The painless addition of four well-placed, nice-looking acoustic panels has given me so much more than I'd hoped for. It's somewhat embarrassing—and dumb—that it took me so long to try them. And while I may be dumb, I'm not stupid, so odds makers would do well to have a line on me adding more treatments in the future.
My room will never be a paragon of acoustical virtue—after all, it's just a part of our master bedroom—but $488 bucks worth of GIK Impressions Series acoustic panels have brought it closer than I would have thought possible.
GIK Impression Series Acoustic Panels
Retail: starting at $55 each
GIK Acoustics USA
3731 Northcrest Rd, Suite 29
Atlanta, GA 30340 USA
404.492.8364
IMPRESSION SERIES FEATURES:
Designed to reduce noise and sound reverberation without over dampening
Available in 3 sizes: Square (23.75″ x 23.75″) | Narrow (11.75″ x 47.75″) | Rectangle (23.75″ x 47.75″)
Choose the level of absorption: 2" thick, 4" thick, or 6" thick panels
Standard Weight: 6 – 12 pounds
Five beautiful patterns which enhance any space
Rigid plate available in 3 colors: blonde wood veneer, black acrylic, white acrylic
Sturdy construction with wood frame and environmentally-friendly materials
All sizes can be wall mounted with sawtooth hangers (included). No glue or destructive adhesive when installing.
Optional freestanding supports available on Rectangle (23.75″ x 47.75″) panels. See "Installation Guide" tab for more.
employs ECOSE® technology absorption material and is manufactured with LEED certified Columbia Forest Products (made in the USA)  formaldehyde-free technology