A Serious Overachiever
From the moment I opened the box containing Audioengine's new flagship HD6 powered loudspeaker system, I had a feeling something special was in my possession. The velvety drawstring bags containing cables and speakers made it seem almost like Christmas. And while it wasn't a winter holiday, it was very, very cold, so unboxing the HD6's was as far as I got, since the speakers needed a day to acclimate. But those few minutes unwrapping were a pleasure on their own, as they gave me time to admire the product. Removing the speakers from their bags revealed a dense cabinet of ¾" MDF, wrapped in beautiful walnut veneer. On the bottom, rubber pads provide cushioning against vibration, and a threaded insert provides readiness for attachment to a stand. 
The rear of the master speaker is where the power system goodies reside. There are inputs and outputs of nearly every description. There is a built-in Bluetooth 4.0 receiver/antenna, a 24-bit/192 kHz AKM AK4396 upsampling DAC, and a 50w RMS (75w Peak) per channel amplifier operating in class A/B. The rear also has a non-standard 120v power inlet (cord supplied), power on-off rocker switch, and a high-quality pair of speaker output terminals. Audioengine supplies a 13' speaker cable with banana connectors, and it connects the Master to the speaker posts on the unpowered slave speaker. The front of the master speaker features an LED that signifies the amp is on (flashing indicates the HD6 is receiving a remote command), and a volume control knob handy for desktop use. In addition to the supplied interconnects and speaker cables, the AE package includes a small, solid aluminum remote with sleep, volume, and mute functions.
The speakers themselves appear to be a classic two-way bookshelf design, and are magnetically shielded for home theater use. Each cabinet contains custom designed drivers; a 5.5" Kevlar woofer with cast aluminum basket and a 1" silk dome tweeter with Neodymium magnet and Ferrofluid liquid-cooled voice coil. The drivers are partnered with a passive cross-over; and a slot-type port is located at the top rear of the enclosure. In operation, the heat sink fins on the rear of the master barely get warm, and there is no noise at idle. The amp has excellent specs, with low distortion and-95dB S/N ratio. All in all, it's a very impressive package, especially considering the $749 price of admission.
I was aware that fellow PF contributor, Tom Gibbs was also reviewing the HD6's, and after reading his review, I felt good  that our findings were similarly positive, yet divergent, as I focused more on the lifestyle utility of the HD6's and less on their proficiency as a high-end reference speaker. Yes, I know that sounds like audiophile sacrilege, but at the same time, the HD6's are unlikely to dethrone my full-range Von Schweikert's as the house reference, unless we move to a Tiny House, or my wife gives the "Them or me" ultimatum. Oh yes, the HD6's do sound good, remarkably good in fact; and I did use them in my reference system with excellent results. But the goodness of the HD6 avails itself to the listener in many ways beyond that of a "normal" bookshelf speaker.
HD6: The Swiss Army Knife of Loudspeakers
After the HD6 speakers warmed to room temperature, I sat them on a shelf at the side of the listening room, and turned them on. They paired immediately with my Nexus 7 tablet and within minutes I was streaming Pandora. So perfectly easy! Since they were brand-spanking new, and needed to burn in for a couple days, I didn't bother setting them up. So there they sat, playing at low volume, 90 degrees from my listening chair; and within a couple minutes I started to notice a couple of things about them. It was obvious the lower octaves were a bit of a muddy mess, and I suspected the drivers needed to loosen up; still, I could tell the resolution of the speakers would be way better than I had expected. The silky-dome tweeter was the real surprise, as it seemed to throw a wall of sound around the room. It has been several years since I owned the wonderful Merlin TSM's, but it seems that most smallish, stand mounted speakers are great imagers, and even as the HD6's sat off to the side, there were clear indications that they would do the same.  
To start my listening and allow for further break-in, I put the HD6's in my "office" (you know, the place with the big honkin' desktop 'puter and the stacks of unpaid bills?). I spaced them about 6 feet apart and let them play. In an effort to loosen them up a bit more, I varied the volume from low to kick ass, and I can attest, when turned up fairly loud, the 5.5" Kevlar cones really move! Each time I came in, I would sit in the sweet spot for a few minutes and listen to the Classic Prog Rock stream on Pandora via the HD6's Bluetooth connection. At one point, an old Beatles tune came on and swear I was listening to Paul McCartney singing right in front of me. Palpable is the word. The HD6 speakers might be a little larger than most people would use as a computer speaker, but wow, do they sound wonderful in a near-field set up. Ahhh, those fine imaging bookshelf speakers.  
After the time in the computer room, I moved the speakers into the living room, placed on a media cabinet on either side of the TV, where they split time streaming music services and my own files. My wife and I listened to them extensively in this relaxed setting. Sometimes to sit and concentrate on a specific recording, but mostly, just to enjoy as background music. The 6's worked splendidly for this type of use. The Bluetooth, rarely, if ever, missing a beat.
What Will They Think of Next?
The options available with these Audioengine speakers tweeter, uh, I mean teeter, on the edge of amazing. Built in Bluetooth 4.0 audio is one of the biggies, and with enabled hardware, they support the higher resolution aptX codec. AE's Bluetooth implementation is very well done, and the speakers can be located quite far from the paired device and it still operates without dropouts, even through walls. See the following web link (HERE) for more on Audioengine's thoughts on Bluetooth implementation.
The Ins and Outs of the HD6
As alluded to, the HD6 is rife with connection options. There is a digital Toslink input, a 3.5" analog input (with supplied adapter cable), RCA Left/Right input, and variable RCA Left/Right output—ostensibly for connection to a subwoofer, and other possibilities as well. The HD6 is essentially a mini-stereo system that only requires a source. Each input defaults to a signal, so you can have them all connected at the same time, and it will automatically sense and play the active signal.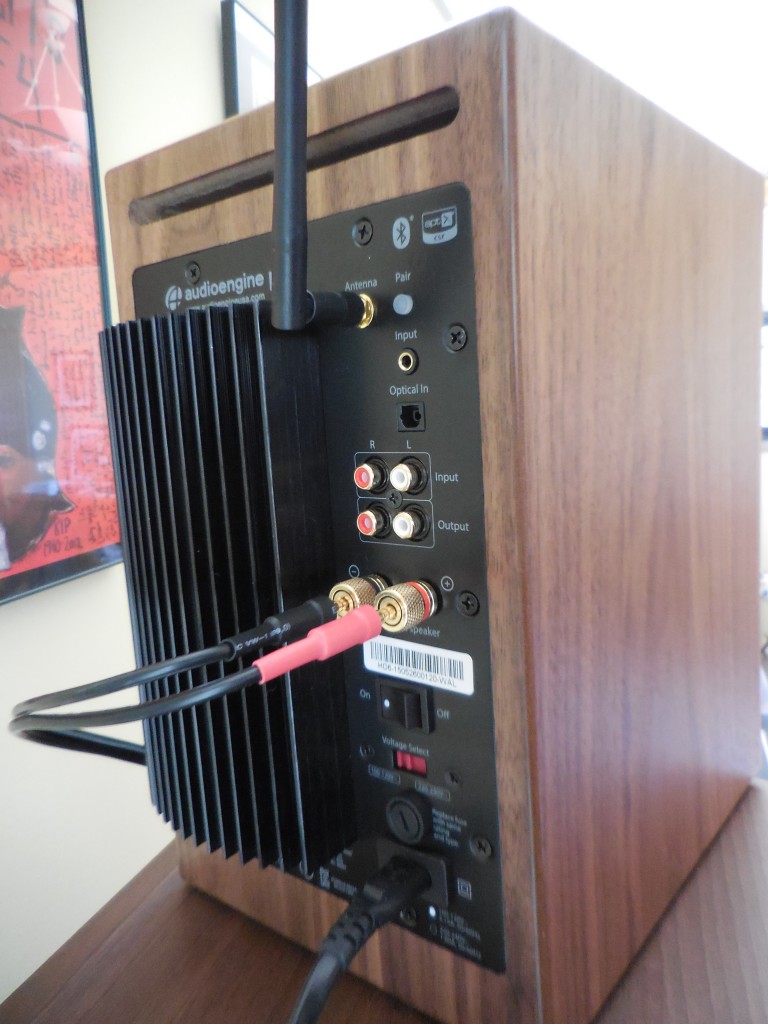 Fine Sound, Incredible Value
It's true; I've primarily listened to the HD6's streaming Pandora through Bluetooth, as well as my own files via J River Media Center 21 streamed over wireless Chromecast Audio connected via Toslink; and I'll be damned if these little 2-way Bookend's don't sound great. They have a very wide dispersion, nice bass extension, smoothly extended treble and toe-tapping drive. Based solely on this experience, I now know why there has been near universal praise for Audioengine's speaker line, and I can't recommend the HD6 powered speakers highly enough for this use alone.
But wait a minute… There is more to this story. Tom Gibb's comments kept smacking me in the face, so yes, I knew these walnut clothed beauties deserved a run through with the best I could give them, so into the listening room they went. Over several days I connected the HD6's to my Sony HAP-Z1ES, and two in-for-review pieces, the Benchmark DAC2 HGC and the Atma-Sphere UV-1 preamp. So here is what I can tell you about those experiences: The HD6 may be content as a bookshelf streamer, but the amp and speakers are up to the task of handling high-end sources as a primary loudspeaker. When used with a highly resolving DAC, like the Benchmark, the HD6's ability to resolve that detail goes to another level. Overall, to my ear the speaker has a very smooth response, and crosses between drivers seamlessly. They have excellent clarity, especially in the upper midrange and extended treble; and bass is quite deep and disciplined for such a small enclosure. Specs indicate a cut-off at 50Hz, but until that point, there is weight, speed, dynamic impact, and good layering, with tuneful bass lines being surprisingly easy to follow. There is a bit of one-note bass as the octaves go down to, and past, the deepest notes the woofer is meant to play, but until turned up to an "unacceptably" (wife's words) high volume, bass boom is relatively well controlled. (Hell yes, I cranked them a few times!)  The HD6's deserve special mention for their fantastic imaging ability. While they lack a little depth, they portray a huge soundfield, and their rendering of players in space is truly excellent.
Honestly, the HD6's are ridiculously good for the price of admission. Of course, I would be less than ecstatic if I suddenly found myself without my main system, but darn it all, if the wifey gave me the ultimatum, I'd still be happily listening to my second love—music—through the HD6 powered speakers.
My Vote is now Counted
Audioengine has been riding the crest of audio innovation for some time, and it appears with the HD6, they are riding higher than ever. So who is the perfect HD6 customer? I suspect for many reading this, the HD6's could be a perfect second system. For others—especially those who live in smaller abodes—the HD6 might just be the only audio system they'll ever need, especially if they add a powered subwoofer to give the lower octaves a boost. But this is what really excites me: In the HD6, Audioengine offers a great sounding and affordable system for a new generation of music lovers. I can still remember saving my pennies to buy a Garrard/Pioneer/Advent system so I could rock out with six cold ones and my friends after work. Yes, showing my age here, and there is no doubt the HD6 Premium Powered Speaker system, looks a lot different than my own first stereo, but in these heady tech-dominated times, where old-school turntables share space with hard drives full of MP3's and streaming music services glide tunes through Wi-Fi airspace, Audioengine is a player that brings new faces to our beloved hobby with creative, affordable, and fine sounding products. The all-in-one powered speaker system segment is a hot space right now, but for $750 bucks, the Audioengine HD6 deserves, no, demands, a look and listen by anyone in the market for this class of audio fun.
Audioengine HD6 Premium Powered Speakers
Retail: $749
Audioengine, LLC
6500 River Place Blvd, Building 7, Suite 250
Austin, TX 78730