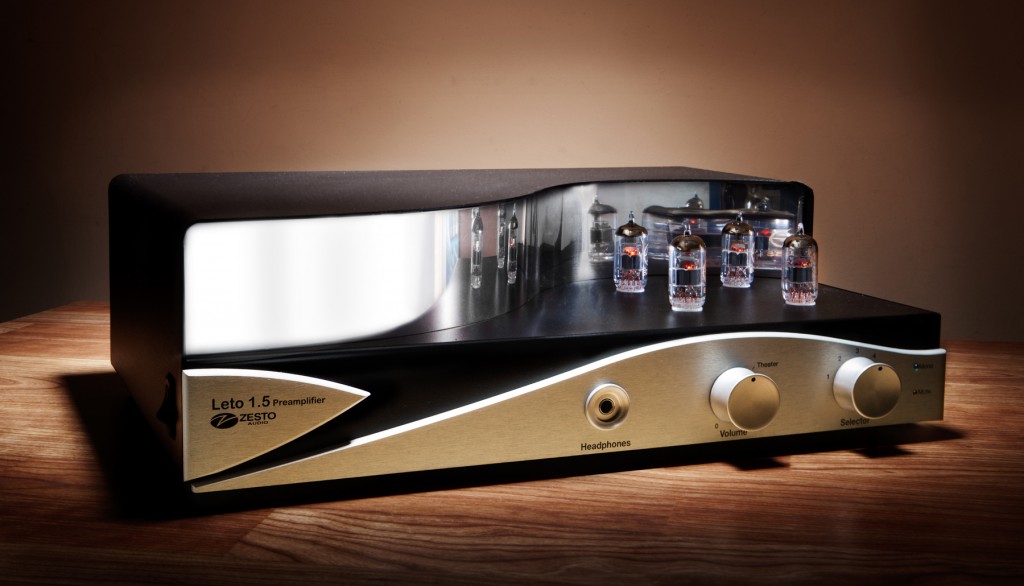 Change is good, particularly in high-end audio, as the Leto from Zesto Audio becomes the version 1.5 and positively improves its standing as a top notch and enviable offering. With a more dynamic presentation and even lower distortion, the gorgeously sophisticated 1.5 is now firing on even more musical cylinders. Zesto Audio just continues to prove that the hand-made Leto, constructed in Southern California, has a brilliant talent and music lover at its helm.
In addition to circuit tweaks which Zesto keeps confidential, Zesto has removed the balance control, resulting in a serious upgrade of the signal path and enhanced purity. I couldn't care less about a balance control. Zesto has added a headphone jack, cleverly positioned outside the circuit until needed. The amazing and unique floating ground switches remain, as does the award-winning tube configuration.
Changes/features as reported by Zesto are as follows:
NEW: Now with built in headphone amplifier you can connect your favorite headphones to the Leto without any additional equipment.
Setting the volume control to "Theater" you can now use your 2 channel system as part of your surround sound eliminating the extra equipment.
Plenty of volume to handle all your source material.
The input selection uses only electromechanical switching to provide the most musical detail.
The wide frequency response allows you to hear the finest passages in your music.
True floating transformer balanced Inputs and Outputs have lower noise and isolate one piece of gear to the next.
Left and Right ground switches allows you to control the grounding of the single ended outputs.
The output transformers provide a strong and clean signal to your power amplifier.
Recessed RCA and XLR connectors are high quality, Gold plated, with an isolated ground.
All connectors are durable and will hold up to the typical Audiophile who loves to change their configuration.
No pops when the unit is turned on or off.
Automatically goes to mute when turned on or off.
Remote control Volume, Mute and Mono
The remote Mono helps you to trouble shoot your system.
Remote bypass switch overrides the mute in case the remote is misplaced.
50 hour factory burn in on all circuits and vacuum tubes.
Elegantly designed 16 gauge zinc plated steel enclosure to help isolate the electronic "chatter" from nearby equipment.
On/Off power switch conveniently mounted on front side panel.
Each unit is hand built "Made in the USA".
My favorite features include the handy remote control which includes volume, mute, and a mono button...terrific! Of course, its beautiful high grade styling is retained, as well as all the many RCA and XLR inputs and outputs you may need. The informative Owner's Manual is excellent. The Zesto 1.5 is a design and implementation tour de force.
The System
Zesto Leto 1.5 Preamp
E.A.R. 890 Amps in mono mode (2)
E.A.R. Acute 4 DAC/Transport (PF review coming)
E.A.R. 88PB Tube Phono Stage
E.A.R. Disc Master Turntable with two Helius Omega Arms
Kiseki Purple Heart Cartridge and London Reference Cartridge
Marten Bird Speakers with REL Stadium 3 Sub-woofer
All Cables are Jorma Design from Sweden
System run balanced throughout
30 minutes warm-up recommended by manufacturer before serious listening.
The Sound
The 1.5 sound is more powerful and live in this new iteration. Still neutral overall, the sense of reality is enhanced as is depth and image separation. Timbres are even more real as instruments and vocals take on a more palpable presence. Where the 1.0 was excellent, the 1.5 is a cut above. I even liked the headphone offering, which is a stunner.
Every frequency showed improvement. The high band is purer and more delicate. The mid band is now the center of the preamp's projection with elegant and highly defined definition. The bass is slightly fuller and significantly tighter with more impact. The bass is what you notice first, but the mids are the real show stopper from the 1.5.
My reference CD, Kind of Blue by Miles Davis, the Sony Japanese Blu-spec edition, tells you a lot. The imaging of the instruments makes you feel like you are in the studio. The usually clanky sounding piano is more detailed and fuller and easier to follow. The bass fiddle is better focused with deeper bass and more air. Mile's trumpet is more complex and real. Coltrane's sax is more powerful and impactful, not to mention more alive! Coltrane was the most powerful 20th Century tenor sax player, in my opinion, and the 1.5 proves it.
My reference LP, Something Else, Blue Note 1595, in 33.3 RPM LP, newly released by Music Matters, is a stunner! The stellar cast of players is imaged in lovely realistic relief as you dine in the music. Again, the rather poorly recorded piano gets better treatment with the 1.5, and blooms more realistically. The horns have enhanced definition and tone. The recording is more live and mellifluous.
The latest QRP release of Rubenstein with Chicago Symphony and Reiner, who play Rhapsody on a Theme of Paganini, is elegant and enticing. The 1.5 is perfectly natural and wondrous to hear. The soundstage is very deep and gives you a sense of realism rare in preamps, regardless of price. The piano is spot-on perfect. The orchestra is powerful and fun. Listening is loving this preamp!
One of my favorite originals is Beethoven's Symphony No. 7, RCA LSC 1991, the Chicago Symphony and Reiner. I play it because it has that 55-yea-old LP warmth of the era. Will the 1.5 yield that warmth or wash it away?? The Symphony 7 was warm and rich with the Leto 1.5. Just what I had hoped. Once again it proved to be a perfect piece of gear with my old LPs not getting in the way of the recording itself with any re-portable coloration.
Should you sell your 1.0 for a 1.5? This is just me, but I would. The Leto 1.5 is currently the same cost as the older 1.0, so why not! I put the overall performance and feature package of the 1.5 at 15-20% better overall compared to the 1.0. That is enough for me. The Zesto gear has a certain musical gravitas I adore, and more is always better than less. The 1.5 delivers!
Summary
The Zesto Audio Leto 1.5 Vacuum Tube Preamplifier bests the 1.0 in features and in every parameter I can think of. It hosts improvements in the highs, mids, and bass which will mightily please audiophiles. It has improved definition and neutrality. It makes the music live in your high-end system. Plus, it is not more expensive, just improved and perfected! It even sports an excellent headphone output jack on the front panel for added pleasure. The 1.5 is a real keeper in my book and worthy of any system no matter how expensive.
My congratulations to Zesto Audio. They did it again! Most highly recommended.
MSRP $7500
Engineering & Tech Support Contact George
Email: george@zestoaudio.com
Phone: 805-807-1840
Sales and Marketing Contact Carolyn
Email: carolyn@zestoaudio.com
Phone: 805-807-1841
(Image courtesy of Zesto Audio)