Today, headphones are designed for DJs, hipsters, style mongers and those willing to spend $3k on high-end "Wearable Technology." The $399 Master & Dynamic MH 40 headphones stand in stark contrast to those business models. Not only are the MH 40s an example of a well conceived and smartly designed product that surpasses marketing hype, they're a quiet revolution of serious construction, beautiful design, and great sound.
When Dr. Dre, producer Jimmy Iovine, and Monster Cable introduced Beats in 2006, millions of rock and hip-hop-loving music heads strapped on the $299 Beats Studio cans and never looked back. Beats transformed the industry practically overnight. Smelling dollars, mass market retailers such as Best Buy updated their usual stock of IEM and noise cancelling headphones to include such style conscious brands as Beats, SOL, Sony, Skullcandy, JayBird, JBL and JVC. Even venerable headphone manufacturer Koss reintroduced their classic Koss Pro4AAs, and while the new model resembles the 1970 original, the sound is truly horrible. Common man headphones usually sound extremely, er, common, typically placing style over sound.
Though I've owned numerous pairs of headphones over the years, from Grado and Sennheiser to Beyer Dynamic and B&W, skull-hugging round pads have never replaced the sound and feeling of music played over loudspeakers in my Greenwich Village apartment. Until now.
Introduced to Master & Dynamic by Stereophile's Art Dudley, I sought out the brand at Stereo Exchange's recent headphone event, where the leather-outfitted, closed-back, over-the-ear MH 40 headphones looked as if they'd been designed for doomed air explorer, Amelia Earhart. Beautiful stitching, oval ear cups made of lambskin, and solid assembly confirmed M&D's serious intent. The Master & Dynamic MH 40s were displayed with ALO Audio's massive Studio Six headphone amplifier, the pair presented by a lovely young woman—Master & Dynamic's Marketing Coordinator, Mary Martin.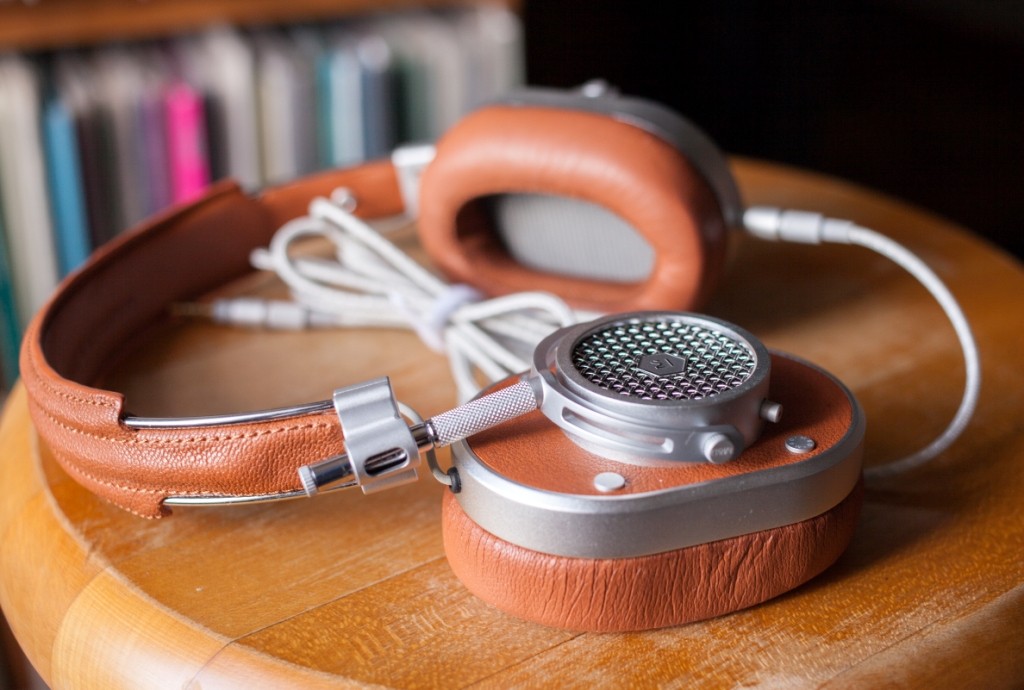 I placed the Master & Dynamic headphones over my scruffy skull. The fit was cozy, snug, but not too snug. They fit my particular noggin very well. (And I have a pretty big noggin as they go.) The sound was smooth, enveloping, palatable. Did they have the instant pizzazz appeal of the almost four-times more expensive Audeze LCD-2 Planar Magnetic Headphones that the assembled audio nerds were slobbering over? No. And that's a good thing. My preference for loudspeakers and personal listening tends away from the airy, translucent, startling transient presentation of the Audeze, which are too open and airy for their own good. I want to be sealed in with the sound, closed-off in my own space, as fully in touch with the artist, the recording, and the recording studio as possible. I want to feel one with the artist, not detached from him/her/them. Recording studios are places of holy isolation, not sunny air-filled cavities of whizzing sounds and cerebral fairies. What the M&Ds ultimately lacked in upper frequency extension and "air" they made up for in pure ease and listening comfort. And the tight seal fit of the lambskin covered ear-cups created incredible dynamics. Even with my brief time in a crowded audio store, bass drums had grip, texture and oomph, saxophones sounded plush and round; snare drums cracked with Roy Haynes ready PRaT.
I introduced myself to Mary, and soon a pair of Master & Dynamic MH 40s was ensconced in my listening room. Thanks to Schitt Audio's Jason Stoddard (by way of the Audiophiliac Steve Guttenberg), one of Schitt's acclaimed headphone amps, the Valhalla 2, was also enlisted for critical listening.
Thinking of….
Calling the MH 40s "the modern thinking cap," Master & Dynamic hopes to attract modern creative types, those enamored of style and construction, but also great sound. Is this the audio face of Pottery Barn?
The M&D MH 40s arrived in a foam rubber lined box that included a small leather "cable box" that held two cables (both comprised of oxygen free copper), each covered in a woven material which prevents deters tangling and probably helps dampen the cable as well. Included was a two-meter cable for pure listening; and a one-and-a-half meter cable with volume control, mic and mute should you be listening anywhere other than home, i.e., the iPod/iPhone zone.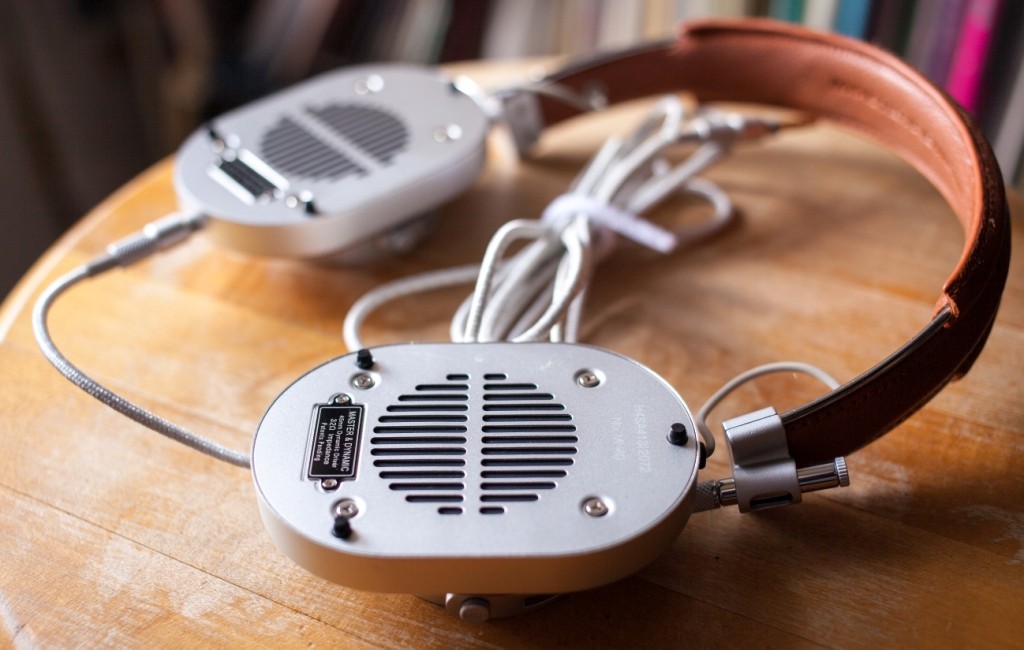 The M&D's manufacture is gorgeous. All hinges and rods are made of stainless steel. The steel and forged-aluminum parts that encircle the head are covered in premium leather. (The frame is slightly malleable should you need to adjust the phones' fit). The headband interior and the deep, detachable memory foam ear-cups are covered in soft lambskin. The earcups are magnetically attached to forged aluminum bodies. A metal mute button is easily accessible. A 3.5/6.3mm gold-plated adapter and canvas carrying case are also included. The 45mm MH 40s drivers are constructed of Neodymium, and are rated at an impedance of 32 ohms, fairly low as headphones go. We're talking heavy duty build quality fit for a WWII bombardier or a jet setting traveler, and all serious listeners in between.
When pairing the MH 40s with the Schitt Valhalla 2, an OTL amp, I thought at first that I'd make a mistake. An OTL amp with phones of such low impedance? In practice, the pair made beautiful music together.
Knowing what from shinola?
On their site Schitt Audio states re the Valhalla 2: "Do things with Valhalla 2 that you'd never attempt with other OTL tube amps. Run low-impedance headphones. Use IEMs. Valhalla 2 is a complete re-imagining of Valhalla, with improved performance, higher output capability, lower distortion and output impedance. While most tube OTL amps are really only designed for 300 ohm Senns and 600 ohm Beyers, Valhalla 2 stretches to include headphones that you'd never expect to use with a tube amp. Go ahead. You may even like it with high-efficiency planars like LCD-X, LCD-XC, Oppo PM-1 and HE-400."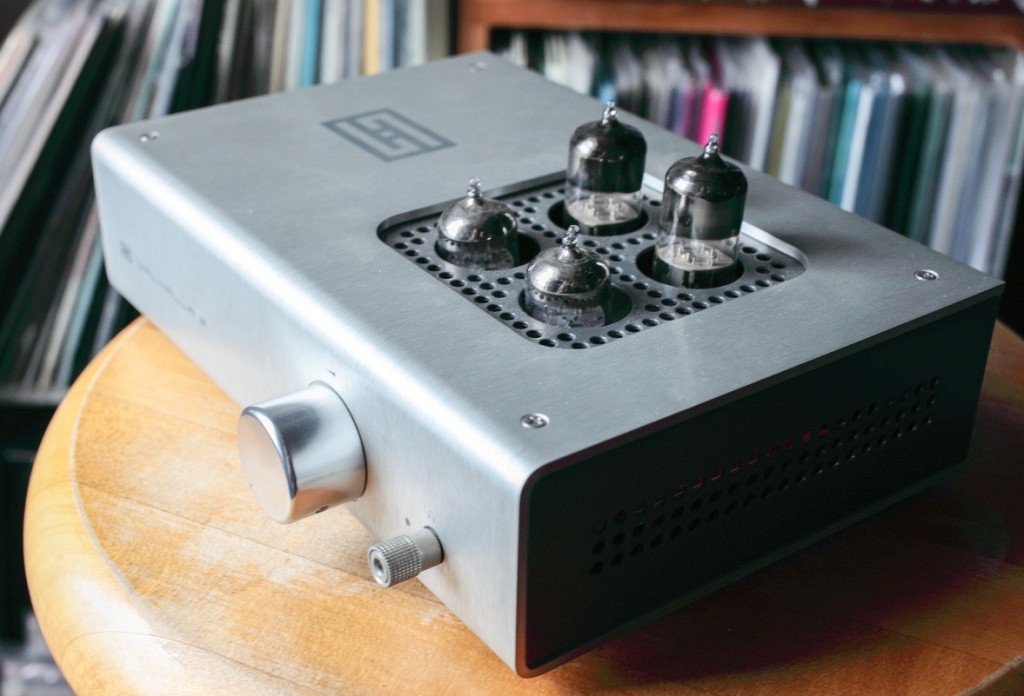 The Valhalla 2 offers improvements over the original version by adding preamp outs (for connecting the amp to powered monitors) and a gain switch. "The gain switch gives you better control of both output level and impedance, for better matching to your headphones," states the site. I found the gain switch to be extremely valuable in giving the MH 40s a serious dose of dynamics, presence, and power without losing detail or resolution.
The Valhalla 2 ran hot to the touch right down to its extremely smooth-turning and chunky volume knob. This mighty mite (9 x 6 x 3.25 inches, weighs 7 pounds) lists for $349 and has a five year warranty. And far from sounding "tubey," the Valhalla 2's complement of 6N1P dual triode input and 6N6P dual triode output, 1 each per channel, sounded clean, detailed, offered very tight yet still lush bass performance, and excellent dynamics. Schitt will let you audition any of their amps for 15 days, and if not satisfied, return the unit, spick and span, minus a 5% transaction fee.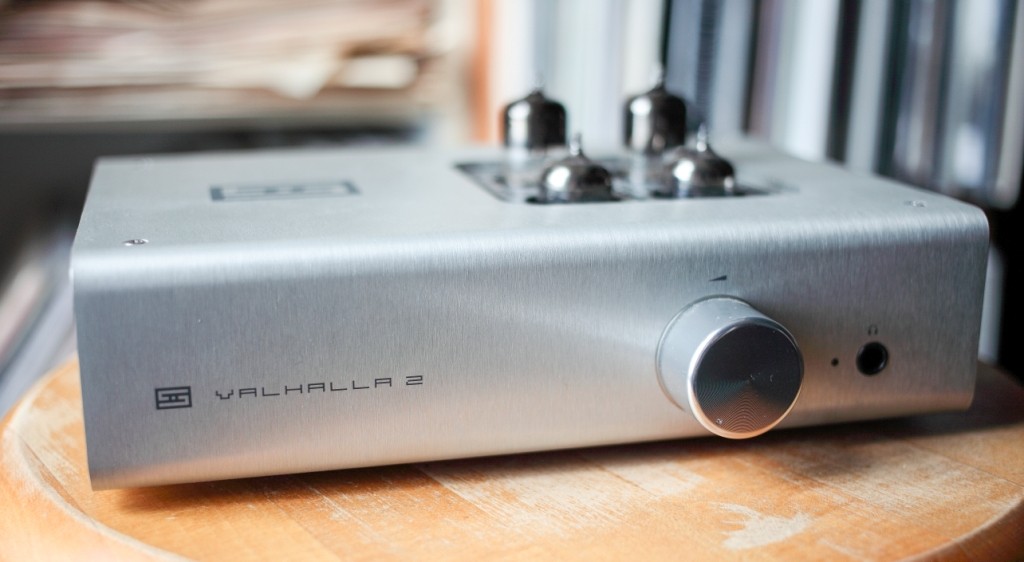 Still, I had few questions for Schitt's Jason Stoddard.
After reading 6Moons.com's informative but occasionally confusing rave review of the original Valhalla, what are the basic differences/improvements implemented in the V2?
"It's really all in the details, I'm afraid, which are pretty engineer-speak heavy. What we did, in general, was that we spent a long time optimizing both the input and output topology to maximize current delivery, and to reduce output impedance. This entailed quite a few tweaks to the common-cathode front end, adding a new transformer, negative voltage rail and current source to up the overall gain, and also changes to the White cathode follower output. Plus, we added convenience features like a gain switch and preamp outputs.
"The results are pretty stunning: 2-8 times lower output impedance, 8 times lower distortion, 2 times more current delivery, and lower noise than the [original] Valhalla. In simpler terms: while Valhalla was marginal-to-bad with IEMs and low-impedance headphones, Valhalla 2 is much more versatile. It's not the be-all and end-all, but it's now a much more well-rounded amp."
Srajan Ebaen and PFO's own Steve Lefcowicz implied that the Valhalla 2's OTL design is not best suited for low impedance phones, like the Master & Dynamics (32 ohm) I'm reviewing. Is that "not optimal" for low impedance phones?
"It's a judgment call. For high efficiency, low impedance headphones like the Master/Dynamics or Grados, Valhalla 2 is just fine. It's just that it puts out less power than any of our other amps into low-impedance loads, so hard-to-drive planar headphones aren't ideal (though Valhalla 2 can drive some of them reasonably well.)"
Will an OTL headphone amp display the same characteristics as any bigger OTL: fast, transparent, clean?
"Not necessarily—I've heard a ton of OTLs that are thick, syrupy, and warm. It seems to depend on the parts chosen and the overall topology. Our overall design goal for the Valhalla 2 was to create a 'transparent, holographic amp with some lushness in the midrange, that could drive a wide range of headphones." That would have been the design brief, had we used one!"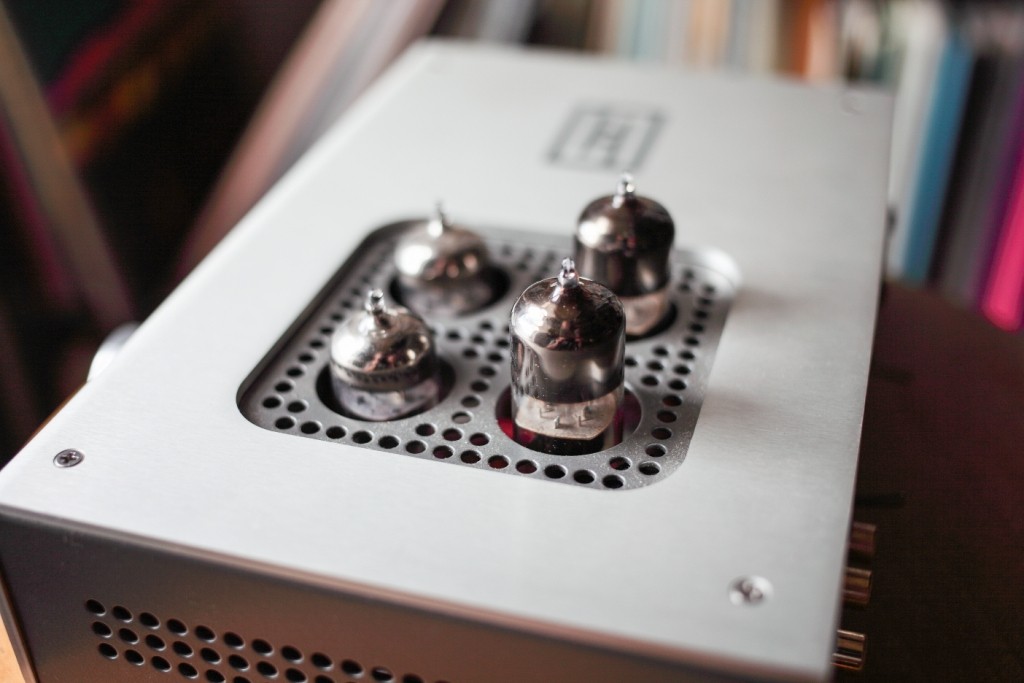 From The House That Trane Built
I began my listening with vocalist Johnny Hartman's excellent Impulse! release, I Just Dropped By To Say Hello. Hartmann's deep, sonorous voice had just the right amount of edge, Elvin Jones right channel brush work was nicely detailed, Hank Jones left channel piano was pleasantly dynamic. Bass was present but not especially deep sounding. If anything the bass sound was neutral but very dynamic. Very fast. Nothing was overly colored yet I felt I was hearing deeply into the grooves. Honestly, I was taken aback. I heard not only the deepness of every note, but every crack and crevice of the vinyl. This is not how I remember listening to vinyl via headphones in my misspent, marijuana addled youth!
A Blue Note Liberty pressing of saxophonist Johnny Griffin's Introducing Johnny Griffin confirmed the MH 40s very fast and dynamic presentation, though cymbals did lack the last degree of resolution and transparency. But still, extremely dynamic, and punchy with great resolution of Rudy Van Gelder's studio ambience.
So far my listening has been reserved to vintage mono recordings. But with headphones, stereo is where the action is, right? I dropped an original German copy of The Beatles' Magical Mystery Tour on my Kuzma Stabi/Stogi's platter. "Strawberry Fields Forever" played in super high rez, the M&D/Schitt duo wrenching every iota of information and detail from the recording. Previously unheard, odd instruments and unusual fadeout sounds were clearly heard, and for the first time. Flutes were more thrilling and visceral than I recalled, while pianos, backwards accordions (finally figured out what that sound is!) and Paul McCartney's bass line was wonderfully palatable. All with the gain switched up to maximum gain ("7 (16.9db) or 1.5 (3.5 db), via rear switch"). And again, overall dynamic punch and presence were first rate. (Later, listening to "Baby You're A Rich Man" confirmed the M&D/Schitt pair's tight bass response; McCartney's ground-hugging low notes totally present, nicely detailed).
Next, I played the Japanese import Blue Note LP, Sonny Clark's Blues in the Night. A trio of piano, bass and drums, the music sounded deep, present, fast. Though strong, the sound was essentially neutral. No bloomy bass weighing down the low end, no bright or etched high end, and a wonderfully detailed, in your face midrange.
For serious stereo fun, I played a six-eye Columbia pressing of Simon & Garfunkel's Bridge Over Troubled Water. A feast of strings, Hal Blaine's booming tom fills, Joe Osborn's powerful bass lines, Simon's rich acoustic guitar and the beautiful voices of Paul Simon and Art Garfunkel, the entire album is a masterpiece of folk pop song craft. Here, the massive stereo spread was a wee bit dark sounding overall, yet well resolved and fully immersive.
Though today's headphone listeners seem lost to the true magic of a good stereo recording—those LPs (or digital files) from an era when stereo productions became an art form in their own right (think Sgt Peppers, Dark Side of the Moon, Marvin Gaye's What's Going On, even Bjork's Homogenic and Beck's Sea Change and Morning Phase)—the M&D/Schitt combo made me realize how sonically adventurous and simply fun to listen to vintage stereo LPs over headphones can be. This may go against the grain in an age when many collectors favor mono over stereo, but perhaps stereo's returns to popularity is right around the sonic corner.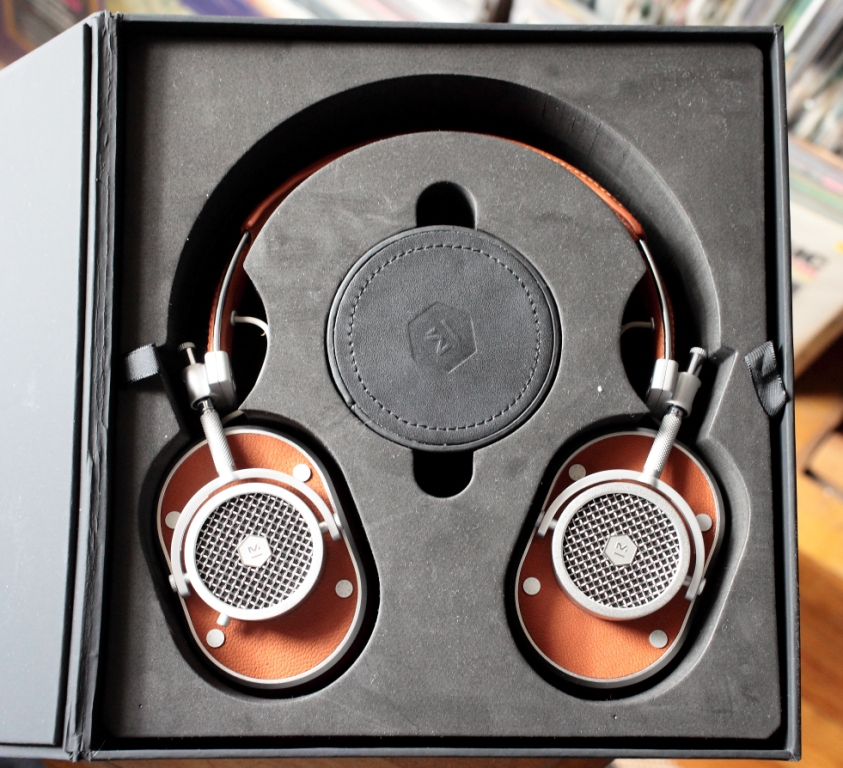 An audiophile one-two punch. A sonic smackdown. Divine audio intervention.
The Master & Dynamic MH 40s paired to the Schitt Valhalla 2 made a surprising two-fer splash in my brain. LP after LP I found myself reveling in the details of the music and fully immersed in the deep listening experience I was enjoying. The MH 40's traits of benevolent neutrality and extremely good dynamics paired to their comfortable fit made me rethink notions of what is possible via headphones. While the MH 40s lacked truly open top-end "air" and upper treble resolution, and their somewhat dark nature was noticeable, their very human character traits allowed me to listen closely, effortlessly, deeply into every LP, detecting musical details that were new and revelatory. The Valhalla 2's bloomy midrange and thankful gain switch helped amp-up the M&D MH 40s, the resulting combination of stout dynamics, general overall neutrality and a warm yet uncongested midrange to lower bass presentation enabling the ears, drawing me in, each album a joy.
At a combined price of US$750, I can't imagine another headphones/amp combination providing this level of pure musical enjoyment. And when given the option to tube-roll the Schitt to further personalize its sound, the pair provides exceptional quality and value.
Master & Dynamic MH 40 headphones
MSRP USD $399
Master & Dynamic
Schitt Valhalla 2
MSRP USD $349
Schitt Audio
(323) 230-0079