Navigating the New Digital Highway with the Lumin D1 Audiophile Network Music Player
For the past year or so, I have grown increasingly frustrated with the theoretical promise but pragmatic limitations of computer-based audio playback. When all the stars align, meaning a musical alignment of one's chosen computer and operating software, one's chosen hard drive(s), and one's chosen DAC, not to mention digital cables and power cords, computer-based music playback can yield impressive results. But getting all these elements to align is not a given, and can at times prove a genuine pain.
Although my Dell laptop/JRiver 20/Cambridge 851D (the latter having recently replaced a TEAC UD-H01 USB DAC) setup can deliver excellent sound, I am not at all a fan of the frequent electronic pops and ticks that mar digital replay via the Dell. Nor am I a fan of JRiver's Media Center software, despite its capacity to deliver excellent sound in a properly configured system. Not to put too sharp a point on things, but I sometimes find Media Center to be counterintuitive in daily use. Yes, the software's architecture is extremely flexible and affords users a high degree of control when configuring their computer-based (or Baetis Music Server-based) systems, but at times I find the system difficult to navigate.
Please note that I am not criticizing in any way Media Center's sound quality, which I find to be first-rate. Rather, I am of the mind that the latter is best suited to computer users who don't mind configuring their playback software and systems to meet their individual storage and playback needs. If you consider yourself a computer-savvy audiophile conversant with system set-up and configuration protocols, and don't mind the nuts-and-bolts tinkering that remains part and parcel of the Media Center experience, then this review will not likely be of much interest to you. Indeed, this e-zine counts more than a few such computer-savvy audiophiles amongst its impressive roster of contributors (and it may very well be the case that my personal skill set remains hopelessly ill-suited to mastering the deeper in-and-outs of computer audio).
On the other hand, if dropped or misplaced music tracks (a problem I have encountered with many of the WAV and FLAC music files I have ripped over the years), lost album artwork, various format compatibility problems, plus the electronic pops and ticks that seem inherent to the computer audio experience have yet to endear you to the new medium, the latest generation of music servers may offer a glimmer of hope. Again, I'm not blaming the above-noted problems on you know who; I quite honestly don't know where the blame lies. I'm merely tallying some of the niggling frustrations I have encountered in this new universe, bugs that have prompted me to keep the new format at arm's length.      
When it comes right down to it, where ripped and downloaded digital files are concerned, I want plug-and-play simplicity, or the next best thing. What I have seen (and heard) from the likes of Lumin, Aurender and Sony (the HAP-Z1ES) suggests that music lovers with large digital files (my current downloaded library contains over 2-TBs of material) no longer need sacrifice playback fidelity and musicality for ease of use. Well almost, as I will detail more fully below.
Despite the growing popularity of what some see as the hottest—and IMHO also the quirkiest (about which more later)—product segment in the high-end firmament, many high-end stalwarts remain conspicuously uncommitted. Firms like Musical Fidelity, Parasound, Pass Labs, Rogue, Audio Research, and numerous others fall into this camp. There is good reason for their trepidation. As one well-respected manufacturer shared with me recently, the decision not to invest in silicon (slang for dedicated computer-based audio playback) is driven by that format's potentially steep initial R&D and tooling costs (which can easily run into the hundreds of thousands of dollars, if not the millions) and the fact that such investments may well become obsolete within 18-24 months.    
And yet, the number of high end firms willing to assume this risk multiplies by the day. Companies like Aurender, Melco, Baetis, Bryston, and Lumin—whose D1 server is the subject of this review—have altered fundamentally how audiophiles store and listen to their favorite digital recordings, with no signs of slowing progress. It's safe to say that the integration of Wi-fi, Bluetooth, and external hard drive storage technologies, coupled with major software encryption and playback advances, have taken digital audio to heretofore unimagined heights (not to mention the rapid advances in external DAC technology).
Long Road to Jericho
Which brings me to the subject of this review: Lumin Music's diminutive D1 digital server. At roughly 3/5s the width and depth of standard audio components, and tipping the scales at a svelte 4½ pounds (not including the supplied wall-wart power supply), the D1 is nevertheless extremely attractive and well-built. Eschewing the costly CNC machined, aircraft-grade aluminum case-work seen in the upper-tier S1, A1 (both with internal DACs) and U1 (essentially the A1 sans internal DACs) models, the D1's folded aluminum chassis, thick aluminum faceplate, and robust build quality nevertheless exude elegance and inspire pride of ownership. Like the S1 and A1 models, the D1 features a high-quality on-board DAC, here Wolfson WM8741 DAC chips, one chip per channel, coupled to a fully balanced layout (with high-quality components) and digital and analog outs.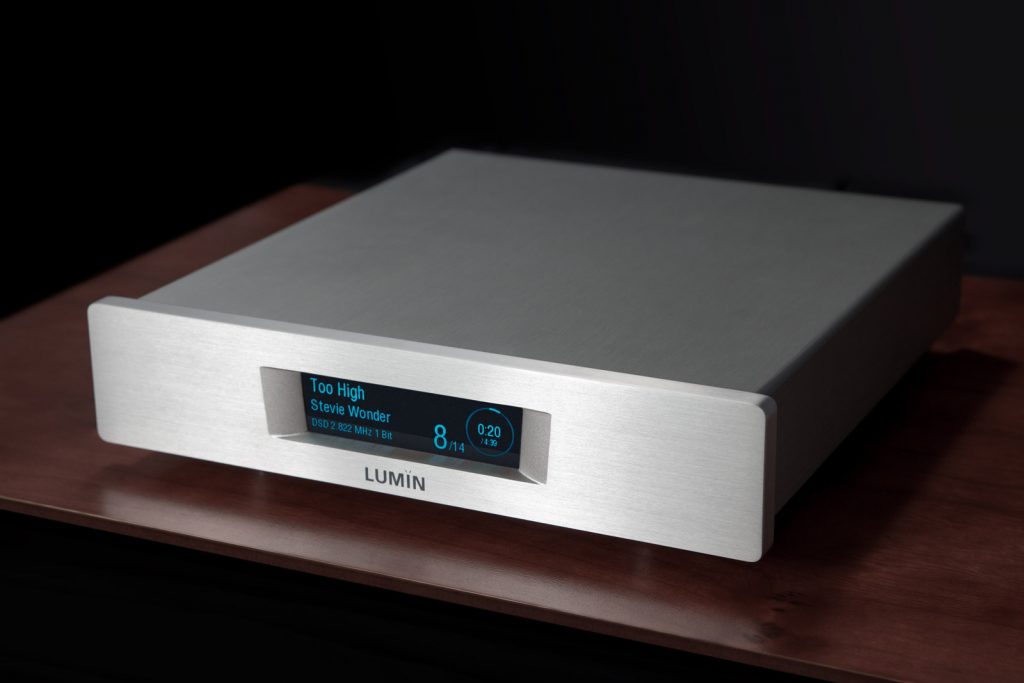 To bring the D1 in at its target price point of $2000, Lumin wisely nixed the costly CNC machined, solid aluminum case-work of the pricier models, their dual circuit board architecture, their dedicated internal shielding partitions, their multi-tiered output options (including HDMI), their beefy toroidal-based outboard power supplies, and their multiple internal DAC arrangements run in dual differential mode. But the D1's basic software and circuit design are the same as those employed in the reference models. Similarly, the D1 offers a multitude of playback options. These include the effortless playback of DSD and PCM files, as well as mainstream formats like FLAC, WAV, Apple Lossless, AIFF, AAC (in M4A container), MP3, and internet radio streams. Tidal, TuneIn, Qobuz are integrated directly into the Lumin app. Other Internet music apps may be streamed through Lumin streaming which activates Airplay compatibility.
The D1 supports sample rates of 44.1kHz to 384kHz for PCM files (at 16- and 32-bit resolution, stereo replay only), and a 2.8MHz sampling rate (at 1-bit) for stereo replay of DSD files. Digital inputs feature an Ethernet-enabled 100Base-T input, as well as USB storage, and flash drive inputs. The attached USB external hard drive storage unit must utilize a single-partition FAT32, NTFS, or EXT2/3 file system architecture. One has a choice of XLR and RCA analog outputs as well as a very high quality BNC and S/PDIF digital output jacks that supports both PCM 44.1kHz-192kHz and 16- and 24-bit DSD (DoP) at 2.8MHz, again at 1-bit.
So far, so good, right?
Now for the bad news: those of you who have labored long hours ripping vast troves of CDs using the Windows Media Audio (WMA) codec are shit out of luck (this includes me). The Lumin family of servers does not support WMA. But don't blame Lumin. According to On Li of Lumin's parent company, Pixel Magic Systems, "LUMIN does not support [the] WMA format. Playing WMA format [files] needs a license from Microsoft, but they don't respond to our request." So there you have it! Apparently, Microsoft's interest in supporting WMA across a wide range of music server platforms did not include Lumin (although in fairness to Microsoft, companies like Cambridge Audio, JRiver, and Sony do support the WMA codec, meaning they have managed to secure the necessary licenses and clearances from the big M).        
For yours truly, this meant, you guessed it, that in order to use the D1, I needed to re-rip a gaggle of CDs in a format supported by Lumin. This meant DSD lossless: DSF (DSD), DIFF (DSD), DoP (DSD); PCM lossless: FLAC, Apple Lossless (ALAC), WAV, and AIFF; or Compressed (lossy) audio: MP3, AAC (in the M4A container). For simplicity's sake, I elected to use iTunes as my default ripping software, ripping about 500 CDs into either ALAC or AIFF encoding over a two-month period. I also successfully ripped several CDs using Media Center. (I did not investigate other highly respected ripping engines like dbPowerAmp, but may do so in the future.) Backing up the 500 or so CDs that I ripped to the Dell's internal hard-drive to an external Western Digital drive required nothing more than connecting the WD to the Dell via USB, opening the Dell Control Panel, and dragging the iTunes music file folder to the WD icon.  Backup took about an hour, maybe less.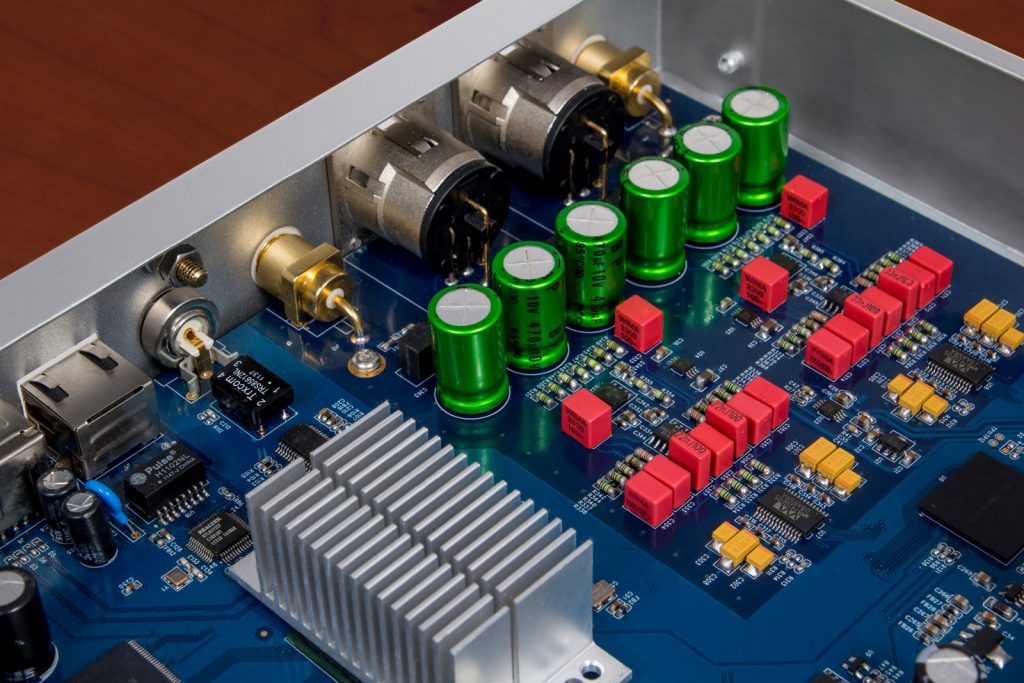 By the way, if you surmised that my frustration levels were at a tipping point by the time I settled on the iTunes ripping option, you would be right. Think about this for a minute. Imagine finding that some of your ripped tracks play back "effortlessly" as advertised in the Lumin product lit, while others do not, and for no apparent reason. It's fair to say that before I deciphered what did and didn't work with the D1, I more than once entertained the idea of declaring the thing broken, repacking the unit in its cardboard shipping container, and returning it to Mark Gurvey, the affable face of Source Systems, Ltd., Lumin's U.S. distributor (and one helluva nice guy). I'm glad I didn't, but the road from frustration to sonic bliss was hardly straightforward, and certainly not pain-free.
In this sense, the D1 (along with many of the other servers I have used at shows or read reviews of) can, in purely operational terms, be thought of as somewhat quirky. Their quirkiness stems from the fact that each unit possesses one or more operational idiosyncrasies that render the promise of absolute plug and play simplicity somewhat chimerical.
The deeper lesson here should be obvious: software and hardware playback compatibility considerations are as important in the server universe as they are in the analog/vinyl playback alt-verse. Imagine a novice audiophile not realizing that s/he must set their shiny new preamp's phono input to MC—not MM—to enjoy vinyl replay via their new turntable and affordable MC cartridge. All of this may seem like common sense information in hindsight, but it certainly didn't seem that way to me, at least at first. Nor was I the only party searching for clues: Mark also didn't have an immediate answer for me when I asked whether the D1 could handle WMA files. It wasn't until Pixel Magic System's On Li clarified matters that we had a definitive answer.  
Retailers selling these relatively pricey units should not assume that their customers possess the requisite fluency in all digital playback compatibility protocols. A little soft-peddled paternalism can go a long way toward ensuring that everybody is on the same page expectation-wise, and can greatly minimize the chance that ready-to-pay customers don't become frustrated "take this shit back" former customers.
Lastly, Lumin expressly notes on its website that it "uses the Linn UPnP AV Extension and it is our intention to provide the Lumin App for use with other systems that also use this extension. Currently, however, no warranty or guarantee of operation can be provided with systems other than Lumin. The Lumin App will not currently control generic UPnP devices."
Set-up Details
Product setup proved straightforward and drama-free. After removing the D1 (and outboard wall wart power supply and white cotton gloves) from their sturdy cardboard carton, I placed the unit atop my Salamander Corsica 237 AV cabinet, inserted the wall wart PSU (the massive outboard Sbooster PSU Mark supplied for use proved DOA), and switched the D1 on. I then downloaded the Lumin app to my iPad and opened on my networked laptop a file containing very useful basic system operating instructions that Mark was kind enough to forward to me (these also appear on the Lumin website). I then inserted my outboard hard drive, a 2TB Western Digital unit (not NAS-enabled), into the rear of the D1 using a stock USB cable. I then connected the D1 to a free wi-fi port on the back of my NETGEAR router using, once again, a stock Ethernet cable. Lastly, I powered up the Lumin iPad App which automatically detected my UPnP Media Server and the Lumin D1 Audiophile Network Music Player.
Once up and running (and with all format compatibility issues resolved), playback through the D1 proved glitch-free. The intuitive iPad app delivered stress-free playback plus intuitive and straightforward system configuration and control. Digital filter selection, phase inversion, DSD versus PCM streaming, plus the ability to output a 24-bit signal (at either 176.4 or 192kHz) even when playing ripped Redbook CDs, were also possible. Occasionally, the D1 would not recognize the attached WD hard drive storage unit when powered up after a period of inactivity. When this occurred, I simply unplugged the USB cable running from the WD hard drive into the back of the D1 and reinserted it. This caused the system to "reboot" and instantly recognize the WD.   
Because I wanted to assess the D1's sound quality as both a networked digital player and a digital transport, I used both its balanced analog and (single) digital outputs. Using Silnote Audio's superb Poseidon Signature interconnects (XLR), I connected the D1's balanced audio out to one of the balanced inputs of my reference Parasound JC-2 line-stage. I ran the D1's digital output from the unit's dedicated BNC/SPDIF connector (located on the rear of the chassis next to the Ethernet connector) to my reference Cambridge 851D DAC using Audio Sensibility's Statement SE Silver S/PDIF digital cable (BNC to RCA terminations).   
Learning to navigate the plethora of iPad controls proved challenging at first, but quickly became intuitive. Like most other server/digital player apps I have used, the Lumin iPad App takes full advantage of the latter's easy-to-use touch screen tap-and-slide feature. Playing individual tracks or whole albums required only a simple tap of the chosen album's icon. Quick taps reveal the individual tracks on each album. Quick tapping a desired track causes that track to begin playback almost instantaneously. Alternatively, a sustained soft tap of a chosen album file reveals five more icons that offer additional playback options: Play Now, Play Next, Play Later, Play and Replace, and Clear Selection. The 'Play Now' function, the one I suspect most users will rely on day in and day out, directs the D1 to replay the entire selected album from beginning to end. The other options do precisely what their names imply. The creation of playlists follows along similar lines.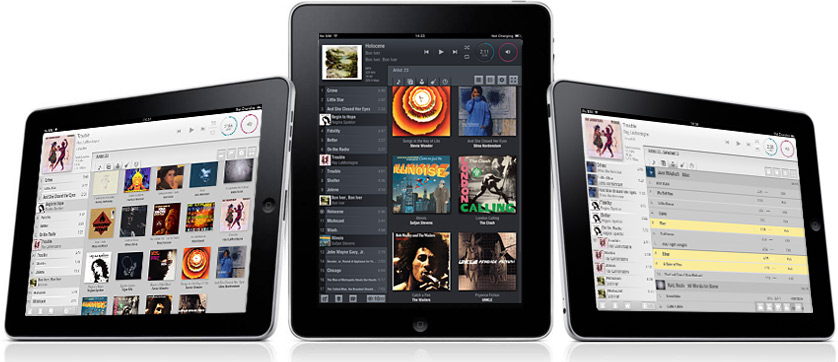 For tinkerers, the Lumin app offers numerous playback features. One can up-sample, down-sample, convert PCM to DSD, and even do DSD to PCM converting. IMHO, I achieved the best sonic results up-sampling 16-bit/44.1kHz files to 24-bit/176kHz. The musical presentation sounded more relaxed, open and airy to my ears up-sampled. Your results may, of course, differ. The point is, whatever your tastes, the Lumin app can likely accommodate your specific musical and sonic needs.
The Lumin app is so well thought out that the good folks at Pixel Magic Systems have licensed same to none other than Esoteric. Esoteric's N-05 Network Audio Player is the first of that brand's products to utilize the app, with more applications promised in the future. According to Mark, even high end stalwart Linn now suggests that its customers use the Lumin application.     
Silky Sweet Sounds
Powered up and running (although not fully burned in, for which the distributor recommends about 400 hours of playback time), the D1 sounded remarkably fluid, open and transparent. Imaging was superb, although record depth cues did not fully materialize until well into the break-in cycle. Transients were reproduced without edge, spit or glare, although decays sounded ever so slightly truncated in duration. Still, first impressions were promising. 
After several months of sustained playback, the diminutive D1 truly came on song. Instrumental tonality now came across as highly neutral and refined. Compared to the sound straight out of the box, the broken-in D1 sounded a bit more relaxed and composed dynamically. The reproduction of soundstage cues, especially width and height, but also depth, flowed in a manner more reminiscent of fine analog than stock digital. On the best recordings, both pure digital and those discs sourced from older analog recordings, the D1 captured that ineffable sense of airy openness that one typically associates, here we go again, with analog playback, not digital.
On a perennial favorite, Boz Scaggs' superb 2004 release Speak Low (Decca B0012026-02), the middle-aged rocker turned pop/jazz crooner (his once throaty tenor now an earthy baritone) caresses every note. His command of vocal colors and textures (although he routinely swallows consonants), ranging from airy hesitance to gruff, raspy insistence, imbues each track with a deep reservoir of emotional content. He sings as if born to the medium. Boz's lovely rendition of the jazz standard "I Wish I Knew" pulsates with musical energy, the percussionist's snares and cymbals literally electrifying the ambient space with upper octave light and air. Again, the D1 delivers more than a semblance of the relaxed ease and liquidity that one expects from that other medium, but does not always get from digital. And dig the way the D1 captures Boz's superb phrasing when he sings at whisper level "Someone like you could love me" at the end of "I Wish I Knew". Wow!            
The D1's overall tonal neutrality also impressed. Listen to something like Eighth Blackbird's superb 2016 release Hand Eye (Cedille), a disc that showcases a broad range of string, woodwind and percussion instruments in a series of engagingly quirky works, and you'll appreciate how the little Lumin imposes very little of its own tonal signature on the music. Robert Honstein's playful "Conduit", a jazzy, bouncy three-part aquarelle that sounds at times like an infectious mélange of Philip Glass, Arvo Pärt, and vintage country western, pulses and dances with fluttering flutes, the hypnotic repetition of various percussion instruments (including what sounds like a recurring wood block pattern), the steady strum of Nicholas Photinos' gorgeous cello work holding everything together.
One critic has described the net effect of Conduit as the sonic equivalent of "hearing" the interactive digital visual art of Zigelbaum + Coelho, a depiction with which I wholeheartedly agree. The D1's ability to unravel the overlapping rhythmic and tonal signatures that pulsate asynchronously in and out of the musical mix renders coherent what might otherwise seem an undifferentiated sonic cacophony.   
On something a bit more challenging dynamically, the D1, whether operating solo as a NMP/DAC combo, or in conjunction with the wonderful Cambridge 851D DAC, never puts a wrong foot forward. Take Claudio Abbado's 1996 recording of Karl Stockhausen's masterwork Gruppen (Stockhausen: Gruppen - Deutsche Grammophon 447 761-2). Composed between 1955 and 1957, Gruppen ranks amongst the most complex orchestral works ever conceived. Composed for three distinct orchestras or groups ("gruppen" in German), the score calls for the physical separation of each unit in a large horseshoe pattern. One orchestra sits where you would expect to find the horseshoe curve, while the other two units occupy or sit where one would expect to find the horseshoe stems.
Stockhausen's use of the horseshoe configuration pattern ensures maximal sonic delineation of the distinct musical passages carried by each group, but also permits each cluster to remain in eye-shot of the other two. The three orchestras perform their "individual" sections simultaneously with the other units, with each orchestrated section or module frequently employing rhythmic patterns and time signatures different from the other two. The net effect is to alter how the listener perceives musical time. In Stockhausen's parallel musical universe, individual notes and note clusters become less important than overall musical momentum, sonority, tonal density, and dynamic scaling.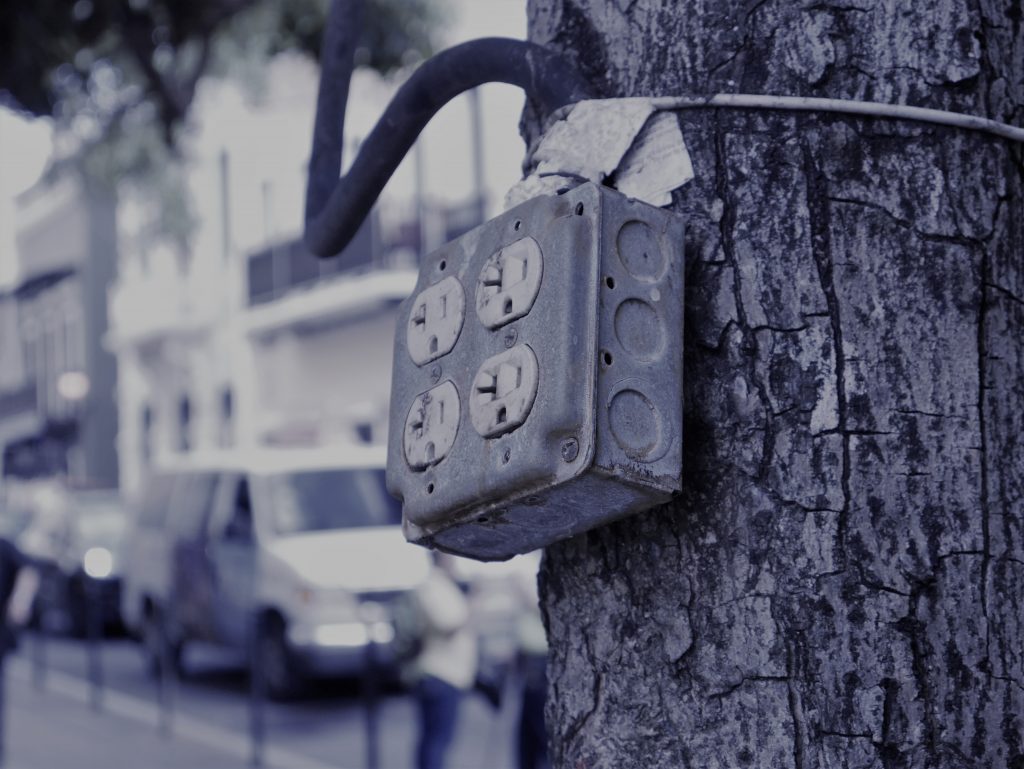 Image by Maurice Jeffries
The D1 never loses its composure on this most challenging of modern works. Violas sound distinct from cellos, the glockenspiel equally distinct from the marimbaphone. One can easily pick out the cowbell from the tamtam, and easily identify the periodic use of the African slotted wood drums as well. And despite the ever-shifting temporal landscape, the D1 always maintains a good sense of forward momentum and dynamic cohesion. At its price point, this is genuinely remarkable performance.
This sense of composure and cohesion persisted throughout the review, whether I used the D1's internal DAC, or outsourced conversion duties to the Cambridge 851D. At times, I found it nearly impossible to distinguish between the two. Both excelled at the recreation of an expansive sound field, and each delivered stable, precise imaging. At the margins, the D1 on its own displayed a superb deftness of touch, coming across as perhaps a bit quicker on transients, but also (perhaps) just a touch lighter in tonal balance. The Cambridge DAC seemed to capture the sheer momentum and flow of the performance a tad more convincingly than the internal unit. But just when I found myself preferring one or the other on this piece of music or that, the other DAC would remind me why I could live happily ever after with either option.
Enter the Sbooster PSU
Toward the end of this review, Mark sent a new Sbooster PSU for me to try. He claimed that the sound of the D1 with the Sbooster would elevate performance levels to new heights. Boy, was he right. With the Sbooster powering the tiny D1, two features of the sound stood out in stark relief.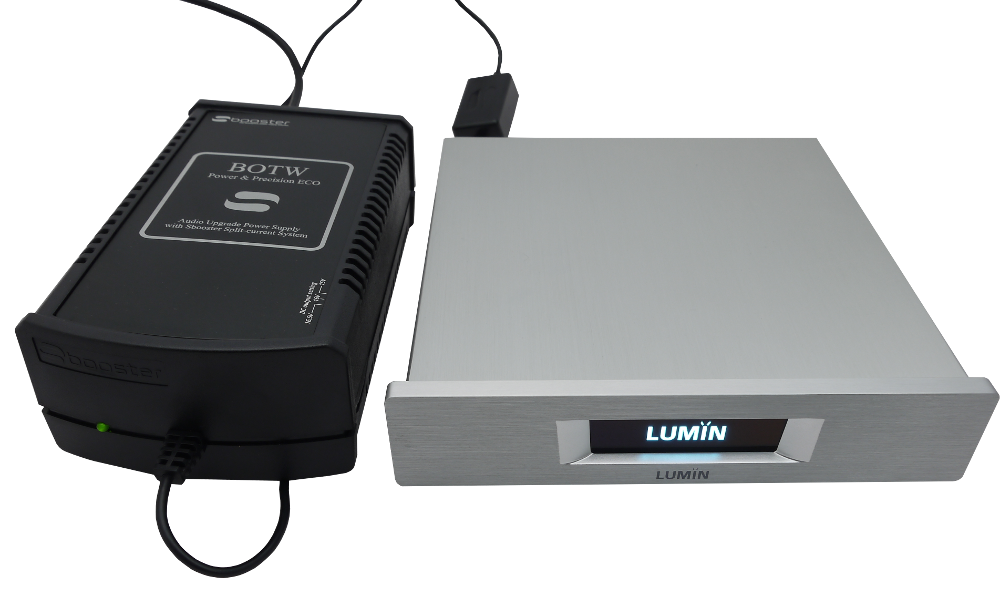 First, the sound became more relaxed. By "relaxed" I do not mean to imply a softening of musical transients. Instead, the Sbooster allowed the D1 to reproduce musical transients and decays in a more natural, fluid, and convincing way. Coherence, cohesion, tonal suppleness, and instrumental warmth all increased noticeably. Stated another way, I found it easier to step into and lose myself in the performance. Second, soundstage depth and imaging specificity dramatically improved. Without the Sbooster, the D1 produced airy images that seemed to float ethereally, but without much in the way of stage depth. With the Sbooster doing the driving, instruments and voices gained in solidity and three-dimensionality. Soundstage depth cues improved markedly, as did my ability to discern the placement of instruments and voices within the recorded stage. This newfound solidity had the net effect of heightening the sense of overall musical realism and involvement.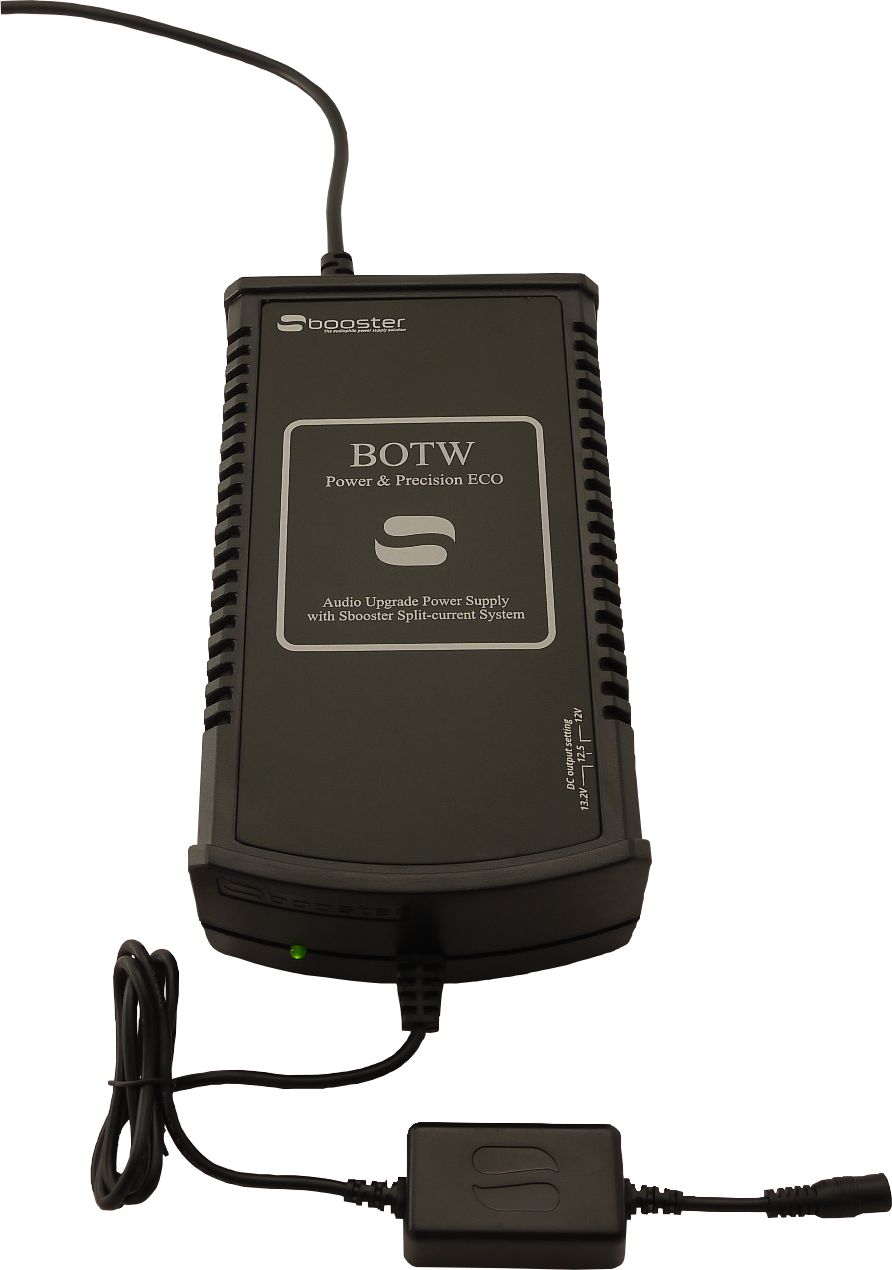 Like many audiophiles, my experience with after-market upgrades over the years has proven a hit-or-miss exercise. Some stuff delivers (the Ginko Cloud and ceramic Cable Elevators come to mind), while other experiments came as quickly as they went (the green felt marker CD upgrade, for example). The Sbooster clearly belongs in the former camp. It elevated the sound of the stock D1 NMP to reference levels and should therefore be considered an essential upgrade.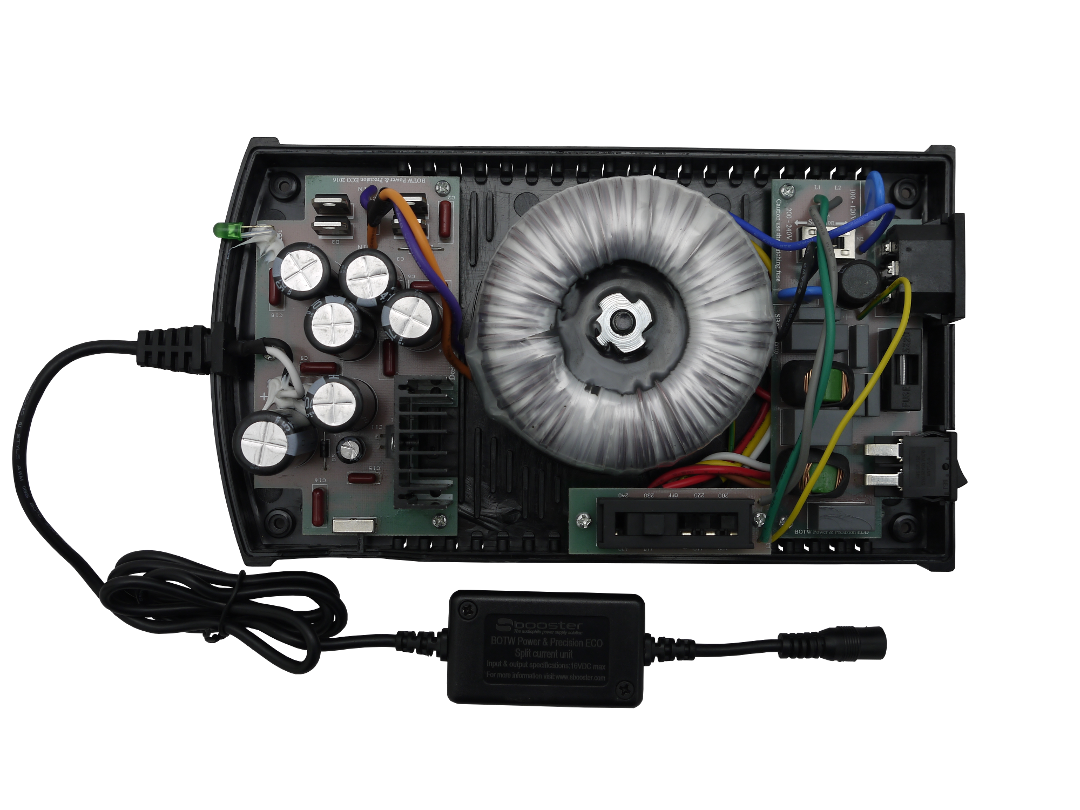 Parting Thoughts
Like many audiophiles still committed to traditional two-channel audio playback (meaning playback via elaborate turntable/tonearm/cartridge setups with high-quality outboard phono stages, or pricey reel-to-reel tape playback systems), I never thought the day would come when I either could or would declare unequivocally that in many important respects, digital playback now rivals its analog counterpart. For me, that day has come! Lumin's diminutive D1 Network Music Player (with the outboard Sbooster PSU) has forced me to rethink what digital audio can do, and what music lovers should expect from the medium (and at a price point that many music lovers can actually afford).
The Lumin weds digital's traditional strengths (low noise, linearity, and absence of background noise) to many of analog's defining qualities (fluidity of presentation, overall coherence, musical flow, air and transparency) in ways that I have never experienced before. Whether used as a stand-alone NMP/DAC combo, or to deliver the digital signal to an outboard DAC (like my reference Cambridge 851D), the littlest Lumin (when powered by the Sbooster) sublimely amalgamates detail retrieval with musical warmth, micro-dynamic sophistication with macro-dynamic crunch, and digital's inherent noiselessness with analog's sheer fluidity, openness and naturalness. The result is utterly breathtaking.
If you've been playing things safe waiting for the digital music server landscape to settle, you needn't wait any longer. With the D1, Lumin makes it easy to test the NMP/server waters, and to almost have your cake and eat it too. Yes, a few idiosyncracies persist, but on balance, the littlest Lumin comes very highly recommended, especially when paired with the affordable Sbooster PSU upgrade. They are my new digital reference components!
Lumin Music D1 Audiophile Network Music Player        
Retail: $2000 (with a 3-year warranty from defects)
Sbooster Outboard PSU
Retail: $375 from Source Systems, Ltd. or an authorized retailer
Lumin Music
U.S. Distributor
Source Systems, Ltd.
Images courtesy of Lumin and SBooster, unless otherwise noted.