Common Beliefs
 "GLASS Speakers? Oh, they MUST sound bright and edgy!"
"Anyone using GLASS to make a speaker has to be using it only as a gimmick."
"I can see right through the speaker. So it must not be properly engineered since it needs stuff inside."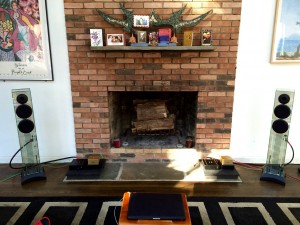 Introduction
One of the difficulties with high-end audio is that the technology it's made from often dominates center stage at the expense of the actual sound quality and, more importantly, the music. Specialty audio gear is often created out of rare and unusual materials that feature designs which are at odds with conventional engineering wisdom or the typical interior architecture of one's living environs. Big sound that emanates from giant speakers most often is created out of exotic woods (sometimes from pure single trees but often a composite of veneer over MDF—medium density fiberboard), several different types of metal or alloy, and frequently appear in the form of unusual shapes that look more like sculptures than audio transducers. Image and execution aside, for a moment, the sound quality rarely if ever has anything to do with the visual aesthetics of such designs, which can often command more attention than the music if one is easily moved by such things. Even a static display that never plays anything can still produce gasps of adulation in a passing viewer. And when, if ever, do form and function combine to produce a great musical instrument that also is beautiful to experience in one's own living room without costing obscene amounts of money?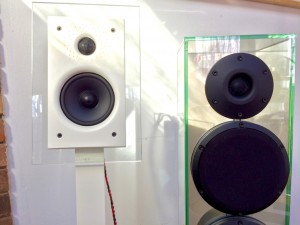 Well... the French company Waterfall Audio, established in 1996 by Cédric Aubriot, has pioneered the fusion of High End Audio Technology with that of Interior Design for nearly the last two decades in a way that utilizes both glass and aluminum to create loudspeakers of both visual and sonic transparency, offering (often) living pieces of artwork that can disappear and/or blend-in with their surroundings; regardless of interior design philosophy or style. This deliberate choice of nearly invisible materials has the effect of enhancing any decor, regardless of period, while making the experience of listening to music and being enraptured by home cinema or streaming audio a far greater and emotionally impressive act each time something is played. If most speakers are merely boxes of technology that stand out and apart from one's normal lifestyle, imposing a particular character of their own, then the Waterfall brand is quite different in producing a level of integration that few speakers can lay equal claim to. This provides a far more inviting and tantalizing opportunity for the homeowner and music lover to enjoy a visually transparent but equally high-end music (or concert video) listening experience with the ease and sophistication of adding a piece of fine sculpture to an existing living space without having to apologize to one's spouse or significant partner. In fact, I dare say this brand's visual sensibilities mirror the attention to engineering prowess contained therein. And this combining of form with function creates an altogether unforeseen opportunity for one to appreciate the finer intricacies of music listening without having to sacrifice taste and aesthetics when choosing to enter into the high-end; a situation that most speakers in the shape of a box and made of some type of tree have tried variously to overcome for more than 125 years: since 1890 when Edison and Berliner first started marketing the cylinder player and phonograph, respectively.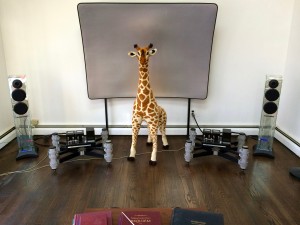 Since the advent and first commercialization of the full range LP (Long-Playing Record) in 1948, coming on the heels of the 78 RPM disk which preceded it, speakers have been either large and clumsy boxes, often the size of a lounge chair or refrigerator (in order to afford for deep and resonant bass response) or, beginning in the 1980's, in the form of small boxes with either limited bass response or the need for an external subwoofer (as pioneered by Henry Kloss and Amar Bose, in particular). These wood boxes with square corners permeate the landscape of audio playback for more than 89 years, now—all the way back to the beginning of the electrical era of sound recording and playback (1927), no matter what price point one might choose. And the facts of creating mass marketed audio components over so many decades has led to a certain stagnation in the perception of the purchasing public (as well as loudspeaker designers) that a speaker as well as AV components must come in a rectangular shape in order to be acceptable and affordable.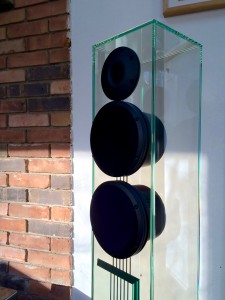 While the physics of audio reproduction have mostly required audio drivers to sit on the front surface of such a box, whose interior volume defines lower bass frequencies (ever since Henry Kloss with Ed Villchur invented the acoustic suspension loudspeaker system in 1952 at Acoustic Research Corporation), there has been only slight modernization to include all sorts of exotic transducer technologies, which can occupy both large and small enclosures, today. But where there once were large facades of wood and later MDF, their have also been a fair share of examples created around a flat panel design, often producing both a different visual statement along with a wide range of sonic interpretations. Considering that most speakers are merely aural motors that transform an electrical signal from a source like Records, CD, SACD or digital audio files these days into acoustic sound waves (via some kind of amplification), this mechanism has remained substantially the same since 1927, when the motion picture industry first embraced electronic recording and reproduction practices. 
If one surveys the lion's share of home audio systems, High-Fidelity really only was embraced once Stereo became a commercial possibility in 1954 with the introduction of the first multi-channel albums; prior to which most consumer music playback was only monaural. Here, again, it would be more than a decade (just as with color television) between the time the first Stereo audio albums became commercially available for listening at home or in one's office and the general acceptance of Stereo by the populace at large. So when the transition from Monaural (single channel) audio into Stereo (at least 2-channels) began, the need to create more sound in less space prompted the invention of technologies for speakers that also changed how they sounded in addition to how they looked. This was only to the extent that the spouse acceptance factor was a driving force in bringing "High Fidelity" music reproduction into most people's lives where previously the furniture aspect of audio was the driving force, like the first Victrola phonograph (1901) and commercial Radio broadcast (begun November 21, 1920).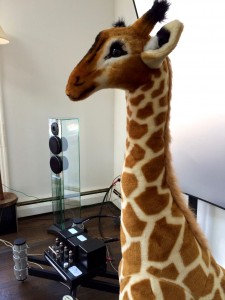 Both the history of music and home audio have been predicated on taking up a certain amount of real estate in one's daily life; often producing a disconnect between form and function that has nothing to do with the essence of music: emotions! And despite there being great exceptions to this rule, it is one of the foremost reasons why multi-channel Quadraphonic sound failed to catch on in the 1970's and why companies like THX excelled at creating opportunities previously unrealized in the late 1980's and early 1990's: too many large speakers all around one's living room is unappealing to most folk. So either a music lover (and later audiophiles) had to sacrifice visual appeal in order to achieve excellent sound quality, or spend a fortune to find good sounding speakers that also created a stunning and welcome visual statement; not wholly intertwined with the music they were playing.
Taking a hint from the small English bookshelf speakers that emerged in the mid-1970's, such as the LS3/BBC's 5a in 1975, several American companies began to re-engineer the size and sound quality of their big box brethren to include the first Satellite and subwoofer combinations, as early as the mid-1980's; including the now famous 4-piece Cambridge Soundworks Ensemble speakers (1988), with their comparatively tiny cabinets that could be spread around a room so as to produce the best sound quality while being as invisible and unobtrusive as possible. This led in short order to Amar Bose's introduction of the very first Lifestyle music system (1990) that essentially rewrote the book on what the common man could expect from the purchase of an audio system. In particular, the size of the satellite speakers became really tiny, allowing them to fit invisibly into the home environment yet apparently offering (somewhat) full range sound through clever use of a separate subwoofer. While definitely not audiophile (because of the many compromises to timbre, imaging, and dynamic presentation), BOSE Lifestyle speaker systems, which are often accompanied by a media center containing the source components and amplification, have become the number one choice by most people in the world for their simplicity of set-up and ease of integration. But that did not stop a small group of determined artisans and engineers working in tandem from creating exclusive innovations and technologies that resulted in the first glass speakers to be individually hand-crafted and assembled to the highest degree at Waterfall Audio's dedicated factory; located in the Provence region in south France. Year after year, each step in the process has reflected both a passion for excellence and a redefining of what luxury high-end music transducers can offer to a discerning and enthusiastic audience of music lovers.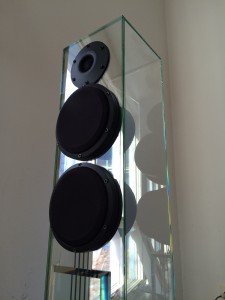 Unpacking
All the products that we purchase daily come in some kind of container, packaging, or box. In the retail environment packaging can make or break a customer's desire to acquire, based on a particular facet of the imagery or written description. But with AV components, the history of packaging has pretty much been a brown or white cardboard box with a little statement about the product and sometimes its specifications. It is therefore largely informational in a cursive sense, since the desire to make a purchase mostly comes from actual or virtual experiences with the items the packages contain. The Waterfall Audio brand continues this simple tradition by not offering more than basic information on its container's outer surfaces, regardless of model. And of the 3-tiers of loudspeakers which they sent to me for audition and review, the most decorated was also the most expensive example: the Victoria Evo (subject of this review), which visually depicted that two people would be required to properly and safely unpack the glass speakers in order to prevent damage to either them or to one's back. After the fact and during a subsequent demonstration of these 2nd from the very top of the Waterfall loudspeaker line, one of the owners at Premier Audio Video LLC had suffered some minor but all too familiar lower back distress, caused through improper lifting posture with some other AV gear: a flat panel 4K television, in that particular case. So I (and my wife) were most aware and appreciative that the Victoria Evo showcased clear diagrams and warnings in both English and French on the top of the wood framed, cardboard clad shipping box. It would be far too easy to make the same mistake accidentally as our AV dealer colleague had—by thinking these transparent speakers to be light enough to handle with only one person doing the uncrating and set-up. Remember... read the directions, first!
The interior foam inserts within the Victoria Evo box (and the other Waterfall speakers) are all custom implemented so that each of the speakers reviewed are sufficiently protected to prevent shipping damage, even when the exterior of the packaging is violated (see pictures – Box damage). Naturally, one assumes that a dent in a cardboard box is easily offset by proper insulation. But the sparseness of any extraneous foam and cardboard packaging did not compromise any of the 10 boxes contained on the shipping palette, which had been air freighted from France and then from the American distributor (Nouveau Distributing) in Texas to our KSS™ Connecticut reviewing labs. In fact, the largest damage apparent were a few holes to one of the medium sized Elora Evo (smaller speaker) boxes that caused me initial concern. But in spite of the apparent invasion, nothing within was damaged or missing. And this is especially rewarding since these first two tiers of speakers (Victoria & Elora) did not come wrapped in the typical clear plastic polyethylene bags. Often, plastic bags wrap around a new speaker that includes a pack of desiccant (to prevent moisture build-up). But these were completely absent. Only the speaker(s) themselves plus endcap foam insulation were included, along with a single instruction sheet (in English & French) to elucidate the particulars of the speaker enclosed and its ultimate set-up procedure. Thus, I was impressed that nothing beyond the required items were included in each of the different boxes; less weight and waist for the necessary containers, which naturally are only of use during shipping, and which should always be kept in a safe place after uncrating in the unlikely event of needing to transport them to a new home or for (God forbid) repair.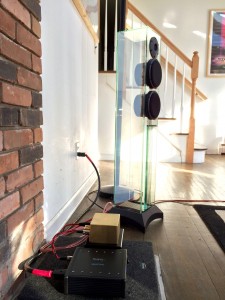 Of special note were the clear and precise directions accompanying each of the different speakers, which defined their set-up procedure to include NOT removing the foam end caps until directed to do so—only after the speakers had been removed from the shipping containers and the choice of mounting apparatus already attached. Since these are glass speakers, I was keenly aware that fingerprints might become an obvious distraction, visually. Yet keeping the speakers safe from being dropped or other handling errors was also greatly improved by following the included, easy to read one-sheet directions found in each of the packages. So often, the operations manuals for Hi-Fi and AV gear is a multi-page opus that has little originality to it and often goes completely unnoticed until after a handling mistake has occurred. But the Waterfall Audio products are an exception, since the one-sheet directions were the first item at the top of each speaker's box of contents; providing a clear and concise explanation of how to deal with one's new purchase without reading a chapter of War & Peace. And the color illustrations offered a friendly opportunity to browse the handling directions that cannot be over emphasized as a critical, mostly overlooked opportunity of interacting with a new product. If only more manufacturers would apply this simple protocol to the purchasing experience, I suspect a lot less needless damage would transpire, which so often results in the return of a product due to owner error at this critical starting point: that of opening the box and setting up your new gear.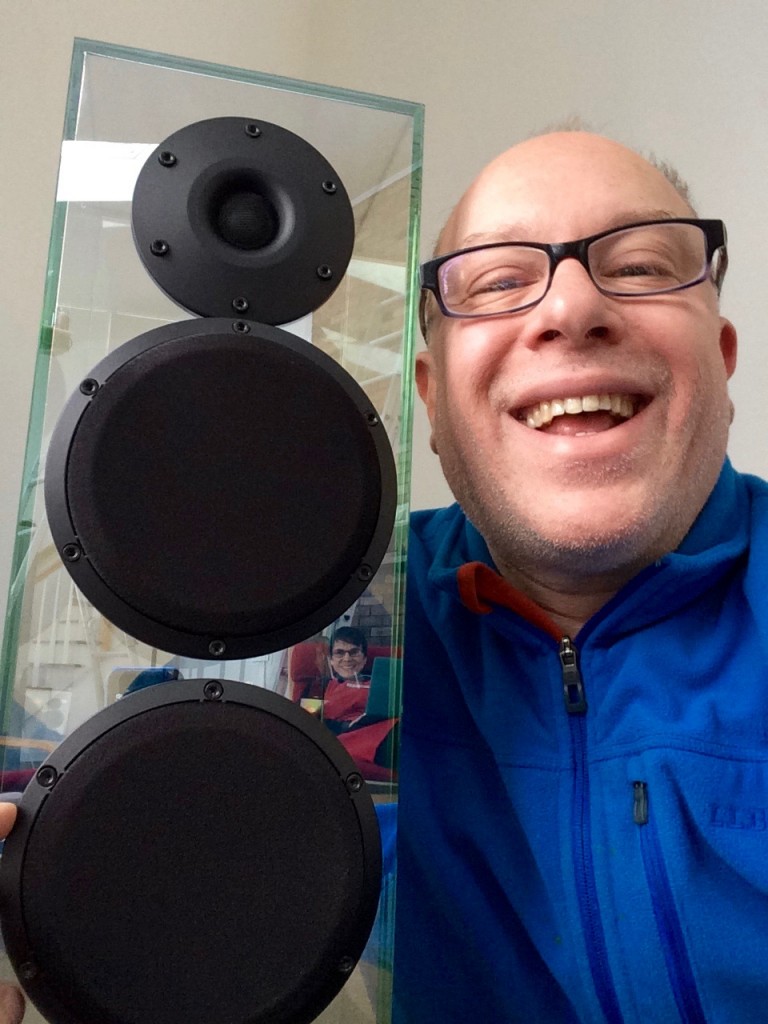 Set-up – Victoria Evo Loudspeakers
Since their initial launch in 1999, the Victoria Evo glass loudspeakers have been highly regarded by the worldwide audio and interior design press, garnering terms like prestigious and elegant in the fields of Hi-Fi and Home Theater. And when I first saw and heard them at the New York Audio Show 2012, it was clear that these were not ordinary audio gear in any way form or shape. So it was with great anticipation that I substituted the Waterfall Audio Victoria Evo loudspeakers in place of the OLOGE Acoustic Model 5 that have spent over two years in my smaller reference room (and 2nd home theater) as the affordable choice in great sounding loudspeakers. By reference quality I refer to both a neutral sonic presentation quality and the ability to present a considerable holographic soundfield. So I was surprised that the differences in sound quality was pretty minor, with the Victoria Evo producing only a slight change in the tonality of a staple album I love to play: the J.S. Bach – B-Minor Mass with John Eliot Gardiner and the Monteverdi Orchestra and Chorus. The overall timbre of the Archiv recording remained substantially the same between the two very different types of loudspeakers, with the bass, midrange and treble all sounding quite similar and well balanced. If anything, the treble was slightly more pronounced with the Victoria Evo, offering a slight bit more brightness and air to the soundstage, while not becoming at all strident or aggressive in the slightest. This afforded the same sense of perspective with this recording between the two brands of speakers at roughly the same price points. This is a reasonable place to begin since the sound of well engineered speakers (in general) should be more similar than different, given the same set-up and electronics used to listen to identical recordings under the same circumstances and with the speakers located in the same place in the listening room.
Another staple recording, this time one I was assistant engineer, editor, and mastering producer for, was the Chesky Records' album by famed trumpeter, Red Rodney, called "Then & Now" and especially the track entitled "Woody N' You"; recorded at RCA Studio C in New York City, back in 1993. This was shortly before that building's ultimate sale and demise by the Internal Revenue Service (IRS)—one of the tragic losses to the music industry. Red's beautiful tone and brilliant playing are among my favorite and his heartfelt rendition of this tune (composed by one of his mentors) produced chills up and down my spine from the first note forward. This is one of those single microphone recordings that Chesky (and a select group of other labels, like my own Epiphany Recording Ltd.) pride themselves on because of the incredible degree of intimacy and sonic truth; full of passion and drive lovingly captured by engineer Bob Katz. The Victoria Evo presented the sound of the band and the space around them as I had remembered them from my many weeks involved in the creation of this album.
Likewise, one of my own productions for Chesky using this same single-point stereo microphone (a heavily modified AKG-C24) was up next: Vivaldi – The Four Seasons. This group of four concerti from the 18th century, which everyone in creation has probably heard by now, is presented here played on instruments of that early period by The Connecticut Early Music Festival under the direction of my father, conductor & harpsichordist Igor Kipnis. My goal for this album was the same as that of engineer Katz: capture the moment in a properly and evenly balanced manner that makes the recording sound like it's live (and alive). Most albums (contrarily) are created using a variety of microphones placed at different locations around the room and finally mixed together to form a tapestry of sound. Here, the single microphone approach is like looking (and listening) to a near exact facsimile of the event, where the position of the musicians is extremely visceral, clear, natural, and precise; providing a sonic hologram of the live event where every recorded detail is in exact proportion to itss real life LIVE counterpart (had you been there and seated where the microphone was. Here the Victoria Evo were equally able to give spine-tingling results that allowed the deep woody textures, tempo, and spatial qualities of the performance to come through with impeccable accuracy. The low strings, for example, consisting of the Double Bass, Cello, and Theorbo (a big lute) came through with significant weight and size; again correctly proportioned with respect to their real life counterparts, providing the necessary foundation to my sound mix. Likewise, the upper strings made up of three violins and viola d'amour (a big Viola) were all reproduced with authority but no stridency or harshness that are often criticisms of gut stringed original instruments and violins (in general) recorded digitally. Here, every instrument was recreated with a degree of accuracy that is most often only achieved through considerably more expensive loudspeakers being powered by extremely refined and expensive amplification and sources. Yet, here the audio was being powered by a pair of 40 watt Pentode amps from the amazing Bob Carver and in a room with NO acoustic treatments whatsoever! Very enjoyable musically as well as sonically, which is rare in an initial encounter with new speakers.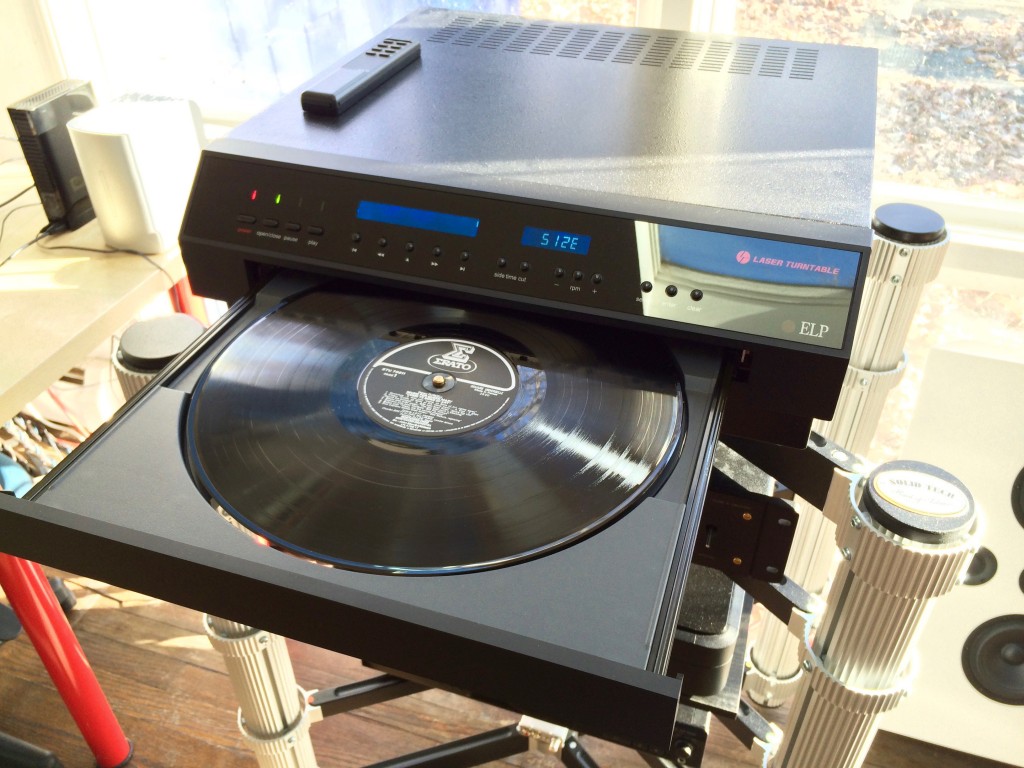 Burning In
As the speakers began to burn-in, I appreciated them more and more. For one thing, the treble became slightly less aggressive and more recessed while offering greater realism in the form of subtle variations heard from recording to recording. For another, the bass, rather than being somewhat separate from the rest of the speakers frequency range in-turn became more connected and eventually one with it; supporting the overall presentation while offering distinctly more low level ambiance retrieval. So, for example, the reproduction of the Strathclyde - Concerto No. 7 For Double Bass And Orchestra (Tracks 1 & 2 of a performance by Duncan McTier/Scottish Chamber Orchestra/Peter Maxwell Davies - 1st Mvt., Moderato on the Naxos label) went from where the orchestra and double bass soloist were occupying the same apparent space physically to them both being in a much larger hall but separate and distinct from each other in space. With the bass and treble becoming extensions of the midrange, the feeling of being at the musical event (in contrast to merely listening to it remotely) was far more believable, even within the first 36 hours of my initial listening tests. Thus, the degree to which I wanted to sit and listen (rather than review) started to increase, and this is always a good sign of a new speaker's design and execution being on par with creating music, not merely sound.
To hasten the process, I employed a new system burn-in tone created by one of my audiophile and engineering colleagues, Chris Sommovigo, in Japan. The nature of this new Test Track was unlike any I had previously utilized, sounding quite like a piece of music by Stockhausen or Persichetti instead of the usual pink noise and/or frequency sweeps (and other noises) that often are included in Test & Demo CDs for the purpose of exercising one's audio system; presumably vexing it of unwanted colorations and distortions. As you can see from a recent column I wrote here in Positive Feedback Nov. 2015) I've spent almost 27 years investigating the value of using such specialized audio test sequences in order to maximize one's system performance. This is particularly true of new speakers which by their very design include a considerable number of internal and external components that need time to go from new to "Burned-in"; a colloquialism referring to a state of physical equilibrium of all the parts contained therein having come to a point of sound quality that does not very or develop any further. Usually the process of burning-in varies in duration for each type of gear, requiring in the case of speakers from just over 100 hours to several 1000 hours. This process can be hastened considerably with the use of a qualified break-in or burn-in test track with varying degrees of success. But with Sommovigo track (that reminded me of playing music more than a system break-in tone) the process was considerably shortened. More on this phenomenon in the continuation of my Waterfall Audio reviews (in my next few columns, here).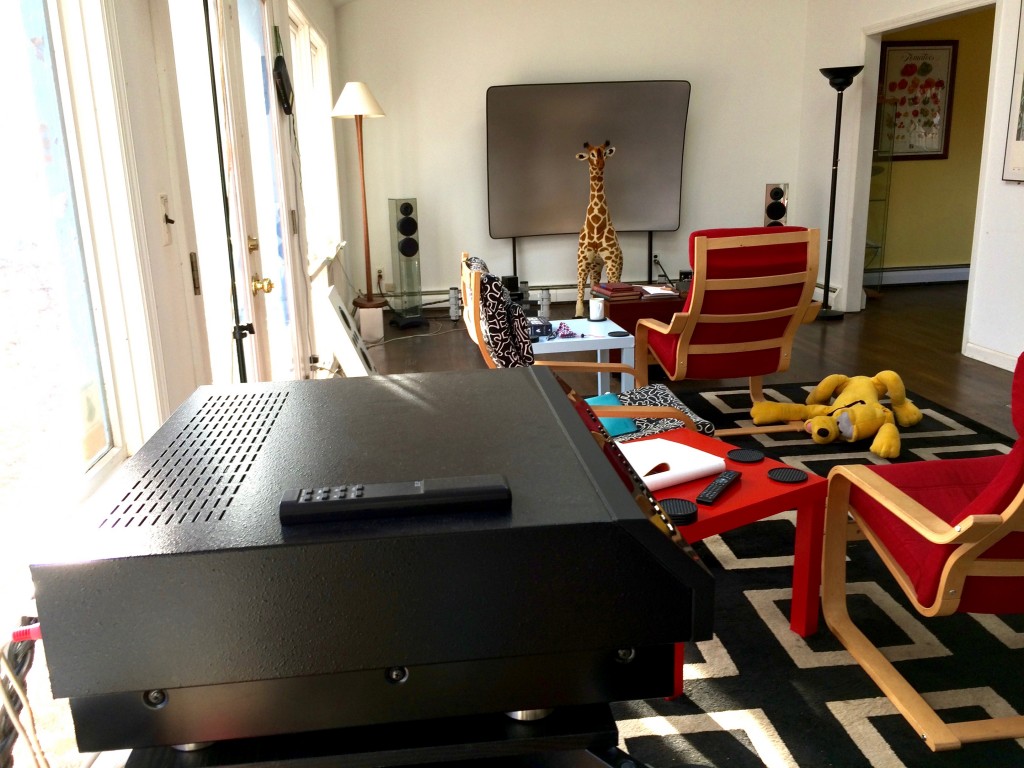 Initial Listening Tests
After allowing the Victoria's a couple of weeks to play and break-in, the sound was noticeably more coherent, well balanced, and 3-dimensional, providing not just a window of sound between the loudspeakers but a Vistavision widescreen soundstage experience that extended well beyond the left and right positions of the Victoria Evo in our living room review set-up. In fact, the longer the speakers were played (extending out to 10-12 weeks) the wider and freer the sound became from the speaker's locations. A recording I first encountered while working for Bob Katz at Chesky Records in the Fall of 1990 was the upbeat Clark Terry album Portraits, Catalog #: JR-2. Aside from the lively playing, Bob brilliantly placed Clark's Trumpet strategically beyond the right channel (rather than in the center, as is more typical) so that his virtual audio image appears to come from farther right and slightly behind the location of the loudspeakers themselves. This creates an eerie holographic illusion in a properly designed and deployed pair of speakers where the soundstage is completely free of the speakers while also rendering a "portrait" that goes beyond a mere audio recording.
The CD version (44.1 kHz / 16-bit Red Book standard) of this album has always fascinated me with this slight of engineering hand, so much so that I was unprepared for how much farther outside the right speaker Clark's image actually appeared when listening to the original ¼" 15 ips magnetic master tape that was created concomitantly with the 128-times oversampling digital version found on this CD. I was lucky to be asked to edit the original session takes into a finished analog master for the LP (and subsequent SACD) release; cut to lacquer by the incomparable Tim de Paravicini at his E.A.R. cutting labs in Japan. The qualities of this single microphone recording which was made at the famed RCA Studio A in New York City are all the more immediate and three-dimensional when heard from the analog source tape because the added resolution and definition clarify the ensembles locations around the microphone. Furthermore, the intimacy of the moments that unfold musically are heightened in the analog mastered LP and SACD in ways that few other recordings can touch upon. It is simply something one must hear for oneself to understand and fully appreciate. And through the Victoria Evo loudspeakers this illusion was very well recreated, indeed; bringing me into the midst of the recorded event just as I had heard it time and again at Katz's Digital Domain editing suite through his hand-made Symdex Epsilon speakers, back in 1990.
Several other recordings which produce this holographic effect include more albums recorded by Bob Katz and produced by David Chesky, including Live From Studio A with Bucky Pizzarelli (JD-1), My Blue Heaven with John Pizzarelli (JD-40), and Live at the Village Gate (along with the follow-up: More Live from the Village Gate) with Clark Terry, again. I also edited the analog master tapes for all four of these albums during my apprenticeship with Bob, and was lucky enough to be the assistant engineer for both Village Gate albums; providing me an unparalleled opportunity to hear the actual LIVE music played in person for several of the tracks along with a packed house. Track 6, called "Brushes and Brass", features Clark's signature "scatting" where he accompanies himself during the solo sections by alternating his voice with his trumpet. Both the range of expression and unique vocalizations provide an amazing comparison between my recollection of the actual performance (with myself standing in front of the band) and the way it was so eloquently captured by Bob & David Chesky for this album.
In the darkened atmosphere of the Village Gate, with an audience of enthusiastic imbibers (who were not allowed to smoke since Chesky valued his unique AKG C-24 single point Stereo microphone beyond measure), the performance by Terry is unquestionable one of the finest in his career and a great audiophile track for evaluating both imaging and dynamics. An often overlooked aspect of tonal accuracy in a playback system is clearly on display here when Clark's sibilant expressions using his lips and tongue can be heard to move about slightly as he pivoted on his stool in front of both the audience and the single 2-channel microphone. And through the Victoria Evo speakers, just about all of the micro-spatial definition was clearly on display, only coming up short of the actual live event in ways that are both elusive to most speakers costing less than than $20k a pair and which demand dedicated acoustic room treatments in order to resolve properly and believably. Yet here, again, the Waterfall Audio Victoria Evo speakers threw a BIG soundstage that invited me as the listener into the captured moments with a level of intimacy and subtlety that often produce a visceral quality to the presentation which can easily make one forget they are listening to a recording.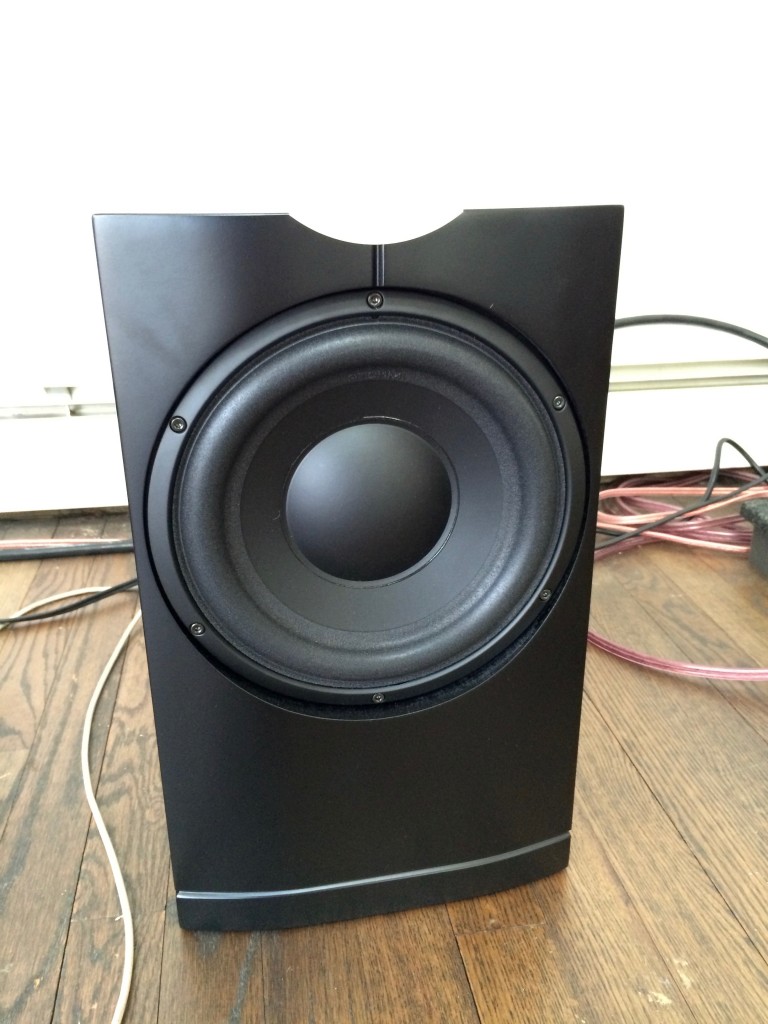 Continuing Observations
Full range sound is a cornerstone of both the albums I produce as well as the unique media rooms I design to be acoustic simulators for both audio-only as well as home theater centric usages. But often people do not really appreciate the importance of attaining a truly flat bass response; down even into the infrasonic region (below 20Hz) because it seems like overkill. But this is the key to recreating both the size, shape, and true ambiance associated with fine acoustic recordings that feature real spaces as the aural backdrop (in comparison to most studio recordings, where the sound of the room ambiance is created artificially and tailored to suite the final mix). Capturing this low bass properly often requires recording using only a single stereo microphone, like the AKG C-24 with just two capsules adjusted to form a Figure-8 pattern / crossed at 90-degrees. This deep bass resolution is also possible with the Soundfield microphone array and it's four cardioid capsules arranged in a tetrahedral orientation, as well as trios of carefully spaced omnidirectional or cardioid microphones, such as in the engineering heard on the Mercury Living Presence orchestra recordings, engineered by Robert C. Fine or with RCA Living Stereo productions by Lewis Layton, et al. A studio recordings goal is to sculpt the sound through multiple microphones that are individually tracked and mixed; requiring the addition of an artificially derived room sound which fits the final results more syntactically. In either case, the ability to resolve the lowest bass information included in the final mastering contributes significantly to the feeling of pace, rhythm, and tactility of the reproduction in ways that adding a separate subwoofer to an existing high quality playback system can often surprise even the most jaded of audiophiles; showcasing previously missed or ignored qualities inherent in favorite albums and songs.
As a keyboardist, I am deeply aware of the qualities associated with the pipe organ; an often underappreciated instrument these days, that usually is only heard in a church when a religious service or marriage is taking place. But thanks to the incredible versatility of both this noble instrument and the compositional brilliance found in the works of Pachelbel, Bach, Handel, Wagner, Sweelinck, and most recently film soundtrack composer Hans Zimmer (Interstellar), a breathtaking opportunity has once again arisen to explore both a wide variety of different organ recordings and the acoustics associated with them. Simon Preston's complete organ works of J.S. Bach, found on the Arkiv label of Deutsche Grammophon is exceptionally well balanced, affording a clear view into the mind of one of western music's greatest contributors. The Bach Canonic Variations on the Christmas Hymn 'Vom Himmel hoch, da komm' ich her' (also heard on Disc 28 of aptly titled The All Baroque Box Set) is a light yet complex group of pieces that clearly demonstrate the Waterfall Audio Victoria Evo's natural strength in the area of bass reproduction, with solid performance down to 40 Hz (or lower depending on how the passive bass radiator in the bass of the speaker is weighted with the included accessories). This is a reasonable lower end for an affordable high-end "full range" loudspeaker. The last variation contains fine examples of Pedal counterpoint which can only be appreciated over such a full range system because the notes are so deep in pitch. The reproduction of these bass notes is easily heard, with each pedal giving its own unique pitch and timbre as would be heard at a live organ recital.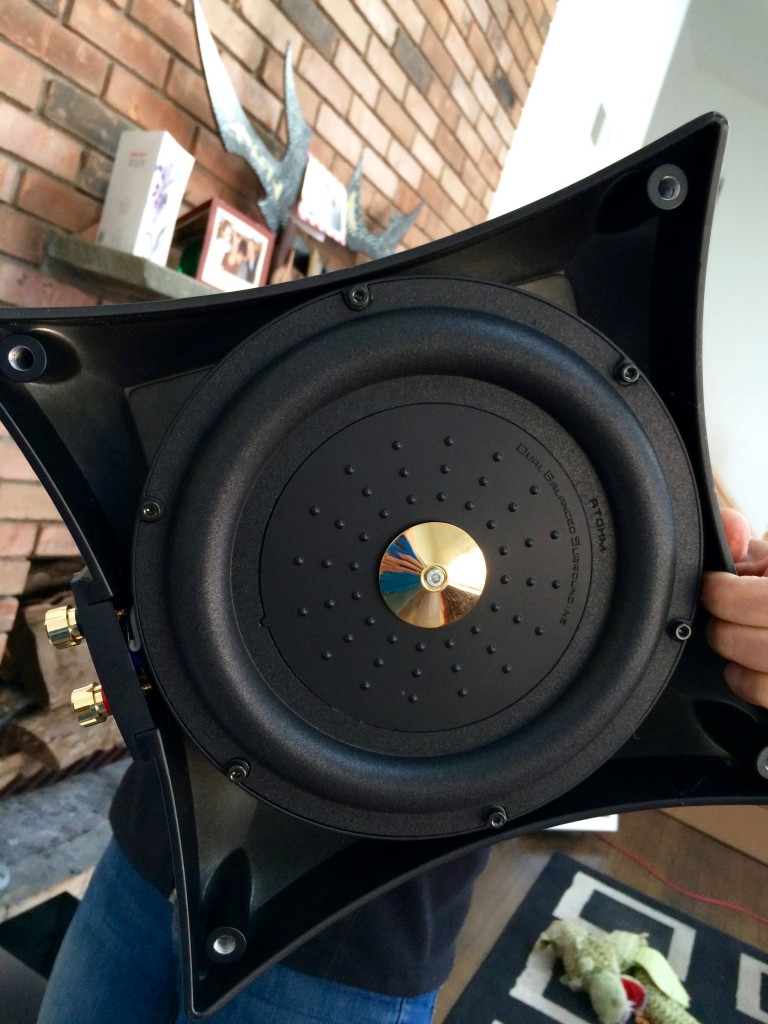 The term Full-Range, however, is not fully realized in this context without the addition of a dedicated subwoofer, which fortunately is available in the form of the Waterfall Audio HF2-250; primarily intended for use with the company's smaller Elora Evo and Hurricane Evo speakers (review to follow in my next columns). The High Force 2 is a vented, 9" long excursion (1.25") driver, offering adjustable phase settings that include both an LFE input for home theater use as well as a high performance crossover for Stereo music listening. The addition of this dedicated subwoofer transforms the lowest registers in ways that must be heard (and felt) to be fully appreciated. Where the bass of the Victoria Evo's is perfectly well matched to most every recording I auditioned, the deepest bass notes on the organ (and also the double bass in jazz) are transformed so that one can suddenly feel the different church's room sizes around one instead of just in front of and between the speakers. Suffice it to say once I had added the subwoofer to the Victoria Evo, I found it both tight and fast enough to compliment without degrading the fine audible engineering on show with these clear glass speakers. More about bass extension in Part 2, 3, and 4 of my review covering the home theater and multi-channel surround sound presentation also afforded by Waterfall Audio products in my next installment of this exclusive audition at my Kipnis Studios – KSS™!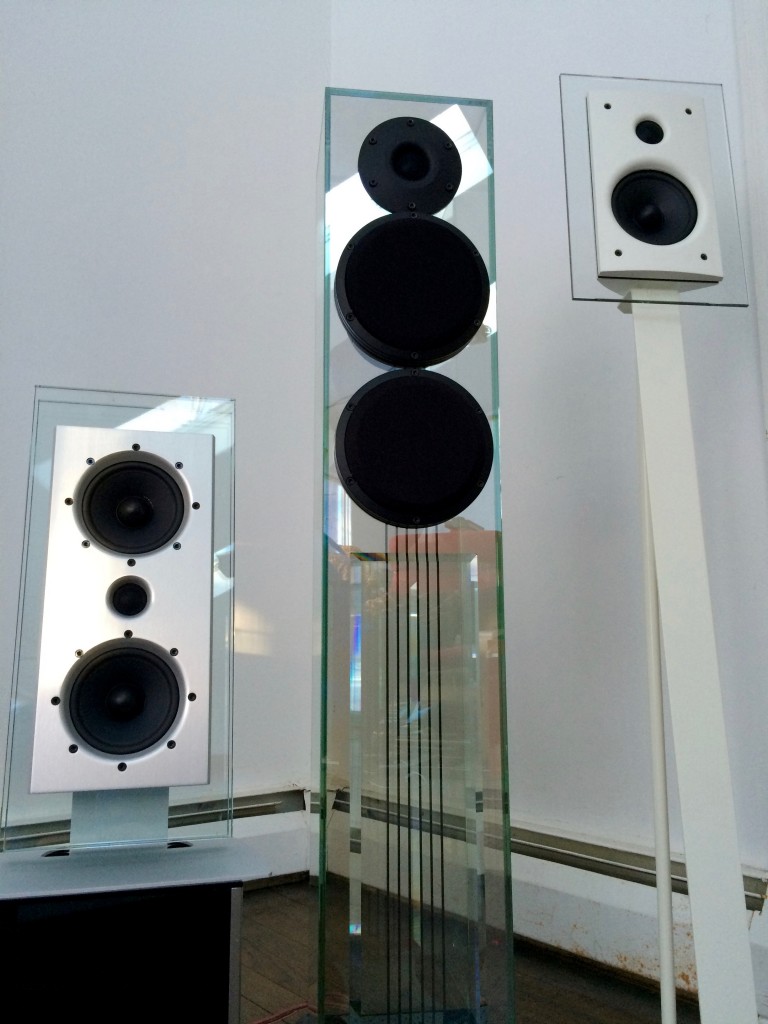 Stay Tuned for the Next Installment about the other Waterfall Audio Speakers!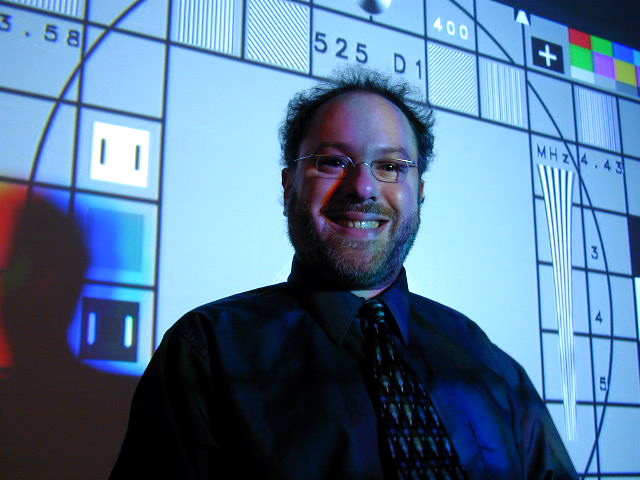 Jeremy R. Kipnis is a Producer, Director, Tonmeister, and Impresario. His heritage includes four generations of musicians and conductors. Working for various record companies, including Columbia, RCA, Nonesuch, Decca, Chesky, and his own label, Epiphany Recordings Ltd, he has been responsible for more than 450 award winning albums, LPs, and compact discs. His passion for photography led him to study briefly with Ansel Adams and Yousuf Karsh. And his love for movies and television led him to design and create the Ultimate Home Cinema in the world, known variously as the $6 Million Kipnis Studio Standard (KSS)™. In addition to creating new cutting edge ultra immersive audio & video suites, Kipnis researches and reports on many topics in his three monthly columns, as seen in The High Fidelity Report, Widescreen Review, and Positive Feedback magazines.
Kipnis Studios (KSS)™ – www.JeremyKipnis.com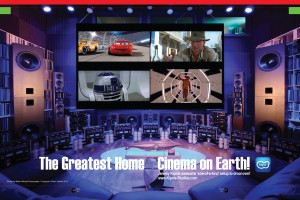 Epiphany Recordings Ltd. – www.EpiphanyRecordingsLtd.com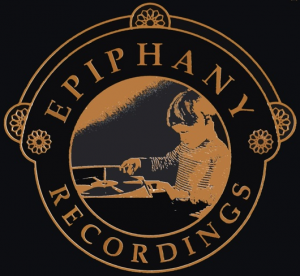 The Review System (at Kipnis Studios & Epiphany Recordings Ltd.):
(items in italics are on loan from the manufacturer)
Digital to Analog Decoders
PS Audio PowerWave DAC II (with Bridge Card)
Theta Digital Generation VIII DAC (Mk. 4 updates)
ifi Nano 4x DSD DAC
Ultra-Analog A/D D/A (Custom 960 kHz Pro Tools Recording System)
Digital Sources
Mark Levinson No. 51 DVD-A Transport
Mark Levinson No. 37 CD Transport
Macbook Pro 17" 2.5 GHz Intel Core i7 w/ 8 GB 1333 MHz DDR3 / 10.8.3 OS
Sony PlayStation 3 (SACD Playback via HDMI w/no transcode)
Audirvana Plus (Memory Music Player for iTunes, v. 1.5.12)
Pure Music / Pure Vinyl Recorder (LP High-Rez Remastering System & Memory player for iTunes)
Twisted Wave - Logic Express 9.2 - Soundtrack Pro – Adobe Audition CS6 (Digital Audio Editor)
(Digital Audio Editor)
Audacity – Sonic Visualizer – AudioLeak (Digital Audio Analyzers)
Analog Sources
ELP Laser Turntable (Custom Line-Level Output Cards w/ RIAA Correction)
Pioneer LaserDisc LD-S2
Technics SP-15 / SME 3009 Mk. 3 Arm / Shure V15-MRx Cartridge
Pioneer RT-909 2- track & 4-track Stereo Reel-to-Reel Player
Preamp/Volume Controls
Melos SHA-Gold Tube Pre-Amp / Headphone Amplifier
Audible Illusions Tube Pre-Amp / Phono Stage
Ultimate Attenuators (x2) – (31-step Laser Matched Resistors w/ Penny & Giles)
Amplification
Crown - Macro Reference (x2) – Class A Modified
Carver - VTA20S Tube (x2) (Pair running in Stereo & Bridged Mono)
Mesa Boogie - BARON Stereo Tube Amplifier (with adjustable feedback and variable Triode-to-Pentode performance)
McIntosh MC2102 Stereo or Mono (x2) & MC2301 Monoblock (x2) Tube Amps
Mark Levinson No. 33H Monoblock (x2)
Digital Amplification Company – 60 Volt KING Maraschino Cherry Mono Blocks
Loudspeakers
CERATEC Effeqt Mk. IV Loudspeakers
Symdex Epsilon 3-Way Loudspeakers (Built in 1993 by Kevin Voecks and Leland Wallace in Gloucester, Massachusetts - USA) w/ Subwoofer (self Powered 12"): Cambridge Soundworks (x4)
Ologe ONE 2-way Loudspeakers
Ologe FIVE 2-way Loudspeakers
Ologe TEN 3-way Loudspeakers
Snell Music & Cinema Reference Full Range 4-way Tower Loudspeakers
Snell Music & Cinema Reference SUB-1800 (18") Passive Subwoofer (x4)
Waterfall Audio VICTORIA Evo Glass Loudspeakers
Waterfall Audio ELORA Evo Glass Loudspeakers
Waterfall Audio HURRICANE Evo Glass Loudspeakers
Waterfall Audio HF-250 SUBWOOFER Loudspeaker Addition
Bryston Stereo Subwoofer Crossover (x2)
Interconnects and Cables
Skogrand 421 Markarian Speaker Cables & Interconnects (Balanced & Unbalanced)
LessLoss DFPC Power Cords (x5)
Cardas Golden V, Neutral, Micro-Twin, and Clear Cables, Interconnects, Power Cords, Digital Connections, Microphone Cables
AudioQuest Ruby Speaker Cables & Interconnects, Glass Optical and HDMI Cables
Monster Cables M1 & M1000 Speaker & Interconnect, Pro 500 Microphone Cables
Mapleshade 1st Generation Experimental Speaker, Interconnect, and Digital Wires
Straight Wire, Kimber, Goldmund, Nordost, Sony, Panasonic, Radio Shack, etc.
Tweaks and Accessories
Magic Hexa Vibration Control Feet - 4 feet (x2)
Solid Tech Rack of Silence w/ Feet of Silence (x5)
Auralex 4" Studio Wedge Foam 2' x 2' Panels (x6)
RPG Skycloud Diffuser (x4)
ASC Special SQUARE Tube Traps (x2)
DIRAC Live Room Calibration Kit
Equitech 100 KVa Balancing Transformer (x2 : separate Digital and Analog services