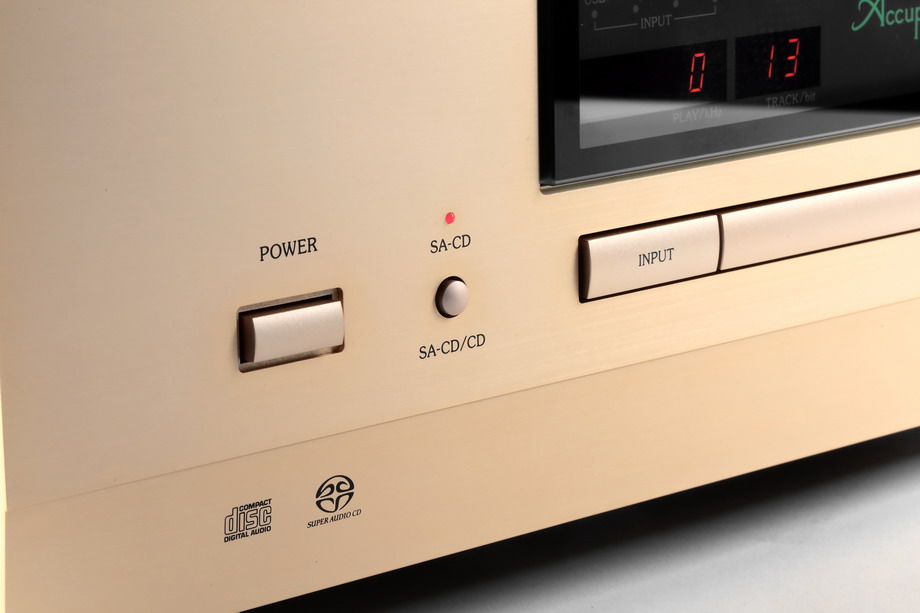 The Compact Disc player launched some time ago by the Norwegian Hegel Audio company was called the Mohican. It is a clear allusion to The Last of the Mohicans, a novel by James Fenimore Cooper from the year 1826, which shouts: "the Compact Disc format is dead!", i.e. all digital optical disc formats are the past. A lot of audio companies share this view, getting ready for the supremacy and autocracy of files that is just about to take place.
However, Hegel invested money in it. The dCS company is still investing money in it. Ayon Audio keeps on investing, Cambridge Audio keeps on investing, CEC and Métronome Technologie, Luxman, Denon and Marantz keep on investing, just like Accuphase does. It seems that this Japanese company is strongly convinced that optical discs will still stay with us for a long time, which is proven by a group of new players with the company's logo, starting from the two-piece flagship DC/DP-950 and finishing with the DP-430.
The optical disc forever…
"Survival strategies"—that is what one may call the actions of many audio companies. Faced with the pervasive wave of streaming, they start to nervously look for solutions that would allow them to surf on it. I get déjà  vu, which makes me recall the moment of shifting from vinyl to digital discs—the same fear and the same herd behavior which make the voice of reason and restraint unheard, and lead people straight onto the wall.
That is why a lot of respect is deserved by those who cultivate formats connected with the optical disc, as these formats offer us an incredible amount of music, while the concept of the optical disc has not been fully realized. Accuphase is one of those companies. However, at the same time it secures itself, giving its users devices with very high functionality that are to be the digital centre of an audio system.
The DP-560, a model that is second from the bottom in its offer, is not only a Super Audio CD player that reads SACDs and CDs, but also plays optical discs with recorded audio files. Let us have a look at its technical specification and symbols will make us dizzy: CD, CD-R/RW, SACD, DSD Disc (DSF) and Data Disc (CD-R/RW, DVD-R/-RW/+R/+RW: WAV, FLAC, DSF, DSDIFF). It means that we can use one recordable medium from the CD and DVD family to burn WAV, FLAC and DSF DSDIFF files. The decoding of all these formats takes place in the large DSP Xilinx Spartan chip.
Similar functions are offered by many Blu-ray players, but I have only once seen a high-end player that could do that: the Boulder 1021, whose prototype was presented in 2008 during the CES exhibition (more HERE [accessed: 17.05.2017]). This is the end of the similarities, however. The Boulder was some kind of a microcomputer (server). After reading a CD or a CD-R/RWor DVD-R/RW with data, it looked for data on it on the Internet and displayed them on a large colorful display. So, it was an equivalent of the modern two-in-one file player and server, which played optical discs.
The Accuphase player is different. First of all, apart from discs and PCM files, it plays SACDs and DVD-R discs with DSD files, including DSD128. It does not have a display or CD-Text. So, we need to treat discs with burnt files like classic CDs and SACDs—we get information on them from a booklet. I have to say it suited me a lot, as it returned the responsibility for musical material to me. There is no talking about downloading files like a vacuum cleaner—each disc needs to be burnt and played, which requires attention and engagement. It is similar in the case of vinyl discs. This is what we need now, as we must recall that music is the most important in all of this and an artistic message is closed within the so-called "album" that we are responsible for. Otherwise, music files will not be different from trash.
The only disadvantage of playing discs with DSD and WAV files, which I used during the test, on the DP-560 is a lack of the "gapless" mode—there is a short pause between tracks. It will not matter in the case of most discs, but may be problematic when it comes to concerts. A minor difference between these and the CD format is a lack of access to tracks directly from the remote control, one needs to skip between tracks.
DP-560
The DP-560 is a player to be used with SACD, CD and DVD-R discs with recorded DSF, WAV and FLAC files. It can also serve as a digital-to-analog converter for external digital sources, mostly for the computer and file player. Using the USB input, we can send PCM files to it (up to 3- bit and 384 kHz), as well as DSD files up to the DSD512 format (11.2896 MHz). We also get a new version of the company's HS-Link Ver. 2 (the same parameters as the USB, apart from DSD512), a classic RCA (24/192) and an optical TOSLink (24/96).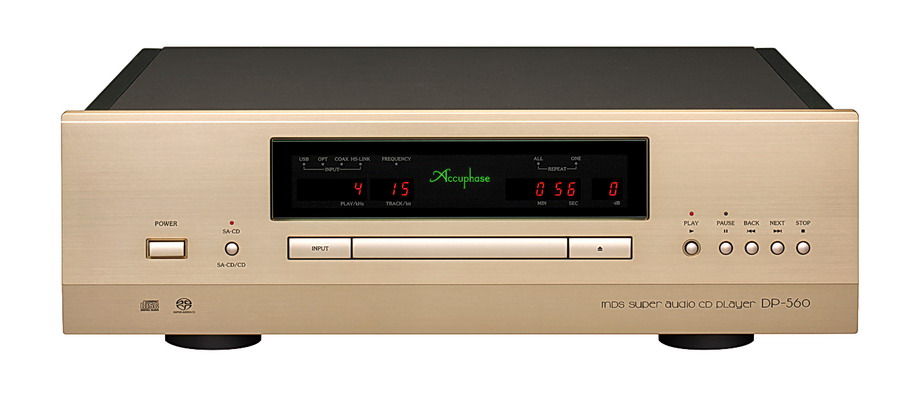 In order to make it possible, the company devoted a lot of time to redesigning the transport, both when it comes to mechanics and software. The damping of vibrations coming from non-centrically made discs has been improved, the "bridge" where the pressure ring is attached has been made stiffer, as well as software has been enhanced, which has additionally dampened vibrations and improved the precision of following a track. The whole transport block is an example of precise engineering. It is enough to see and listen to how the disc tray opens—it operation is absolutely silent and reliable.
We will have the feeling of absolute control while listening to this device, as the design of the player is perfect. It has a two-layer housing, a thick aluminum panel at the front, anti-vibration feet made of metal with a high content of iron, a clear multi-part display and a simple but reliable remote control—the whole thing weighs as much as 19 kg. I mentioned the display—it has four segments. It gives us the track number, the sampling frequency of the input signal and bits, the track duration, and the volume. The DP-570, similarly to all other digital sources from this manufacturer, gives us the possibility of changing the level of input signal in the digital domain.
The full name of the DP-560 player is the MDS SA-CD Player. MDS refers to a technology that Accuphase has been developing for years—the Multiple Delta-Sigma—and means that a few DACS are connected in parallel. Thanks to this, their quantization errors are minimized and dynamics is improved. At the time when the ESS Technology ES9018S reigns, it is really simple—there are eight DACs in each circuit and they can be used to decode multi-channel signal or be connected in parallel for stereophonic signal; the latter option is used by many manufacturers.
Accuphase used to be one of few companies that preferred this solution. However, even today, it does it in its own way—i.e. it does not connect the outputs of converters directly, but connects the outputs of two (per channel) current-voltage (I-U) converters—only then their output is totaled up. To separate balanced XLR outputs and unbalanced RCA outputs, a separate low-pass filter is used at each of them. The solution is called the Direct Balanced Filter. Let us add that this is a 5th order Butterworth filter.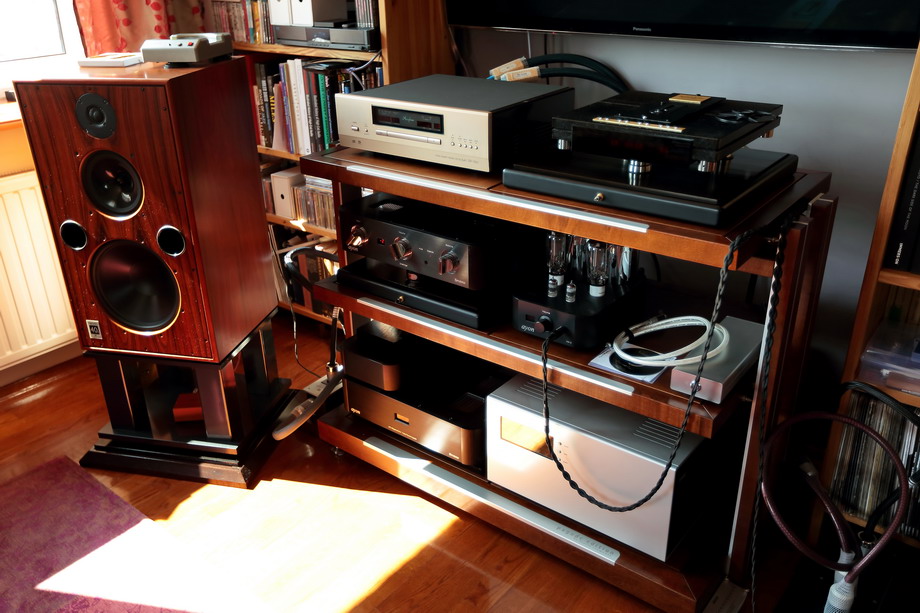 THE LISTENING SESSION
It is hard for me to recall an optical disc player that would meet so many expectations on such a high level. This technologically and functionally advanced machine gives music lovers attached to physical media, but wanting to use the advantages of hi-res files, tools that they will not find anywhere else. The joy is even greater because the DP-560 is simply an exceptionally well-made CD and SACD player.
Compact Disc
It produces strong and clear sound but at the same time rounds the attack a bit, because of which it seems we are listening to a device with a tube output. The impression becomes stronger thanks to well-developed large vocals and instruments operating on the listening axis. They are beautiful in their volume and saturation. A relatively highly positioned center of gravity separates them from the so-called "warm sound"—it is not a player that puts more weight to sound.
However, while listening to records intended for mass distribution, like Ed Sheeran's Divide or intended for a smaller but still enormous group of listeners, like Suzanne Vega's Close-up, but mostly to sophisticated productions such as a Master CD-R with Nat 'King' Cole's recordings, we fully realize that the designers mostly wanted smoothness and a richness of tone. I have not thought that I would ever say this (referring to Accuphase) but one can say that, therefore, the most important range of this player is the midrange.
Please consider that I am saying this with reference to Compact Discs, i.e. discs at the very bottom of the hierarchy of "density". It is with them that I heard what makes it possible for the DP-560 to be the only source of digital signal in a system—it does not need any additions. Apart from excellent sound saturation and open  midrange that is closer to "velvet" than to "Teflon", there is also a well-developed, dense sound stage.
Sound is shown close to us, it has a huge volume and tries to come towards us a little. The dynamics is really high, so it is neither sound that would make you sleep, nor is it even romantic. Such dodges, however, are not necessary, since nothing has to be hidden and there is no need to pretend anything. The density results from a multitude of little pieces of information that get combined to form something bigger than they are themselves. A high amount of detail is also good, but it was probably not intended, since selectivity is not too high here.
The differentiation of tone, location of instruments and dynamics, etc. are obtained thanks to an elaborate 3D image shown with its own, very convincing acoustics. Each instrument has its own "sizes" and does not merge with others—not only in simple recordings but also in those sophisticated ones, like the above mentioned Cole's album, with Cole accompanied by an orchestra. Everything is clear, nicely separated, there is no fogging and details are not lost. So, despite the above mentioned pursuit of midrange saturation and slight rounding of the attack, the sound of the DP-560 is clear, rich inside and dynamic.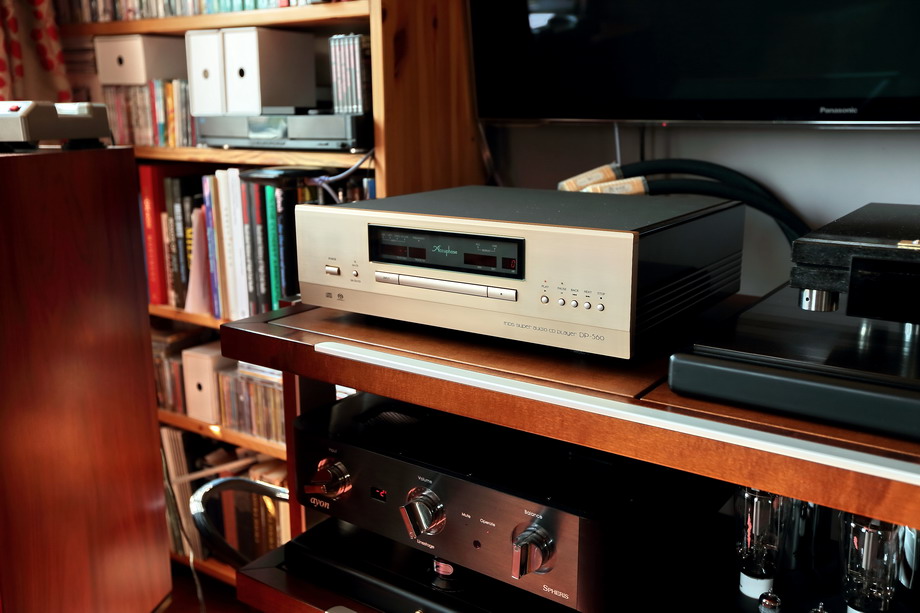 Hi-res
So, Compact Discs will be in good hands. However, if we hear what the Accuphase player can do with "dense" recordings—either SACDs or high-resolution files, at this very moment we will be "converted": if there is a SACD version of a given album, we will try to get it; if there is its SHM-SACD version, we will want it, without paying attention to the fact that it is three times more expensive than an ordinary SACD.
It is because such discs sound even more natural than CDs. Without ignoring any advantages of this format (I am its ardent supporter), it must be clearly said that in this case it can be heard why so many record labels that care about sound invest in SACDs and hi-res files. The latter, played through the USB DP-560 input, sound really nice, dense, warm and have good resolution. Copied from a disc, however, they create something more, something complete in its form and content, even if the sound material itself is not too technically sophisticated.
It is such recordings that let us hear that higher resolution and a broader frequency response contribute to more natural sound. We accept the weaknesses of recordings or specific choices made by the sound engineer or the mastering specialist more readily, as we UNDERSTAND them better. It was so, for example, with the concert album of the Perfect band recorded in the Stodoła club in Warsaw, released in 1983 and analog remastered in 2016 by Damian Lipiński. To try out new DSD converters, Damian recorded it for me on a DVD-R as a Master DSF with the sampling frequency of 5.6448 MHz (DSD128). It can be heard very well that sound quality of the analog master tape is not too good. However, I immediately got involved in this show created by a lot of little pieces of information, dense atmosphere and excellent dynamics. The voices of the audience were also wonderfully rendered.
With the same pleasure, I listened to Reference Recordings released as HRx (WAV 24/176.4) and Polish Jazz WAV 24/88.2 masters once recorded by Jacek Gawłowski for me to compare them with CDs that I reviewed. All these recordings were characterized by pursuit of natural tone and natural dynamics. When listened to next to CDs, they appeared to be an oasis of peace, even though they objectively showed greater dynamics and gave more information both concerning the event and the recording itself.
A reference network
In order to locate the DP-560 at the right place of the network of digital sound sources, we need to look at what the Accuphase company did earlier in their top-of-the-range DP/DC-950 system and what other companies have done in their top players. The tested device does not create deep sound stage, but emphasizes the foreground. That is why the vocals are so convincing and have a natural size. The width and the building of sounds around us are at a very high level.
Low bass is rather restrained here. It would be hard to call the sound of the DP-560 "light"—I do not know whether it is possible at all. However, the two-piece Accuphase device could go lower more freely. When it comes to the way of rendering this range of sound, the tested Accuphase player resembles Ayon Audio, dCS and Audio Research players, with one exception: it pointed out attack better and therefore sound did not go up, nor did it break away from the base.
More expensive players are also characterized by higher resolution. It is a thing that was sacrificed in the DP-560 in the name of coherence and volume, i.e. the size of individual sounds and sound as a whole. However, it was this device that sounded exceptionally natural and pleasant with "dense" recordings, thanks to which sound as a whole was so complete and elaborate with it that no comparison made any sense. It was simply very good.
Conclusion
The DP-560 is an exceptionally robust device which is to stay with us for years. It offers incredible functionality and I have never before dealt with such a versatile source that would at the same time be easy and pleasant to use. For the first time, files played in home conditions (i.e. outside mastering studios) made sense to me, as I could play them like CDs and their sound was much better.
But it was the way that the DP-560 plays classic CDs that made me listen to it with pleasure. It is not sound characterized by the highest resolution, but this is not the target here. It seems that the aim was to saturate the musical message without enclosing it in "warm" sound. So, the sound of the player is not warm. It has high energy on the upper midrange, but also seems darker and more organic than in the earlier designs of this manufacturer. If we add a large picture of the foreground, excellent dynamics and incredible tone differentiation, we get a masterpiece.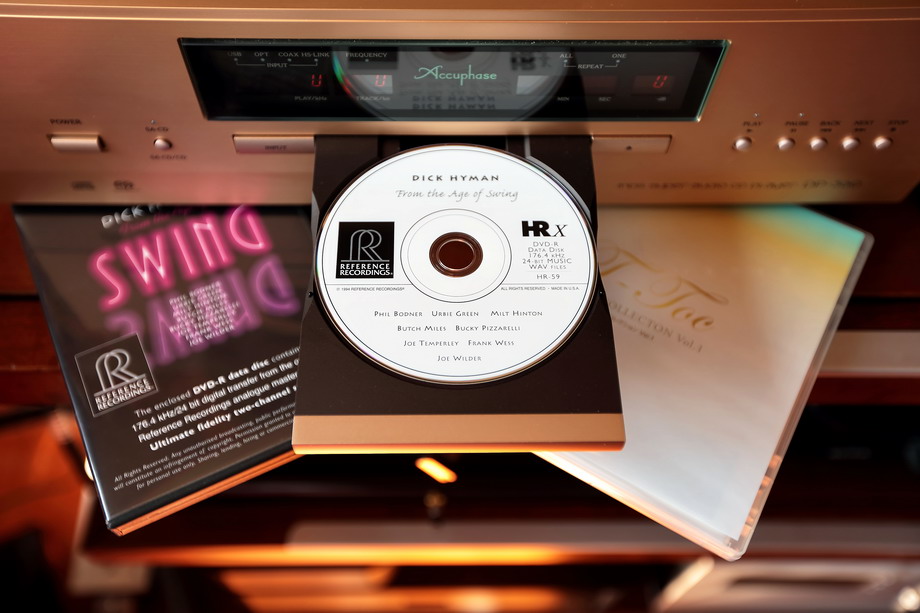 DESIGN
The DP-560 is a Super Audio CD player compatible with recordable discs with WAV, FLAC, DSF and DSDIFF files. It is also equipped with digital inputs, including the USB. The USB input is controlled by one of more recently produced chips, the Bravo SA9227, thanks to which we can use the USB to decode probably all file formats that are currently in use, with DSD signal from DSD64 to DSD512 and PCM signal from 16/44.1 to 32/384.
It is a large robust device which measures 465 x 151 x 393 mm (W x H x D) and weighs 18.8 kg. Its front is made of thick aluminum plate, very similar to that used in many previous series, and that is why one needs some experience to recognize which generation of the device it is. The DP-560 can be recognized based on its displays—there is no longer a dot-matrix display, so the player does not display CD-Text or information on tracks recorded on SACDs. The two first displays are used to show the sampling frequency and the number of bits. Alphanumerical displays used here are easier to read and produce less noise, which is conducive to measurements and listening sessions.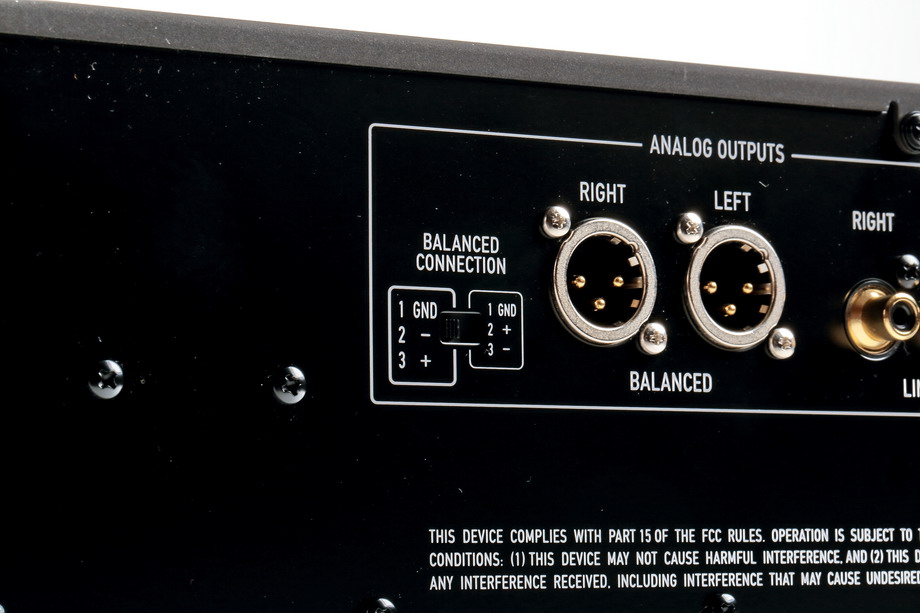 The front and back
This is a classic front offered by the manufacturer, mostly because of the golden anode—now in the pink gold hue. There are amber alphanumerical displays, diodes showing the selected input and a green logo under a glass element. Below there is a metal, aluminum-cast tray and there are buttons controlling the transport and the change of input and layer on hybrid SACDs on the sides.
At the back there is a battery of inputs and outputs. The digital section is located on the left and the analog one on the right, which reflects the inner arrangement of boards very well. In the former there are four inputs (HS-Link Ver. 2, USB, RCA and TOSLink) and three outputs (HS-Link Ver. 2, RCA and TOSLink). In the latter there are balanced XLR and unbalanced RCA outputs. As we are talking about a traditional Japanese company, the XLR outputs are cabled according to the old American type also used in Japan, i.e. with a "hot" pin No. 3. In Europe we use a version which conforms with the DIN norm (hot = 2), i.e. today's EIA Standard RS-297-A . What is interesting, the XLR jacks were designed in the USA by James H. Cannon, the founder of the Cannon Electric company, and are called "cannons" in the pro industry.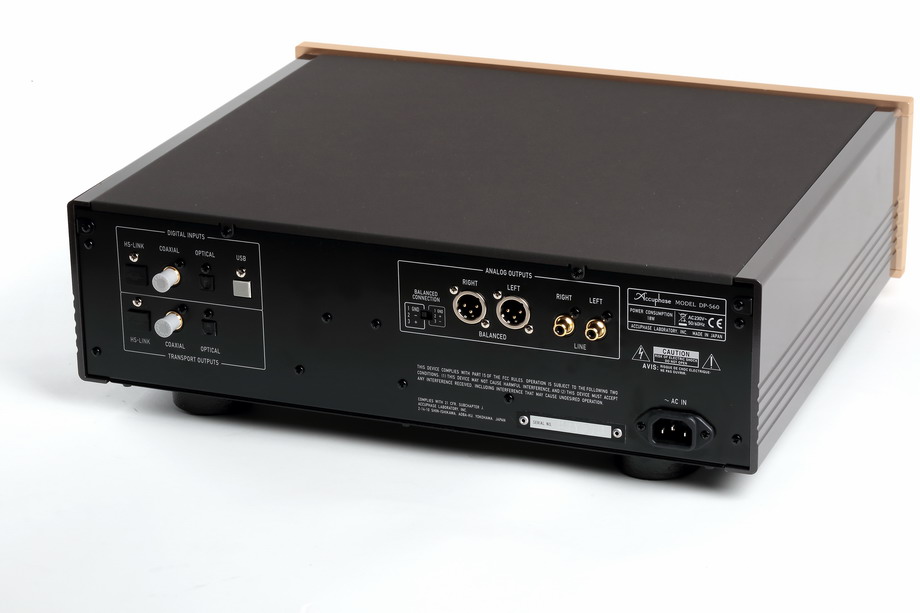 It means that if we use a balanced cable to connect such a device to another device equipped with reverse cables, the absolute signal phase will be reversed. A lot of (sound) engineers think it is impossible to hear this change, but I have a different opinion. Accuphase has solved this in an elegant way—next to XLR outputs there is a switch which lets us decide which standard we want to use.
The inside
The housing is made of steel and aluminum, with elements bolted in layers, damped to make them vibrate as little as possible. The whole structure is additionally made more rigid inside, using horizontal and vertical screens that divide the device into a few chambers. At the centre there is a beautiful SACD transport—well, not completely SACD. One might say that it is multi-format, but the DP-560 is not intended for DVD-Video, DVD-Audio and Blu-ray discs. However, it does work with recordable DVDs with audio files. The transport has a low centre of gravity, which can be seen if we look at the bottom—it is lowered where the transport is bolted. The traverse mechanism is decoupled using four rubber dampers and a thin pressure ring is attached to the multi-layer "bridge".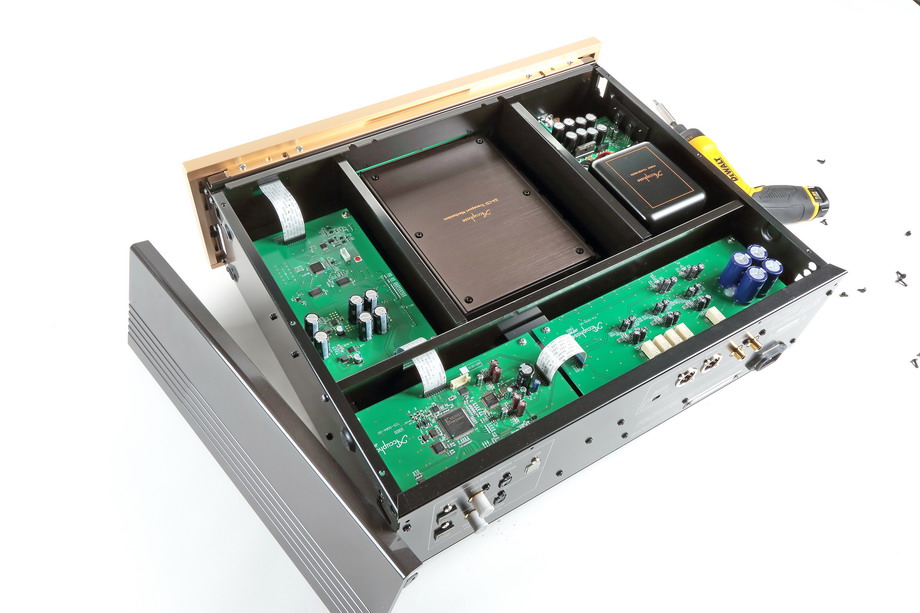 On its left there is the PSU. Voltage is supplied from a shielded transformer with classic EI metal sheets. Separate secondary windings supply voltage to a few power supply units. The section for the analog output is built of discreet components. On the right there is the logic and control board. Audio circuits are at the back, behind a screen. RCA and TOSLink inputs are controlled by the AKM AK4118A receiver, while the USB—by the SaviAudio Bravo SA9227 chip.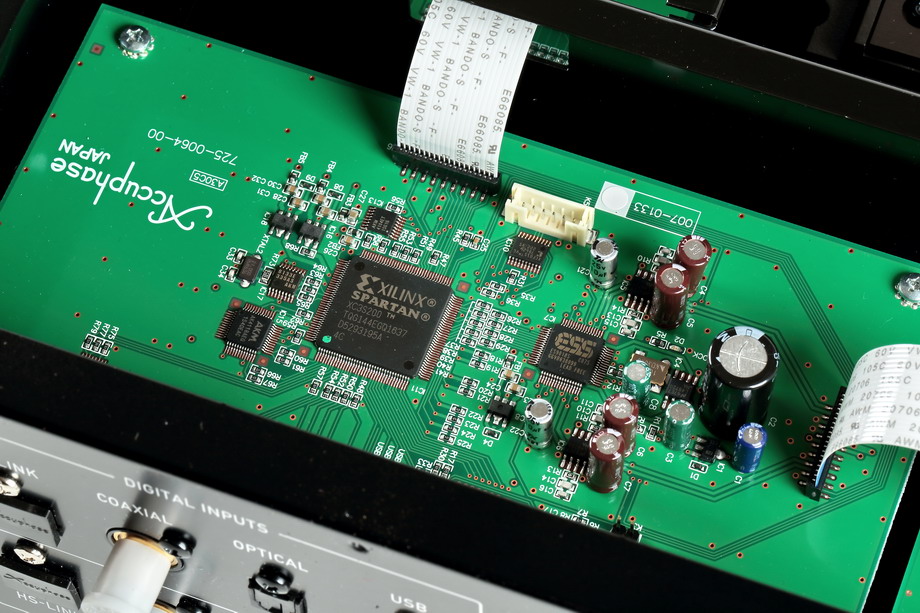 The DAC itself is the ESS Technology ES9018S circuit. It is a 32-bit, the most expensive Accuphase circuit from the Sabre32 Reference series, made using the Hyperstream technology. It ensures very high dynamics at the level of 135 dB! In one circuit there are eight converters, connected four per channel here. The output is based on SMD integrated circuits, using 5th order Butterworth filters. Separate filters have XLR outputs and separate ones have RCA outputs, which made it possible to separate them and make them independent of one another. The solution is called the Direct Balanced Filter. In the section which converts current to voltage and also in output buffers L47920 integrated circuits are used.
The remote control
The RC-120 remote control is a classic Accuphase product. It is made of metal, with a plastic battery compartment (classic AA-size batteries!) and rigid buttons that are incredibly comfortable to use, as they have different sizes, colors and, most importantly, they clearly react to user actions. We have direct access to tracks on CDs and SACDs through the keyboard. However, it does not work in the case of DVDs with files, as we only can skip from one track to another. This is an example of a timeless classic of good engineering. Respect!
Recordings used in the test (a selection)
COMPACT DISC
Ed Sheeran, Divide, Asylum 95859015. 2 x 180 g 45 RPM LP (2017)
John Coltrane, Expression, Impulse!/MCA Victor MVCZ-39, "Master of Jazz", K2 CD (1967/1996)
Laurie Anderson, Homeland, Nonesuch 524055-2, CD + DVD (2010); review HERE
Nat 'King' Cole, The Nat King Cole Love Songs, Master Tape Audio Lab AAD-245A, "Almost Analogue Digital", Master CD-R (2015)
Suzanne Vega, Close-Up. Vol.1, Love Songs, Amanuensis Productions | Cooking Vinyl COCKCD521, CD (2014)
SUPER AUDIO CD
Accuphase. Special Sound Collection 2, Accuphase Laboratory | Octavia Records SCD-2, SACD/CD, (2011)
Accuphase. Special Sound Collection 3, Accuphase Laboratory | King International SCD-3 (TGCS-8206/TGGS-248), SACD + CD (2014)
Charlie Mingus, Tijuana Moods, RCA Records/Original Records Group ORG 174-3, SACD/CD (1962/2015)
Count Basie, Live at the Sands (before Frank), Reprise/Mobile Fidelity UDSACD 2113, "Special Limited Edition No. 197", SACD/CD (1998/2013)
Jeremy Monteiro Trio, A Song For You, Karen, First Impression Music FIM SACD 036, SACD/CD (2002)
John Coltrane, Coltrane, Prestige/Analogue Productions CPRJ 7105 SA, SACD/CD (1956/2012)
Ornette Coleman, The Shape of Jazz to Come, Atlantic Records/ORG Music ORGM-1081, SACD/CD (1959/2013)
DVD-R
T-TOC Data Collection Vol. 1, T-TOC Records DATA-0001, WAV 24/96+24/192, DVD-R (2011)
Dick Hyman, From the Age of Swing, Reference Recordings HR-59, HRx (WAV 176,4/24), DVD-R (1994/2001)
Perfect, Live, Savitor/Damian Lipiński Remaster, DSD128, DVD+R (1983/2016)
Chosen tracks from the Polish Jazz series, REMASTER 2016, WAV 24/88,1, DVD+R (2016)
Technical specifications (according to the manufacturer)
Compatible disc formats: CD, CD-R/RW, SACD, DSD Disc (DSF), Data Disc (CD-R/RW, DVD-R/-RW/+R/+RW: WAV, FLAC, DSF, DSDIFF)
Digital inputs: HS-LINK Ver. 2: PCM 32-384 kHz/16-32 bit | DSD64, DSD128, RCA: 32-192 kHz/16-24 bit, TOSLink: 32-96 kHz/16-24 bit, USB: PCM 32-384 kHz/16-32 bit | DSD64, DSD128, DSD512
Frequency response: 0.5 – 50,000 Hz (+0, -3 dB) 
Signal-to-noise ratio: 119 dB
Dynamic range: 116 dB 
Channel separation: 117 dB 
Total harmonic distortion (THD): 0.0006% 
Output voltage: RCA 2.5 V | XLR 2.5 V
Output impedance: RCA 50 Ω | XLR 50 Ω
Power consumption: 18 W 
Dimensions (W x H x D): 465 x 151 x 393 mm 
Weight: 18.8 kg 
Price (in Poland): 46,900 PLN
ACCUPHASE LABORATORY, Inc.
2-14-10 Shin-ishikawa
Aoba-ku Yokohama | 225-8508 | Japan
+81-45-901-2771
MADE IN JAPAN
Text: Wojciech Pacuła
Photos: Accuphase | Wojciech Pacuła
Translation: Ewa Muszczynko