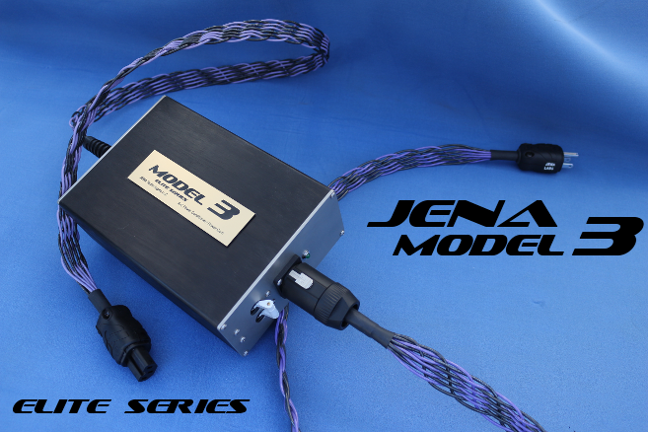 New product announcement from JENA Technologies:  The Elite Series AC Power Conditioners!
The Elite Series in AC power conditioners have a family trait of superior audio performance, unparalleled in the world. Any country, any polarity, any standard voltage... even true balanced power source is compatible with the design.
THE PROBLEM
AC power line noise and hash is found around the world. The "grid" is one happy receiving antenna for all the radiated noise anywhere on earth, as well as a transmitter of noise created by equipment driven by the grid. Our task is to remove as much of the bad stuff as possible so your system performs at its best.
HIGHER INSTANT CURRENT DELIVERY
These products were designed to make your high end audio or video system have the purest power available without transformers or large inductors that increase the source impedance and result in sluggish power delivery. When your amplifier wants power right now, the JENA Elite Series in AC power conditioners keep pace as needed.
LOWER NOISE FLOOR
The quietude of the most delicate phono and tape reproducer systems, as well as high resolution digital audio becomes delicate, sweet and explosively dynamic.
PROTECTION
The JENA Elite Series AC power conditioners offer several modes of equipment protection from over voltage, Consumable MosZorb devices are replaceable in the field in the form of the BIFROST module. Fast acting gas tube arrestor and vacuum isolated MOVs are essentially service free.
All of the Elite Series from JENA technologies feature these protection devices:
Dual pole 20 Amp Magneto-Hydraulic Breaker-on/off switch of Heinemann design and Milspec rating, momentary time delay for high power amps turn on surge is accounted for.
Exclusive BIFROST field replaceable modules protect from overvoltage transients. Two different BIFROST ratings are offered for the different operational voltage ranges found around the word, allowing easy conversion any Elite Series power conditioner between nominal 120V and nominal 240V
Lightning Protection MOVs normally a source of low level noise, are "out of circuit", isolated by fast acting gas tube arrestors, until an event of serious damage potential is present.
Very high quality component parts...Vishay, capacitors, MosZorbs and resistors
Regulated voltage pilot LED, activated when the unit is turned on.
Multiple stage heavy copper cored ferrite Radio Frequency suppression on both AC rails.
Common mode and Delta mode multi-stage shunt capacitive suppression between both AC rails
The Models of the JENA Technologies Elite Series: 
The Model 3 – A massive Power Conditioner in a dedicated power cord.
The Sequoia Sapling – A Stainless Steel chassis with multiple outputs, each with individual filters on JENA Hubbell duplex or Neutrik PowerCon outputs.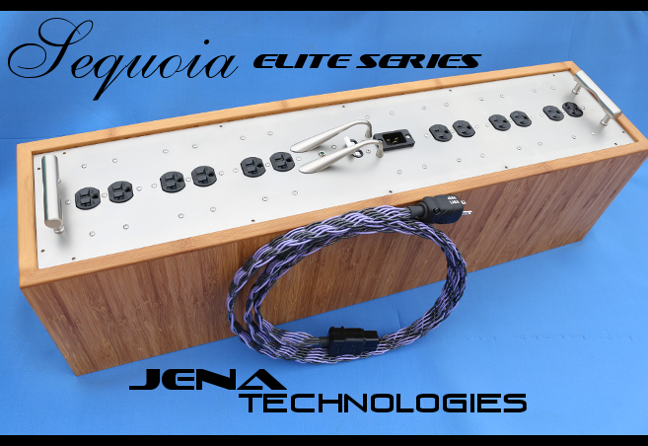 The Sequoia – Our flagship large chassis AC power conditioner. The Sequoia features massive individual filters on each JENA Hubbell Duplex or Neutrik PowerCon output. It features a beautiful bamboo case with a heavy Stainless Steel top plate.
Neutrik PowerCon 32 Amp rated inputs are standard on all of these, optional 20Amp IEC on Sequoia
Legendary JENA LABS engineering is found in the Elite Series. They are quite possibly unbeatable by any other product available on earth. The Elite Series is simply the best one can buy at any price.
JENA has a reputation of making the best and these are the best of the best. All of our products are designed and built in Oregon, USA.
For more information, call JENA Labs at 503.639.7551, or email us at mail@jenatek.com.
Our Web site is http://www.jenalabs.com, and contains further product information and images.