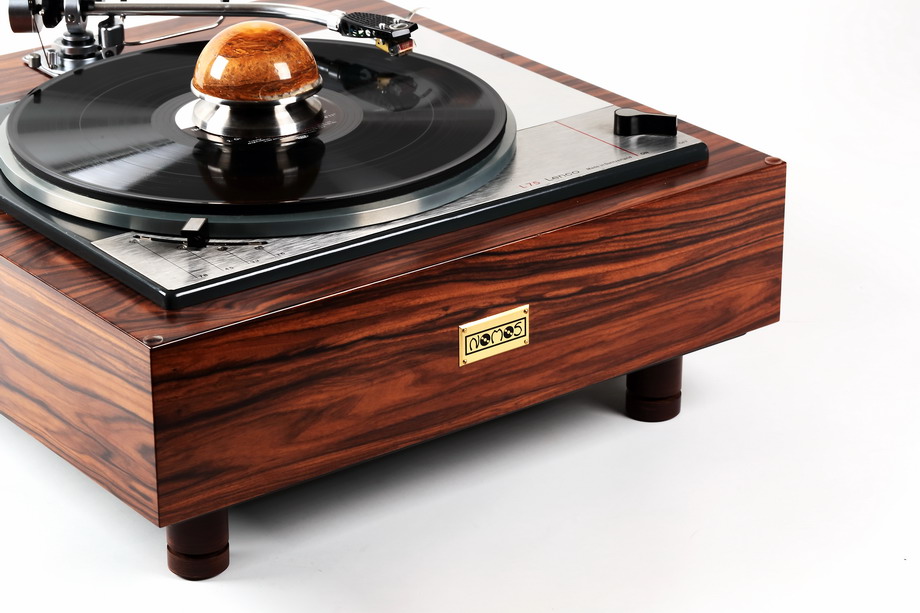 Lenco L 75 or Thorens TD 150 / II - that was the question that I asked myself in 1969 when I had to buy a new turntable. The mechanism of the my automatic old Dual 1015 turntable completely fell apart after only a few months. It was hard to survive these three weeks, when Dual had to undergo repair and I could not listen to new albums. I decided that it should never happen to me again! My friend recommended a Thorens deck. He didn't praise about advantages of the belt drive, synchronous motor, or decoupled sub-chassis. But to me, the guy who devoured hi-fi not only with my ears, but also with eyes, those lightweight chassis and tonearm counterweights that looked like black balls didn't really look quite appealing.
Perhaps that is why it was rather the shining chromed Lenco, with its significant size, clean design and convincing stability that spoke to me. So there was no problem with a decision: heart prevailed against the reason. Then came the time for a "reasonable" Thorens TD 150 / II. Both were technically very good, but on an absolute scale, both offered only medium quality.
47 years have passed since the above described events, and many people still ask themselves the same question: Lenco or Thorens, Thorens or Garrard? Among those who believe that with the progress we have lost something important, something that such designs represent, I mean turntables with a drive in a form of intermediary wheel, or so called idler drive, discussions are conducted still today and probably they will be until the audio will exist as an art form.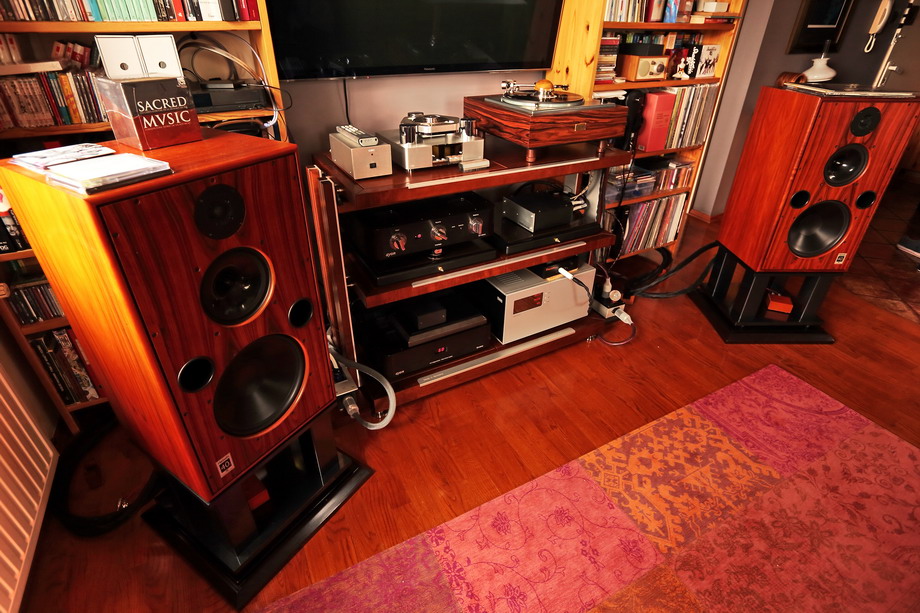 The vintage trend in question, is not monolithic. There are as many ideas of how to restore "old" technologies, as there are "followers". There are those for whom it makes only sense if they use an accurately restored turntable, so no components are changed, no modern ones replace old ones and so on. If one needs to replace some part using a new one it is OK but only as long as it is identical as the original one. On the other hand, there are people who use the most interesting components of old machines and combine them with more modern ones. With the latter, and it was a great example of such project, we already dealt in "High Fidelity" in our issue no. 126 of October 2014, when we tested the PTP Audio SOLID9 turntable with  Audiomods SERIES FIVE tonearm based on a drive and a platter taken from Lenco,
Between these two opposite poles one can find an infinite number of different takes closer to one or the other approach. The one proposed by the Polish company Nomos, our good friends comes from somewhere in the middle of this whole range. Their chose Lenco L 75, which—according to the already mentioned Joachim Bunga—was "the best among Lenco turntables":
In 1967 Lenco replaced the well proven L 70 model with a new top of the range L 75. Although the veteran was reasonably priced and brought joy to many audiophiles around the world, there was nothing to miss. Lenco L 75 differed from its predecessor with only a few, but very important, details. Its main asset - a simple and reliable drive system—has remained unchanged. The mass of the dynamically balanced cast platter has been increased to four kilograms, and only much more expensive Thorens TD 124 / II featured a heavier one. The diameter of the platter with an integrated switch has also increased to 312 mm.
Lenco is a Swiss company, founded in 1946 in Burgdorf, a small town near Bern. It was the result of Fritz Laeng's fascination with devices for sound reproduction. By the late 1950s the company offered two models of turntables, one of which, L 60, featured an "idler" drive. The design of the drive system featured a shaft on the motor with a conical shape that allowed for a smooth change of speed. The first turntable, which was considered to belong to hi-fi category, was the L 70 of 1960. The most successful model, however, was the already mentioned L 75, of 1967. Heavy platter, a wheel used to drive it, powerful motor- these were the key distinguishing features of this design.
A few simple words…
Nomos
ARTUR CIUBA – service
MICHAŁ  NOWIŃSKI – sales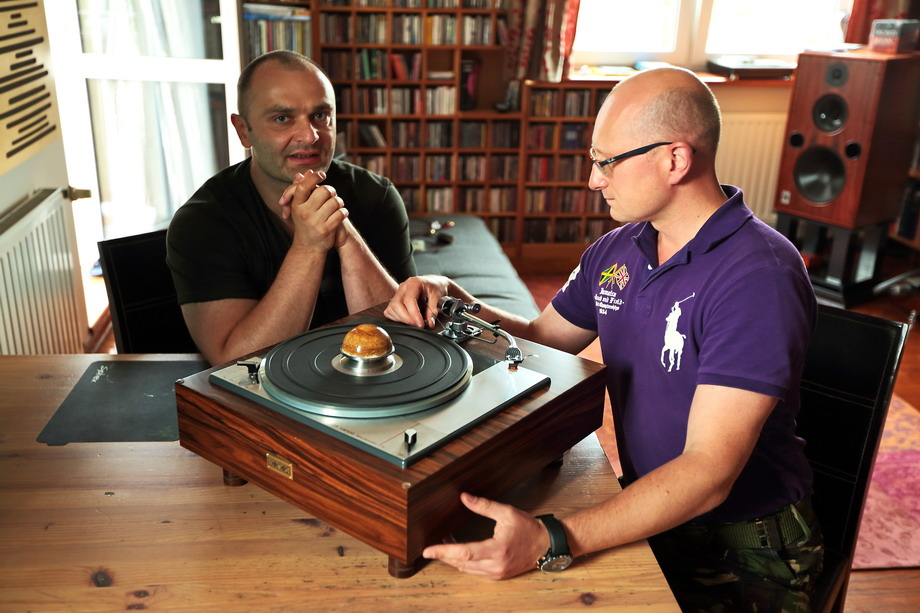 Our Lenco turntables use two versions of drives: L 75 and L 78. The drive mechanism can be as close as possible to the original, ie. with all the writings, or after complete dismantling, painted in black with gloss finish. The drives are of course serviced and properly adjusted. An important element of the drive is the idler wheel that is carefully examined.
There are two versions of the chassis for the drive and the choice depends on the installed arm. We use two types of arms: SME  3009 and 3012, that is, 9 and 12 inch arms, in the two oldest production versions, ie. S1 or S2. The arms are dismantled to the smallest part—the bearings are serviced, tested and maintained, we do replace internal wiring, usually we use braided silver [you can check this out on the pictures in the gallery below - ed.]. The internal tonearm cabling is directly connected with the RCA outputs on the rear panel.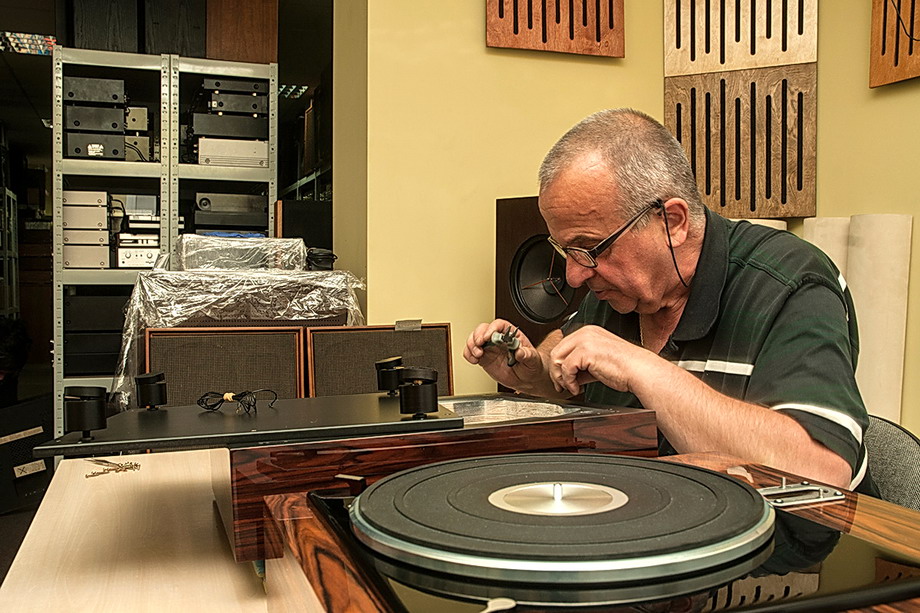 Under the turntable we install anti-vibration feet using ball bearings sourced from a Polish producer. We prefer to install cartridges that come from an old production: Shure V15 series and top models by Elac. Of course, if that's customer's wish, we can use a cartridge of his choice. Interconnects, which we offer with our turntables are made by us. They are based on silver wires, and the material is sourced from cables used for military applications. Turntables are offered with a Plexiglas dust covers.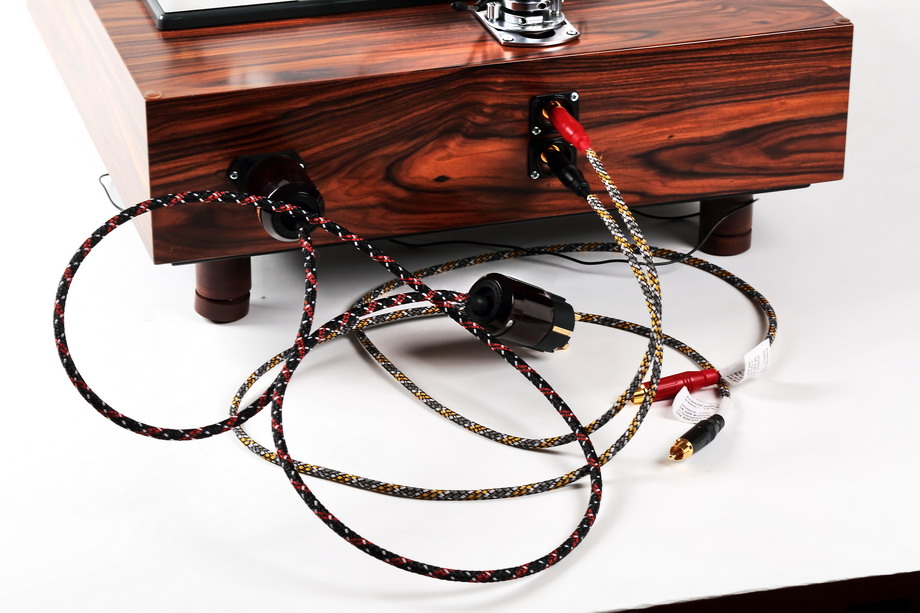 Lenco L 75 by Nomos is a turntable based on the "vintage" components, but with current production base and cabling. It uses a drive system, platter and chassis, along with visible switches from Lenco L 75 turntable and SME 3009 S2 tonearm. The basis is composed of precisely cut out multi-layer glued plywood and finished with natural veneer. At the bottom a thick plate of steel is crewed on, and the whole turntable sits on Pro Audio Bono feet, similar to the PAB Acrylic AVF (review in Polish), but made of "panzer" plywood. The signal is delivered to great looking Neutrik RCA outputs.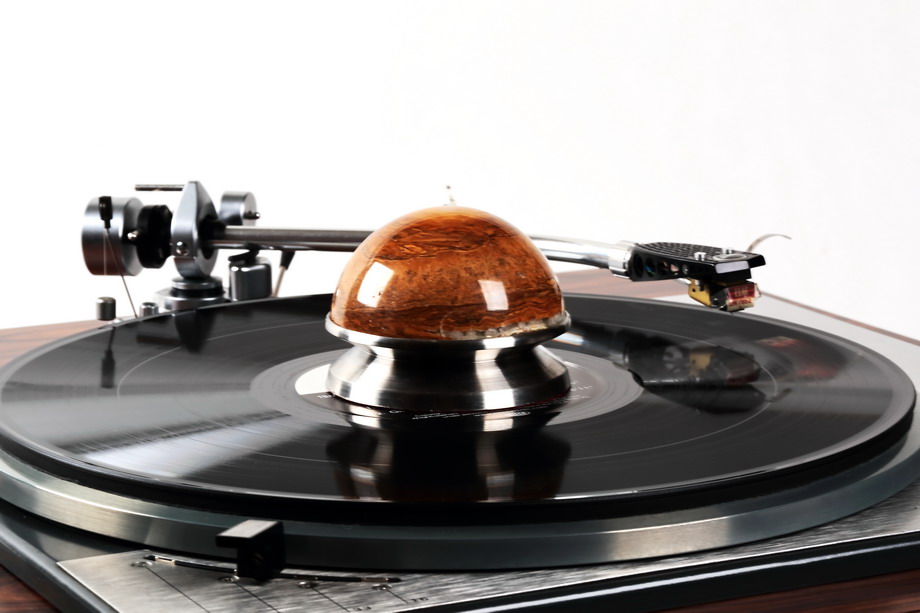 An element added by Nomos that immediately catches the eye is the record clamp of the semicircular shape and specific appearance. It was made of decorative stone and it is very heavy. It features a layer of a red cloth on the bottom, which resembles the materials used for turntables already from the 1920s.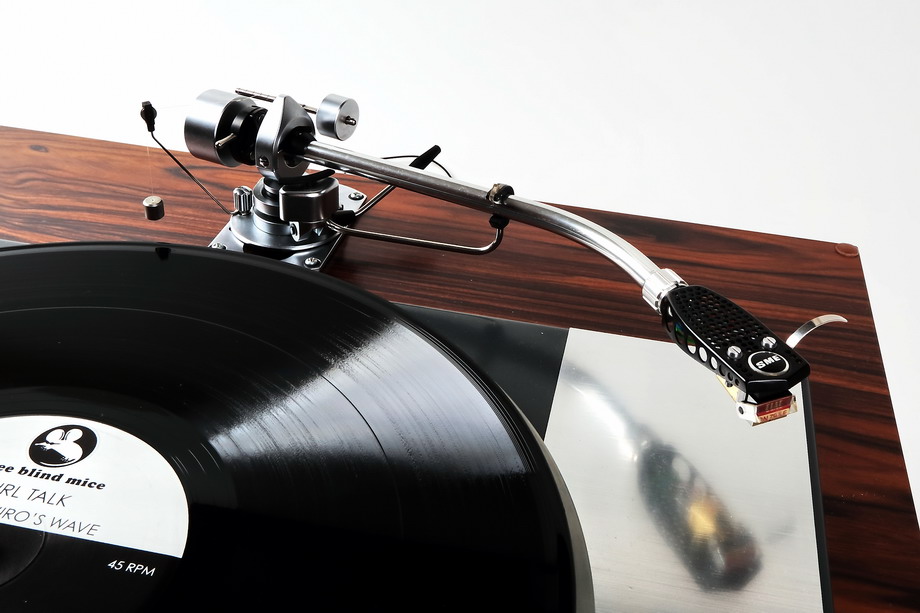 The placement of the tonearm is atypical—it is not mounted on the side but in the back of the turntable. As the guys from Nomos told me, the idea was to achieve a maximum decoupling from motor generated vibrations, and the lowest level of vibrations was found at the back of the chassis. Initially, it seemed bizarre to me, but it turned out that this location was very convenient to use. The tonearm featured the Elac DN 795 E cartridge with the original stylus; One can also order it with a modern production needle.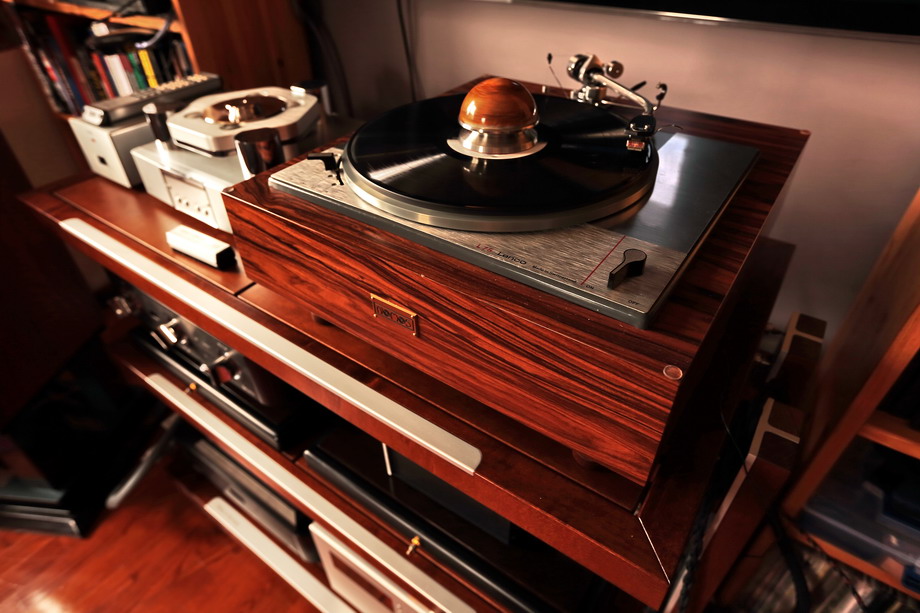 The test was carried out with Nomos interconnects, their power cable and  RCM Audio Sensor Prelude IC phonostage. It was compared with two other turntables: Pro-Ject RPM-9 Carbon and Kronos Sparta.
SOUND
Records used for the test (a selection)
Smoke Sessions - Vol.1, Smoke Sessions Records SSR-1401, "Limited Edition Collection | No. 193/500", 200 g LP (2013); review HERE
Depeche Mode, Fragile Tension/Hole to Feed, Mute Records 12BONG42, 2 x 180 g, maxi-SP LP
Duke Ellington, Masterpieces by Ellington, Columbia/Analogue Productions ML 4418, 200 g LP (1951/2014)
Frank Sinatra, Come fly with me, Capitol Records/EMI 88653 13, 180 g LP (1958/2009)
Maurice Ravel, Klavierkonzerte G-dur • D-dur, perf. Monique Haas, Orchestre National Paris, cond. Paul Paray, Deutsche Grammophone/Clearaudio DGG 138 988, 180 g LP (1965/?)
Miles Davis, Birth of the Cool, Capitol Records T 762, LP (1957)
Ravel/Skrjabin/Liszt, perf. Rolf Plagge, Deutsche Harmonia Mundi DMR 228, Direct Metal Mastering, LP (1987)
Shantel & Bucovina Club Orchestra, The Mojo Club Session, Essay Recordings | Edel: Content 0209517CTT, Triple A Series, 2 x 180 g LP (2014)
Tommy Schneider & Friends, The Hidden Port, Kolibri Records no. 12001, 180 g LP (2012)
Yama & Jiro's Wave, Girl Talk, Three Blind Mice/Cisco TBM-2559-45, "45 RPM Special Limited Edition | No. 0080/1000", 2 x 45 RPM 180 g LP (1975/2006)
It is very simple: the "idler" turntables, ie. the ones using drive with an idler wheel offer some features that most other turntables don't, except perhaps the most expensive ones. Although products by Garrard, Thorens and Lenco differ structurally and sonically, they all share those qualities.
Nomos modified  Lenco "pushed" the sound forward, it offers a true drive, that is often mentioned in the context of the Naim Audio electronics. Naim achieves this effect by hardening of the attack, focus of the sound and excellent current efficiency. Nomos' Lenco (let me use this term for the turntable under review) does not "harden" anything, nor add focus. The "longitudinal" dynamics, if I may call it so, ie. thrust, as in rocket's thrust—is a result of a perfect control of the bass, delivered with a fantastically preserved timing in a precise, accurate fashion.
If you ever listened to a good quality turntable of this type, meaning, with full bass, then forget about how much you liked it. Nomos' Lenco delivers true fullness and scale of the lower end and it does it better than any turntable at that price point, and its advantage is huge. It is not only able to present the power, depth and texture of the bass, but also its place on the stage. You think other decks can do that too? No, they don't.
The vinyl records require a special preparation of the signal, including summing the lowest bass to mono, otherwise it might be too much for cartridge to play. Therefore, what we perceive as the location of the double bass, bass guitar, left hand of the piano player are harmonics and not the basic sound of these instruments. Polish modification can, however, enter into it more deeply, as if it could read even deeper stereo signal. I could clearly hear that when using headphones, that always strip the sound of a turntable of all with appearances so that nothing stays hidden or is sugarcoated. Lenco by Nomos surprised me with this greatly, even though I'd known  other models with idler wheel, including those based on the same brand's drives.
The sound is warm in nature, focused on the midrange and bass. This was to be expected from a vintage product and it was delivered by it. Treble is not particularly clean, or selective; one can only dream about high resolution of the sound – this was also not unexpected. It's not like we can have it all at once, and it were these elements that once led manufacturers to search for other solutions. The new ones led to excellent results and today many turntables offer similar qualities.
But there was a price to be paid for this progress. Swiss-Polish construction points it out clearly delivering  flawless smoothness, density, cohesiveness. This is what, apart from the great bass, makes its sound so attractive. Each album I listened to presented large scale, excellent stereo and depth. The soundstage was not too deep, but was very wide and thanks to high micro-dynamics it was vivid, it constantly changed and pulsated. There were no clear phantom images, don't expect that. It is rather sort of an impression, not a documentary photograph.
The downside of this system, which I would rather attribute to the cartridge than to turntable itself, was a slight reduction of the elements from the middle of the stage. Macro-dynamics of the elements presented there was not high, and neither was the momentum. The whole presentation was "saved" by the "wings" (left and right side), but it could not make up for everything. Despite the warm sound, focusing on the events in the front of the stage, the vocals were not very large, unless they have been placed far in one of the channels (as they were recorded back in the 1960s).
Summary
It is not simple to test this type of product, because although I knew what I could hear I wasn't quite sure how to evaluate it. The sound delivered by the turntable modified by Nomos offered some unique and highly desirable features, as well as those that were unwanted and got rid of a long time ago from modern designs even at lower price point. So it is in fact more of a "custom" product that is "tuned" for particular taste and not a regular  product.
But if what someone expects from his system is primarily musicality, emotional communication, then it will be difficult for that person to return to listening to any modern turntable design, the difference between them will be too significant. On the other hand, those who believe that there is more to music than that, that for the full experience they need something else, they will never even look at Lenco, not even as cool as the Nomos' version, again. This is a unique product for a unique customer who knows exactly what he wants. When these two are paired together it will be for life.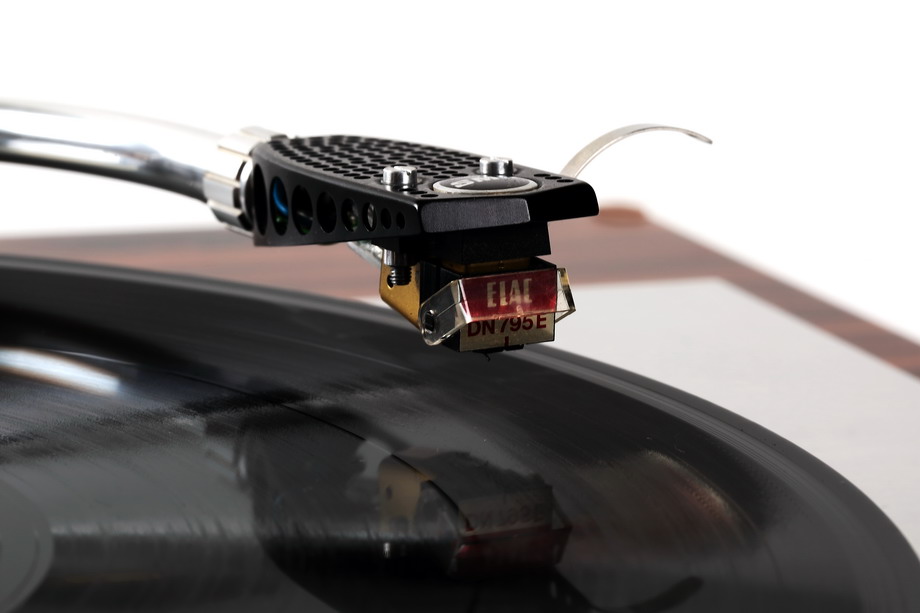 Further reading:
Joachim Bung, Swiss Precision. The Story of the Thorens TD 124 and Other Classic Turntables, Schmitten 2007
Thorens. The fascination of living legend, red. Gerhard Weichler, tłum. Siegfried Ludvig, Hohberg 2006
Nomos Lenco L 75
Price (in Poland): 12 000 PLN
Audio Vintage
Tytoniowa 20/C | 04-228 Warszawa
http://www.audiovintage.com.pl
MADE IN SWITZERLAND/POLAND
Provided for test by: NOMOS
Text: Wojciech Pacuła
Images: Wojciech Pacuła | Nomos