Sony Electronics is expanding the company's High Resolution Audio line with a new Car Audio System, Turntable and Universal Disc Player which all support Double DSD (5.6 MHz) and PCM music files during 2016. The new products build upon the company's High Resolution Audio line which started in 2013 and was timed to support the launch of music download sites like Super HiRez and Native DSD that today each offer over 500 albums in the Direct Stream Digital (DSD) format and are among the 30 music sites offering DSD Downloads. (The Sony Electronics High Resolution Audio line includes the HAP-Z1ES Digital Music Server, the winner of both a Positive Feedback Brutus Award and a Positive Feedback Writer's Choice Award in 2014; see the links below.)
Sony's music division (Sony Music) is also very active in their High Resolution Audio rollout. This includes licensing albums from their catalog for sale as DSD Downloads at sites like Super HiRez/Acoustic Sounds (United States), HDtracks (United States, United Kingdom and Germany) and HD Music/Victor Studio and Mora.JP (Japan) and licensing albums from their catalog for release on Super Audio CD by labels including Analogue Productions, Audio Fidelity and Mobile Fidelity Sound Labs.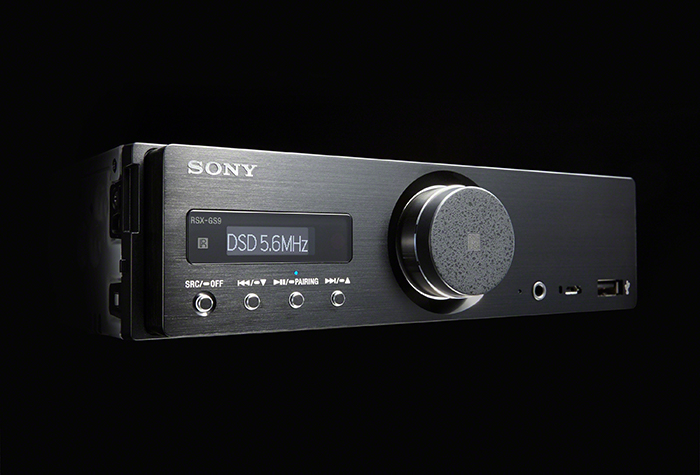 Sony RSX-GS9 Car Digital Media Player
Sony Electronics has added the RSX-GS9 Car Digital Media Player to their High Resolution Audio lineup. The RSX-GS9 brings Stereo DSD (Single Rate DSD 2.8 MHz and Double Rate DSD 5.6 MHz) and PCM (up to 24 bit, 192 kHz WAV and FLAC) playback to the car stereo market. Unlike many earlier Sony Car Stereo head units, the RSX-GS9 does not include CD Stereo disc playback, but instead focuses on high resolution audio playback from music files.
The RSX-GS9 features the ESS 9018S DAC for high quality conversion of DSD and PCM music to Analog, Sony's DSEEHX (Digital Sound Enhancement Engine) that upsamples MP3 and CD music to "near high resolution audio," a single shell front panel made from machine-cut aluminum, an OLED display, backlit selection keys and an aluminum volume dial on the front panel. The unit has Bluetooth wireless connectivity as well as a pair of USB Type A slots and a USB Micro B slot to link music from USB storage devices including smartphones, flash drives or music players.
Sony is also releasing the XM-GS4 4-Channel Amplifier and the XS-GS1 Super Tweeter Speakers to complement their existing XS-GS series of speakers, subwoofer and amplifiers. These products when added to the RSX-GS9 provide a complete system that plays high resolution DSD and FLAC files in the car.
The Sony RSX-GS9 Car Digital Media Player sells for $1,499. It is in stock and available from Sony Car Audio dealers as well as online retailers including ABT Electronics and Crutchfield, along with Sony's related Car Audio speakers and amplifiers.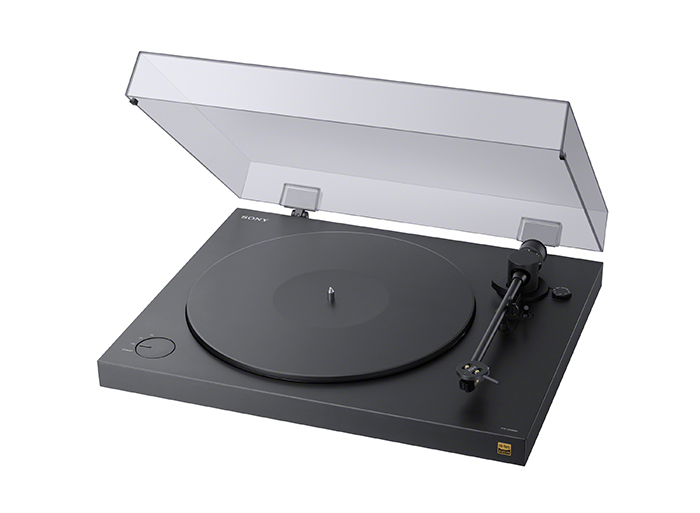 Sony PS-HX500 USB Turntable
 With the upsurge in interest and sales in Vinyl LPs, Sony is returning to the turntable market with their new PS-HX500 Turntable. The new turntable features a straight tone arm with the stylus tip located in the central axis of the arm which Sony says "ensures excellent stereo balance". Other turntable features include an aluminum die cast platter, a two speed belt motor, and a moving magnet phono cartridge that features a cartridge shell that minimizes resonance, an anti-skating system and arm cueing. The PS-HX500 has a built-in phono amp and EQ along with phono and line outputs. It plays records at 33 1/3 and 45rpm.
What makes the PS-HX500 unique is that the turntable is also designed for transferring music from Vinyl discs to music files. The turntable comes with software that converts discs to Single Rate and Double Rate DSD (DSD 2.8 MHz and DSD 5.6 MHz) as well as PCM WAV formats up to 24 bit, 192 kHz. The PS-HX500 includes an internal Analog to Digital Converter (ADC) using a Burr-Brown IC that features Native DSD conversion and a USB output.
Sony's High Res Audio Recorder software can be downloaded from the Internet for use with both Windows and Mac computers. Sony says that after the computer is connected to the PS-HX500 via USB, "the recording process is quite simple." The Audio Recorder software enables the owner to edit, title, cut, or combine the music tracks from the vinyl recording.
The Sony PS-H500 is scheduled for release in April 2016. It will be priced at 500 Euros ($569 US Dollars).
UHP-H1 High-Resolution Premium Audio and Video Player
Sony Electronics also announced a new Universal Disc Player that features audio and video disc support, along with music downloads. The Sony UHP-H1 High Resolution Premium Audio and Video Player plays CD, Super Audio CD, DVD Video, DVD Audio and Blu-Ray discs plus Stereo DSD Music files (up to Double DSD resolution – 5.6 MHz) and Stereo PCM Music Files (up to 24 bit, 192 kHz). Features will include upscaling video to 4K 60p and upscaling non-high resolution audio to high resolution with Sony's Digital Sound Enhancement Engine (DSEE HX) technology. This will be Sony's first product to bring music downloads to a disc player.
Sony says that their new UHP-H1 "Puts audio center stage, with an engineering philosophy that's focused on matching the finest viewing experience with the finest listening experience. The UHP-H1 treats you to audiophile-quality reproduction of any source – on disc, over your home network or streamed from an exciting range of online music services including Spotify and Deezer."
The Sony UHP-H1 Hi-Res Premium Audio and Video Player will be available from Sony dealers and online stores in May 2016. It will be priced at 400 Euros ($450 US Dollars)
Links
Sony Electronics – High Resolution Audio
http://www.sony.com/electronics/hi-res-audio
 Sonic Upgrades for Sony's HAP-Z1ES High Resolution Audio Server
http://www.positive-feedback.com/Issue72/sony_hapz1es.htm
 Positive Feedback – 2014 Writers' Choice Awards
http://www.positive-feedback.com/Issue76/awards2014.htm
 Positive Feedback – 2014 Brutus Award
http://www.positive-feedback.com/Issue77/brutus_14.htm
DSD Database – List of 30 Music Sites Offering DSD Downloads