At the 2012 Consumer Electronics Show in Las Vegas I was showing my UHA tape Decks with Tom Campanga of Quintessence Loudspeakers and PBN electronics. We had a nice size room on the main floor at T.H.E. Show in the Flamingo Hotel, thanks to our late pal Richard Beers. The room just happened to be located on the main pedestrian path between the entrance escalators and the rest of the rooms on the main floor. It was also directly on the path to the food and drinks, (many thanks to Richard for all the free drink tickets over the years!). So, bottom line, we had lots of traffic in the room. It was also the first time I met Jan-Eric Persson of Opus3 Records. On Friday Jan-Eric came by the room, lured in by the sight of two UHA tape decks in main view when you walked by the room.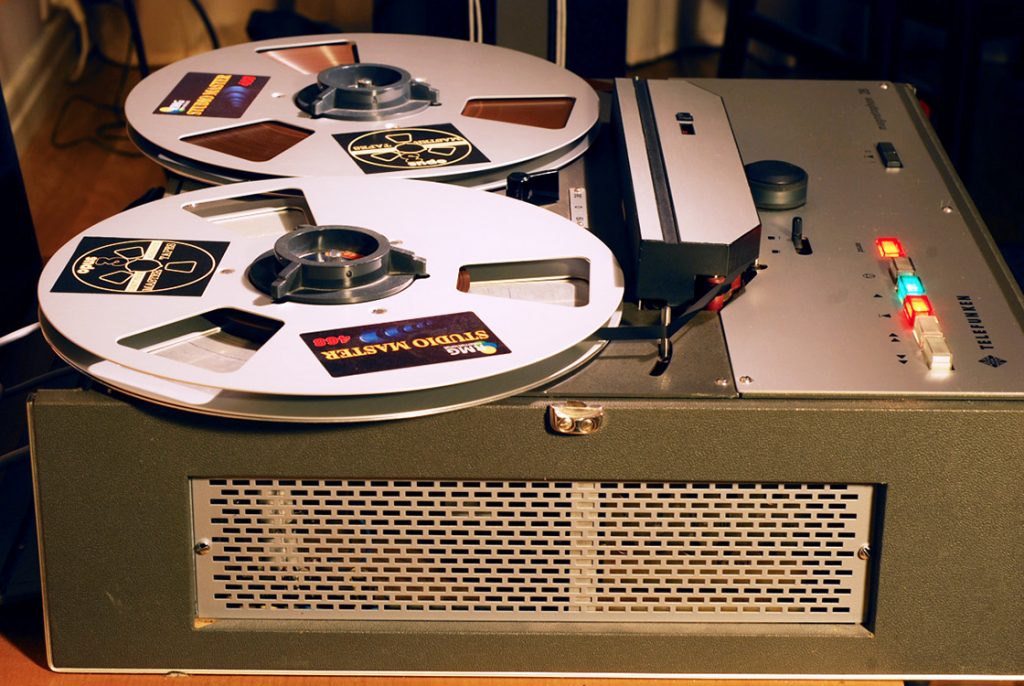 Jan-Eric introduced himself, and was kind enough to tell me all about his recordings on R2R tape. Of course, everyone knew of Opus3! As we know, he had quite a library of tapes, so of course I was all over him to release those tapes for sale.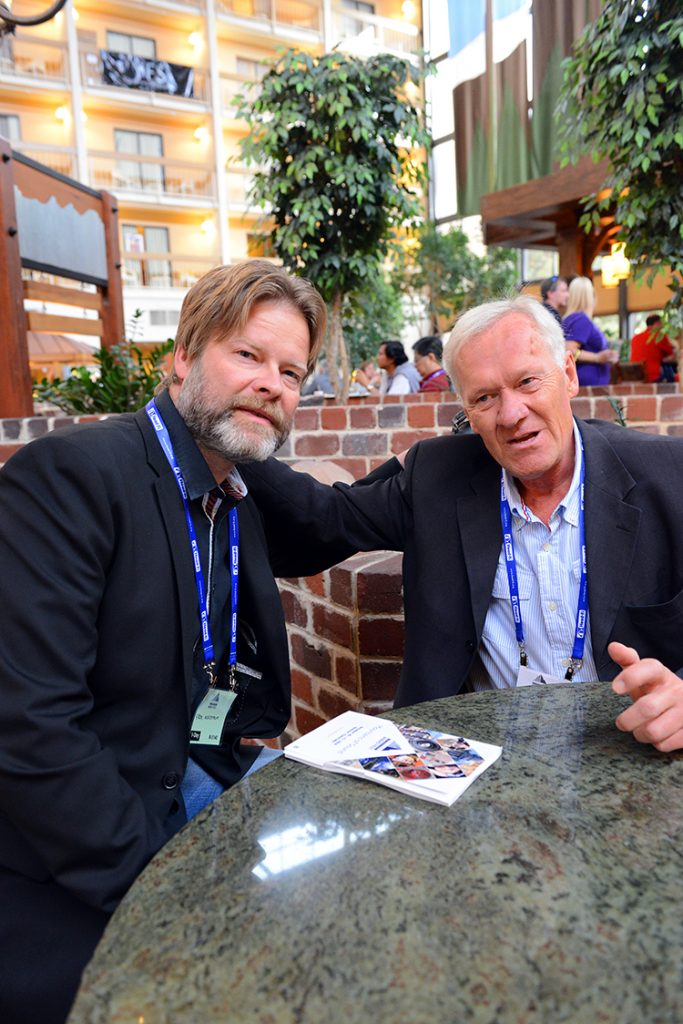 Eric Nordstrom and Jan-Eric Persson at RMAF 2014:  A Portrait  (photograph and image processing by Robinson)
In 2012 we didn't have the great selection of master tape copies available like today, with over 450 titles and growing all the time. We had The Tape Project of course, with some great titles, UltraAnalogue Recordings was starting to develop their recording skills, (in fact that show was where I met Ed Pong with UltraAnalogue), and we had Todor Dimitrov with Master Tape Sound Lab selling tapes originally recorded by Kostas Metaxas. Bob Attiyeh with Yarlung Records was also doing new recordings, but beyond that the pickings were...slim.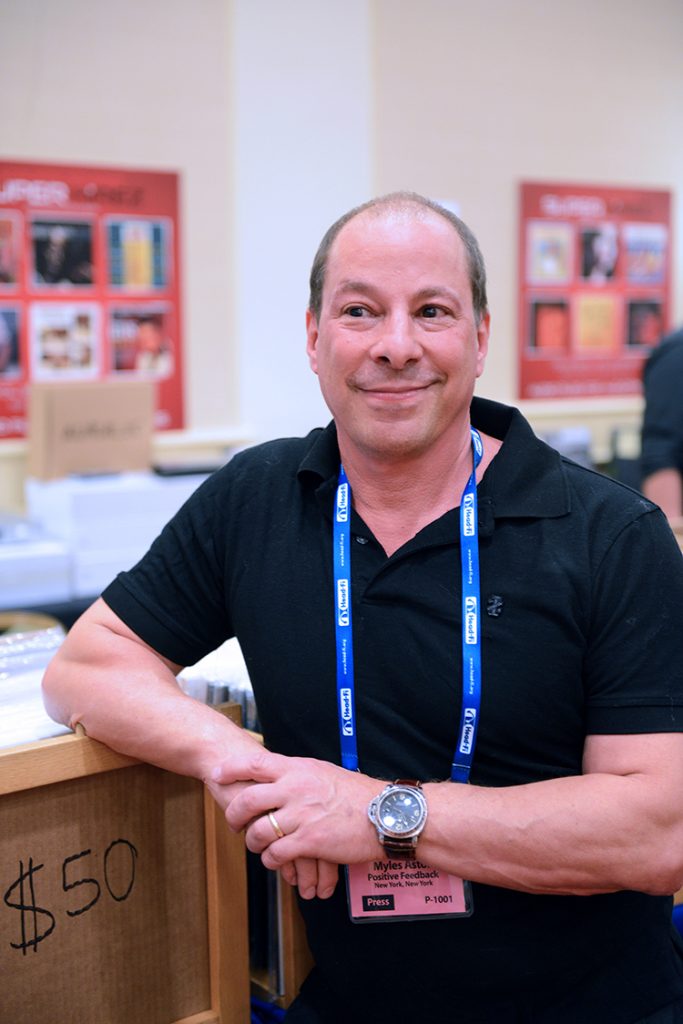 Myles Astor at RMAF 2014:  A Portrait (photograph and image processing by Robinson)
It wasn't just myself bugging Jan-Eric to sell his tapes; our buddy Myles Astor was right there, too, helping to double-team Jan-Eric. By the end of the show, we had him winded and on the ropes, and he told me he would in fact be releasing tapes for sale. Wasn't long after that I received a package on my porch from Europe with official Opus3 tapes in it!
It was a fantastic time for the emerging R2R movement when a big player in the audiophile recording world decided to jump into the tape fray! But the really enlightening point was when I put one of the Opus 3 tapes on for a listen. It was clear to me at that time I was listening to a product that was going to sell. Tapes available to buy are exactly what one needs if you are going to turn the fun idea of audiophile tape playback into a recognized mainstream audiophile source! Sales mean money, and money is a requirement to make any business grow. As I've said previously, when I first started showing tape at the audio shows it was looked upon as just a niche, an oddity, even a folly. But I always thought that meeting Jan-Eric at that CES had the potential to kick-start tape as a viable format, simply because it was another arrow in the quiver going forward. As a tape deck salesman, I had another weapon in my arsenal:  I could point to one more viable source for high quality master tape copies. It was the right weapon at the right time!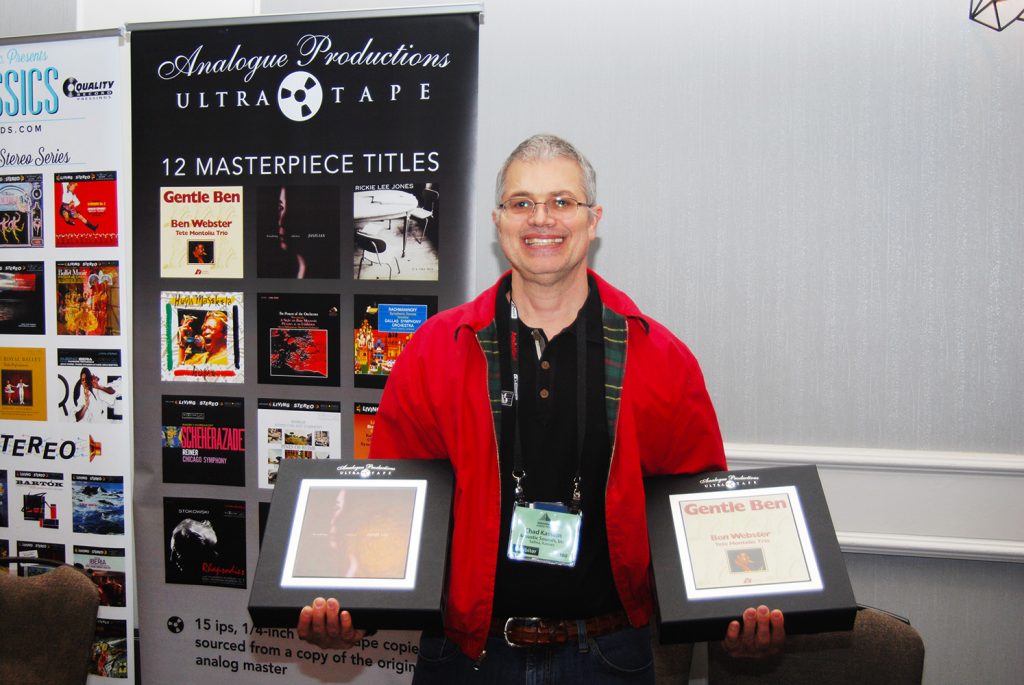 Chad Kassem at the launch of Analogue Productions Ultra Tape series, RMAF 2016 (photograph by Myles Astor; image processing by Robinson)
At that same show Chad Kassem with Acoustic Sounds was in the room, so of course I was all over him to release tapes. I sincerely believe he thought I was nuts! Even though he is a "Loosiana Brother," over the years to follow he would run away when he saw me coming, ha! Fast forward to 2016 and Chad is issuing tapes; we've come a long way baby!
Over the years Jan-Eric has sent me many tapes, and I absolutely love some of his artists! The tapes I've been most impressed with are his compilation tapes. What a diverse grouping of music, you never know what is coming next. I just received my sixth compilation tape from Opus3, and it's a winner!
Regarding the recording technique used on the Sampler #6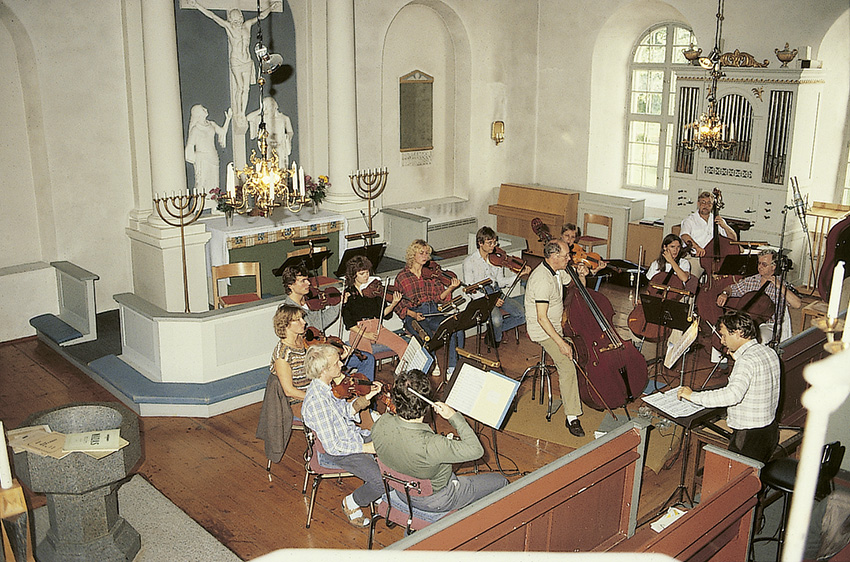 All of these tracks except one are recordings made in pure Blumlein, i.e., X-crossed figure of eights, with a vintage stereo microphone:  the AKG C-24. The mixer (Jan-Eric built it himself and a friend made the electronic design) is vacuum-tube-based, and uses Jan-Eric's favorite tube, the Pentode EF-86, which is feeding a Telefunken Magnetophone M-28.
On the jazz-tracks, Jan-Eric used a Beyerdynamic ribbon, the M-160, for the Double Bass.
The Kustbandet track (no.7) was recorded in 1975 before he had "discovered" the Blumlein technique; it was recorded with 4xPearl condensers.
Track 1-3 and 5 was recorded in a small concert hall with no audience.
Track 1-2 in 1991 and track 3 in 1977.
Track 5 in 1993
Tracks 4 & 6 in a church in 1990
Track 7 in a small jazz-club
As for all Opus3 two channel stereo recordings up until 2004, Jan-Eric wanted people who listened to feel that they were there with the musicians, whether it was in a church, small jazz/blues club, or a concert hall, to experience the highest quality of music regardless of the different genres.
Opus 3 Records might be the only record company in the world recording all albums 100% with the pure Blumlein technique!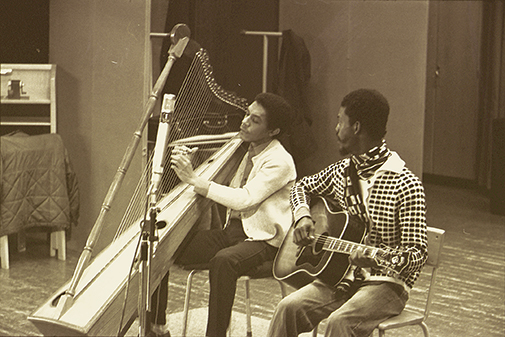 Eric Bibb (right) in session
This recording technique according to Jan-Eric contributes to the reason why the sound is both airy and open, but also with a very precise and transparent stereo-image. According to Jan-Eric, the natural depth of image is really the hallmark of a true Blumlein recording! Very important with the Blumlein technique is to choose a recording environment that really matches the music and the instrumentation etc. Jan-Eric feels that the Blumlein-technique is the most demanding and least forgiving, but when it "works," it is second to none!
Here is a listing of the songs on the tape and some background info on each tune, courtesy of Opus3.
Open Reel Selection of Opus 3 Analogue Recordings, Vol. 6
This info from Opus3:
"East of the Sun" (Brooks - Bowman) From: Lars Erstrand Quartet, feat. Kjell Öhman, Dream Dancing 5'09 CD 9101
"Erstrand's always unhesitating, fluent playing gives the unfailing impression of a musician in total control. He can depict the most ethereal moods, as in the title piece, Dream Dancing....
An obvious candidate for Recording of the Year!
(Audio Video)
We are fortunate to have Kjell Öhman on piano, who very sadly left us late last year....           
"Nobody's Blues But Mine" (C. Williams) From: Tomas Örnberg's BLUE FIVE and friends, CD 19102 4'53
"This is the most consistently satisfying CD album of the 1920's small band jazz by a contemporary band this writer has heard in years! This collection of performances contains a winning combination of hot group ensembles and individual solo work. Highly recommended!"
(Mississippi Rag)
"Going Home" (Trad., Arr. by Eric Bibb) From: Eric Bibb, Rainbow People, SACD 7723 4'43
"For all of you who have been following my music, "Rainbow People" will give you an idea of how far I've come on my musical journey. For me, musical ideas are like children; for those of you who are hearing me for the first time, you might want to have a listen to some of my recent work to hear how the children of the "Rainbow People" have grown."
Eric Bibb 2009
Felix Mendelssohn-Bartholdy (1809-1847)  
Allegro di molto (Excerpt) – "Lieder ohne worte" From: Stockholm Guitar Quartet, (Mendelssohn-Brahms-Debussy) 1'59 CD 9001
"In this recording the Stockholm Guitar Quartet presents an entirely new family of instruments which they themselves have played a part in developing together with Lars Jönson, today one of Sweden's foremost guitar makers. The sound is convincing in every way! In the music of Brahms and Mendelssohn, the group evokes moods which, I am convinced are very hard to create on the piano".
Rating: First class
(Gitarre und Laute)
Wolfgang Amadeus Mozart (1756-1791)
"Allegro" (Excerpt) – Clarinet Quintet in A-major, K.V. 581 From: Kjell Fagéus (Basset Clarinet) & Zetterqvist Quartet, CD 19301  4'06
"Kjell Fagéus is one of Sweden's most sensitive and perceptive clarinetists. He has already shown as much in previous recordings, and this time he has addressed the very finest chamber works in the history of music!"
(HiFi & Musik)
Lars Erik Larsson (1908-1986)
"Ballad: Moderato - Concertino for double bass and orchestra" 4'46 From: Thorvald Fredin & The Oskarshamn Ensemble, SACD 8522 Conductor: Jan-Olav Wedin
In this highly unusual recording, featuring the double bass as solo instrument, we hear music by the Italian Giovanni Bottesini and two Swedish composers – Erland von Koch and Lars Erik Larsson.
"Dr. Jazz" (W. Melrose - King Oliver) 5'01 From: Kustbandet Live in Stockholm (only available on MasterCopy or DSD128)                                       
In April 1975, a year and a half before Opus 3 Records was founded, we had the pleasure of making a live recording of Kustbandet. It was a really swinging event and as the well-known character from the era Fats Waller put it…."The joint was jumpin". 
In addition to the information provided by Opus3 above, below are my thoughts on each tune from the Opus3 Sampler #6. I will also offer my overall impressions of the entire tape, and hereby award the Opus3 Sampler 6 a score of 97 out of 100.
1. "The East Sun" (Brooks – Bowman) From: Lars Erstrand Quartet, feat. Kjell Öhman, Dream Dancing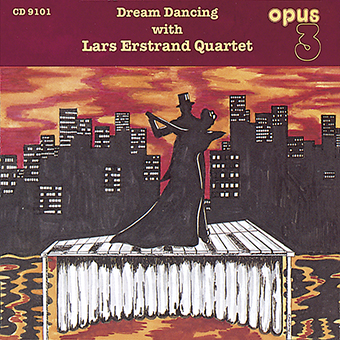 Traditional version musically; when listening with a friend who owns a known recording studio, he commented that the recording was "very balanced."
2. "Nobody's Blues but Mine" (C. Williams) From: Tomas Örnberg's BLUE FIVE and friends, CD 19102 4'53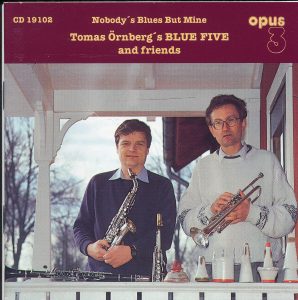 Folks, I am from New Orleans and I've been to so many old traditional New Orleans jazz concerts over the years, been to great clubs and been to so many Jazz Fests, and I want to tell you those crazy Swedes can swing! Love that bass line honked out of the tuba and the banjo keeping the rhythm as the clarinet soars above it all, just a great recording of a great traditional tune!
3. "Going Home" (Trad. Arr. By Eric Bibb) From: Eric Bibb, Rainbow People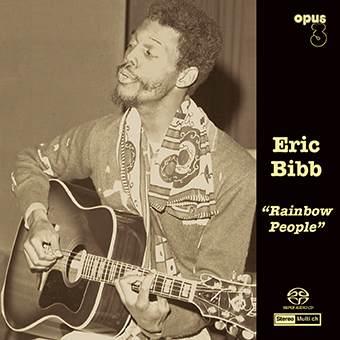 Down South we call this "walkin blues," and Eric Bibb is the man when it comes to a great slice of traditional southern blues. This tune really shows the bass tones in Mr. Bibb's voice; great stuff.
4. "Felix Mendelssohn-Bartholdy" (1809-1847) Allegro di molto (excerpt) – Lieder ohne worte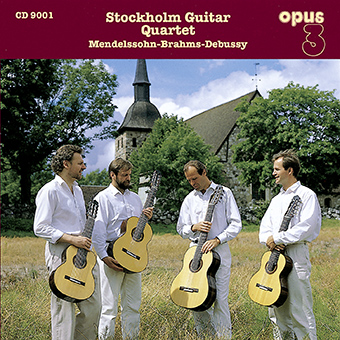 Who gets tired of listening to this well-known piece of music? Especially when each violinist and conductor gives it their own version. The nuances that evolve are always a surprise, and I hear different "Wow!" moments every time I listen to Jan-Eric's recording of the work.
5. Wolfgang Amadeus Mozart (1756-1791) "Allegro" (excerpt) – Clarinet Quintet in A-major, K.V. 581
I absolutely love the play between the strings and the clarinet on this piece; you can really feel the low register of the strings as the music swirls around that foundation. On my notes it says, "Air, AIR!"
6. Lars Erik Larsson (1908-1986) "Ballad: Moderato", Concertino for double bass and orchestra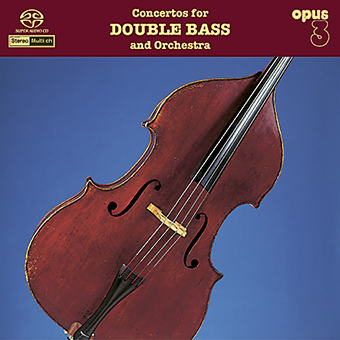 What a natural play between the double bass and strings. Delightful rendition. There was always the argument that this was a "student" recital piece for double bass, and therefore orchestras were reluctant to jump into it. A pity!
7. "Dr. Jazz" (W. Melrose - King Oliver) From: Kustbandet Live in Stockholm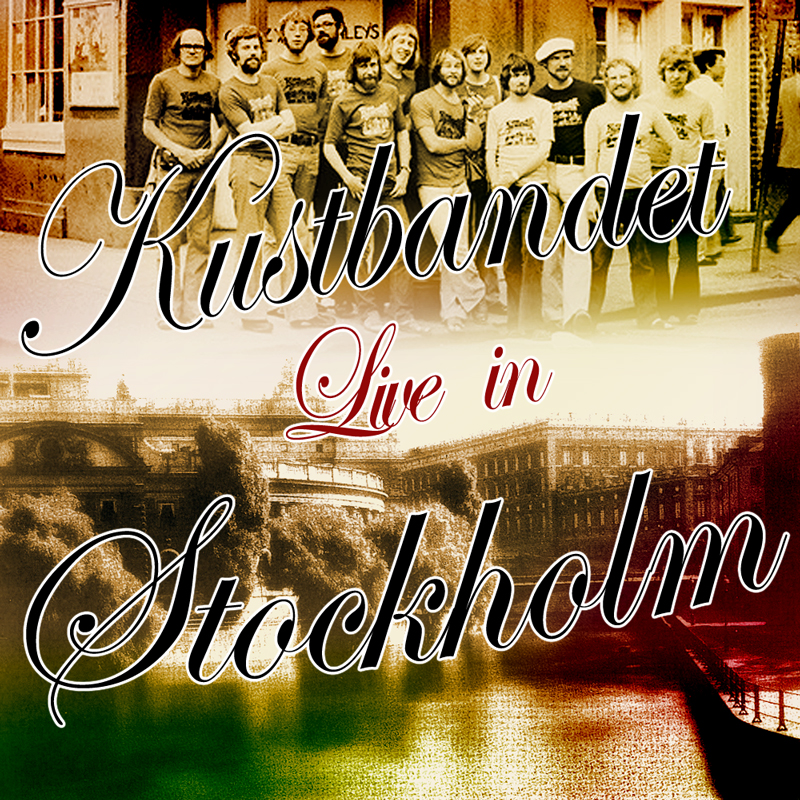 King Oliver and Jelly Roll Morton bounced this addictive melody around many a speakeasy, to be sure, in 1926. I've heard this on my father's 78 rpm's as a kid, and that great bouncing beat was smeared by the quality of the recording, not to mention it was some scratched up. Yet the purpose of the tune was evident. Fast-forward to the Opus3 recording and now you have the fantastic music of 1926 brought to life. What's not to like?!
Conclusion
Needless to say, I really liked this tape. I was also lucky to have a known recording engineer at my place to hear this tape with me for his comments. We both felt that it offered a very pleasing and diverse bit of music recorded extremely well.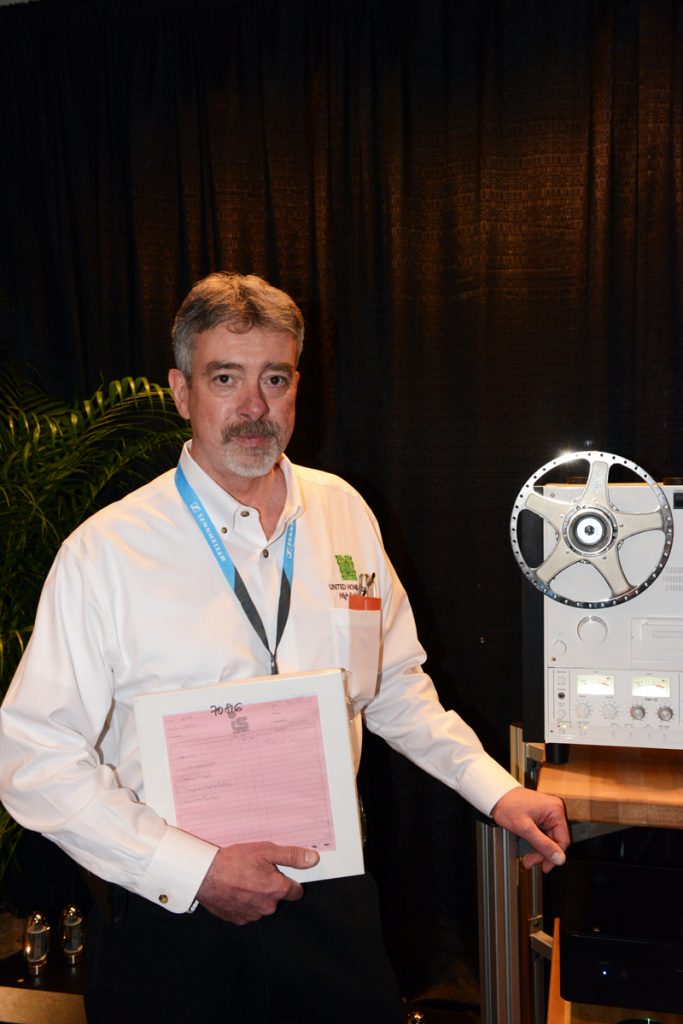 Greg Beron of United Home Audio at AXPONA 2015:  A Portrait (photograph and image processing by Robinson)
Don't think twice:  Just buy this and all of the Opus3 compilation tapes. Especially if you are just starting to collect tapes, the diverse music will offer a nice variety to your listening experience, and they will be a go-to source when friends come over to see what your audio system can really do. I must say I have every Opus3 sampler tape, and there isn't a bad tune in the lot!
As a note to Positive Feedback readers, Greg Beron is the CEO of United Home Audio, a reel-to-reel (RTR) design and manufacturing firm in the USA. His commentaries in PF concentrate on RTR recordings/reissues that may be thought-provoking to our readers who have RTR decks/recorder. Greg's essays will not include any comments on hardware due to obvious conflicts of interest.
All photographs courtesy of Opus3 Records, unless otherwise indicated.