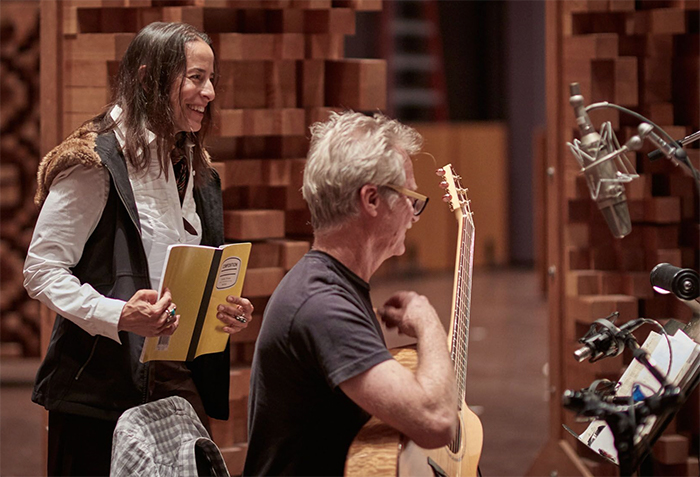 Jenna Mammina and Alex de Grassi (Photo: David Pappas)

On April 21st, a bit of music history was made as singer Jenna Mammina and guitarist Alex de Grassi performed an hour long concert that was broadcast live over the Internet in Direct Stream Digital (DSD) 5.6 MHz Stereo. The concert was the first of its kind in the United States and was a partnership between PrimeSeat and Blue Coast Music.
For those of you not familiar with PrimeSeat, it is a startup founded by Sony, Korg and the Internet Initiative Japan (IIJ) that has developed a system to stream live and on demand music over the Internet in Single Rate DSD (2.8 MHz) and Double Rate DSD (5.6 MHz) Stereo. 
Prime Seat's initial music streaming started last year featuring live and on demand music from Japan and Europe on their Japanese language web site. In 2016, PrimeSeat is broadening their project with DSD music broadcasts scheduled daily on their Japanese language web site plus on-demand DSD music from the United States on their English language web site.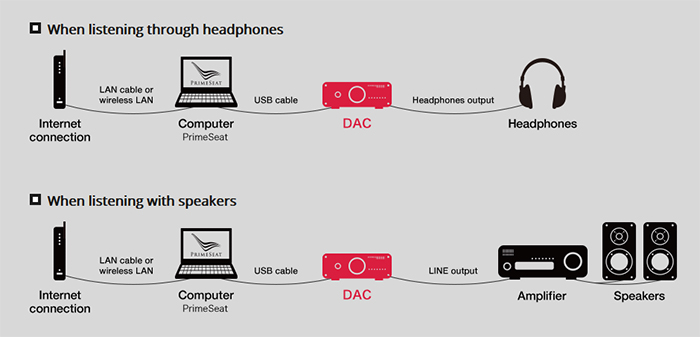 PrimeSeat Music Streaming in DSD (Photo: PrimeSeat)

To use PrimeSeat, you will need to download their free software for computers running Microsoft Windows (versions 7, 8.1 and 10) and the Mac OS X (versions 10.8 to 10.11). The music will be available on your computer in PCM over standard PC speakers. 
To hear the music in DSD you will need a Digital to Analog Converter (DAC), Digital Music Server or Player that has a DAC capable of playing Direct Stream Digital (DSD) music in 2.8 MHz (Single Rate DSD, the same data rate as used on SACDs) and 5.8 MHz (Double Rate DSD, twice the data rate used for SACDs).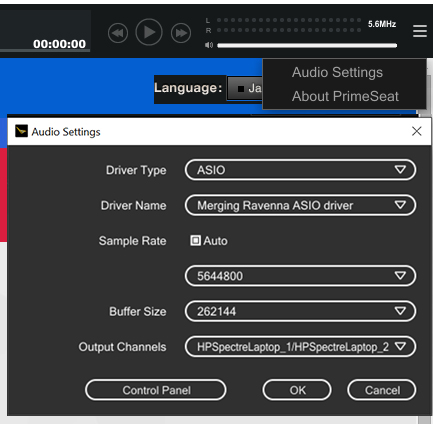 Audio Settings for Listening to PrimeSeat Music in DSD 5.6 MHz (Photo: Brian Moura)
Playing the music through your DAC is as simple as clicking on the hamburger menu at the upper right hand corner of the PrimeSeat app, select Audio Settings and then selecting your DAC and software driver.
PrimeSeat initially limited their program to supported specific DACs from Korg and Sony. Today, you can use any DSD 5.6 MHz capable DAC to enjoy the full quality of their streaming music. (For my tests of PrimeSeat, I used an iFi iDSD Micro DAC with a PC running Windows 10 and a pair of HiFi Man Edition X headphones as well as listening to the PrimeSeat DSD broadcasts with the Merging Technologies NADAC DAC with DSD 256.)
I have to say that PrimeSeat is quite a departure from traditional music streaming services on the Internet. Rather than reducing the size and quality of the music to AAC, MP3 or CD-Quality (16-bit, 44 kHz PCM) levels using downsampling and lossy compression systems like MQA, PrimeSeat records and streams in DSD up to 5.6 MHz Stereo.
While the PrimeSeat streaming music requires a fast Internet connection, the results are very impressive. I've also found that on my music system at home, you will hear a significant improvement in sound quality at their highest quality setting—5.6 MHz DSD over the lower bit rate options including 2.8 MHz DSD and PCM.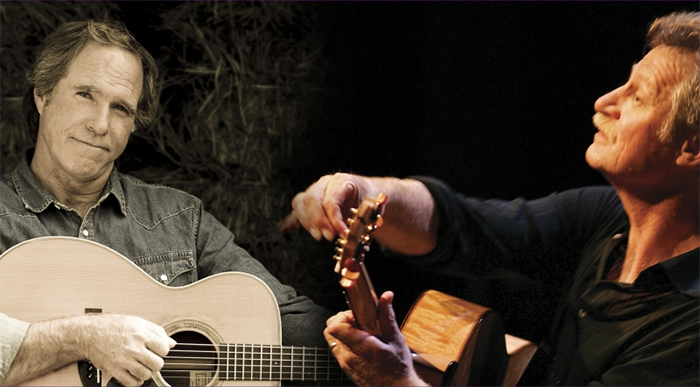 Keith Greeninger and Alex de Grassi at the Fenix (Photo: Blue Coast Music)

I listened to PrimeSeat's on demand DSD 5.6 MHz streaming of a concert with Blue Coast Music artists Keith Greeninger and Alex de Grassi and wondered what would be next for PrimeSeat in the U.S. Chatting with Cookie Marenco at Blue Coast I discovered that plans were underway for a live concert streamed over the Internet in DSD with Jenna Mammina and Alex de Grassi. 
I heard Jenna perform live in a brief concert at The Show Newport last summer with guitarist Rolf Sturm. The performance was a show highlight with the music recorded to DSD 256 Stereo using the Merging Technologies HAPI Analog to Digital Converter loaned to Blue Coast Music by David Robinson, the Editor of Positive Feedback.
Cookie asked if I might be interested in attending the concert with Jenna and Alex as it would be the first U.S. Concert Streamed Live over the Internet in DSD. Now that is an offer I couldn't refuse!
From that invite, things moved quite quickly. A week before the live concert, members of the team from PrimeSeat and Blue Coast went to the recording studio and finalized plans for the live broadcast.  The concert schedule was set and invitations were sent out.
The entire event was scheduled to take place in one day from start to finish at Skywalker Sound in Marin. On April 21st, the teams from PrimeSeat and Blue Coast Music would arrive at 9:00 am to set up their microphones, converters, recorders and equipment. At 11:00 am, guests were welcomed at the event to watch the final setup and rehearsals. Lunch was served at Noon followed by final rehearsal and tweaking at 1:00 pm, the Live Concert at 2:00 pm to 3:00 pm and then packing the equipment and heading out by 4:00 pm.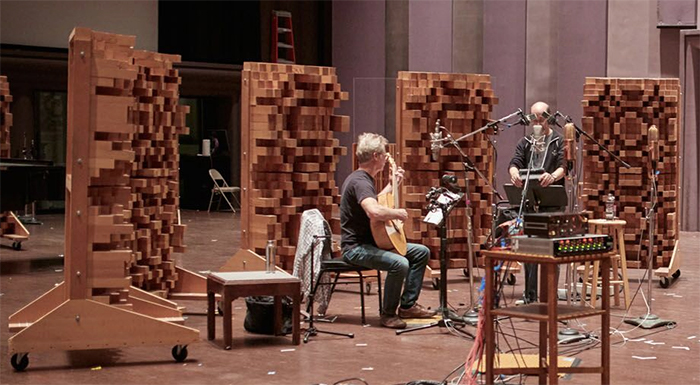 Diffusers Create An Intimate Space In A Very Large Recording Studio (Photo: David Pappas)

Rehearsal for the Live Concert began at 11:00 am as scheduled. A series of wooden diffusers were set up in the studio to create the appropriate space for the live recording and broadcast. (The recording studio is a 60-foot by 80-foot room that can hold an entire symphony orchestra if needed. This recording would be a much smaller and more intimate event, calling for the diffusers).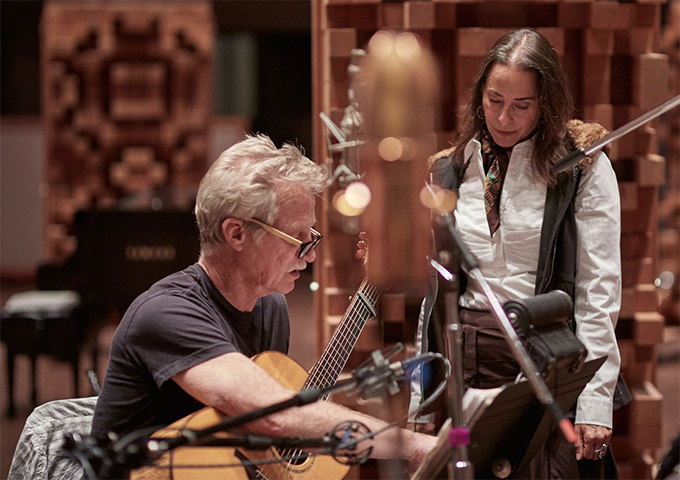 Alex and Jenna Discuss Musical Options (Photo: David Pappas)

In the studio, Alex and Jenna rehearsed their set list. This included trying different approaches to key sections of several songs. At the end of an hour, things were sounding very nice on both sides of the recording room and everyone had what they needed. Just in time to break for lunch.
Returning from lunch at 1 pm gave the recording teams a final hour for tweaks and adjustments. Along with some further fine tuning of the concert set list and approaches to the music.
Producer Cookie Marenco and Recording Engineer Leslie Ann Jones from Skywalker Sound discussed their approach to capturing the performance as Jenna and Alex rehearsed. This process included trying out different microphones (a mix of microphones from Skywalker Sound and Blue Coast), fine tuning output levels and positioning them for each artist to arrive at the best sound quality for the concert broadcast and recording. The live music will go from the studio's Neve 88R Analog Console to two different recording teams: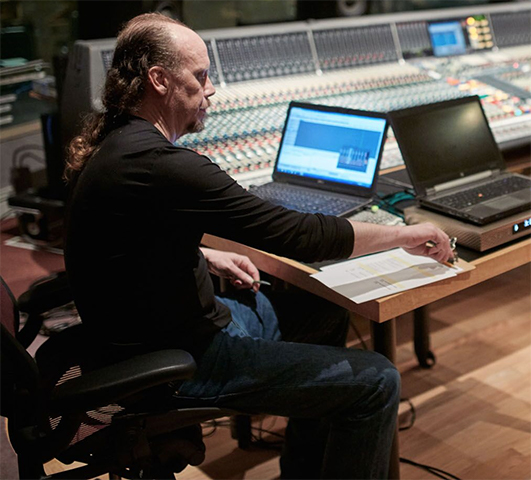 Blue Coast DSD/Pyramix Engineer Patrick O' Connor at the HAPI (Photo: David Pappas)

Blue Coast Assistant Engineer Patrick O' Connor is the DSD/Pyramix Engineer at the event will capture the multi-track recording at DSD 11.2 MHz from the Analog Console for later release as Stereo DSD and PCM music downloads, up to DSD 256 resolution. 
Patrick has two HP Laptops: one for the Merging Technologies HAPI 8 Channel Analog to Digital and Digital to Analog converter to capture the session in Quad Rate DSD (11.2 MHz) and a second for a Mytek Manhattan 2 Channel Digital to Analog converter to monitor the music with stereo headphones in DSD 5.6 MHz during the live broadcast.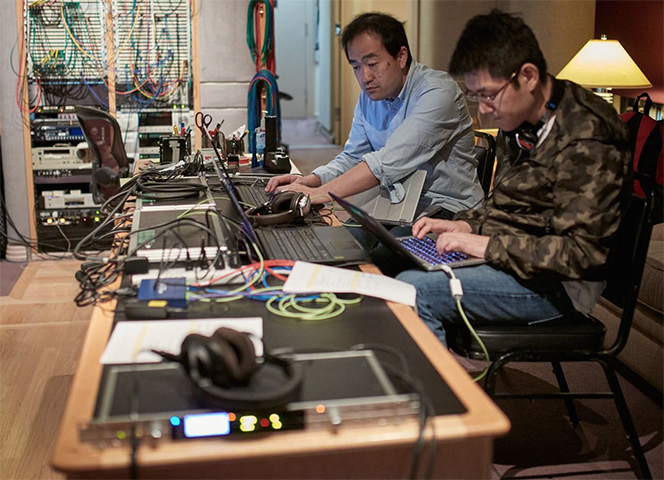 Tetsuya and Kazunori from Prime Seat (Photo: David Pappas)

On the other side of the control room, two engineers from Prime Seat (Tetsuya Nakamura and Kazunori Fukuda) were operating four laptops to capture and live broadcast the music as well as monitor the proceedings in DSD 5.6 MHz. This included computer storage, servers and multiple Stereo Korg MR-2000 digital recorders and converters.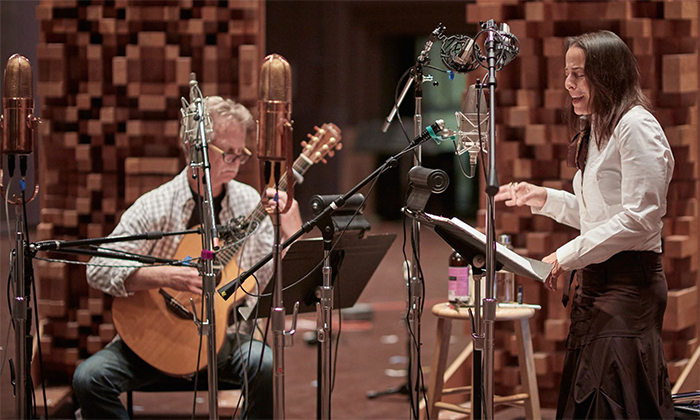 Jenna and Alex Performing Live in DSD 5.6 MHz Over The Internet (Photo: David Pappas)
At 2:00 pm, as scheduled, the Live Concert began with an introduction from Blue Coast Music co-owner Cookie Marenco who served as the host of the show. (Because of the difference in time zones, the concert will be broadcast live in the U.S. but re-broadcast in Japan 16 hours later). And then the stage was turned over to Jenna and Alex.
The concert started off with four songs familiar to many of our readers: "This Can't Be Love" by Rogers and Hart, "On and On" by Stephen Bishop, "Throw It Away" by Abby Lincoln and "The King of Pain" by Sting—a tribute to Prince who passed on earlier that day. Sitting in the small but enthusiastic audience, the sound quality and detail was excellent. The Scoring Stage is absolutely silent between tracks and provides the perfect setting for acoustic music like this.
After the first four songs, Cookie Marenco returned to share some memories and background about the two performers who she first met and worked with while at Windham Hill Records. Jenna noted that Abby Lincoln has been a major influence on her singing and that is why two of Lincoln's songs were part of this afternoon's concert. All in all, a nice touch.
The second set in the concert started with "Second Star to the Right" written by Sammy Cahn. A song introduced to Jenna by Cahn's daughter. That was followed by a number of familiar songs including "Celebrate Me Home" by Kenny Loggins, "The Music is the Magic" by Abby Lincoln, "In Your Eyes" by Peter Gabriel, "It Ain't Necessarily So" by George Gershwin, John Martin's "May You Never", "Cracker Box Palace" by George Harrison and the finale "If I Have to Go" by Tom Waits.  
That ended the Live Concert just 1 hour after it began. Cookie Marenco came back to thank everyone participating in the event in person and over the air.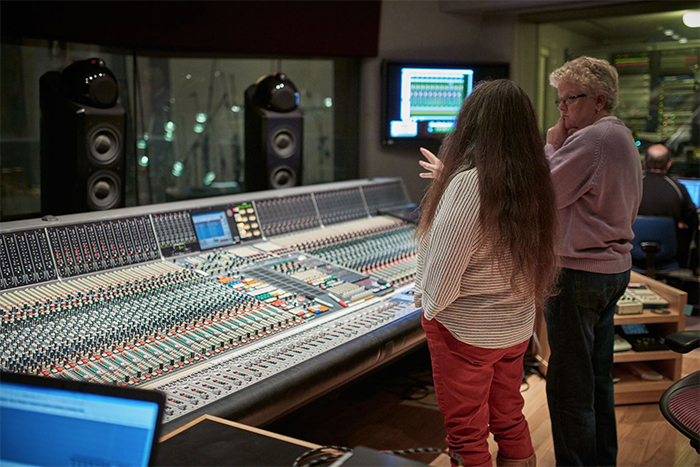 Producer Cookie Marenco & Recording Engineer Leslie Ann Jones (Photo: David Pappas)

After the concert, the artists and guests moved to the control room to hear playbacks of a couple songs where some tweaks might be desired. Jenna and Alex played a portion of two songs after the concert that will be edited into the final recorded version of the concert and the music download later on.
A check with the team from PrimeSeat revealed that the Live to DSD Broadcast had mostly gone without a hitch. There were a couple of spots during the event where an audio gremlin or two appeared. And there was a 5-minute segment where the servers failed to deliver the live audio. 
Overall, the team was happy with the results and picked up a few lessons learned to make the next Live in DSD Concert in the U.S. better.
My thanks to Cookie Marenco and the Blue Coast Music team for inviting me to attend this historic and very enjoyable concert. And kudos to David Pappas for his excellent photography of the concert which you see in this article. Finally, Cookie Marenco passes on her thanks to David Robinson and Merging Technologies for the use of the 8 Channel HAPI DSD converter used for this event.
If you want to hear the Jenna and Alex Concert you have two choices. You can visit the PrimeSeat web site and stream the concert to your audio system via the Internet. Or you can buy the concert's music files in resolutions up to DSD 256 Stereo. 
As one who was at the Live Concert on April 21st, I'd encourage you to give the concert a listen. It features wonderful songs and excellent performances recorded in very high quality DSD audio. A true testament to what is possible with today's state of the art audio systems. Music and an event not to be missed.
PrimeSeat
Internet Initiative Japan
Blue Coast Records
Jenna & Alex: Live In The Studio (DSD Music Downloads)
http://bluecoastrecords.downloadsnow.net/live-in-the-studio
Jenna & Alex: Live In The Studio (DSD On Demand)
http://primeseat.net/en/programs/on-demand/BCR_Live_in_the_Studio_en_ondemand.html
HAPI 8 Channel Analog to Digital & Digital to Analog Converter
http://www.merging.com/products/hapi
iFi iDSD Micro Headphone Amp and DSD 256 DAC
http://ifi-audio.com/portfolio-view/micro-idsd/
HiFiMan Edition X Headphones
http://hifiman.com/EditionX/index.asp
Merging Technologies MC-8 Multichannel NADAC with DSD 256