No.
Not the streaming media service.
Turns out, there's a major high-end audio company in Germany, TIDAL Audio, which is joining the ranks of world-class audio design. In fact, TIDAL Audio, founded in 1999 by Jorn Janczk with the stated intent of building the finest audio systems on the planet, has been around years longer than…well, that other Tidal.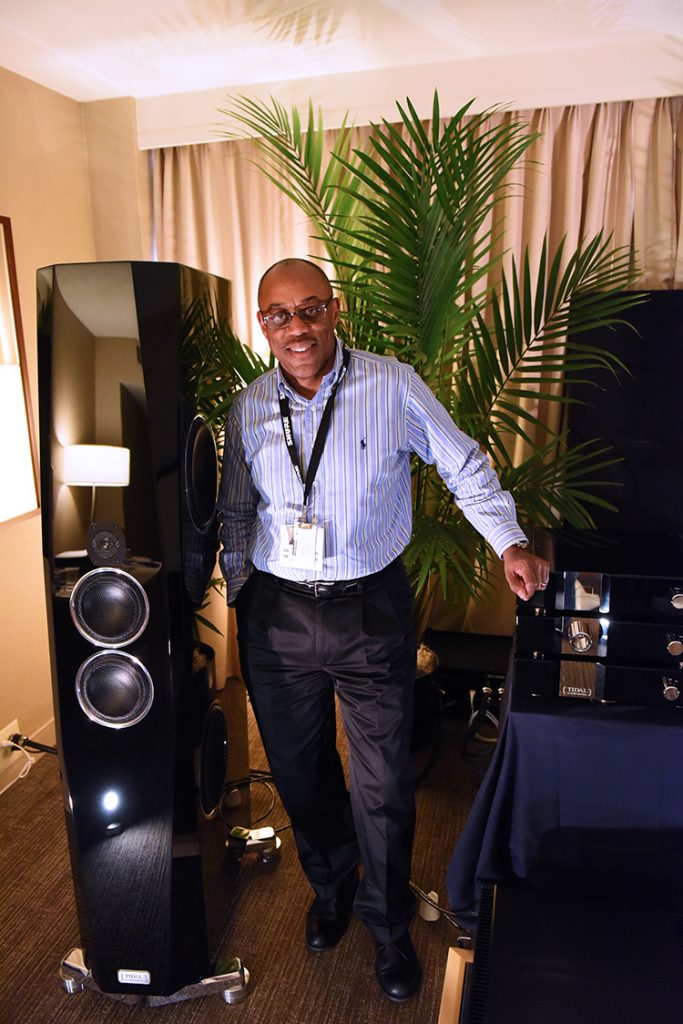 Doug White of The Voice That Is, AXPONA 2016:  A portrait. The Agoria speaker is to the left, the Presencio reference preamplifier is to the right.
Background to a system review project…
Doug White is a man on a mission. Anyone who knows him would know that this is the righteous word. After all, when your company name is "The Voice That Is" (www.thevoicethatis.com), you are pursuing fine audio with serious intent. Either that, or you're a bit pompous…but having gotten to know Doug White, and having become good friends, I can say that the man doesn't have a pompous bone in his body.
This is a fascinating person. Doug is a Philly man, grown up in the music scene there, and a real lover of Philly Jazz. He also has a deep love of great drink, travel to significant destinations (don't get him started about Italy!)…and fine audio. In other words, this is my kind of guy. He is also the US Premium Dealer and "ambassador" for TIDAL Audio of Germany, of which much more as we go.
Doug and I met back in 2015, when I finally made the decision to attend AXPONA 2015 after the change of show management there. I had been invited to attend the show personally by Mark Freed at the LAOC Gala Dinner in 2014, and decided that I would take him up on his kind offer. While exploring the halls of that event in Chicago in 2015, one of the large rooms that really impressed me was one by a company I had never heard of:  The Voice That Is.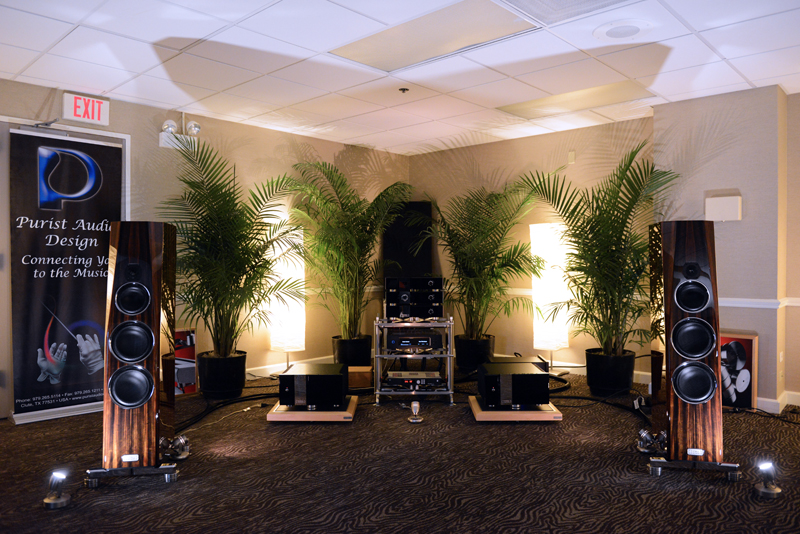 The big space occupied by TIDAL Audio, et al., in Doug White's room at AXPONA 2015…big sound, too.
This was a large room. That normally means some real challenges in energizing the space, and I went in wondering whether I was going to be pleased or disappointed. It turned out that I needn't have been concerned, as I said in my AXPONA 2015 show report. In fact, I wasn't just pleased; I was really impressed. As I said in my report:
"I have to say, first of all, that the TIDAL equipment was radically beautiful to see, and a smokin' knockout to hear! What workmanship in both domains…a real reference standard for how things should be.
Sonically, the sheer scale and dynamics of the music in this room was bloody extraordinary. The electronics might have been new to North America, but the effect was "Audio Oasis! Award material" all the way. The sound was effortless, fluid, natural, organic, and had the sort of transparency that I associate with only the finest sort of designs that I've encountered on this planet. Detail without edginess; dynamics without loss of control; full-frequency-range presentation without humps or valleys.
Damn! This is great stuff, with an obviously very high degree of audio symbiosis. TIDAL, Bricasti, Purist Audio, Aurender, and Stillpoints link up very well, and seem made for one another. Doug was sure and confident that he was getting great results, and frankly, I have to agree with him.
In fact, this room was undoubtedly the biggest pleasant surprise of the show for me when it came to "new stuff." I was really gobsmacked by what was happening in The Voice That Is suite, and will have to think about talking with Doug about doing a major TIDAL project here at Positive Feedback Central sometime soon. (Doug…give me a call!)
Meanwhile, give all the folks in this special place an Audio Oasis! Award…it's richly deserved!"
We didn't talk after AXPONA, though. It happens all the time:  You meet people and say "Hey, we need to hook up for a review project after the show!" And then you forget about it in the post-show workflow. THE Show Newport Beach 2015 was on the horizon, with RMAF 2015 following, and I had too much on my plate.
The next thing I knew, it was October, and I was cruising the halls at RMAF once again. While doing so, Doug and I ran into each other again. "Hey, David! Remember me? We talked at AXPONA. Were you still interested in doing that TIDAL review project?!"
Truth to tell, I was facing a 2016 that was already looking more than full (turns out, I was right), and wisdom dictated that I think twice about this, and maybe give it a pass. But then I remembered how great the sound of the TIDAL/Purist Audio/Aurender/Stillpoints/Bricasti Design combination had been, and said, "Sure, I'd like to do a review of the TIDAL gear. Let's schedule it." (This is how I get myself in trouble.)
And so we did.
I require 3-4 months at a barebones minimum for just about anything. Major system reviews like this I'd normally have on at least a 6-8 month window, since it takes a long time for me to really take a complete system in at a normal and reasonable rate of attention, work it out with all of the sources that we have (LP, DSD out to Quad, and even RTR tapes, on occasion), plus the assorted playback gear. Otherwise, it simply isn't worth the sweat and expense to haul in a ton of gear, toss my listening room into a cocked hat, wear out my listening schedule, and then turn right around to ship it out. Heck, it takes time just to have the cables settle down after a major system install, not to mention all the other electronics…just ask the guy who knows.
So, would this work? On his calendar, early December until the end of March was open, just barely enough time to get the job done. My calendar would allow it, so we shook hands. The first week of December, after the annual LAOC Gala Dinner, was it.
System Setup
Right on schedule, in the TIDAL system came.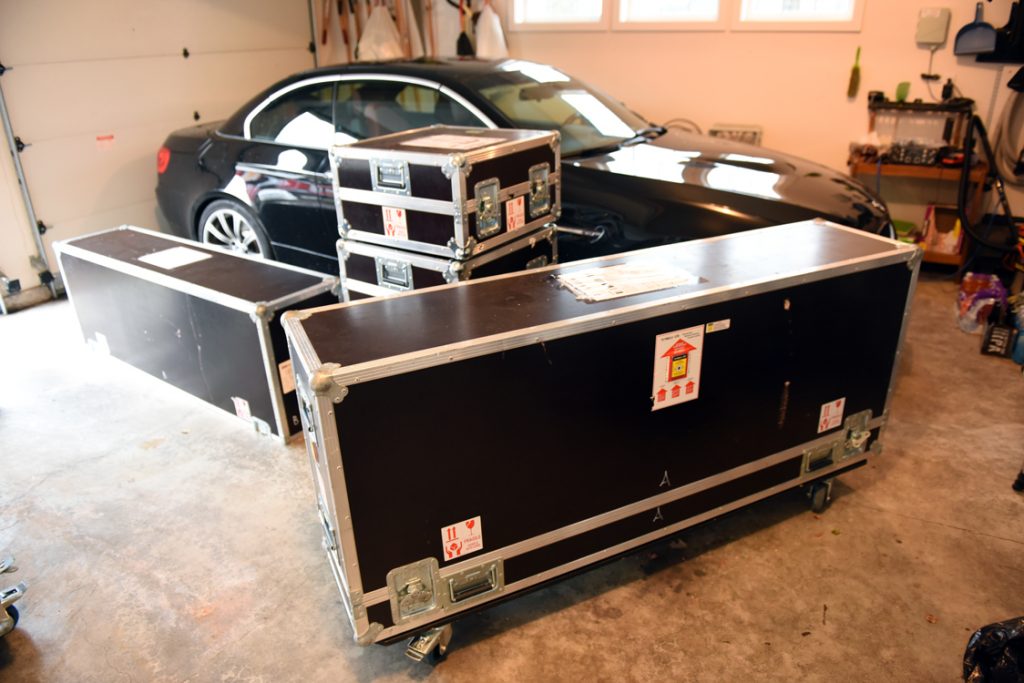 Just so that you appreciate what goes into a full system review:  The TIDAL Audio shipping cases filling a bay in our garage.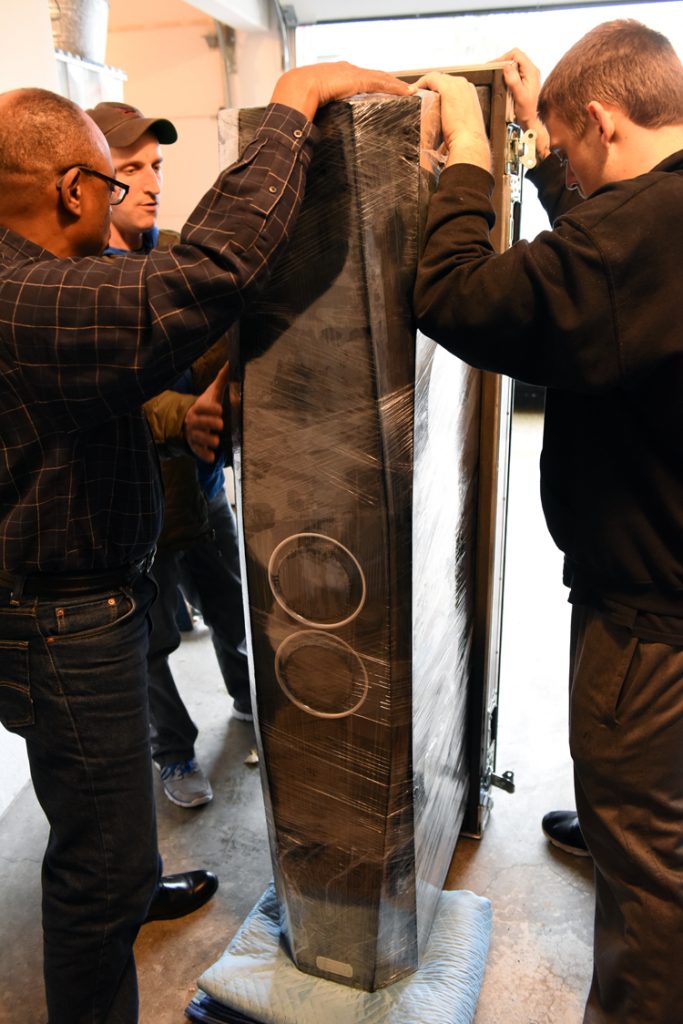 Doug White supervising the unpacking of one of the TIDAL Audio Agoria loudspeakers. Given the world-class, flawless finish on these beasties, experience, muscle, and kid-gloves care were called for. The finish is like a mirror. Don't try this at home, kids!
Since I already had the Stillpoints ESS Reference Racks with Ultra V Isolation Feet on site, plus all other associated gear, all that Doug had to do was to ship the TIDAL speakers and electronics. He decided to go with the Agoria loudspeakers from the middle of the TIDAL lineup, which would be a model up from the Contriva G2 speakers that I had liked at AXPONA 2015. They would be here until being shipped out to AXPONA 2016 at the tail end of March, 2016.
I'll point out that the Agorias were unique loudspeakers in one way:  These were the first side-firing-bass models that I've had in my listening room. And drivers galore:  front-firing, side-firing, and rear-firing. A large diamond tweeter. Active and passive bass. Yowzah.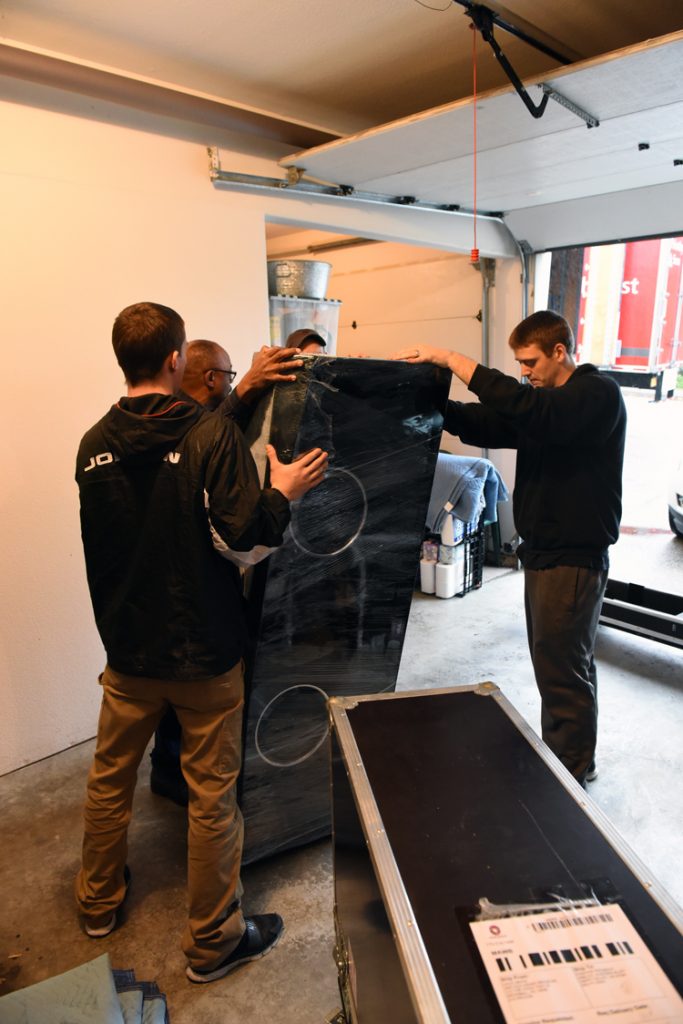 Getting one of the Agoria loudspeakers on its feet. Very carefully.
The electronics would be the same as I heard in Chicago:  The three-piece Presencio reference preamplifier. This was comprised of their Linedeck preamp, the Phonodeck phono amp, and the Powerdeck power supply. Doug notes that "while performing well very well with various electronics over the years, TIDAL speakers and electronics were designed to excel together." Like the Agoria, these components were gorgeous, with a world-class finish in a striking glossy black, matching the Agorias, with silver trim. I'd agree with Doug, who said that TIDAL "is defined by manufacturing unique masterpieces with jewelry finish [and] timeless sophisticated design." You simply couldn't fault the look and feel of the TIDAL system; right out of the cases, they exuded audio seduction and things done right.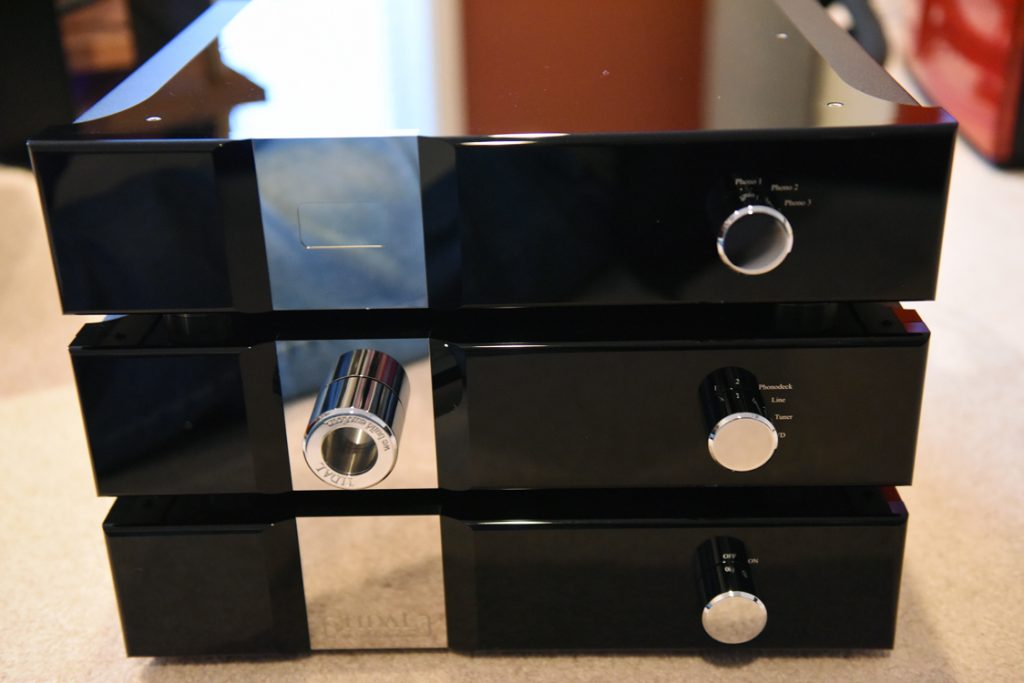 The TIDAL Presencio reference preamplifier:  on top, the Phonodeck phono amp; next down is the Linedeck line-level preamp; on the bottom is the Powerdeck external power supply. Brilliant finish; eye-catching design…it's impossible to argue with this.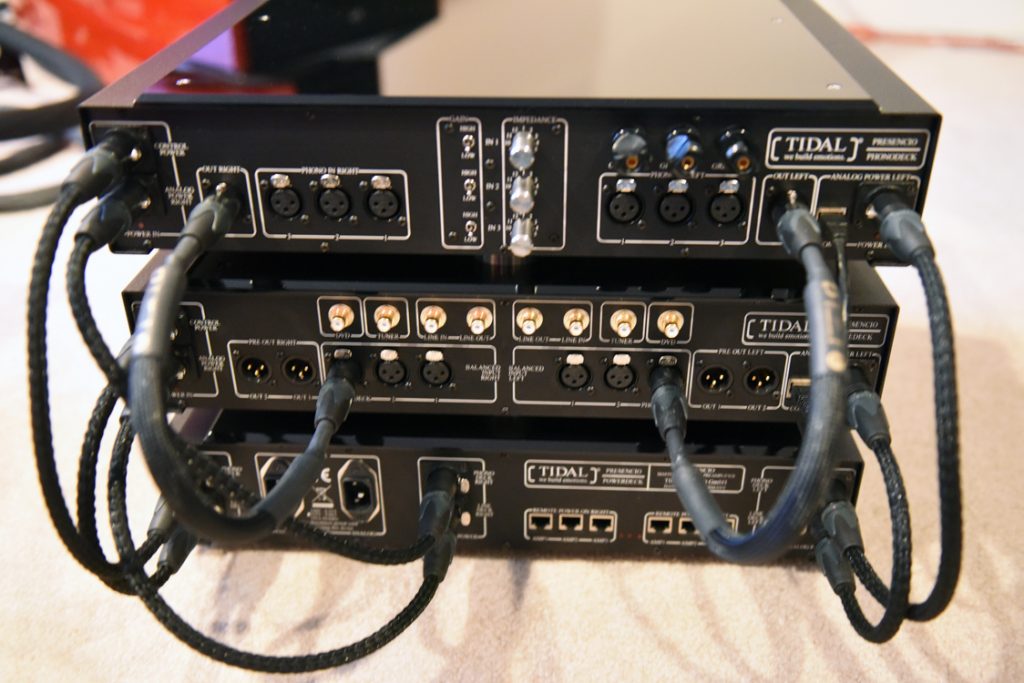 Rear view of the TIDAL Presencio stack, configured with its cross-linkages. Note the Ethernet-style RJ-45 ports at the bottom. This allows for communication to other components…in this case, the Impulse Monoblocs. Powering on the Presencio via the power on knob on the Powerdeck not only activates all three modules here, but also signals the Impulse Monoblocs to being their soft-start power-up. Single control turn-on of the entire system; works like a charm!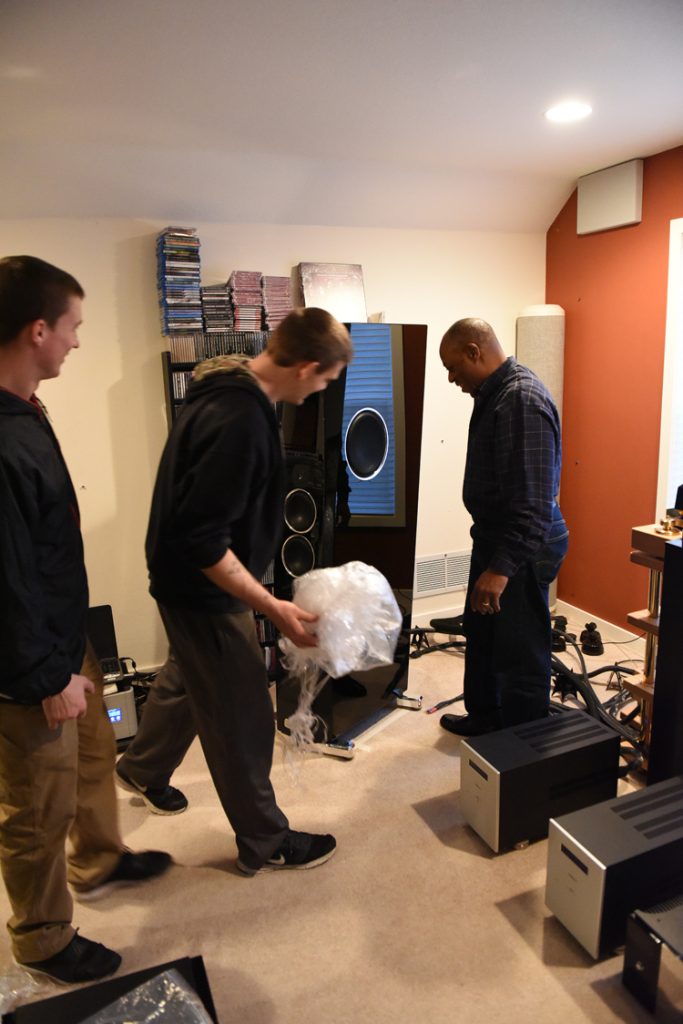 The left-channel Agoria unwrapped from its shrink-wrap. Our default reference Audionet MAX Monobloc amps are on the floor before being moved out to make room for the Impulse Monoblocs.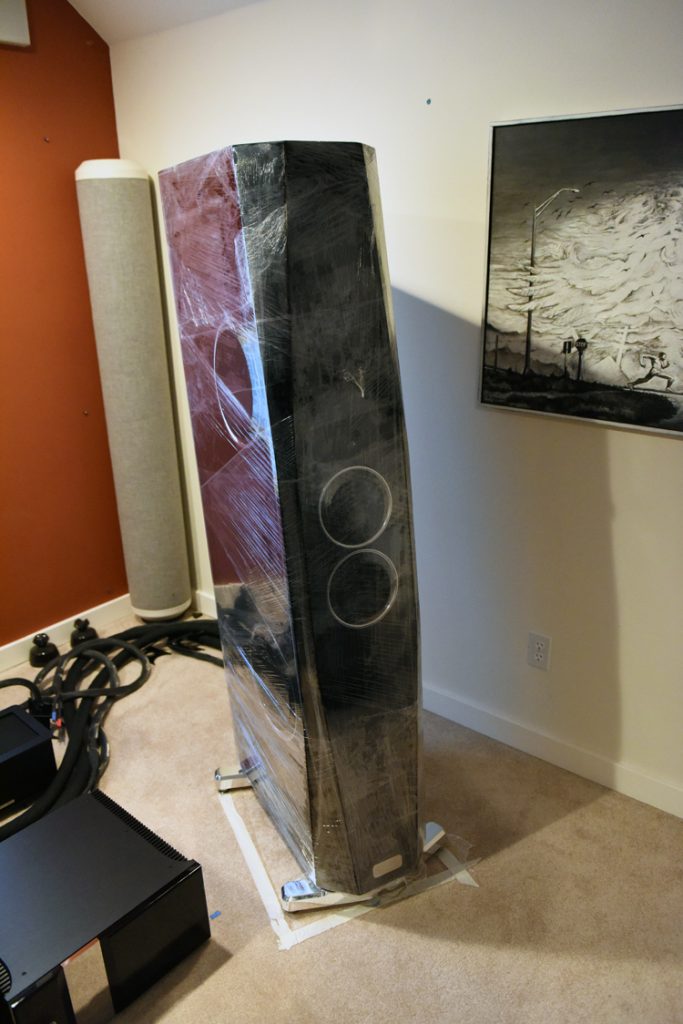 The still-wrapped Agoria loudspeaker sitting on the right-channel side with its associated Impulse Monobloc amplifier.
With Doug supervising our pro moving team, the setup process was smooth, easy sailing. The notable thing here is that the TIDAL Audio packaging and setup is really well designed and quite straightforward. Professional shipping cases make a huge difference in the transport and deployment of equipment like this; TIDAL is doing things properly, with no half-assed cardboard or mangy padding. At this price level, you'd expect that to be true, but it isn't always so. (Don't ask.) In fact, inside of 2-3 hours, everything in the TIDAL system was in place, cabled, and heating up. The cases were all collected and transported to our storage facility #2; and Doug and I could begin to listen. That's really excellent for a complete system trade-out and installation.
Therefore, "Ease of setup" and "Professional quality packaging" get a big check marks from me.
Supporting Cast
Along with the TIDAL system, the following components all contributed to the ultimate results of this review project:
KRONOS Pro LE Turntable with Black Beauty Tonearm and Air Tight PC-1 Supreme MC cartridge
Wave Kinetics NVS Reference Turntable with Durand Telos 12" Composite Tonearm and Ortofon Anna MC Cartridge
Merging Technologies NADAC MC-8 Quad DSD DAC
LampizatOr Golden Gate Quad DSD DAC (unbalanced configuration) with Czech MESH 45 tubes
Stillpoints ESS Reference Racks (x2) with Grid Shelves and Ultra V Isolation Feet
Kubala-Sosna Elation! power cables (with 15A to 20A adapters, used briefly, before the Purist Audio Dominus arrived), Elation! interconnects, and Elation! speaker cables
Kubala-Sosna XPander Power Distribution Unit
Purist Audio Dominus power cables terminated with 20A connector at the component end (used for the main body of the review)…these turned out to provide a nice improvement in the sound of the Impulse Monoblocs
Specifications
Agoria Loudspeakers, as specified by TIDAL
multi chamber cabinet made out of TIDAL's proprietary cabinet material TIRALIT™
1 x 30 mm (1,2") diamond tweeter TAD-30 (an exclusive Accuton TIDAL cooperation)
2 x 173 mm (7") BCC long excursion low distortion midrange woofers TACW-170 (an exclusive Accuton TIDAL cooperation)
2 x 280 mm (10,5") long excursion BCC subwoofers TAS-280EX (an exclusive Accuton TIDAL cooperation
3 x 280 mm (10,5") long excursion BCC passive radiators TAS-280PR (an exclusive Accuton-TIDAL cooperation)
passive crossover network with ultra-low tolerance components, exclusive use of costume tailored CAST Duelund-copper-capacitors and CAST capacitors, metalfilm-resistors, silver-carbon resistors, air-core-inductors, ultra-low resistance bass-inductor
passive crossover is microphonic and hermetically isolated in a separated chambers
total weight of the passive crossover construction: 19 Kg / 42 lbs.
adjustable diamond-tweeter curve (hard room-reflections / soft room-reflections / adjustable curve at 7KHz and 13KHz)
adjustable upper bass curve
Variobass, passive adjustable in three settings (linear, gain A and gain B)
pure silver binding posts for perfect contact, isolated massive aluminum knobs on fiberglass isolation core
adjustable bi-wiring / passive bi-amping / active bi-amping double-terminal
special 5-part TIDAL stainless steel isolators
optional: 8 x trigger bars out of massive aluminum, black structured or high gloss polished, the position of the variofeet can be mounted in parallel or sloped back, both on the frontside and/or backside
serial cabinet finish: original TIDAL piano lacquer in midnight black
optional cabinet finishes: finest hand selected veneers in TIDAL's original transparent piano lacquer.
other finishes: on request
the TIDAL Agoria is being delivered in 2 x ATA-flightcase, incl. all accessories inside
nominal power handling: 200 / 1.000 VA
nominal impedance: 4 Ohm
recommended power amplifier: 30 watt and up. Very easy impedance load also for tube amps
to use the whole enormous dynamic range of it and listening complex music also from time to time very loud we recommend > 200 watts at 4 ohm
speaker dimensions: 163 cm x 31 cm x 60 cm / 64,2" high x 12,2" wide x 23,6" deep
dimensions with vario feet (from ground to top): 170 cm high / 67" high
speaker weight without packaging: 2 x 215 Kg / 2 x 475 lbs.
shipping weight with packaging: 2 x 245 Kg / 2 x 540 lbs.
shipping dimensions: 2 flightcases, each flight case is 182 cm length x 42 cm width x 72 cm height / 72" length x 16,5" width x 28" height
Presencio Electronics, as specified by TIDAL
pure discrete designed dual mono reference line level / reference phono preamplifier with TIDAL minimal-path-technology
reference phono preamplifier with level control / high level pre amplifier with level control
concept: fully balanced minimal path topology dual mono pre amplifier with fully regulated external power supply and 3 balanced phono inputs in an external deck
true balanced concept without any sound-changing inverted signal generation
3 separated cabinets for power supply (POWERDECK), line stage and phono control deck (LINEDECK) and phono control input deck (PHONODECK)
completely regulated power supply with galvanic separation and filtering for "left", "right" and "control" for each channel of the LINEDECK and PHONODECK, regulation boards out housed from the power supply directly at the amplifier boards
completely separated power supplies for level control and isolated DOT-matrix display with level indicator ("min", "1 - 31", "max", "mute", "on", "1:1") with time delayed turn-off with "on"-indicator behind a mirror inside of the chrome plate
2 separated power cord inputs with different filtering for "Analog" and "Control"3 x balanced input, 3 x unbalanced input incl. 1 x tape-loop, 3 x balanced phono input, 2 x balanced output, parallel volume controlled
unique level adjustment: only 1 high precision resistor in signal path for level adjustment, controlled by an electronically and mechanically isolated motor driven ALPS potentiometer-A/D-converter-unit and 256 reed-relay, remote control for volume and intelligent soft mute
one input can be configured as 1:1 direct mode for an external surround processor or as classical high level input
3-stack device with resonance controlled cylinders inside of the cabinets made out of Delrin and isolator feet to place it 'plug & play' on top of each other 6 x remote output for up to 3 pair Impact Monobloc, intelligent soft start
Phonodeck
directly with the LINEDECK coupled phono deck with 3 true balanced inputs for up to 3 different cartridges / tonearms
true signal separation for left/right, plus/minus - like it is originally generated from the cartridge itself without sum it up to RCA signals, therefore almost no distortions, changings in colouration, loss of details and adding of an own sound from the device to the original signal
2 channel separated constant temperature heating boards for the phono part, therefore lowest distortions, right after the start perfect conditions, no need for constant "power-on"
3 totally free configurable phono inputs, switchable while running for immediate judging of the result one is hearing
completely galvanic separated ground between "left, "right" and "control"
4 linear regulated power supplies with 40 x 3.300 µF, total buffer- and filtering capacity 132.00 µF
Voltage Gain: 50dB (at 1kHz)
Noise: >100dB (0.5mV input voltage)
Distortion: < 0.005%
Input Impedance: 50 ohm - 2.400 ohm
Dimensions: 44cm x 13cm x 39cm / 17.3" x 5.1" x 15.3" (width x height x length)
Weight: 24 lbs. / 11 kg
Linedeck
6 isolated amplifier modules
separated discrete balanced output modules without sound-limited transformers
8 volume control boards with 256 relay and direct resistor access in the signal way without cascades, digitally controlled with fully analogue switching and logarithmic resolution
completely galvanic separated ground between "left, "right" and "control"
4 linear regulated power supplies with 40 x 3.300 µF, total buffer- and filtering capacity 132.00 µF
Voltage Gain: 12dB (at Line inputs) or 23 dB (at PHONODECK input)
Gain Bandwidth: 1Hz - 350kHz (-3dB)
Distortion: < 0.001%
Noise: > 100dB (0.5V output voltage)
Input Impedance: 10k ohm
Output Impedance: 50 / 150 ohm
Dimensions: 44cm x 13cm x 39cm / 17.3" x 5.1" x 15.3" (width x height x length)
Weight: 24 lbs. / 11 kg
Powerdeck
regulated power supply with 6 transformers for 12 different voltage outputs with 84 x 3.300 µF, total buffer- and filtering capacity 277.200 µF
6 remote output for time delayed sequential power on/off control of up to 6 TIDAL "Impact Monobloc" and TIDAL "LPX"


Power consumption: 25W (PHONODECK and LINEDECK are plugged in)
Dimensions: 44cm x 13cm x 39cm / 17.3" x 5.1" x 15.3" (width x height x length)
Weight: 30 lbs. / 14 kg
Impulse Monoblock Amplifiers, as specified by TIDAL
true mono reference power amplifier with linear power supply
regulated active power supply with 2 x 800VA non-noise toroid transformers, completely magnetically shielded and mechanically decoupled
linear voltage power supply for ripple-free voltage and current stabilization for the two amplifier modules
410.000 µF stabilization capacity, ultra-fast response with high-grade-long-life-capacitors
elimination of deleterious resonances by all massive aluminum parts and braces inside, excellent torsional and longitudinal rigidity
in-house made multilayer PCB (printed circuit board) with 105 µm copper per layer
hand selected transistors, measured and matched with a precision better than 1%
DC-coupled input circuit, without coupling capacitors or relay in the signal path from the input to the output
no relay in the signal way from XLR input to speaker output
ultralow impedance capacitors directly at the transistors for most shortest connection
TIDAL proprietary APM system (amplifier protection management) is completely outside of the signal path
TIDAL APM System is an isolated and completely autarkic system to manage and control the power amps safety: output current in relation to output-voltage, short circuit current, DC- offset, under-voltage und excess voltage
optional: fully autarkic working active crossover LPX-mono-module for active amping to control the bass section of TIDAL reference speakers, perfectly matched in phase and frequency, different frequencies and level adjustable to trim bass response perfectly to each room and/or taste
intelligent soft-start system, remote power on/off by TIDAL pre amplifiers via RJ45 Ethernet cable
rated power output at 8 ohm: 2 x 280 watts continuous rms power
rated power output at 4 ohm: 2 x 520 watts continuous rms power
rated power output at 2 ohm: 2 x > 700 watts continuous rms power
bandwith: 1Hz - 400 kHz (-3 dB), measured with impedance load
dimensions: 17.3" x 10" x 17,3" / 44 cm x 25 cm x 40 cm
power consumption: < 1 W in stand-by mode
amplification bandwidth: wider than the highest resolution sources
damping factor: ideal damping factor for life like music reproduction, perfectly even over the whole spectrum
I actually do read specifications pretty carefully, and was impressed by the stated characteristics of the TIDAL system. These are serious parameters, and quite impressive on paper.
But how would they sound as things settled down?
Listening Impressions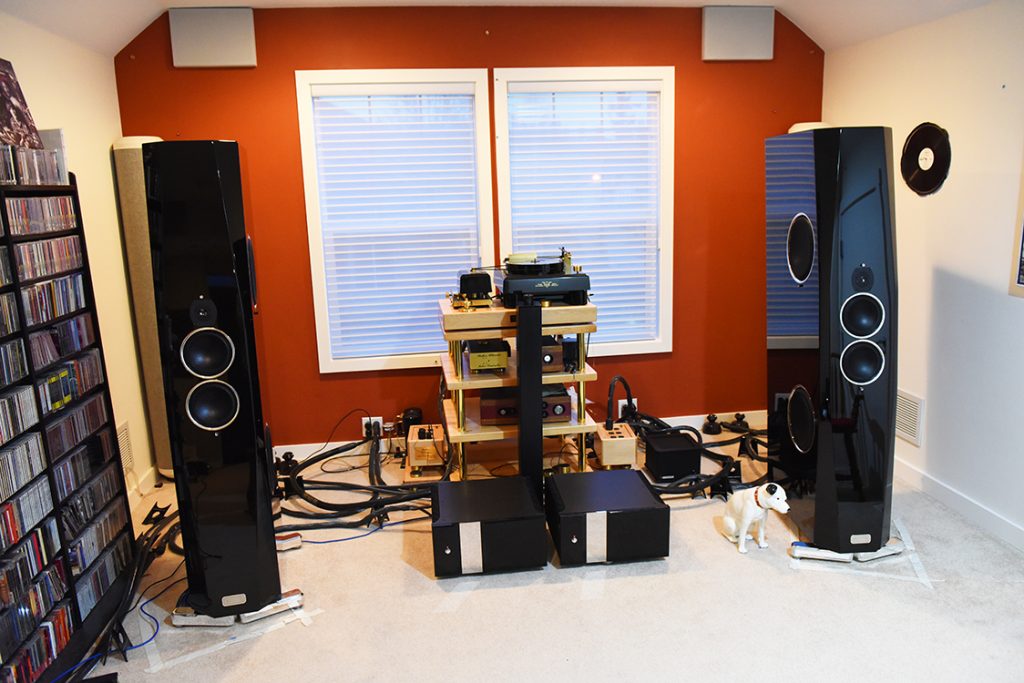 The speaker end of the TIDAL system after setup; note that our Walker Audio Proscenium Black Diamond Level V reference turntable was not used during the TIDAL project, due to cable length restrictions…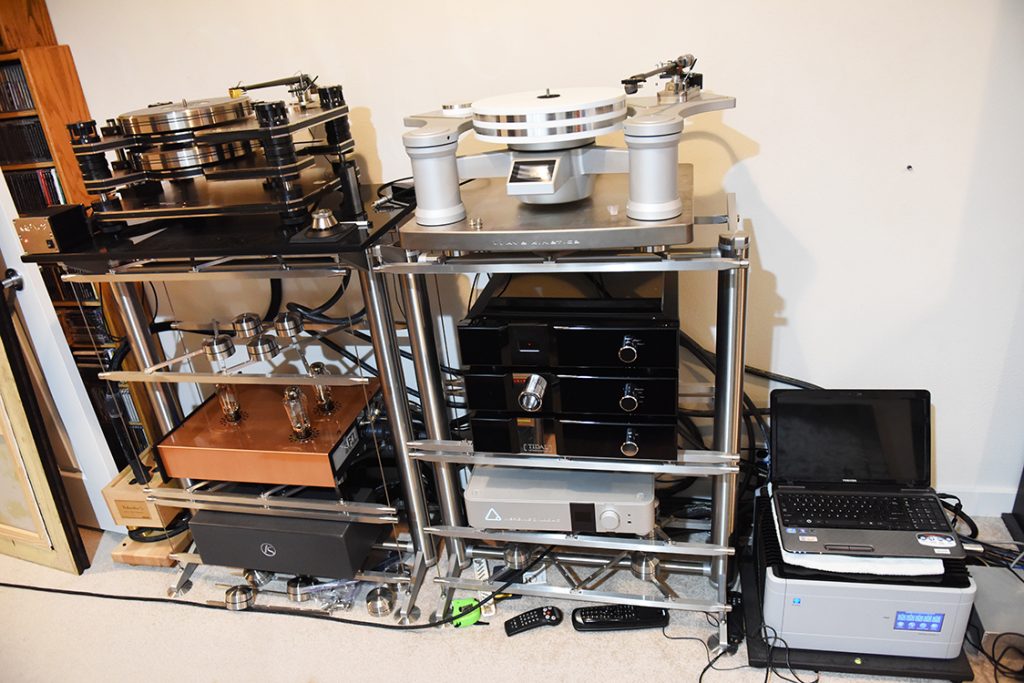 …while here's the main source end:  The Presencio stack on the ESS Rack to the right, with the Merging Technologies NADAC MC-8 Quad DSD DAC underneath it, and the Wave Kinetics NVS Turntable/Durand Tonearm/Ortofon Anna MC above it. On the ESS Rack to the left is the KRONOS Pro LE with Black Beauty Tonearm and Air Tight PC-1 Supreme MC on top, the LampizatOr Golden Gate Quad DSD DAC unbalanced with Czech MESH 45 tubes on the next shelf down, and the Kubala-Sosna XPander Power Distribution Unit on the bottom. The Synergistic Research Active Ethernet SE cable is the dark cable running out of the room to our HP notebook server with JRiver Media Center 21 in our main office. To the right is our small Toshiba notebook server for the LampizatOr Golden Gate, via the Kubala-Sosna Realization Reference USB cable. All of this is an excellent setup to test the mettle of the TIDAL system.
The first couple of days with the TIDAL system, while Doug was still in town, he and I got a chance to kick back and listen to two things:  LPs and DSD, all the way out to Quad DSD. The system had seen some show time, but it was obviously still coming out of the haze of shipment. Likewise, all the rest of the system…especially the cables…had been shifted significantly, and would take a few weeks to settle down. (Don't believe me? Try shoveling a few systems in and out of your room, and abuse your cables for a bit. See if you don't find the results to be unpleasant for a bit.)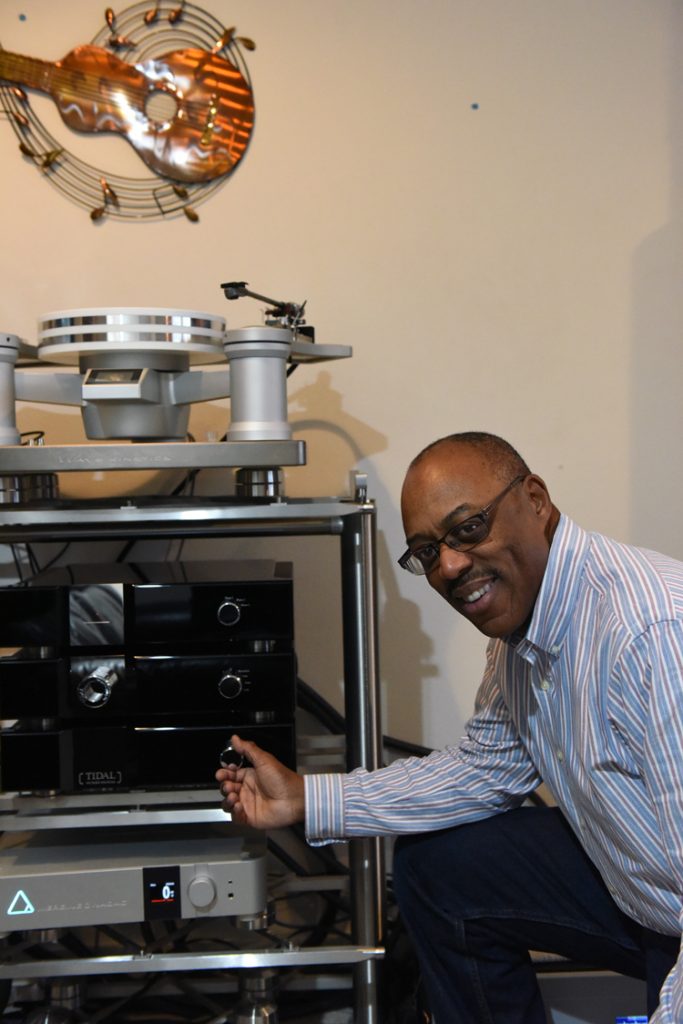 Doug White of The Voice That Is at the wheel of the Presencio Reference Preamplifier
This gave me an opportunity to run some vinyl past Doug and check out the Phonodeck-to-Linedeck interface.
It also gave me a chance to share a few of our reference DSD recordings (Single, Double, and Quad) with him. Nothing like extending the education and experiences of others, which was certainly something that Doug enjoyed. Certainly hearing the improvements that Double and Quad DSD brought to the game made a big, and highly favorable, impression on him.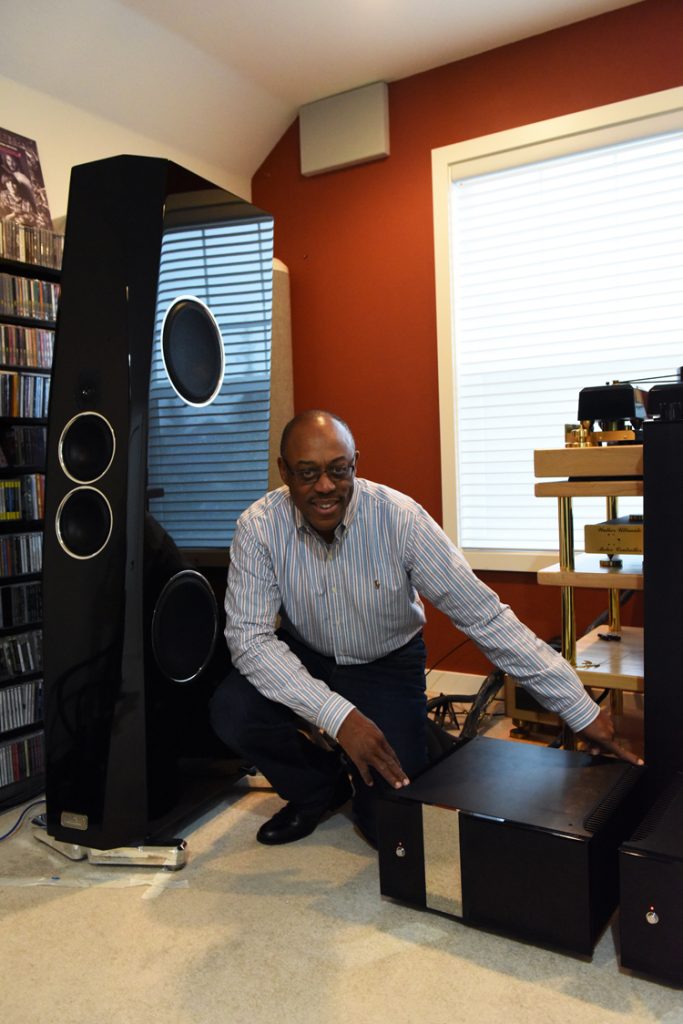 Doug White with the Impulse Monobloc and the Agoria loudspeaker
This early listening also gave Doug a chance to get the placement of the Agoria tweaked, and dialed in to his satisfaction. A mild toe-in…later increased a bit by me at his suggestion…brought the center into focus. By the time that he left, Doug professed himself pleased with the overall sound of the system, and a bit surprised that the Agorias were doing so well in our room. Like many before him, Doug assumed that a larger room would be necessary to get the best out of larger speakers; once again, our reference listening room turned out to be a very effective space for this system. That turned out to be a very good thing, since when Doug took this same Agoria-based system to AXPONA 2016 in April, he had to go into a smaller room. Given his experience here in the PF Central stereo space, he was confident that it could be done, and would sound just fine.
It did, too. Enough to win The Voice That Is room one of my Audio Oasis! Awards for that show.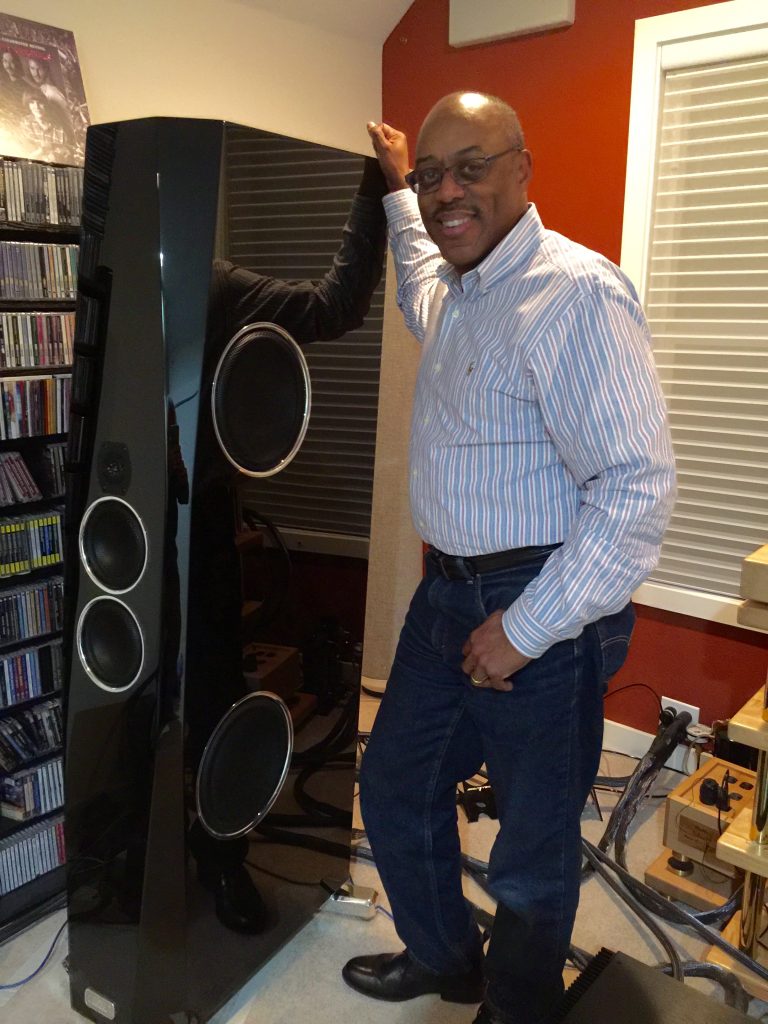 By the time he left, then, Doug was pleased with the sound and sure that the TIDAL Audio system would acquit itself very well.
We'd see.
Listening notes
The question was, how would the TIDAL Audio sound shake down in our reference stereo listening room over time?
Since time was relatively limited, I shifted to a somewhat higher pace of listening. The TIDAL system was online regularly, and spent many hours playing back many of the most demanding recordings in my archives. Over four months, there were far too many titles to cite, but I'll mention some key references that I used for this evaluation.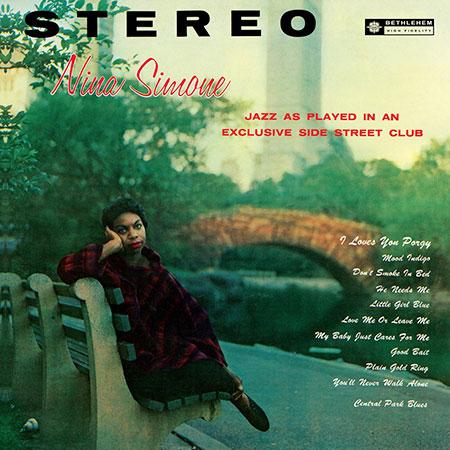 On the LP side, there are three titles that have become particular favorites of mine over the past year or two, both for performance and the quality of the reissues. These first three are all QRP 200 gram pressings done by Chad Kassem and company at Analogue Productions. Unsurprisingly, all represent state-of-the-art transfers and mastering, with LPs that are the audiophile equivalent of the immaculate inception. I've reviewed all three, and they have my highest recommendation:  Ellington Masterpieces, Dream with Dean, and Nina Simone's Little Girl Blue. If you don't have these LPs yet…well, what are you waiting for?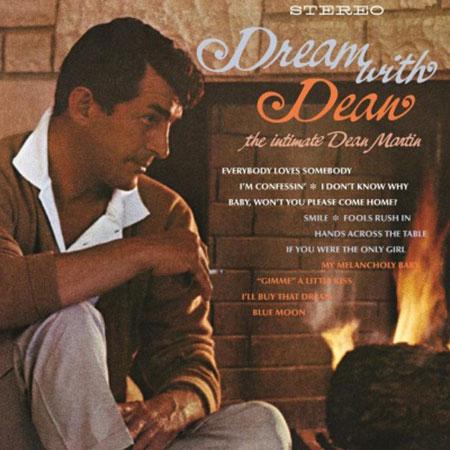 In addition, old friends like Analogue Productions' RCA Living Stereo reissues like Reiner's Schherazade, Stowkowski's Rhapsodies, and Fiedler's Gershwin provided recordings that I have heard so many times that I couldn't possible count the number. These are some of the greatest orchestral recordings ever made, and make for excellent sources for a project like this.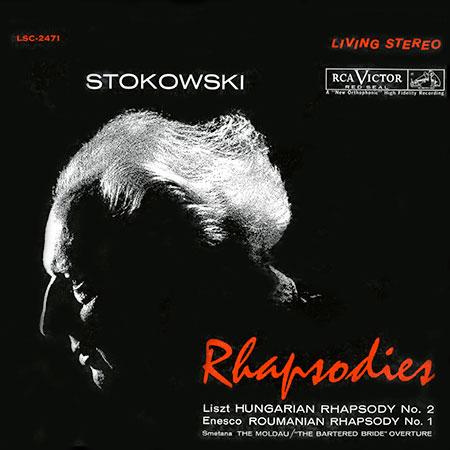 Do you want to hear how wonderful a full orchestral recording can sound? Be sure to add the RCA Living Stereo of Stokowski's Rhapsodies to your collection! You can thank me when you see me…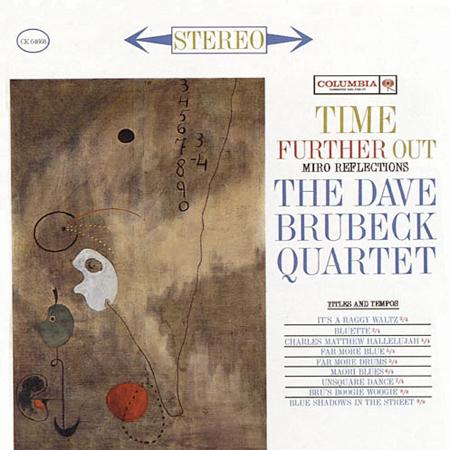 The very fine reissue of Dave Brubeck's Time Further Out by Impex Records:  Abey Fonn's company continues to release real winners on LP!
But Chad's LPs aren't the only ones that I listened to with the TIDAL system. Among other great titles was Impex Records' Time Further Out by the Dave Brubeck Quartet. Great tracks like "Far More Drums" work out the dynamics and show the ability of a system to be jazzic without losing control; or mellow and rich songs like "Far More Blue," which give a high-end system a chance to demonstrate nuance and resolution. And Impex is producing some excellent pressings, reminiscent of their days-of-yore roots…you do remember Cisco Music and their great LPs, right?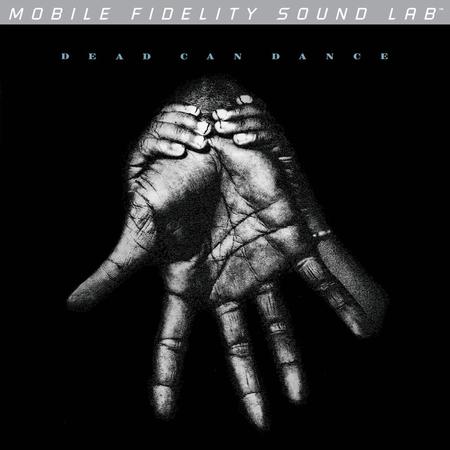 Naturally, I also used a years-long favorite of mine, Mobile Fidelity's reissue of Dead Can Dance's Into the Labyrinth. Even though a lighter weight pressing (mine is in the 160 gram range, if I recall correctly…yes, I have a scale and weigh my LPs to get the VTA right on my Walker Audio Proscenium Black Diamond Level V turntable system), the MoFi provides tons of detail, high percussives, dynamic swing, and deep bass. That's particularly noticeable on the opening track, "Yulunga (Spirit Dance)," but persists throughout this magnificent album.
During the time of this review, I didn't have a current-standard reference SACD player to do any work with our very large library of optical DSD recordings (over 6,000 at last count). That's a real shame; there are thousands of hours of great albums in our library. (That problem no longer holds true; we now have the excellent Audionet VIP G3 reference SACD player here, which is a helluva player. In addition, the new Playback Designs Sonoma stack is in place, including an OpBox transport, which takes the DSD out directly to ST glass via its PLink output. My initial impressions are quite enthusiastic.)
Instead, we relied on our very extensive DSD library (terabytes on hand) to provide us with state-of-the-art sound for the project. We used all resolutions:  Single, Double, and Quad. Additionally, we employed both the Merging Technologies NADAC MC-8 Quad DSD DAC and the LampizatOr Golden Gate Quad DSD DAC. That gave us the opportunity to hear both solid-state and tubed reference-level sources with TIDAL playback.
Our sources included downloads from SuperHirez, NativeDSD.com, High Definition Tape Transfers, Channel Classics, Yarlung Records, Blue Coast Records, Opus3 Records, 2L, and Wave Kinetics Records. Additionally, we had a number of tape transfers and needle drops from various sources, including my own reference Quad DSD transfers of tapes from The Tape Project and Opus3 Records. We definitely have an outstanding collection of great recordings in all genres, allowing us to work out components and systems quite exhaustively.
We also had the luxury of having two pairs of playback technologies at that time. On the turntable side, we had the KRONOS Pro LE and the Wave Kinetics NVS systems. With the KRONOS Pro LE combo, the elegance of LP playback was unarguable:  smooth, musical, with great tonal integration, top to bottom. The Wave Kinetics NVS set shaded just a bit more towards neutrality…a tad less silk, a touch more cool. Both were clear and definite in their tonal signatures; which you might prefer would depend on exactly what your sensibilities might be.
For DSD, we had two world-class alternatives. The Merging Technologies NADAC MC-8 is a state-of-the-art solid-state performer, with the ESS Sabre32 9018 chipset on up to Quad DSD on eight channels. Its precision and transparent detail are inarguable in their quality. As counterpoint, the LampizatOr Golden Gate unbalanced (stereo only) with Czech MESH 45 tubes combines Quad DSD resolution with SET gorgeous seduction in a way that transcends the usual tube-vs.-solid-state stereotypes. A kiss of the golden, but delivering up to Quad DSD resolution…a wonderful blend!
This four-way set of sources allowed for a pleasant and rather rare triangulation of impressions.
The results during the time that the TIDAL system was here?
Glad you asked.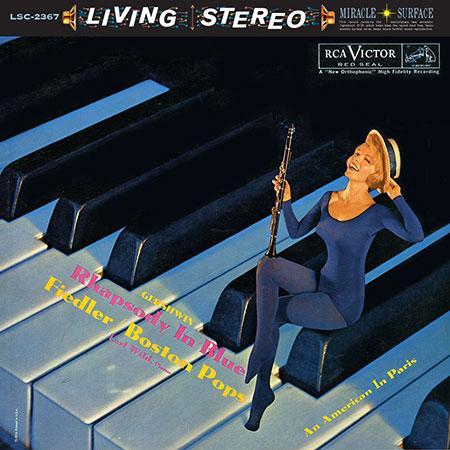 First of all, my overall impression was one of remarkable detail and transparency, and that from the get-go. TIDAL projects a powerful sense that you are hearing whatever is in the groove, on the disc, or in the DSD file. Dean Martin just flowed, with massive, rich mellowness rolling right along. (That's one heckuva great studio production, by the way.)
Either way, the TIDAL Presencio stack plus Agoria loudspeakers made me feel like I was hearing musical detail without compromise in our listening room. My ears are sensitive to nuance, texture, and the little things within a recording, and I was really taken by the way that TIDAL conveyed those elements, regardless of whether the source was LP or DSD via any of the four sources.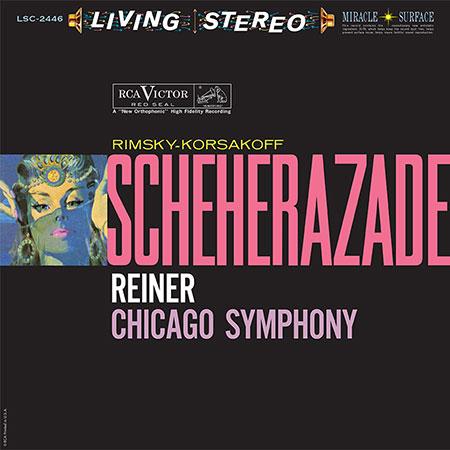 Tonally, TIDAL had a characteristic that I noticed immediately, and was confirmed as time went by. In the flat mode for bass response, the bass in our room was tight, clean, and disciplined. (This was the setting that Doug and I started with, and that he listened to while here.) There was no tubbiness at all; in fact, the bass was on the verge of being a bit too lean for some of the visitors who dropped by to listen here. Nevertheless, I really liked the feel of the Agorias in this setting, and left it there. There are two different ways to jumper the Agorias for those who are in settings that would require more bass, so you're covered in those cases.
Furthermore, the quickness of the Agorias as they were driven by the Presencio/Impulse combination was exceptional. Transients on the Brubeck album were rendered with lightning-fast response, crisp, clean, and clear. I didn't hear any overhang or lack of resolution at any time. The higher frequency, dynamic energy of the maracas on "Yulinga" startled me via either turntable system…the jump factor was there, and the resolution was spot on. Likewise with the Brubeck Time Out on Analogue Productions reissue LP, with another reference track, "Blue Rondo à la Turk, with its shimmering, shocking percussives. Killer on the TIDAL playback!
In the category of ne plus ultra, Wave Kinetics Records' grammy-worthy Quad DSD recording of Ilya Itin performing the Debussy Preludes, Books I and II (see my review of this gotta-have-it reference Quad DSD here) simply breathed life, with startling realism and a hair-raising placement of Itin's Steinway right in my room. That's no exaggeration, believe me.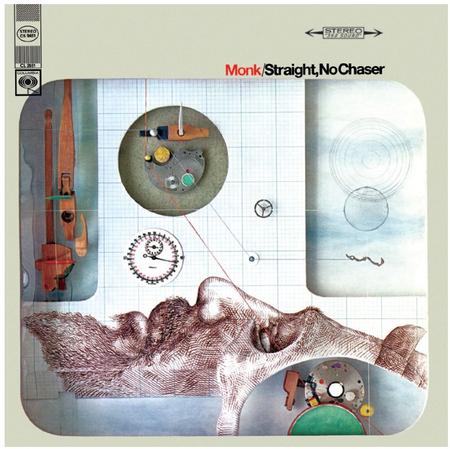 Another brilliant Impex Records reissue LP:  Thelonius Monk's Straight, No Chaser
I should mention that the noise floor on the TIDAL system was off somewhere into the sonic Stygian depths. As in, "not there." I didn't detect any hiss, hum, EMI, RF, or any other aural misbehavior. This added to the intriguing sense that I had of music emerging out of real silence. Not a digital "dead zone," but real silence. Silence is a form of real presence in the audio arts, and must be treated with absolute respect. Otherwise, the waters of the audio pool will never reach that supreme quiet that allows the highest form of reflection of mic feeds, master tapes, and grooves. TIDAL possesses this quality by the ton:  Music simply forms out of a living (not "dead") quiet.
Lovely!
Tonally and harmonically, I found nothing to fault with the TIDAL Presencio/Agoria, and very much to praise. The bass/midrange/high frequencies were truly seamless, with no sense whatsoever of where the drivers were, or where handoffs were happening. Given the significant number of drivers in the Agoria, this was an outstanding achievement. My lack of experience with side-firing/radiating woofers in my room had made me circumspect about how this would work out, but I needn't have been concerned. I was able to sit back and enjoy the listening without being distracted by "where the hell did that come from?!", being stuck in some tight not-so-sweet sweet spot, having trouble losing the high frequencies depending on the height of your head, or whenever you turn your head.
It would appear that the combination of the TIRALIT™ cabinet material (see specs above), the ultra-rigid design of the cabinet, the BCC mid-woofers and subwoofer drivers, the 30mm diamond tweet, and their crossover network are doing exactly what their product profile says that it will do:  provide a flawless, top-to-bottom sound that simply envelopes you in your music. Faultless, really, and a design and engineering accomplishment of the first rank.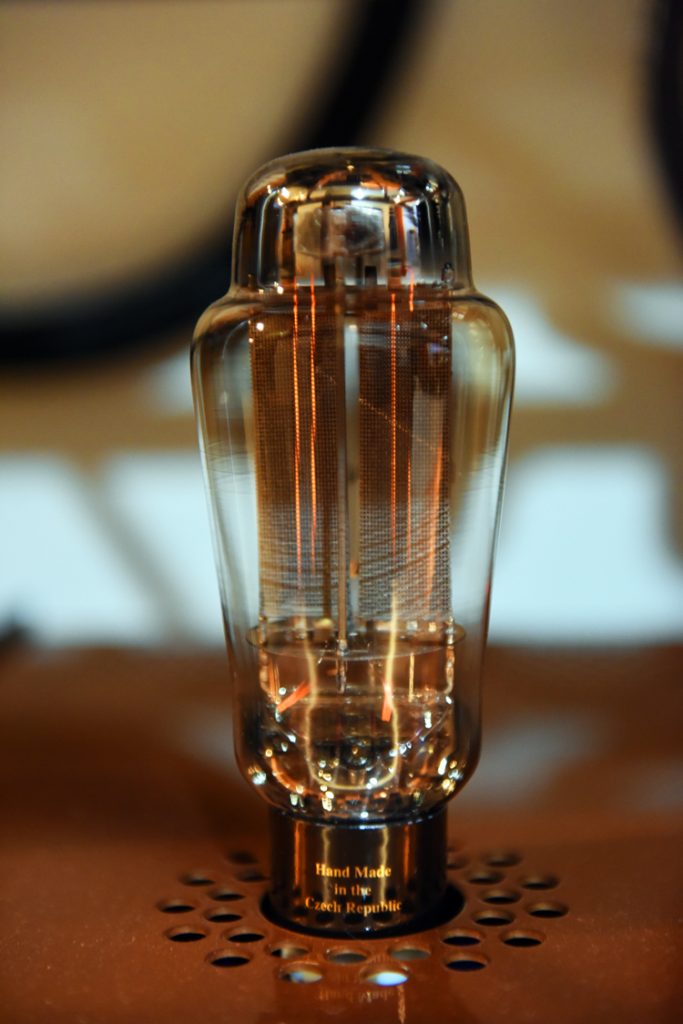 A Czech-made MESH 45 tube on the LampizatOr Golden Gate unbalanced Quad DSD DAC:  glorious!
Soundstaging was likewise very fine, but took a bit of adjusting, as usual. At first, Doug went with a positioning of the Agorias that was a very light toe-in, preferring to keep soundstage width a little broader in our listening room. He tried some minor tweaks inward, but the placement was still pretty close to straight ahead when he left. I tried it that way for several weeks, really liking the wide presentation, but wondered a bit about the solidity of the center of the stereo field. After listening and conferring with another very experienced listener, we toed the Agorias in a bit more…still not much, not more than two inches on each side…and liked the slight trade-off in outside soundstage width in exchange for a firmer sonic center.
Once that was done, the Agorias showed that they were every bit as good as any other reference speaker we've ever had here when it came to left-right vs. center.
Depth of the soundstage was very fine. In our listening room, quality stereo sources like LP, SACD, DSD, and RTR tape push the back wall of a venue or recording out past the rear of our room with any world-class gear, hovering somewhere over our driveway. (In fact, if that doesn't happen, then something's seriously wrong with the recording I'm listening to.) The Presencio stack, Impulse Monoblocs, and the Agoria speakers did the usual here, with aplomb. Bravo!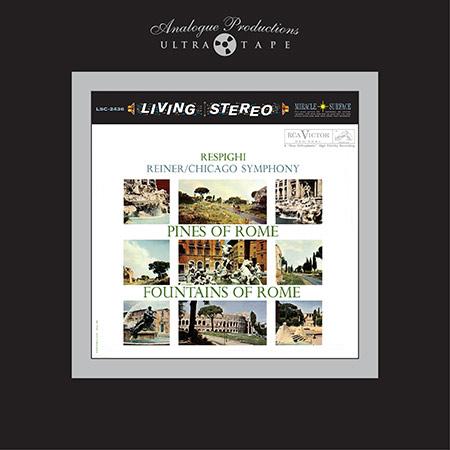 Unsurprisingly, the quality of imaging with the TIDAL gear was likewise excellent. Not only was I able to pick out particular instruments on many recordings, but was able to visualize the layering of the orchestra on Stowkowski's Rhapsody with ease, with both the LP on either turntable, and on the Single DSD version via either DSD DAC. Which meant that it was no shock when I listened to the brilliant recording of Reiner and the CSO performing Respighi's Pines of Rome and Fountains of Rome. What an amazing recording! (In fact, it's so good that I've ordered a copy of this recording on RTR tape at 15 IPS half-track quarter-inch tape from Chad Kassem's highly crafted Ultra Tape series. It's been a personal reference over many years for me…I couldn't pass up this opportunity, even at the rather lofty price that you pay for RTR tapes. Ditto for the Stokowski. I'll pay for it one way or another….)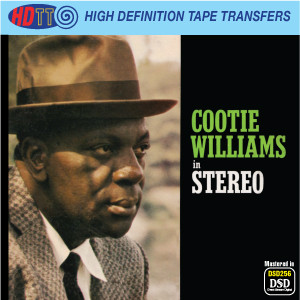 Musical timbre and textures were rendered with a nearly tactile effect. The blat of trumpets; the shine of massed strings; the moan of saxophones…I could feel their sonic shapes, with real emotional effect via TIDAL. An excellent recording for getting into this is the remarkable Quad DSD of Cootie Williams in Stereo, available from High Definition Tape Transfer. If you love jazz in a big band mode, and want to hear a recording that sets a standard, then this recording from 1958 will truly astonish you. (Yes. If you have Quad DSD playback capability, you simply must have this album.)
Conclusions
Whole major system projects like this one are rare for me. Good thing, too:  They take up so much time and energy that I wouldn't be able to handle them too often. That's why my normal budget for them is once per year, maximum. This year I did two systems, with my evaluation of the second full system due out in the next few weeks. I don't think I'll be doing two full systems in a year again…too much work!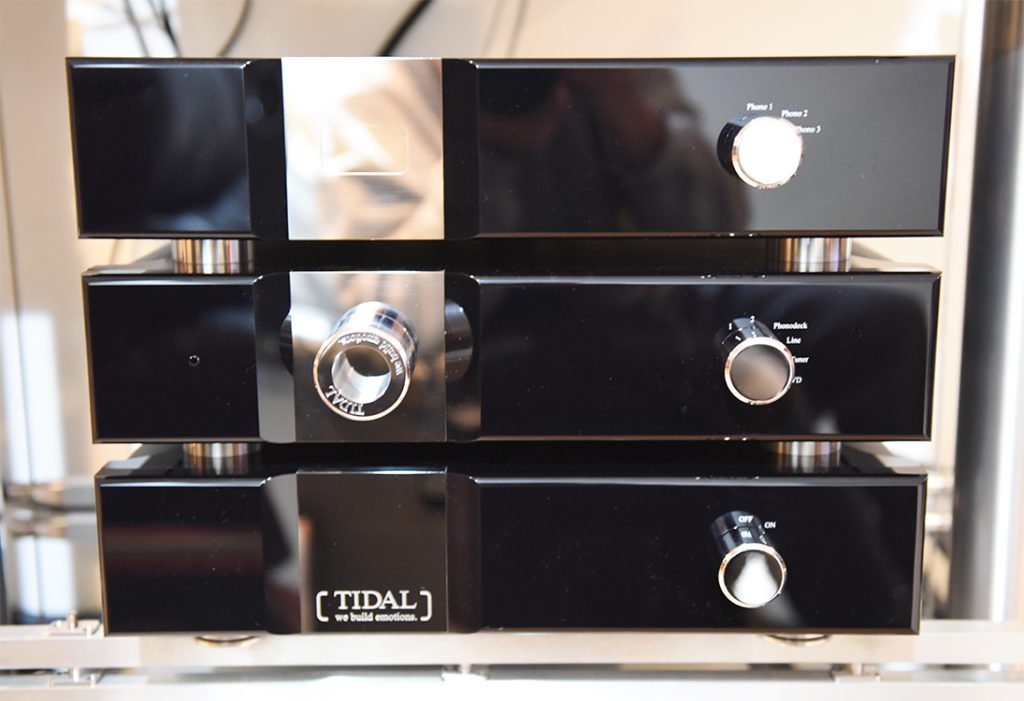 Regardless, I don't regret the effort invested with this TIDAL Audio system. It verified all the favorable impressions that I had garnered at AXPONA 2015, and then some. The advantage of hearing a collection of reference-level components in a listening room that you know intimately cannot be overstated.
Naturally, the TIDAL system didn't exist in a vacuum. Just as with a blockbuster movie or really terrific play, the lesser roles and behind-the-scenes teams contribute to the final outcome. In this system evaluation, the supporting cast of four different sources, cables, isolation racks/shelves/feet, and room tuning devices that I listed at the opening of this essay all combined to help bring out the best in the performance of the TIDAL Audio electronics and speakers. Without the excellence of these products, the results would not have been nearly as stellar.
Having said that, I conclude that TIDAL Audio's Presencio reference electronics, the Impulse Monobloc amps, and the Agoria loudspeakers, stand quite clearly as true first-rank and world-class performers. They are exemplary in their outstanding seamless synergy, and produced audio excellence of the first order. I had not heard of them before 2015, and had no idea that there was another German audio company that was operating at this level…but now I do.
And so do you.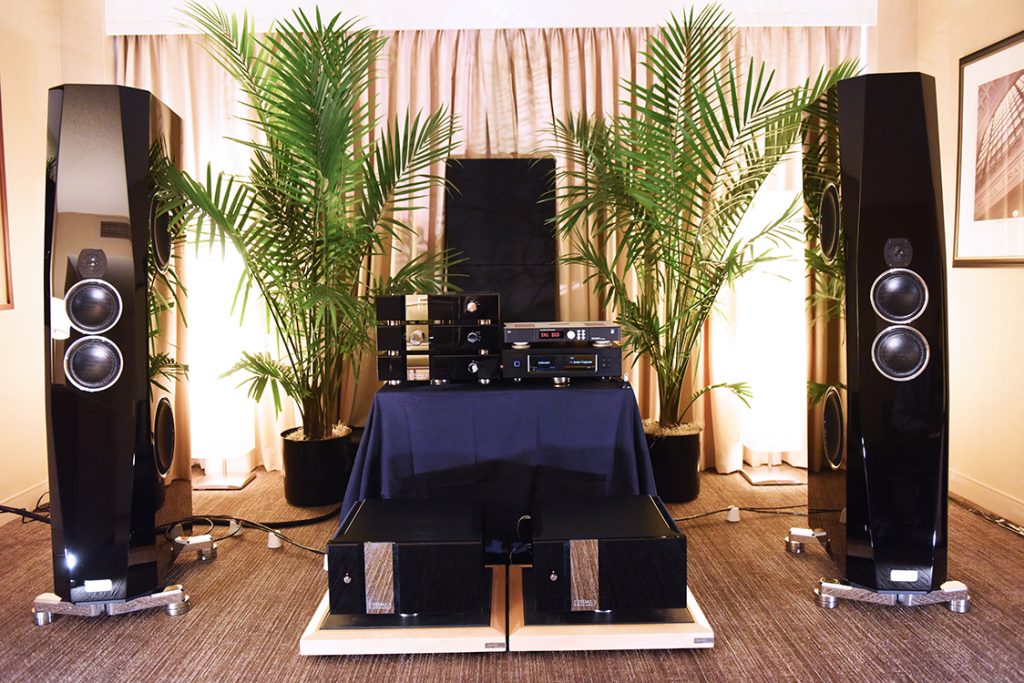 TIDAL has produced a system of supreme elegance, with fit and finish that I've not seen bettered by any other company. Certainly the stylishness of appearance and the sense of grace is supreme. Though TIDAL has a handful of finishes, the piano black finish is the best that I can remember encountering. Just to lightly stroke the finish of the Agoria is silk and passion all at once…love at first touch. My highest compliments to the production team at TIDAL:  This is brilliant work!
Naturally, such compliments would be gloss on a pig if the acoustical performance of the Presencio/Impulse Monoblocs/Agoria chain were not likewise of the highest order, as well. I can tell you that this fact has been confirmed by me in the nearly four months that I spent with TIDAL. No matter how demanding the sources were that I used with this system, TIDAL responded with immense resolution, solid-as-a-rock reliability, and complete authority of presentation in our room. This is a splendid result, one that merits my highest praise for the TIDAL designs here. I can tell you that I truly regretted the departure of TIDAL; it was a reference experience, without a doubt.
Certainly, there will be a handful of Brutus Awards for the TIDAL products. It is very likely that the system will merit one of my fairly rare "Circuitus Maximus" awards, as well. You'll know that by the end of November when I announce this year's winners.
If you haven't heard a TIDAL system, take the opportunity to do so if you happen to attend one of the audio shows where they are exhibiting. You won't regret it.
And if you have the budget to swim in these rarified financial waters, then you simply must put the TIDAL Presencio stack/Impulse Monoblocs/Agoria loudspeakers on your very short list of top-o'-the-heap alternatives. They are exceptional in every way, and carry my very highest recommendation, with a great deal of enthusiasm.
Component Prices (all in US dollars):
Agoria Loudspeaker
Retail: $109,900 (midnight black gloss); $120,900 (in a veneer)
Presencio preamplifier, including Linedeck, Phonodeck, and Powerdeck components
Retail: $77,600
Impulse Monoblock Amplifiers
Retail: $64,900
Also shipped, but arriving too late for serious evaluation:
TIDAL Reference XLR IC 1.28 meter cable
Retail: $7500
TIDAL Reference XLR IC 1.92 meter cable
Retail: $9000
US Premium Dealer
The Voice That Is
Doug White
Auditions by Appointment Only.
610.359.0189
Mailing address:
PO Box 445
Newtown Square, PA  19073
[All photographs and image processing by David W. Robinson, except for cover images, courtesy of their respective labels/distribution companies.]