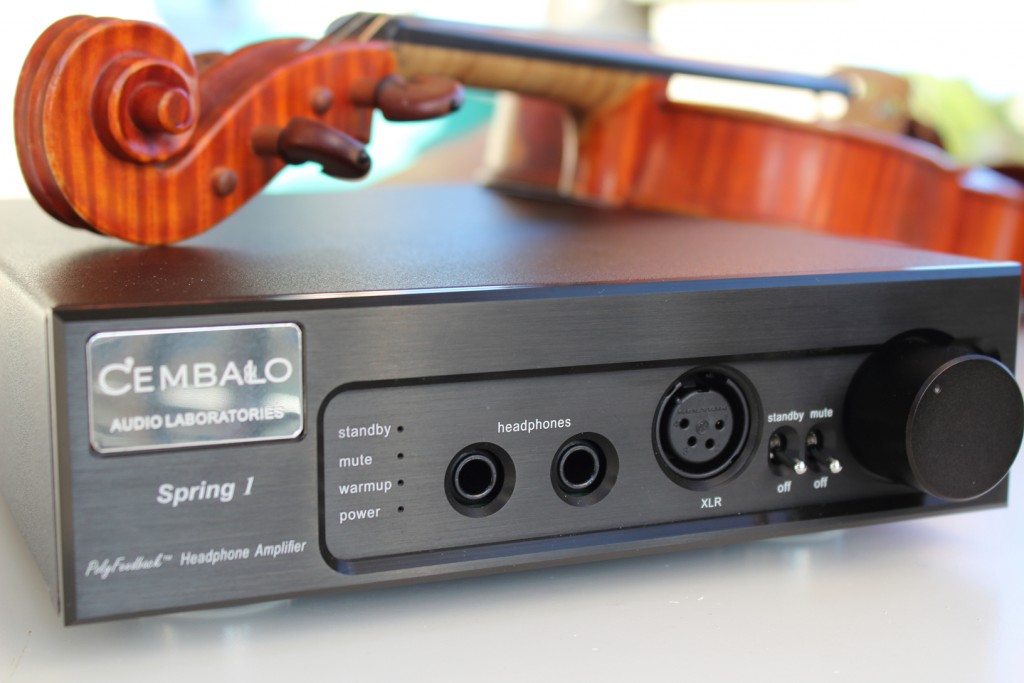 We live in the true Golden Age of fine audio.
I've said this before, but I don't want readers to forget the fact that we're awash in a great wave of audio designs in all categories, with the recordings to go with them. The best DSD and DACs, the best turntables, the best LPs ever pressed, the best tonearms and cartridges, the best preamps and amps, the best reel-to-reel recorders and the restoration thereof, the best cables, the best accessories…the vista stretches out in every direction to every category.
Naturally, that includes headphones and headphone amps, as well. I recently reviewed the Oppo Digital HA-1 with Quad DSD DAC and preamp, a killer combination, back in Issue 77. To have such a powerful set of features in a headphone amp was really a breakthrough, and shows the progress that we are making.
But Oppo isn't alone in seeking the raise the bar for headphone amp performance. Recently, a new audio company in Canada, Cembalo Audio Laboratories, contacted me about their new design, the Spring 1. They listed it as being "designed and hand-crafted in Canada." All components individually selected and matched for optimum performance in this price range. Was I interested in giving it an evaluation?
To be frank, I had never heard of Cembalo Audio Laboratories before. I didn't have any sense of their reputation, and didn't know if I wanted to take a flyer on an unknown product from an unknown company. My review queue is always pretty heavily loaded…later 2014 and 2015 have been particularly nose-deep in projects…and so I wasn't sure at first. I had to drill down into the product description that Cembalo Audio provided me, before I decided that I could cut a slice of my time for them...enough for a brief review, anyway.
Which is what this is.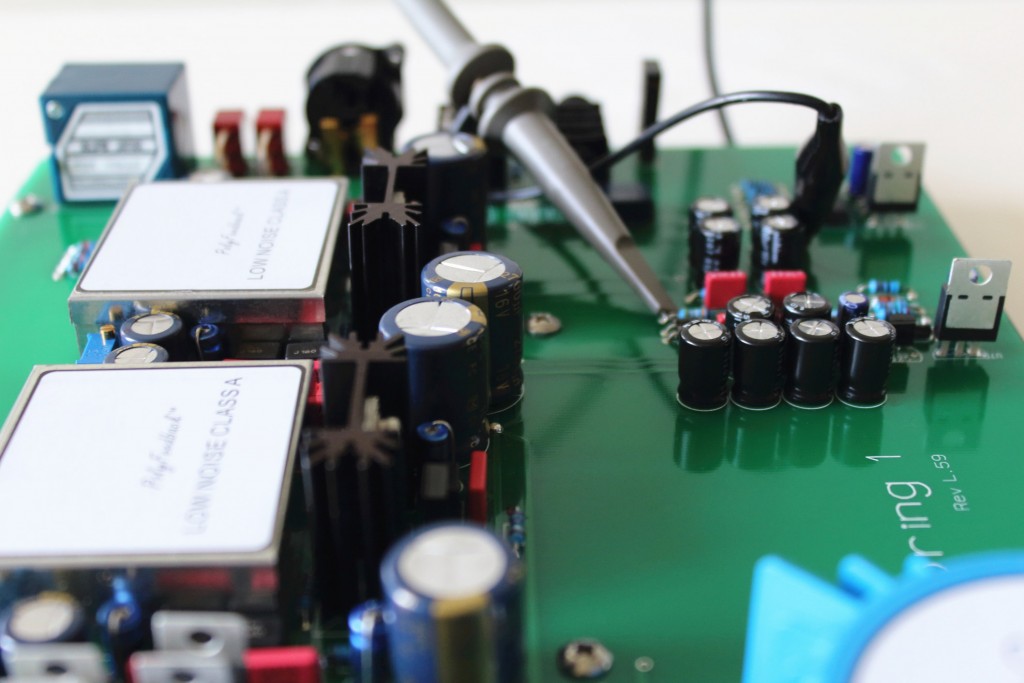 General Description
The Spring 1 is an attractive rectangular component, one that would easily fit on most desktops or audio racks. Measuring just under 8" (200mm) wide x just under 2.6" (65mm) high x 12.25" (311mm) deep, and tipping the balance scale at 6.4 lbs. (2.9kg), the Spring 1 is a trim, solid execution. It's finished in black; at this time, there is no other color option.
The front faceplate had the manufacturer's labels to the left. Tracking next, to the right, there are indicator LEDs for component status. From top to bottom, these are standby, mute, warmup, and power. Next over are a pair of ¼" (6.35mm) headphone jacks, with a four-pin balanced jack to the right, next to the pair. (Cembalo Audio states that all three can be used for listening sessions among friends/enthusiasts. For this project, I stayed with the XLR headphone jack.) Then there are a pair of switches, one for standby/off, and one for mute/off. Finally, there is a medium-sized volume knob, with a very silky-smooth and clean operation.
In the rear, things are quite straightforward. There are two inputs for left/right XLR (balanced), and two inputs for left/right RCA unbalanced. Note that since there is no input selector on the Spring 1, in order to minimize the complexity of the design, you should not plug in both XLR and RCA inputs in at the same time. In fact, Cembalo Audio recommends that you power off the unit before physically shifting from one input type to another. That's simplicity for you! (During the review of the Spring 1, I stayed with the XLR input as my preferred input option.)
Powering up is accomplished with a major power switch on the rear next to the power cord. One thing that's a bit different with the Spring 1 headphone amp is the fact that the logic of it LED color sequence is different than some people might think. When powering up, "Power" light is read, but the "Warmup" LED is green, not red. You have to wait for 3-4 minutes for it to soft-start the Spring 1 (the manual says 90 seconds, but it seems longer than that), at which time the green "Warmup" LED will change to red. Wait for it.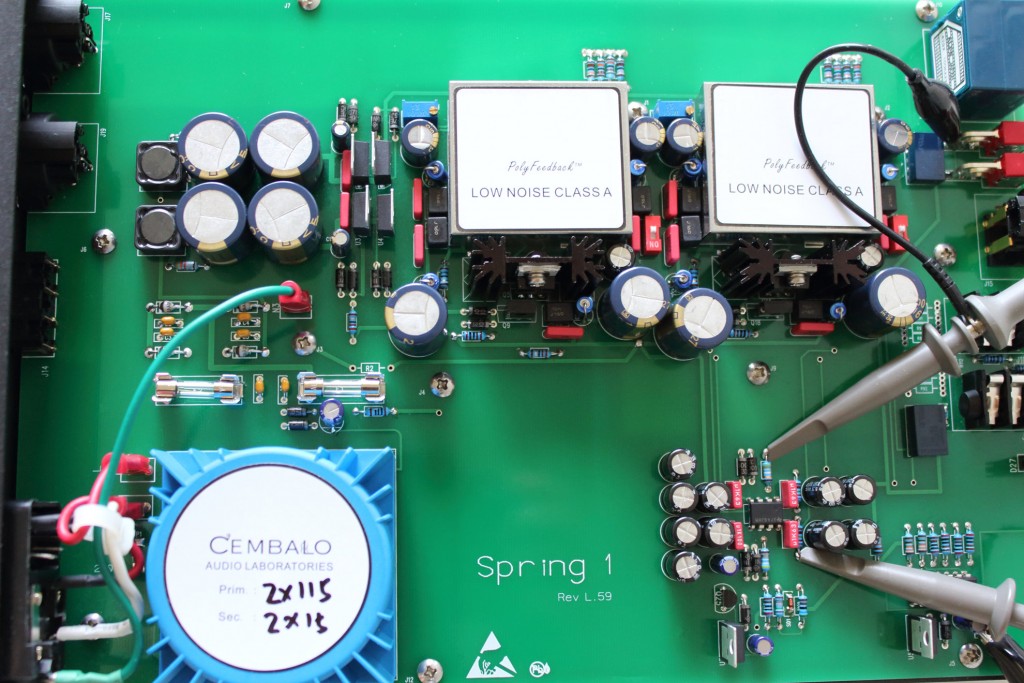 To its design credit, the Spring 1 doesn't have "…any board to board connector, switch, relay or fuse in its signal path." Cembalo Audio claims that their Class A output circuit design "can be matched with nearly any high-end headphones," and take them to the limit. That's a claim that was certainly true with my Audeze LCD-3; the Spring 1 easily drove them to any reasonable limit.
When I asked Caroline Young, Cembalo Audio Laboratories' Product Manager, about how they had constructed the Spring 1, she summarized their design philosophy as one of connecting with "Real Emotion." Their creative process involved what she described as, "Listen, Design, and Listen again." Spring 1 was "…designed to be a 4-stage discrete BJT amplifier, including the input buffer stage, two amplifier stages, and the output stage." The output stage of Spring 1 is "pure Class A without negative feedback."
Cembalo Audio seeks to "reduce signal transmission distortion to a minimum with the application of 'Signal-Express' technology…." They describe "Signal Express" as being the combination of the shortest and most precise possible circuit path, combined with the best possible impedance matching. Finally, "…ultrahigh purity OCC (Ohno Continuous Cast) copper is used as the signal trace. With all these methods, the sound of Spring 1 becomes clearer and more real." (For more on their philosophy, see their Website.)
Specifications
Cembalo Audio Laboratories lists the following specs for The Spring 1 (dimensions and weight are already covered above):
Maximum output power: Class A, 130mW@62 Ohms approximately
Frequency response: Less than 10 Hz to greater than 250 kHz (no dB range specified)
HTD+N: < -59.317dB
Gain: 25 dB
Operating Temperature Range: 0 degree C to 40 degrees C
Power consumption (nominal): 7 Watts approximately
Input impedance: 10k Ohms
The Setup
During the time that I evaluated the Spring 1, the associated desktop system was the Teac Esoteric DV-60 Blu Ray/SACD player feeding SACDs directly to the Cembalo Audio unit. Power cabling was courtesy of Silent Source Music Music Reference, plugged into one of our trusty Furutech 303 Daytona AC power units, itself with a Furutech FI-20M power cable going to the wall. For the first portion of the listening, the XLR cable was my tried-and-true custom JENA Labs Symphony. After a few weeks of that, I substituted the brilliant Tara Labs Zero Evolution XLRs out of curiosity as to what it's incredible transparency would reveal as to the performance of the Spring 1. The effect is one that I'll mention below.
At the other end, I concentrated on using my Audeze LCD-3 headphones, a favorite reference that is well known in headphone circles. It was outfitted with my current favorite wire, the Double Helix Cables Component3 and four-pin XLR connector. This is a really revealing combination, especially with the Tara Labs Zero Evolution. Yes, I know: Expensive in this system. But I was interested in revelation...what could the Spring 1 do?
The Sound
Having given the Spring 1 4-5 days of warm up with SACDs, I dug in on the JENA Labs XLR configuration. I had a batch of SHM-SACDs that had come in, which included various flat transfers from analog tape to DSD. Among these were various titles by The Band, Bryan Ferry, John Lennon (from 96/24 remasters, alas), and the Beach Boys. All except the Lennon demonstrated the kind of great analog feel that Universal Japan has been achieving with these SHM-SACDs. (I can't blame them on the Lennon titles, seven in all, due to the fact that the folks in the remaster chain chose to do PCM rather than release any of it to analog/DSD.)
There's no doubt that in every case, the combination of the Esoteric DV-60 and the JENA Labs with the Spring 1 rendered a lovely sense of musicality and warmth. I was very pleased with the lack of hash or grain at any point, even with the Lennon SHM-SACDs, which can push the edge of fighting a bit too much "wall of sound," depending on the track. (Guess you can't have it all.) Nevertheless: Dig it! Lennon sounds great with the Spring 1.
Nor was detail a problem. Cembalo Labs states that it sought to make signal paths as clear as possible in their implementation of a Pure Class A bipolar junction transistor (BJT) headphone amplifier. The result with the Audeze LCD-3 is a fine blend of texture and clarity, with excellent rhythm tying them together.
The tonal range was very solid. The bass was tight, not woofy; the midrange was liquid and rich, while the higher frequencies felt reasonably airy, and didn't give me the sort of headaches that substandard headphone amps can deliver. Harmonic structure seemed well balanced.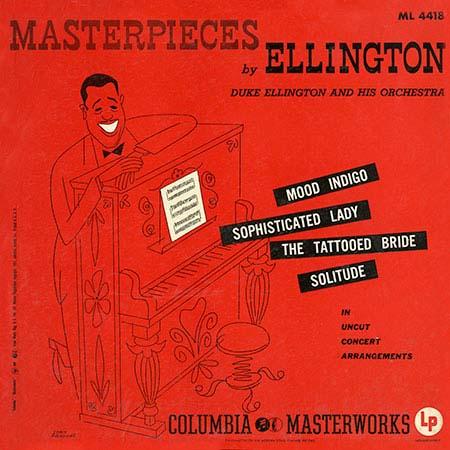 Masterpieces by Ellington SACD (image courtesy of Acoustic Sounds)
Duke Ellington's world-class mono recording, Masterpieces by Ellington, which I've recommended with the highest praise (see Issue 78), really sings on the headphones via the Spring 1. You don't worry about soundstaging and imaging with stereo recordings in the usual way that you do with loudspeakers in a room, but this mono recording is so excellent that you'll be rolling around in the moment, this magic slice of 1950.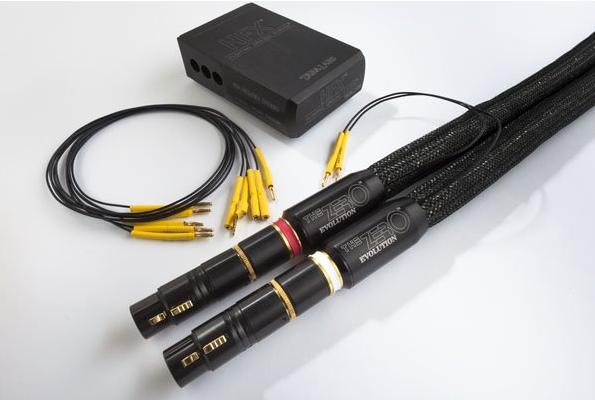 The remarkable Tara Labs Zero Evolution XLR cables with HRX (image courtesy of Tara Labs)
Shifting my XLRs on the input side of the Spring 1 to the Tara Labs Zero Evolution was a jump in cost, of course, but also a great increase in revelation. (That was the point here. Normally you would not purchase a component in the $2000 price range and go this high on the cables, of course. But it is useful to know what a component is capable of.) The warmth and bloom of the JENA Labs cables faded in the presence of extraordinary transparency, with a liquid higher end, and greatly increased detail. I suppose that there's no surprise in the results: The Spring 1 repays better cabling with much greater clarity…that's clearly possible with this fine little headphone amp.
Listening to SACDs like the new SHM-SACDs of the Penguin Café Orchestra was a real delight with the Spring 1 and the Taras. Likewise the brilliant new Sony SACD reissues of Chopin's The Nocturnes really sang in the Audeze LCD-3s…the Spring 1 made Rubinstein's performances glow in my phones. Late night and early morning listening sessions were a uniform delight…this is the sort of thing that we should be experiencing with our great recordings via headphones!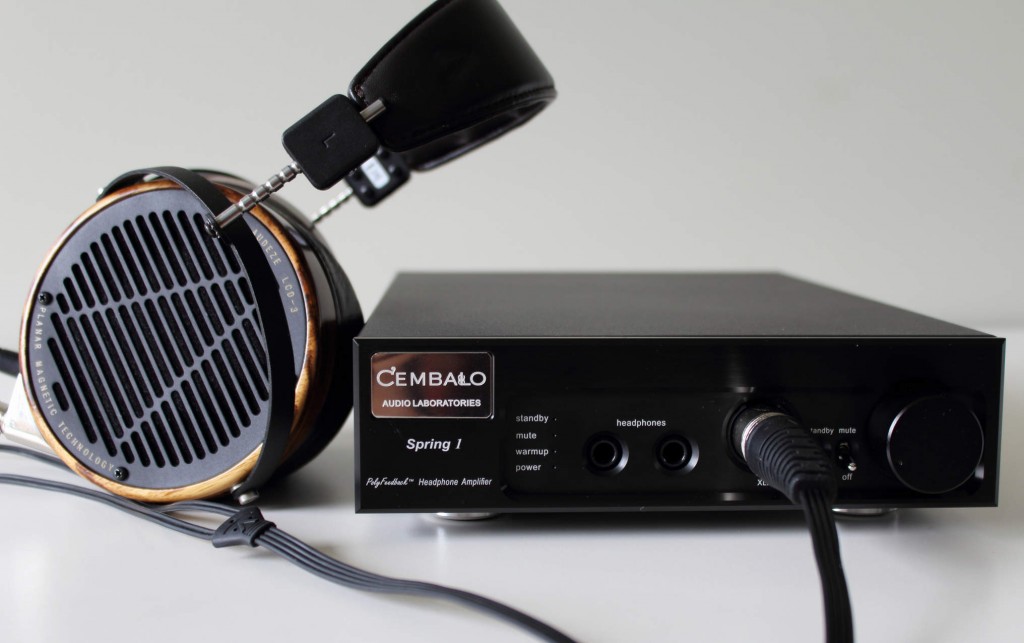 The Cembalo Audio Laboratories Spring 1 with the Audeze LCD-3 headphones with its stock balanced cable.
Conclusion
Cembalo Labs says that they are seeking to "…retain the true nature of the composition while transmitting the raw emotional intensity and passion of the music." They view the reproduction of music via the Spring 1 in metaphors of water, flow, juiciness, and clarity, all worthy pictures of real audio virtues. I like the way that these folks think…more poetry than prose, and spirit guiding mind, rather than the reverse.
Have they done it? Do they reach their stated objective of "real emotion," that worthy goal?
Overall, I would say so, and at a pretty reasonable price point in our all-too-expensive audiophile world. The Spring 1 does extremely well in delivering detail with soul. There's a lovely touch of musical warmth, and a lilt to the sound that is quite fetching. Regardless of the type of music that I was listening too, the results were always pleasing…relaxing…musically satisfying. I never grew tired of listening, which I could do for hours with the Spring 1. Here you'll have warmth and detail, to the limits of your associated cabling…and headphones, of course!
Consider the Spring 1 to be a recommended headphone amplifier for the connoisseur operating in the $2000 price range. If you're in this market, you'll want to give it an audition.
Cembalo Audio Laboratories is new to the world of fine audio, but judging by their initial offering, I have a feeling that we'll be hearing more from them in the future. Looks like a DAC is in the works….
(All photographs courtesy of Cembalo Labs, except as noted)
Price: USD $1980
Cembalo Audio Laboratories
Product Manager: Caroline Young
Phone : +1 519-721-6793
422 Richards Street
Vancouver, BC
Canada