In which our hero meditates…
[Sketch by Robinson, c. 1989, during a particularly boring faculty meeting…]
So…another audio show in the books, and it's time to share the highlights as I heard them. I would normally have had these out to you all a couple of weeks ago, but lost that time to a necessary surgery. It's amazing what that can take out of you…no pun intended. Many apologies to friends and readers who have been waiting for my comments and awards; I can only plead the requirements of my surgical procedure and recovery time.
As always, my Audio Oasis! Awards are intended to recognize rooms at audio shows that are well above the run of the mill. Yes, we all know that shows are tough environments for fine audio…yes, we all know that it takes special skill and knowledge to put together synergistic matches in those settings. Some folks hit upon a really good combination by serendipity…but some people get great results year in and year out.
All the way back in PF issue 23, January/February of 2006 (HERE), in the aftermath of CES, I put it this way:
The result of this approach is a new [Positive Feedback] show honor, which I'm dubbing the "Audio Oasis!" awards. This is my personal recognition of the rooms that, even under show conditions, really connected with me, and refreshed me in the midst of the tyrannous urgency of CES. If these systems can connect emotionally at CES, I reckon that you can count on them doing great things in your listening room at home. That's a good thing to know if you're looking for guideposts on your audio quest.
A word of warning for my readers: the "Audio Oasis!" awards should not be viewed as a variant of the nearly worn-out "best of show" recognitions that are all too common in audiodom. I did not see every room at CES and T.H.E. Show, and can have no idea of how what I didn't hear sounded like. Furthermore, there aren't nearly enough days at CES to do that properly in the first place, and its hotel-based environment is marginal, at best. "Best of Show" is only a legitimate designation if the listener: a) heard every room at CES/T.H.E. Show, and b) knows what he or she is talking about. Think of it as the combination of opportunity and sensibility. I don't think that these conditions are met very often; if they were, there would probably be fewer of such pronouncements. Enough said.
Yep, that says it. Well done, 2006 David.
As I've said before, you should pay special attention to the rooms that you see appear on a regular basis in my Audio Oasis! Awards articles…they know what they're doing, and are proving it to me again and again.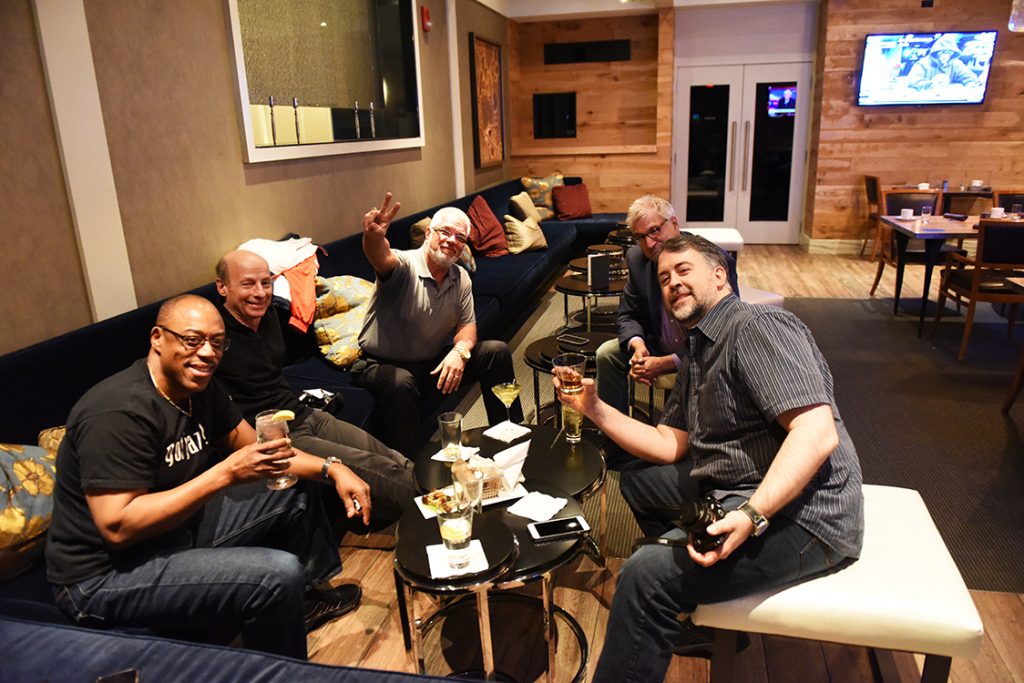 Yes, you can see how hard the working audio press and audio exhibitors have at it at the shows! From left to right at The Benchmark restaurant at The Westin O'Hare:  Doug White of The Voice That Is, Brian Zolner of Bricasti Design, Greg Weaver of Positive Feedback and The Absolute Sound, unknown, and Scott Hull of Part-Time Audiophile. Hale fellows, and well met!
Well, memories of drinking and good times distract me from the meat and potatoes of this report. I'll cut to the chase, so that this gets to my readers ASAP. Here they are, in no particular order:
The GTT Audio/YG Acoustics/Audionet/KRONOS/Kubala-Sosna room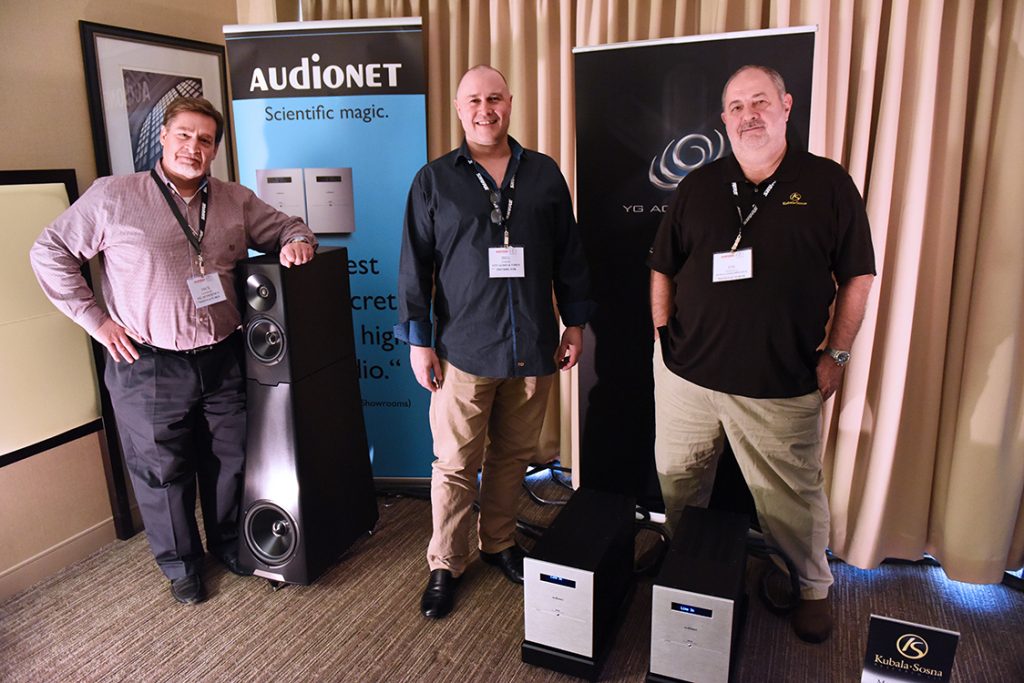 Dick Diamond of YG Acoustics, Bill Parish of GTT Audio, and Joe Kubala of Kubala-Sosna Cables…the three audio amigos!
Once again, what a bloody great room! Leave it to Bill Parish, Joe Kubala, and Dick Diamond to put together spaces that are running over with excellent music and superb sound. The combination of the YG Acoustics Hailey 1.2 speakers, the Audionet PRE G2, MAX monoblocks, PAM G2 Phono Amp, EPX and EPS Power Supplies, DNC Streaming DAC, together with the KRONOS Pro Turntable with Black Beauty Tonearm and Air Tight Opus 1 Cartridge were smokin'!
Bill Parish of GTT Audio:  A portrait
The sound was wonderfully detailed, really dynamic, and full of finesse. Bill and Joe kept the LPs coming while I was in the room, and I got to hear one of my standard references, the reissue of Blood, Sweat and Tears doing "Blues No. 2." That song will work out a system quite nicely, top to bottom, side to side, and forwards and back. The KRONOS Pro once again showed its stuff as a top-notch, world-class turntable, making music with aplomb. It was my first experience hearing the Opus 1…what a symbiotic match with the rest of the KRONOS Pro! And naturally, Kubala-Sosna did its usual top o' the heap interconnective honors in bringing it all together from the socket to the XPander Power Distribution to the end of the line. Elation! Cables all the way…I know their excellence intimately. K-S cables make whatever they touch sound effortlessly themselves.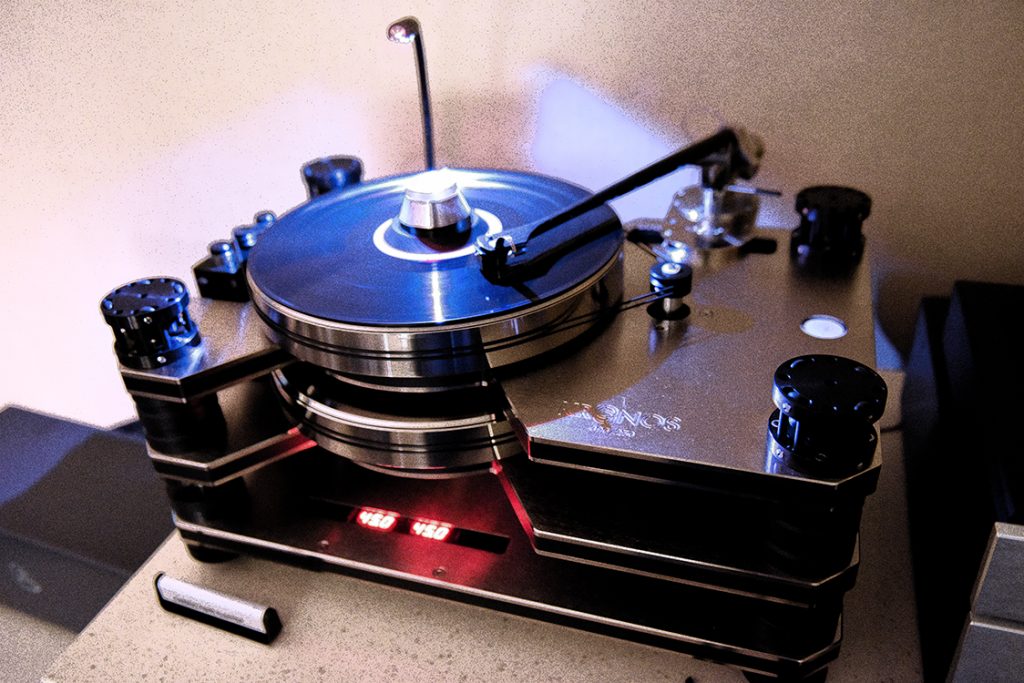 The superlative KRONOS Pro turntable
Given what was upstream, the Hailey 1.2s passed with flying colors. In fact, it was hard (nearly impossible?) to leave this room, which is always a strong indication that I'm in an Audio Oasis! space.
Once again, Bill and company chalk up one of my awards!
MBL/United Home Audio/Wireworld room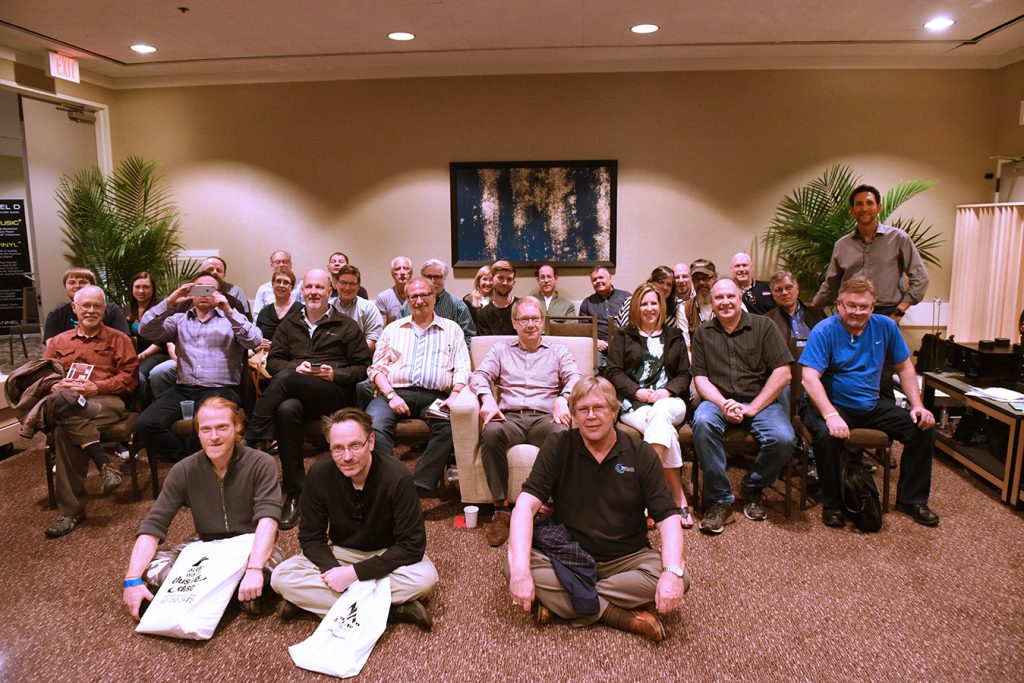 A standing-room-only session after hours in the MBL and UHA room…barely enough oxygen for those who squeezed in! Jeremy Bryan of MBL North America is standing in the back right-hand side.
Damnation!!
In terms of sheer audio scale and enormous dynamic range, the MBL and UHA room set the standard for AXPONA 2016. Once again Jeremy Bryan of MBL North America and Greg Beron of United Home Audio (UHA) joined forces to provide a continuous diet of analog tape via Greg's Phase 12 OPS reel-to-reel deck. It was feeding a no-holds-barred MBL system that included a pair of the enormous X-treme speakers, driven by no less than four(!) 9011 monoblock amps, the 6010D preamp, and the 1611 and 1621 transport and DAC. Connectivity was via WireWorld Eclipse 7 interconnects and speaker cables, which did an effortless job of getting out of the way of the music. (Believe me:  With this system, you would have noticed any feebleness in the wiring.)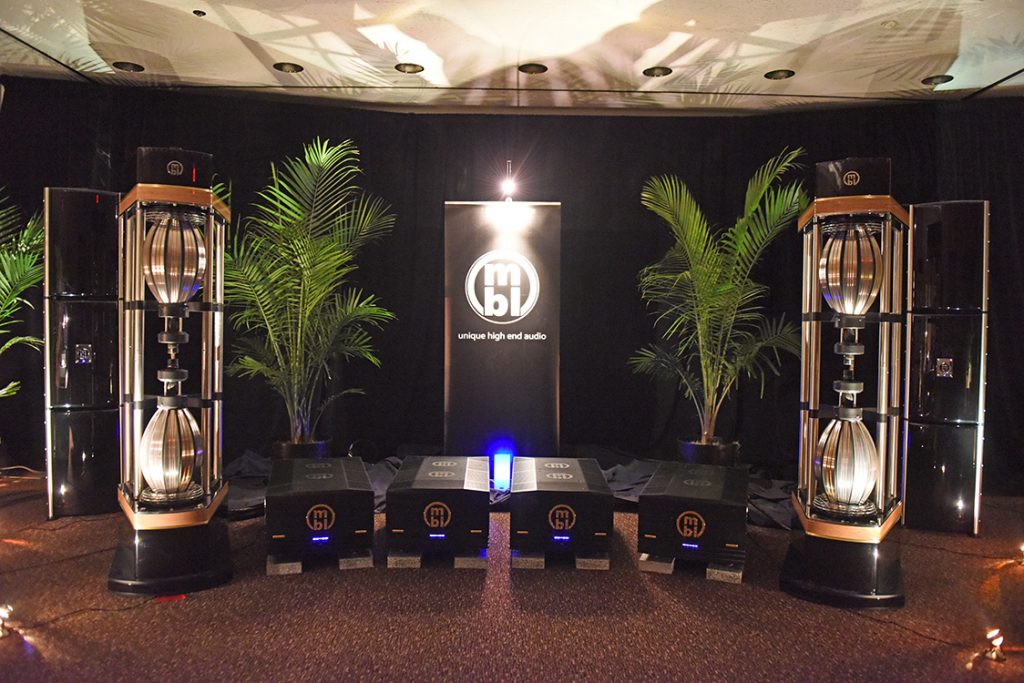 The MBL X-treme far end:  101 X-treme loudspeakers and four 9011 monoblocks…ongawa maxima!
I spent two sessions here. First was a show-time listen for a while; the second was nearly 45 minutes here of an after-hours evening set, which is a favorite event of mine at any audio show that MBL and UHA are attending. Greg has some ridiculously great 10.5" 15 IPS half-track tapes that he brings to the shows, with some exceptional A&R going on. No audiophile feebleness here:  We're talking top-flight rock and roll, the sort of music that makes you glad that you bought a ticket and flew in. (That's saying a lot, these days. And no, the Glenlivet single malt has nothing…well, little enough, anyway…to do with that assessment.)
The music was simply flat-ass stunning. There was no sense of limits…no rounding off the highs, no bottoming out on the bass, no nasality or color in the mids. This was one of those rare times that I would use the overused phrase "scary good!" to describe a room under show conditions. In fact, this room struck me as the best that I've ever heard an MBL room sound, and I've heard some good ones. There was simply no doubt in my mind that the benchmark for dynamic range and musical scale was set in this room.
Expensive to purchase, all right, but you'd sure know that you were hearing the Promised Land!
Definitely an Audio Oasis! Award winner.
Playback Designs/NOLA/Pro Audio Ltd. Room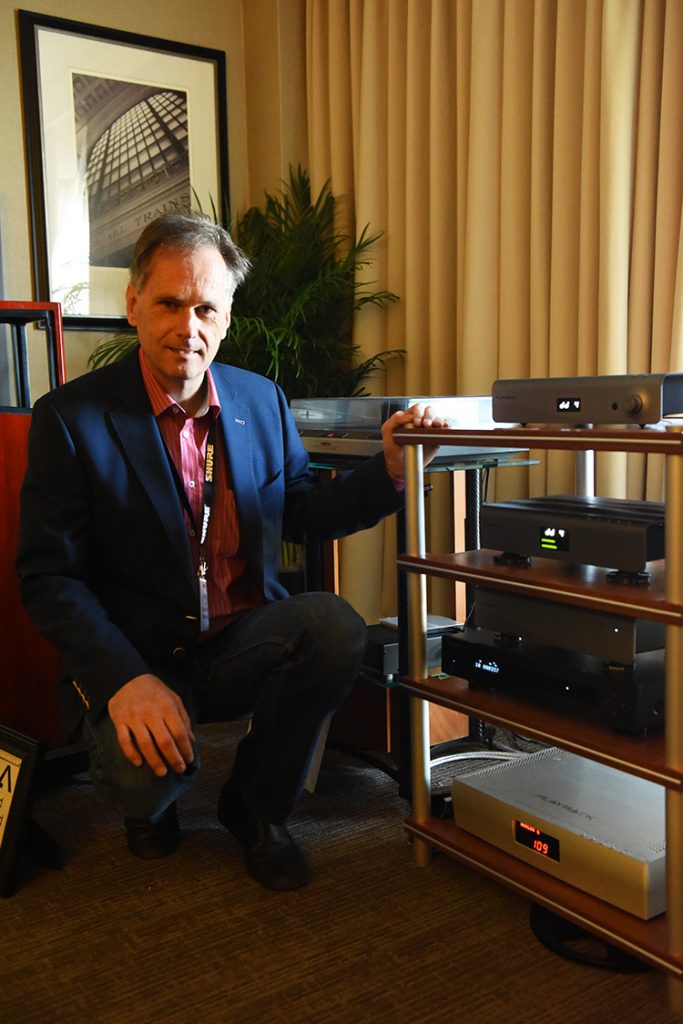 Andreas Koch of Playback Designs with his new Syrah Music Server, Merlot DSD DAC, and Pinot DSD A/D.
I'll admit it up front: Playback Designs has been a favorite and a key reference standard of mine ever since I first heard their brilliant MPS-5 SACD player back in 2007. Andreas Koch, the design engineer behind Playback Designs, has done some industry-leading work since then, helping to advance the cause of high-quality DSD over many years now.
This year at AXPONA, Andreas hooked up with Carl Marchisotto of NOLA and Brian Tucker of Pro Audio in Chicago to produce one of the most fascinating rooms of the entire show. Andreas was debuting his new triple-threat wine-themed stack of the Syrah Music Server, the Merlot DSD DAC, and…of especial interest to me…the Pinot Analog-to-Digital converter, capable of converting analog input into DSD at up to Quad DSD(!!). The output was sent to Playback Designs IPS-3 integrated amp with its own Quad DSD DAC (not used at this show, in favor of the Merlot DSD DAC), and thence to the NOLA.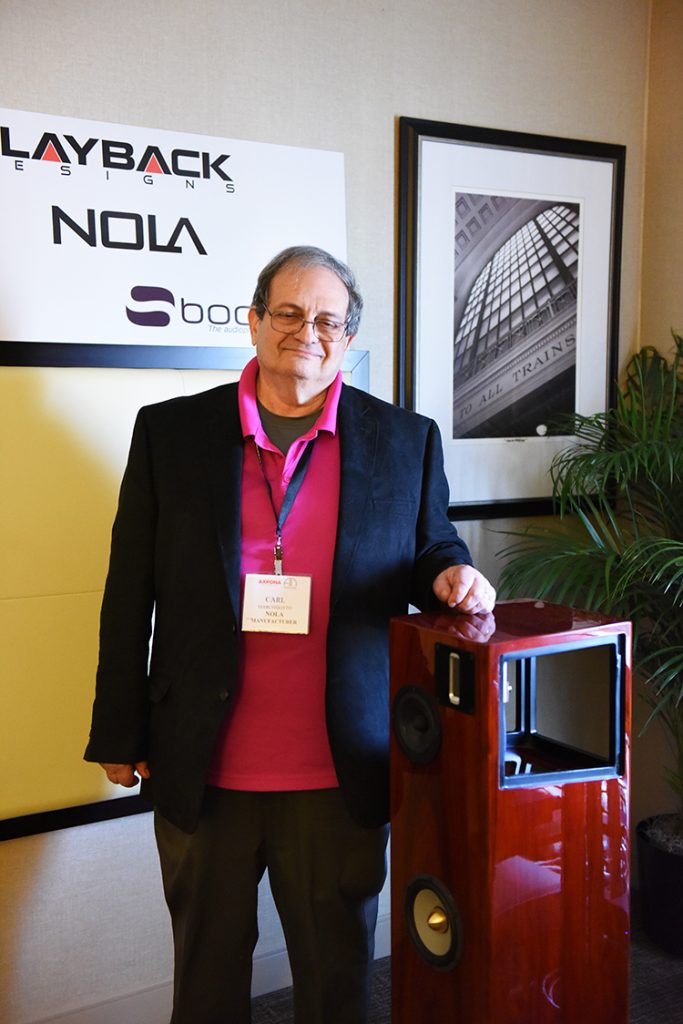 Carl Marchisotto of NOLA with his new Studio Grand Reference Gold Loudspeaker
Carl brought his new Studio Grand Reference Gold loudspeaker, a sub-$20K offering that really impressed with its openness and excellent frequency range. The combination of Playback Designs and NOLA really lit up the room…I was truly impressed by Carl's work!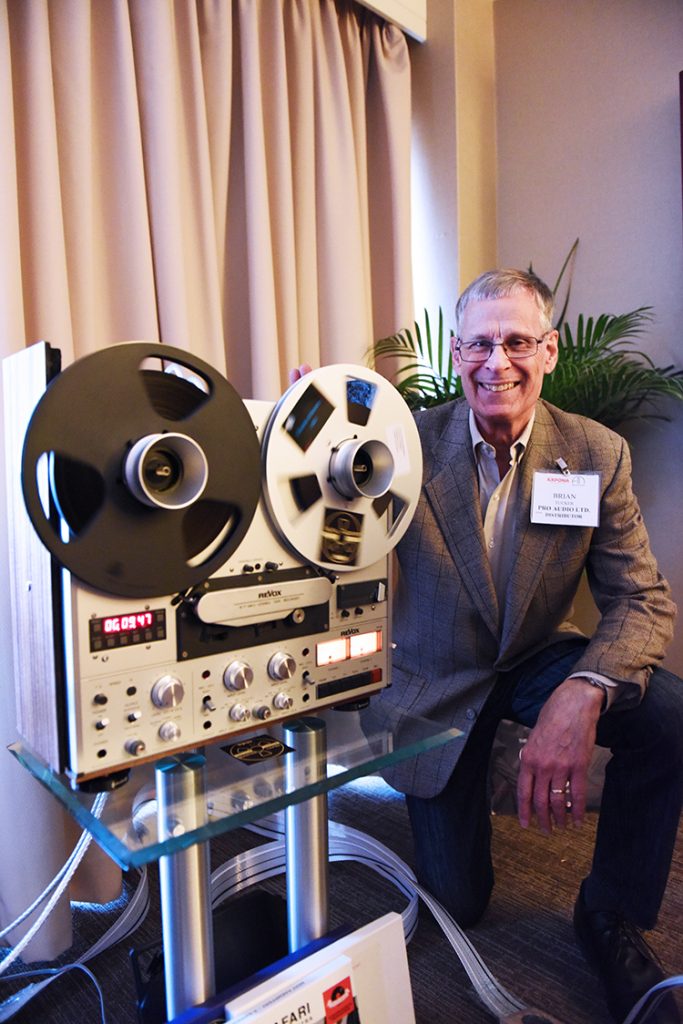 Brian Tucker of Pro Audio Ltd., with his Studer-ReVox PR99 tape recorder/player...got to get some RTR action in here!
Also in the room was Brian Tucker of Pro Audio Ltd., right out of Chicago. Brian had brought a Studer-Revox PR99 RTR recorder with some fine recordings for a really terrific demonstration. The output of the PR99 was sent to the analog input of the Playback Designs Pinot A/D, where it was converted on the fly to Quad DSD as the output format. The Quad DSD output was sent to the Merlot DSD DAC's digital input, where it was converted from Quad DSD back into analog, and played back via the IPS-3/NOLA system. The results were, in a word, outstanding! The A/B comparison of the tape original vs. the Quad DSD playback showed that Quad DSD was able to deliver the master tape experience itself. A separate demo was also done using the Revox B791 turntable with Sonus Blue-Gold via the Simaudio 310LP phono preamp to the Pinto. The results were amazing:  The Quad DSD playback was actually chosen as the analog master source…that is, as "better"…by several very well-known industry sources. That number included myself, I confess.
But it's as I've been saying for a few years now…Quad DSD is quite capable of delivering the master goods when it comes to our precious analog sources. Or, for that matter, our microphone feeds. Why would we compromise with lesser formats like PCM? Damned good question, that.
No surprise at all here. Once again, Andreas Koch of Playback Designs put together a room that synergized amazingly well, and showed what DSD could do. Congratulations to him, Carl, and Brian for exceptional work.
And a richly deserved Audio Oasis! Award for them all.
GamuT Audio/Pear Audio/Ortofon/Isotek room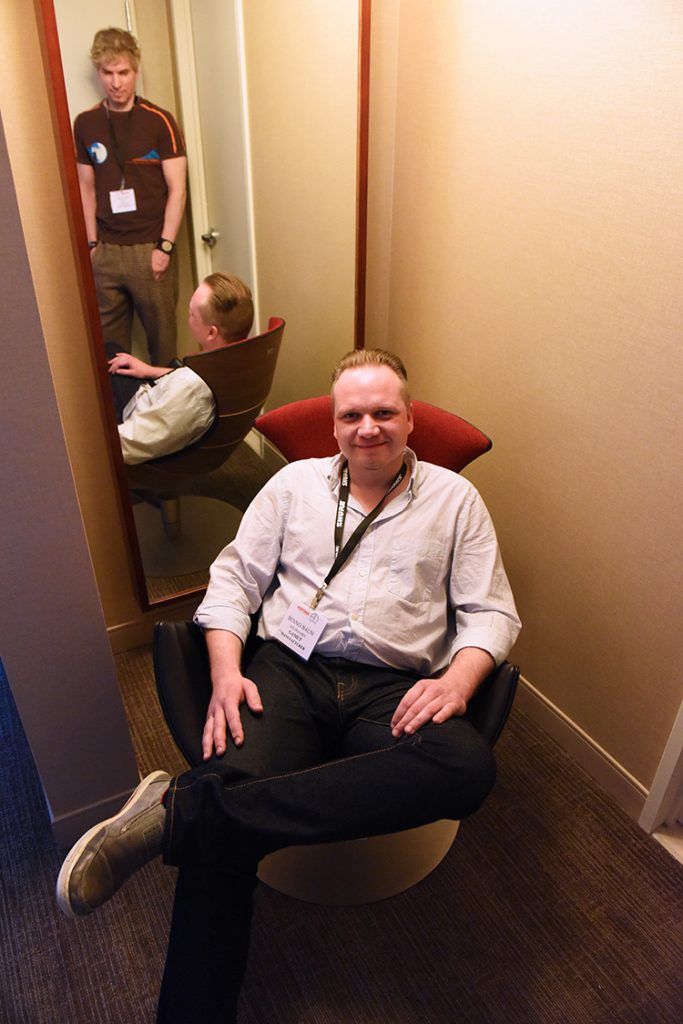 Benno Meldgaard of GamuT Audio and Michael Vamos of Audio Skies enjoying a break in the action:  A portrait.
The GamuT/Pear Audio room continued its recent tradition of impressing the socks off of me. Michael Vamos and Benno Meldgaard were great (and funny!) hosts as we spent some time catching LPs via this truly excellent system. The speakers were the RS7s, in tandem with the GamuT M250i monoblock amps, the D3i dual-mono preamp, and GamuT reference cabling throughout. The turntable was the Pear Audio Blue Kid Thomas/Comet 2 turntable/tonearm combo, an Ortofon Cadenza Black MC cartridge, an external power supply for the turntable, and all hooked up to the Pear Audio Blue Reference Phono Stage. Power was provided by the Isotek EVO3 Sirius power strip.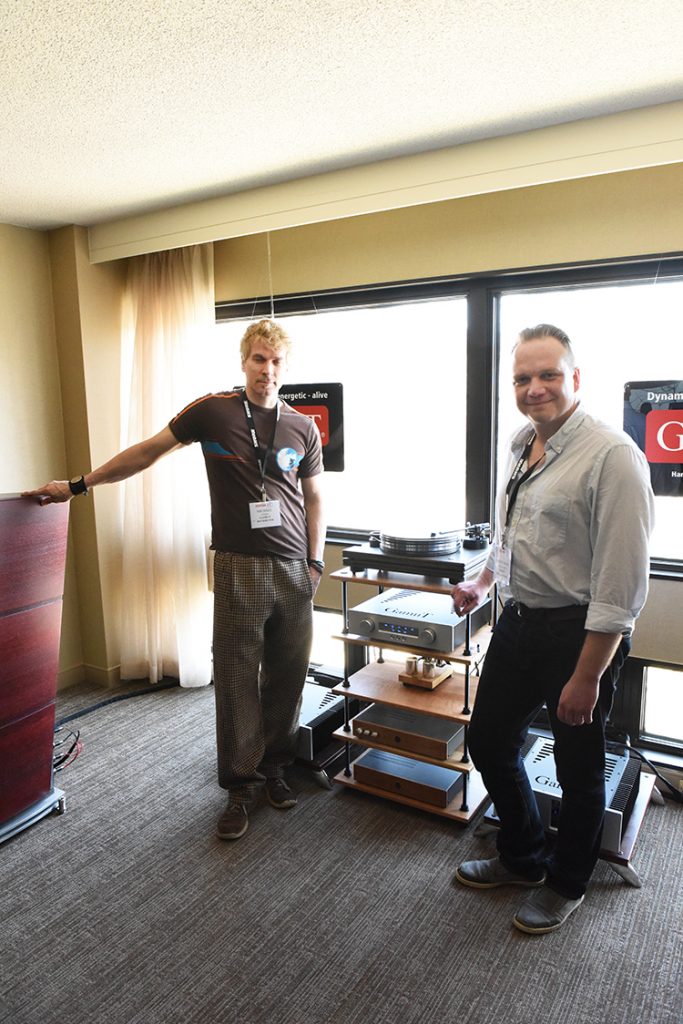 Michael Vamos and Benno Meldgaard in the GamuT Audio/Pear Audio room
The music in this room was deliciously organic and wonderfully right. The Pear Audio turntable system simply vanishes into the grooves, producing a sound that is harmonically on, with a sense of rhythm and excellent dynamic slam. LP followed LP. The detail was really good; grooves were handled quietly; and I felt that wonderful sense of relaxation as I was here. Damned wonderful sound!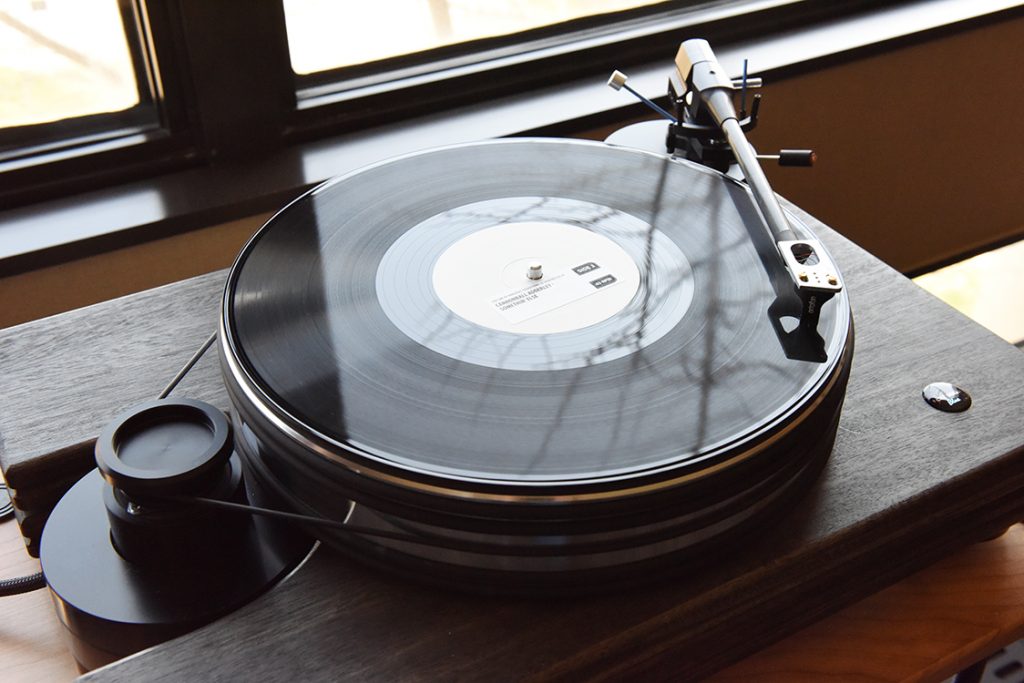 The Pear Audio Blue-Kid Thomas/Cornet 2 turntable/tonearm with external power supply
In fact, I've been so impressed by GamuT over the past year that I've agreed to take on a review of the system that I heard at AXPONA 2016. This is despite the fact that I've already got a different major system review done earlier in the year and in the works, a second one in hand, and that I normally try to do that sort of system review only once in a year. (This year is looking suspiciously like 3-4 such projects. Temptation has gotten to me in 2016.) It will be delivered and set up by Michael and Benno after THE Show Newport Beach…we'll see how it does in our reference listening room.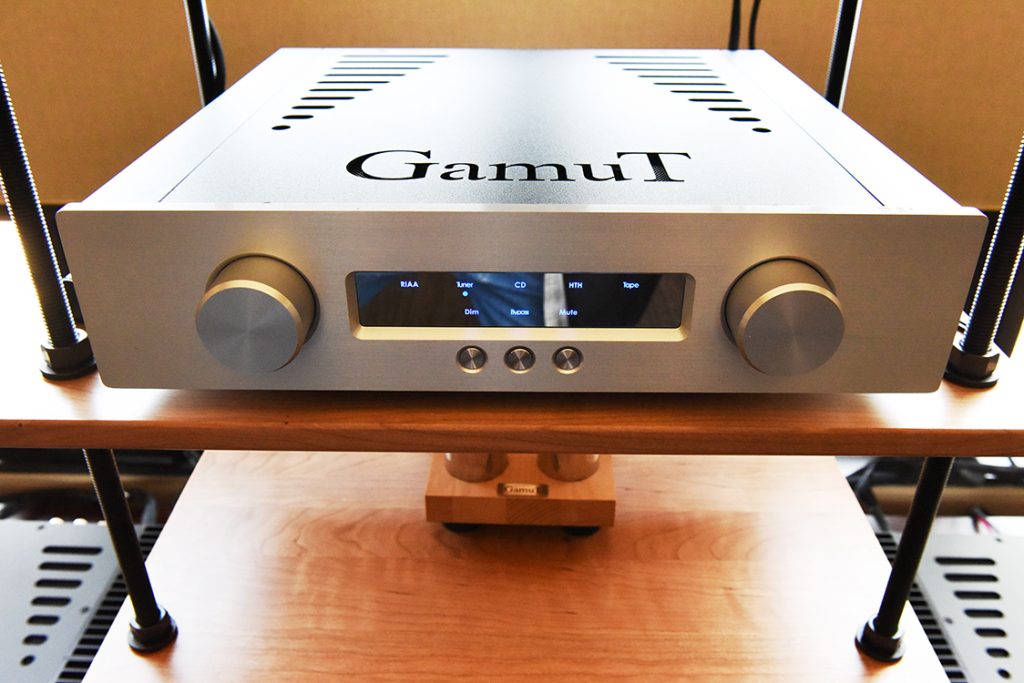 The GamuT D3i dual-mono preamp
So, it's no surprise that GamuT and company made my list of Audio Oasis! Awards at AXPONA 2016. Duly given!
The Voice That Is room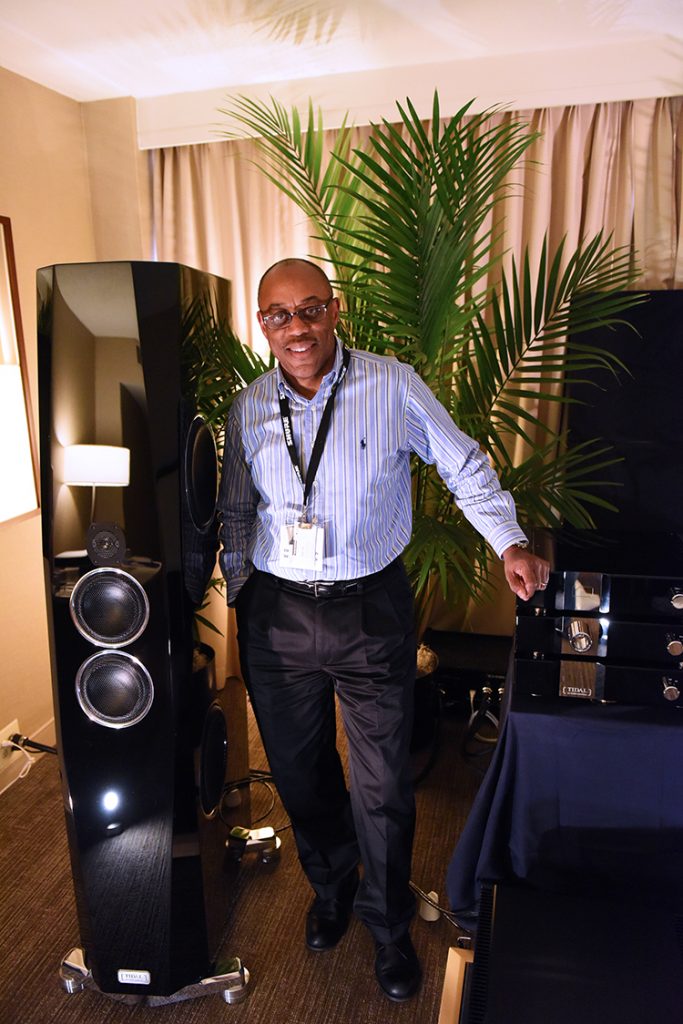 Doug White of The Voice That Is...my man!
This is one room that I knew was going to be stellar before I even got there.
How?
Easy…the system in this room was the exact same system that Doug and I had shipped out from my reference listening room just a week before! I had the privilege of listening to the TIDAL system for almost four months…from early December 2015 to the very end of March 2016…and form an appraisal of it as a most formidable, world-class audio contender. (Review to come in the near future.)
In other words, I cheated.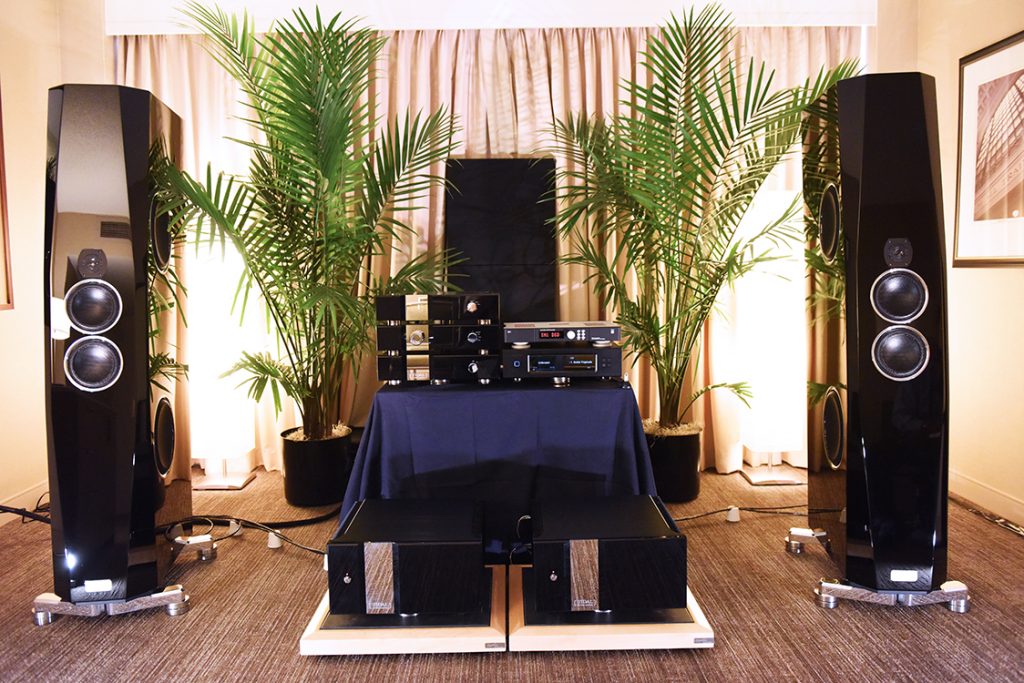 In Doug White's glorious TIDAL/Bricasti/Aurender room…spectacular to both ear and eye!
The TIDAL system consisted of the Presencio triple stack of electronics, consisting of the Linedeck, the Phonodeck, and the Powerdeck components, a pair of Impulse monoblocks, and a pair of the Agoria loudspeakers. It's an absolutely brilliant synergy, startling in its transparency, detail, and effortless dynamics. Once again I heard the seamlessness of the 1.2" diamond tweeter, the ceramic mids, and the side-firing woofers…and once again I was powerfully moved by the magic of TIDAL. Supplying the source music was the combination of the Aurender W-20 Music Server, which I think the world of already (review later this year), and the Bricasti M1 preamp DAC (about which more in the next installment of this report).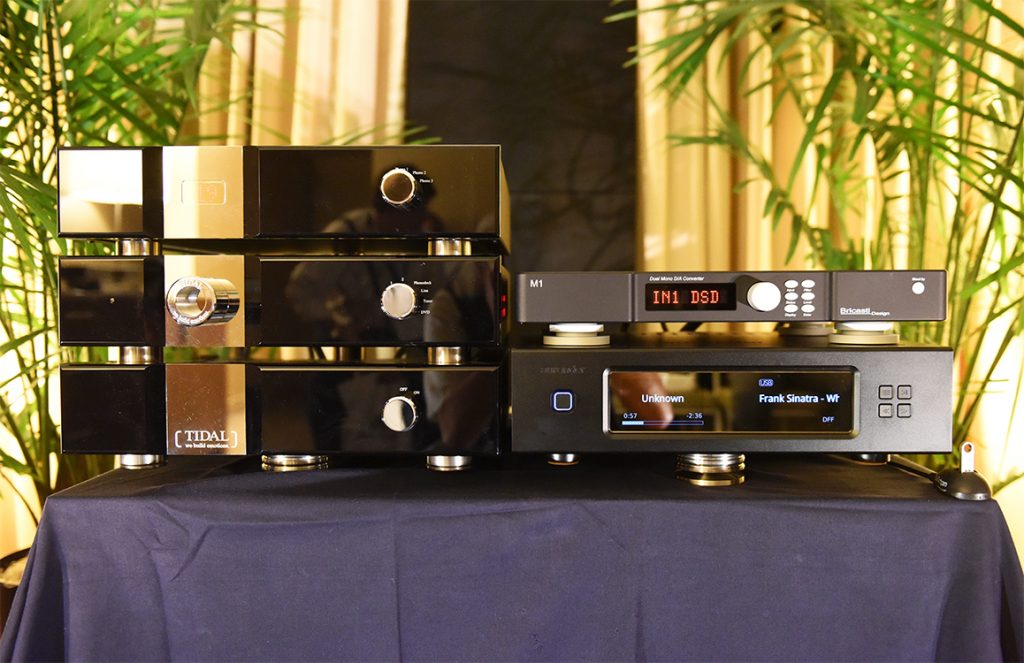 Magnificent! The TIDAL Presencio reference electronics stack (left), with Aurender W-20 Music Server (lower right) and Bricasti Design M1 DSD DAC and preamp (upper right).
Even Red Book PCM sounded better than it had any right to in this system, and that's a very big compliment coming from me, a regular flogger of Red Book PCM.
In conclusion? The Editor That Is says that The Voice That Is was a killer room, with fantastic sound, and great music. Pay attention to TIDAL Audio and Doug White…this man knows whereof he hears! Be sure to check out his room at THE Show Newport Beach; it will be bloody amazing, I know.
Remember:  I cheated. So you can trust me.
A definite Audio Oasis! Award here.
GTT Audio/YG Acoustics/Mola Mola/KRONOS/Air Tight/Kubala-Sosna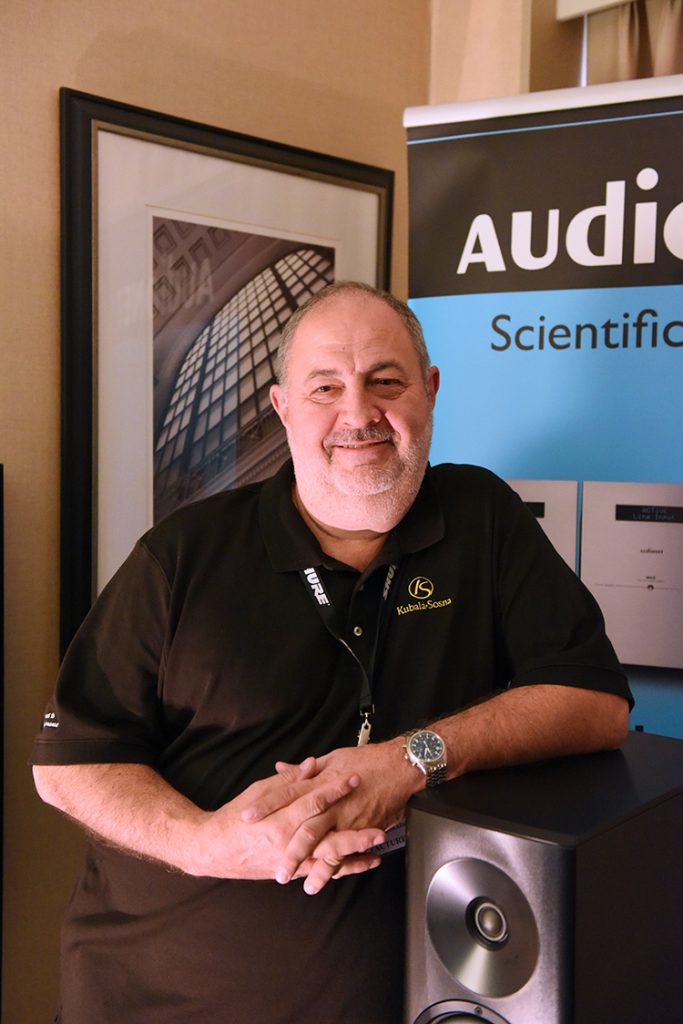 Joe Kubala of Kubala-Sosna:  A portrait

Bill Parish, Joe Kubala, and Dick Diamond also get an Audio Oasis! Award for this room, which featured the YG Acoustics Carmel 2 loudspeaker hooked up to Mola Mola electronics (Makuna Linestage and optional phono amp, Makua DAC, and a pair of Kaluga monoblocks). The source was the KRONOS Sparta with Helena tonearm, and the Air Tight PC-1 Supreme MC cartridge, cabled with Kubala-Sosna Emotion interconnects, speaker cables, and power cables. The Carmel 2s clearly sparkled with the Mola Mola…these two really like one another!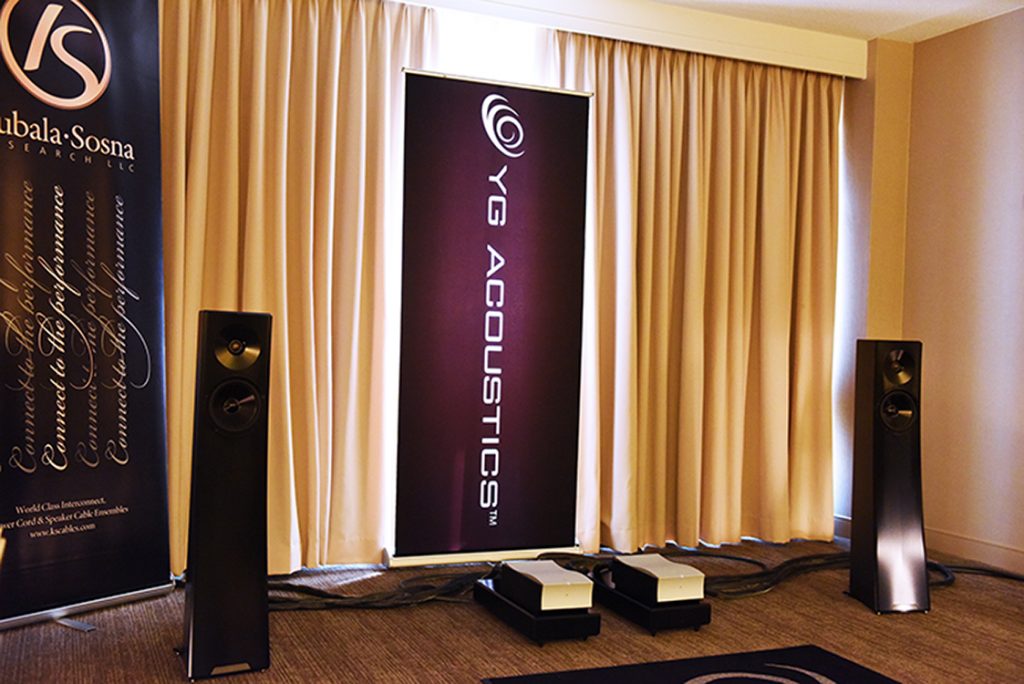 I have to say that I'm wowed by the performance of the Mola Mola gear with the Carmel 2s. Bruno Putzeys is a brilliant designer, which a profound gift for producing highly imaginative results and creating surprising configurations of audio gear. This applies to both the analog and digital domains, and includes DSD. Spectacular work at relatively reasonable prices, in audiophile terms. (For example, the Kaluga monoblocks are $16,500 per pair, and the Makua Linestage is $11,740, with the optional Makua Phono Stage adding only $2900 to the price of the preamp.) Once again, the quality of Louis Desjardins' KRONOS Sparta turntable sound was exceptionally pleasing…if a step below the stellar KRONOS Pro in absolute quality…but that's no surprise, nor an insult. Each does extremely well at its price point.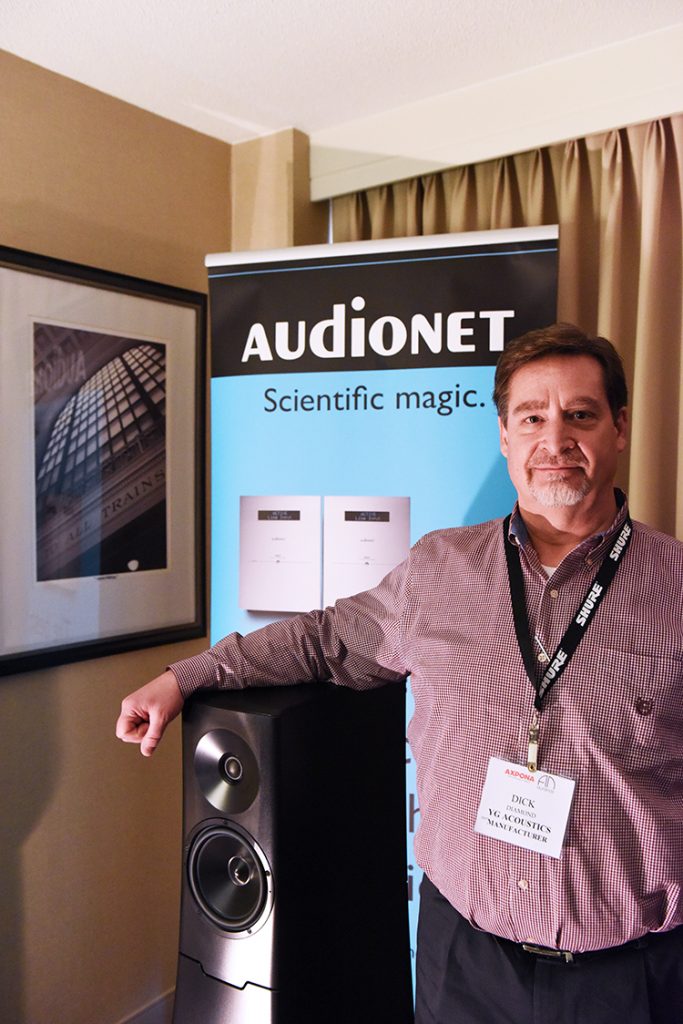 Dick Diamond of YG Acoustics:  A portrait
Joe Kubala's Emotion cables, likewise a price step below the top-flight Elation! cables, mated well with the rest of the chain, and produced a sound that was always musical, highly engaging, and good for the soul of this weary reviewer. This is killer-diller gear, compact and potent…a tsunami to the tympanics...an amazing setup!
Definitely an Audio Oasis! Award winner here…and at a different price point entirely.
AURALiC room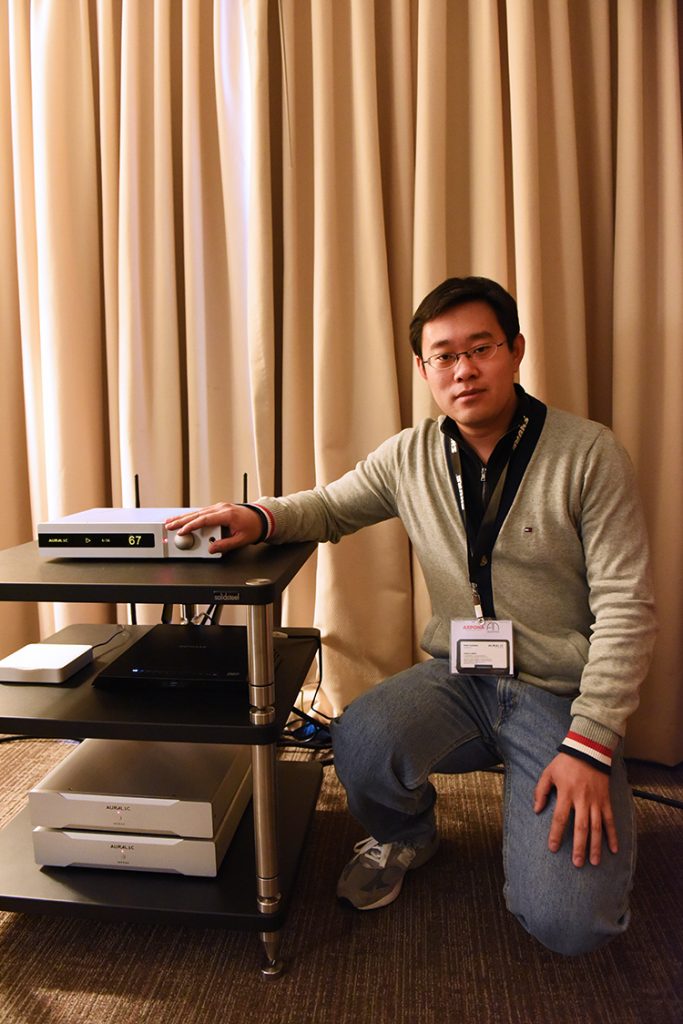 Xuanqian Wang of AURALiC
A really pleasant surprise to me at AXPONA was the AURALiC room. The president of AURALiC, Xuanqian Wang, was there, and I got an opportunity to hear what the all-AURALiC stack could do. On display was the new Altair Wireless Streaming DAC, a pair of Merak monoblocks (powerful, yet nicely green), and an Aries Mini Wireless Streaming Node. All of this was sending signal to a pair of Ryan R630 loudspeakers, cabled with Audioquest.
Having spent time in the past with AURALiC's very fine VEGA DSD DAC and TAURUS Mk. II headphone amp, and having awarded them my Brutus Award, I was well aware of the quality of the AURALiC designs. Xuanqian is another of the new generation of audio designers who are taking fine audio to a whole new level of excellence and creative response to the often confusing modern array of formats, connectivity environments, and control options.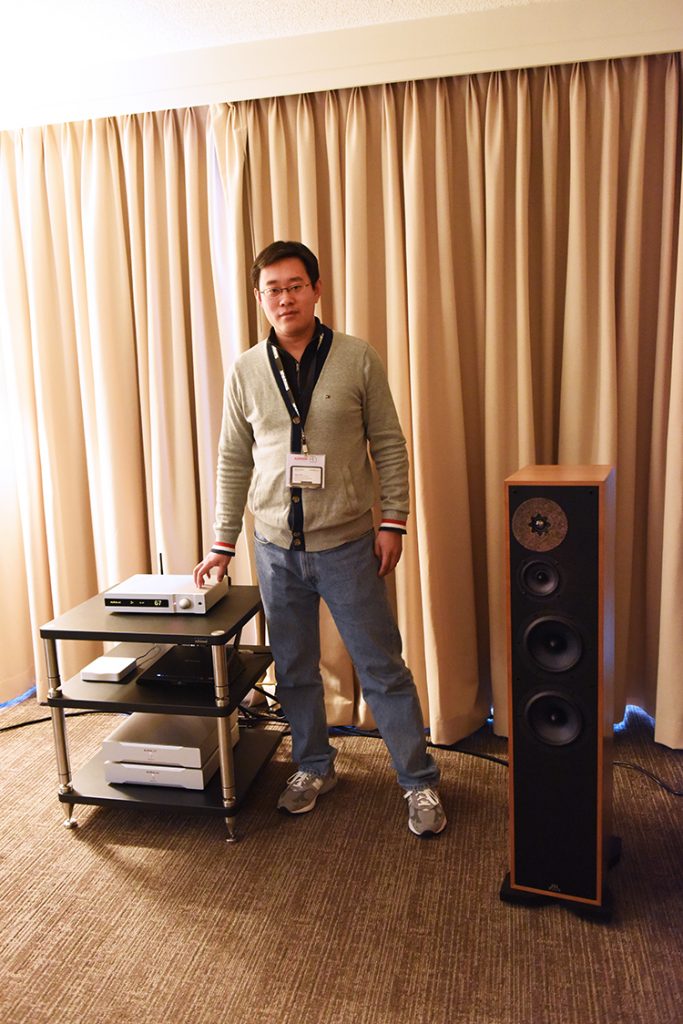 Xuanqian Wang of AURALiC with the compact AURALiC reference stack and the Ryan R630 loudspeaker.
The AURALiC stack mated well with the Ryan R630s. In fact, I should note that at least two rooms that drew my attention at AXPONA featured Ryan loudspeakers. I'll have to keep an ear on them in the future. The sound was clean, clear, and quite detailed, without evidence of graininess or drifting towards the analytical. The AURALiC stack is a really impressive compact system that would fit in any listening room, apartment, or office, and fill it to the brim with great sound. To have 400 Watts per channel in such a compact monoblock…to have the convenience of wireless sound that supports DSD and streaming media in such a tight footprint…and to have it sound so good is an exceptional feat.
This is a knockout system, reasonably priced in relative audiophile terms, and energy-efficient to boot. Highly recommended for those with limited space and a heart for the green but unlimited expectations for great sound!
And a definite winner of one of my Audio Oasis! Awards for AXPONA 2016.
Stay tuned for Part 2!
[All photographs and processing by David W. Robinson.]