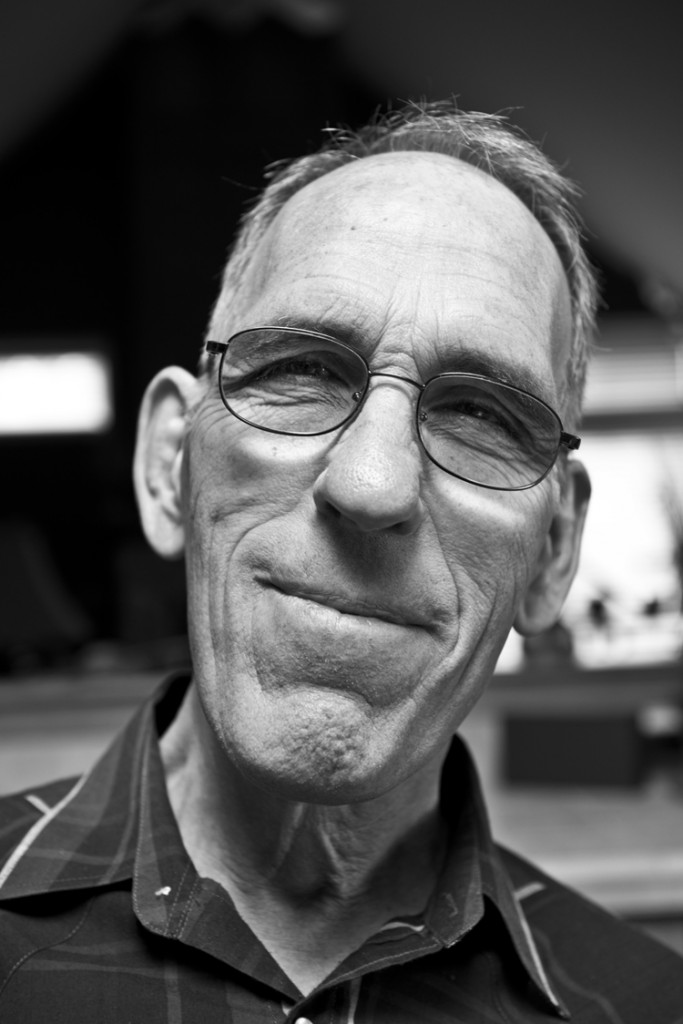 I was a bit breathless. My friend and spiritual colleague David Robinson had invited me to sketch and cover a uniquely intriguing event at Princeton University's Richardson Auditorium on Sunday, July 12, 2015. To kick off the Golandsky Institute's summer series, noted pianist Ilya Itin was slated to perform the music of Scriabin and Rachmaninov. I've been passionate about Russian literature and music for many years. Dostoyevsky—Berdyaev—Shostakovich—Rachmaninov!—count me in! What made this especially significant for Positive Feedback, however, was that the concert was to be recorded in DSD, the state-of-the-art recording technology that David Robinson had been encouraging me to look into.
I parked my car and walked briskly. Mid-route I stopped by Small World, a sweet little coffee and music spot in the middle of Princeton where I regularly score beans and/or perform with my band, Dan Zimmerman & the Torquebillies. Having procured a pound of "Crispy Hippie," I accepted gladly my complimentary cup of jo-to-go. As I walked back toward the exit I saw my friend Hogin Lee, seated at a table listening to classical music on his ipod, as was his habit.
We greeted each other and I asked if I might sit and join him, desiring to get his take on the event I was headed to. Hogin and I work together, have known each other for many years, and I've always especially enjoyed hearing his thoughts on composers. Hogin has an incredibly bright mind (years ago, he used to hangout and converse with one Ethan Coen when they were both students at Princeton, before the Coen brothers went on to moviemaking fame.)
I made an effort to explain DSD, and compare it to previous recording techniques. Hogin raised his head in thought and said that although he used to prefer listening to classical music on vinyl because of the sense of immersion in the event it gave, he'd since grown to prefer CD's because of their clarity of detail.
Finishing my coffee, I thanked my friend for sharing his thoughts and, musing on the conversation, set out once again toward Richardson Hall.
After a brief diplomatic exchange with the people at the door, I was granted complimentary admission as a representative from Positive Feedback. Having climbed the stone spiral steps to the balcony, I chose a seat with a good vantage point, looking down on the stage from a propitious angle. Taking out my drawing materials, I proceeded to spread out, lean back, and wait.
When the lights dimmed, soft, respectful applause greeted Adrienne Sirken, Director of the International Piano Festival, who shared a few gracious summary words. At that point Thomas Moore of 5/4 Productions presented a brief, riveting description of DSD recording technology. He emphasized how extremely sensitive the microphones were, gently exhorting the audience—to please turn program pages carefully, and, if coughing or sneezing were unavoidable to please muffle it—in other words, to be as quiet as possible.
I had been nervously anticipating this, wondering how I could possibly scratch out drawings without making any noise. Fortunately Deborah, a kind friend and fellow-artist, had given me a very tactful set of soft graphite pencils – tactful in the sense that, after making a few test passes, I felt assured that I would be able to draw in relative silence. By the time a warm applause greeted the spare, elegant figure of Ilya Itin I had several pencils sharpened and ready.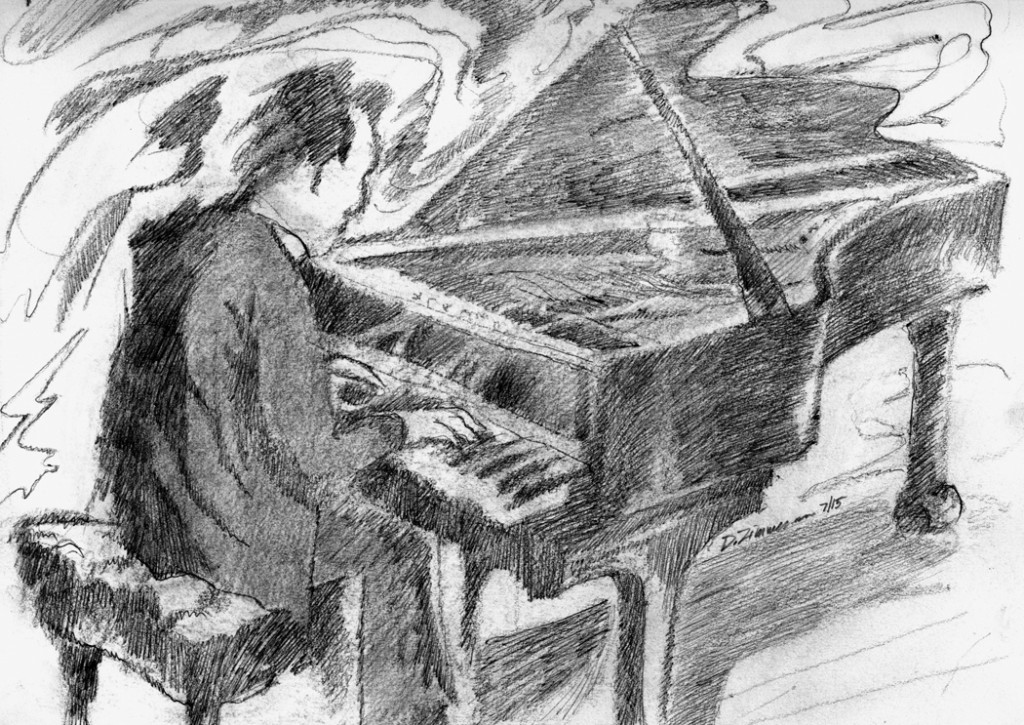 Seating himself at the shining Steinway grand, the adept pianist launched into the music of Scriabin. In the seventies I enjoyed the company of a respected friend, retired music teacher, and Baroque aficionado who referred to this composer as "Screechabin," so for a few years, unfortunately, I steered clear. But over the last decade or two I've come to relish the way this composer stretches our sense of what music can become. As Ilya Itin drew deeply on the work at hand, Scriabin's Preludes wove in and through the hall.
Great music gives us a sense of unexpected dimensions. One can enter, move around inside it. I was alive, scratching mutely at my drawing pad.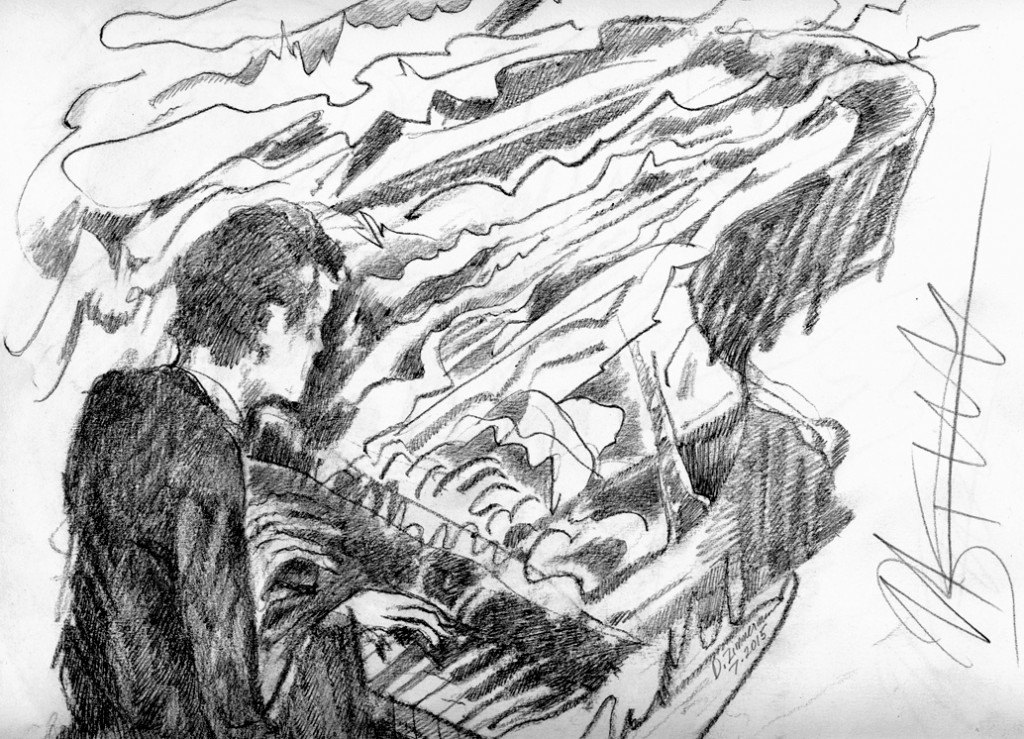 Rolling waves of applause concluded the first half.
After the intermission Mr. Itin reappeared, bowed to the affectionate crowd, and leapt into a performance of Rachmaninov. The music was ineffably beautiful.
I drew on, accustomed to this kind of interaction. I always listen to music when I paint in my studio. These are kindred realms, are they not—the aural and the visual—drawing what you hear, and hearing what you draw?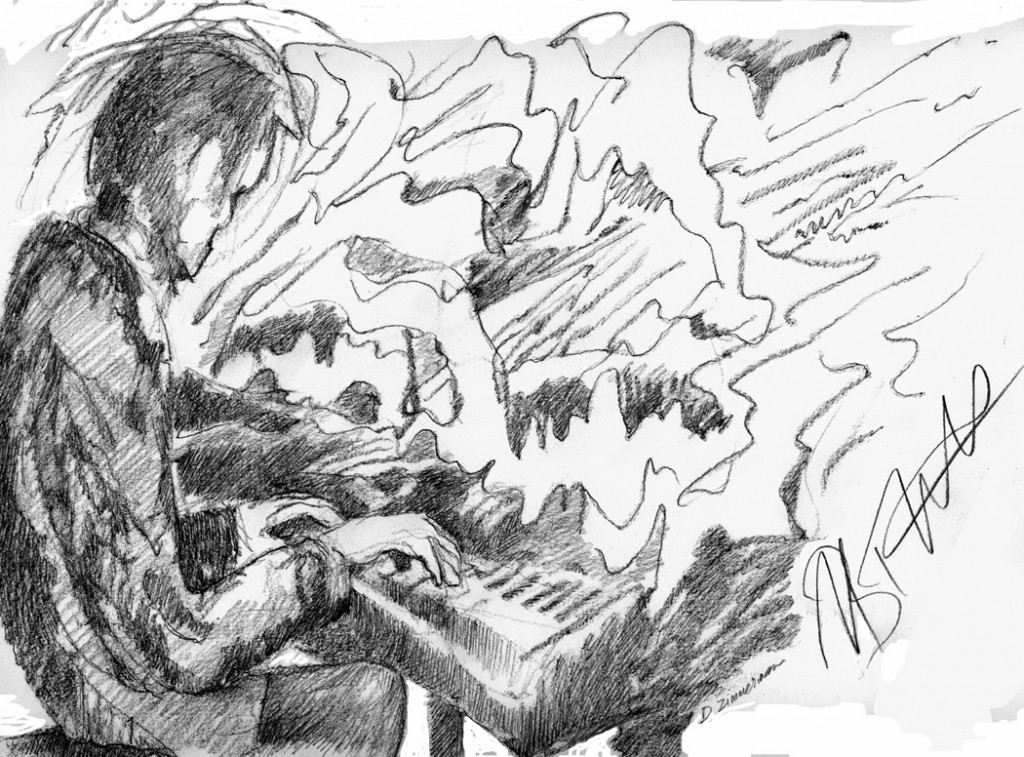 Then something we had been cautioned against took place. A jarring, intrusive crack! Was it a program? The person must've felt terrible. It rang out sharply in the midst of Rachmaninov's masterful Variations on a Theme of Corelli. Nevertheless, the concert powered on.
Despite the resultant blemish, in view of the overall magnificence of the music, the noise must be forgiven. For me, the dropped program made the experience all the more real.
I thought back to my conversation in the cafe with Hogin. It's true that in a recording studio session mistakes are routinely "fixed," but where have these developments gotten us? Increased volume and crystal-clear clarity? Haven't we lost an experience of living presence?
As Hogin said, with CDs you may gain clarity but you lose the sense of being immersed in the moment. Perhaps that's why I don't hear recorded music much anymore. I don't experience where I am in relationship to it. I can't tell where the music IS.
I work in a large bookstore, where "new releases" are played overhead all day long. But, it's getting so I don't hear them anymore. There is a fatiguing distance and unreality to the sound. It's certainly loud enough. But I wonder more and more these days if the music is there. It seems like that's where culture has led us.
I remain struck by the disquieting splendor of Itin's performance that night. It was PRE-culture. The music had not yet been reduced, made into a marketable unit. It had not followed that seemingly inevitable line of descent, where the work of an artist becomes a part of differentiated culture, to be broken down and sold. Not that night. It was invulnerable and fully alive.
I am thankful to all those involved in the presentation of this event. Allow me to express special appreciation also to those engaged in the DSD recording, to David Robinson of Positive Feedback, Thomas Moore of Five/Four Productions, and Jonathan Tinn of Wave Kinetics Records for this exceptional opportunity.
[Dan Zimmerman, a very dear friend of mine, is a gifted artist and musician who has been drawing for Positive Feedback for many years now. One of his black and white oil paintings was the cover for Positive Feedback back in our print days…Volume 5, No. 6, in fact…and now hangs in my listening room. His drawings are regular features here at PF.
Wave Kinetics Records has now done two albums of Ilya Itin's solo piano work. The first features Debussy's Preludes, Books 1 and 2; the second, described here by Dan, will have music by Scriabin and Rachmaninoff. Both were simultaneously recorded in Quad DSD and 30 ips half-inch half-track tape by Thom Moore of Five/Four Productions. The Quad DSDs will be released as a DSD download in both Quad and Double DSD formats; the 30 ips analog will be released as 45 RPM LPs, to be pressed by Chad Kassem's QRP record plant. The best of both worlds will be available to music lovers and audiophiles everywhere! We'll let you know when these are released.
All drawings by Dan Zimmerman, as created during the concert recording. Portrait of Dan Zimmerman, Portland, Oregon, 2015, by David W. Robinson.]