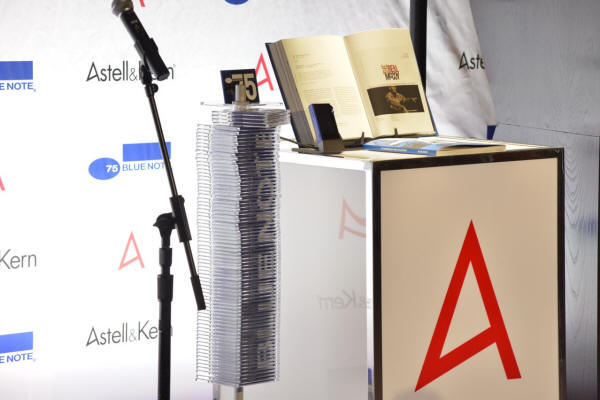 I had the distinct pleasure of attending a press briefing the other night to announce the release of a special limited edition box set of recordings to honor the 75th anniversary of Blue Note Records. Our hosts were Owen Kwon, VP of Product and Business for Astell & Kern, and Don Was, President of Blue Note Records. What was most mind blowing about this event for me was that it was held at Capitol Records Studios in Hollywood, CA, but let me get back to that after I tell you a little bit about the new release and the event itself.
Astell & Kern has partnered with Blue Note to release 75 of Blue Note's most essential albums re-mastered from the original analog tapes into hi-res (24bit/192kHz) PCM. Each album of the Limited Edition set is available on a microSD card stored in an acrylic glass case and the 75 cases are supplied on an attractive tower that can be displayed next to your system as its own work of art. Visit http://www.astellnkern.com/eng/htm/ak240/ak240_bluenote.asp for pictures and more information. The number of sets available in the U.S. is very limited.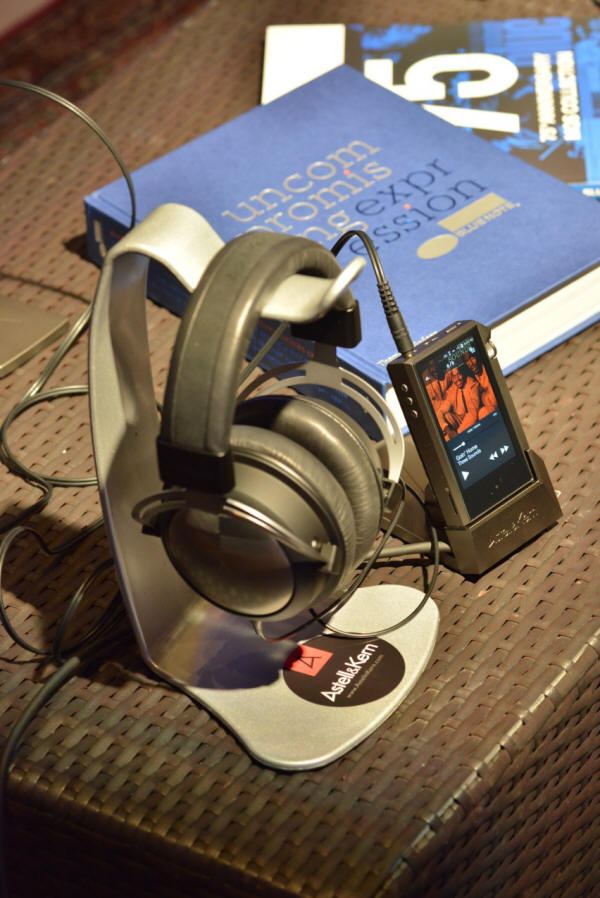 Blue Note started in 1939 in New York City and over the years produced some of the most iconic jazz albums covering all styles of jazz as they evolved. The legendary Rudy van Gelder recorded many of their albums. Today, Blue Note is one of the flagship labels of the Capitol Music Group. The 75 albums span the entire history of Blue Note from Thelonius Monk's first sessions in 1947 all the way up to Norah Jones and Cassandra Wilson. Five of the albums in the set have never before been available in a hi-res transfer: Art Blakey & The Jazz Messengers' Mosaic, Tina Brooks' True Blue, Don Cherry'sComplete Communion, Andrew Hill's Point of Departure, and Bobby Hutcherson's Components. In addition to the albums you get two books: one is filled with all the album art (front and back cover) and the second is a new book by Richard Havens entitled Blue Note: Uncompromising Expression. Both books are first class. It was mentioned during the press session that Blue Note had to call on a prominent record collector for copies of some of the album covers, as well as copies of some of the vinyl LPs to use as a reference for the re-masters.
So how is Astell&Kern involved in this? Seems they encouraged Blue Note to release this commemorative edition in high resolution. Plus you have the opportunity to buy a special limited edition version of the Astell&Kern AK240 Hi-Resolution Portable Player (reviewed HERE by David Robinson, HERE by Michael Mercer, and HERE Bob Levi) in a special blue case, and this player comes pre-loaded with all 75 Blue Note albums. WoW!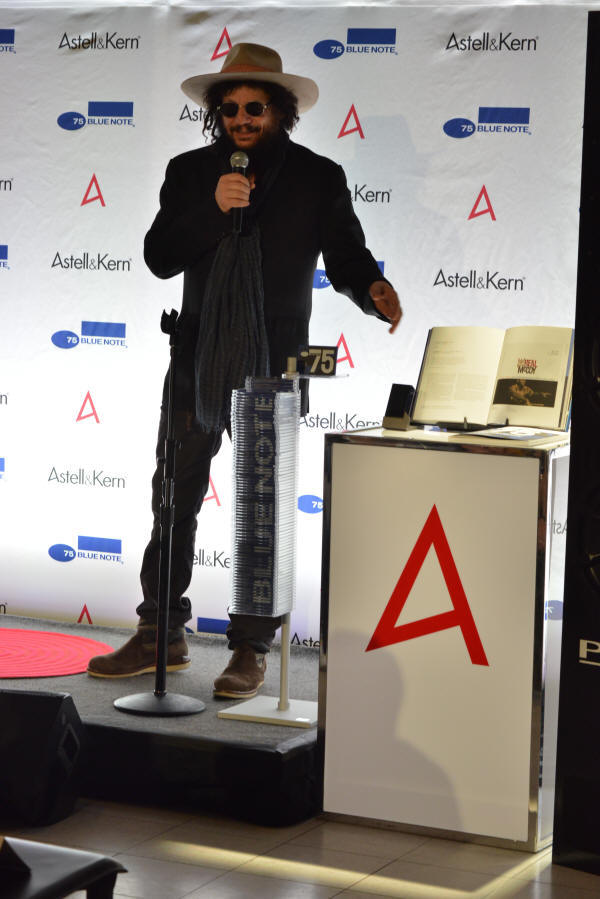 We heard from the current President of Blue Note, Don Was who is a legend in the music business himself. He rose to fame in the 1980's with his group Was (Not Was), but I know of him and his sound from his work as a producer for such great artists as Bonnie Raitt, Lucinda Williams, Willie Nelson, Carly Simon, Brian Wilson and many, many others. Don has won three Grammy awards including the 1994 Grammy as Producer of the Year. During his presentation he told us how much he loved jazz music growing up and played excerpts from three of the albums in the set that had special meaning to him. These included cuts featuring Wayne Shorter, Joe Henderson and Bobby Hutcherson. Playback was from an AK240 with a special adapter so it could play through a large set of PMC studio monitors for the audience. Even from my off-center seat in a large room, the sound of the hi-rez transfers was terrific with outstanding body and depth plus involving detail. Don Was mentioned that in mastering the hi-rez transfers from the original analog tapes they had many possible routes to follow, but favored making the digital transfers sound like the vinyl versions familiar to most listeners.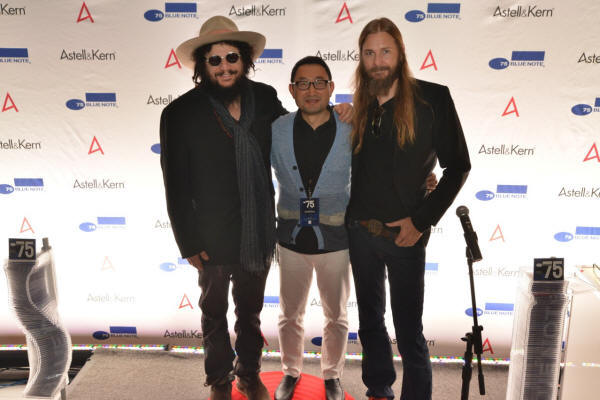 Another speaker was Henry Park, CEO of iriver, Inc., the parent company of Astell&Kern. Mr. Park reminded us that iriver invented the MP3 player back in the 1990's (Park was not with the company at that time) and they dominated the portable player market until something called the iPod came along followed by ubiquitous smart phones. Now they plan to make their mark with the line of high-resolution portable players and other products spilling rapidly out of the Company.
We also heard from Barak Moffitt who is the Head of Strategic Operations for Universal Music Group and the technical brains behind the project. He played three different versions of the same music in AB fashion alternating between a CD quality version, a download version and the high-rez version. Even under the marginal listening conditions it was easy to hear the superiority of the 24/192 PCM version. Obviously this set of Blue Note recordings is to be lusted after both for the quality and historical significance of the music as well as for the quality of the sound.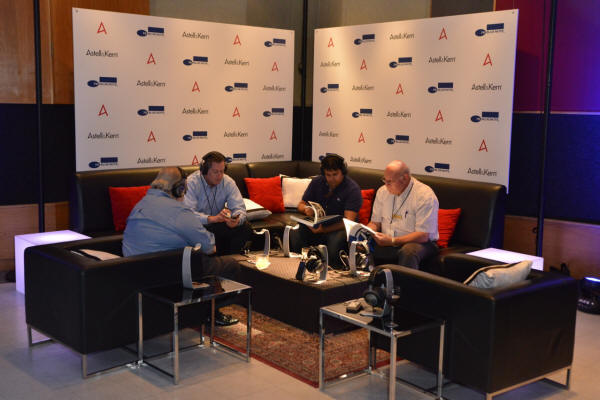 I mentioned at the start of this article that the event was held at Capitol Records, the 13-story circular tower located just north of the intersection of Hollywood and Vine Streets. Well, we were not at some non-descript conference room in this landmark building, but actually right in Studio A and Studio B. Places where hundreds of musical legends have spent time and where many of the magical moments in song and film have been recorded. I've never been to this building but it seemed to me it looks much like it would have in 1956 when it first opened. That's the year Frank Sinatra broke in the new studio by recording Frank Sinatra Conducts Tone Poems of Color. Later the building became known as "The House That Nat Built" in recognition of all the money Nat King Cole made for the Company. Today the halls of the building are lined with photographs of Nat and Frank, Dean Martin and others, but the front lobby features newer artists such as Katy Perry.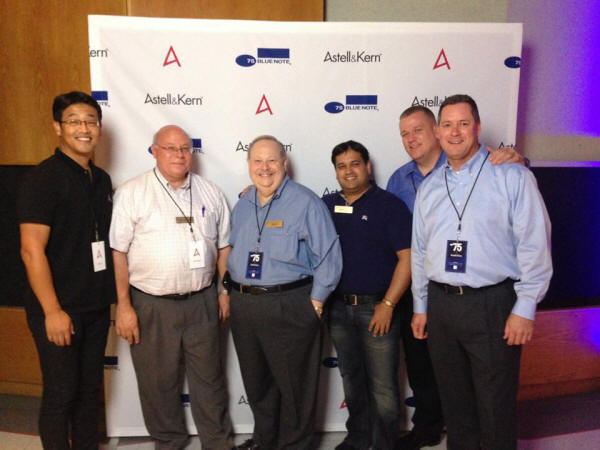 I and a friend from the Los Angeles and Orange County Audio Society got to spend some time in the control room for Studio A speaking to some of the staff. They showed us the 60-channel console and the custom monitors built by PMC. Off to the side in a separate room are the racks filled with analog-to-digital converters used for most releases today, but the staff mentioned they keep several analog tape decks in pristine working order and have been making quite a few analog recordings in the past year. We also talked about the famous echo chambers located under the parking lot adjacent to the building. Guitarist Les Paul engineered the first one of these. We also learned that Studio A can comfortably accommodate an 80-piece orchestra, often used to record scores for today's movies. We learned that Brian Wilson was in the studio the day before and that Bob Dylan was by recently for a project, just to drop a couple of names.
As an audiophile and music lover, it's hard to describe the feeling I had spending time in this hallowed place. How much joy the music created in this place has brought to my life and how many of my memories are anchored to the notes first played here. Also, how many glorious recordings were created here that drive my quest for perfect sound reproduction. It was a great evening and I hope both Blue Note and Astell&Kern have a smashing success with this collection of music, words and hardware. Go check it out!
A brief note from Bob Levi...
The Blue Note Press Event was an audiophile and music lover blast. The 75th Anniversary Astell&Kern 240 Blue Note DAP is sweet! It contains 75 personally selected albums by Don Was, President of the label, including five albums never before re-issued! Only 200 units will be available in the USA at $6000 per unit.
Do not throw away your current 240 as it is the same piece of gear re-packaged in blue metal with special logos. In addition to the 240 stuffed with Blue Note goodies in mostly 24/196, you receive a leather case, two commemorative coffee table books, a spectacular stand in Lucite about 40 inches tall with the 75 exquisite jewel cases containing chips of the music for future loading into another unit, and various cables and such for connection to whatever you like. All 75 albums use about half of the capacity of the Blue Note 240 leaving you plenty of room for much more music.
I listened to parts of three albums on elegant closed back headphones now offered from Astell&Kern and sourced from Beyer. They are specially designed with a built-in frequency curve to create near perfect linearity on A&K DAPs. Priced under $1500 as I recall. The sound was realistic and musical with extraordinary imaging. They displayed beautiful deep detailed bass and ambient highs. These A&Ks are some of the best closed back cans I have ever heard.
Michael Wechsberg and I certainly enjoyed the music and locale of this event. Astell&Kern, Blue Note, Universal Music, and Capitol Records put on a truly memorable show and make excellent partners in the service of audiophiles everywhere.