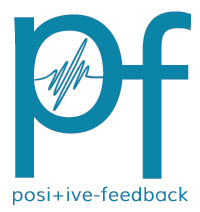 You are reading the older HTML site
Positive Feedback ISSUE 56
july/august 2011
From the Other Side of the Door: THE Show Newport Beach
by Carol Clark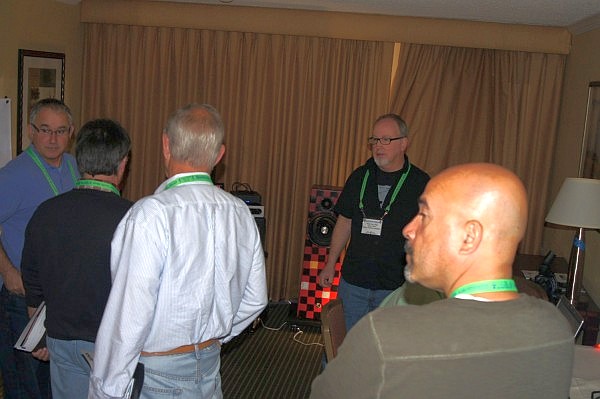 The first weekend in June brought THE Show to Newport Beach, and allowed Positive Feedback to view a trade show from the other side of the door. IE: we hosted a hospitality suite, and I spent the bulk of my days at the show in the room instead of slogging up and down the halls. Quite an experience and quite an eye-opener.
The show seemed to have quite a nice vibe going on, and if the long lines at the check-in the first day were any indication, was quite well attended. There was a lot to experience at the show, lots of live performances in the outdoor courtyard, wine tasting, cigars, cars, and endless rooms of good music.
A typical audio show involves a lot of walking from room to room for this intrepid reviewer. Pictures are taken, small talk is made with the exhibitor, feet are sore by the end of the day, but never a dull moment. The fun part is seeing people we only see at shows and spending a few minutes catching up. The not so fun part is fighting the lines at the elevators, listening to music that grates on my nerves, searching for the illusive water bottles, and then doing it all over again the next day.
This year I got to see the show from the other side of the door, and it gave me a whole new perspective on just what exhibitors go through at these shows. My hat's off to these brave souls.
Setting up the room on Thursday proved to be much easier than we had anticipated. We arrived to find the room empty aside from a stack of chairs, a table covered by a cloth, and the speakers already delivered. All we had to do was find a bellhop to bring in the rest of the system. Yes, we cheated, most exhibitors have to deal with drayage, but we managed to skip that part. You can read about the system here, it was quite an extraordinary outpouring of support from the audio industry.
Dave and I set the room up rather quickly, and then set out to find a BevMo for the hospitality part of the suite. By the end of the day all was in readiness, a killer audio system, laptops hooked up to go instantly to Positive Feedback's website, and all the water and adult beverages anyone could want.
The show opened at noon on Friday, so we got down there early enough to get a parking spot, they were at a premium, and make sure everything was ready to go. Somehow, some of the attendees got in early, so I spent over an hour talking to one before the show even opened. From that point on there was at least one or two people in the room until we closed every day. Gone was my vision of sitting in the corner with the remote listening to music and perhaps browsing a book on my Kindle.
I really have to hand it to manufacturers who exhibit at shows; it's a lot harder than one would think. From answering the same questions over and over (no, I'm not going to tip the speakers on their sides and use them for a chess board), to cleaning up crumbs from the floor by hand, or serving snacks to (on too many occasions) a generally unappreciative public.
Don't get me wrong, I really don't have a huge ego that believes that everyone in the world is familiar with Positive Feedback, but one would think that anyone attending an audio show would have at least heard of us at one point or another. I was amazed at the number of people who either claimed to have never heard of us before, or claimed they weren't familiar with online publications at all. I had one gentleman tell me an online magazine wasn't good because he couldn't read it in the bathroom; this just after I told him our site was designed to print out on eight and a half by eleven paper (or a few others who never use the internet!). Sadly, I'm not making that up. That was just one of the many anecdotes I was subjected to. I think my favorite was the gentleman who asked if I could play "one of the four B's" and when I gave him a puzzled look he said, "Brahms, Beethoven, Bach..." I cut him off before he got to the fourth B so alas I'll never know who it was, but since I didn't have any of those three, I doubted I had the fourth. (I actually wanted to stop him after the second B and offer the Beastie Boys, but alas he did not appear to the type who would be appreciate of the punch line... we did have about 14k songs on a 1Tb drive that reflected what Carol and I listen to, but no classical - Dave Clark)
It wasn't all doom and gloom. I enjoyed seeing the youngsters, some the same age as the students who had painted the speakers, come in and say how cool they looked. There were also many people who came in just to sit and listen because they claimed the sound in the room was so amazing. We also had a few moments of perfection when several Positive Feedback writers were in the room talking to show attendees while a few other attendees sat and browsed the site. In the end, that was what the show was all about.
I don't think this will be the last time Positive Feedback hosts a room, so look for us at Rocky Mountain Audio Fest. And if THE Show comes back to Newport Beach again next year, you can count on us being there again!