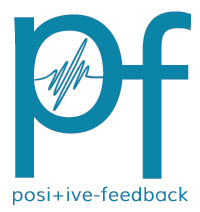 You are reading the older HTML site
Positive Feedback ISSUE 56
july/august 2011
The Zu Audio Soul Superfly Art Project... With a Lot of Help from Bel Canto, Nordost, Silver Circle, Wadia, and Ultralink/XLO
by Dave and Carol Clark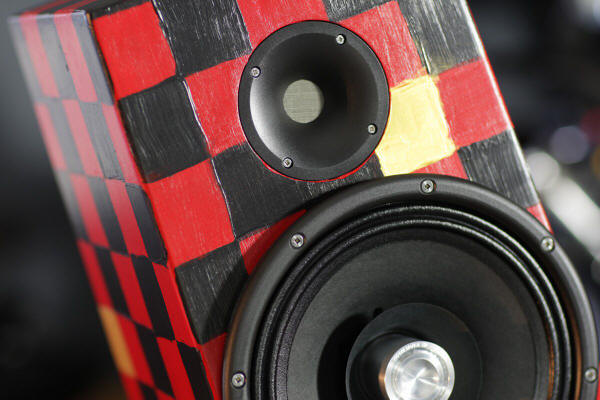 Image courtesy of Sean Casey of Zu Audio
At the 2010 RMAF Show, we were sharing with Sean Casey of Zu Audio about our new positions at an innovative public school in Los Angeles Unified School District that stressed project-based learning along with a strong arts foundation (and being an inner city K-6 neighborhood school). Excited about what we were sharing, from out of the blue he offered to donate a pair of their new Super Soulfly loudspeakers on condition that the students be responsible for the paint design of what would be an unfinished pair of the loudspeakers. Naturally, we were elated and accepted this most generous offer, but then wondered, what would we do with just a pair of speakers? Well, we figured that would cross that bridge by possibly hodgepodging a system of cast-off items we owned to make it work... hey, no worries, we would do something. Heck, Zu just created a wonderful project for our school out of the kindness of their heart.
Oh, wait... here comes Bel Canto and Nordost to the rescue!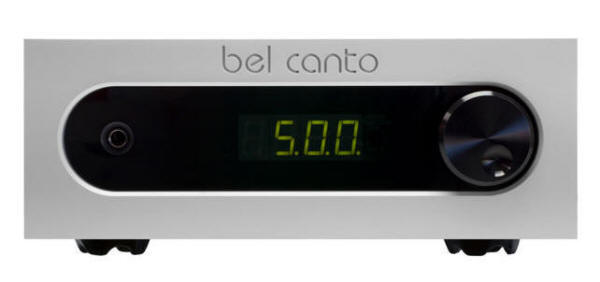 The Bel Cano C5i DAC/Integrated
At the show, during causal conversations with Joe Reynolds of Nordost and John Stronczer of Bel Canto about what Zu had offered, both companies stepped right up with Bel Canto offering the new 'Swiss-Army knife' of components, the C5i integrated, while Nordost donated a complete set of their new Purple Flare cables (speaker, interconnect, USB, digital, and AC). What made this such an amazing story is that all these donations were unsolicited. No one was approached to see what we could get... no all the companies involved simply offered what was needed to make the system complete after hearing about the Zu project. This clearly shows a wonderful sense of community and support for exposing young people to quality audio. Bravo for reaching out! Man, people ask how we can get young people into audio... take it to them! Let them hear and experience quality sound on their own terms! Not that I expect every company to donate a systems worth of whatever to a school, but this sense of generosity and forward thinking is so refreshing.
The C5i is a perfect solution as it allows for a computer, phono, and line in meaning that we can pretty much use any source to play back whatever we want. The Purple Fares are a killer match and we had a cable for every need.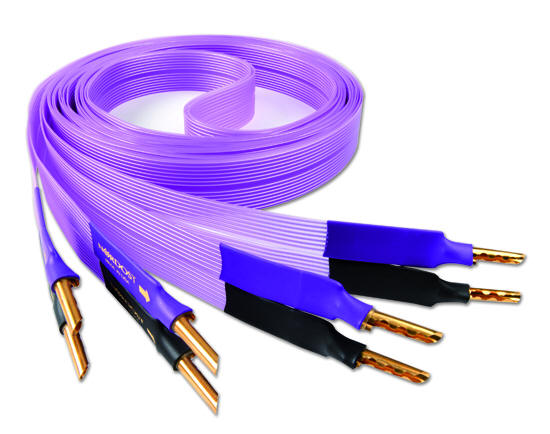 As the project progressed, word spread and Wadia donated the new 171i iPod Dock allowing for use of iPods, iPads, and iPhones (which is what the kids and teachers are using... duh), Silver Circle Audio the Juice Box 1, and UltralinkXLO the PS-802 so that everything could receive nice clean AC and that we had enough outlets as well! Carol and I offered up an older Oppo BD84SE for spinning CDs and the school purchased an additional AV rolling cart to move it all around between classrooms and such. A number of my students can easily tear it down and re-connect it all without any issues as well set up a Mac to play files. Nice.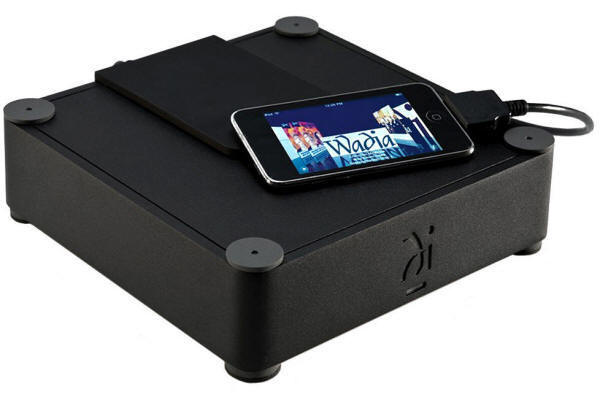 The Wadia 171i Transport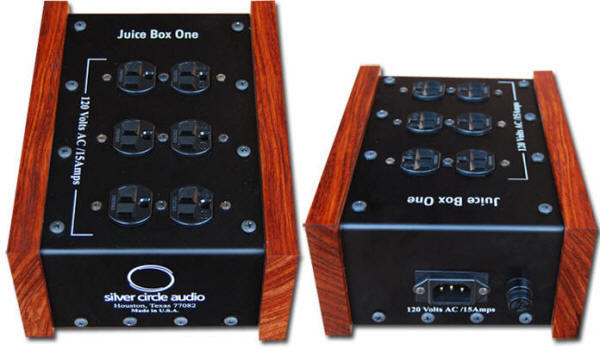 Silver Circle Juice Box 1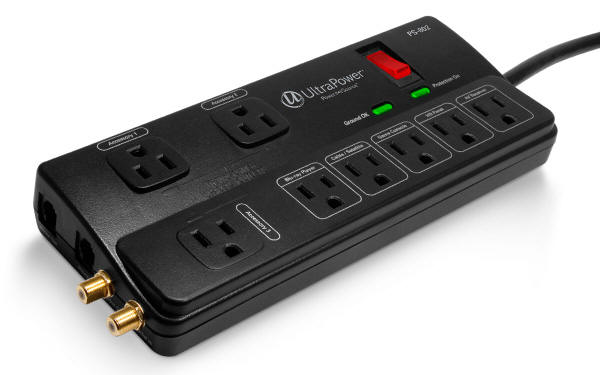 Ultralink/XLO PS-802
The two 6th Grade classrooms were assigned the task of the design and painting of the loudspeakers. The following is a photo essay of that story.
Unboxing the speakers.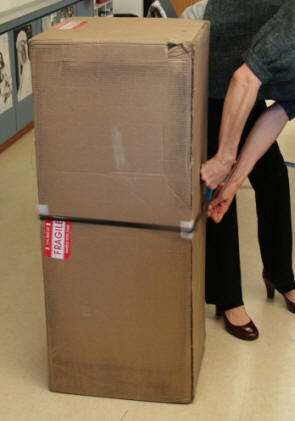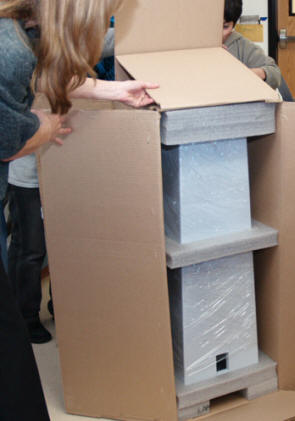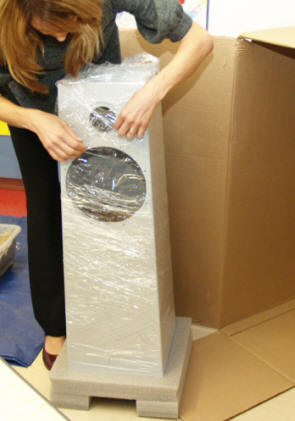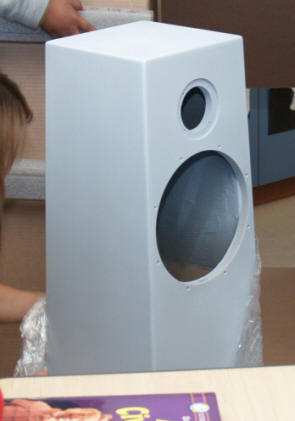 The students decided to go with a 'pop-art' themed 'checkerboard pattern' and so the base coat of red was applied to both speakers.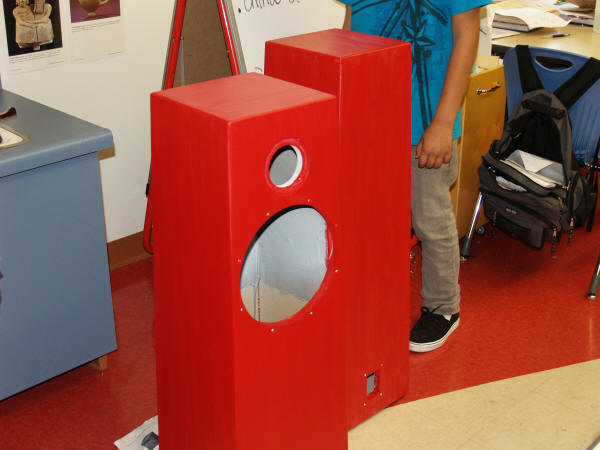 Using a measuring guide to layout the grid. These kids are smart, though at first they wanted to tape off the individual squares... no use a guide!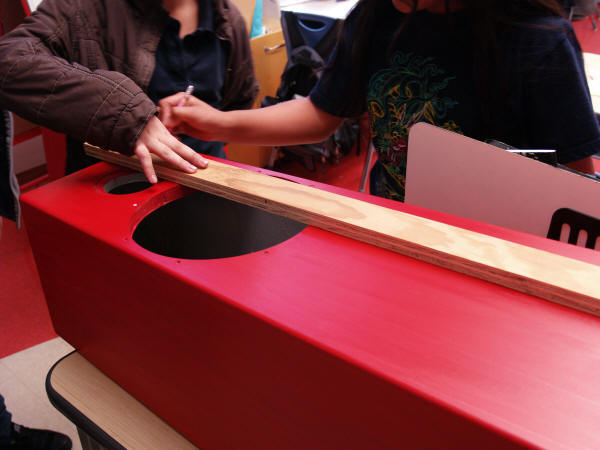 Vertical and horizontal lines making a 2" grid for the black and red squares.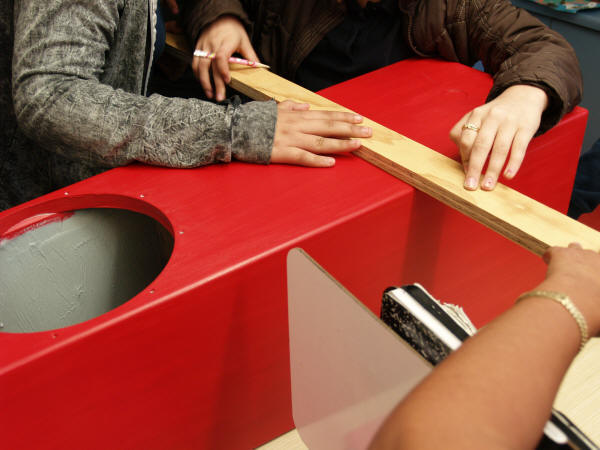 Painting in the first of many black squares. The students used a 2" foam brush making it much easier.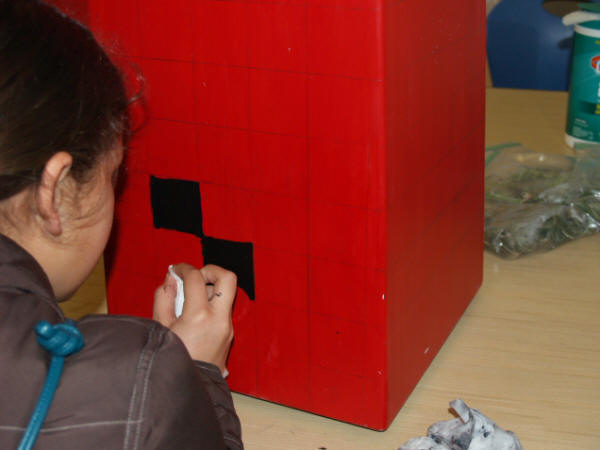 It was wonderful how they took their time to make it as perfect as they could. After all it was done by a group of 12-year old students with little teacher guidance or supervision.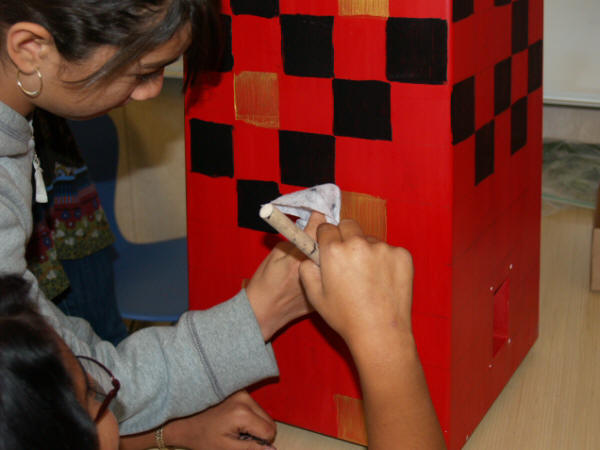 They decided to mix it up a bit by adding some random silver and gold squares within the black and red pattern.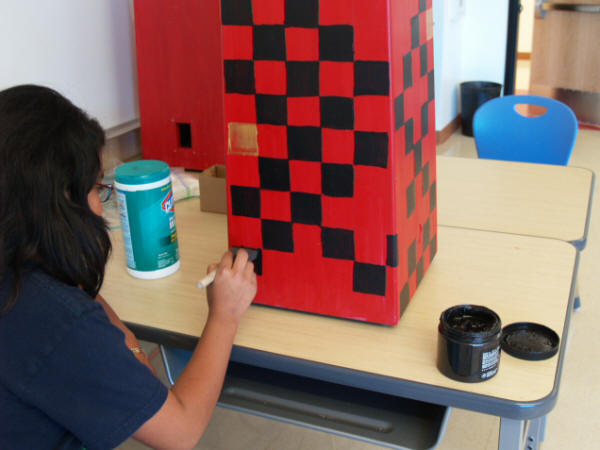 The first speaker is coming along and the pattern is really making its appearance.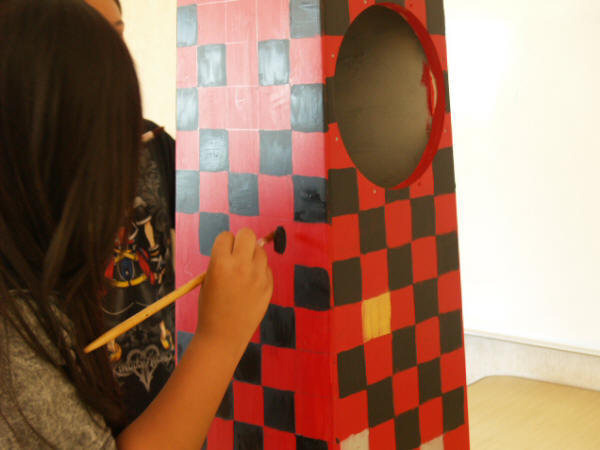 Speaker 2 is in the works with a slightly (un-intended) different pattern.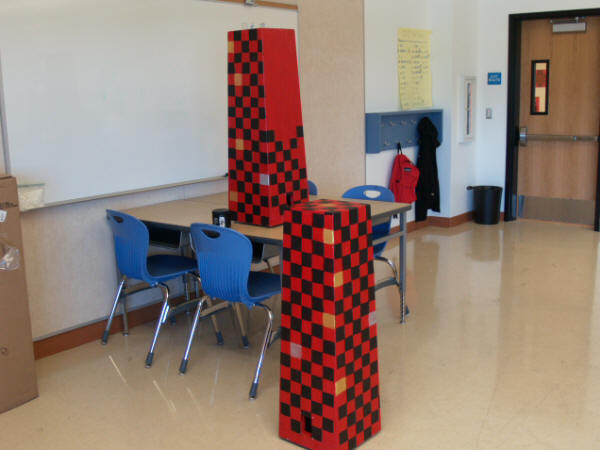 Speakers 1 and 2 side by side reveals the different patterns. Which is cool as they were each done by separate classrooms. Can you see the difference between the two?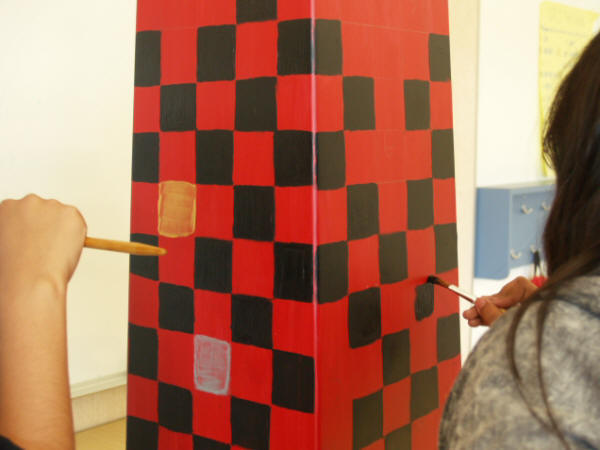 Finishing up speaker 2 with little brushes as the foam 2-inchers had bit the dust by now.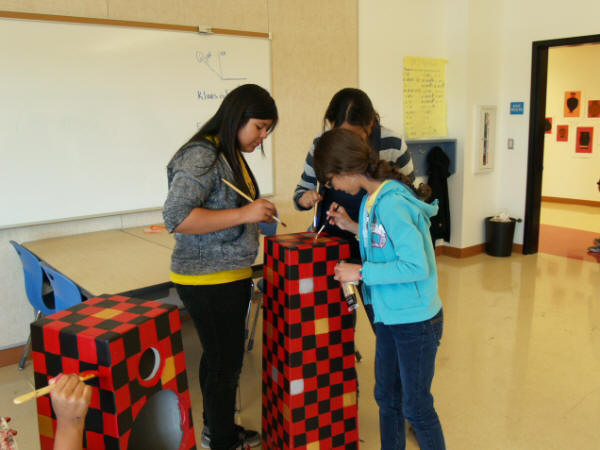 A few final touches. The students were very meticulous and showed so much pride in their work; they wanted them as perfect as they could possibly paint them!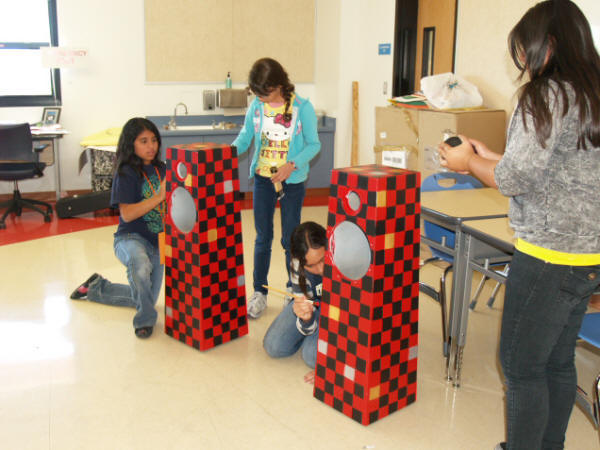 Once painted, we let them 'cure' for a week and then boxed them up for a return trip to Zu so that the Zu guys could clear-coat them and install the drivers and crossovers. Upon their return, my 5th grade students were shown how to connect everything up as well as how to configure a Mac or source to play tunes. We threw a party for the students involved and they were allowed to play whatever they wanted as long as the language was appropriate for a public elementary school. To say that they had fun and appreciated what they heard was an understatement. It was interesting that while many went with the typical artists that 12-year olds would be into, several tossed on several files of early Hendrix. Nice. Oh, and yeah, I kept them in my room for a week or so and let my kids enjoy them as well... we had music playing pretty much through-out the day!
The system is now housed in a resource room and is available for all the teachers to use when needed. Right now the primary use will be for filling the multipurpose room with music when the students are participating in dance to meet the requirements for the Arts standards. To say that the system rocks would be an understatement - both visually, audibly, and emotionally. Way to go all those involved!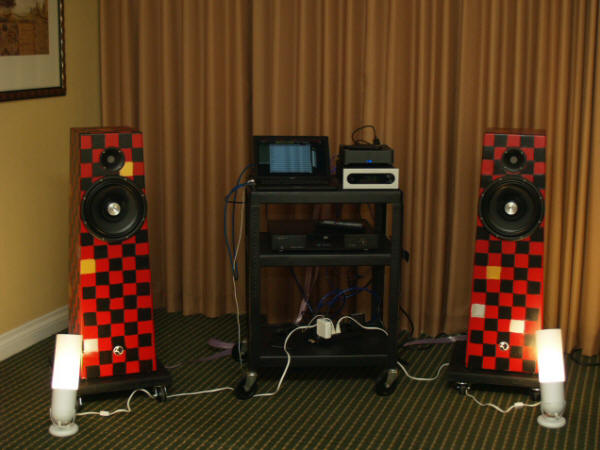 The completed system as used at the recent THE Show in Newport Beach, CA. The system looked great and sounded quite wonderful. I built some rolling platforms to make it easier to move the speakers around. The AV rack offered a nice industrial touch while being highly practical. It was not our intent to set-up an audio-quality demo room, but one for the show's attendees to drop in, sit and relax with a beverage and enjoy some music while we shred the story of how the system came about (which emotionally moved quite a few). The funny thing is that we were told on more than one occasion how our room had the best sound at the show! Had to have been the adult beverages, but sweet all the same. Oh, and for a bit more, read what the Michael Lavorgna (cool guy times 17) over at Stereophile wrote: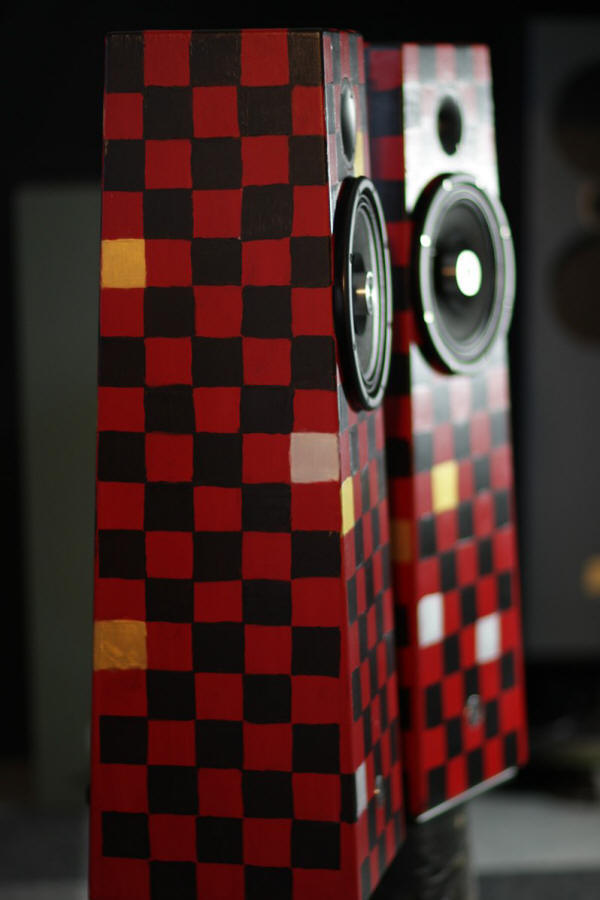 This was shot by Sean Casey at Zu prior to returning the Soul Superflys to the school. They did a custom black trim for the speakers to match the finish.
Special thanks to the 6th Grade students of Ms. Atilano and Ms. Barbee for all their hard work!
Hellen Corona

Yaneli Serratos

Getsemani Rodriguez

Joanna Gutierrez

Jasmine Zarate

Angel Alcantar

Ernesto Tapia