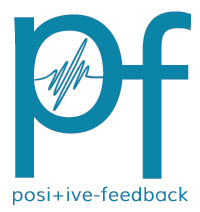 You are reading the older HTML site
Positive Feedback ISSUE
31
may/june 2007
Notes of an Amateur - June, 2007, Part 1
by Bob Neill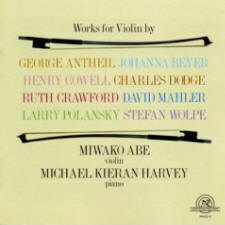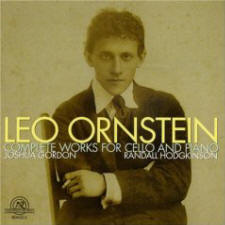 NEW WORLD RECORDS is a wonderful, small American record company. I got a strong hint of this by realizing that they are what several of my favorite newish CDs have in common; and then I searched their catalog at www.newworldrecords.com and found a treasure trove of modern American music.
Here they are describing themselves. No need to paraphrase.
About Us
Anthology of Recorded Music, Inc., which records under the label New World Records, was founded in 1975.
We are dedicated to the documentation of American music that is largely ignored by the commercial recording companies.
Like the university press, New World preserves neglected treasures of the past and nurtures the creative future of American music. Through the production of over 400 recordings some 700 American composers have been represented. In an industry obsessed with million-unit sales and immediate profits, New World chooses artistic merit as its indicator of success.
Origins
The company was founded with a grant from the Rockefeller Foundation with a mandate to produce a 100-disc anthology of American music encompassing the broadest possible spectrum of musical genres. This set of recordings, together with their extensive liner notes, provides a core curriculum in American music and American studies. In 1978 the Anthology was completed and distributed free of charge to almost 7,000 educational and cultural institutions throughout the world. An additional 2,000 Anthologies were sold at cost to other similar institutions. Through these recordings two hundred years of music and American cultural history are brought to life.
New Releases
The company currently releases 12-16 new titles per year. Music is chosen from a wide repertory including concert and choral music, opera, sacred music, band music, jazz, traditional, folk, Native American music, popular songs and dances, and musical theater.
If you want to test my judgment, try one of these two relatively recent NW CD's. The catalog also includes recordings of Joan Tower, George Rochburg, Ben Johnston [http://www.positive-feedback.com/Issue27/amateur3.htm], Eliot Carter, Charles Wuorinen, among a great many others.
Works for Violin by George Antheil, Johanna Beyer, Henry Cowell, Charles Dodge, Ruth Crawford, David Mahler, Larry Polansky, and Stefan Wolpe. Miwako Abe, violin; Michael Kieran Harvey, piano. New World Records 80641.
You probably won't like all of the works on this CD equally well on first hearing, but I promise you'll like several and learn something from all of them. I've had the recording playing for three days now and keep hearing new things. Treat the record as a bold and fascinating recital exploring a tradition of twentieth century American music by two excellent musicians. The Cowell Sonata opens the program convincingly but only hints at what's to come. By the time you return to the relatively safe and familiar harbor of the concluding Crawford Nocturne, you'll know a great deal about some of the interesting and important byways of modern American music.
Leon Orstein, Complete Works for Cello and Piano. Joshua Gordon, cello; Randall Hodgkinson, piano. New World Records 80655.
Leon Ornstein is one of the more compelling composers brought to American music by the rich wave of immigration into the US from Eastern Europe in the early twentieth century. What do we hear in this high calorie complex oeuvre? Craggy and turbulent modernism in the early works, rich rhapsodic Russian romanticism in the later, all 'comprehended' through the American musical world of the late teens and early twenties of the last century. A strong musical personality, whose string quintet and quartet I plan to pursue on New World 80509. The cellist on this CD, Joshual Gordon, is cellist for Boston's Lydian Quartet, the group who play the chamber works on NW 80509.
New World is doing for American music what Chandos, Dutton, Hyperion, Lyrita, Back Box and others have done for twentieth century music of the UK. New World is not alone. Albany, the late CRI (whose catalog is now available through NW) are also doing their part. Dorian Records made a major contribution some years back before going out of business, and some of their catalog is coming out as reissued material on Naxos' American Classics series. But today is New World Records day! I urge you to investigate and sample this valuable and highly enjoyable musical enterprise.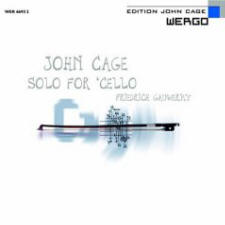 John Cage, Solo for 'Cello, Friedrich Gauwerky, cello. Wergo Records WER 6693
Not all worthwhile musical experiments make satisfying listening. We all think we know what John Cage is about: the exploration of the borderland between silence, noise, and musical art. Much music written after Cage that pursues this agenda owes a good deal to him, both as composer and philosopher of music. This is part of what should draw you to a CD like this one, if, like me, you often find music inseparable from its history.
But how well does the music here stand up on its own? For someone with an interest in modern music but also with conservative ears (speaking again of myself), it holds up pretty well, once we are into the first of the CD's main pieces, "Atlas Eclipticalis." What seems to fascinate Cage is the spaces between notes and the effect these spaces have on the music; how they become a part of the music. Think: the use of white space on a well designed page of print, how it can affect our feelings about what we read. Think: a painting with a few objects in a large monochromatic landscape. For Cage, using silence, separating notes, brings music closer to how we perceive sound outside of art. Music that has a great deal of continuity and flow is too abstract for him, too artificial. Art is artificial by nature, of course, but in degrees.
With the silence around the notes played by the two cellos in "Atlas" (Gauwerky plays both cellos, accompanying himself via tape playback), we hear more clearly and attend more closely than we otherwise would to the sound of the cellos playing the notes. They are more "existential," as Kundera would explain it. They are alone in the world: they are their situation. And the superb sound quality of this recording gives them all of their due. If you can listen to this piece without distractions, you may well be surprised at how transporting it can be. "Etudes Boreales," the other major piece on the CD, has more narrative flow—the silent spaces are more like ellipses, stepping stones across a dark pond.
To enjoy this music, you have to be at least somewhat of Cage's mind in this matter, to be sure. "Atlas" in particular is barely (!) music. It asks you to accept the idea that music occupying the stark world where silence, pure sound, and musical art meet is music, or can be, serving the same ends traditional music serves. If you have difficulty with this proposition, don't go here. If you find it worth considering, come on in.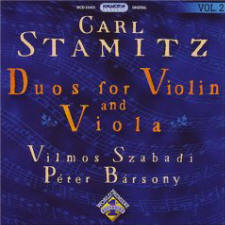 Carl Stamitz, Duos for Violin and Viola, Vilmos Szabadi, violin; Péter Barsony, viola. Hungaroton HCD 32282
If you like the sound of a solo (unaccompanied, unblended) violin; if you like the sound of a solo viola; and if you like the music of the classical period, the mid-eighteenth century, paired down to its basic elements, you will probably love this recording. This is not elegant background music, though it could be played that way. These two musicians (Szabadi is considered "Hungary's foremost violinist") attack their instruments with enthusiasm and conspicuous mastery—and they are miked to reveal all of their sound. This recording is as much about the violin and viola as it is about the music they are playing, by design. The viola was the composer's favorite.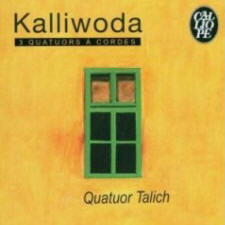 Kalliwoda, Three String Quartets. The Talich Quartet: Jan Tallich, Petr Macecek, violins; Vladimir Bukăc, viola; Petr Prausse, cello. Calliope Records CAL 9357.
Seeking out and listening to the music of minor composers, without guidance, while brave is also generally a crapshoot. The passage of time is generally a pretty fair judge of whose musical voice has staying power, whose gets properly lost in the shadows of those who simply do it better.
I sought out this recording because the music has been chosen and played by the nearly peerless Talich Quartet, whom I was recently wowed by as part of the 2007 the Music at Deerfield (MA) series. They are Czech, this is Czech music, so I understood that this program could have a patriotic component. But the Talichs don't need to waste their time on projects that lack true musical merit. Enough said.
Johann Kalliwoda wrote his music—a great deal of it in a great many forms—in the 1830s and 1840s, under the presumed shadow of Mozart and Beethoven. Artists are more affected by their immediate predecessors than their contemporaries, most of whose work they don't even know. But Kalliwoda does not bring either of these formidable composers to mind—that is, until we begin to compare him with one of his major successors. His music is solidly in the nineteenth century, dominated by a forceful presentation of melody and melodic development, occasionally verging on the operatic. If anyone comes to mind, it is Dvorak, who wrote a generation later. To my ears, he sounds like a Beethovened Dvorak! And I mean that as a compliment. He hasn't Dvorak's melodic inventiveness or recognizable voice; but he often feels better grounded and more coherent. And played by the Talichs, he is more forceful.
All three of the quartets on this recording were written between 1831 and 1835 and so presumably represent a single stage of the composer's development. I enjoyed all three of them, partly, it must be said, because I can hear the Talichs' advocacy in their forceful, spirited, and eloquent playing. This is the kind of music that an indifferent performance could do serious damage to. No danger of that here.
System used for these auditions: Audio Note CDT 3 transport and Dac 4.1 Balanced Signature; Blue Circle FtTH hybrid integrated amplifier; JM Reynaud Offrande Signature speakers; with Audio Note Sogon interconnects and Lexus speaker cable.
Bob Neill, in addition to being an occasional equipment and regular music reviewer for Positive- Feedback Online, is also proprietor of Amherst Audio in Amherst, Massachusetts, which sells equipment from Audio Note, Blue Circle, Manley Labs, and JM Reynaud, among others.