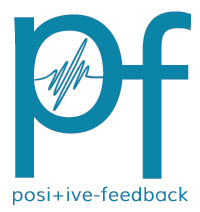 You are reading the older HTML site
Positive Feedback ISSUE 27

september/october
2006
Notes of an Amateur October, 2006 - Part II
by Bob Neill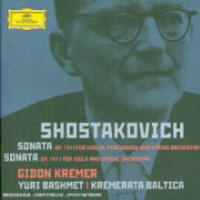 Shostakovich, Sonatas for Violin and Viola, Orchestrated. Gidon Kremer, violin and director; Yuri Bashmet, viola. Kremerata Baltica. Deutsche Gramophone 4778196.
Arranging small chamber works for orchestral forces is too often an exercise in fatuous inflation. Which is to say, I did not approach a recording of these two 'altered' works with much enthusiasm. I gave it a chance because of the musicians involved—Bashmet owns the viola sonata. I am very glad I did. (The arrangements were done by other musician/composers—the viola transcription in 1991, the violin in 2005.)
What these arrangements do, rather than inflate or (over) enrich the original pieces which is often what happens in cases such as this (at least one of Shostakovich's string quartets has been orchestrated), is intensify them. The violin and viola still dominate their respective works. But Kremer's large string orchestra (13 violins, 5 violas, 4 cellos, 2 monumental double basses, and percussion on the violin sonata) mainly increases the dynamic scale of the pieces, while the lower strings add a whole new foundational dimension, which in the violin sonata especially is nearly overwhelming in its power.
Some may well object that changing the scale of these pieces just flat changes them into something else. The greatest change brought about here is probably the removal of the contrasting voice of the piano: there is much to be said for the spareness of the contrast achieved by the alto stringed instrument alongside the piano in the more elegiac viola sonata. In this form, the piece is lonelier, the viola nobler. Bashmet's version of the original version (with Sviatislav Richter on Olympia, OCD 625, recorded in 1985, issued on CD in 1997) makes a very powerful case for it.
I can go either way happily on this, but agree with album commentator David Fanning that these particular sonatas do seem, once heard in their orchestrated versions (these are concertos not chamber symphonies), to be latent concertos. The original violin sonata especially seems almost to burst the seams of the smaller forces. Which do you prefer—Bach's Goldbergs on solo keyboard or as a string trio (transposed by Dymitry Sikovetsky)? And don't laugh until you hear the Sikovetksy version. (Orfeo C 138-851A)
As orchestrated pieces, these two sonatas do sound like true Shostakovich, thanks to both Kremer and Bashmet—something midway between the quartets and symphonies in their overall musical effect. In a word, they work and I heartily recommend the recording.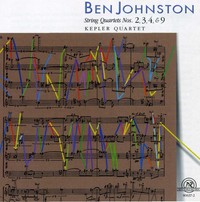 Ben Johnston, String Quartets 2, 3, 4 & 9. Kepler Quartet. New World Records 80637-2
I come late to the Ben Johnston party, though I had hints (from the Kronos and Stanford Quartets) that there might well be something here to dwell on. That Johnston is now eighty years old seems shocking. But it does seem that he is finally to get his due: this is the first release in a series that will eventually give us all ten of his string quartets.
I am much taken by this music but reluctant to make judgments at this point about its stature. It is still too new to me. So I will simply transcribe my listening notes in the hope of appealing to your curiosity and will save generalizations until I've heard more of his work.
String Quartet Number Nine (1988). First movement: "Appalachian Waltz" by a source with the same musical roots but a more abstract mind. A modal sound, which is likely the result of the composer's use of just temperament, which unlike the equal temperament we are accustomed to, results in different spacing between notes. The second movement is more urgent and busy. In the third we are back to the roots sound but now slower, more pastoral, almost hymn-like. In the final movement the tempo is up again and we have something almost Eastern European but with a swing to it. I see why the record producer led off with this piece.
String Quartet Number Three (1966). I found I had nothing to say about this piece the first time through and so set it aside for a couple of days. It felt like a sketch for something to be worked out later. The music darts around as if trying things out. The second time through I heard a wisp of a melody trying to find its way out. It turns into a plaintive wandering for a couple of minutes and then the darting about is back. This remains a quizzical work, which I will revisit. There is something interesting going on here. The quartet is called "Verging," which is suggestive; and it is sometimes coupled with Quartet Number 4 in concerts, which as it turns out is even more suggestive, though the latter was not written until seven years late.
String Quartet Number 4 (1973). Back to roots, sort of. This is Johnston's transformation of "Amazing Grace" into a theme and variations, which amounts to a complex universe with "Amazing Grace" at its center. It is a wild ride off in many directions. The extremely informative program notes tell us that three different tunings are used!
String Quartet Number 2 (1964). Johnston's second quartet is the earliest piece on the CD. It feels a good deal more like other modern composers' music, though this apparent relation can be deceiving. Like Eliott Carter, for example, the music appears to be more about defining a space than delivering a musical narrative. But there is considerably more drama here than in anything I know of Carter's. We are aware of an emotional core to the piece that is frequently missing from contemporary modernism. We feel ourselves invited to infer a tale from its most intense moments.
I am sure that just temperament has a good deal to do with the appeal of this music. I sense it almost literally reading 'between the notes' to get at something fundamental lying behind them. This is foolishness, of course; but there is a strange and moving quality to this music that needs to be addressed. Perhaps the next CD in the series will tell me more.
The sound of this recording is superb.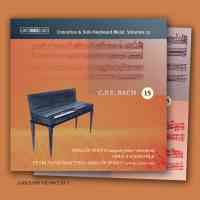 Carl Philip Emmanuel Bach, Keyboard Concertos and Solo Keyboard Music. Volumes 15, two CD's. BIS 1422.
Okay, all of you out there who have been hanging back afraid you might get hooked into one or both of these continuing series if you heard a sample of either, here's the Devil at BIS Records offering you one of each for the price of a single CD. Both series have reached Volume 15, and so Bis has decided it is time to do something special. I'm sure what's also at work here is drawing more customers, a move entirely justified by the quality of the music. This is the kind of worthy recording project that no major label would undertake—and why many of them have become moribund. At the moment, the only equally compelling ventures I know of are John Eliot Gardiner's Bach Cantata cycle on his own label (!) and Koopman's comparable cycle, which was in danger of dying out within sight of the finish line when Challenge Classics picked it up.
C.P.E. Bach, Johann Sebastian's oldest and most talented son, who, were his name anything other than Bach, would be recognized for what he is: the composer who defines the music between baroque and neoclassical. He writes music that is freer and more spacious (less closely packed) than that of his baroque forebears, less straightforward and elegant than that of his successors. It is full of wonderful surprising turns and eccentricities. Once you've heard a few of his works, you can pick him out of a crowd in an instant. His unique voice characterizes both his orchestral and solo keyboard music. It has a eccentric and engaging spirit that has become essential to my musical life and I urge it on you.
The projects before us, produced, directed, and led by keyboard player Miklos Spanyi, moved from Hungary to Finland a release or so ago, where it is now happily nourished by that country's rich and vibrant modern musical culture. The chamber orchestra that Spanyi now leads is the Opus X Ensemble. They are a marvel, as is Spanyi himself. The keyboard instrument he plays in these concertos is an instrument that Spanyi has led the revival of, the tangent piano: it marries the virtues of the harpsichord with the fortepiano and magically seems to escape the shortcoming of each. It is vibrant, crisp, and lyrical. Spanyi plays a clavichord for the solo pieces in this set. Coming to the solo music from JS Bach's before him and Haydn's after, I find it winsomely wayward and a bit melancholy. It plays very well on a cold, rainy October day in New England.
This double album is a perfect entrance to these two series and to C.P.E. Bach himself.
System used for these auditions: Audio Note CDT 2 II transport and Dac 4.1 Balanced Signature, Audio Note M6 preamplifier and Neiro amplifier, Audio Note AN-E/SPx SE speakers. Cabling is Audio Note Sogon, AN-Vx, and SPx.
Bob Neill, in addition to being an occasional equipment and regular music reviewer for Positive- Feedback Online, is also proprietor of Amherst Audio in Amherst, Massachusetts, which sells equipment from Audio Note, Blue Circle, Manley Labs, and JM Reynaud, among others.