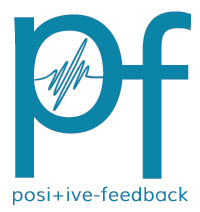 You are reading the older HTML site

Positive Feedback ISSUE

30
march/april 2007
Music, Sound and Personalities: The 2007 CES and T.H.E. SHOW
by Dave Glackin
[All photographs by Glackin; image processing by David W. Robinson]
This was my twenty-second CES, and my fourteenth as a member of the audiophile press. The CES moved their high-end audio show from the Alexis Park to the Venetian this year. Much apprehension was in the air, but in the end many of the best sounding rooms were to be found in the Tower of the Venetian. The conference rooms with the sliding walls on the lower floors of the Venetian were horrible, with bloated bass due to the flexible walls, and mucho bleed-through from room to room. Neighboring exhibitors were forced to time-share. A tremendous amount of walking was involved in seeing this show, and the parking structure turned out to be like something from an Escher drawing. The hotel charged the exhibitors usurious prices for food and drink (would you believe $60 for a dozen bagels?) and for moving furniture. Room rates were up significantly this year as well. The sound police were running around with SPL meters, harassing some exhibitors to keep it under 85dB. And to top it all off, the contractual conditions were so unappealing to the many fine vendors of vinyl that all boycotted the show this year. Let's hope that some of these problems are resolved before next year.
Mike Maloney and Richard Beers did another outstanding job with T.H.E. SHOW this year, providing a much more laid-back atmosphere, and an alternative to the expense and clamor of the Venetian. Exhibitors could bring in their own food and drink and move furniture around to their hearts' content. There were many great-sounding rooms in the St. Tropez, although Mike wasn't allowed to use the large rooms this year, which was a shame. The lunch, as always, was most enjoyable, held out on the grass under a sunny blue sky. That provided a chance to catch up with old friends and shoot the breeze in a relaxed atmosphere. Keep it coming, Mike and Richard ...you guys are doing a great job!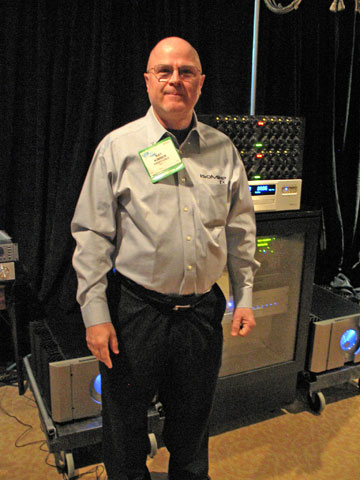 Ray Kimber of Kimber Kable
The Best Sense of Live Concert Realism was in the Kimber Kable/Sound Lab room. I am fully convinced that high-quality surround is the way to go for concert-hall realism, and this system proved the point in spades. Ray Kimber was playing his isoMike DSD recordings through a stack of Ed Meitner's EMM Labs gear into Pass amplifiers that were powering four pairs of huge professional ProStat 922 Sound Lab loudspeakers (the closest consumer equivalent is the Majestic). The big room (23' x 30' x 10.5') really let this system shine.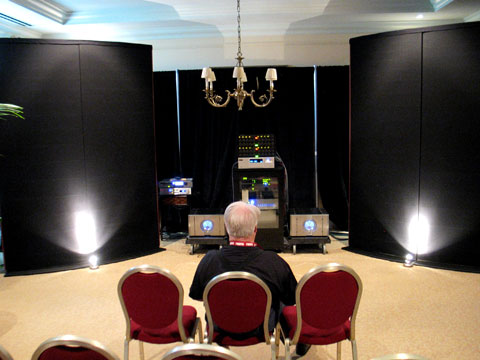 Stan "The Man!" Ricker in the sweet spot, taking in Ray Kimber's glorious DSD recordings via EMM Labs/Pass/Sound Lab.
Two of the four pairs of Sound Labs are visible here, as Stan Ricker takes it all in. My ex-wife sang in the Roger Wagner Master Chorale and the Roger Wagner Ensemble, and the isoMike choral recording that Ray Kimber played reproduced the experience of sitting in front of a choir better than anything I have ever heard. It was scarily real and utterly organic. At one point, a baby in the audience made a noise, and I looked around to see who snuck the kid into CES. The sense of power, air and space in an organ recording was amazing. Bravo, Ray.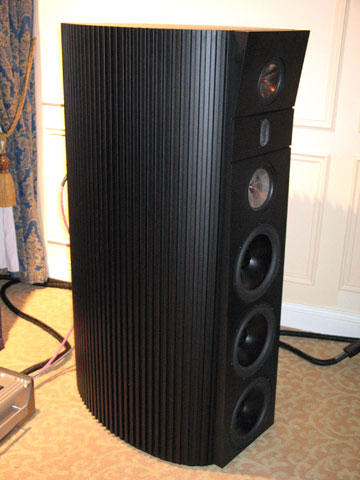 The Best Two-Channel Sound in the Show was in the Magico room. The new big Magico 6 loudspeakers (pictured) were being fed with open-reel tape and electronics from BA labo (Bridge Audio Laboratories of Japan). In terms of pure sound quality, this system outstripped anything in the show. It had delicacy and nuance, coupled with power and authority, and was quite captivating. Although it didn't reproduce a sense of being in a concert hall with the musicians as well as the Kimber Kable/Sound Lab system, I have a feeling that it would if set up with four identical loudspeakers. This was one room that was very hard to leave.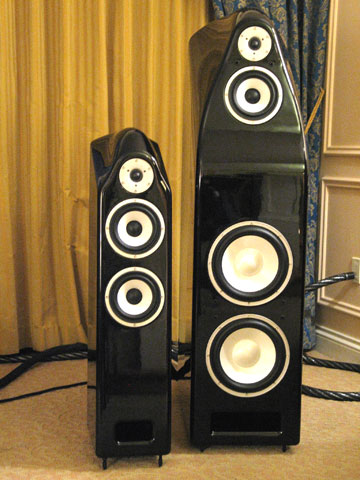 The Best Two-Channel Sound in the Show (Runner Up) was in the Hansen room. Lars Hansen was obviously proud of his 350lb Emperor loudspeakers, as well as the somewhat smaller Knight. (The top-of-the-line Kings were not present, as they were still in the hands of a well known reviewer who was reluctant to part with them just yet.) They played portions of Soular Energy by the Ray Brown Trio on the Pure Audiophile label, an LP that Stan Ricker mastered. Stan was very taken with the effortless, full-range reproduction, and once again it was very hard to leave.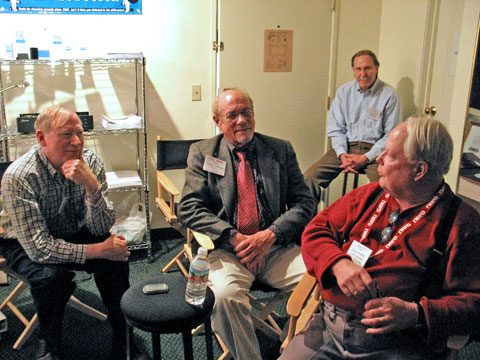 Keith Herron, Clark Johnsen, Duane Goldman, and Stan Ricker
The Best Preamp in the Show (for me) was in the Herron Audio room. Keith Herron (minus, alas, his wife Joan) was demonstrating a system comprised of his own electronics, cables, and loudspeakers. The HL-1 preamp that I recently purchased for my reference system (with phono stage) is a solid state preamp that captures the magic of tubes, with the added benefits of solid state, especially in bass definition and control. But what I really like is the remote control that allows switching of absolute polarity, and volume control selection over 100 steps that can be read on the display from 26 feet away in my listening room. Getting the absolute polarity correct is crucial to the life-like reproduction of many recordings. Keith was also demonstrating prototypes of his new model 103A loudspeakers, powered by his M1 monoblocks. Stan noted, "I think I could cut records on this speaker." High praise indeed. Pictured left-to-right are Keith Herron, Clark Johnsen, Duane (The Disc Doctor) Goldman, and Stan Ricker doing what CES is all about.
Keith taught me a valuable lesson about cartridge loading. He compared the same recording with 47 k-ohm loading (sometimes referred to as "wide open") with truly wide open (i.e., no) loading. The difference was startling. The true wide open mode had a wider soundstage and a better midrange. Keith then performed a mind-bending demo involving his VTPH-2 phono preamp and an anti-RIAA box of his own design. Keith played a CD the usual way, going into his line stage, then he played it going into the anti-RIAA box feeding the phono input of his VTPH-2, with the same linestage. Darned if the latter didn't sound strikingly better. This was the most thought-provoking demo that I saw at CES.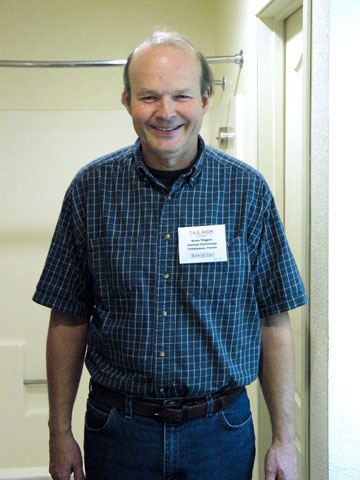 Bruce Thigpen of Eminent Technology
The Most Astonishing Very Low Bass was in the Eminent Technology room of Bruce Thigpen. Bruce's Rotary Woofer is powered by a propeller-like device whose blades can be articulated (pictured with real-time power spectrum analyzer).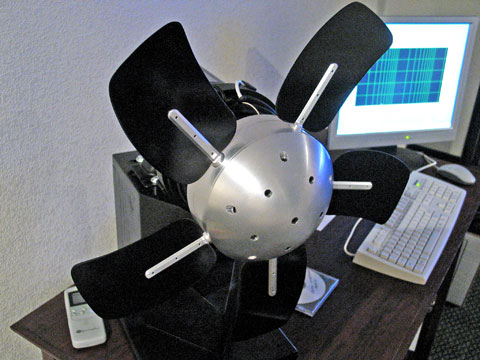 The articulation of the blades is modulated by the musical signal. The spinning propeller feeds a large baffled box (pictured) that opens into the adjacent room where the rest of the system was located, including Eminent Technology LFT-VIII push-pull hybrid magnetostats, my reference loudspeaker of choice.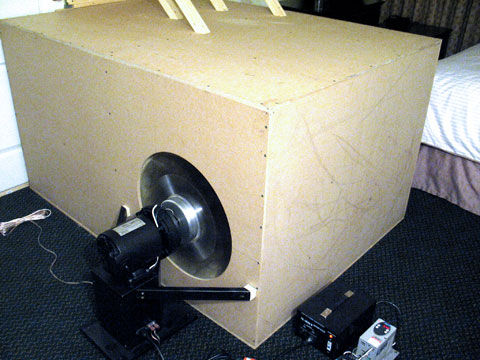 The power spectral plots showed that this system was producing very significant power down to about 3 Hz. Bruce played a ten-second cut designed to simulate an earthquake, and it was very realistic (I've been through a few). Very impressive! Incidentally, Bruce now has upgraded tweeters available for the LFT-VIII, with neodymium magnets, that are retrofittable by the owner.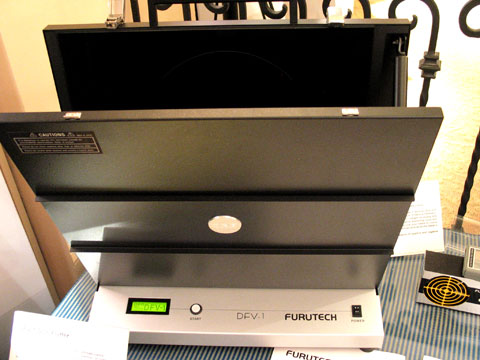 The Furutech DFV-1 LP Flattener
The Best Range of High-Tech Accessories was in the Furutech room. In addition to the DFV-1 LP flattener and a demagnetizer for use with LPs, CDs, cables, etc., they have a very wide range of connectors, AC wall outlets, power conditioners, cables, room diffusers, and much more.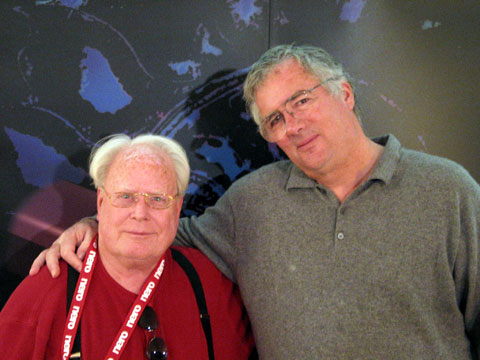 Stan Ricker with George Cardas
My Reference Cables were being shown by George Cardas of Cardas Audio. I have used his cables throughout my system for years, with the exception of my tonearm cable (which is a Music Groove 2 from Hovland). George was gracious as always, and Stan and I enjoyed talking with him about a new LP project.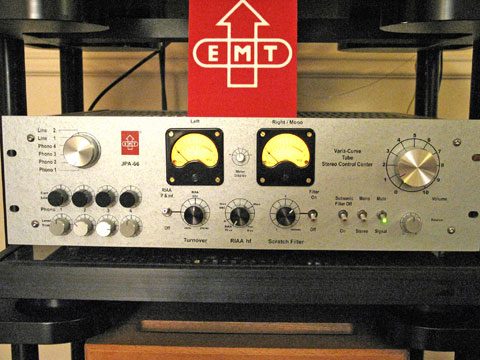 The EMT Preamp
The Most Back-to-the-Past Fun was in the DeVore Fidelity room. A modified Garrard 301 turntable with an EMT cartridge and tonearm was feeding an EMT preamp, designed especially to accommodate the vagaries of 78 rpm records, and a Leben power amplifier (imported by Tone Imports). The 78s they played through the DeVore "The Nines" loudspeakers included one from Laverne Baker and one from the Four Tunes. This was one of the most fun rooms in the show.
The Best New Manufacturer Missing from the Show was Minus k Technology. Loyal readers may remember my review of Dr. Platus' Phenomenal Prototype Platform in these pages (http://www.positive-feedback.com/Issue1/platus.htm). This company's regular business is making isolation platforms for atomic force microscopes, sensitive spacecraft test assemblies, medical scanners, and so on. Dr. David Platus is now making production models of his "negative stiffness" isolation platforms for the audio world, and he is gaining an avid following. Check this out for something that I think will prove better than even the Vibraplane for isolating turntables.
The Best Guy to See the Show With was, of course, Stan Ricker, who is not only a world renowned record mastering engineer, but is also one phenomenal conductor, musician, and teacher. My interview with Stan, which originally spanned 45 pages across three issues of the old hard-copy Positive Feedback Magazine, can be found reprinted in Positive Feedback Online (http://www.positive-feedback.com/Issue1/ricker1.htm). Even at this length, it only begins to plumb the depths of Stan's knowledge, wisdom, practical experience, and humor. Read it and learn from the master. Walking around the show with such a heat-seeking missile for good sound made my job one heck of a lot easier. And an absolute blast to boot!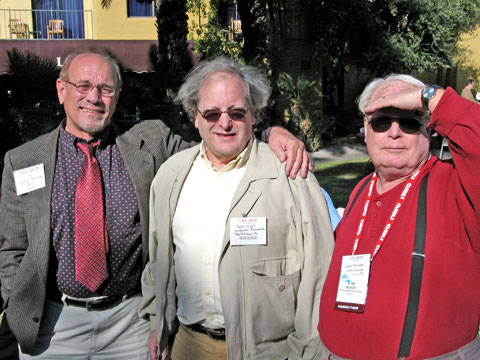 The Most Illustrious Lunch Crowd was none other than Clark Johnsen, John Curl and Stan Ricker (pictured left-to-right). Clark, whom some of you know as that perspicacious pundit of polarity, has an instinct for effective tweaks that is second to none (and he writes some damn good CES reports). John Curl, the legendary electronics design guru, helped to get high-end audio started through his design of the JC-1 preamplifier for Mark Levinson Audio Systems in the 1970s. John has resuscitated his company Vendetta Research to produce his no-holds-barred designs. His new VR3 phono preamplifier was at the show, but I was unable to hear it. John is also developing his JC-2 preamplifier for Parasound.
The Best Chemist in the Show was none other than Duane Goldman (The Disc Doctor). Duane has an understanding of chemistry as it relates to the cleaning of LPs and 78s, and indeed to audio in general, that I believe, with the passing of Toy Shigekawa, is unparalleled. We had some long, intense discussions about chemistry and many other subjects, all of which were thoroughly enjoyable.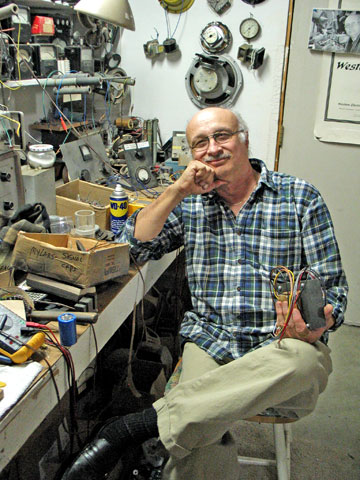 Jack Elliano of Electra-Print
The Most Interesting Transformer Manufacturer in the show was Jack Elliano of Electra-Print. Jack is pictured here in his lab, one evening after the show. He actually has a rather large facility, with a staggering array of tubes, electronics, loudspeakers, parts, and whatnot. He manufactures transformers, chokes, and custom amplifiers. Jack learned transformer design and manufacture from a fellow who worked at Peerless, and he has a reputation for building high-quality components. Jack showed me the circuit diagram for a 21-watt SET amplifier using a Sovtek 6A3 ...a pretty amazing output spec. Jack connected some famous-manufacturer mylar capacitors to a signal generator, and demonstrated how they act as electrostatic loudspeakers, producing an audible tone when driven in this manner. Each has different resonance points. Paper capacitors do not do this, and that is what Jack uses in his designs. Thanks for a most educational evening, Jack!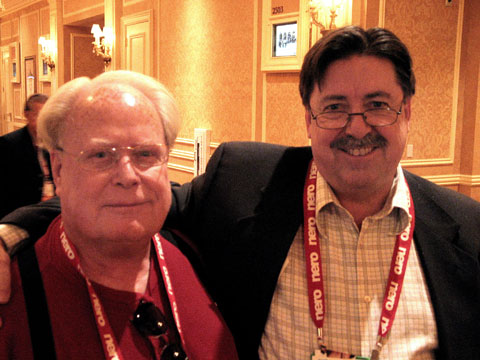 Stan Ricker with Paul Stubblebine
The Most Ear-Catching Announcement came from Paul Stubblebine (pictured), the renowned mastering engineer. Paul has founded a company called The Tape Project, which will be re-releasing classical, jazz, blues and roots recordings on reel-to-reel quarter-inch half-track 15-ips tapes (on 10.5-inch reels). Paul has a bank of ATR-100 tape decks for dubbing.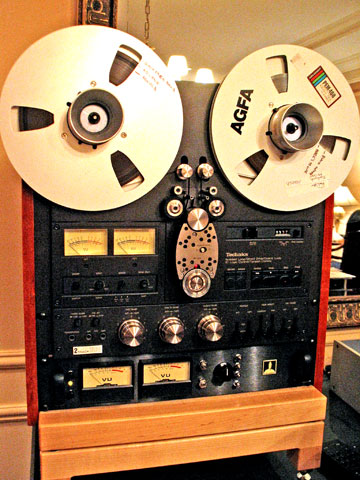 Technics RS-1500 half-track open reel
The recommended playback deck is the Technics RS-1500, which is my reference deck. The tapes will be produced with the IEC curve (formerly known as CCIR), so your deck has to be set up for that. Company personnel can modify your Technics tape deck, or modify one and sell it to you. The mods include replacing the playback electronics with tubed circuitry from the Bottlehead Corp. and installing custom narrow-gap heads from Flux Magnetics (modified deck pictured). Higher on the food chain, you can also have an ATR-100 or a Studer deck modified. Paul notes that the Dutch company RMGI is now producing blank open tape with the Agfa and BASF formulations. They are making an equivalent of the discontinued 468, which is especially good news for tape connoisseurs.
Ron Meyer of Encore Performance Recordings was getting quite good hall buzz about his Percussion Demo and System Conditioning Disc. The disc comprises nine tracks consisting primarily of a wide variety of percussion instruments, from triangle and cymbals through bass drum. The recording reproduces transient attacks, decay tails and dynamic range quite well, over a wide range of frequencies. The concept is that playing this disc periodically will stress your system, after which it will sound better, with improved clarity and transient attack. CES exhibitors were reporting good results. Post-CES I tried it on my reference system, also with good results. I predict that you'll like it if you try it.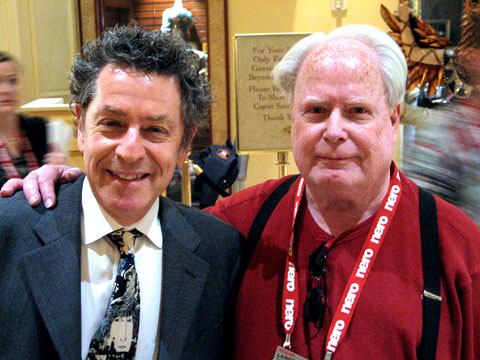 The Best Tie was being sported by Michael Fremer of Stereophile. Michael was kind enough to stop for this shot with Stan Ricker.
Sweet Sixteen Systems
Described in this section are sixteen other systems that really floated my boat. They are listed in alphabetical order.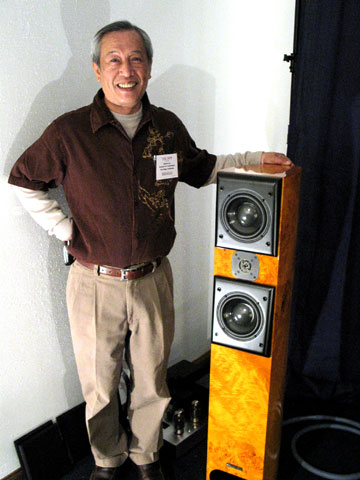 Robert Lee of Acoustic Zen
Robert Lee of Acoustic Zen was showcasing his much acclaimed Adagio loudspeaker. The midrange/bass drivers have under-hung voice coils in a long magnetic gap, so that their behavior is very linear. The tweeters are circular ribbons with kapton membranes, which are exceedingly low in mass. Bass is produced via twin transmission lines. When we reached Robert's room partway through the show, Stan said "This is the first thing I've heard that's neutral and clear." This system was clean and transparent, with great soundstaging, and the speakers just seemed to disappear. It was equally good on female vocals and on full orchestral music. I have known Robert Lee almost since he first came to the US, and have known for decades that he can build first-rate, eminently musical loudspeakers. I'm thrilled that he is now bringing his designs to market. The Adagios are an outstanding bargain. Bravo, Robert.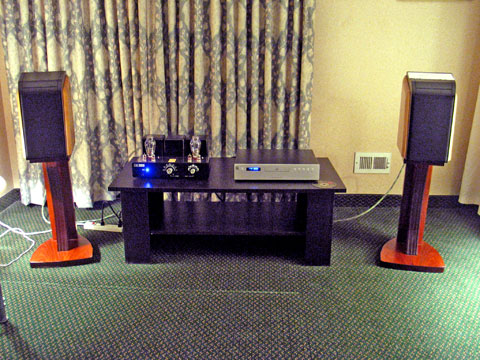 America Digital Audio (ADA) is a new company that seemingly came out of nowhere this year, to demonstrate a complete system (pictured) consisting of their CD player feeding their OD-300B 9-watt integrated vacuum tube amplifier, feeding a pair of gorgeous prototype AD-1 loudspeakers designed in the US using SEAS drivers but made in China (the photo doesn't do them justice). Company CEO T. J. Chuang said the speakers were only 86 dB efficient, yet the 9-watt amplifier was producing absolutely gorgeous sound through them. The ADA system was one of the biggest surprises of the show for me, and they deserve to be more widely recognized. Great job!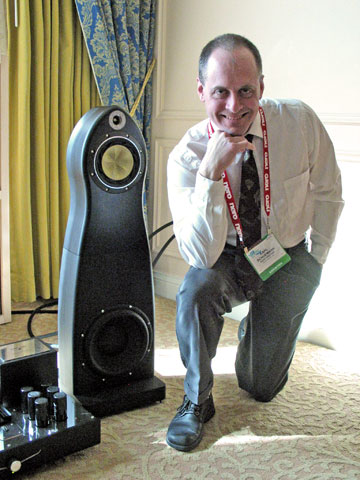 Dr. Karl Schuemann of Audio Machina
Dr. Karl Schuemann of Audio Machina manufactures the Ultimate Monitors that so impressed me at the 2005 CES. (For past Positive Feedback Online articles on Karl Schuemann, his speakers and his design philosophy, see Issue 14 at http://www.positive-feedback.com/Issue14/audiomachina.htm, Issue 16 at http://www.positive-feedback.com/Issue16/audiomachina.htm, and Issue 18 at http://www.positive-feedback.com/Issue18/ultimatemonitors.htm.) Karl was showing a new loudspeaker called the Pure System this year. They use aluminum cabinets, are 90dB efficient, and have integral self-powered subwoofers. Driven with Audi Aero electronics (including 40-watt SET amps), they had outstanding timbre, realism and jump. These speakers need to be reviewed in the pages of PFO. Also shown were the Kosmic acoustic panels. These are solid maple, with individually adjustable slats. They were clearly working well in Karl's room, affording beyond-the-back-wall imaging, and deserve a follow-up.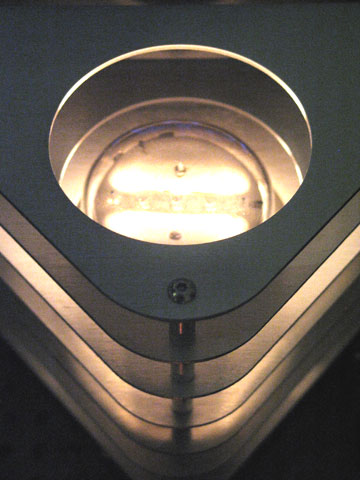 The deHavilland Aries GM-70 in glowing action!
Kara Chaffee and George Kielcyznski of the deHavilland Electric Amplifier Company were once again exhibiting a very compelling system including the deHavilland Mercury preamplifier and Aries GM-70 monoblock, a 50-watt amplifier that uses a Russian version (pictured) of the 845 tube. This happens to be my favorite tube of all time. These amplifiers were once again paired with the Alon Lotus Elite Signature loudspeaker, which seems to be a match made in heaven. Great sound from a fantastic company. This is always one of my favorite rooms to just spend time in listening to music.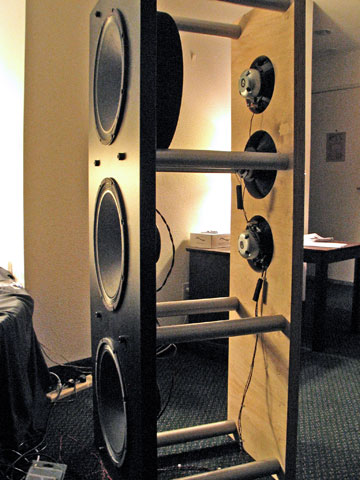 Clayton Shaw from Emerald Physics was exhibiting the Nemesis CS1 DSP-controlled dipolar loudspeaker (rear view shown here). This 100dB tri-amped loudspeaker had a quality of transparency that I hardly heard in any other room in the show. Its neodymium compression tweeter handled sibilants well, with no splash. Also exhibiting in this room was Ben Piazza of Shakti Innovations. The Shakti Hallograph Soundfield Optimizer, a room acoustics device, was demonstrated to such good effect that I had to take a pair home to review in my reference system and compare with my beloved RPG Diffusers. Ben also demonstrated the very positive effects of the Shakti On-Lines.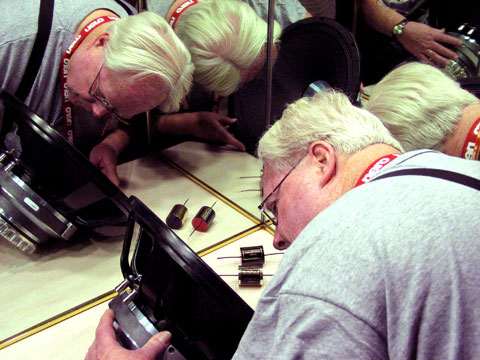 Stan Ricker closely inspecting speakers from Hemp Acoustics
Hemp Acoustics manufactures loudspeaker drivers using 100% hemp paper, as well as hemp composites, and Perry Pecker described the virtues of hemp (as a cone material). Pictured is Stan Ricker examining one such driver. Exhibiting with Hemp were two companies that use their drivers. Erik Peel of Tympanik demonstrated a prototype baffleless speaker using the Hemp 100 coaxial driver. This 97dB efficiency speaker exhibited outstanding dispersion characteristics ...I could walk around the room with little change in the sound. Kevin Whilden of Solar hi-fi demonstrated the Muse speaker, using the Hemp XBL driver, driven with Solar's 125-watt Class D amplifier. This system had great transparency and timbre. (All of the above loudspeakers use ClarityCap SA capacitors.) Also very cool was a guitar whose body was made entirely from hemp!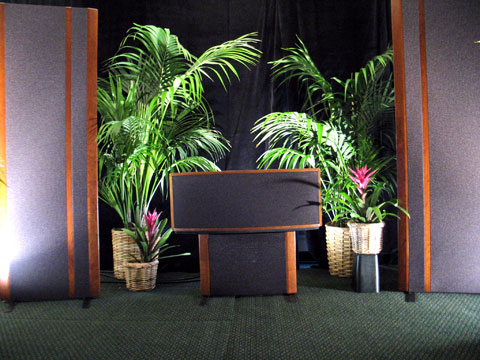 Magnepan had a surround system set up, with the MG 3.6 up front (pictured) and the MG 1.5 for the rear channels. The sound was airy, open and effortless.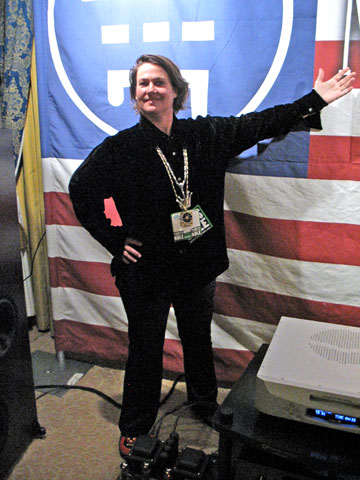 The one and only EveAnna Manley!
EveAnna Manley of Manley Laboratories and Israel Blume of Coincident Speaker Technology were demonstrating a system that included the Manley Snapper monoblocks and the Coincident Total Eclipse II loudspeakers. This room always sounds outstanding, and this year was no exception ...a real sense of live music. Keep up the great work, you two. See you at Sapphire, EveAnna.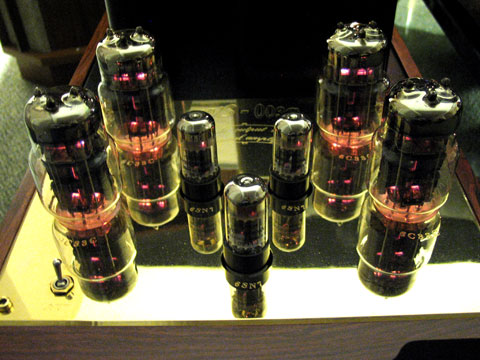 The Navison Audio Company NVS-003G OTL monoblock amplifier
Ben Nguyen of Navison Audio Company was demonstrating a drop-dead gorgeous system that was designed in San Jose, California, but manufactured in Vietnam. Their NVS-003G 75-watt OTL (output-transformerless) monoblocks use 6C33C output tubes, and were driving a pair of Tannoy Prestige loudspeakers to great effect. Navison also manufactures more amplifiers, preamplifiers, and loudspeakers, with very high quality wood and metal work. We appreciated the gracious treatment that we received from Navison, as well as the beautiful way in which the room was set up.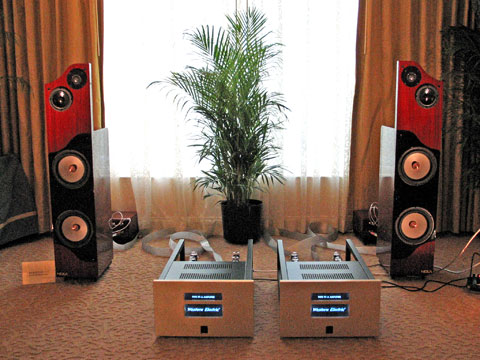 Carl Marchisotto of Nola Speakers (formerly Alon) and Western Electric were demonstrating a fantastic system (pictured) consisting of the Nola Viper Reference loudspeaker and the Western Electric 97-A monoblocks, producing 100 watts apiece. This system got female vocals dead-on.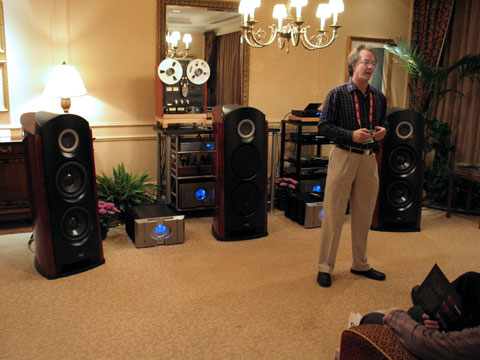 Andrew Jones (pictured) of Pioneer Electronics (USA) Inc. (the parent company of TAD) was demonstrating a system that included early open-reel tapes from The Tape Project (see above) and the TAD Reference One loudspeaker, featuring 2-inch-thick side walls and a 330 lb mass. The vapor-deposited beryllium concentric drivers were said to be the largest in the world. This system was smooth, natural and musical.