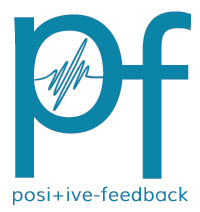 You are reading the older HTML site
Positive Feedback ISSUE 14
july/august 2004
An Interview with Karl Schuemann of AudioMachina
by David W. Robinson
All photographs and image processing by David W. Robinson
On May 21, 2004, I interviewed Karl Schuemann of AudioMachina, a speaker company based in Washington State. In it, Karl speaks of his design philosophy and what he's trying to do in his work.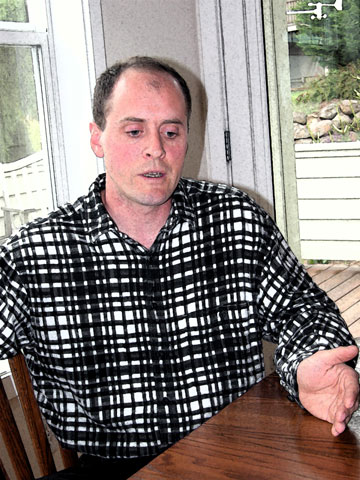 AudioMachina's Karl Schuemann (fresco by Robinson)
Robinson: What I want to do to get started, Karl, is to talk to you about your design philosophy, your company, where you came from. I would like to start chronologically and talk about how you got into audio in the first place. What is the background that you bring to this project?
Schuemann: Well, I started building speakers back when I was in college. I have been doing it pretty much ever since, as a hobby, and fairly intensely. I actually started out—my first system—was actually a two way time-aligned with first-order crossover, using Dynaudio drivers. I have gone far afield since then, but I am basically back to where I started, I guess.
Robinson: So you started out as another one of those "disappointed college guys hacking his own system together," right? But your typical audio-lover doesn't start out in college to build speakers, does he?
Schuemann: I think a lot of people get started this way. Your budget simply can't do justice to the kind of system you want, so you end up building it yourself.
Robinson: What kind of sources were you using in that college system of yours?
Schuemann: I had a Dual turntable—I think it was a Dual—that I inherited from my father. It was a very old one. And then there was just the usual stuff: Yamaha receiver, tape deck. That was about it.
Robinson: When you went to college, what kind of program were you pursuing at that time?
Schuemann: I was in physics, and I graduated in physics with a minor in math.
Robinson: So you bring some technical power to the work, then…
Schuemann: Oh yeah. I have had a lot of experience. Math was always my favorite subject in school, and pretty much my whole life has been in various hobbies that were either electrically or mechanically oriented. It was a good combination for speakers.
Robinson: How long did you have the speakers that you built in college?
Schuemann: I had the first pair for only two or three years probably. I don't remember what happened to them, honestly.
Robinson: That was some party!
Schuemann: No, actually it was kind of sad. During my first year in medical school, several friends and I rented this storage unit in the town where we were going to school, and put everything we owned in it for the summer. When we came back, we had been cleaned out. I have always suspected it was an inside job because of the amount of stuff that they managed to remove. I lost my entire system, all my records and everything. So I got to start over at that point.
Robinson: After college, how did you move on into audio? What have you done since college? Was it all audio, or were you working?
Schuemann: Oh no. This is the first time I have ever done anything as far as trying to put something into production in audio. I really am too much of a perfectionist to want to put something on the market until I know that it is really, really good. Until this point, I didn't feel like I actually knew enough to do what I really wanted to do. This project has been going on close to five years since I actually started this particular design. Even that took a long time to put together.
Robinson: When you decided that you were going to go into production, did you, at the beginning, have a pretty clear idea of what it was that you were going to produce? Was it the Ultimate Monitor…?
Schuemann: Yes. I don't really do anything without having an almost exact idea in my mind of exactly what the end result is going to be. I tend to think a lot before I start cutting.
Robinson: Tell us about what you brought to that project. What was it that you were looking to do—or what was it that other speakers weren't doing—that led you to launch your company?
Schuemann: Well, there wasn't just one reason for starting out. There were many things that kind of came together.
I guess I should probably say a couple of words about what speakers I find really intriguing. The two types that I have found really interesting in my life are full-range electrostatics and Walsh systems. I have always been pretty dissatisfied with the overall performance of multi-way dynamic speakers for a bunch of reasons that we can go into. The thing that the electrostatics and Walsh systems have in common is that they are a single transducer with virtually no interference from the mounting system upon the sound that they produce. As it goes out into the room, there is very little to get in its way. I think that a lot of dynamic speaker designers don't tend to take those strengths into consideration when they are doing their designs. In something like a full-range electrostatic, you have a very pure transducer in the sense that whatever signal you are feeding into it, if you measure the waveform that comes out, it is very, very similar.
That is something that really isn't given a whole lot of attention in most multi-way speakers. You feed something in and what comes out is completely different. They say, "Well, you really can't hear that because people can't hear a certain amount of acoustical delay, and you can't hear different drivers at different places. And the truth is—you can hear all of that. You can hear the enclosure. So, the multi-way box speaker, although it is very popular, is really compromised in many ways. And my speaker was intended to minimize those compromises as much as humanly possible. The cabinet is, as far as I am concerned, the finest cabinet that has ever been made just because it gets out of the way. It doesn't resonate. It doesn't have any surfaces that are in the way of the drivers. It doesn't have any corners that the sound waves are going to run into. And so it was designed to make the box as a problem, disappear.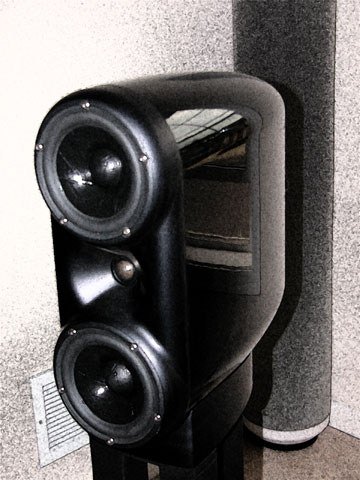 The Ultimate Monitor on its Sound Anchors stand (fresco by Robinson)
Robinson: How did you do that? Why don't you describe for our readers what is unusual about the Ultimate Monitor box.
Schuemann: The front baffle is machined out of a solid block of 2 inch thick aluminum. It is completely sculpted over the entire front with no sharp corners. It is also extremely narrow so that, for all practical purposes, throughout the vast majority of the audio range, there is no edge diffraction from that cabinet. The sound waves simply come out in a dispersed 360 degrees and that is that. For all practical purposes, it is as if the drivers were operating in free space, but as a monopole rather than a dipole, which is what I was trying to achieve. Then the rear cabinet is quite deep and tapered and has no parallel walls. Due to its construction, the carbon fiber construction that we are using is just extremely stiff and also extremely well damped because of some special things we are doing with it. Again, for all practical purposes, that cabinet does not contribute to the sound of the speaker at all.
I think you would be surprised if you were to measure the typical box. A box speaker is putting out darn near as much as the drivers are, and possibly more, in certain frequencies. What people don't know is that the radiating efficiency of any surface goes up as the square of the surface area. If you have a box that has, let's say, ten times the cabinet area that we do—which would be pretty typical—that is 100 times more radiating efficiency, and because the walls are bigger, you have got so much more potential for flex. The cabinet itself becomes a major issue. There are some speakers out there that seem as though the designer wants the cabinet to resonate. To me, that is just anathema to what you are trying to achieve with a speaker.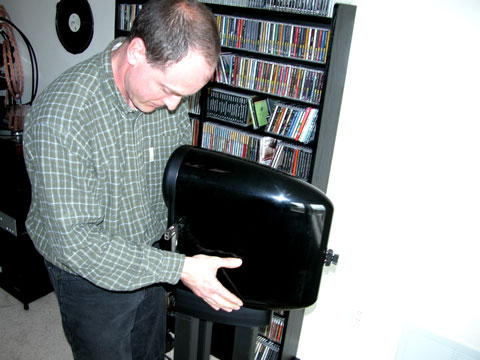 Schuemann carefully places an Ultimate Monitor on its stand
Robinson: You view that as coloration?
Schuemann: Certainly.
Robinson: I would agree with you. I think there are speaker designers, in my experience, who definitely seek to bring that into the equation. They are looking for the box to have resonance; they expect it. They count on it when they designed the speakers.
I can remember getting a pair of AudioNote speakers in the door in the early '90s. While we were listening to them, one of our editors was knocking on the box itself and just shaking his head. He said, "This thing rings like a son of a gun." That was clearly what they wanted. We were pretty impressed at the fact that they were getting some great sound out of that speaker, but we couldn't quite figure out how. It was clear that resonance was part of the picture for them.
My good friend Michael Green feels very strongly that you can't eliminate resonance, so we are better off to let it flow like a musical instrument rather than try to nail it down with a chunk of concrete.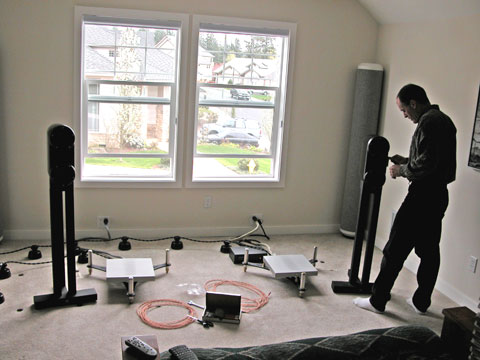 Karl Schuemann during setup of the Ultimate Monitors
Schuemann: The truth is, you can eliminate resonance. It is just a very expensive proposition. You can't do it using flat panels of MDF. It just is not possible. So if you are willing to put out the effort, yes, you can get rid of it for all practical purposes.
Robinson: That is what you think you have been able to do? How did you test the speakers for resonance?
Schuemann: There is an accelerometer that you can attach to the side and just measure it. If you put your hand on any speaker while it is playing, you are going to feel the cabinet moving. The interesting part about my speaker is you feel that too, but once you start to check it what you realize is that the whole speaker is moving back and forth. You have got basically 40 pounds of mass as opposed to, say, 30 grams in the main drivers. The acceleration is so high that you are actually seeing the speaker cabinet move back and forth in sympathy to those drivers. Again, you have got such a small cabinet that even that movement is essentially a self-canceling effect because, if the whole cabinet moves back and forth, what you have got then is 0.1% of the audio output is just disappearing into the motion of the cabinet back and forth.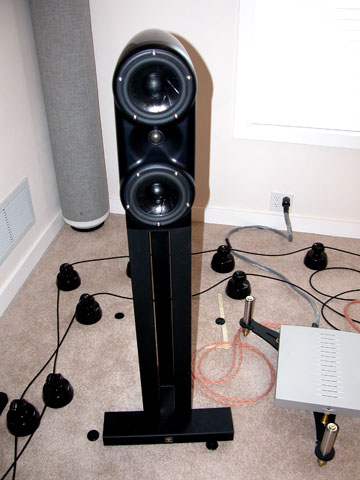 The Ultimate Monitor on its Sound Anchors stand
Robinson: You had some pretty substantial stands that went together with these. Tell us a little bit more about the stands that you had designed.
Schuemann: Well those are standard. Well, I guess I should say that they are not "standard," they are custom made by Sound Anchors in Florida. They do come with the speakers as a dedicated part of the design. I personally feel that Sound Anchors make some of the nicest stands out there, in the sense that they are a welded steel construction that is completely one piece. What you have is a very rigid foundation, and then the entire stand is completely filled with a special resin that they use for damping. So again, it is right in line with what I am trying to do, which is something that is extremely stiff and extremely well damped. As far as the stand goes, I don't think you are going to do a whole lot better than that design approach.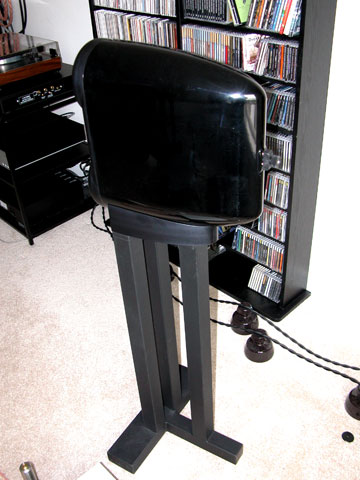 Rear view of the Ultimate Monitor on its stand
Robinson: Yes, and your attachment method was unique. What was it you had done there?
Schuemann: Well, one of the things I wanted to do with this speaker was to be able to lay it on its side for center channel use in a home theater system, because it is fairly small and it is well suited to that application. With the ellipsoidal cabinet, there is no way to put a base on one side without making it separate. So I built two separate bases, one for vertical mounting and one for horizontal mounting. Then the speakers are actually attached using a special 3M double-sided tape. The bases are rigidly bolted to the stand.
Robinson: It seemed to be a very, very solid system. There was no shimmy or shake. It is very solidly attached.
Schuemann: The tape is removable but it is difficult. Even with a few square inches, you have to pull up pretty hard to get it to come off.
Robinson: You have never had anybody suddenly lose a speaker onto the floor?
Schuemann: Oh, no, no, no. It was kind of funny. Early on when I was working with these things, I actually hadn't found this particular tape, so I was just using Blu Tack. One day I came back out to the shop and found speakers on the floor! The Blu Tack had just slowly deformed until the speaker fell over slightly and then fell over more and more until finally it just detached itself and fell directly down onto the stand. It didn't hurt anything, except that it put a little tiny hole, just a dent, in the cabinet where it hit the stand, and that was it. That was when I knew they were tough enough.
Robinson: They survived the crash test!
Schuemann: The tape is extremely stable and there is just no problem at all.
Robinson: Well, my readers will shoot me if I don't ask the question about drivers. What kind of drivers are you using, and why did you go that direction?
Schuemann: I want to say a little bit about the two-way system. Again, one of my goals with this whole project was to make it as minimalist as possible, which means a two-way system. There are no single range drivers in the whole world that are satisfactory to me. It is a physical impossibility to make a single range driver that covers ten octaves. It just can't be done.
Robinson: Although Lowther would probably argue with you about that one.
Schuemann: They say they cover the range but the truth is, from 2kHz on up, you are functioning entirely in breakup mode. What you are listening to is resonance, not pistonic movement, and that is a very big difference. The other thing I have to say is that I am a big believer in first order crossovers, because they are the only ones that are time and phase coherent. That, to me, is an extremely important part of the whole system design.
Robinson: Yes, I had crossovers on the list to talk about.
Schuemann: We can come back to that. What you end up with, then, is to try to find, for a two-way system, a woofer-midrange that can not only go extremely low but has very good upper range performance. These particular drivers are made by Scanspeak, and they came out shortly before I started this project. They were actually the impetus for the design. This was the first time that anybody had ever made a driver that could cover the range that I wanted. These things actually go from roughly 30 hertz on the low end—completely happy doing that—all the way to 4kHz as a single span. That is seven octaves, which is an extremely difficult thing to achieve.
Robinson: It goes 30Hz to 4kHz?
Schuemann: Yes. Then the tweeter is also made by Scan Speak. It is a 1 inch silk dome with a Neodymium magnet system so that the driver itself is extremely small, and it is also packaged in a very nice case. The flange and the mounting system for the magnets is actually machined, which is a very rare find. So it is possible to mount it very nicely, and also to fit it in the cabinet that I wanted.
Another thing you have to consider here is in the particular system that I wanted to do, we were running in a D'Appolito configuration because one of these six inch drivers by itself is simply not enough output to form a truly satisfying system as far as I am concerned. So you are forced to two drivers. When you are forced to two drivers and you intend to use a first order crossover, then it is almost silly not to go to the D'Appolito configuration simply because of the benefits you get in the polar response. One of the drawbacks to the D'Appolito is that you have to keep the two woofers as close as possible to each other, or you get beaming in the vertical axis in the higher frequencies. One of the design criteria for the tweeter was it had to be extremely small to fit it between the woofers when they were packed together as closely as they possibly could be.
Robinson: The idea then is to get the parameters—the first order crossover, a two-way design, D'Appolito configuration—all together on one page. That pretty much constrains you quite a bit as a designer, doesn't it?
Schuemann: Well, it does. These drivers were the only ones that I felt were really suitable to do what I wanted to do. I think that is still true. I don't know of any other drivers that have these particular characteristics. They can cover not only very low frequencies because of their high excursion capabilities, but due to the very sophisticated diaphragm they have no real breakup problems in the high frequencies. So they can be run very high without having to worry about any sort of extreme diaphragm breakup modes.
Robinson: I have been a Scanspeak fan for a lot of years. Those Nova Renditions that I was talking about to you are all Scanspeak. That was the first time I have had a pure Scanspeak design, including the 1 inch silk dome. They are always musical. You don't sit there and pick out a driver. It is pretty seamless top to bottom. To me, that is really important.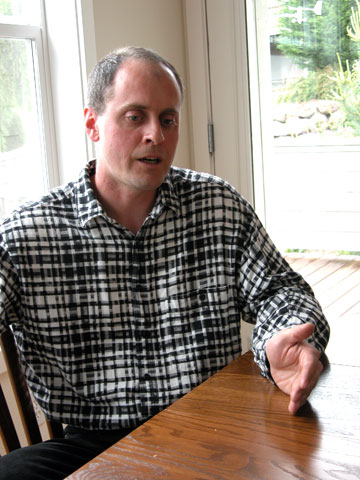 Schuemann: The seamlessness is, I think, a major advantage of the first order crossover type. I played around with a lot of different kinds of drivers, a lot of different diaphragm types over many, many years now. The problems with all of the rigid diaphragms are that they have a severe breakup mode, at least one, before they fall off. No matter what you do as a designer, I don't think it is possible to really eliminate that mode's effect on the sound. Even in the metal dome tweeters where supposedly it is out of the audio range, I think you can still hear it. Of course, now we have diamond and beryllium and all of that which tends to remove that problem.
Robinson: At a price.
Schuemann: Well, yeah. And again, with this particular design, we are constrained in size. So it is not possible to pack a tweeter with a four inch face plate into this speaker. It is just not going to happen.
Robinson: Did you try other crossovers, or were you fundamentally committed to first order and that is what you have worked with?
Schuemann: I have tried them before, but the truth is that once you succeed at a first order crossover, then you've really done something. This is not an easy thing to do, especially the first order series: it is a real can of worms. You have to eliminate all of the abnormalities in the drivers and in the crossover in terms of phase, impedance, timing, and so on. You have to achieve perfect time alignment. You have to achieve virtually perfect impedance and phase characteristics as a package. You can take a tweeter and by itself, it is terrible. It has got a resonant peak at its resonant frequency. It has got all sorts of interactions with the cabinet that it is mounted in. That changes its frequency response. It has got phase problems. The challenge in any first order design is to make that into a resistor. Once you achieve that, then the first order crossover works extremely well. But that is a very difficult thing to achieve, and it takes a lot more effort than just saying, "I am going to throw a 24 dB per octave computer filter at this and it is going to work." Which is true enough, but it is not going to work very well.
Robinson: So from your standpoint, first order is the way it ought to be—period?
Schuemann: The way it ought to be is a single transducer. But in the real world, that hasn't been achieved yet. At least in terms of something that is practical and still a full range transducer. There are a lot of benefits to electrostats for example, but there are also a lot of huge drawbacks. Most people aren't willing to live with the drawbacks in order to get the benefits. If you are going to be making a multi-way speaker system, then I don't think there is any justification for doing anything but a first order, honestly. There are going to be a lot of designers who will pooh-pooh that and say, "Well, you have got all of these other problems you are solving with the high order crossovers." I would come back and say, "A lot of those problems are there because you didn't choose wisely in the first place."
Robinson: What do you think is the most feasible alternative to first order?
Schuemann: I guess if you are going to abandon first order, then, in a sense, it doesn't matter what you do. Everything is downhill from there. I think if I didn't have a choice to use first order, I would go straight to the fourth order, just because it gets you the benefits of the high order filters with the minimum number of driver drawbacks. But anybody who is using 12dB, for example—and you see this all of the time—there is a three way system and they are running 12dB per octave crossovers, and the midrange is wired in inverse phase. It is out of phase to the woofer and to the tweeter. It boggles the mind that people will put up with that as a transducer. If you feed a square wave into that, what comes out is going to look nothing at all like what went in.
Robinson: I take it then that when you listen to various other designs that you are able to hear that pretty directly?
Schuemann: I personally can hear it, although I think what we have here is a problem that is so commonplace that people haven't learned to hear it. If you hear some characteristic in every speaker that you listen to, you are really not going to know that it is there. It is not until you go to listen to something completely different, like an electrostatic, and you say, "Wow, this sounds real." And this other speaker sounds like a really nice speaker—but just a "speaker." Those are two very different things.
Robinson: Yes, I have heard a lot of speakers that when I sat down and listened to them for a while, I came away feeling—that was a box. I was listening to another box. I think fine audio is ultimately about losing the sense of the "boxy" and the "electronic." We have to use electronics as the transducer... but it should be through, not with the electronics and the box.
Schuemann: What you are really trying to achieve is to put yourself back in the original event.
Robinson: Karl, what is your design philosophy? What is it that you as an audio designer are trying to do? What is your design goal?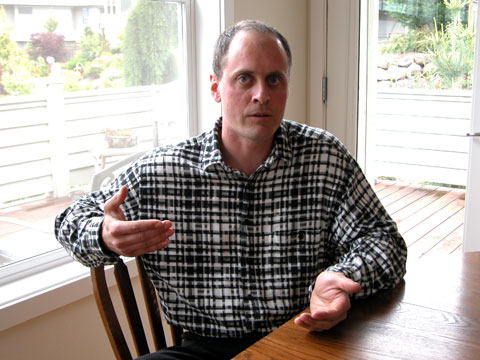 Schuemann: I think the ultimate goal—and obviously any speaker falls short of this—but the ultimate goal is to create a transducer that puts back into the room an almost exact copy of what the microphone saw. I think the speakers in any audio chain are by far the worst offender when it comes to destroying the integrity of that signal. That is not to deny that there are major differences between all of the other components. But I think, as a component, the speaker is by far the furthest away from being perfected, which is why I find it so interesting. I think there is a lot of room for improvement still. I think that a lot of the room for improvement is in areas that really haven't been considered heavily, even by the reviewers, for example.
I am continually amazed by what sorts of things get attention, and what doesn't. It seems that we are still stuck in the rut in the speaker world where frequency response is the main thing that is worried about. If that is okay, then the speaker is assumed to be good performing speaker. But the time domain is so critical that there are just gobs of room for improvement in virtually every speaker that is out there. Even with my speaker, you do what you can. Any two-way system is just not going to be as good as a single transducer, simply because you have a crossover in there.
Robinson: That is an interesting point. The time domain has to be right. You can't have things arriving at different times. Phase alignment has to be right...
Schuemann: It is really one and the same thing.
Robinson: One will lead to the other in theory—unless, of course, you are doing things like wiring things out of phase somewhere in the chain, even all the way back to the original recording. This is something that Clark Johnson talks about quite a lot.
Schuemann: I think that is important, but I think that taking a multi-way speaker system and putting part of it out of phase is a million orders of magnitude worse than having the entire system one phase or the other. Because then you really destroy the integrity of the signal. Whereas otherwise, all you have got is signal that is upside down.
Robinson: When you talk about wiring the mid out of phase, would you say then that this represents a kind of brute force method of dealing with crossover problems?
Schuemann: You have to go back to the theory of why crossovers do what they do. The mathematics behind it is that in a second order filter, at the crossover point, what you have is one leg that has gone 90 degrees inductive and the other leg has gone 90 degrees capacitive. The two legs are 180 degrees out of phase; one is leading and one is lagging. If you wire the drivers in the same phase on both sides of that crossover, what you end up with is a null at the crossover frequency. The way to solve that is to invert the phase of one of the drivers. Now they are running in opposite phase, but there is no longer a null in the frequency response—and since that is what is important to them, they consider their job done. To me, I don't know why you would ever choose to do the 12dB per octave in the first place, simply because you know ahead of time that it is going to force you to do the mid inversion. To invert the phase like that is just anathema. It is not something you would ever want to do.
Robinson: So you are saying that if you make bad choices up front, then everything rolls downhill from there?
Schuemann: Yes. The thing I am most proud of about this design is not necessarily the small details, but that I believe the fundamentals were all satisfied. There is no fundamental part of this design that I don't think is done as well as I could possibly do it.
Robinson: Those fundamental points are? How would you list them?
Schuemann: Well, number one, the cabinet is as invisible as a cabinet can be made, I believe. Number two, it is a two-way system, which is the simplest system that you can possibly put together as a dynamic driver system and have it work properly. Number three, it is as aligned in time and phase as you can possibly get. That took a lot of effort to do. I did achieve it. I guess those are the main points of this system.
Robinson: When you put all of that together and you listen to the results, if you were writing the review of the speakers, what would you say these speakers do well?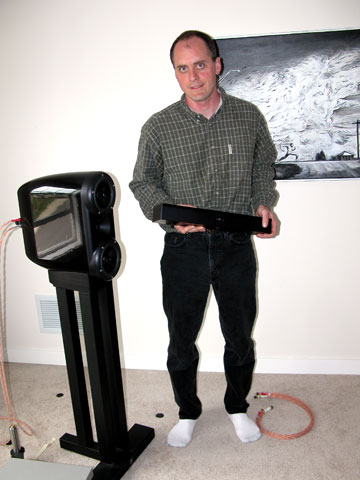 Schuemann holding a BOMB™ unit next to an Ultimate Monitor
Schuemann: I guess the first word that comes to mind is "coherence," in the sense that it seems as though there is a single sound and it is coming simply from space. The Ultimate Monitor speakers, to me, just disappear into the room, or disappear altogether better than virtually anything I have heard.
Let me say it in another way: I can't detect in this system the presence of multiple drivers. I can't detect the presence of a cabinet. Those things, to me, are very obvious in virtually all the multi-driver systems that I listen to—including your Kharmas, for example. To me, I instantly hear that there are separate drivers working. I think what is so satisfying to me about this design is that I really can't hear those things.
Robinson: It is interesting that I found the Kharmas to be extremely coherent. I just finished writing them up as an exceptionally coherent system.
Schuemann: And I think they are, relative to many, many other speakers out there. But again, you have this problem with a three-way system. The three way system is always going to have a crossover in the places where your ear is very sensitive to such things. You can hear, if you are listening carefully, the transition from the woofer to the midrange. It is not only a spatial transition in the sense that one is above the other and your ear-brain system can detect that; it is also that I think the characteristics of the drivers themselves are fundamentally different. So, whatever colorations the woofer imparts to its particular sound—it may be a certain type of distortion; it may be a certain type of flavor that the cone adds to the sound—those are going to be different than whatever colorations the midrange contributes. You can detect the discontinuity between the colorations. I am not saying that the Scanspeaks are entirely uncolored; they are not. There are issues with the Scanspeaks still, as good as they are. But having that entire continuum from the mid-bass on up through the midrange and through the low treble reproduced by a single driver, you get coherence.
Robinson: You have got this word "coherence" coming up again and again. As far as you are concerned, if you are going to have something that is there, something anomalous, at least have the anomaly persist rather than breaking up, or dropping off, so that it is not part of a coherent whole, correct?
Schuemann: Whatever colorations that driver is imparting to the sound, they are present more or less throughout its entire frequency range and there is no crossover in the way, so there are no phase shifts, no time problems, no location problems. All of those problems are simply eliminated by the fact that it is a single driver. No matter how good a designer you are, you are not going to make a crossover disappear. Your best bet is to eliminate it entirely if it bothers you that it is there.
Like I say, you can do crossovers extremely well, but no matter what crossover you do—and this even includes a first order crossover—there are still phase shifts throughout the crossover region. You can't argue that you can make that completely disappear. It is simply not physically possible.
Robinson: To your way of thinking, then, one of the advantages of the first order and the two-way design is that you are minimizing the places you can go wrong, correct?
Schuemann: Absolutely. You are minimizing the phase shifts through the crossover region. By doing that, you are making the crossover do as little damage as possible. It is not that it is not doing damage; it is that you have minimized what damage there is. In this particular design, since we are running all the way to 4 kilohertz before the crossover occurs, you have put the crossover high enough that it is much more difficult for the ear to detect it than it would be at 1 kilohertz or 2 kilohertz. By going all the way to 4, you poked it up into the range that you are listening primarily to overtones, and the ear is not nearly as sensitive to that anymore.
Robinson: There is part of what I noticed as I listened to the Ultimate Monitor speaker; the word "coherent" did come to mind. You and I talked about that at some length after the reviewing process. That it was "well integrated" would be another way to describe it. Certainly, it wasn't colored in any way that I could put my finger on. I should note that when we listened to this, we listened to it with your BOMB™ ("Bottom Octave Magic Box") module. What was the function of the BOMB™ module in the system?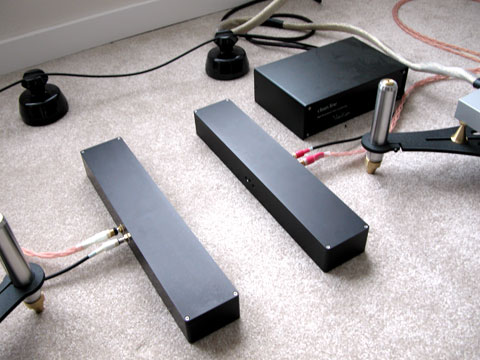 The Ultimate Monitor BOMB™ modules deployed for review
Schuemann: This gets into a whole different area, which is what sort of bass alignment do you choose for your speaker? These speakers are sealed box speakers. The vast majority of designs out there are vented box speakers. What you are doing with a vented box is you are raising the resonant Q of the system in order to extend the frequency response. You get right back to frequency response. And so, in the vented case, what you have is a mathematical equivalent of a fourth order roll-off, which means you have a lot of phase shift. And due to the nature of the vented system itself, you have a much higher Q fundamentally than you can achieve with a sealed box. And what that gives you is a degradation in the transient response. What you are doing is you are trading off performance in the time domain in order to extend the frequency response. As far as most designers are concerned, what people really want is deep bass, and they don't care how tight it is, because fundamentally, bass is what people buy. You can't have both. You can't have deep and tight without a very large box. That is just the way it is.
Robinson: Well, some people go all the way to the point of building woofers into the basement.
Schuemann: Yes, and that is what you have to do if you want to do it right. But we are talking about a speaker that I wanted to be small in the first place for a whole bunch of reasons. I am not willing to make that tradeoff between transient performance and frequency response. The Ultimate Monitor by itself doesn't have very good bass response. That is just a fundamental constraint of the overall efficiency of the system and the size of the cabinet.
And so, the BOMB™ module is a filter that was designed by Linkwitz about 20 years ago. It is actually in the public domain, but there are very few people who seem to know about it. What it does is to do a mathematical inverse of the roll-off of the speaker. It is possible to mathematically describe the roll-off of the speaker quite accurately. Then, the filter allows you to substitute a roll-off of any frequency and any Q that you choose. What I ended up settling on for the BOMB™ was just over 1 octave of extension. I kept the Q right at 0.7, which is where it started. To me that is about the optimum tradeoff between frequency achieves is to allow the system to go down to 30Hz, more or less flat, which you could just never get any other way in this size of cabinet. The price you pay for that is there is a 10dB boost at 24 Hz, which means if you are running 1 watt, average output, when a 24Hz signal comes along you jump to 10 watts.
Robinson: So at 10 watts, that does what to the amplifier?
Schuemann: Well, with any music that has a lot of very low bass content, you are going to be loading the amplifier pretty heavily, because you have just dropped the overall efficiency of the speaker in the low frequency range by 10dB. Now, rather than being around 90db/Watt/meter efficient, you are running around 80. The drivers will take the additional power with no problem, but the amplifier has to be pretty beefy in order to handle that. The nice thing about this is you have gotten a fairly efficient system overall. It is only in the deep bass that you are asking the amplifier to provide a lot more "grunt," and luckily that is what solid state amplifiers are good at.
Robinson: Speaking of the specifications, what is the nominal frequency response on the Ultimate Monitor?
Schuemann: Anechoic it is about 70Hz to about 18kHz. In room, it will go down reasonably to about 50 Hz, because the sealed box has a fairly shallow roll-off and you get some room boost—so it is not as bad as it sounds. With the BOMB™, that goes down to, I think its -3dB point is at 32Hz. And in room it will go down to about 25Hz.
Robinson: That depends on placement, depends on the room. And the efficiency overall is nominally what?
Schuemann: Overall it is about 88-90dB/Watt/meter, as a 4 Ohm load.
Robinson: It doesn't drop too much?
Schuemann: No. With the series first order crossover with the drivers looking as resistive as they are, you end up with what looks like a completely resistive 4 Ohm load, with a minimum of 3.3 Ohms at about 200Hz. It is literally, except for in the bass, plus or minus 10%.
Robinson: Then when you get down into that lower range where the bottom is coming into play, is that where you get some anomalies?
Schuemann: Well, no, it is not anomalies. It is simply the fact that you have a sealed box, and any sealed box is going to have an impedance peak, just like any vented box has two impedance peaks. It runs up close to 10 Ohms in the impedance at resonance, but that is just a consequence of a sealed box. The only way to get rid of that is to go to a transmission line, which is very big.
Robinson: Although I have sure heard (and owned) some transmission lines that were a lot of fun to listen to over the years. It is just hard to get them right.
Schuemann: It is a very good design approach, but it requires a very large cabinet.
Robinson: The biggest cabinets I ever owned were a pair of the TDL Reference Standards years and years ago. Those were very large, but they certainly had great sound. I enjoyed them.
Schuemann: I think as a bass-loading technique, if you don't mind the room that the cabinet is going to consume, that is the best approach to take.
Robinson: The BOMB™ unit was installed in the Ultimate Monitor system that I listened to. You designed that yourself?
Schuemann: Yes.
Robinson: We should talk about pricing. The basic Ultimate Monitor speaker itself runs how much a pair?
Schuemann: $12,000 a pair.
Robinson: And then the stands run?
Schuemann: Stands run $800 a pair.
Robinson: And then the BOMB™ module costs how much?
Schuemann: $3000 a pair.
Robinson: If somebody was looking for the complete package, they would pay a package price of how much?
Schuemann: The total would be $15,800. I think this speaker is a hard sell to many people just because of its size. I think once you get past that and listen to it, it will really surprise you.
Robinson: Let me ask another question. On the high frequencies of your speaker, it seemed to me to be "refined," that there might have been a certain roll-off at the higher end. Is that something that is deliberate, or is that the Scanspeak silk dome speaking?
Schuemann: No, it is not deliberate. Part of it is the silk dome tweeter, obviously. Those things simply don't go past 20kHz, and the truth is that they don't really make it to 20kHz. Not in the sense of being flat all the way out there. It is just part of the compromise of this design, since I don't think there is a tweeter in the world that would fit into that space, has the nice performance that the Scanspeak has through the rest of the treble, and would go past 20kHz.
Robinson: Have you thought about diamond tweets?
Schuemann: I have not. One of the issues that you have by doing what I did with this cabinet is that you can't run a first order series crossover without having perfect time alignment. It just doesn't work. It just plain does not work. A lot of other crossovers are less sensitive than that. The first order forces your hand. If you want to do a first order series right, it has to be perfectly time aligned or you get all sorts of really bad problems. And so, that in combination with having to have the woofers very close together in the D' Appolito configuration in order to not get the dispersion problems that you see a lot of times in the D' Appolito designs, and the amount of offset that I needed to achieve time alignment between woofers and tweeters, means that you end up with this deep wave guide. A wave guide is actually a nice thing to have if you keep the wave front perpendicular to the walls of the wave guide, more or less, on its way out. And so, an upright dome as opposed to an inverted dome is a nice thing to have, in that the wave front that it is putting out is well matched to the wave guide. Now I haven't tried it, but I would be a little leery of putting an inverted dome down deep into that wave guide. I think you would end up with all sorts of strange anomalies due to its interaction with the wave guide.
Robinson: I spent a lot of years with the silk dome in the Scanspeaks, so I know that they have that really lovely sound to them. They are not harsh. They don't sound anything like the early metal domes did. The early metal domes were nails through the ears. As I listened to your speakers, particularly with SACDs, there was a politeness, a refined nature to the higher end that wasn't like some other designs that I have listened to. As a monitor speaker, it is exceptionally clear and coherent, no doubt about it. I really do appreciate you taking the time, Karl, and sharing with our readers what makes you tick as a designer and what you are looking for. Any final words you would share?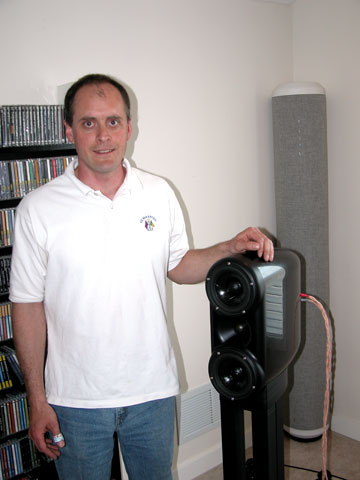 Schuemann with the Ultimate Monitor
Schuemann: Well, this has nothing to do with this particular speaker, but I think there are still major breakthroughs to be made in the loudspeaker world—new types of transducers. I am thinking about a system that I think will address all of the drawbacks of any speaker that has ever been made in terms of being an imperfect transducer. If that succeeds, I think it will be a major step forward. There is a lot of work to be done still. I think the Ultimate Monitor takes small dynamic speaker design as far as I believe it is going to be taken. There aren't too many things that you can do to this thing to make it any better than it already is, in my mind. The fundamental pieces are already there. I think to get beyond the box speaker is going to require something entirely different.
Robinson: I think that we are actually living in a new kind of golden age of audio. There is an awful lot of interesting new technology going on, a great array of parts and pieces and materials.
Schuemann: And like you've said, formats like SACD are a major step forward. It truly is.
Robinson: It has certainly pushed the envelope. It has forced people to rethink for the first time in 40 or 50 years the old "20Hz – 20kHz is all we need" philosophy.
Schuemann: I think there is far more than that. I think SACD allows the designers to say, "Here are a bunch of problems I wasn't able to hear before, just because the source wasn't good enough." It will take the entire range of components in the rest of the audio system another step forward.
Robinson: I appreciate the work that you have done, Karl, and the time you've taken to talk with me. We will be watching what you do with interest.