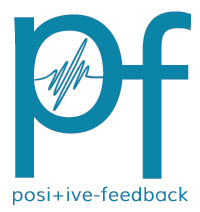 You are reading the older HTML site
Positive Feedback ISSUE
30
march/april 2007
Notes of an Amateur - March, 2007, Part 2
by Bob Neill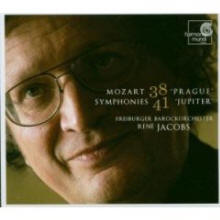 Mozart, Symphony 38 "Prague" and 41 "Jupiter." Freiburg Baroque Orchestra, René Jacobs. Harmonia Mundi. HMC 901958.
I had a feeling even before I heard this recording—or maybe it was from hearing a minute or two on our local FM station (WFCR) in the car—that it was going to be the Mozart that Christopher Hogwood intended nearly a generation ago in his ground-breaking (and to some extent even ear-breaking) issue of all of the symphonies. And I was right. It is as crisp as Hogwood's but not quite so fleet nor so astringent; and it is more exciting in musical ways. Perhaps this is partly because the Englishman broke the ground, accustoming us to Mozart on 'early instruments.' But whatever the reason, Jacobs' Mozart is a revelation—and that is a lot to say about Mozart after all of these years. What could possibly be left to reveal?
Well to begin with, the marriage of natural, unaffected ebullience with a bold and incisive presentation that is at the same time smooth—like a great Chablis. Incisive and smooth? Indeed. And ebullient, rather than simply energetic and driving, which is what we frequently get with 'early instrument' Mozart. We get what many of us feel is the Mozart spirit, which is what is frequently lost when the composer's music is pushed too hard. That was what we got from Hogwood, who to be fair was trying to overcome a century of stale interpretive habits. This is the best 'early music' ensemble I've heard in a long time; and while it is customary to point to the conductor when handing out praise (and criticism), in this case the orchestra is clearly essential to the success of these recordings. Their attacks are as beautiful as they are bracing. The clarity of their sound is exhilarating and their ensemble playing is captivating.
It is wonderful at this comparatively late date in the 'early music' revival of eighteenth century music to (finally?) hear what it was supposed to be all about with Mozart. Lightness and grace; power, clarity, and élan—all seemingly coming from within the music rather than foisted upon it. It will be hard to listen to anyone else's Mozart for a while.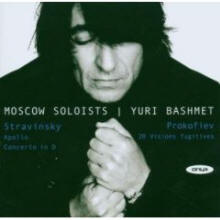 Stravinsky, Apollo; Concerto in D; Prokofiev, 20 Visions Fugitive (transcribed from piano for string orchestra). Yuri Bashment, Moscow Soloists, Onyx 4017.
Apollo, or Apollo Musagete, as Stravinsky originally titled it, is the Russian modernist at his French best, as pure and elegant a piece of modern neo-classicism as there is. I know it best through Charles Dutoit and the Montreal Sinfonetta, who let the music float with the almost unearthly quality its namesakes represents. Bashmet and his Moscow Soloists clearly set out to reclaim the work for their homeland, a move it unsurprisingly resists. Their Apollo is a more earthly character, who loses some of the mystery his composer endowed him with. Even the final "Apotheosis" movement has more passion than apotheosis in it here. Fans of the composer are free to differ with me on this interpretation. Whole books have been written on the Russian heart of Stravinsky that burns just below his sophisticated surface. But I'm far too fond of Dutoit's view of this work to be fair to one so different. It takes a mind that understands what T.S. Eliot meant by "Teach us to care and not to care" to understand the meditative power of Apollo. To me, Bashmet cares both too little and too much. In place of grace there is indolence; in place of transcendental ecstasy, there is passion. See what you think. A truly great piece of music that probably needs to be heard every which way.
Concerto for D for Strings is more convincing to me in the Russians' hands. This is a work that thrives on angles and rhythms and droll dissonances. The small forces (17 musicians) for whom it is written keep its string textures clear and crisp. This is very good Stravinsky.
The string transcriptions of Prokofiev's Fugitive Visions for solo piano is the most interesting part of this program. (Most of the transcriptions were done by Barshi, former director of the Soloists, in 1962; the rest by Balashov, violist of the current orchestra.) Prokofiev is a far more elusive composer than Stravinsky (though there are some Stravinsky moments here), and he is fascinating to follow about. He writes a good deal with his brain and nerves, which can give his music wiry and wayward qualities we are less aware of in Stravinsky, whose music feels more emotionally coherent. The music works well on strings, well enough that it sent me back to Frederic Chiu's recording of the piano version (available only as a complete set of the composer's solo piano music on Harmonia Mundi, HMX 2907301—a wonderful set, by the way). As a work for piano, it is predictably more cerebral, less pensive—and interestingly, impressionistic, something you don't hear as clearly with strings. It is also more percussive and darting. The moods of the various 'visions' are more distinct. A very different piece of music. Better? Perhaps. But mainly different. Bashment has done this with Shostakovich (http://www.positive-feedback.com/Issue27/amateur3.htm) and there too he succeeds in finding a different piece of music hidden within an existing one rather than simply giving us another look.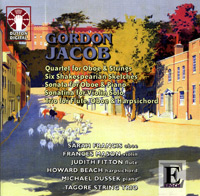 Gordon Jacob, Chamber Works. Tagore String Trio, Sarah Frances, Oboe, etc. Dutton CDLX 7177
Michael J. Dutton is one of the heroes of the classical music recording world. Over the past decade (?) he has diligently and intelligently sought out and programmed a considerable amount of 'minor' twentieth century British music. It is not, as we would expect, great art. But it is almost unfailingly good and interesting music, central to the musical soul of England. Just as the music of Samuel Barber, David Diamond, Howard Hanson, and Ruth Crawford Seeger is central to the musical soul of the U.S. Dutton finds extremely competent though not widely known British musicians (Sarah Francis is considerably more than that) and delivers them and the music to us in state of the art digital sound. Without Dutton, this is music most of would likely never hear.
His latest release is an album of chamber music by Gordon Jacob (1895-1984), a prolific and well-respected composer who received more than his share of commissions. He was a student of Stanford and Vaughan Williams and taught (for 42 years at the Royal College of Music) the likes of Malcom Arnold, and Elizabeth Machonchy. He was clearly influenced by the pastoral school of composing, at least in his earliest work, and his Quartet for Oboe and Strings (commissioned by much admired British oboist Eugene Goosens in 1930) proves that pastoral influence need not hold back an inspired man. This is an affecting work.
Six Shakespearian Sketches (1946), short, mainly introspective pieces for string trio with a couple of playful asides, are pleasant in the best sense of the word. This is music that aims to express rather than probe its countrymen's sense of their culture as they have understood it over the past few hundred years. You could call it sentimental, in contrast to Britten and even Maconchy, but I find it less so than the music of its teachers.
Sonata for Oboe and Piano (1966), while it does not initially depart noticeably from the two earlier pieces on the program, becomes more interesting and substantial as it progresses, telling a more challenging story. The final movement has much of the quality of Stravinsky's l'Histoire du Soldat!
Sonatina for Violin Solo (1954) has a restless quality to it, not unlike some of Britten's middle work. It is a far cry from the 1939 quartet and 1946 sketches.
Trio for Flute, Oboe, and Harpsichord (1958) is an odd work, as its instrumentation suggests. It was very popular during the composer's lifetime. Written with a particular harpsichord in mind, owned by oboist Sarah Francis's mother, with whom the oboist and her flautist father played together as the Sylvan Trio, it has a crisp charm that may grow on further listening.
Another fascinating recording from Michael Dutton, for which I am grateful.
System used for these auditions: Audio Note CDT 2 II transport and Dac 4.1 Balanced Signature, Blue Circle FtTH integrated amplifier, JM Reynaud Offrande Signture speakers. Cabling is Audio Note Sogon, AN-Vx, and Lexus.
Bob Neill, in addition to being an occasional equipment and regular music reviewer for Positive- Feedback Online, is also proprietor of Amherst Audio in Amherst, Massachusetts, which sells equipment from Audio Note, Blue Circle, Manley Labs, JM Reynaud, and TG Audio Lab, among others.