ROGER S. GORDON'S SYSTEM
LOUDSPEAKERS
VMPS FF-3
ELECTRONICS
Balanced Audio Technologies' VK-75SE amplifier and Herron Audio's VTPH-1 phono stage and VTSP-1 preamplifier.
SOURCES
VPI Mk IV turntable, Benz Micro Reference cartridge, ET 2.5 tonearm with Mg II arm wand, high pressure air pump, damper trough, and a pressure regulator. ShanLing CDT-100 CD player with Western Electric tubes and a Sony SCD-1.
CABLES
DIY phono cable using Van den Hul mono-crystal silver wire, Harmonic Technologies interconnects, and Audio Magic silver loudspeaker cables.
ACCESSORIES
Sound: Michael Green Pressure Zone Controllers - 2 floor standing deluxe controllers weighted down with two bags each of lead shot, 4 ceiling mount controllers in the room corners. Vibration Control: Turntable - Lead Balloon stand with the legs filled with a mixture of kitty litter, sand, and lead shot; with Bright Star sand-filled isolation platform for VPI Mk IV with cutout for stand-alone motor assembly; with Black Diamond Racing Cones replacing VPI rubber feet. Vibration Control: Electronics - Black Diamond Racing Cones replacing original rubber feet under amp and pre-amp. Vibration Control: Tubes - Herbies Audio Lab HAL-O tube dampers on all vacuum tubes. EMI and RFI Control - Sound Application XE-12 with Elrod Power Systems 3 Signature power cord. Bybee speaker filters, two pairs.
Most audiophiles would love to have a killer surround-sound system. For those with unlimited budgets, this is not a problem, but for the rest of us, having a home theater system in addition to our main stereo system can be a budget buster. There is the option of the Home-Theater-in-a-Box, with a surround processor/amp, five plastic speakers, and a dinky subwoofer for $300 or less. I have such a system (a Creative Labs/Cambridge Soundworks 5.1) in my office. Using a Radio Shack portable CD player as input, the music is enjoyable, but not what I would call high end. At the other end of the scale, there are high end theater systems that cost tens of thousands of dollars. Is there anything toward the lower end of the scale that delivers something better than mid-fi sound for less than $2000?
Aside from being less than $2000, my home theater system also had to be compact in size, and the speakers had to be mountable either on the walls or on the home entertainment unit that covers one of the 12-foot walls in my 12 x 20-foot room. This requirement is dictated by the fact that my theater room is not a dedicated room. It has to serve as a guest bedroom several times a year, and as a second dining room when our church group comes over for potluck dinners. Now, having a small room usually means spending less, but a small room is usually not good for the Big Sound required by cinematic earthquakes, volcanic eruptions, and nuclear explosions.
Thinking about possible solutions, I remembered hearing the Anthony Gallo Acoustic speakers, which consist of 4-inch globes atop thin pipes that serve as stands, plus a subwoofer hidden in the corner. I had heard them at CES a few years ago, and had been quite impressed with the quality of sound for a very affordable price. The spherical shape of the speaker enclosures didn't worry me, though it is very different from conventional box speakers. I once attended a lecture by Bill Firebaugh of Well-Tempered Turntable fame, in which he showed his prototype of a large spherical loudspeaker that never made it into production. I remembered all of the advantages Mr. Firebaugh claimed for a spherical speaker enclosure, which included: (1) rigidity with no internal bracing (more volume to let the bass notes develop), (2) no internal standing waves, as there are no parallel surfaces, (3) ease of manufacturing (and lower cost), and (4) no refractions off the front face. However, I could not find a local source for the Gallo globes.
While I was pondering my next move, a friend who is heavily into home theater suggested I consider Morel speakers, as they also make a home theater system that utilizes 5-inch globe-shaped speakers. I had never heard of Morel, so after logging onto the web for a little research, I discovered that the company is a well-known manufacturer of loudspeaker drivers, and that their drivers are used in some very high priced loudspeakers. Only recently have they started to make their own speakers. The basic building blocks of the Morel 5.1 Home Theater system are a 100mm (approximately 4-inch) woofer and a 28mm (approximately 1-inch) soft-domed tweeter. These two drivers can be either mounted coaxially in a 130mm (approximately 5-inch) steel sphere, as in the SI-2, or the tweeter can be moved to the top of the 5-inch sphere, as in the SA-2. The tweeter is liquid cooled, and has a usable range of 1000 to 20,000 Hz. Both drivers utilize neodymium and ferrite magnets, with the voice coil pole piece inside the magnet. This design minimizes the size of the driver assembly, which leaves more room inside the sphere for bass notes to build up. The drivers are crossed over at 3500 Hz using a first order crossover. Besides being cheaper to build, first order crossovers minimize the phase shifts and other distortions caused by higher order crossovers.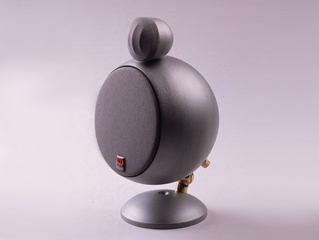 SA-2
Both the SA-2 and the SI-2 weigh less than two pounds (.9 and .88 kg, respectively). The spheres tilt on their base, and there is a screw that you can use to lock the sphere in position. The footprint of these speakers is only a few square inches. They can be placed on surfaces, or can be mounted on walls or ceilings with the included mounting kit.1 There are pipe threads on the back of the spheres that allow the speakers to be screwed onto optional stands. The binding posts should accept just about any wire or termination.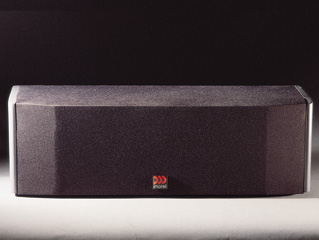 C-5
For a center channel, you can either use a SI-2, a SA-2, or the Morel C-5 center channel, which consists of two 130mm (approximately 5-inch) woofers and the 1-inch tweeter from the SI-2 and SA-2. The unit weighs ten pounds (4.5 kg) and measures 20 inches wide by 6.3 inches deep and 6.3 inches high. Of course, no home theater system would be complete without a subwoofer. Morel provides one that can be purchased with or without a built-in amp. The powered subwoofer, the IS-9A, is included as standard in all of their home theater systems. It has an isobaric, port-loaded reflex cabinet with two 222mm (approximately 9-inch) woofers in a cabinet that is 24 inches wide, 16 inches high, and 8 inches deep, and weighs 44 pounds (20 kg). It is very compact and easy to tuck away in a corner or behind the furniture, but the port is rear firing, so you may not want to put it against the wall. The controls on the subwoofer include volume, phase, and crossover point, so blending it into your system and room should not be too difficult.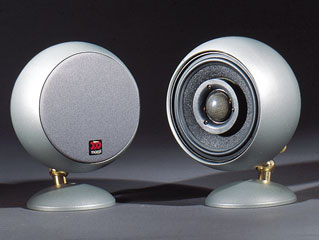 SI-2
With these four speakers as your building blocks, you can build four different home theater systems. The Applause system uses five of the SA-2 speakers, using one of the SA-2s as the center channel, and the IS-9A subwoofer. This system has a MSRP of $2395, but is advertised on the web for $1495. The next system, the Supra, uses four SA-2 speakers, the C-5 center channel, and the IS-9A subwoofer. The MSRP is $1995, but it is sold on the web for $1449. The Vitra system uses two SA-2 speakers as the right and left front speakers, two SI-2 speakers as the left and right rear speakers, the C-5 as the center channel, and the IS-9A subwoofer. The MSRP is $1795, and the web price is $1395. The Spiro system uses four SI-2 speakers, the C-5 as the center channel and the IS-9A subwoofer. The system has a MSRP of $1695. I could not find a web price, but it should be less than the Vitra. After discussing the pro and cons of each system with my dealer, he suggested that I start out with the Vitra system. He thought the SA-2s made sense as the front channel speakers, but did not think using the SA-2s in the rear would add much. I have bought a lot of equipment from this dealer over the years, and have learned to respect his ears, so on his recommendation I bought the Vitra system.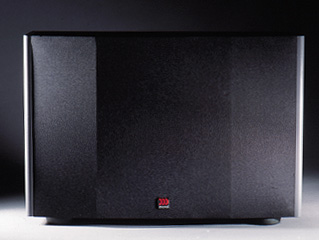 IS-9A subwoofer
Of course, except for the subwoofer, these speakers need an amp to drive them. The SI-2, SA-2, and C-5 are all 8-ohm impedance and 89 dB sensitivity, and thus are very easy to drive. The dealer recommended a Marantz SR5300 surround sound receiver. He said it was the most musical of the lower-priced surround receivers that he had heard.2 With 6 x 90 watts, it was more than adequate to drive the Morel speakers in my 1920-cubic-foot, highly reflective room.
Hooking everything together was not a problem. The speakers come with a generic installation manual, but everything is so straightforward that most people will not need to even look at it. The front SA-2 and center channel speakers I put on top of the entertainment unit, flush with the TV screen. The rear channel speakers I mounted high on the walls, a little over halfway down the length of the room. Everything was off the floor and out of sight except for the wires going to the rear speakers. I then connected the audio output of my Samsung progressive scan DVD player (P721-M) to the Marantz SR5300 via coaxial cable and its progressive scan visual output to the Sony KF-50XBR800 LCD projection HD TV (16:9). I then balanced the output of the five speakers plus subwoofer using the white noise generator built into the Marantz and my Radio Shack Sound Pressure Meter. Once everything was balanced, it was show time.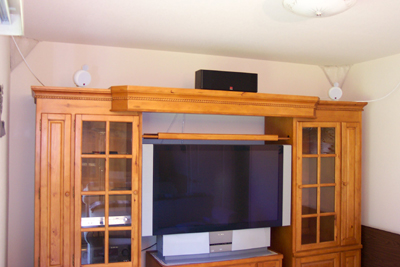 First on the system was Lethal Weapon 4. I figured the opening scene, with its gunfire and explosions, would be a perfect way to test the surround sound effect. I was not disappointed. I had to play with the subwoofer volume, phase, and crossover controls to get the bass dialed in, but after a few adjustments, I settled down to watch the movie.3 Surround sound makes all the difference between watching a movie and experiencing it. Since that first day, I have watched movie after movie on the system—ones with 5.1 surround sound, ones with stereo sound, and even a couple with mono sound. I really did not notice the sound. I just enjoyed the movies. I am one happy camper.
After a month of watching movies, I decided to see how the surround sound system handled redbook CDs. I plugged my Shanling CDT-100 CD player into the Marantz via the analog auxiliary inputs and played a few of my favorite discs. In two-channel stereo (left and right front speakers and subwoofer only), it was better than what I hear on my office system. However, it was not as good as I had expected. I then played the same CDs on the Samsung DVD player, which was connected to the Marantz via a coaxial digital input. Big difference. Obviously, digital-in is the only way to go on the Marantz. Unfortunately, I did not have a cable long enough to connect my Shanling to the digital input of the Marantz, so, continuing to use the Samsung DVD player as the source, I switched the Marantz into simulated multi-channel stereo with the left channel signal being fed to the left rear surround, the center channel being fed a mix of the left and right signal, and the right rear surround being fed the right channel signal. The music really opened up. What had been a fairly flat soundstage in front of me was now a big hall surrounding me. My enjoyment level went up several notches. If something happened to my main system, I could listen to this and get my daily music fix until the main system was repaired.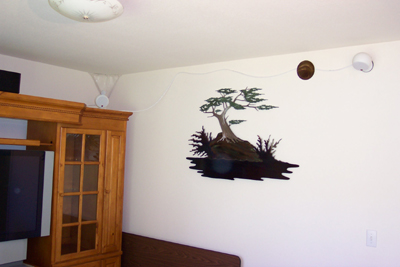 In summary, I achieved my goals. I put together a visually non-intrusive surround sound home theater system that has a high "Spouse Acceptance Factor." The system can play louder than my ears can stand without noticeable distortion. Explosions rattle everything in the room. Needless to say, my level of enjoyment in watching movies has increased dramatically. Most important, I stayed within budget—the purchase price for the speakers, surround sound receiver, and DVD player totaled less than $2000.
It would have been nice if I could have listened to and compared the Morel speakers to home theater loudspeaker systems made by other high end manufacturers such as Totem, Mirage, or Mission, to name a few. That was not to be, but your situation may be different. If you get the chance to audition a number of low-priced high end home theater systems, go for it, but I would suggest that you put the Morel speakers on your list. Based on my experience, they will allow you to have a champagne home theater system on an imported beer budget. Roger S. Gordon, CPA
Morel Co., Ltd.
P. O. Box 712 Ness Ziona,
70400 Israel
TEL: 972 (8) 930-1161
web address: www.morel.co.il
email address: info@morel.co.il
USA Distributor:
Jason Scott Distributing
TEL: 1-800-MOREL14
1 The supplied plastic anchor appears to be designed for use in plaster walls or ceilings. If your walls or ceiling are constructed of wallboard, I would suggest that you use an anchor designed for wallboard, or even better, a butterfly/toggle bolt.
2 The Marantz SR5300 has a MSRP of $599, but I have seen it selling on the web for less than $320.
3 The Morel installation guide says that the speakers need at least 48 hours of break-in time. They do improve over the first few days, but right out of the box, the sound was about 90% of their fully broken-in sound.