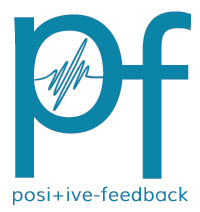 You are reading the older HTML site
Positive Feedback ISSUE 9

october/november 2003
Early Fall Goody Bag of Classical Recordings, Part 2
by Bob Neill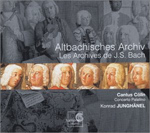 Altbachisches Archiv, The Archives of J.S.Bach
Most music lovers will come to this glorious double CD collection (Cantus Colln, Concerto Palatino, Konrad Junghanel, Harmonia Mundi) to listen into the musical background of the master, looking for "sources." It is probably the best (musically and sonically) and most complete collection of the sacred music of JS Bach's earlier relatives. It is a treasure trove through which to hear some of the master's obviously most immediate influences—the family influence, so to speak.
I came to it with a related but also slightly different interest. I had a critical model in my head. I remembered how much as a graduate student I enjoyed reading Shakespeare's contemporaries in the theatre – Chapman, Jonson, Middleton, Beaumont & Fletcher, Webster, Tourner—because they helped me see his "greatness" in terms of better theatre and better dramatic writing rather than on some more abstract and fatuous 'Great Books' scale. As much as I enjoyed the other dramatists, none really came close to Shakespeare, all remained in their useful subsidiary roles, and I felt very smug. It's always disconcerting to a scholar when some minor writer refuses to stay in his proper place!
When I heard the first piece of music by Johann Christoph Bach, JS's great-great uncle, whose music comprises 13 of the approximately 20 full-length motets and cantatas in the collection, I got a wonderful surprise, which sent my critical model packing. This composer may have been a minor star in the late seventeenth century firmament and his music certainly had some effect on JS; but his music is absolutely wonderful in its own right. This Bach has clearly been lost in the brightness of his great-great nephew's extraordinary subsequent success. Mining the Bach archives is clearly a valuable musical enterprise, just as mining the works of his sons, CPE in particular, is proving to be. (Let's hear it for BIS and the complete CPE Bach keyboard concertos and solo keyboard works in progress. And while we're at it, let's also hear it for Hyperion's "Contemporaries of Bach" series as well, which so far includes delightful sacred music by Schell, Kuhnau, and Zelinka.)
Album commentator Peter Wollny explains where Christoph's and the other early Bachs' music came from, why it has been so long unavailable, and how it came to be rediscovered—all in sufficient detail to make repetition here unnecessary. All you need to know is that Bach's father preserved the manuscripts, both he and Bach himself loved this music, Bach's son CPE loved it equally well, and that while it is to a degree early and precursor JS Bach, it is actually more clearly post-Schutz. It has a wonderful late renaissance tonality running all through it that gives it a powerful voice of its own. As with Schutz and Monteverdi, we can hear the renaissance becoming the baroque, music defined primarily in harmonies and chords that in its marching deliberateness can feel simultaneously austere, confining, majestic, working its way toward the more fluid and complex counterpoint that gives baroque music its greater sense of excitement, freedom, and florid glory. Johann Christoph is closer to the baroque style than the others collected here, and it is in his music we get both a unique and exciting transitional voice and hints of the future Bach.
While Johann Christoph is the treasure of this collection, his brother, Johann Michael is well represented and musically appealing. The album includes an extremely helpful diagrammed genealogy of the Bach family, on down through JS Bach's sons, which is a great help if you don't have your Christoph Wolff at hand. I recommend this collection to anyone who is the least bit curious about the earlier Bachs and also to those, like me, who are drawn to transitions in music history.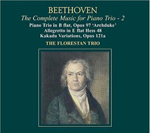 Beethoven: The Complete Music for Piano Trio – 2
(Piano Trio in B flat major, Archduke; Allegretto in E flat major; Variations, Opus 121a)
I think the Florestan Trio is the best piano trio in the world, quite possibly the best ever, but I haven't heard enough of the others to say that with more authority. I care a great deal for the Beaux Arts, who while they have the Florestan's elegance lack their power. The Florestans combine grace, lyricism, warmth, and power, which make them supremely the right musicians to play the nineteenth century repertoire that is their province. Every piece they play sounds distinct from every other—their stamp is too subtle to become a characteristic voice. And every recording they have made—all on Hyperion—brings the music to life with eloquence and authority: Schubert, Schumann, Dvorak, Mendelssohn, Brahms (their 2 CD set of his trios, including the horn trio with a guest horn player, is absolutely the best), Faure, Debussey, Ravel, and now Beethoven, in two CD's so far. The Florestans "own" this music.
On the Beethoven, the Castle Trio (Virgin) on period instruments are competitive—a bit quicker and bolder, missing the music's lyricism and some of its power—and the early instruments help to accentuate their slightly more incisive, assertive take on the music. The Guarneri Trio (Praga) are more competitive, lacking a little of the warmth and going for a slightly more austere style that leans back away from the nineteenth century. Very fine performances nonetheless. And there are, of course, many modern super-star sets, given the excellence and popularity of the Archduke Trio, none of which I've heard recently enough to comment on usefully.
If I had to pin down what it is that makes the Florestan's Archduke Trio so commanding, it is its utterly satisfying balance of lyricism and power. Beethoven lives in contrasts—the kind that most musicians have some trouble managing. With the Florestan musicians—Anthony Marwood (violin), Richard Lester (cello), Susan Tomes (piano)—the lyricism and grace are as moving as the explosions of passions and warmth. And, wonderful to behold, these musical emotions feel absolutely within one artistic vision. The passion never entirely loses sight of the lyricism and the lyricism, even at its most poignant, holds a slight sense of tension that lets us know the passion is nearby, such that when it returns, it feels perfectly right.
Listening to the Florestan Trio play Beethoven, we hear precisely how this composer comprehends both Haydn and Schumann. That is the greatest compliment I can pay them.